With Valentines Day being just around the corner and romantics prepping for the day of love, there is no better way to celebrate than with the reunited cast of, 27 Dresses. Even after 11 years, 27 Dresses is a romantic comedy staple and a favorite during wedding season.
Katherine Heigl, James Marsden, Malik Ackerman, and Edward Woods, all look amazing for their reunion Entertainment Weekly photoshoot where they chatted about the film, behind the scenes memories, and the amusing karaoke scene.
The film follows Jane Nichols played by Heigl whose life takes on the complete definition of the old cliche "always the bridesmaid, never the bride" and then finds herself in a tricky situation when she has to help her sister, played by Ackerman, plan her wedding to her boss and longtime crush, played by Woods. All while a romance builds with Kevin, the character played by James Marsden.
As far as romantic comedies go, 27 Dresses is one of the most charming and it's no surprise it's featured in this month's Entertainment Weekly. As we admire the reunited cast, Katherine Heigl hints on a possible sequel and now we are all in a frenzy about how epic this sequel potential is. And if you're still not in the Valentines Day mood, perhaps re-watching the fun-loving rom-com will give you all of the feels.
The 2008 movie introduced viewers to Jane, who embodied the old cliché "always the bridesmaid but never the bride."
As the story develops, you'll notice that Jane was more like the friend who put everything and everyone before herself and without her help her friends' weddings would fall apart if she wasn't a bridesmaid.
'I really relate to Jane" Heigl told Entertainment Weekly, "my experience in my 20s was being a real people pleaser."
Jane sure is that friend that will bend over backwards for you.
Aline Brosch McKenna, who is the screenwriter for '27 Dresses,' was inspired to write the movie by her friend who by age 30 had been in 12 weddings.
"I thought that was extraordinary, verging on a pathological, amount. For me, the movie was about this phenomenon of women obsessively wanting to please other people,"
says McKenna
Since the film's debut, weddings have become more extravagant and scenes for event trends because of social media.
"It's only gotten crazier. Everyone's life is a photo shoot,"
says Mckenna.
And she's absolutely right.
Everyone wants a Pinterest-worthy Instagram photo perfect wedding and it shows.
The movie wasn't too far from reality either.
From finding the perfect centerpieces to making sure your bridesmaids all look fabulous, weddings have become very extravagant.
The bridesmaid dresses montage is probably one of my favorite scenes from the movie.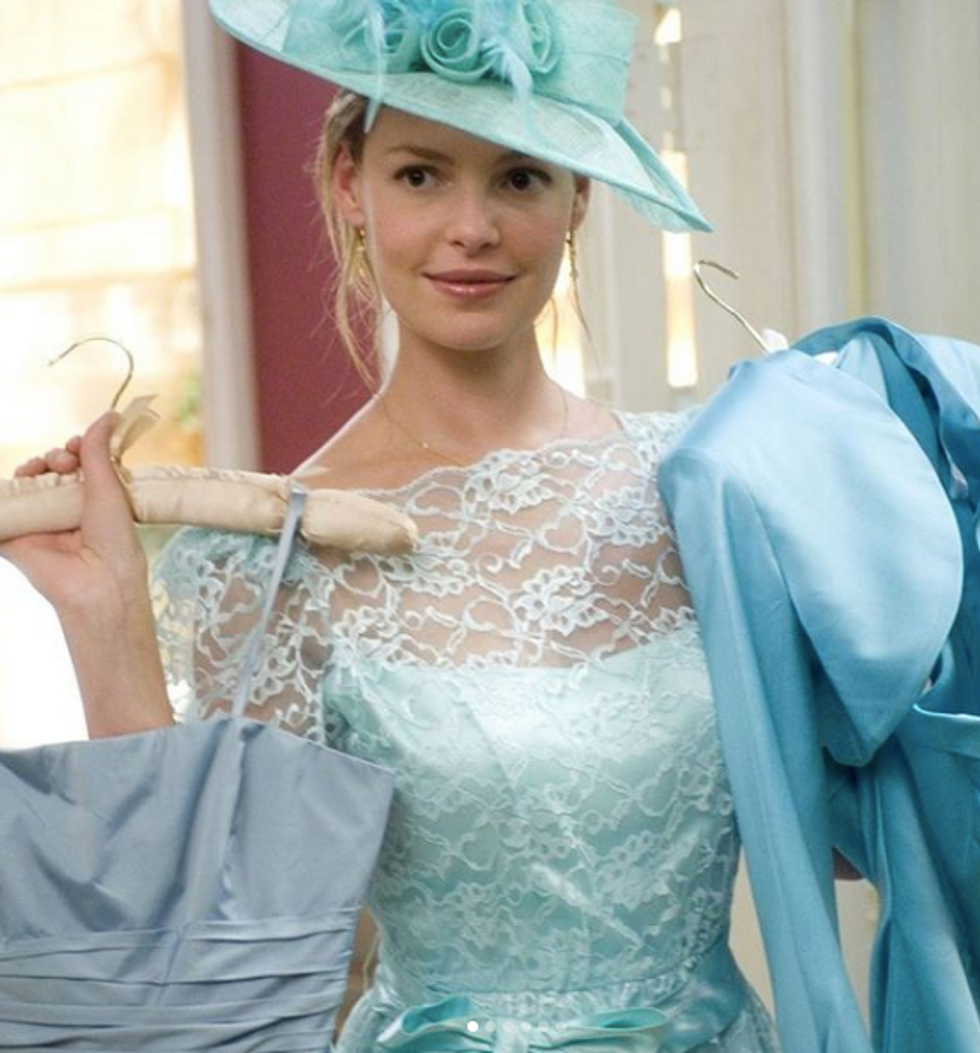 Let's check out some of these not so pretty bridesmaid dresses.
In my 20s, after seeing how much fun Jane was having with all of her dresses, I really wanted to be a bridesmaid.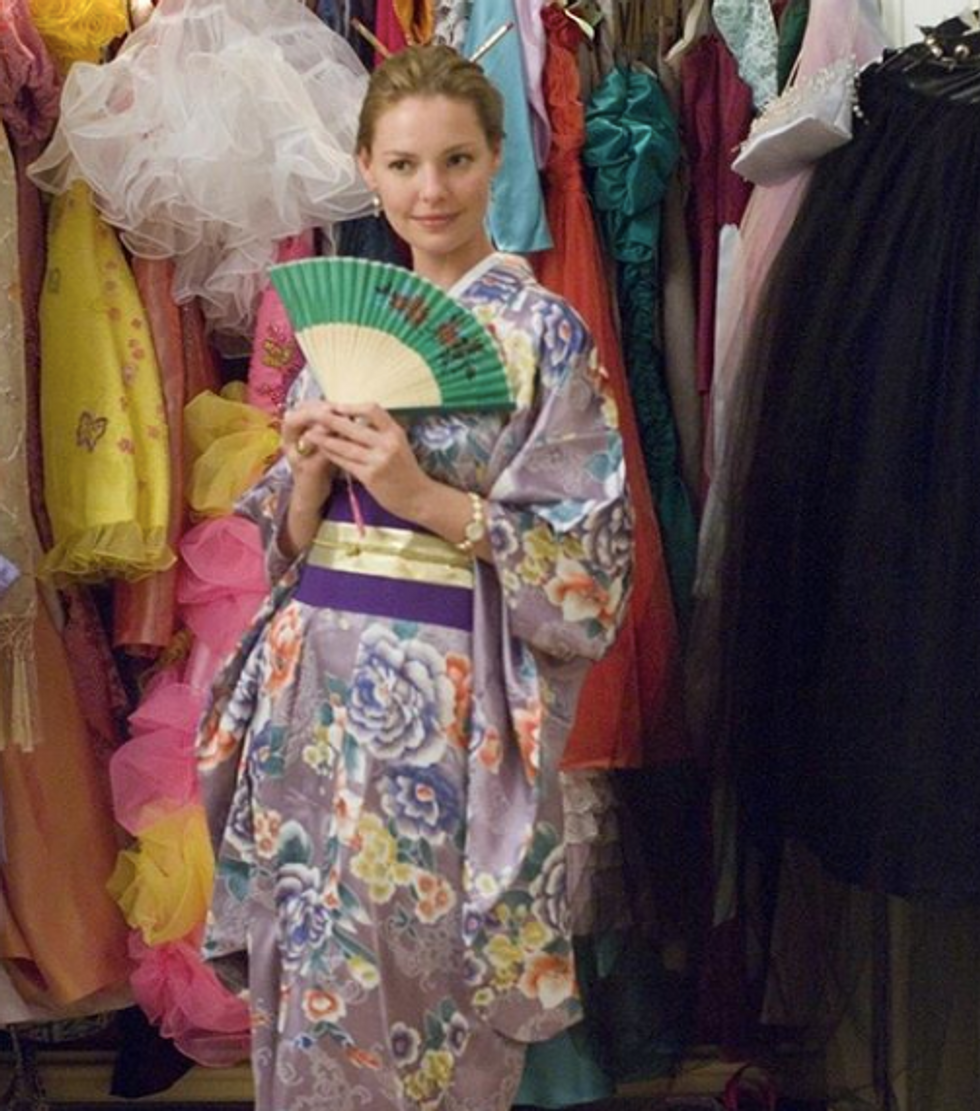 Now that I'm in my 30s, I'm like "no, thanks."
Jane is such an amazing bridesmaid – she kept all of the dresses she wore to friend's weddings.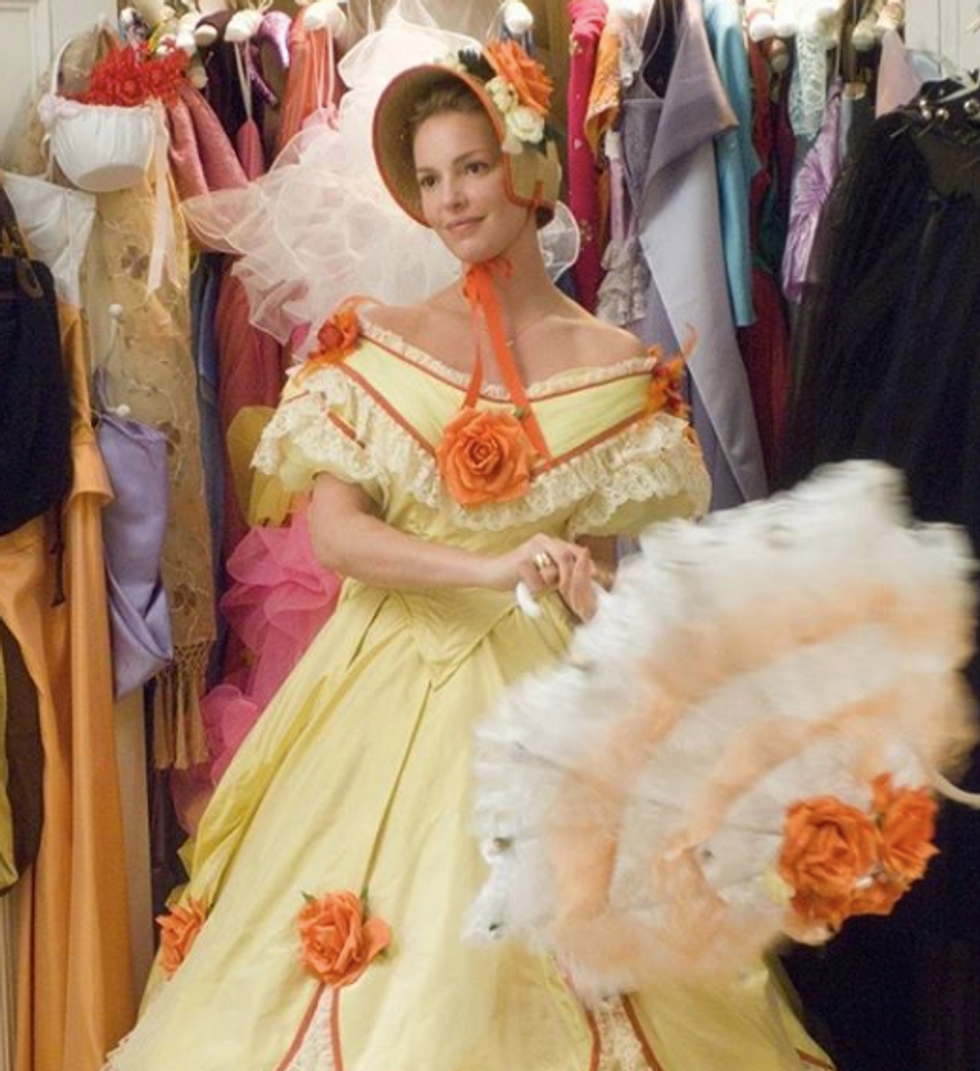 Had it been me, most of that stuff would have been repurposed or donated. They do not spark joy.
During the interview, Heigl says that the worst of the bridesmaid dresses had to be the short yellow ensemble.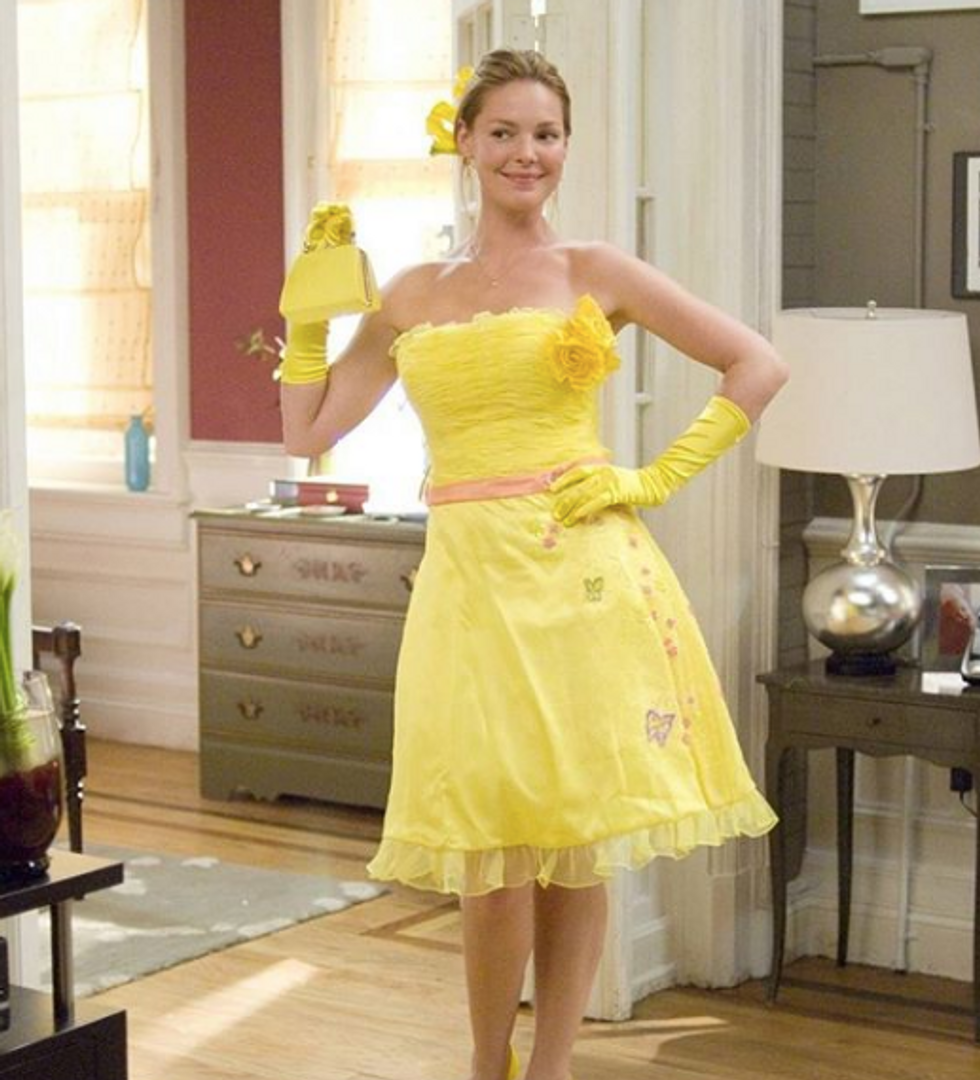 I have to agree with her. Although the
Gone With The Wind
 themed dress is pretty out there as well.
Another favorite of the film is the karaoke scene.
Jane and Kevin get stranded at a bar due to a rainstorm and decide to take part in the fun singing "Bennie and the Jets" of course, they sang the wrong lyrics.
The incorrect lyrics "electric boobs" were scripted.
During filming, the song was almost changed to "Brown Sugar."
McKenna was very persistent in calling the movie executives to make sure that it wasn't changed and thank goodness it wasn't. Because "electric boobs" totally works.
The ending of the movie was also questioned.
Heigl felt that the movie needed to end with a wedding but McKenna felt Jane needed to end up on her own.
Though the wedding ending was better, and McKenna agreed.
During the final scene, we see Jane walking down the aisle in her 28th dress, for her own wedding. All the heart eyes.
When the movie was released in January 2008, it didn't receive the best praises from critics.
However, it quickly became a fan favorite for audiences.
The following year, '27 Dresses' won a People's Choice Award for Favorite Movie Comedy and a Teen Choice Award for Choice Movie: Chick Flick.
And it has totally stood the test of time.
While chatting about the movie, Heigl pitched an idea for a potential sequel.
And we are all ears and here for it!
The idea takes place 10 years later.
Heigl says
"I think it would be awesome to see, seriously, what are their lives like 10 years later? Do they end up together? I personally think they did," she said about Tess and George's characters. "I think Tess and George have, like, three kids and she's made Jane the godmother every time, so Jane has to plan the christenings and the baby showers and the gender-reveal parties." Only there's a catch: Jane isn't able to get pregnant herself.
This is a big possibility as Heigl also said that the original director, Anne Fletcher, is also interested in the idea.
And we really need to make this happen.
In the meantime, we can still watch '27 Dresses' because honestly, it's one of those movies you can watch repeatedly and not get tired of.
Here's Heigl in the 29th dress.
Marsden often gets requests to sing "Bennie and the Jets."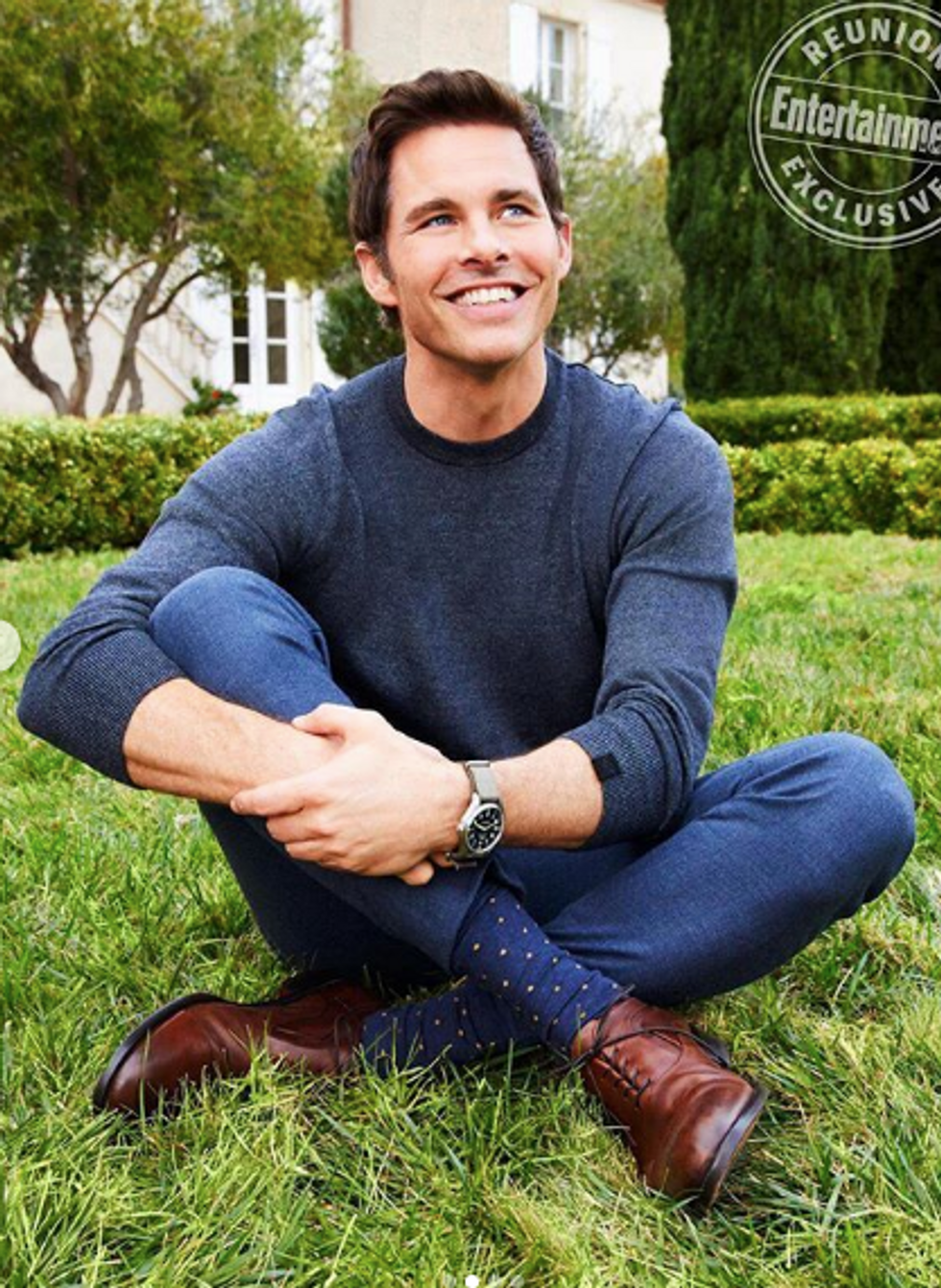 I'm fine with whatever James Marsden does.
I don't remember when James Marsden became my favorite actor to swoon over, but this scene is just the cutest thing ever.
It really is everything.
The always dashing, Malin Akerman.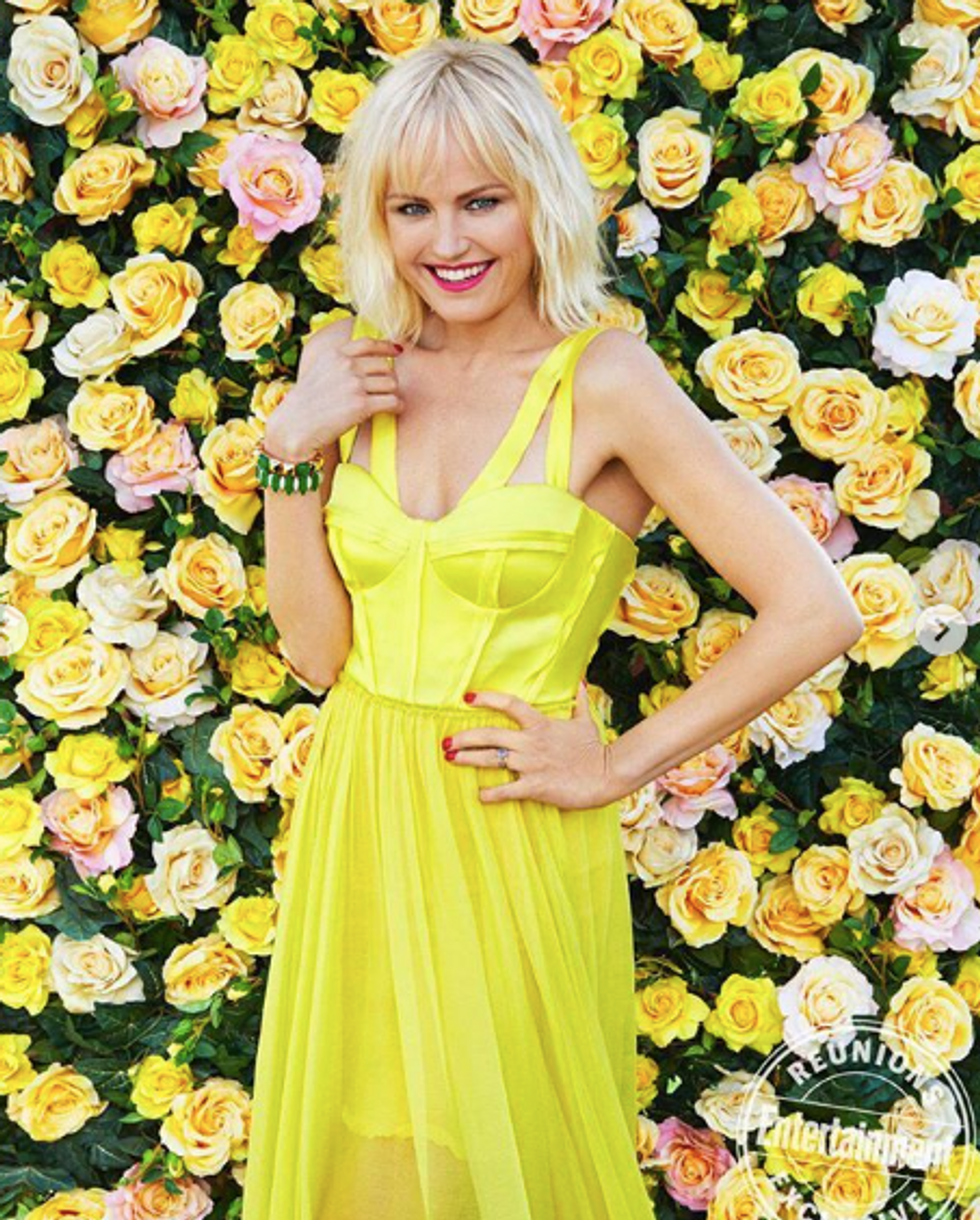 Also wearing a glamorous gown.
Ed Woods was celebrating a birthday during the photoshoot.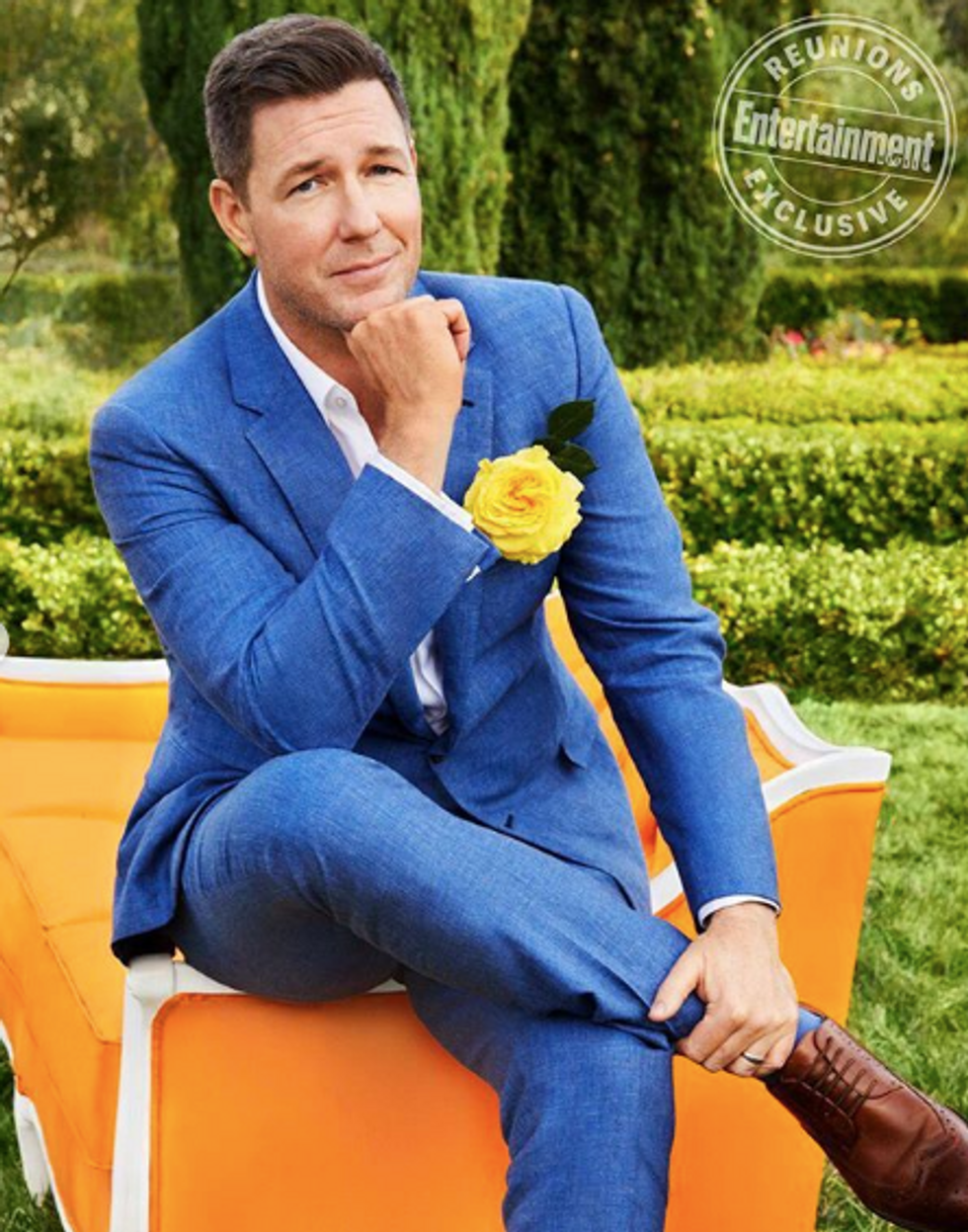 There was a champagne toast for him and the anniversary of
27 Dresses.
As the reunion came to an end, they all made sure they had each other's updated contact information
I'm praying to the movie gods that a sequel does happen.
This cast obviously still has a connection to one another! It would make so much sense. What do you think? Share this with someone you've watched 27 Dresses with.