Hollywood is full to the brim with absolute heartthrobs, and it's certainly safe to say that Chris Hemsworth is up in the "Godly Tier" of these Hollywood hunks. Since playing the God of Thunder in 2011's Thor, Hemsworth has become a household name.
And now Chris Hemsworth has made a very exciting announcement. He's revealed his ambitions to remake the classic movie The Three Amigos with his MCU costars Chris Evans and Robert Downey Jr. - and needles to say, the internet is thrilled.
Outside of being a Hollywood star, Chris Hemsworth does some pretty amazing things. Surfing is one of his passions.
Chris began his career by appearing in small television shows.
Some of these shows included the likes of fantasy TV series, Guinevere Jones, and popular soap opera, Home and Away, in 2004.
Starring in Star Trek began the fantasy trend...
Chris appeared as James T. Kirk's father, George Kirk, in the opening scenes of J.J Abram's Star Trek.
But he is known best for his role as the God of Thunder...
Since playing the character of Thor in the movie that was released in 2011, Chris instantly became the official heartthrob of the Marvel Cinematic Universe.
Chris became a Marvel sensation.
Thor in 2011, Chris went on to star in two more Thor movies: The Dark World (2013) and Ragnarok (2017). He has also appeared in all three of the Avengers movies as the God of Thunder.
Chris certainly made a name for himself from playing Thor.
Playing the character of Thor truly developed his acting career.
Chris then went on to appear in further roles...
Appearing in horror the movie, The Cabin In The Woods in 2012 allowed Chris to take a step away from the superhero role and step into something completely different.
He also starred alongside Kristen Stewart...
Playing the huntsman in Snow White and The Huntsman helped Chris to show off his acting skills in a completely different light.
Acting wasn't always on the cards for Chris, however...
According to Chris, if it wasn't acting, it would have been writing or directing.
It's safe to say that we're all pretty relieved that he made the decision to grace our screens in the past few years.
And Hemsworth's latest announcement?
Well, it has got the internet very excited.
He was speaking about the future of the Avengers at the ACE Comic Convention in Illinois.
And while pondering the future of the gang, Hemsworth mused, "We could remake Three Amigos."
For those not in the know ...
via: IMDB
Three Amigos 
is a classic comedy. Released in 1986, it stars Steve Martin, Chevy Chase, and Martin Short.
It's important the three stars have total chemistry.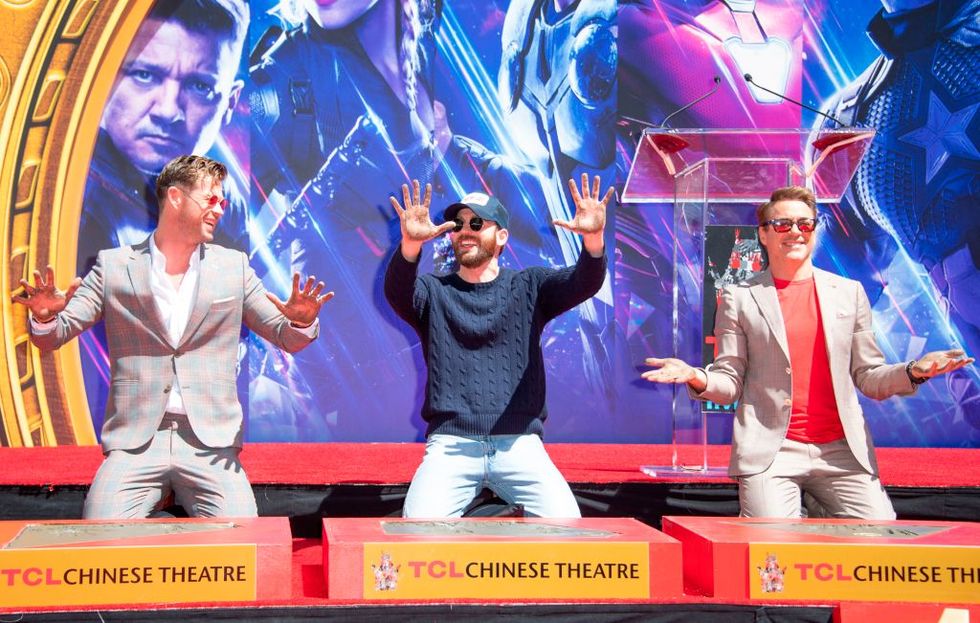 via: Getty Images
This means Iron Man, Thor, and Captain America would fit the movie perfectly!
Many have mused about how the movie could be updated.
The original Thee Amigos was set in 1916, and people are curious about how the story could be updated to be set in the present day.
Some even have a very interesting hypothesis.
Three Amigos could potentially be set around the characters of Iron Man, Thor, and Captain America, struggling to stay undercover.
It's safe to say the internet is excited.
OK YES!! https://t.co/2sVVYNCtmi

— Jeff Robertson (@Jeff Robertson)1571078835.0
Combining a cult classic with a current box office smash seems like a sure-fire way to internet success, after all.
Others made this point.
@chrishemsworth @ChrisEvans @RobertDowneyJr I usually cringe at the thought of remakes but this would be good. Ima… https://t.co/dYIENZbGMk

— Bleed Balance (@Bleed Balance)1571108404.0
Many find the excess of remakes happening at the moment quite fatiguing. But 
this 
is one the internet seems happy to get behind.
We've got our fingers crossed.
But even if this movie does happen, it seems like it'll be a long way off. Any directors reading fancy making it happen? Want more MCU news? Read on to learn about the fate of Spider-Man.