You probably think the life of a celebrity assistant is pretty glamorous. Sure, there are probably some days that are filled with picking up dry cleaning, going on coffee runs, or escorting kids to soccer practice, but there have to be some perks, too, right? Like getting to spend a bunch of time with famous people. Or attending fancy events. Or maybe sneaking a little piece of celebrity chocolate out of the pantry. (Celebrities get special chocolate, right? They must.)
Earlier this week, though, Chrissy Teigen revealed one of the less glamorous tasks of celebrity assistants. And in true Chrissy Teigen fashion, it's one of the most hilarious things you'll read all day.
Earlier this week, Teigen posted a video to her Snapchat story detailing her spray tan process.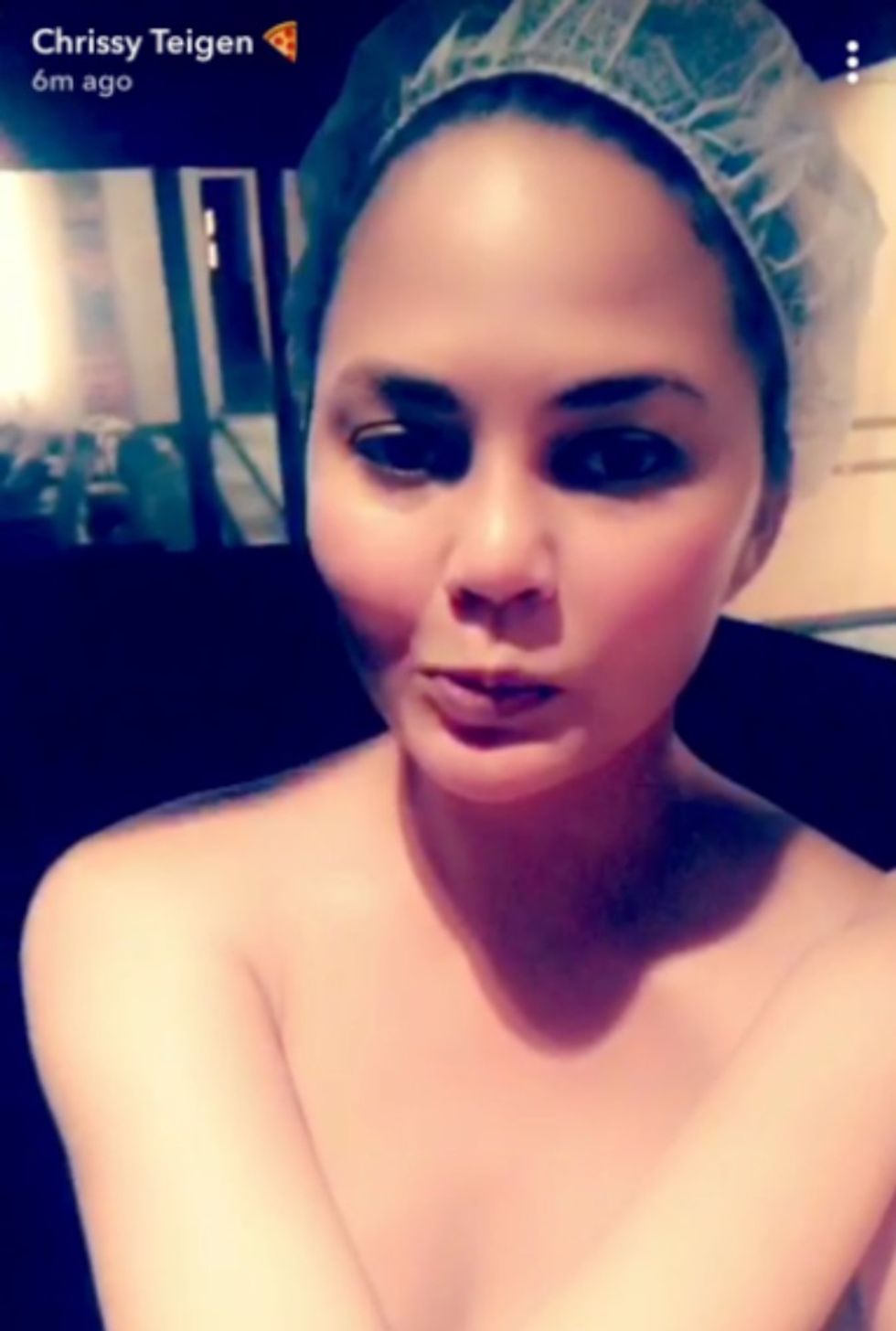 completely
exposed.
Never before has a GIF been more relevant:
Whooooops! What do you call a wardrobe malfunction when there's no wardrobe involved? Birthday suit malfunction?
Luckily for Teigen, her eagle-eyed assistant saw the snap and sprang into action. Teigen later posted this screenshot of a text from her assistant:
What is it like being an assistant in Hollywood, you ask? https://t.co/Eo4qolTLxK

— chrissy teigen (@chrissy teigen)1508994274.0
First of all, we wish we had an assistant who was there to delete every embarrassing moment from our lives. Secondly, what the heck is a "bingo caller"?
Teigen's Twitter response to the whole affair was perfect:
What else can you say when you've accidentally shared your nip slip with tens of thousands of people all over the world?
Not too long after that, Teigen posted this hilarious video:
for immediate release https://t.co/c6226cR6eJ

— chrissy teigen (@chrissy teigen)1508994084.0
"I just want to apologize to everyone I know. I've let my friends down, I've let my family down," She said. "I have nipples. It's not something I'm proud of." Oh, Chrissy. Please never stop being you.