It's been a boys' club for too long over the fast food chain KFC. This week in a move towards equal opportunity for women that nobody actually thought to ask for, but everyone seems very delighted by, KFC debuted first ever female Colonel Sanders. Country star and early 2000s TV sitcom icon Reba McEntire will be playing the famous role and so far, she's killing it.
Welcome to the 21st century, where our joke fast food mascots are now gender fluid.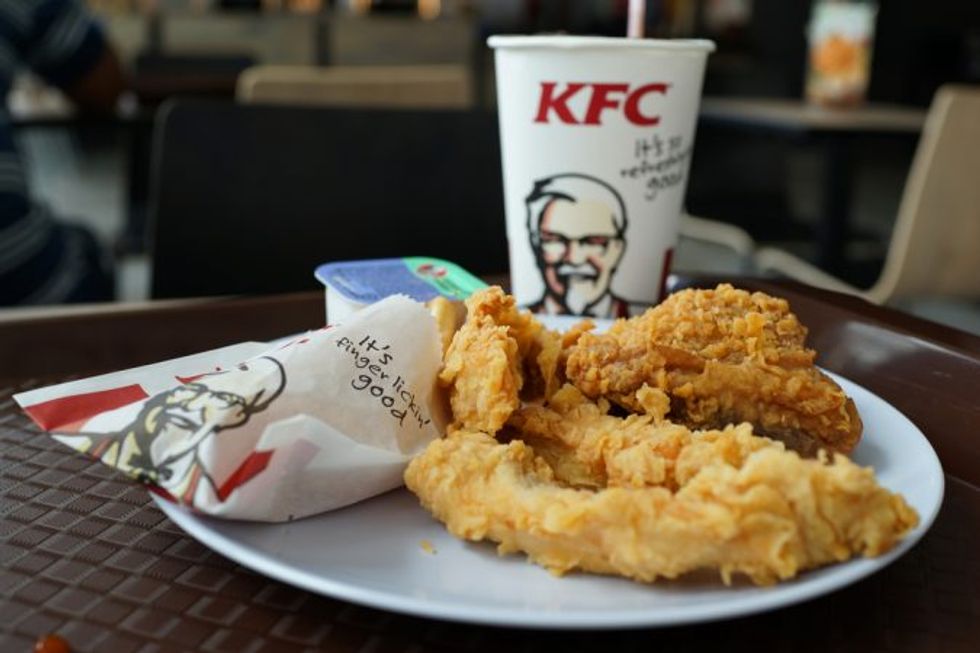 via: Shutterstock
The times they are a changin' and KFC is smart enough to realize that. 2018 is the year of women, and no longer will we stand idly by while our beloved fast food mascots are only played by men. Gone are the days when the only reasons women were allowed in fast food ads were to eat a hamburger in a bikini on top of a racecar.
Oh, wait, there is Wendy.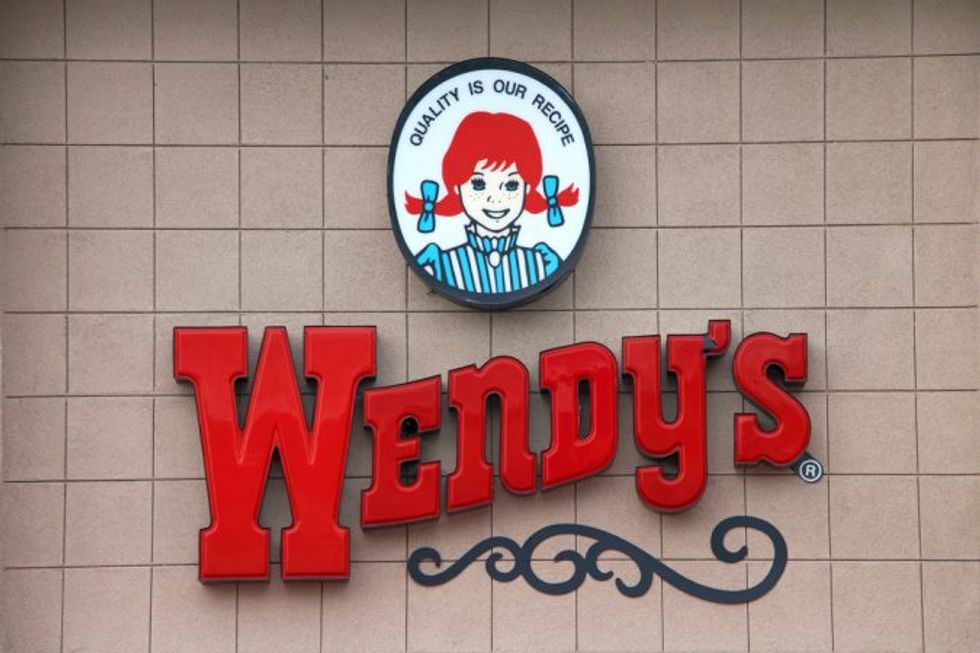 via: Shutterstock
Also, maybe one of the McDonald's character was a girl. Birdie? But they really don't even make an appearance anymore. But in general, it's a very male-dominated workforce.
Reba stars as the white-haired, bearded Southern colonel in KFC's newest commercial.
She's not only the first woman to play the part of Sanders, but the first singer, too.
In their newest ad, she plays Sanders as a singer in a honky-tonk.
The Colonel assures everyone he is definitely not a woman and viewers should ignore any resemblance to a female country singer.
And sitting in the audience is none other than Reba herself!
Colonel Sanders Reba throws his hat to audience member Reba before promoting their new Smoky Mountain BBQ fried chicken.
Colonel Sanders has famously been played by a series of male actors over the years.
Previous Colonels include actors such as Jim Gaffigan, Rob Lowe, Norm MacDonald, and Billy Zane.
People are pretty excited to see Colonel Sanders as a woman.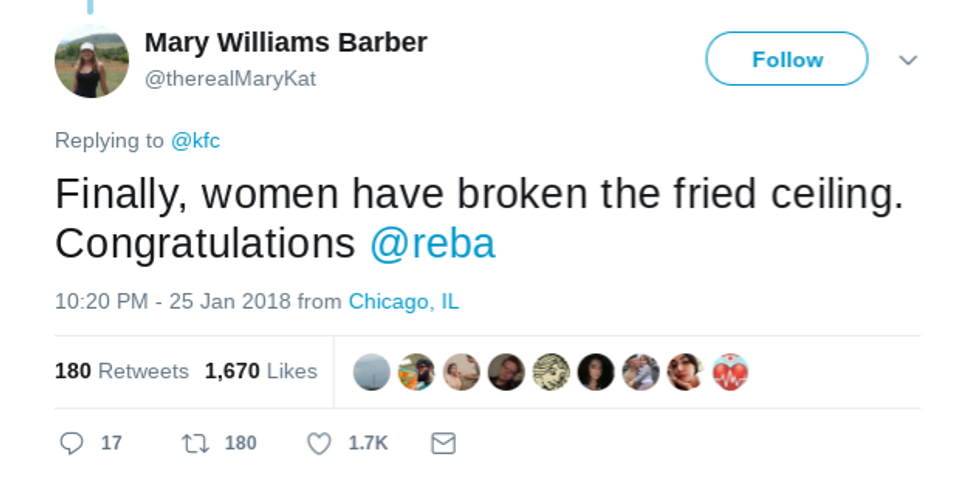 via: https://twitter.com/therealMaryKat/status/956713495680208897
Finally!
Finally some equality for women, right?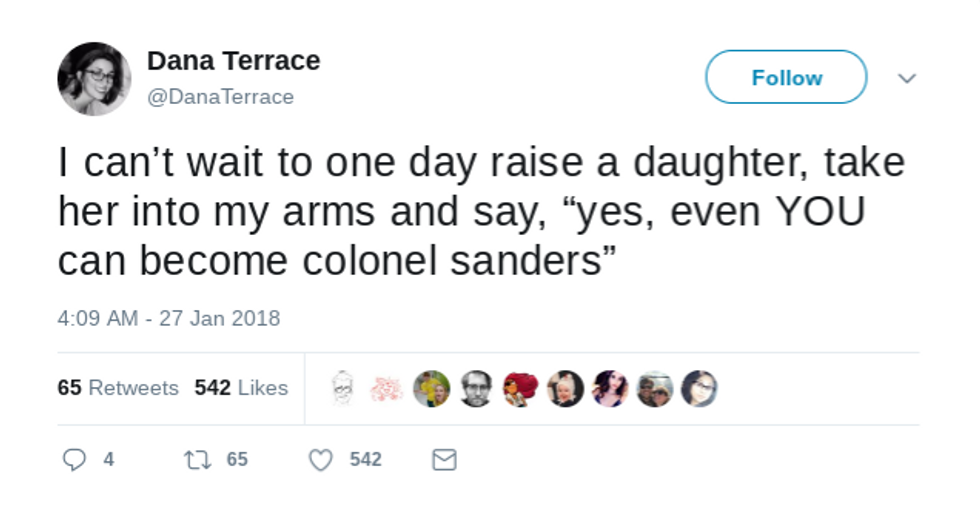 via: https://twitter.com/DanaTerrace/status/957163743640674309
But actually it is very cool and funny that KFC decided to do this!
Of course, there's still progress to be made.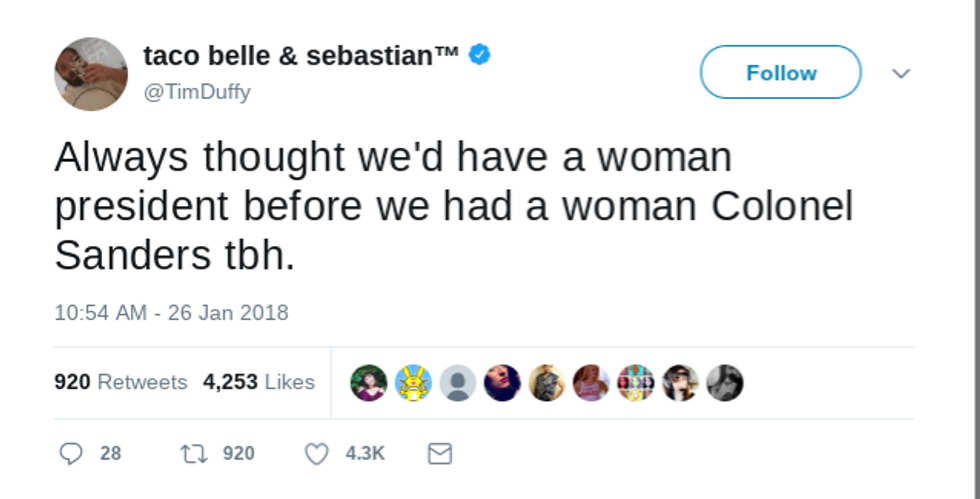 But hey, we just hope Reba isn't making 80 cents on the dollar to what the former Colonels made.
Reba's KFC ads started airing this Sunday if you want to catch the new Colonel in action.