Our favorite sitcom, Friends, ended fifteen years ago and it's no secret that the cast has all remained, well, friends.
After being introduced to the guys in 1994, Joey (Matt LeBlanc), Chandler (Mathew Perry), Ross (David Schwimmer), Monica (Courteney Cox), Phoebe (Lisa Kudrow), and Rachel (Jennifer Aniston) have become nothing less than household names, which is why fans can't seem to get enough of seeing the gang together again.
In the years since the show ended its ten season run, for fans, it feels like its been an endless cycle of false hope and continuous refusal for the sitcom to return to our screens once again. Now, we have learned to take all that we can get... so, naturally, any time that the gang is pictured together pretty much causes an international internet frenzy.
And although we haven't been deprived of mini cast reunions in the past, this one pretty much tops them all...
Courtney Cox, Jennifer Aniston, and Lisa Kudrow burst onto our screens as the female half of the Friends gang.
From romance and scandals to one very strange poking device and the ever-lasting question as to whether Ross and Rachel were on a break (they definitely were), the sitcom followed the friends as they navigated life living in New York.
But, like with all shows, the popular sitcom sadly came to an end in 2004.
We waved goodbye to the Friends gang in an emotional two-part finale which saw the group leave Monica's apartment for the very last time, leaving their keys on the counter. It wasn't all sadness as Rachel finally admitted that she loved Ross and Monica and Chandler adopted two babies, but it certainly marked the end of an era.
Shortly after the show wrapped up, the cast reunited for The Oprah Winfrey Show.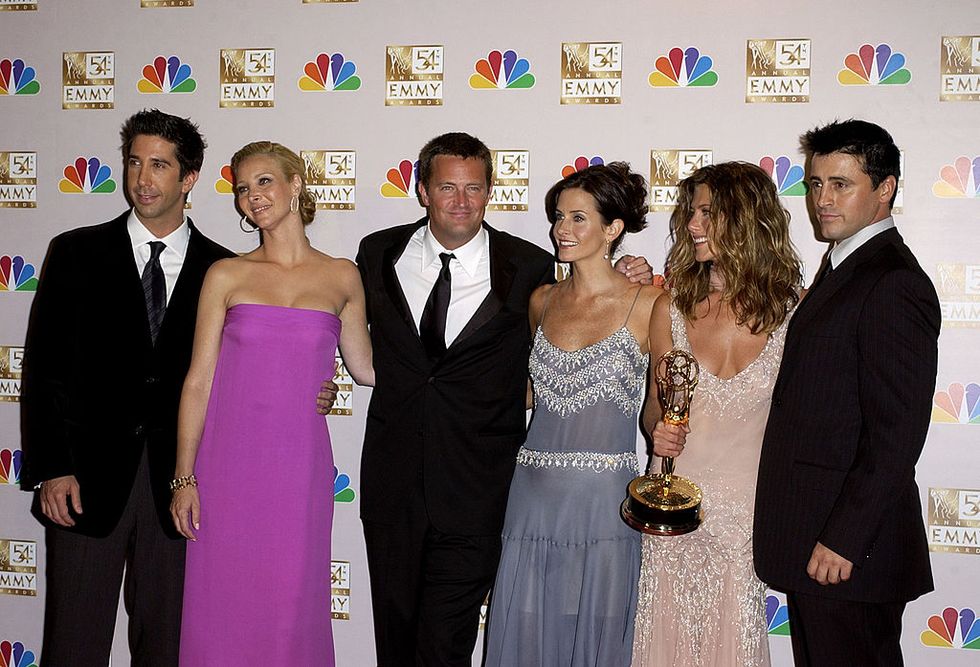 via: Getty
We got our first taste of a reunion just a day after the last ever 
Friends
episode aired as the show's cast joined Oprah on her show for a one-off interview.
Although all of the cast developed a tight-knit friendship over the years, it seems that the female castmates grew extremely close during filming.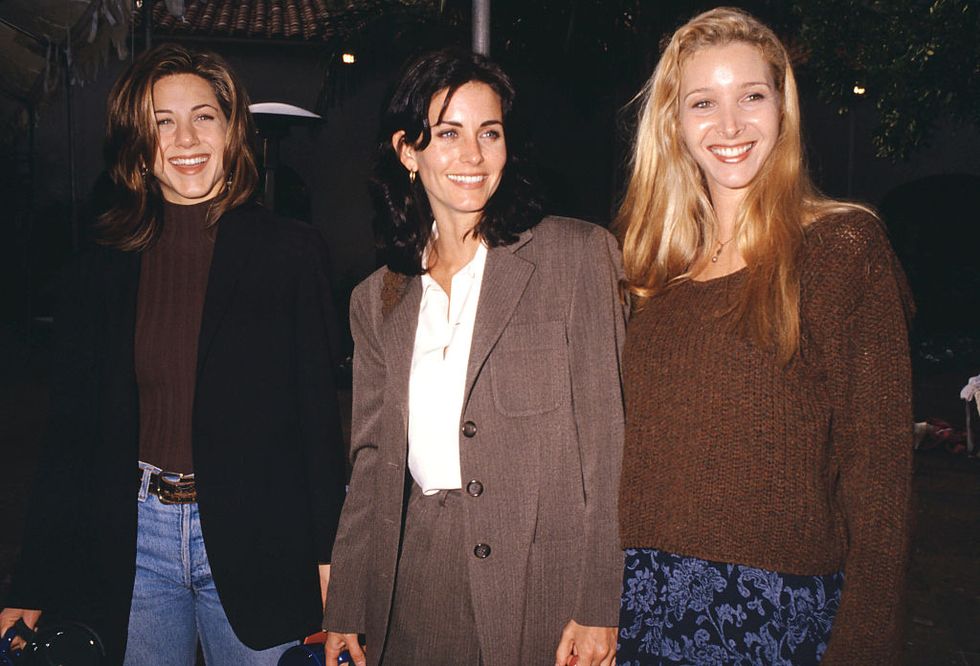 They would
reportedly
go for lunch every day together while filming the sitcom.
The co-stars certainly have a tight bond.
Its no wonder that they're so close, after all, the stars spent a
significant
amount of time together while filming the sitcom over the decade. In fact, during
NBC's Must-See TV: An All-Star Tribute to James Burrows
 three years ago,
Jennifer Aniston,
 who played Rachel, said that the cast "fell in love with each other" over the years. "We experienced friendship, family, heartbreak, babies, everything, together," the actress explained.
We've seen our fair share of mini-reunions over the years...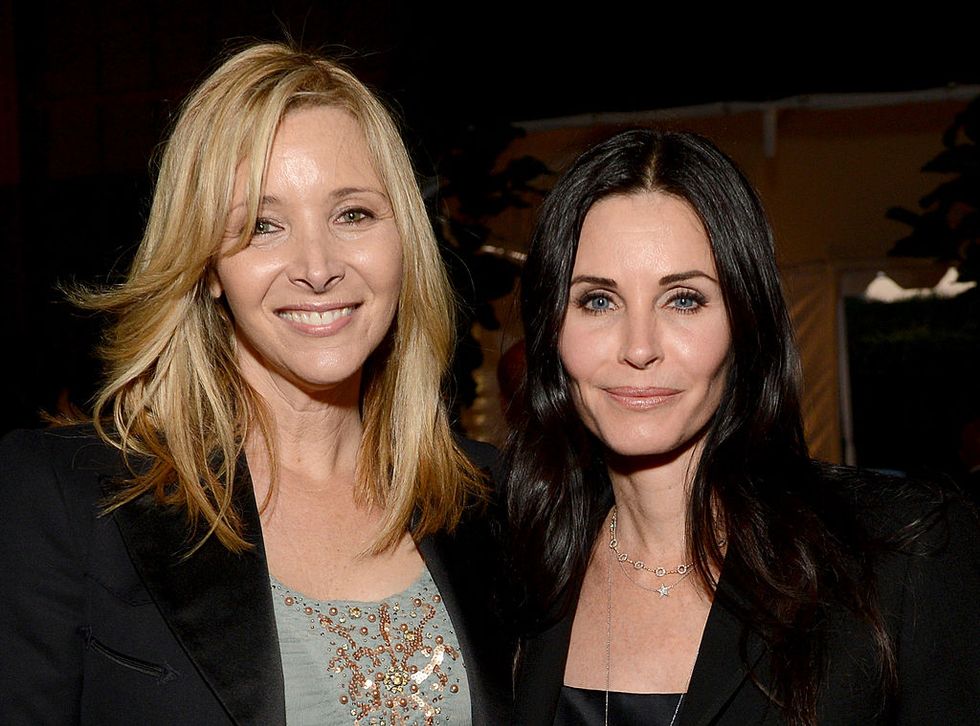 via: Getty
The entire cast doesn't reunite that often, so fans have had to make do with "half" reunions.
Although we have been blessed with a few nostalgic moments.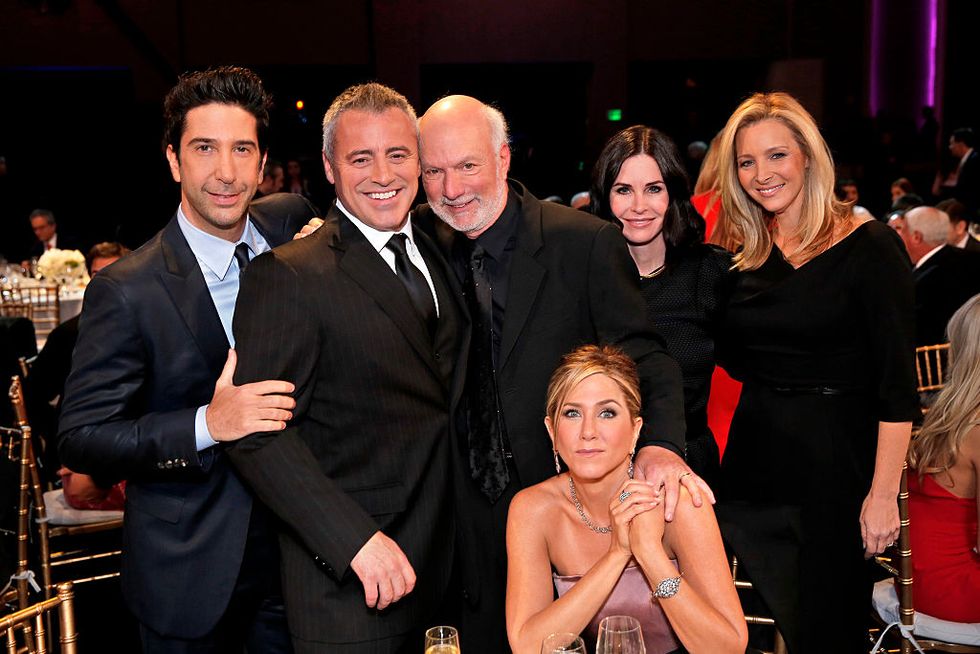 Three years ago, the entire cast (minus Mathew Perry) attended the
All-Star Tribute to James Burrows
 event together and it was
everything
 that we've ever wanted.
For the most part, however, it seems that Jennifer Aniston, Courteney Cox, and Lisa Kudrow are the stars who meet up the most.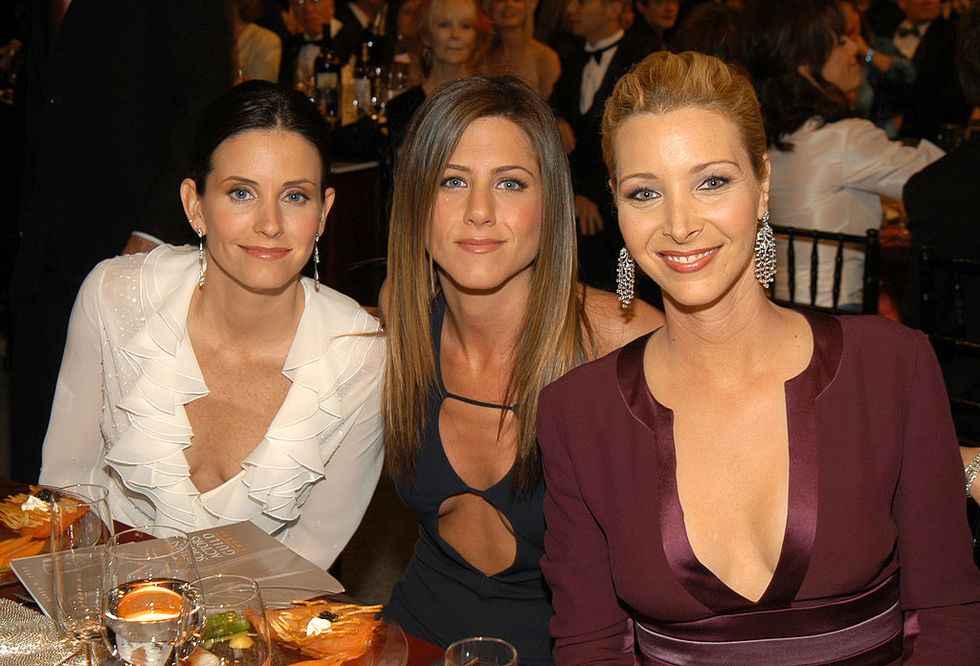 via: Getty
The pals have walked the red carpet together several times, but, away from the limelight, they are often spotted together, too.
When the Friends trio did this, fans couldn't believe it...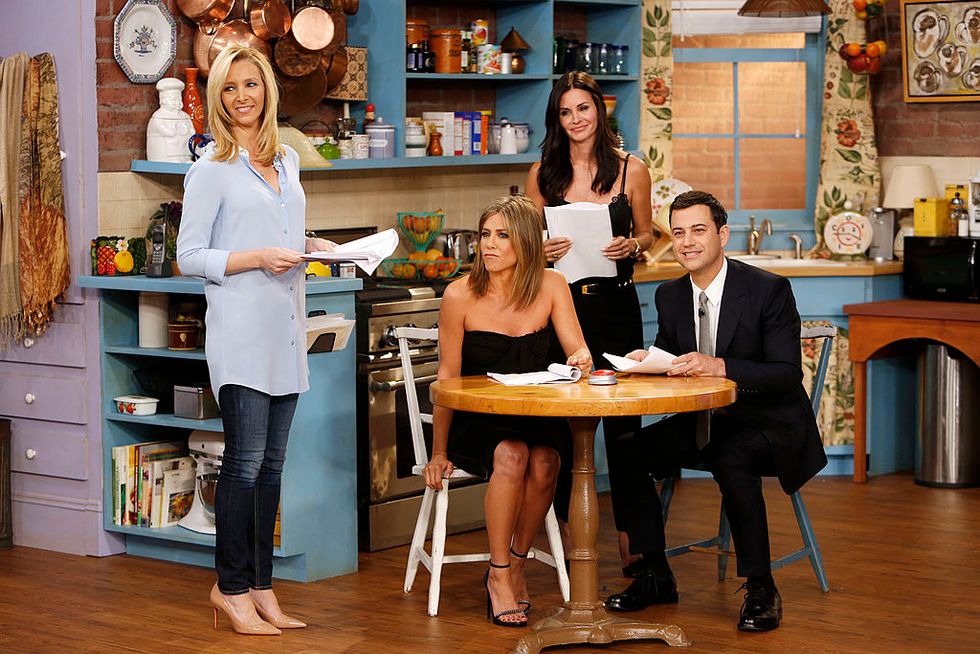 via: Getty
While appearing on the
Jimmy Kimmel Show
in 2014, Aniston, Kudrow, and Cox, or should we say,
Rachel, Phoebe,
and
Monica
stepped back into the apartment that they'd left behind a decade ago for a one-off skit. It was the closest thing that fans got to an
actual
Friends
revival.
"I'll be there for you"... get it?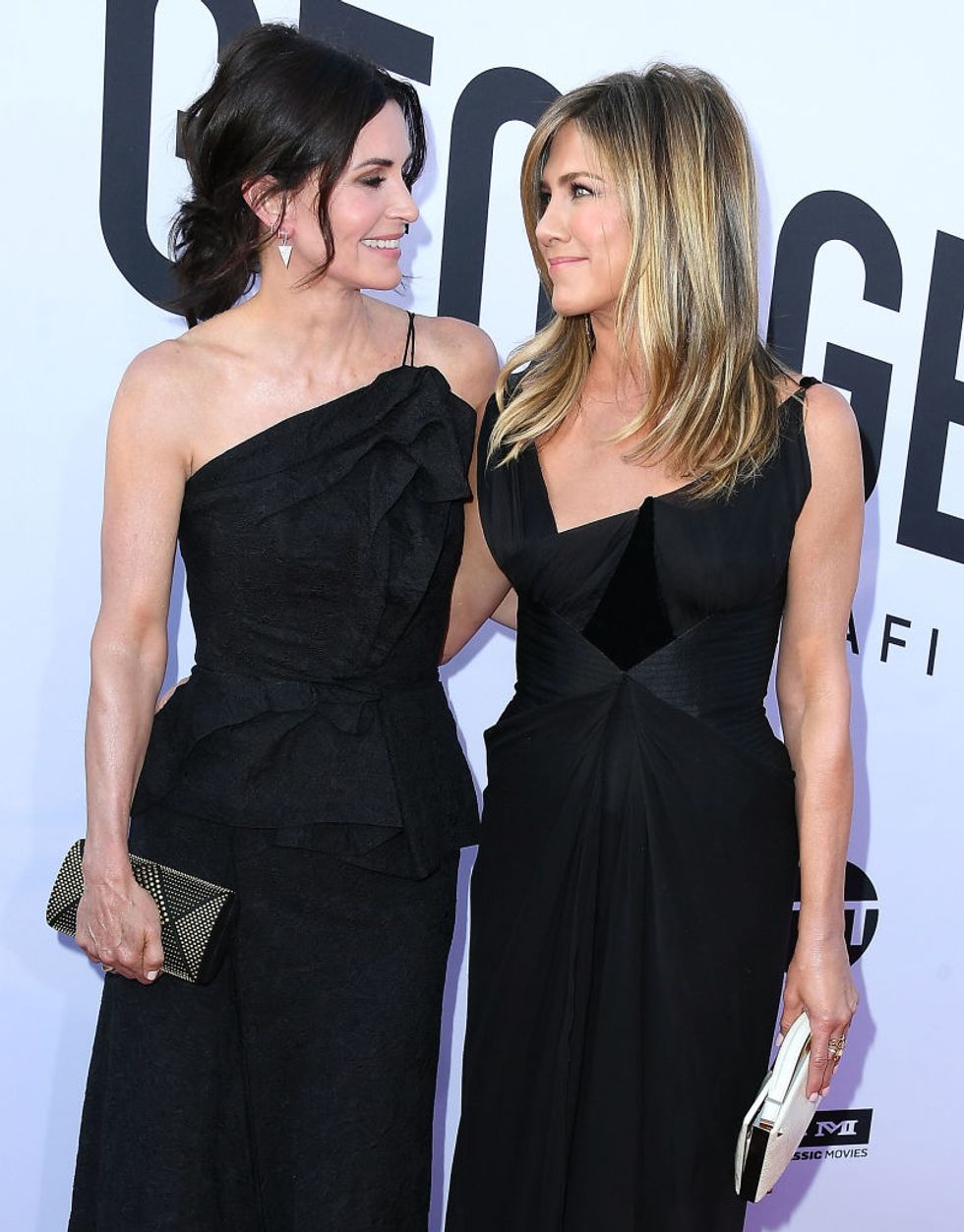 via: Getty
Okay, that joke was bad... if you didn't get it, it was a line from the theme song of the sitcom. Anyway, just last year, Courteney Cox really
was
there for her pal, Jennifer Aniston, as the pair attended the premiere of Anniston's latest Netflix film,
Dumplin'
.
But this reunion has been topping them all...
It was Courteney Cox's 55th birthday on Saturday, and what a perfect opportunity for yet another cast reunion in celebration of the day. She had a low-key dinner to mark the occasion, but what we all really wanted to know was whether Kudrow and Aniston got an invite too...
Throughout the big day, a whole host of famous faces flooded Cox's Instagram with birthday messages.
really wanted to see were her Friends co-stars, if they were even at the dinner in the first place, that is.
Well, it seems like fans got what they wanted as Cox posted this picture to her Instagram...
Friends co-stars, and now it seems like their wishes have been granted... The star posted the Rachel, Monica, and Phoebe reunion selfie with the caption: "How lucky am I to celebrate my birthday with these two??? I love you girls. So much," and it's honestly giving us all the feels. But there were even more images to come...
The comments will melt your heart.
This adorable snap also surfaced over Cox's birthday weekend.
@courteneycoxofficial
 and her plus one. xx." We
can't
get enough of this.
As expected, Friends fans were loving seeing the girls together again...
People couldn't contain their excitement and it quickly showed... Cox was literally inundated with comments after uploading the snap.
People couldn't handle seeing the trio together again.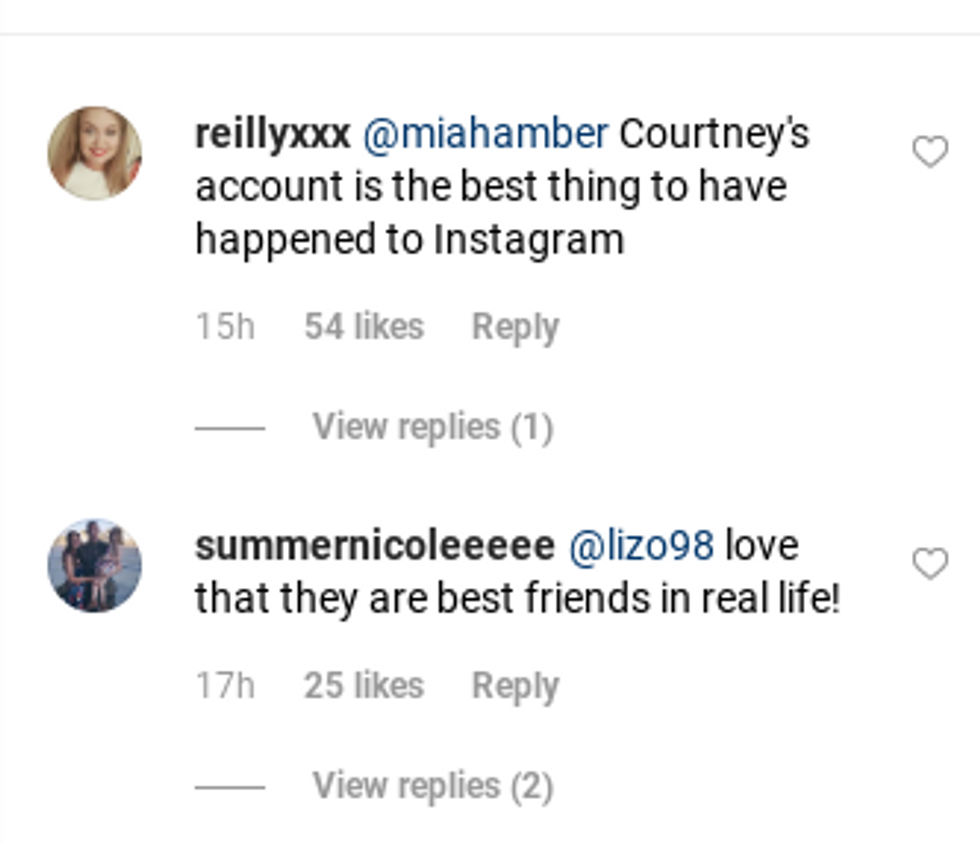 One user wrote: "love that they are best friends in real life!," while another simply said: "CAN'T HANDLE".
Fellow celebs also reacted to the "epic" post.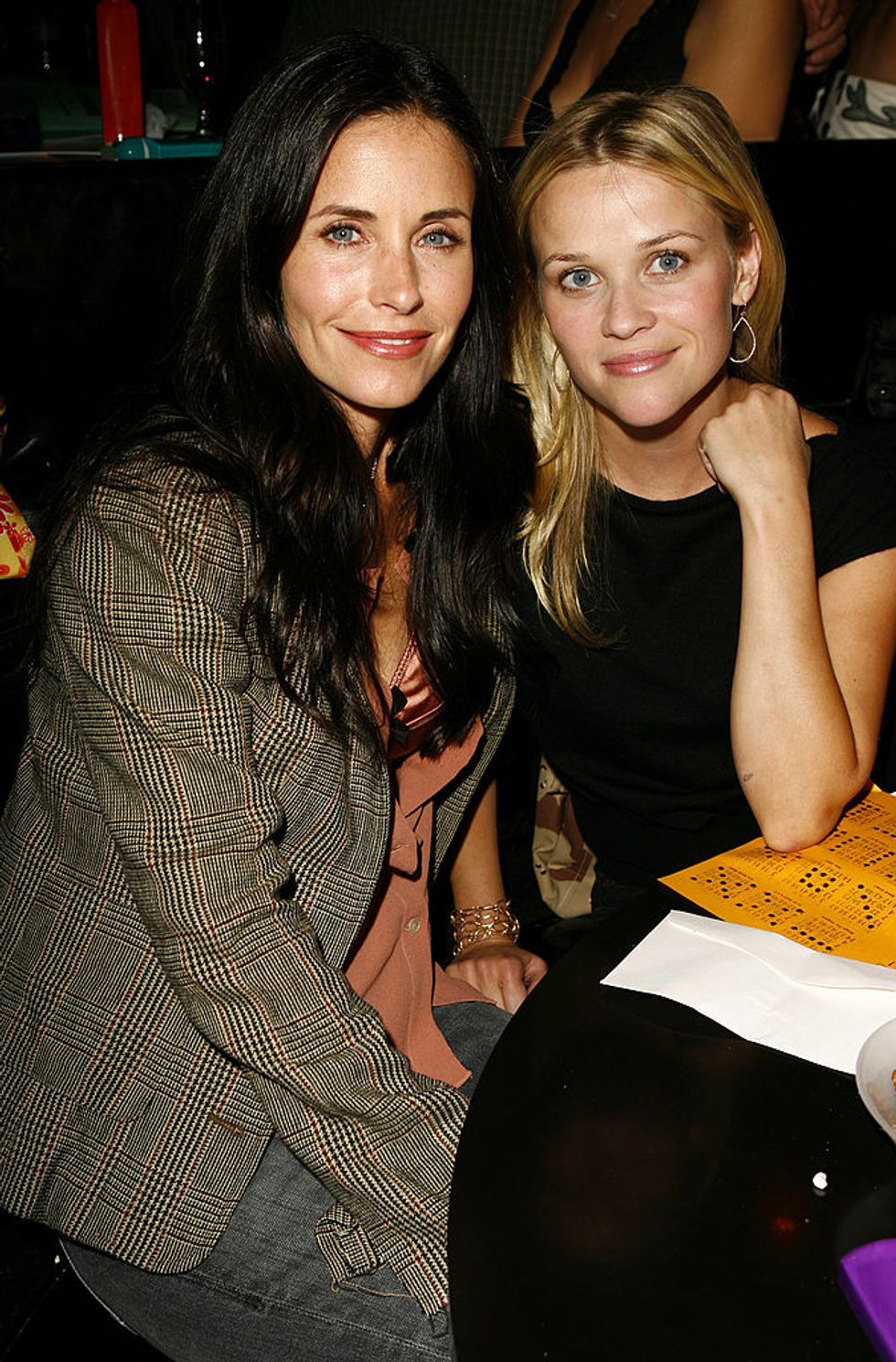 via: Getty
Actress, Reese Witherspoon, wrote: "What a great gift!! Happy Birthday CC," while
Big Bang Theory
 star, Kaley Cuoco, said: "This is so epic ?" after seeing the selfie. It seems like 
everyone
loves a good old
Friends
 get-together.
The post comes just weeks after Aniston teased a possible Friends revival.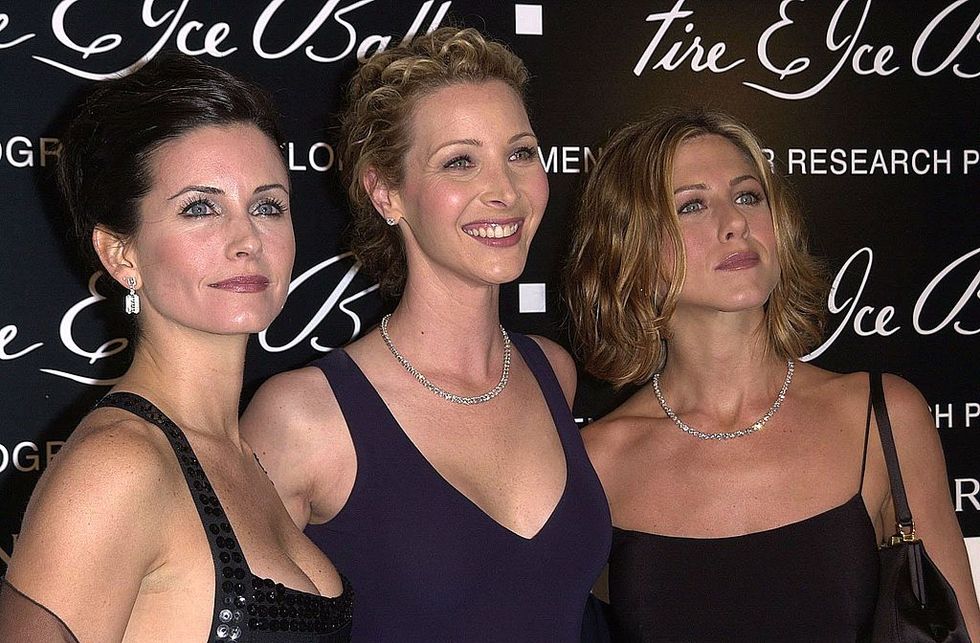 via: Getty
Despite claims from both the cast and the writers that it would never happen, Aniston said that she would still be up for reunion while being interviewed on the
Ellen Show
last month. Since then, however, she has explained her response while speaking to 
Entertainment Tonight
, adding that, despite being open to the idea, there's nothing in the works right now.
"Well, 'no' was getting me nowhere, and 'maybe' was getting me nowhere. So I thought I'd try 'yes.' See what would happen," the star joked.
So, basically, it's
not
going to happen.
So, with an official reunion well and truly off the cards, fans will have to make do with Courteney Cox's Instagram page to get their Friends fix.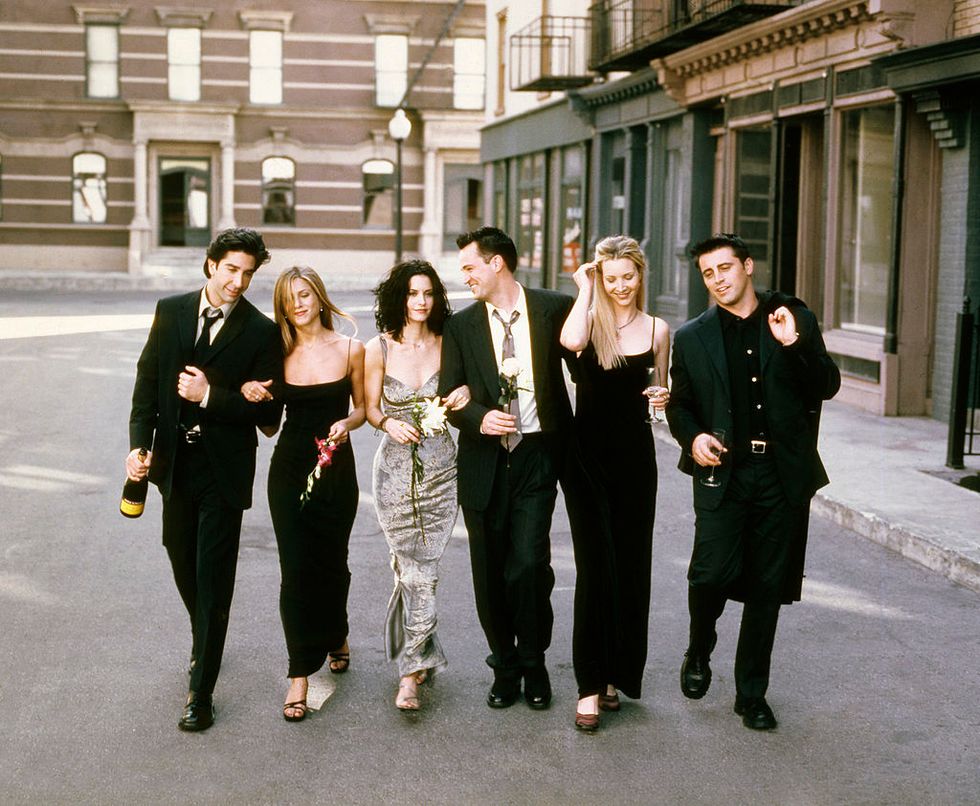 via: Getty
Hopefully, there'll be more get-togethers soon.