Have you heard of the fitness app Strava?
It's like social media meets fitness tracking.
My friend Sam is an avid runner and much more familiar with the app than me. He explained that seeing your friends runs mapped out can give you route inspo, as well as a nudge to keep going, to go further- beat how far other people ran that day.
My interest in Strava however, remained non-existent. That was until I discovered Lenny Maughan.
Maughan has created something called "running art." This neat idea has endless possibilities. The form incorporates the mental and physical well-being that running serves with the self-expression of creating large-scale street art. The cool thing about this kind of art is that it doesn't really exist, I guess you could even call it movement art. As the app keeps track of Maughan's route with a red line, the city of San Francisco becomes a canvas, Lenny's distance creating the subject, the art.
Now it seems there is another player in the fitness art game. I say, fitness instead of "running art" because this fellow has been marking his cycle routes.
Continue scrolling to check out some of Lenny's best works as well as the work of newcomer, Anthony Hoyte.
Lenny Maughan has been making running art for the last four years.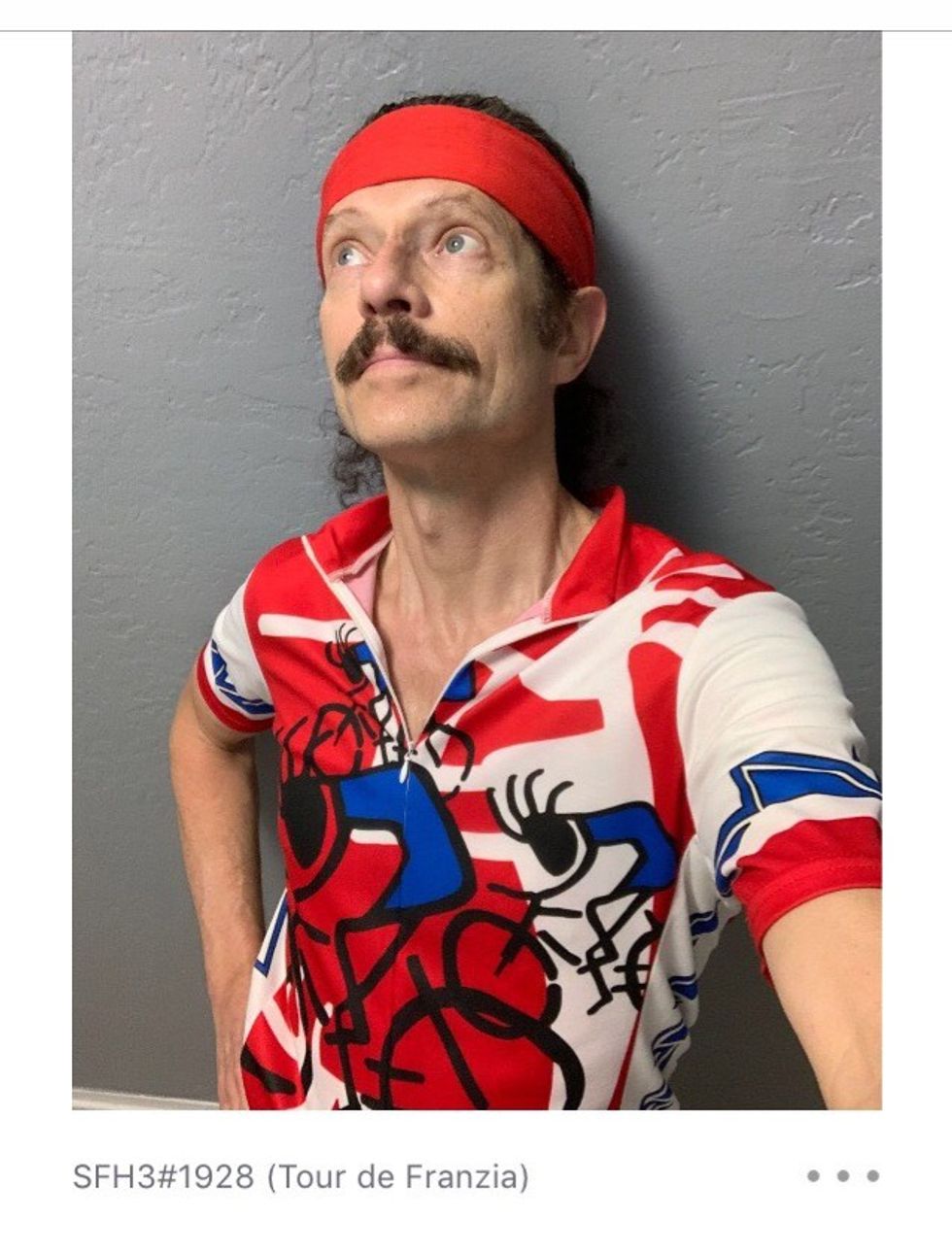 A runner already, the notion of running art sort of happened accidentally, at first.
Route-tracking apps made people notice images in their routes.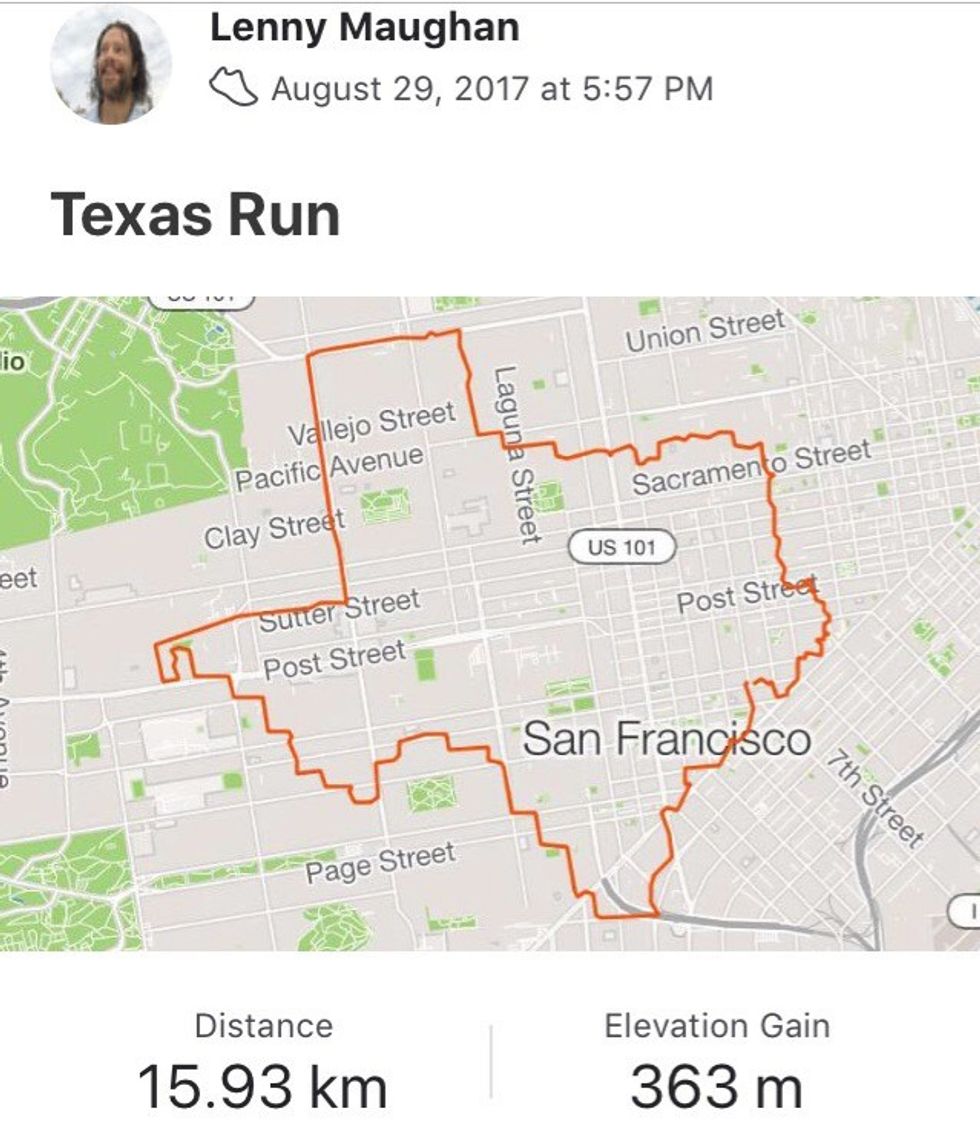 When the dawn of route-tracking apps hit the running community, people began seeing shapes and images in their routes. Something that was never a thing before.
"I wanted to do something different and something original."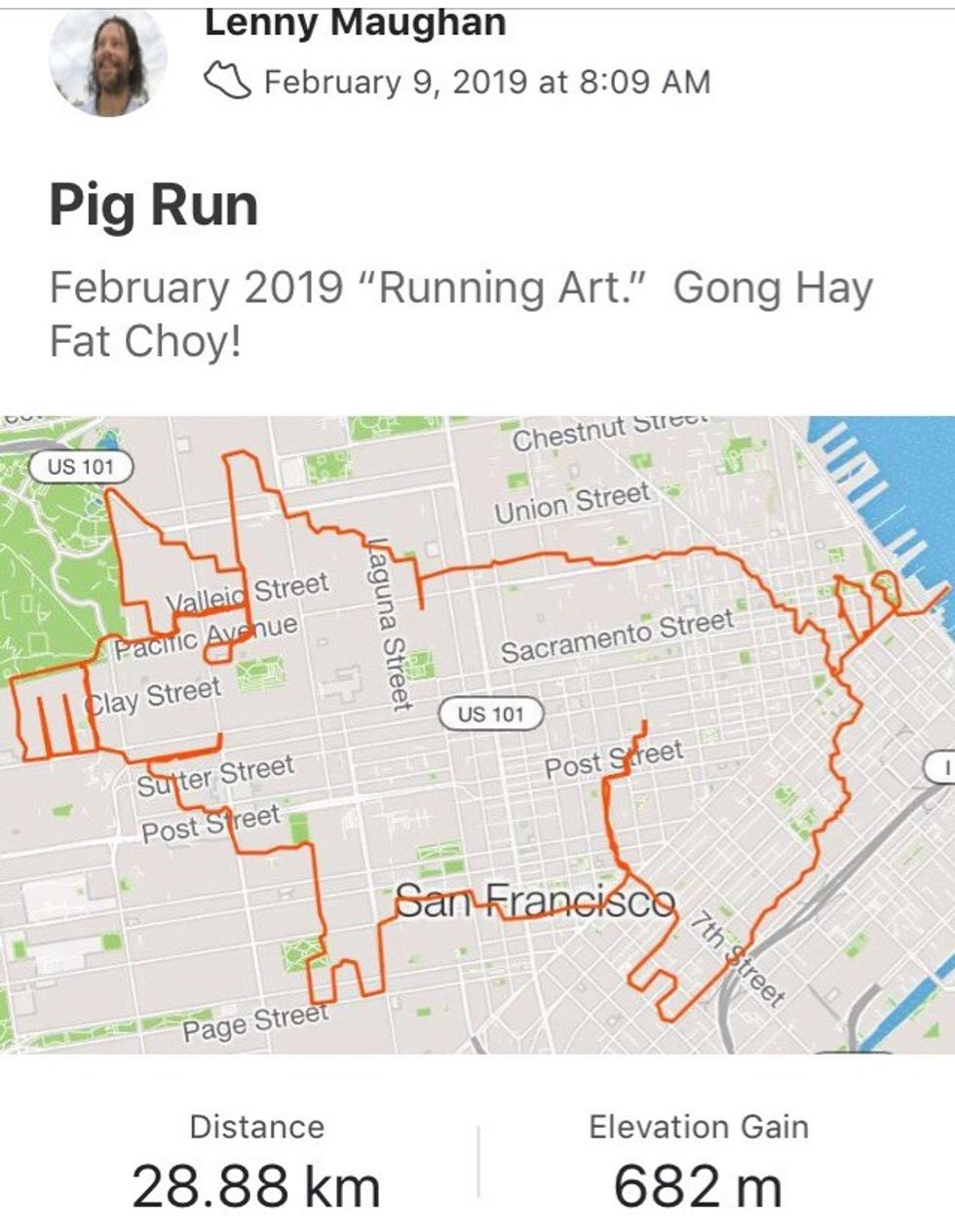 Speaking to
The Guardian
, Maughan explained that the new phenomena (of course) led to people running penis-shaped routes, " That's where it all began," he admitted. Wanting to harness this new canvas in a different way, Maughan got creative...
"When I was a kid everyone thought I'd be an artist when I grew up – I was always drawing things."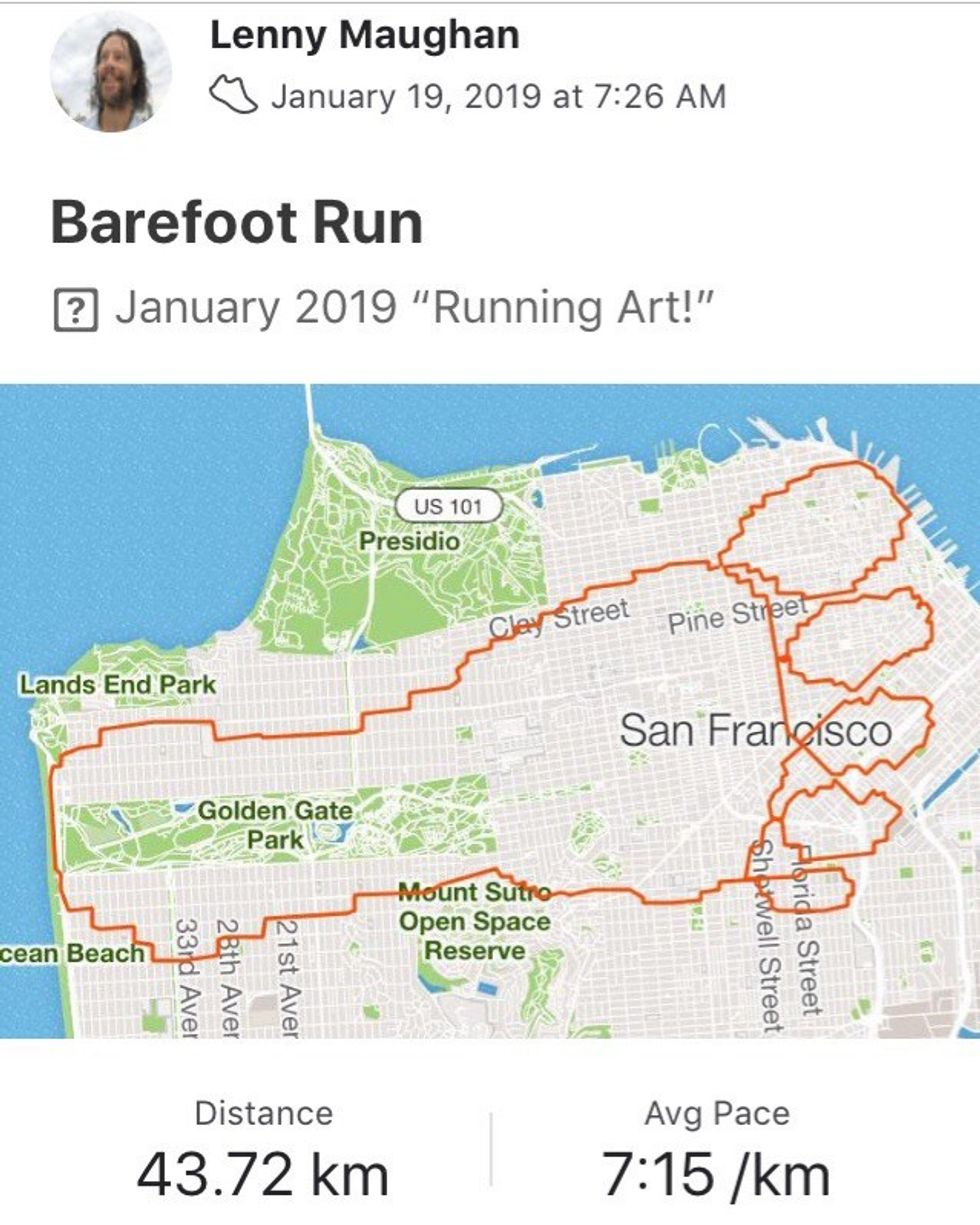 According to Maughan, he's always been an arty kind of guy. When he was a kid he was particularly into etch-a-sketch- which definitely would have proved good practice for his later running art endeavors.
All you need is a map and a pen.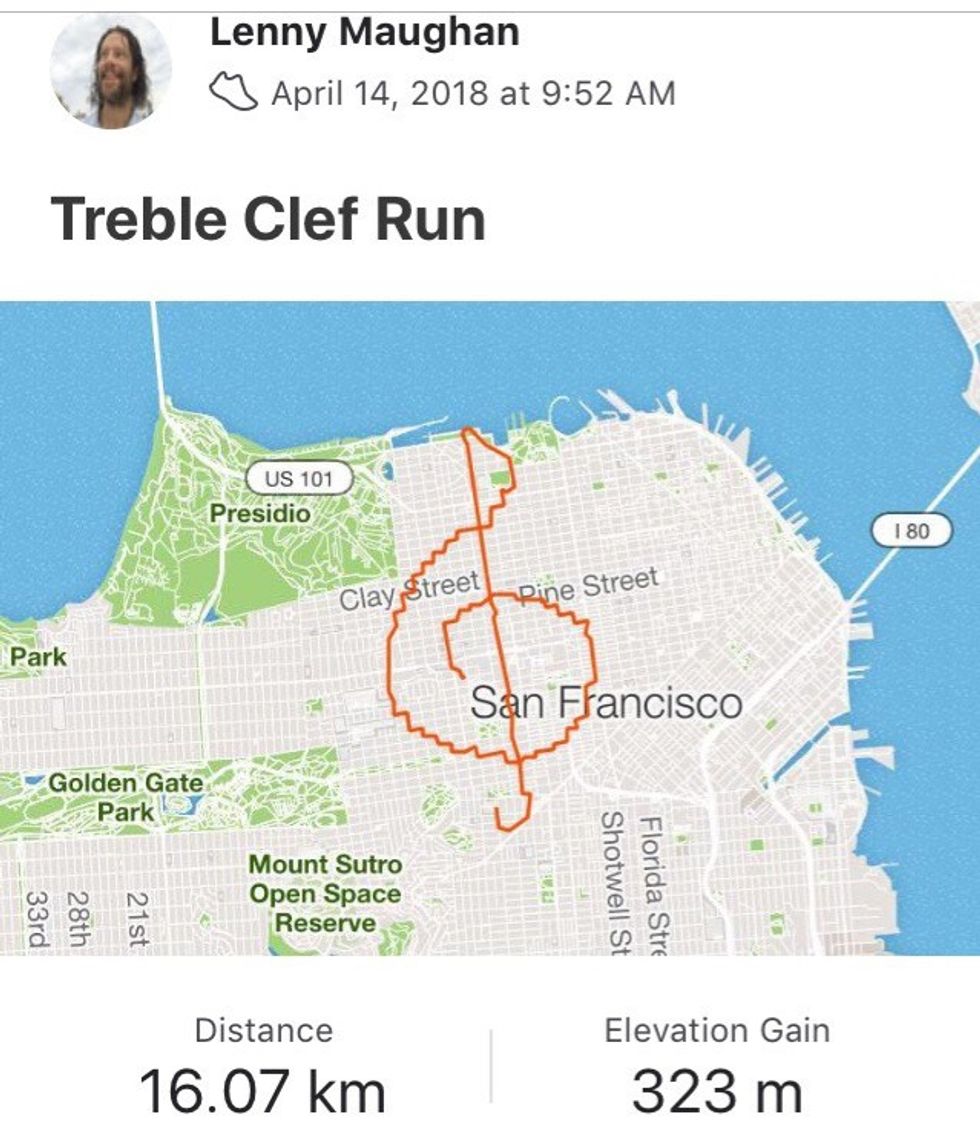 Similar to the concept of etch-a-sketch which requires the drawing to follow in a continuous line, Lenny's running art requires drawing out a route that creates an image without breaking the track.
"The larger you go, the more fine-tuned you can make the shape."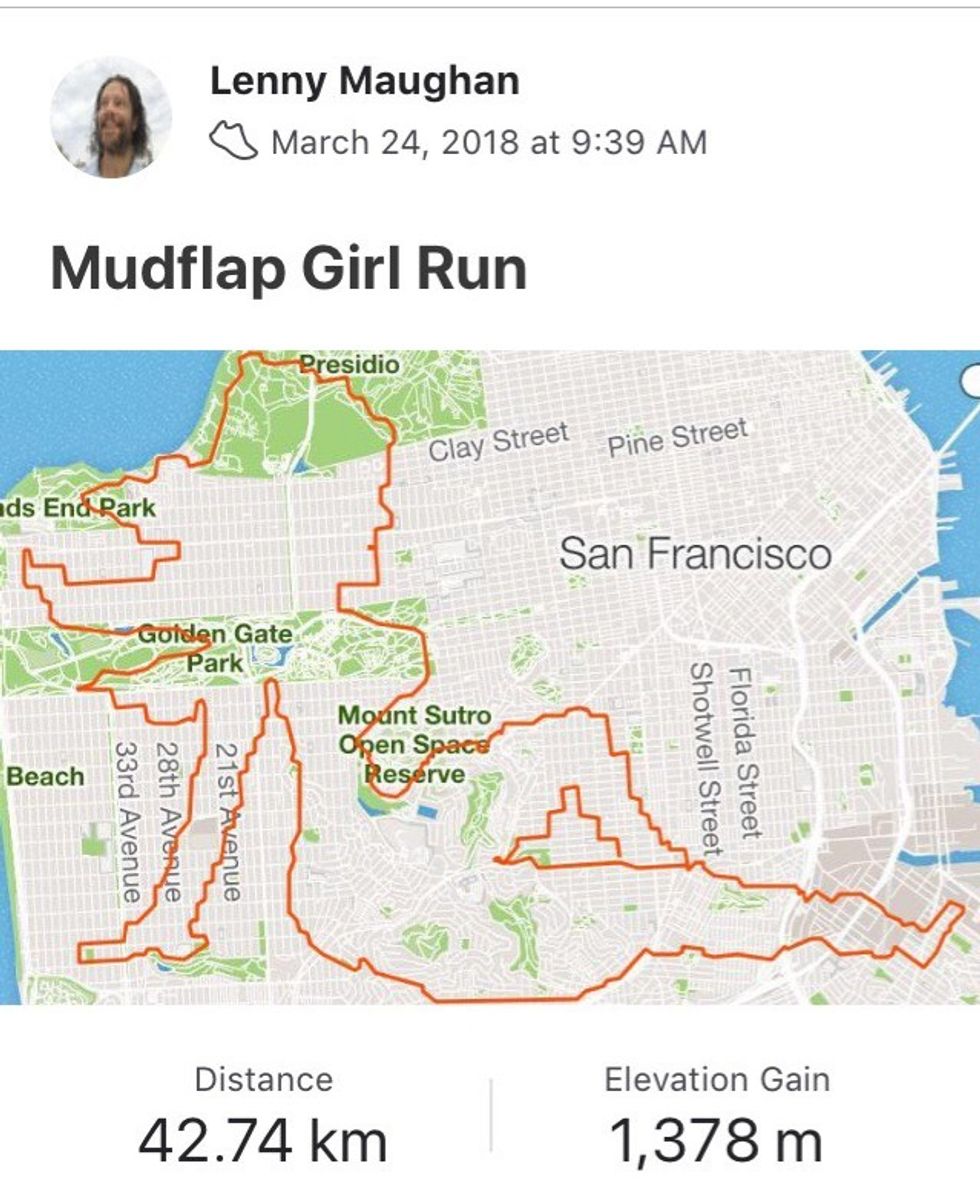 Lenny explains that the more distance you're willing to put into your run the more detailed and elaborate your art can be.
Take Freida Kahlo for instance...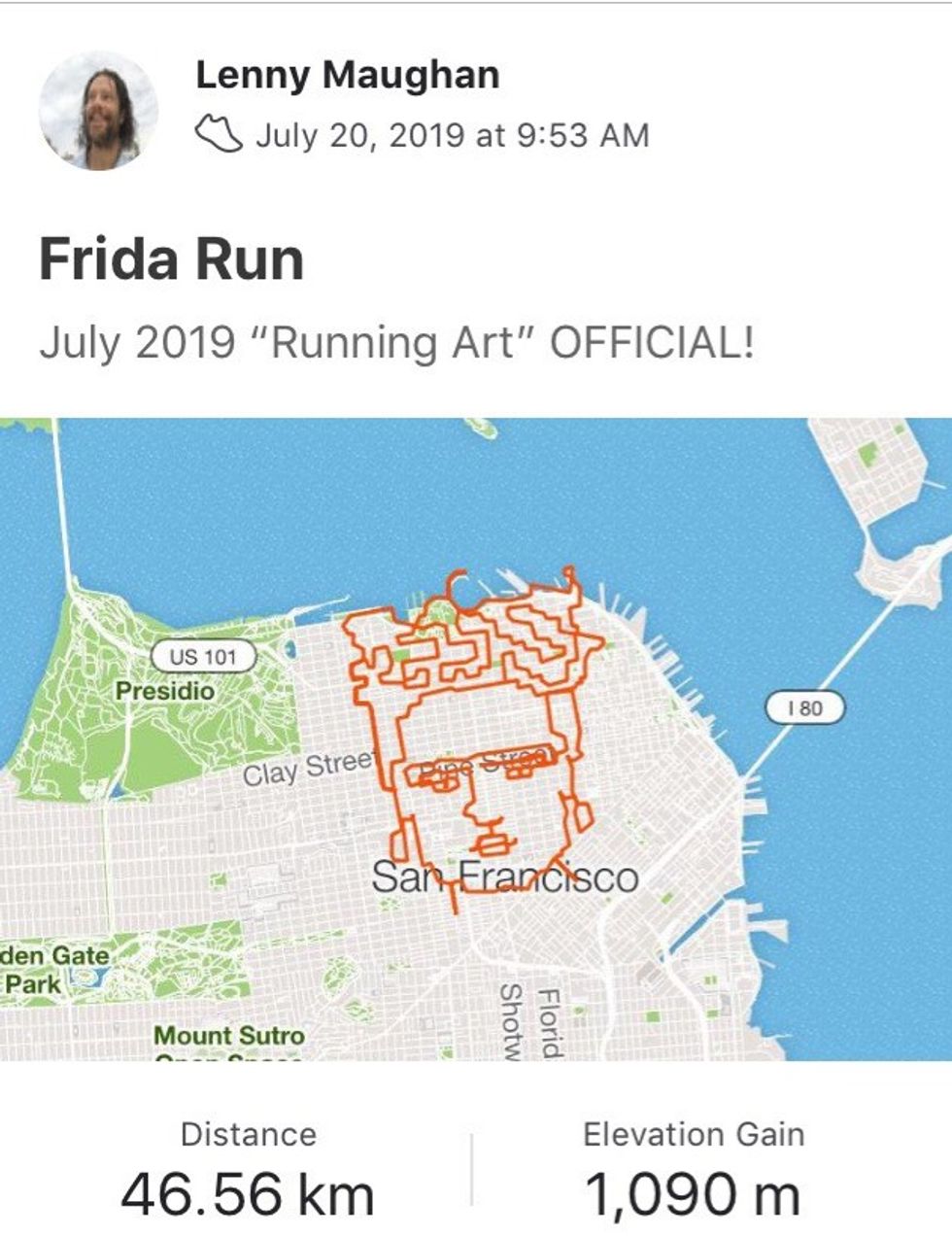 As impressive as this piece is, to create it Lenny went on a 28.9-mile run. Which took him six-hours and eight minutes. Bearing in mind, this guy runs a lot. So it would probably take the average Joe like you and me a little bit longer. This was the first of Lenny's artwork to garner large-scale interest, with his Frida art going viral on
Reddit, 
as well as getting noticed by the
local press.
If you were interested in doing any of Lenny's routes, you can!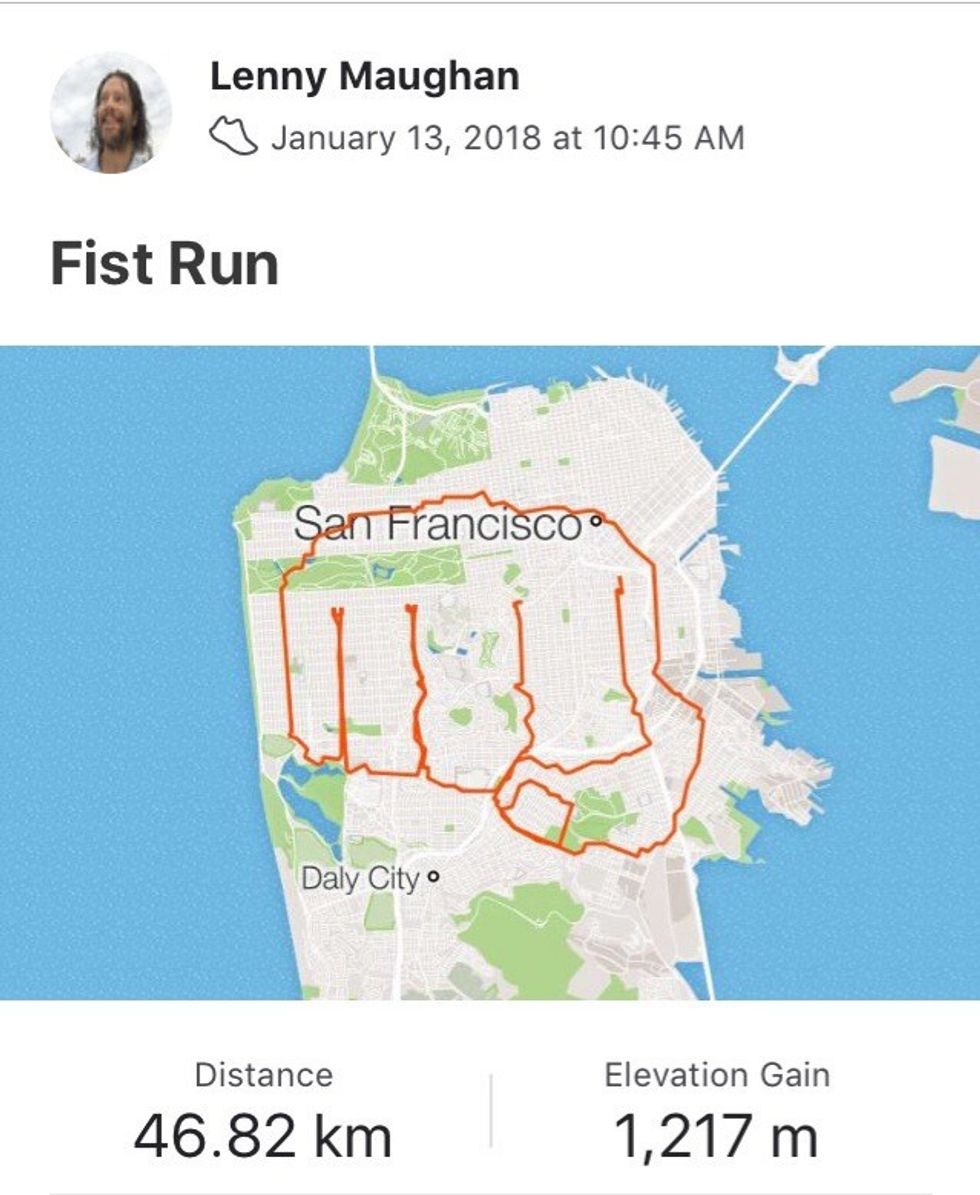 Strava allows you to make your routes public, as Lenny has done, meaning that if you follow him on the app you can retrace any of his previous routes and recreate some of his iconic images.
A whale of a time.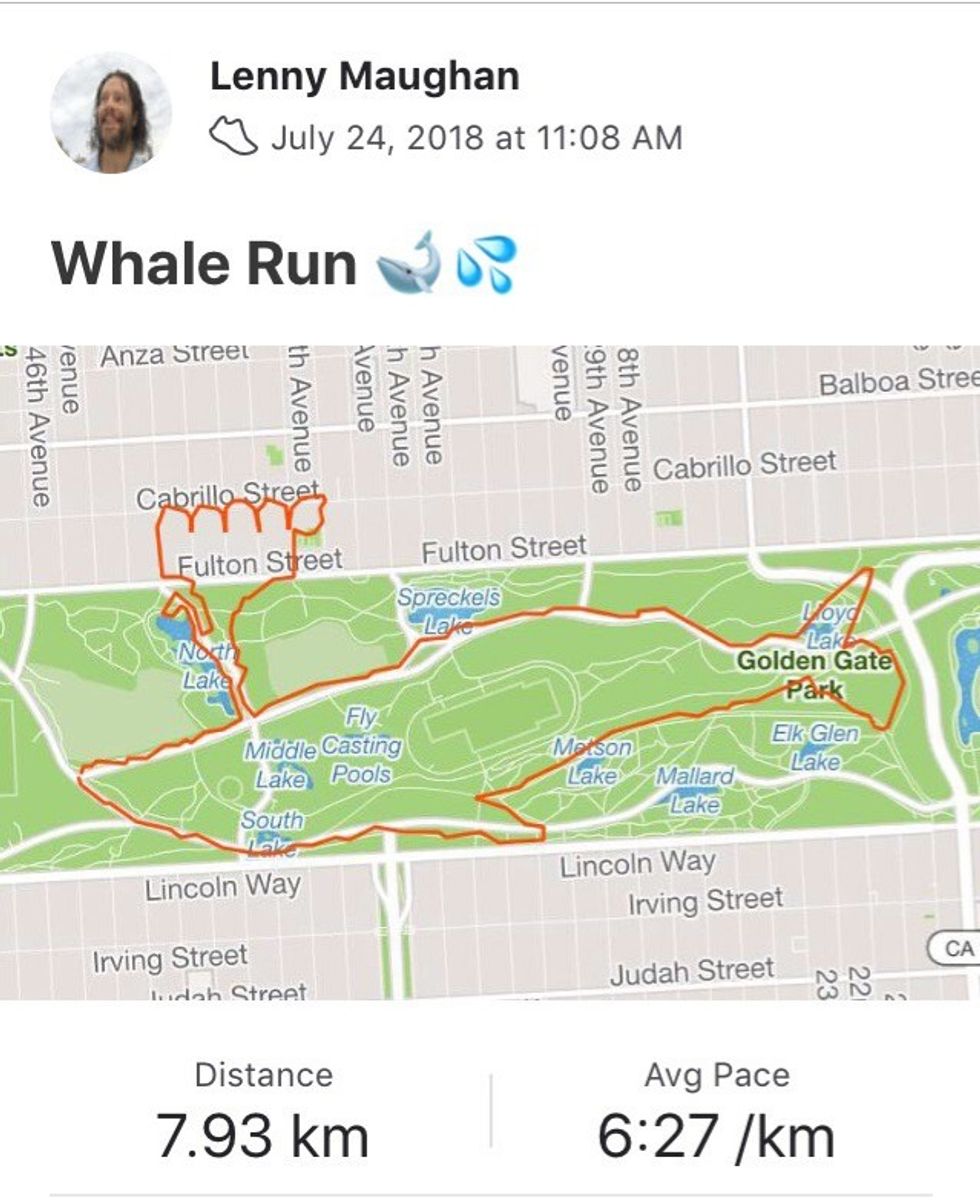 Since starting the running art project four years ago, Lenny has created over 53 pieces, some of the best ones I've attached below...
Celebrating St Patrick's day?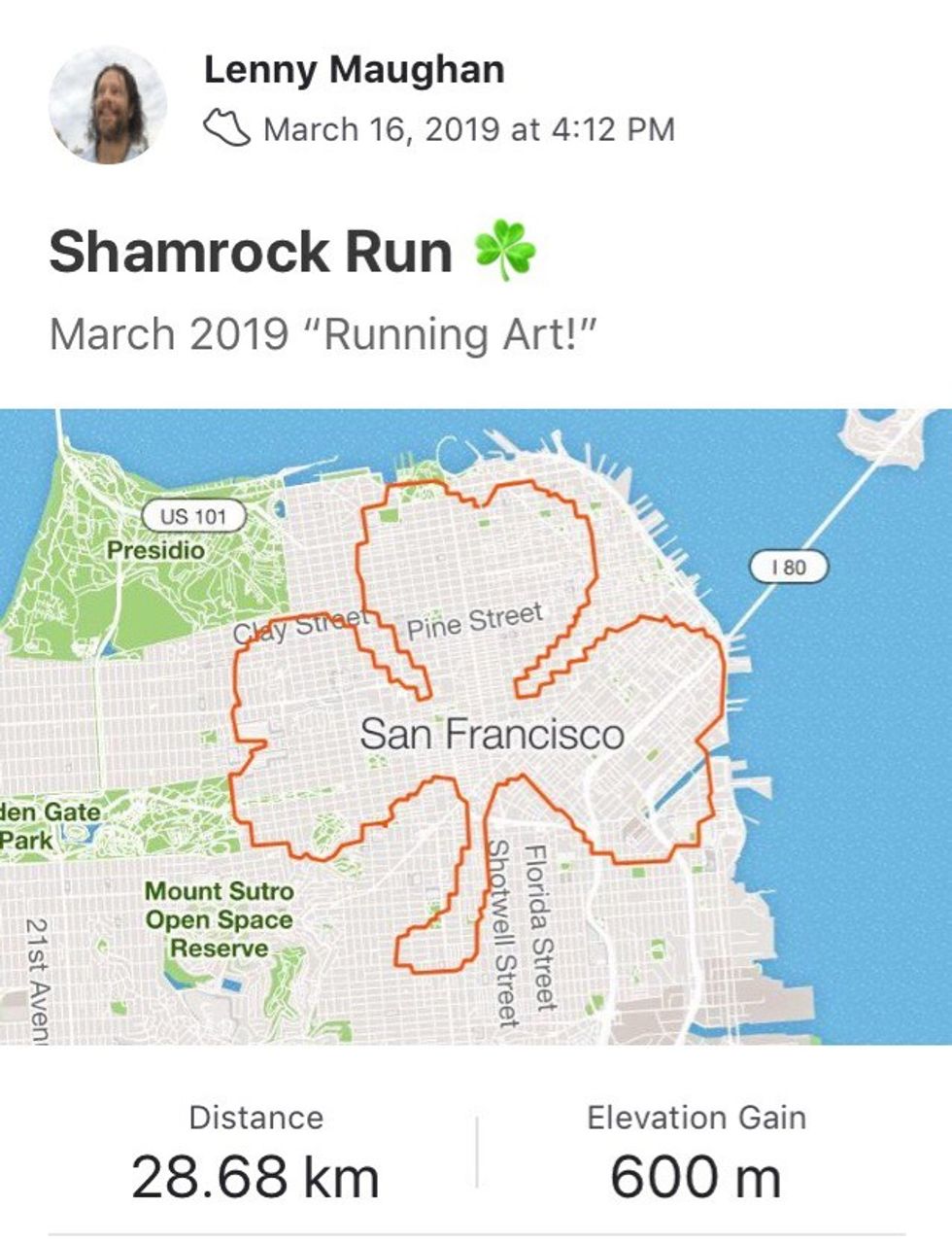 Why not go for a shamrock run around the city...
Holy Guacamole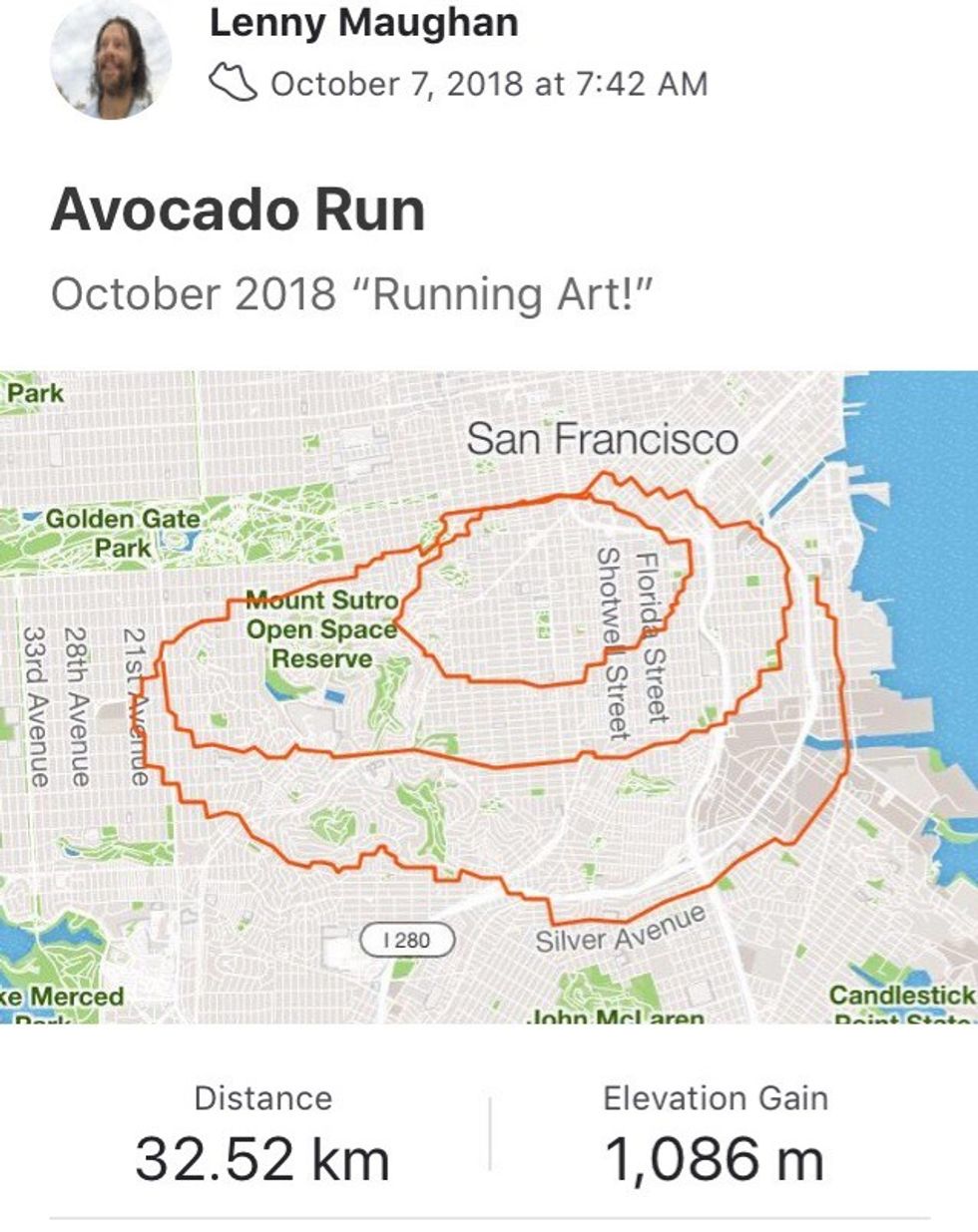 Wonder if Lenny's mind was on brunch when he created this one.
For the Fire Fighters and First Responders.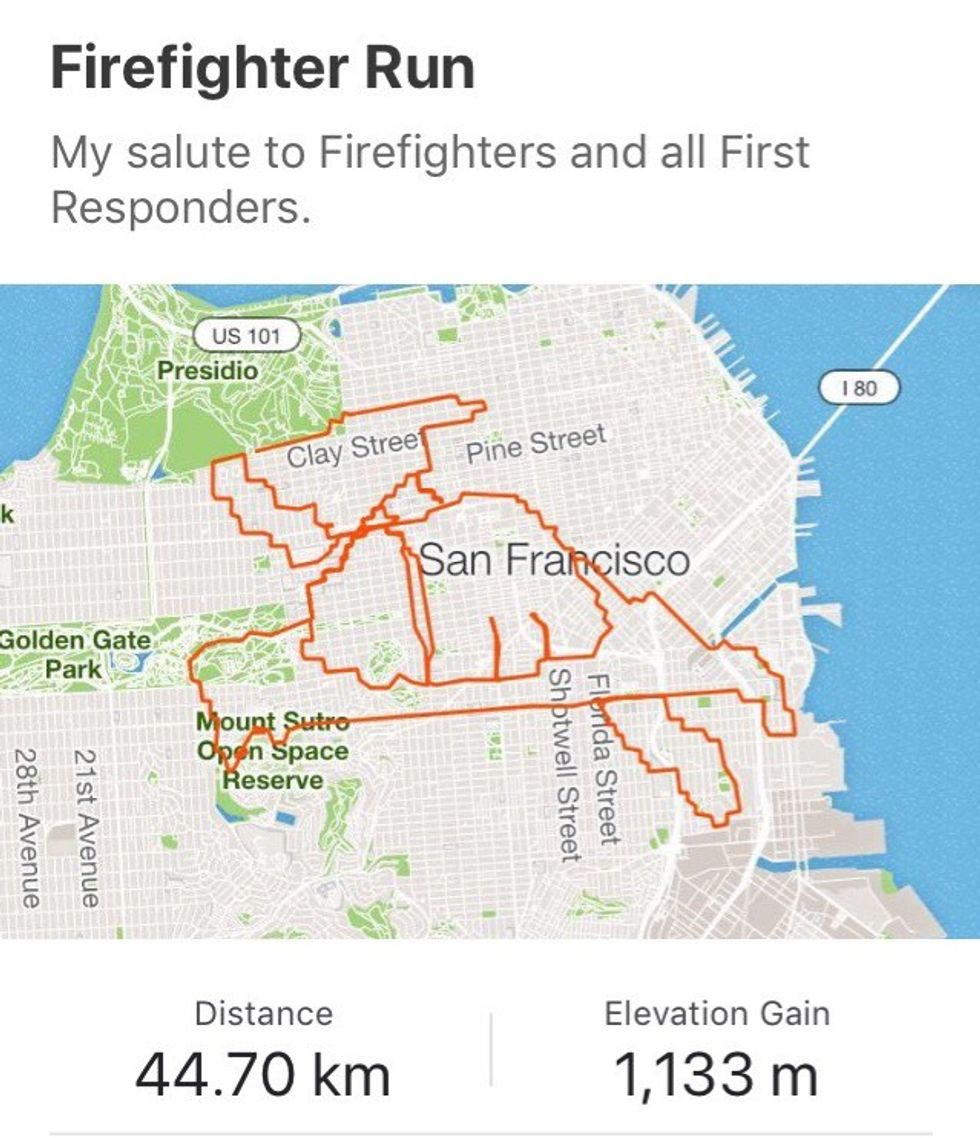 Sometimes Lenny does art inspired by the stuff going on around him. During the recent fight between the
First Responders
and congress over their benefits, Lenny created a helmet and ax route, to show solidarity and as a tribute to the firefighters and first responders.
Trying to tell someone something?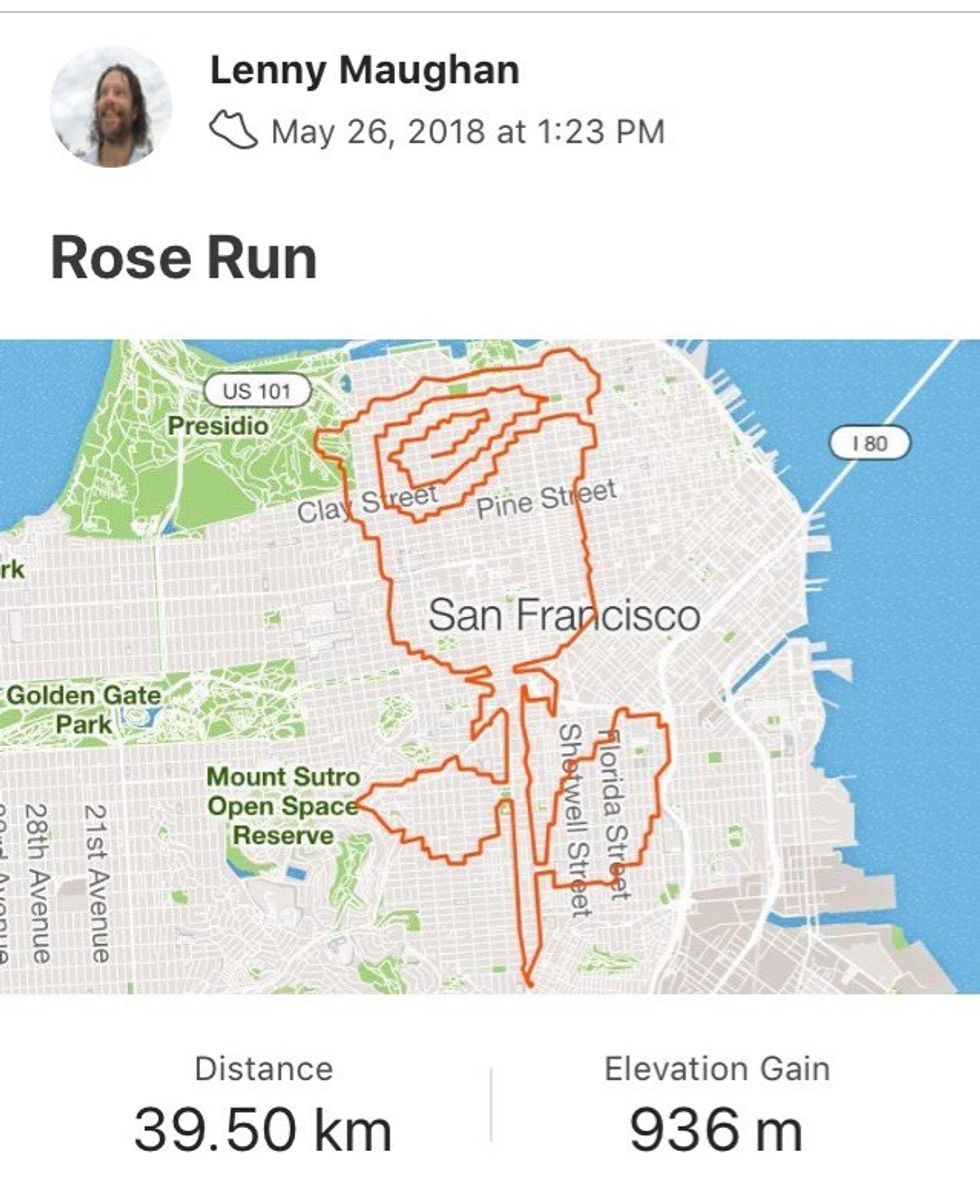 Forget sending that special someone flowers to work, what could be more romantic than them opening their Strava feed to see you have run the length of the city to make them a rose? Aw, yeah.
Or you know... for beginners like you and me...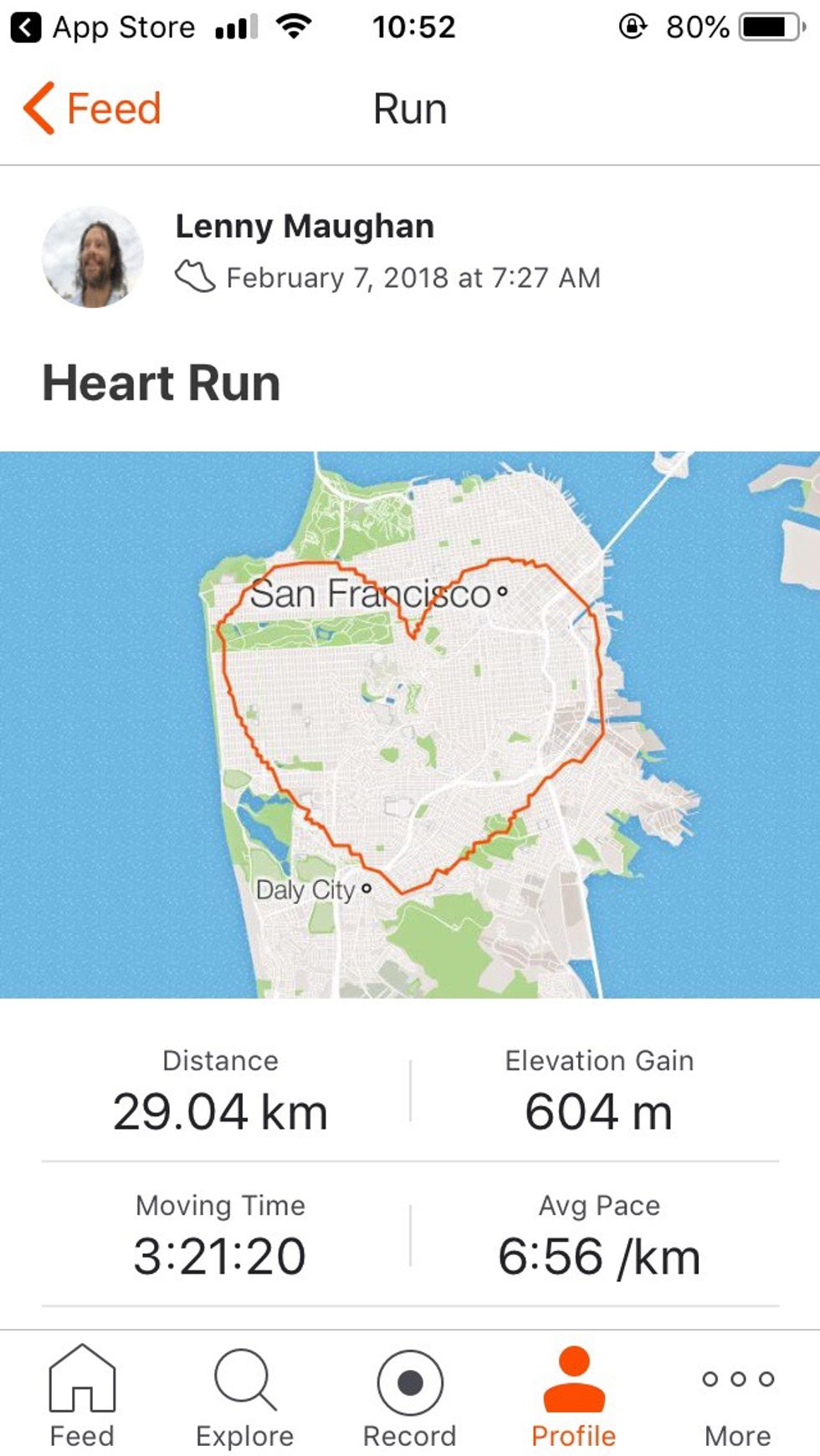 Maybe a rose is a bit of a hard one to start off with, but a heart isn't a bad place to start! Not all of Lenny's routes are over complicated but the effect is still quite something.
When you're locked out and your housemate's at work...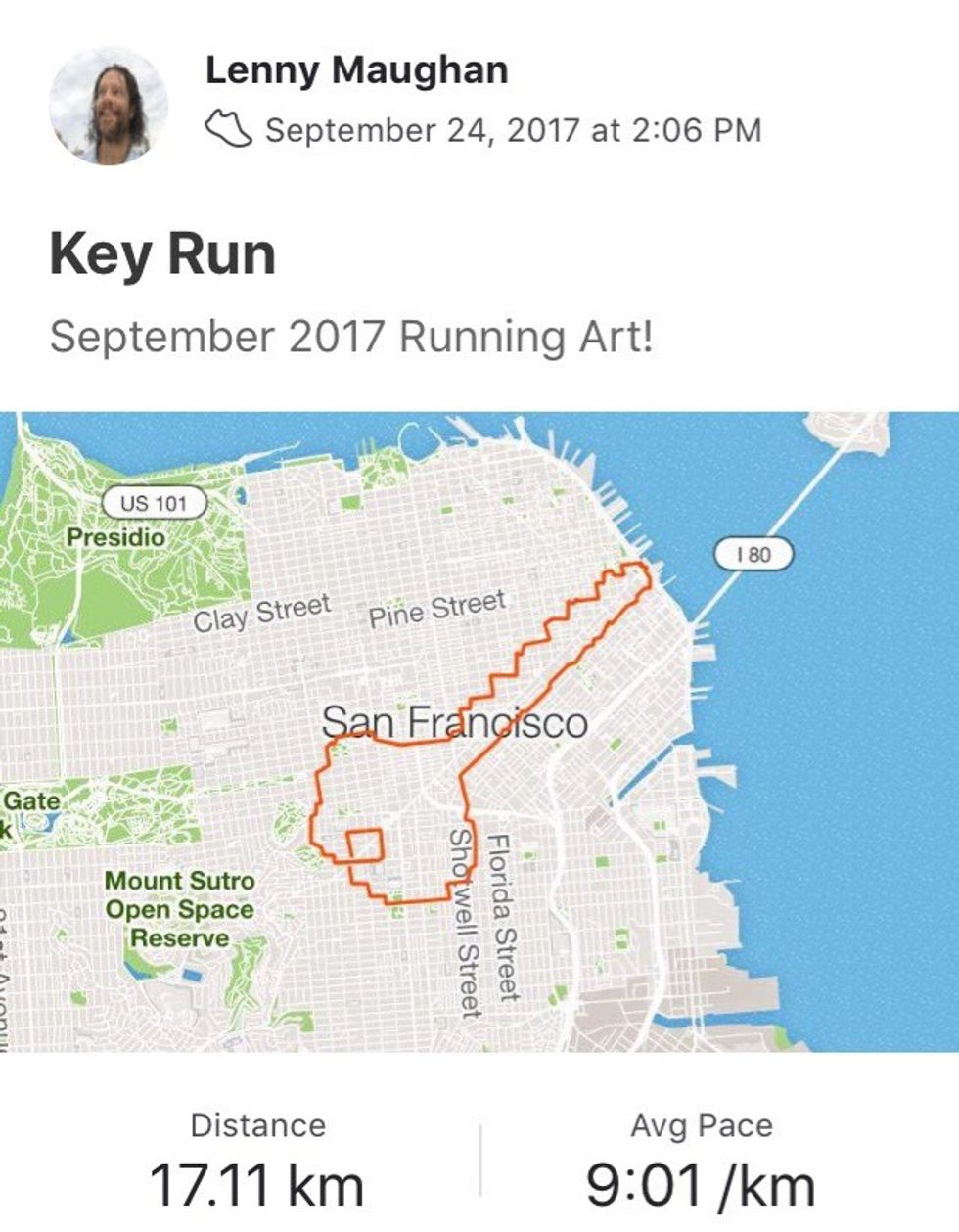 I know I could send out an SOS to all my friends on Strava, and get in a decent run at the same time. Perfect.
I think this one is my favorite.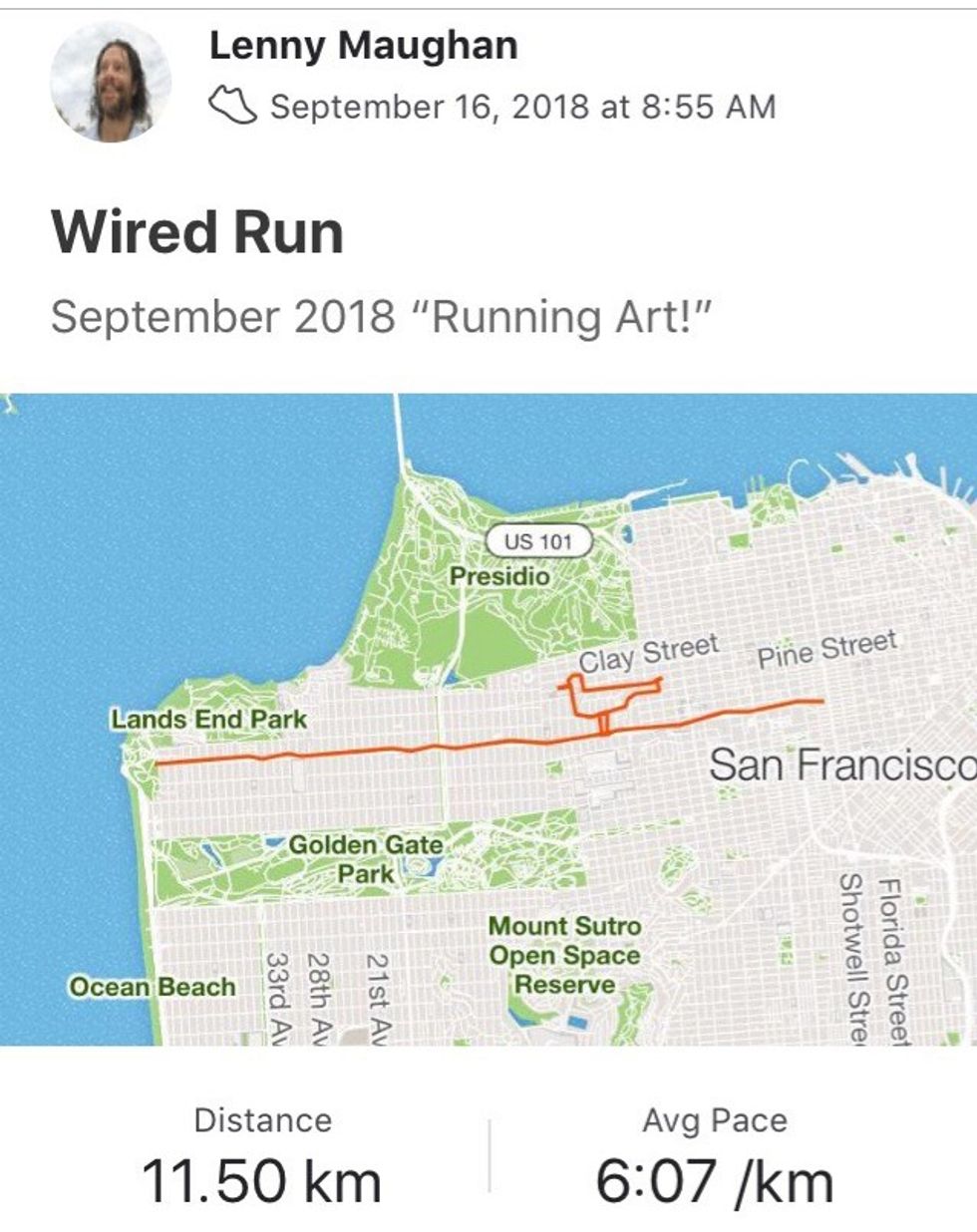 How did the Leanord Cohen song go again? "Like a bird on a wire, like a...Like a drunk, that's it.. in a midnight choir, I have tried in my way to be free"- nothing quite as freeing as running is there? Running away from everything and everyone and for a moment all you have to concentrate on is your breathing, and I guess your route, otherwise, you might muck up the beak...
Even Lenny doesn't always get the perfect drawing right away...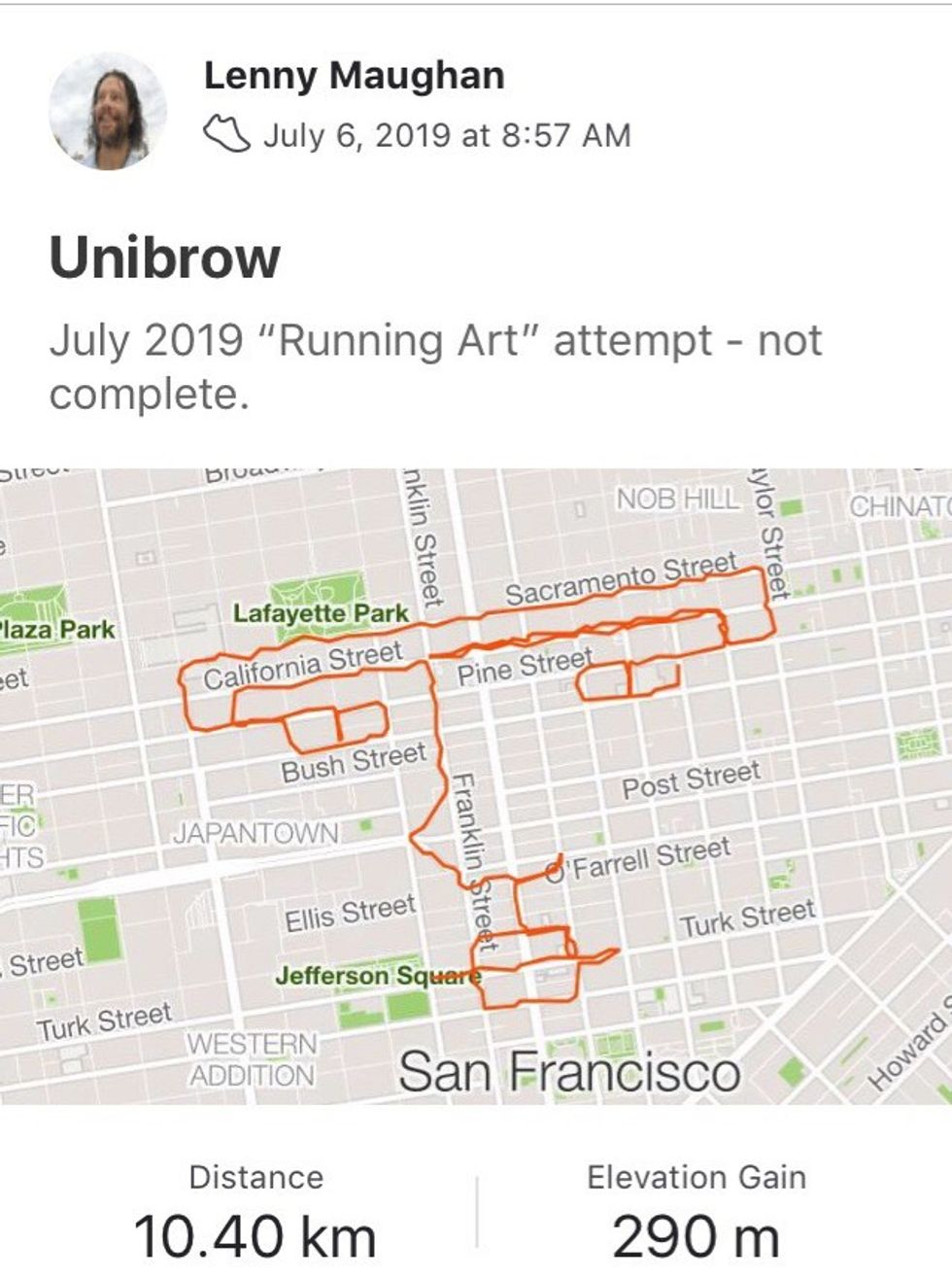 It takes well-honed practice to make running art as good as Lenny's but even his trial attempts are pretty cool.
What do you want for dinner tonight?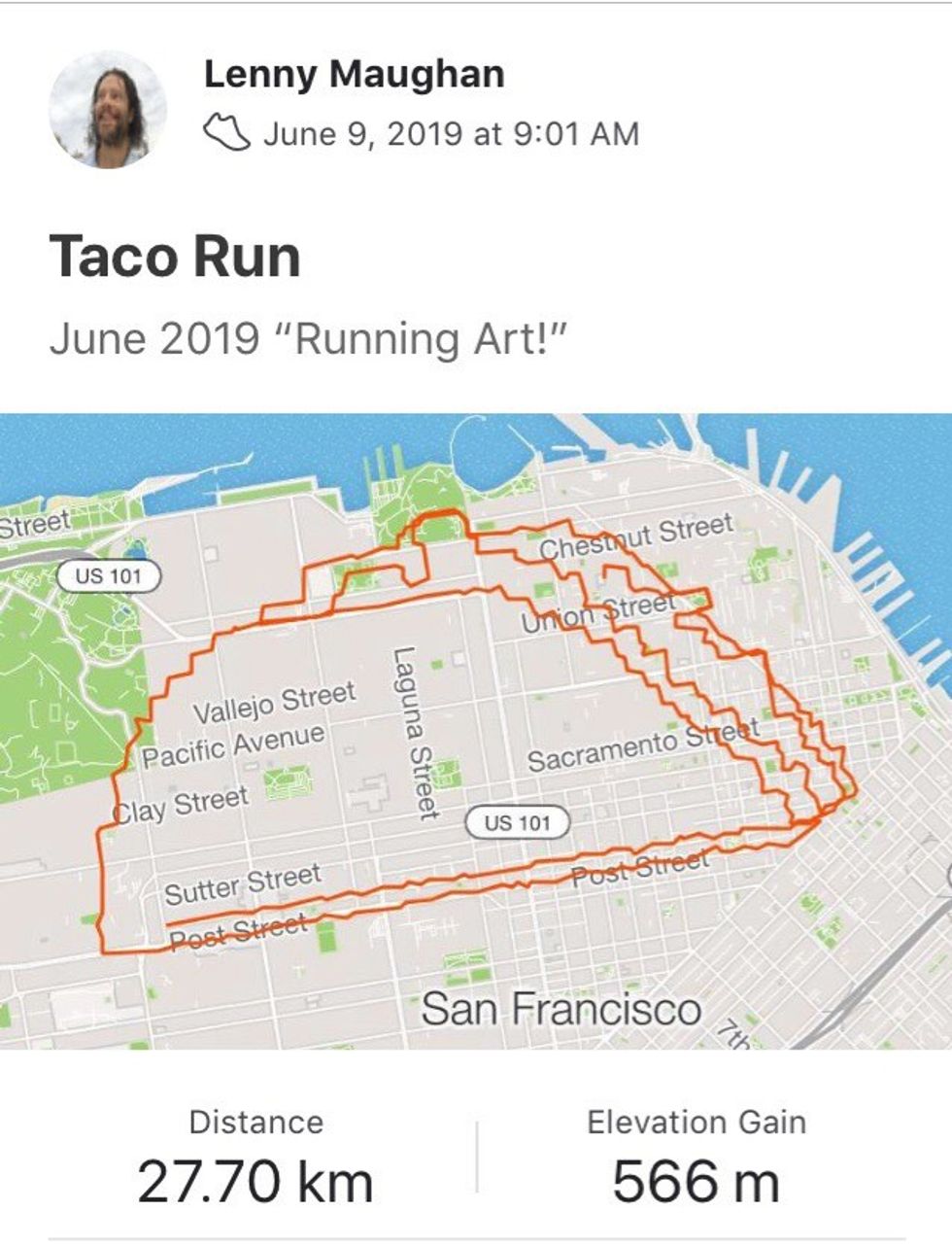 ... Let me just go on a run and think about it.
Running doesn't have to be a solo enterprise.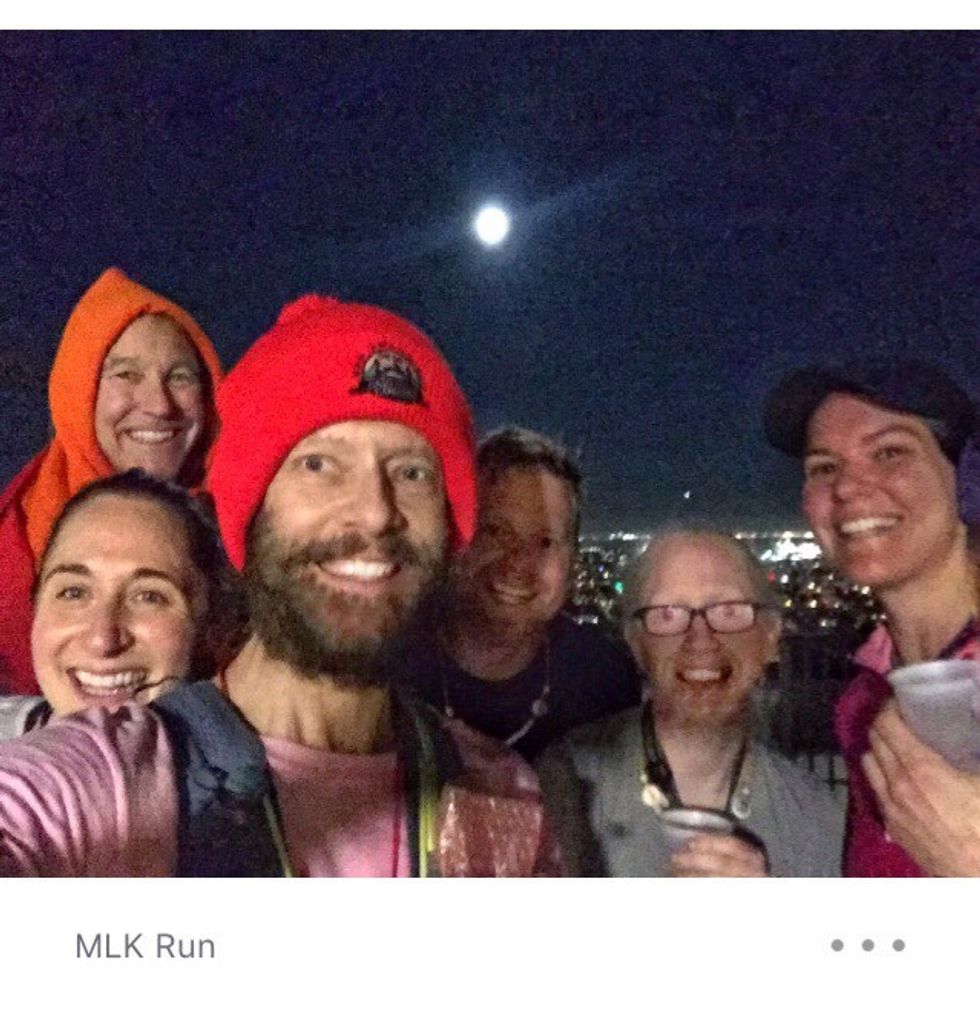 When Lenny's not making running art, he's running alongside his friends, who all keep in check with each other through Strava. In the same way with Facebook, you have the 'like button' and on Instagram, you've got the 'heart button', with Strava you can share the love with your friends by giving them Kudos on their runs. I'm not sure if there is any kind of popularity contest with Strava. I don't know if having more kudos than the next person amounts to anything. I think your distance, time and wacky route art are probably more important.
"I could do that,"...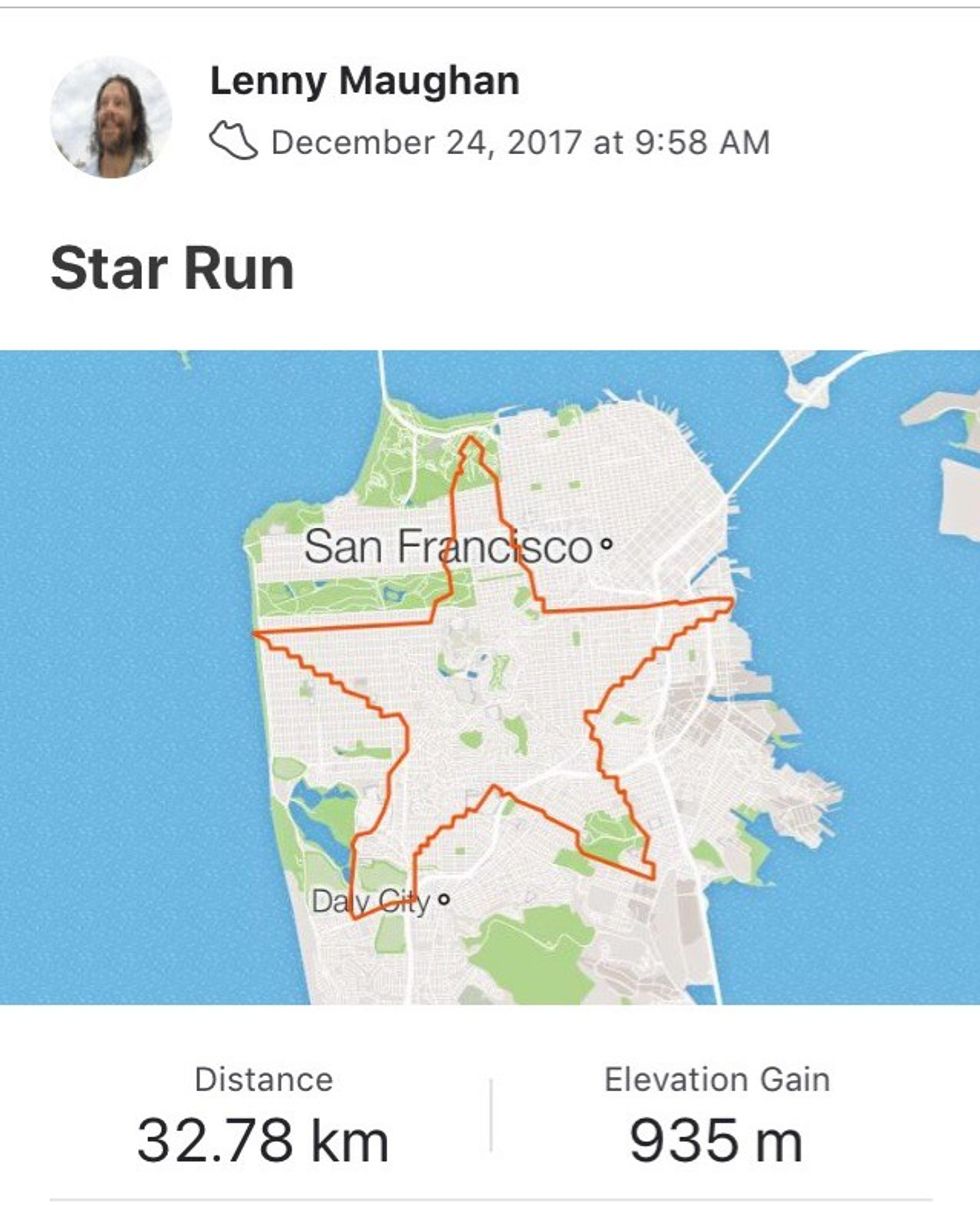 ... *Makes a triangle for the third time.* "Ah, darn it!"
Anyone for a brew?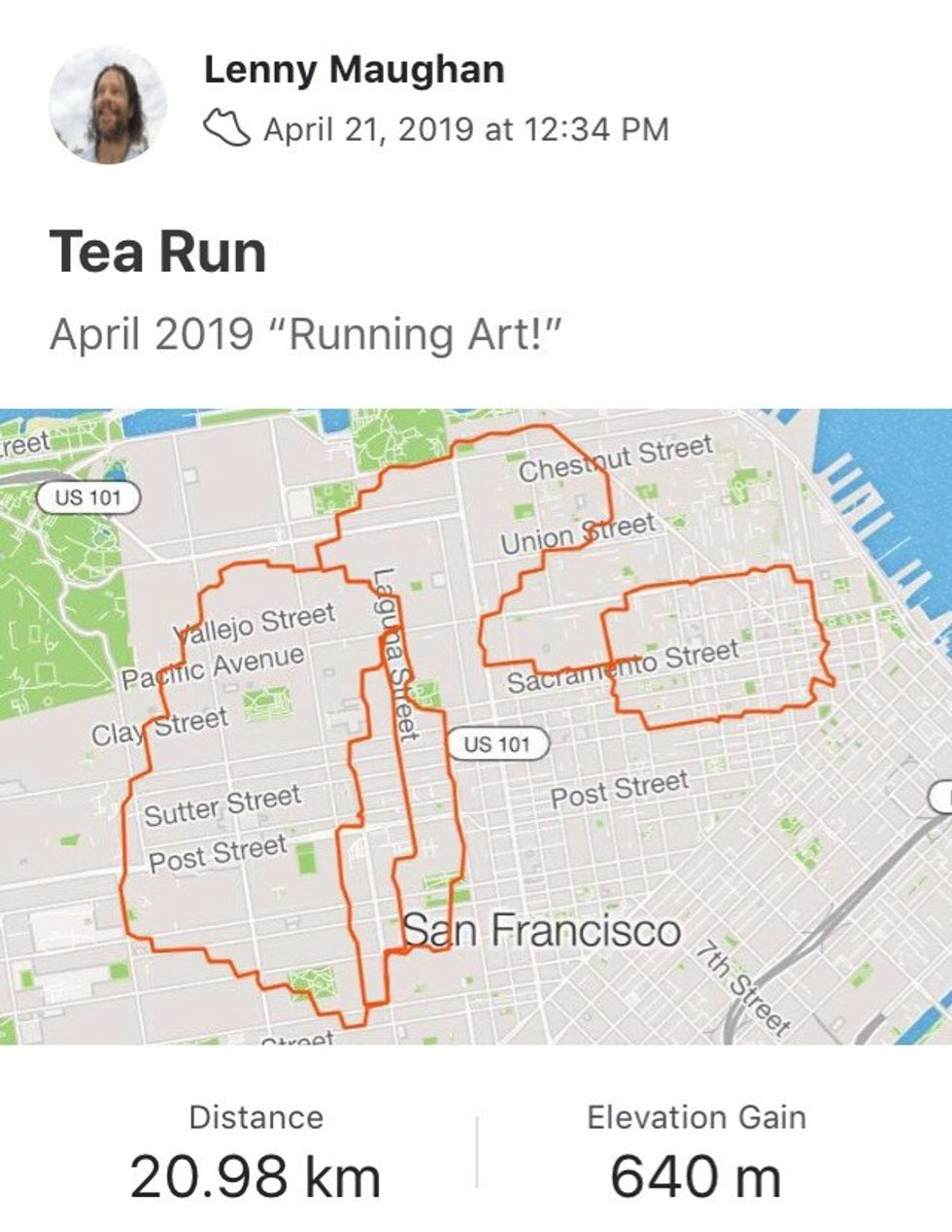 Unexpectedly got the afternoon off? Why not invite your pals around for a cuppa- through the elaborate messaging platform of Strava Running Art!
This one looks a little tricky...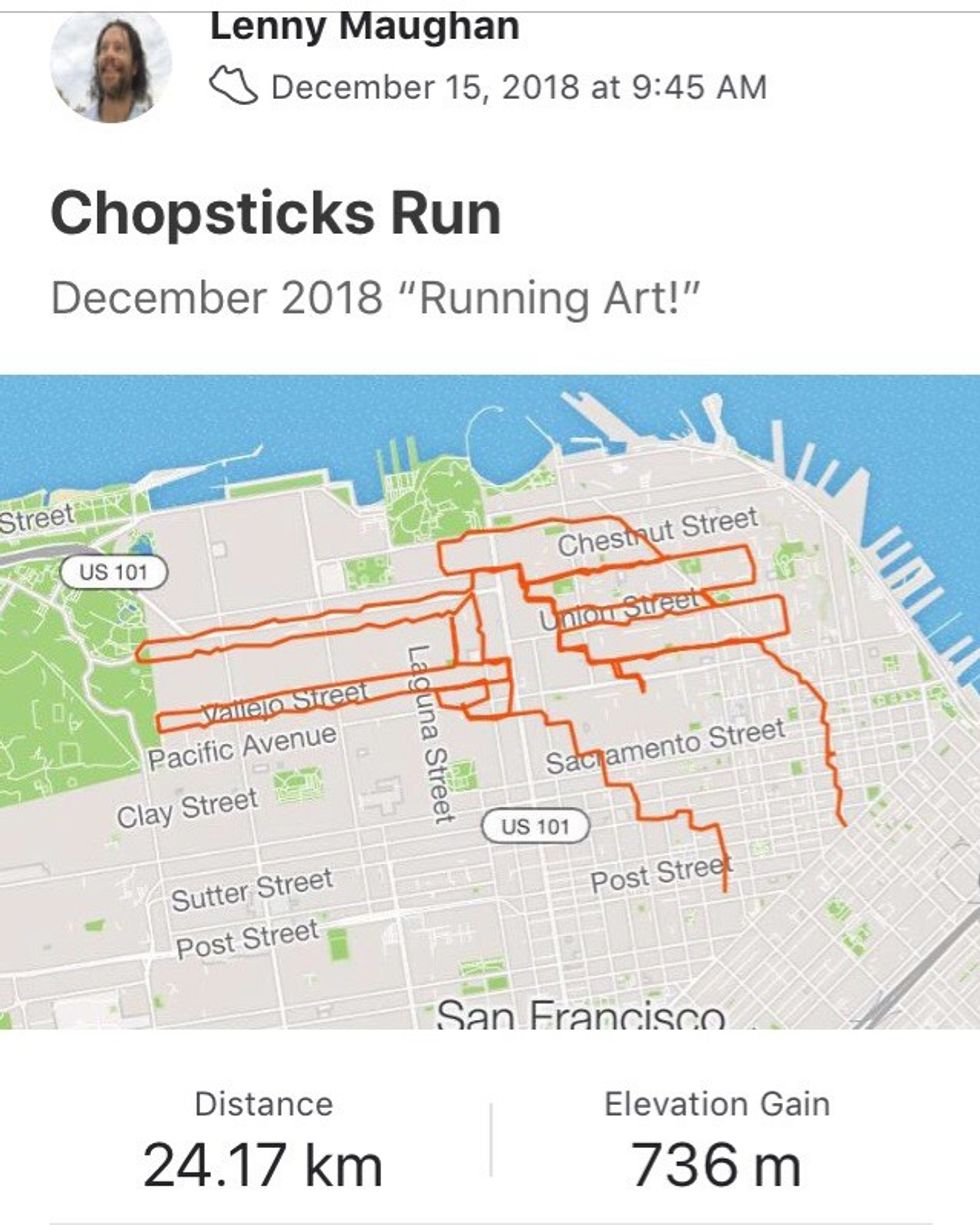 I know hands are difficult to draw so I wonder how hard it is to run draw hands and a chopstick... It's certainly an impressive entry by Lenny.
Who run the world?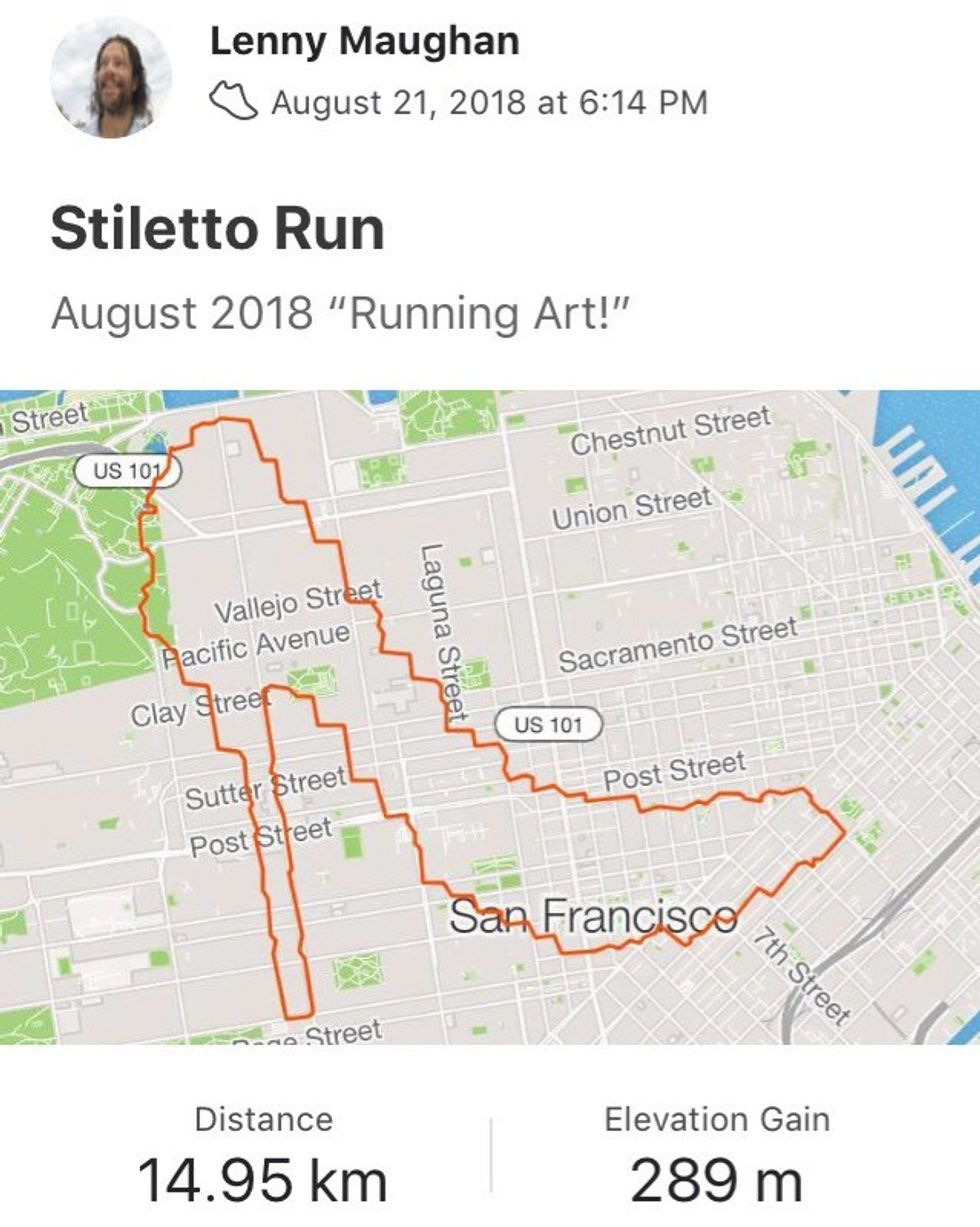 Girls (and Lenny).
A runner running?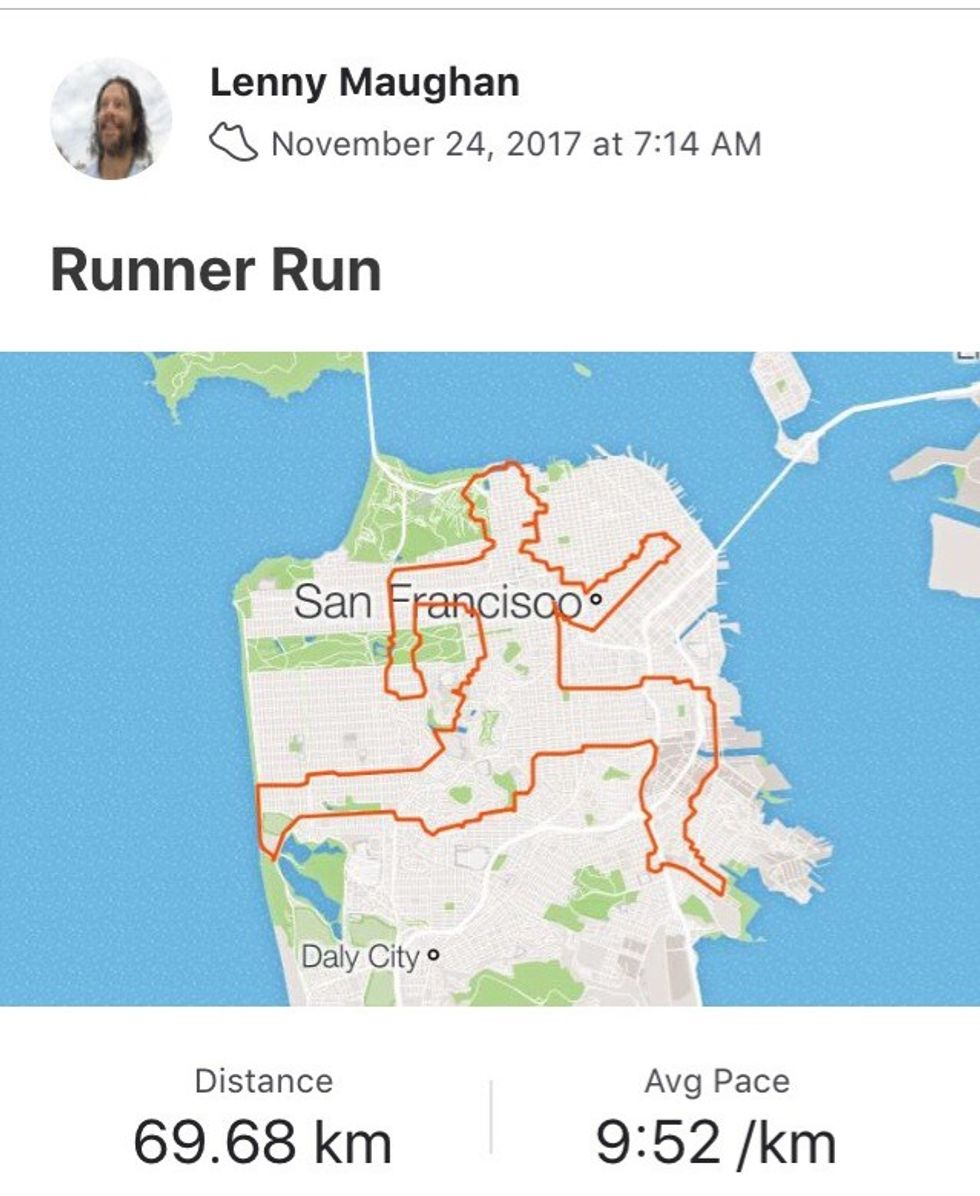 This is clearly one of Lenny's bigger runs- taking him across the entirety of San Francisco to make this impressive creation. The runners even got a nose and mouth for cryin' out loud!
A quick little fez run around the neighborhood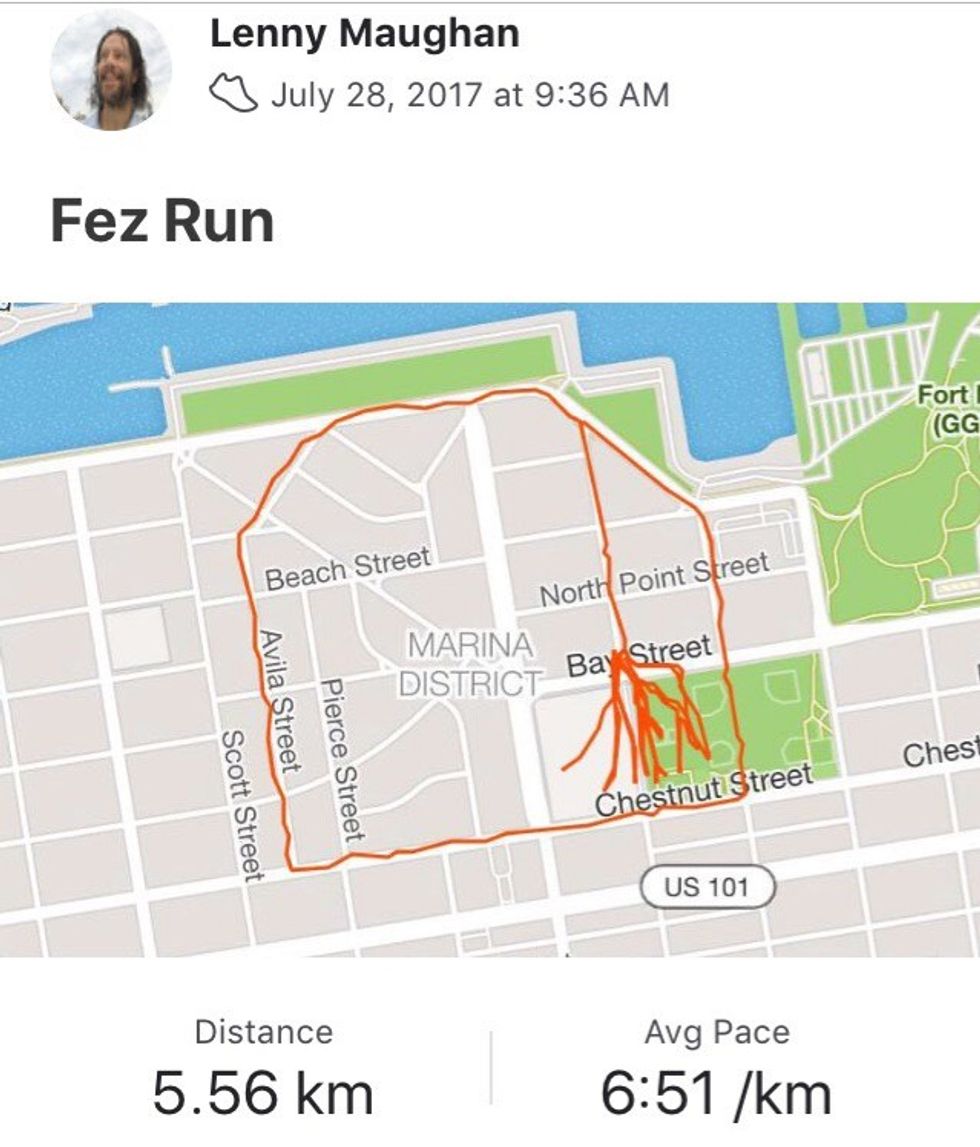 What's cool about Lenny's Running Art is that although some of the pieces are epic in scale, he still makes some pretty neat ones in a distance that isn't super daunting to more amateur runners like me. It's nice to think, "I could do that."
Big pieces like Frida take a while to get right...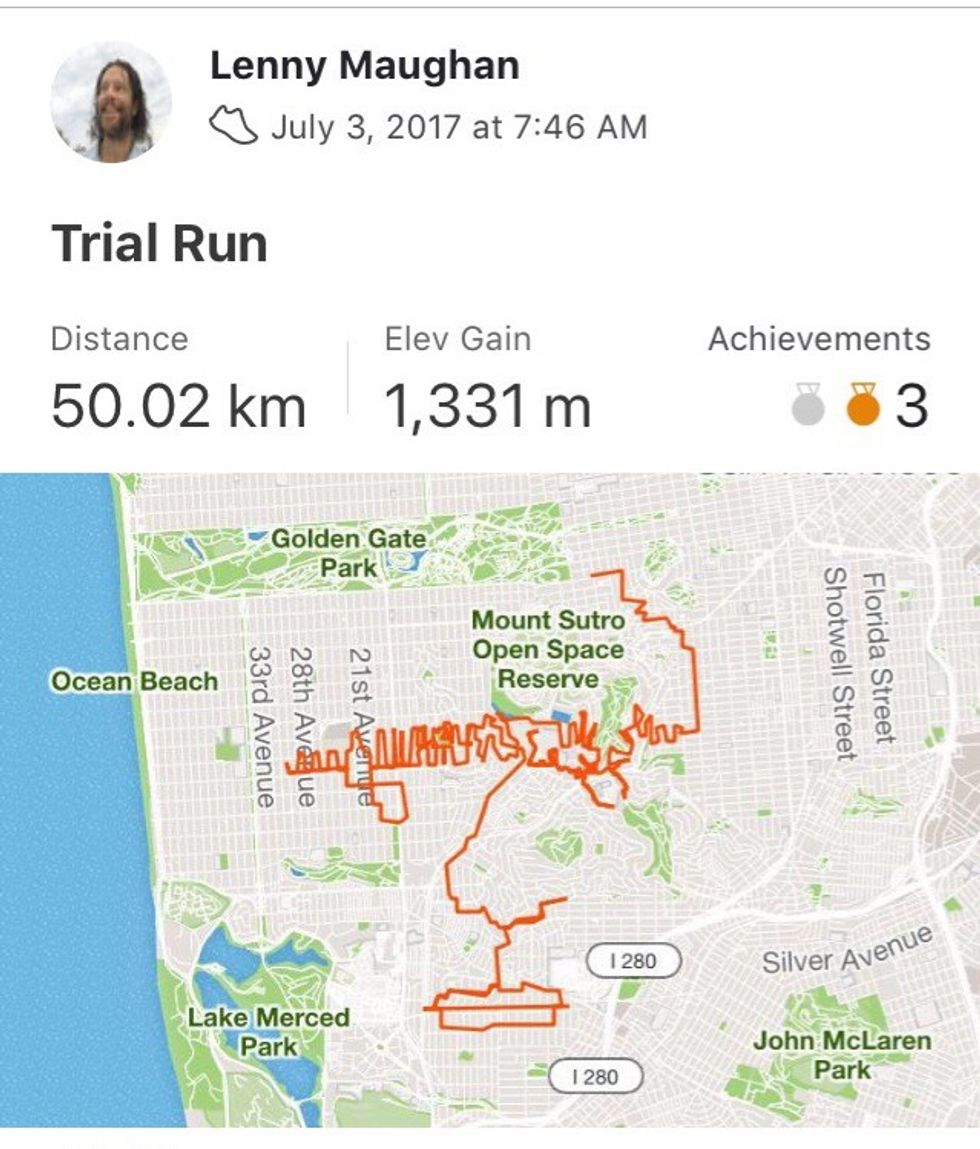 Lenny happily shares his trail attempts along with his perfected masterpieces, showing that you shouldn't feel bummed out if you don't get it right the first time.
As Rocky once said...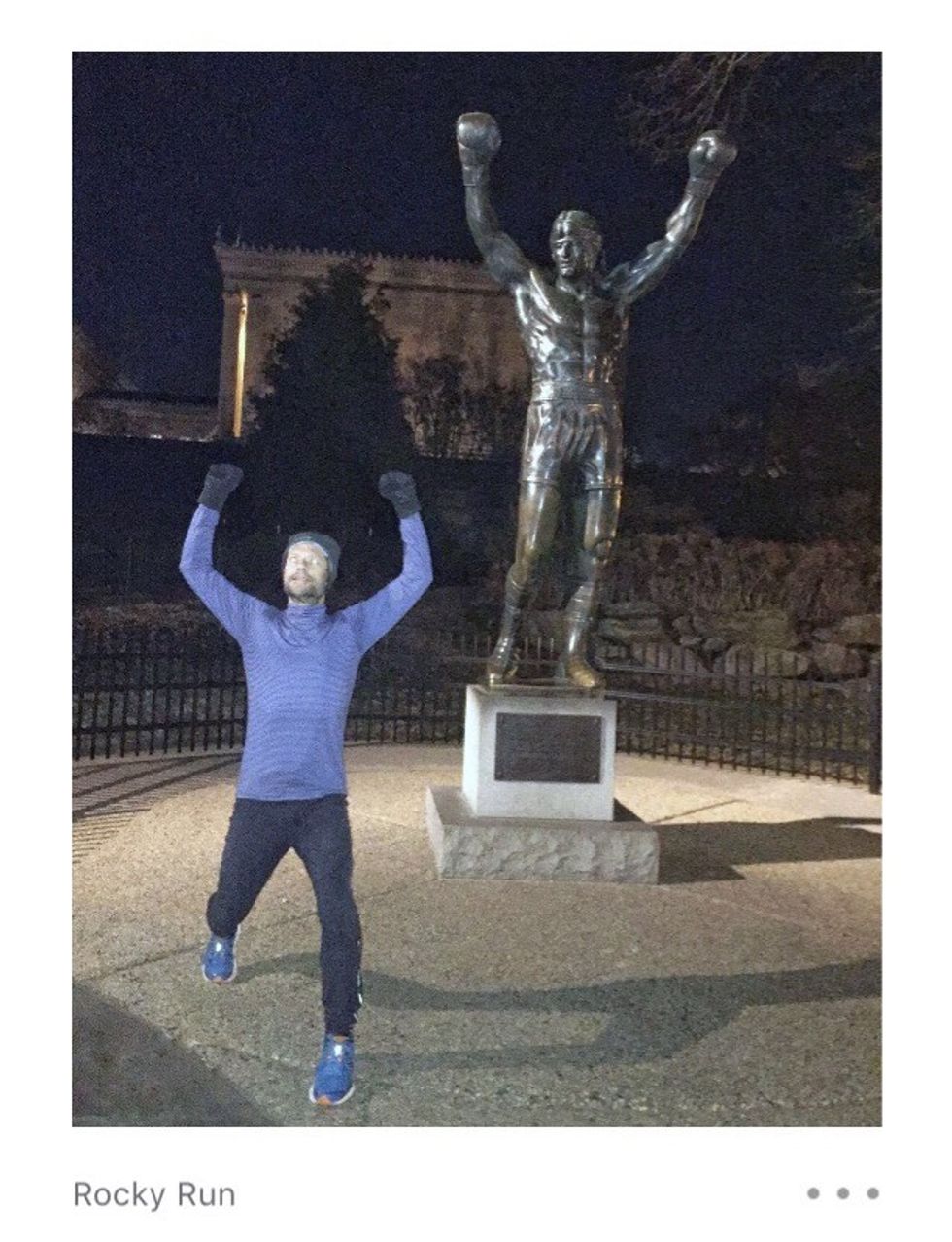 "If I can go that distance, you see, and that bell rings and I'm still standin', I'm gonna know for the first time in my life, see, that I weren't just another bum from the neighborhood."
Lenny sees running as a way of connecting with where you are.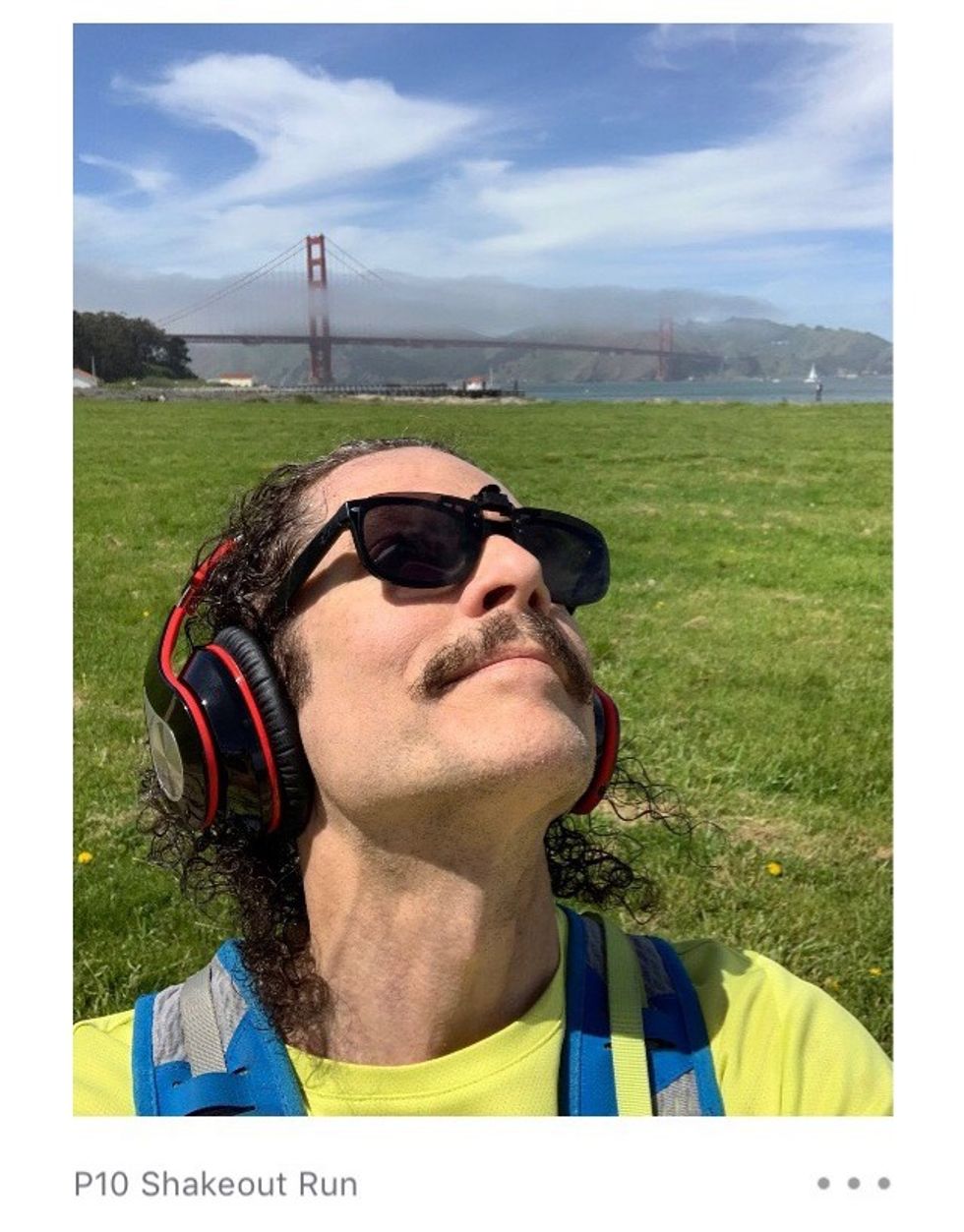 Speaking about his process and why he makes running art, he said: "This is just a way to make the streets my own." And I think I get what he means. Not only does running give Lenny a sense of freedom and a reason to explore areas he would never otherwise go to in his neighborhood, but the conquering of distance and the creation of his art also allows him to feel as though he has in a way left his mark on the neighborhood. I don't know about you but I think that's kinda neat.
But wait until you've seen what this guy has been creating...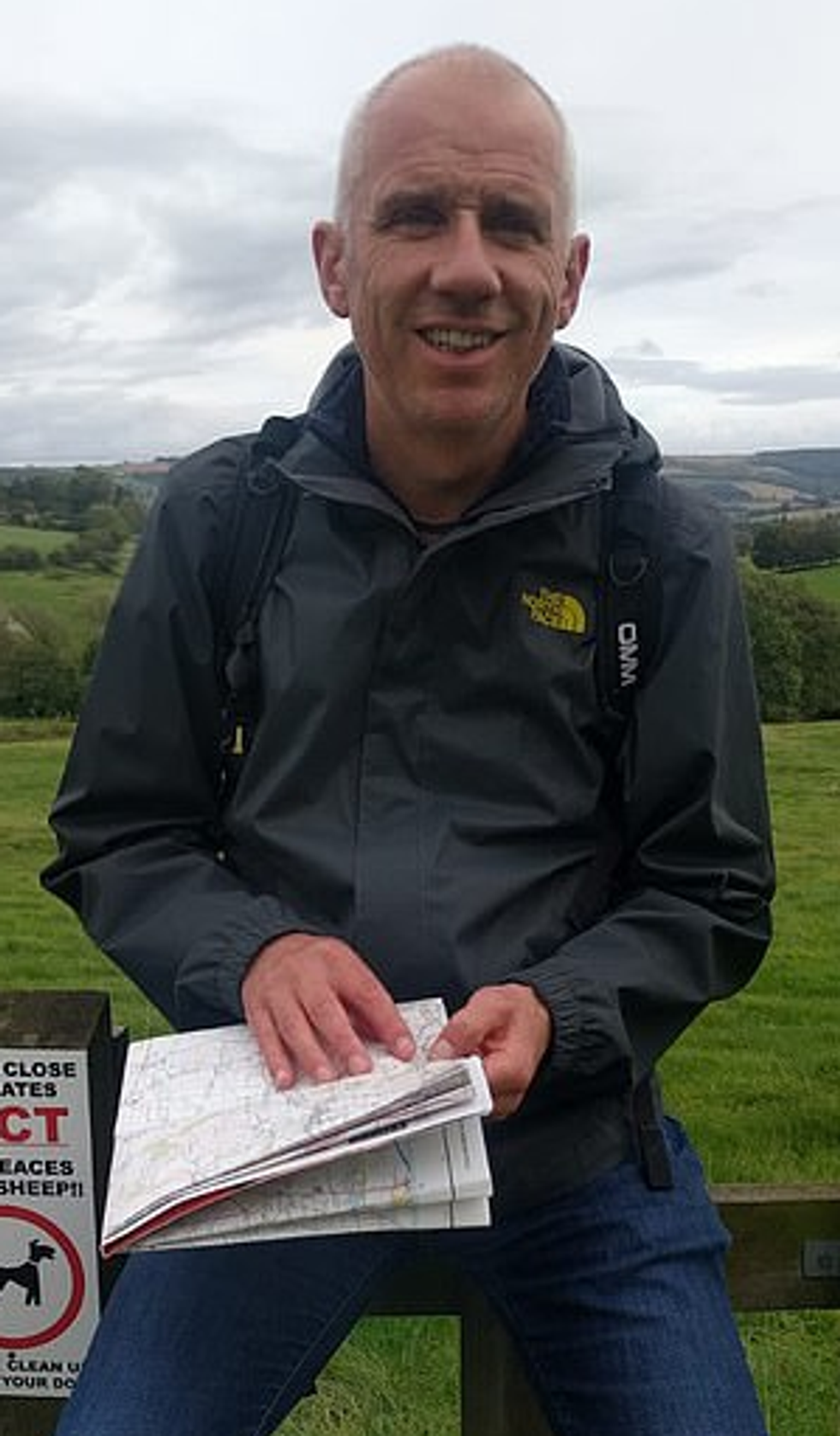 via: Facebook
On the other side of the Atlantic, we have a cyclist and avid Strava art enthusiast, Anthony Hoyte. Hoyte, 51, lives in the rural town of Cheltenham in the U.K.
A self-portrait?
A GPS-tracked cycle round #Nottingham starting near @TrentBridge, @NFFC & @Official_NCFC, past @NottmCastle, the… https://t.co/tH56cfoOAK

— Anthony Hoyte (@Anthony Hoyte)1559554099.0
Hoyte posts a lot of his cycle art on Twitter. Whilst I find Lenny's running art incredible, I can barely run four miles without my lungs giving out. That being said, I'm an excellent cyclist and could certainly see myself being able to give cycle art a go.
Leeds never looked so good!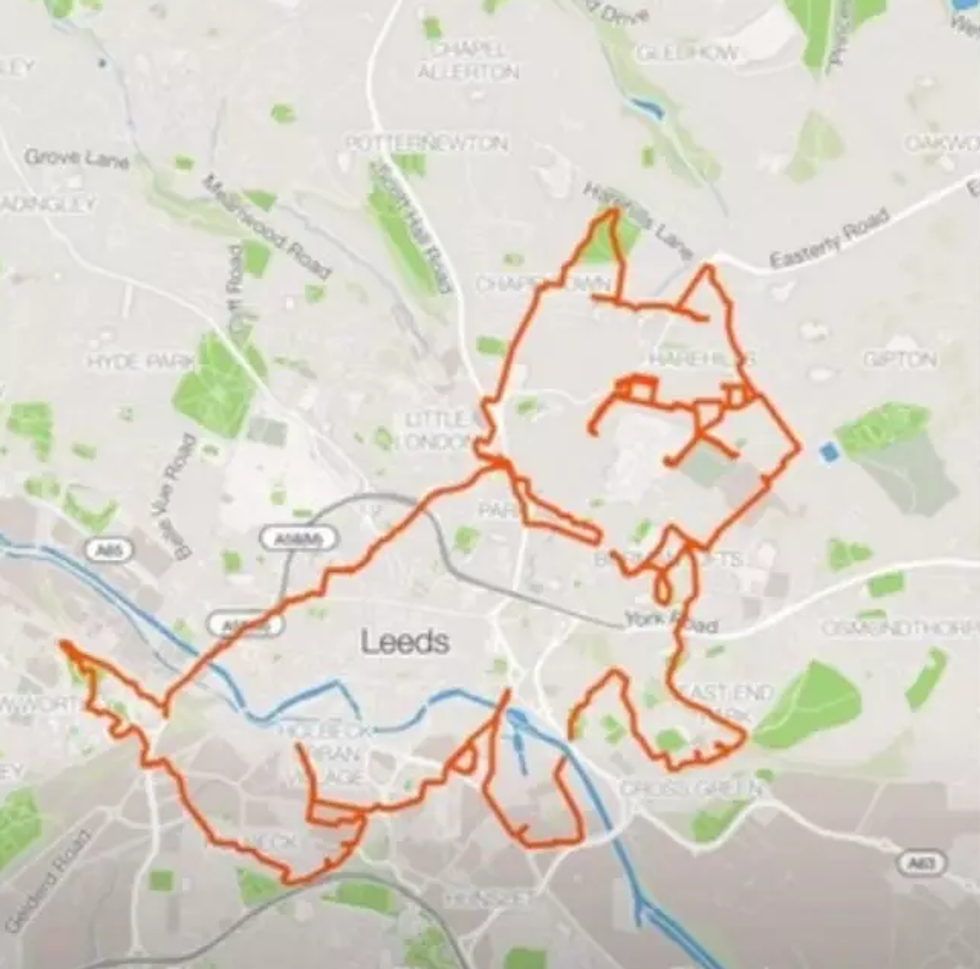 via: Twitter
I'm joking Leeds is... Leeds is okay. Aside from the odd dog, cat, person though, Anthony Hoyte seems to enjoy making his art to celebrate one particular holiday...
Gotta love that festive cheer!
It's that time of the year again when I cycle round congested streets in the rain looking for some festive cheer!:… https://t.co/meTJm6FKDp

— Anthony Hoyte (@Anthony Hoyte)1575885696.0
It would seem Hoyte has made some kind of tradition out of creative festive cycle art on Strava. His latest, a reindeer in London really is quite something. And the fact that he beat the London Christmas traffic! Very impressive.
"Do you want to build a snowman?"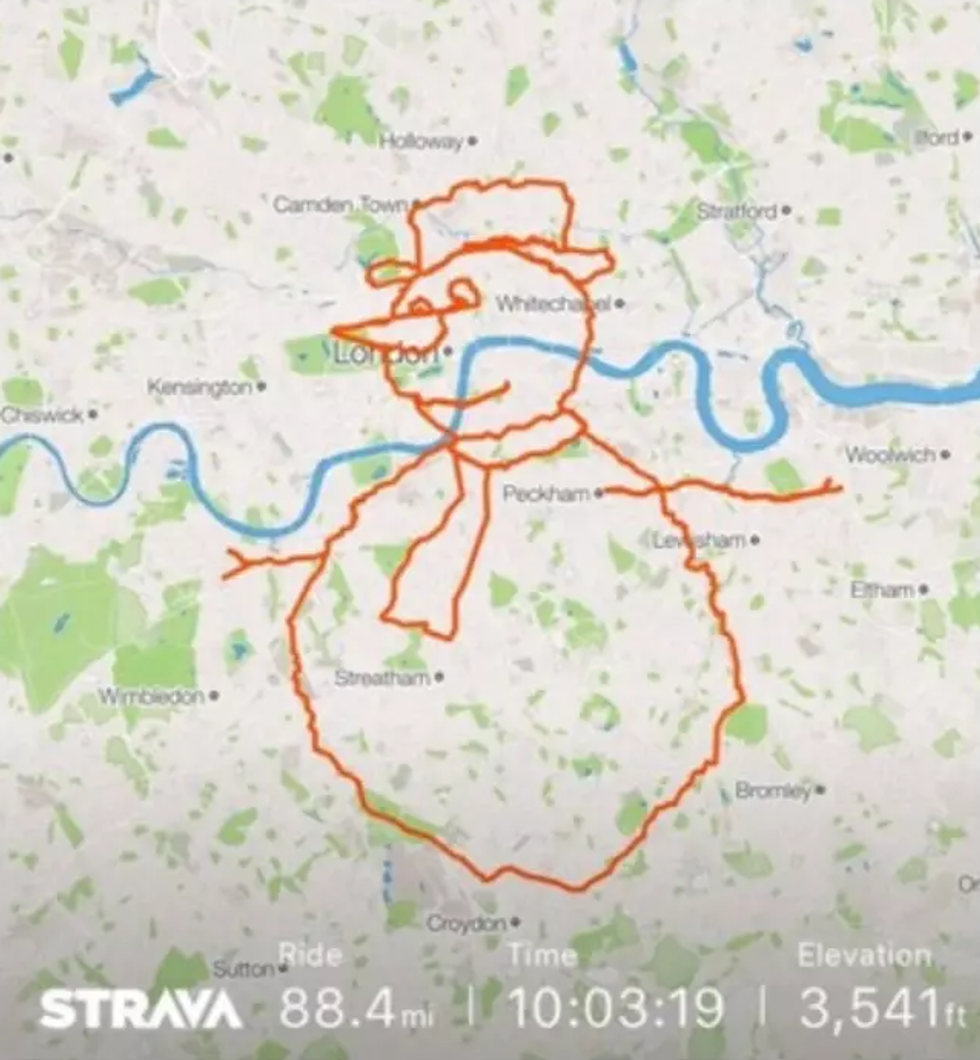 via: Twitter
"Nope, you're alright... I'd rather cycle around and create one through logging my route using the fitness app Strava." "Oh, okay."
Santa baby!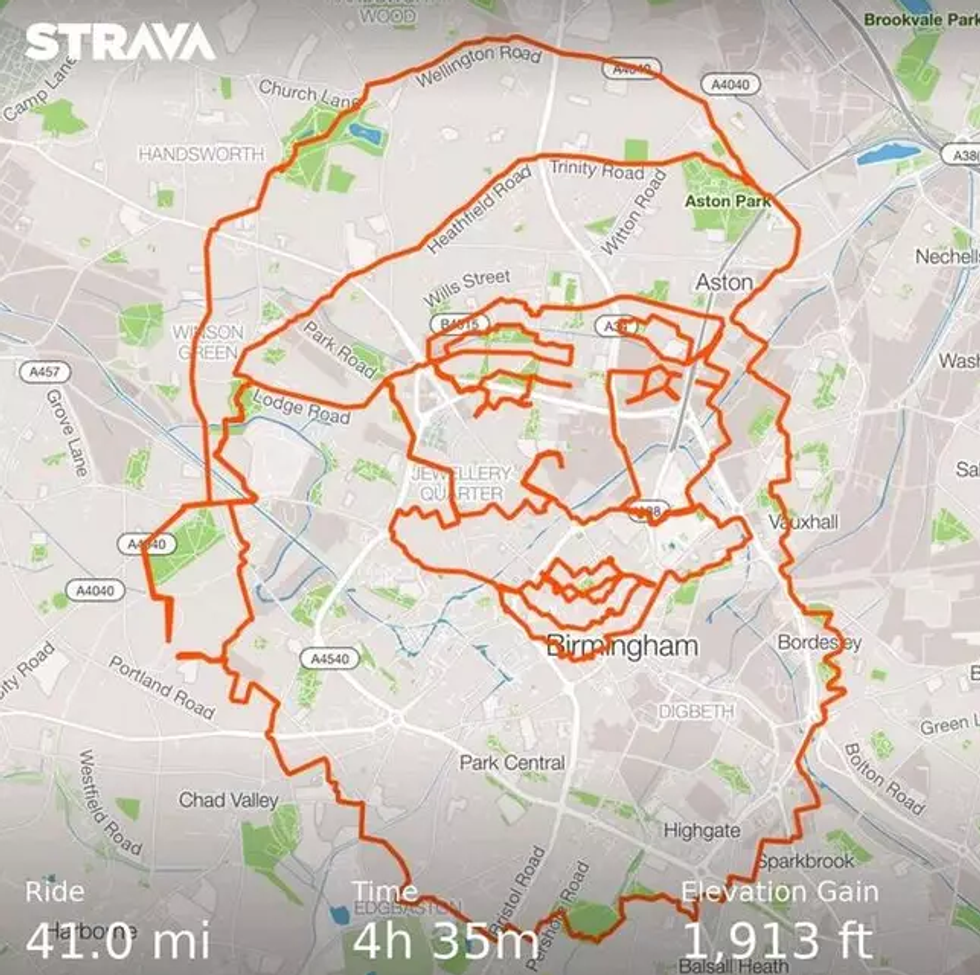 via: Twitter
Not only is Anthony Hoyte's Santa Clause an artistic triumph, but I was also impressed to see it only took him four hours and thirty-five minutes to complete.
Now look closely...
So I won first prize in #BrisCycleFest 's #stravaart competition! #bristol #gpsart #gpsdoodle #continuousline… https://t.co/7a0vdohCAO

— Anthony Hoyte (@Anthony Hoyte)1506150936.0
Like a true artist, Hoyte got deep with this piece. As part of a competition within the Bristol cycle community, Hoyte created a free-drawing of birds in different stages of flight. I'm guessing there's some sort of "flightless bird" message, but whatever, it's a great piece... no surprise that he won.
Trust me, it's harder than it looks.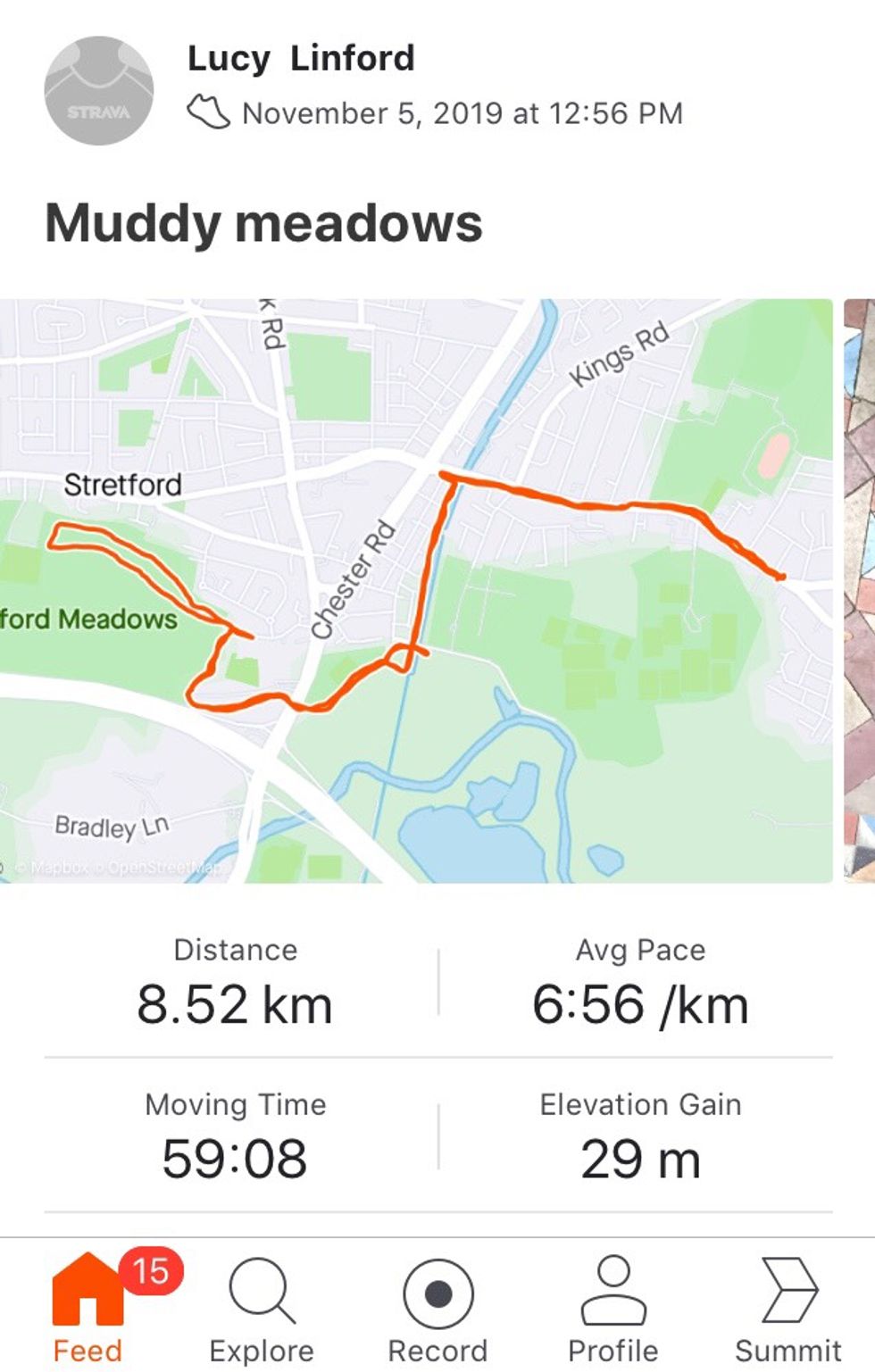 Strava Art might look like a doddle but in reality, it takes a whole lot of skill to master. As you can see from my attempt, making any kind of shape can be difficult, let alone complete works of art. Granted it doesn't help when you get lost in muddy meadows...
Not all heroes wear capes.
Freshly inspired by Anthony Hoyte's cycle art I think I'm ready to give Strava Art another go. Heck, maybe I'll attempt something Christmassy... Just you wait. In other festive news, continue scrolling to read about the hilarious Chrimbo jumper Walmart has had to recall.