A good dad will try and protect his kids no matter what — even if he doesn't really have any idea of what's going on.
Such is the case with the dad in today's story. It's sure to warm your heart.
This is Kiera.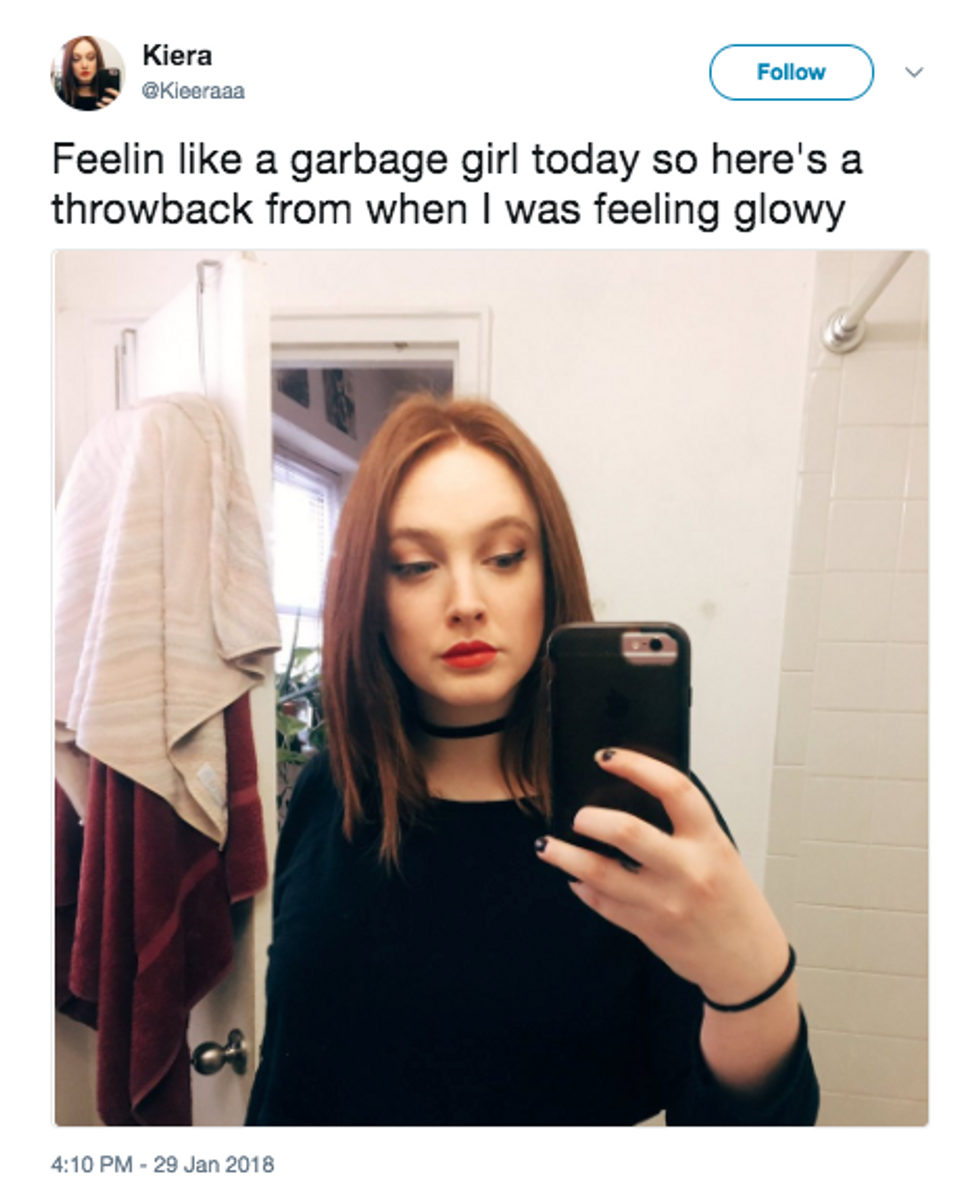 via: Twitter
She's a young woman who loves her dog, her plants, and her dad. It's easy to see why.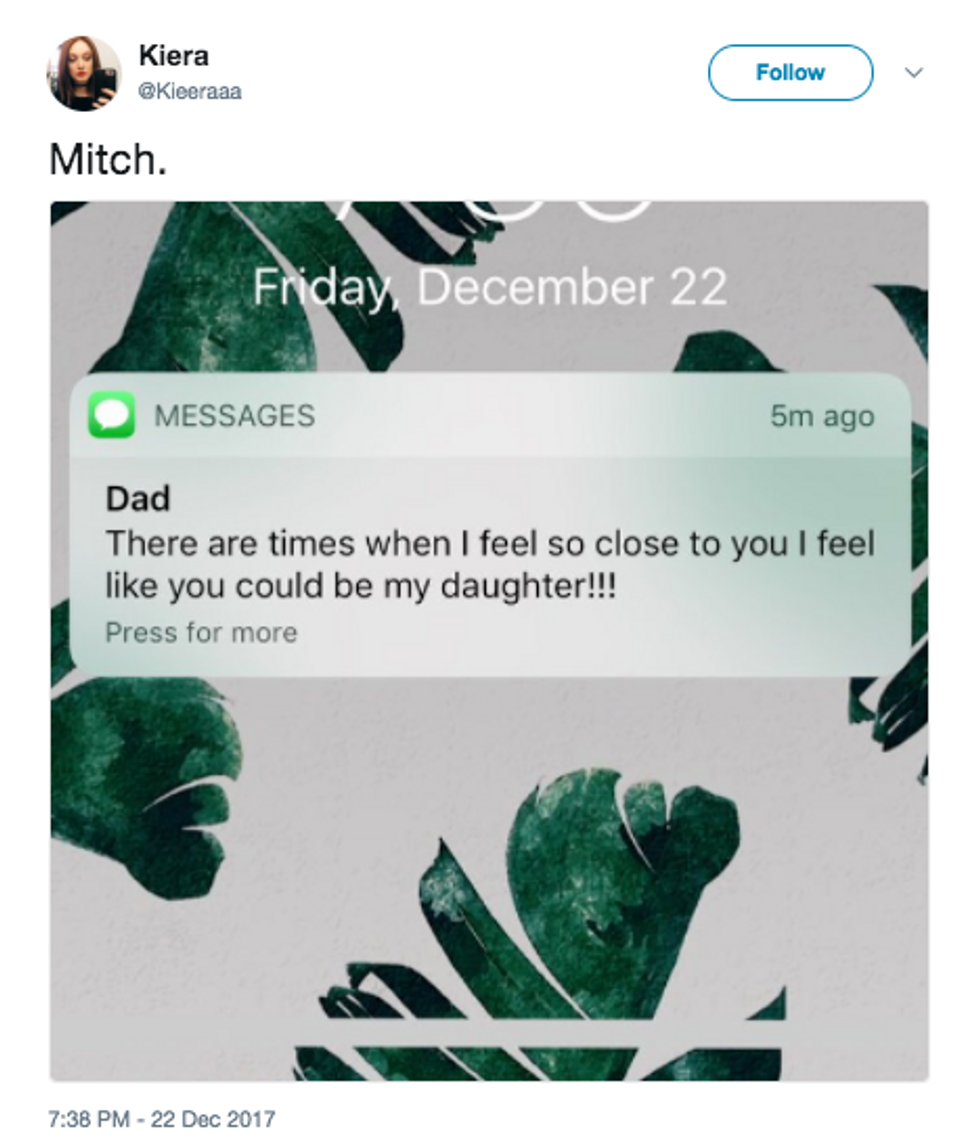 via: Twitter
She and her dad have a pretty special relationship. As you can see, he's got a classic dad sense of humor...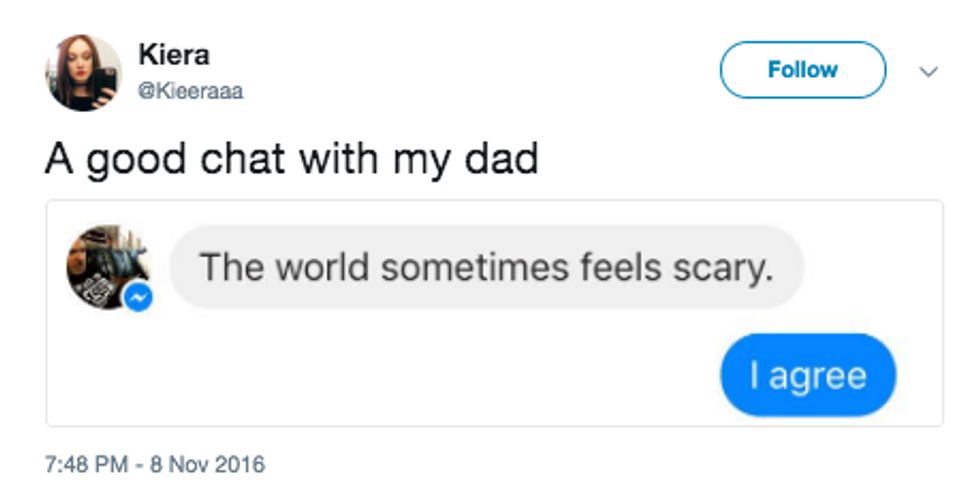 via: Twitter
...But also isn't afraid to get real when he needs to. We should note, however, that the hilarious convos aren't limited to the ones Kiera has with her dad.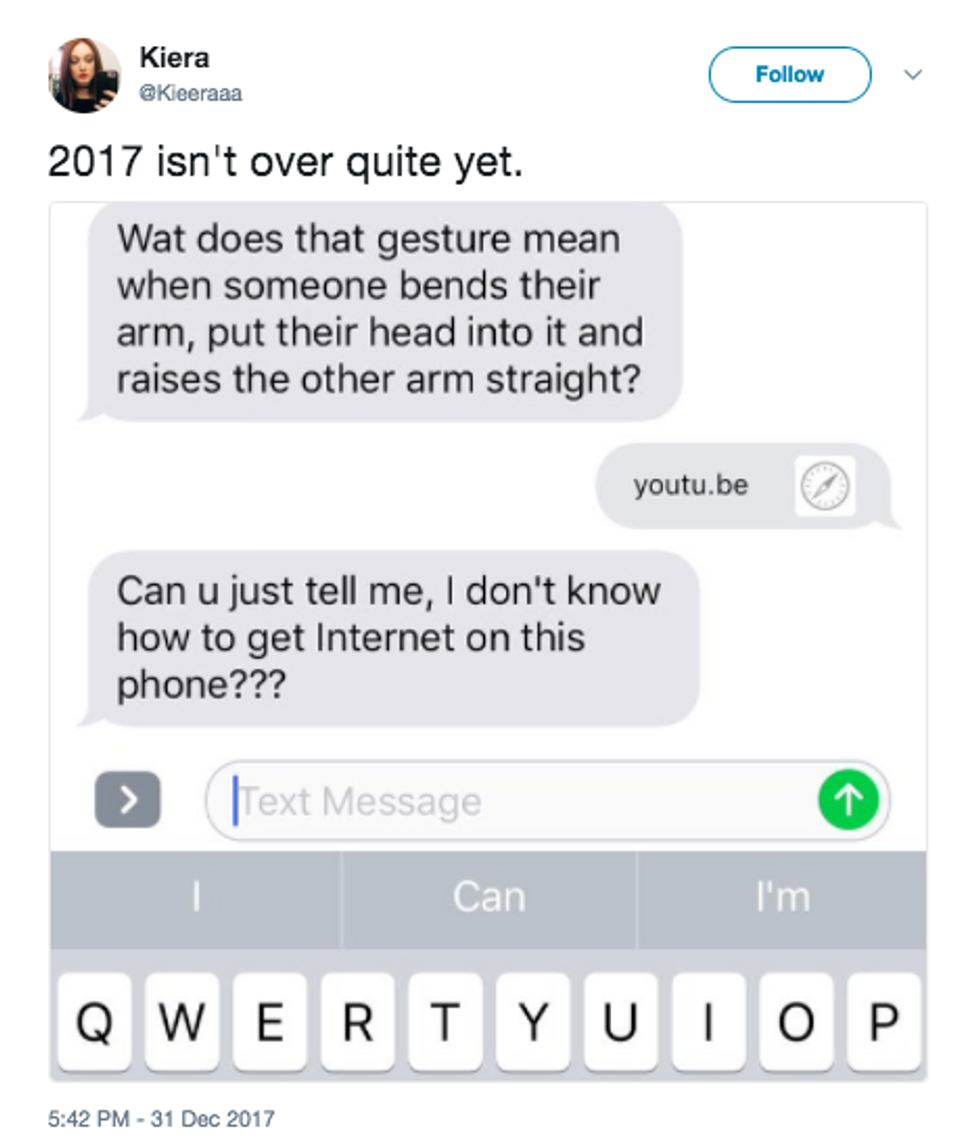 via: Twitter
Her mom is also quite a riot. Even if she doesn't understand what dabbing is (or how to access the Internet on her smartphone). Obviously, Kiera is pretty lucky to have the parents she does.
That's probably why she chose to text her dad when she ended up having to leave work early one day due to it being "that time of the month." She told her dad she had left due to "lady issues." Her dad's response is the purest, most lovely thing ever...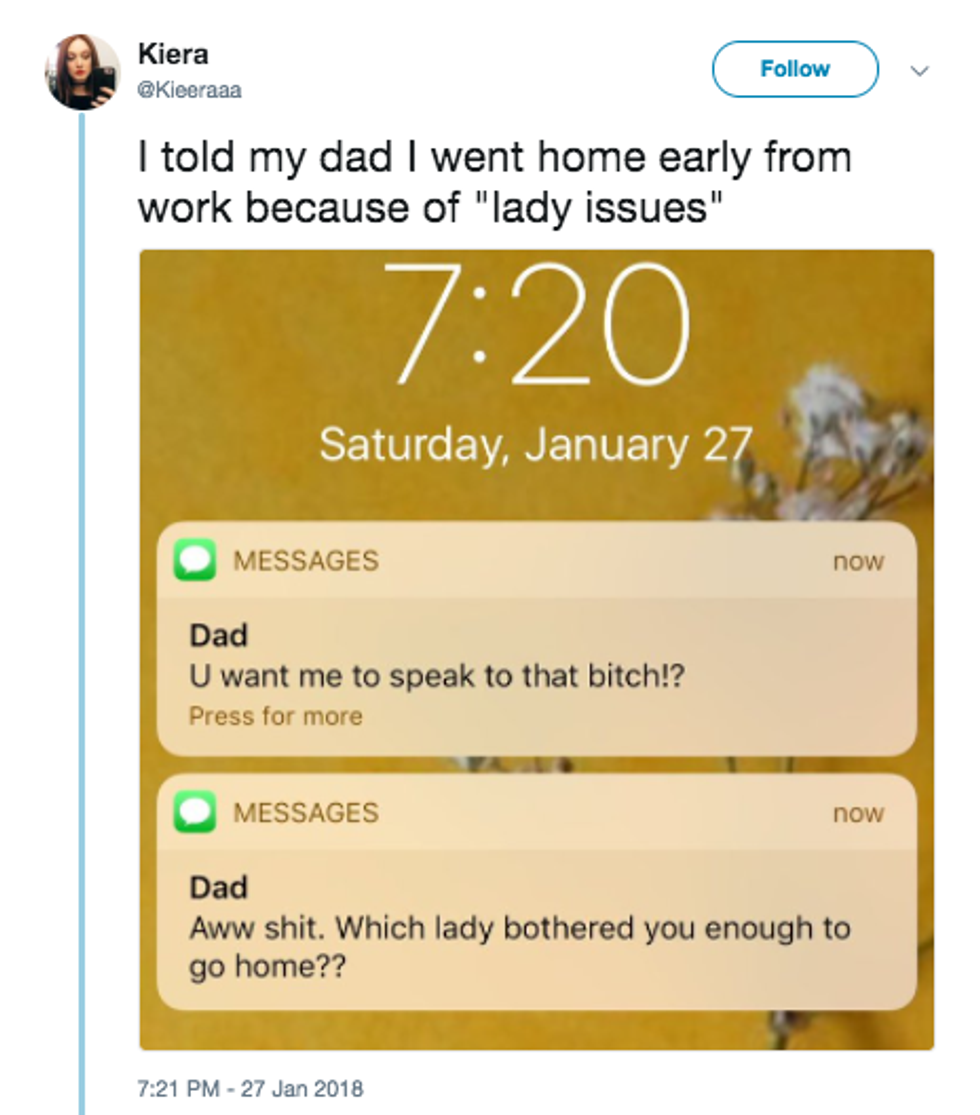 via: Twitter
"Which lady bothered you enough to go home??" he asked."U want me to speak to that b*tch?!" Amazing.
Kiera shared the text exchange with her Twitter followers, all of whom immediately fell in love with her awesome dad.

via: Twitter
Kiera's dad may have been 100 percent clueless as to what "lady issues" are, but he clearly has a firm grasp on what it means to be a dad. And for that, he's kind of our hero.

via: Twitter
Kiera's tweet quickly went viral, with a bunch of people getting a real kick out of her dad's innocent (yet fierce) response.

Even though he had no idea what was really going on, he instantly leaped into action when he heard that his daughter was in trouble. If that's not the most Dad thing a Dad could do, we don't know what is.
In case you're feeling a little down, here's some more wisdom from Kiera's dad: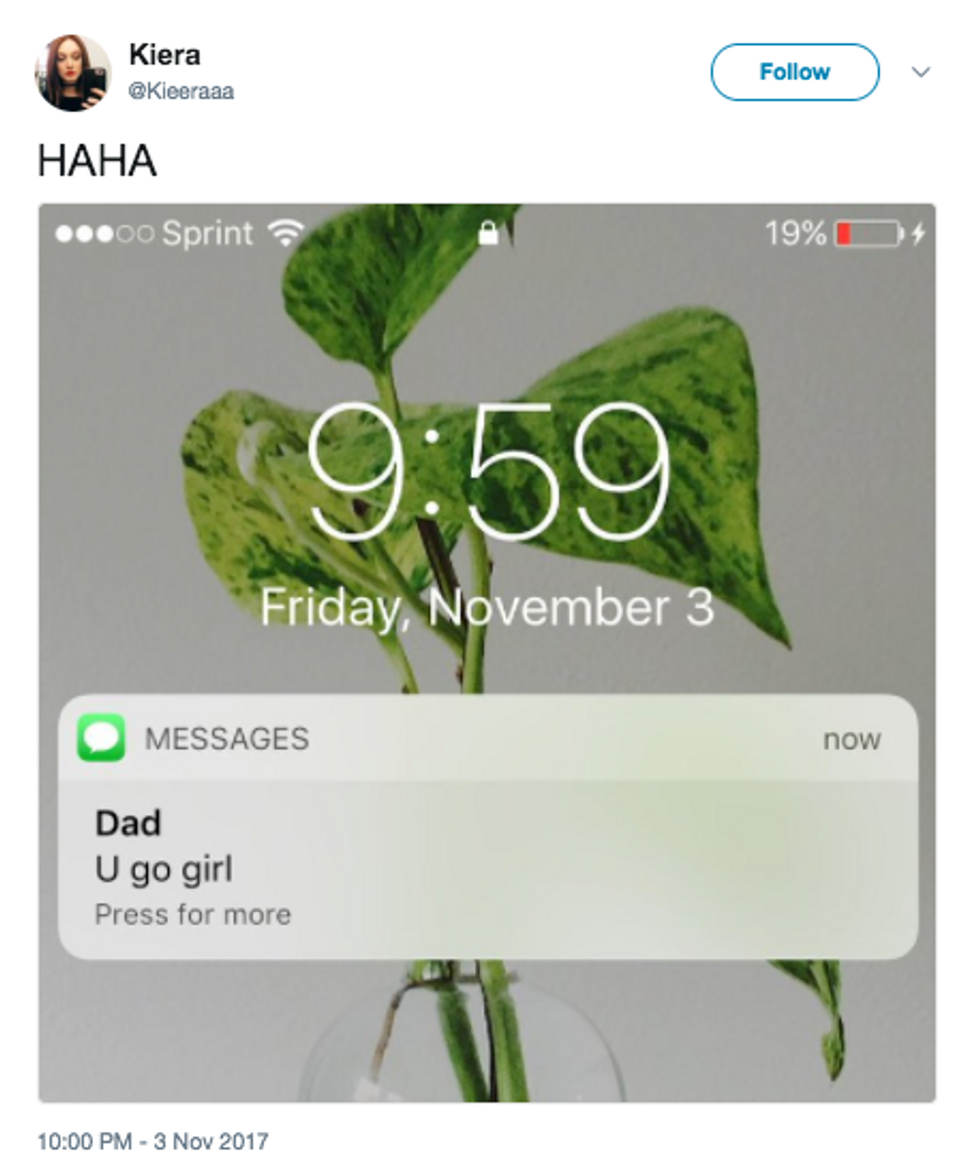 via: Twitter
"U go girl!" Anyone know whether Kiera's dad is accepting applications to become his children?