There's one person who never misses out on the opportunity to criticize anything that's slightly out of the norm. British journalist and TV presenter, Piers Morgan, is usually the first to have his say on trending topics, gender-related subjects, and celebrities. And he rarely fails to create a viral kick-off with his comments.
The subject of one of his many annoyances is British soccer star, David Beckham. David posted a picture to Instagram depicting him and his daughter, Harper, and the picture has been slammed as "disgusting".
Keep scrolling to see the image that blew up all the controversy and Morgan's damning comments...
Piers Morgan rarely has nothing to say...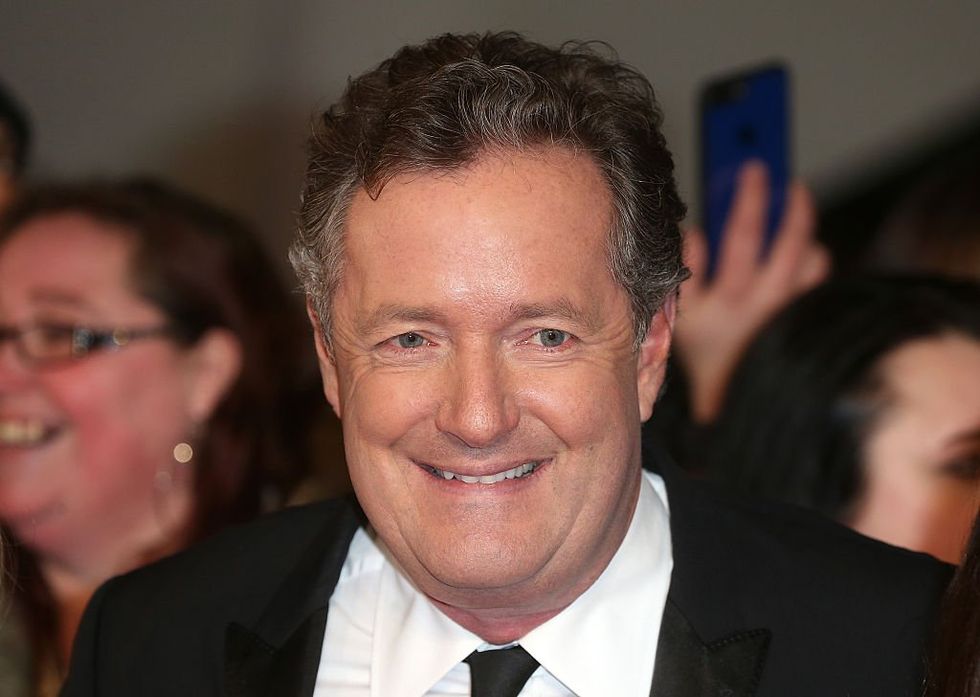 via: Getty
The British TV presenter constantly has to have his opinion heard. Whether it's about politics, women's issues, or any other thing that doesn't concern him, he usually has something to say about it.
He certainly isn't absent on Twitter...
My New Year's Resolution for 2019 is to be just as annoying, argumentative & insufferably right about everything as… https://t.co/Qu402GMyhN

— Piers Morgan (@Piers Morgan)1546249418.0
As you would expect, Piers' Twitter account is well and truly active; this seems to be the place in which he aims to stir up as much controversy as possible. I have to give it to him, he isn't afraid to speak his mind.
And he's a good friend of our President, Donald Trump.
via: Instagram
Piers hasn't been shy of publicly showing-off about his friendship with the President and is often one of the first to spring to his defense when things are going pear-shaped for him.
He remains the only British journalist to have secured a one-to-one interview with the President.
via: Instagram
Piers Morgan was the only journalist who was able to carry out interviews with the President during his visits to the UK. Say what you will about him, but he has achieved some admirable things. Though being buddies with Trump may give you an advantage in this situation...
Though Piers' latest tantrum has nothing to do with the President.
via: Instagram
Piers' most recent outburst concerns a very different topic entirely, but obviously the concept is always the same; he's ripping into some other celebrity.
Enter: The Beckhams.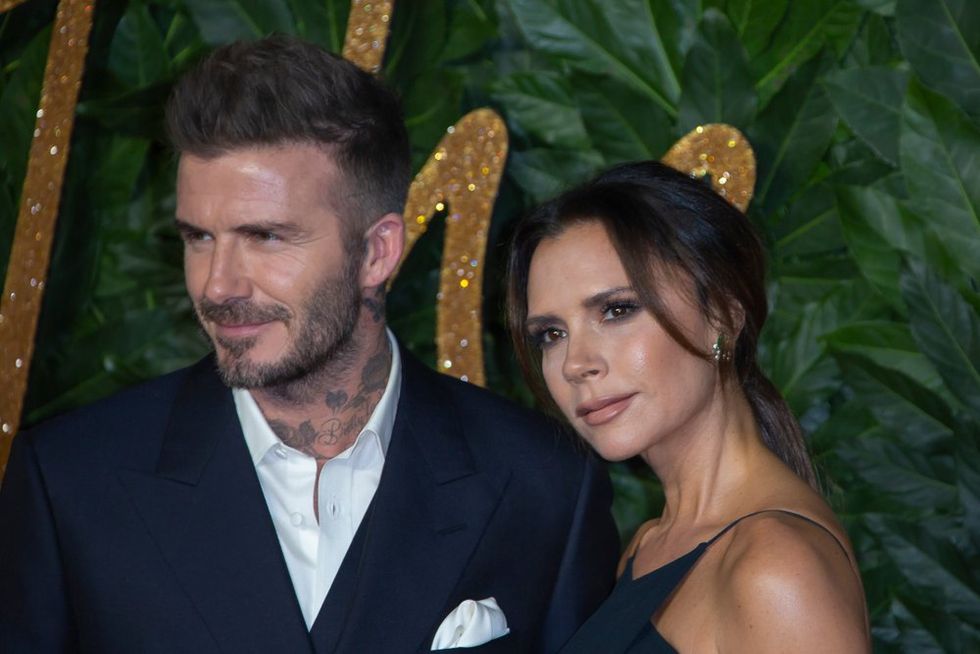 via: Shutterstock
David Beckham, who is a famous soccer star and public figure, has become victim to Piers' rage.
And it's all over an Instagram post.
Keep scrolling to see the photographs that caused the controversy. Beckham, who rose to fame after playing for the British soccer team, Manchester United in 1991, hasn't managed to dodge Piers' eagle eyes.
The Beckhams have always been very present on social media.
via: Instagram
David and his wife, Victoria, who is also known as Posh Spice from the Spice Girls, have 4 children together and regularly share their family snaps on their Instagram accounts.
And we love their family pictures.
via: Instagram
With a combination of over eighty million followers, people obviously can't get enough of the Beckhams' Instagram posts, which regularly feature their children, Brooklyn, Romeo, Cruz and Harper.
But Piers does not.
via: Instagram
One person who doesn't seem to enjoy the family's Instagram posts is, of course, Piers Morgan. And the journalist has been known to share his thoughts and feelings about other parenting-related topics in the past, so now it was Beckham's turn.
The first controversy involved this particular Instagram post.
via: Instagram
Last December, Beckham posted a festive picture of him and his 7-year-old daughter, Harper, sharing a kiss at a London ice-rink. Cute, right?
Not according to Piers...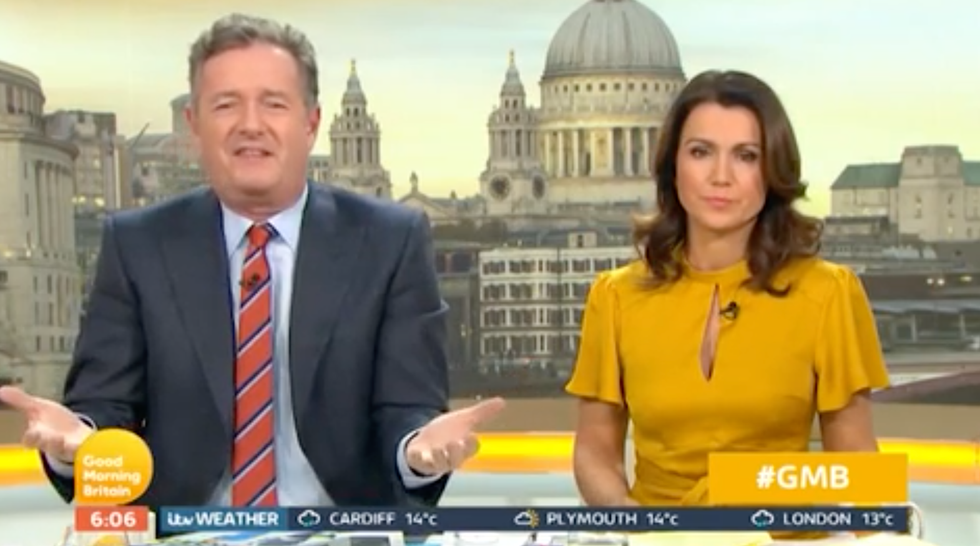 During an episode of
Good Morning Britain
, Piers hit out at Beckham, claiming that it was "weird" that the soccer star would kiss his young daughter directly on the lips.
He branded Beckham "creepy" for kissing his children.
Piers just could not get over it: "This is weird. Everything about David Beckham is weird," he said. He also doesn't like the way that Beckham "exposes" his children to his large online following: "I'm sorry, it got a big furor on social media, it's just weird. Who does that? Who kisses their kids on the lips?"
And exactly a year later, Beckham posted another similar snapshot to his Instagram.
via: Instagram
Everything is exactly the same, except for the fact that the father-daughter duo is now a year older than last time. David shared a picture that showed him kissing Harper on the lips, yet again. He also posted some pics of their time at the ice-rink.
And obviously the post was met with mixed reactions.
via: Instagram
The previous debate was re-ignited after the image went viral with some users calling it "disgusting" while others re-iterated exactly what we're all thinking. It's just a peck. God!
These scandals have been a part of the Beckham family for a while now.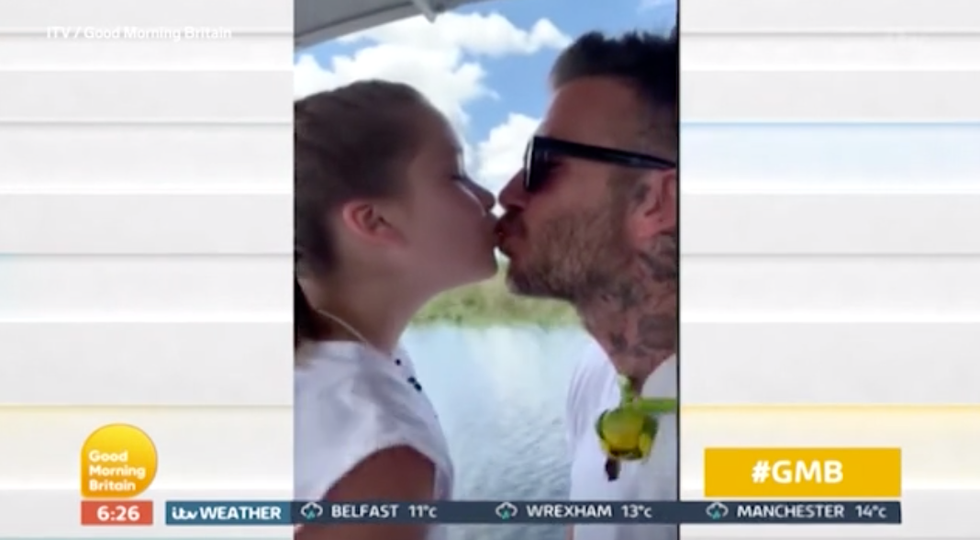 Piers and the rest of the haters have had their say on the family's Instagram activity before. When Victoria shared a video to her Instagram Stories of David and Harper sharing another kiss, this time on a boat trip in Miami, Piers collapsed into another ranting frenzy.
I bet Piers will have something to say about this too...
via: Instagram
Although he admitted that it was clearly a sweet moment, he just couldn't understand why a father would kiss his daughter on the lips. I think it's time to get over it.
But David has refused to apologize and rightfully so.
via: Instagram
Speaking in a Facebook Live video back in 2017, David defended his actions: "I kiss all my kids on the lips. I'm very affectionate with the kids. It's how I was brought up and it's how Victoria and I are with our children".
So, what's the verdict?
Parenting methods will always be a controversial topic, especially when debated over the internet. And, despite Piers' apparent outrage over the topic, most people seem to agree on one thing... It's just a peck. If both involved are okay with it, then it's really no one else's business.
Plus, there are crazier parenting trends to be worried about...
Kissing your child on the lips is the least of your worries, Piers. Trust me. Read about some of the stranger parenting hacks here. Posh and Becks don't seem too bad now, do they?