A daycare has been accused of racism after a picture that went viral appeared to show white children being served food before black children.
Scroll on for the full details…
Because teachers are the people who are responsible for the education and livelihoods of our children which, ultimately, will help to shape them into well-rounded adults.

And see them as a solid influence in their young lives.

So, if a teacher is seen doing anything…
Their classroom will more than likely mimic whatever it is they're doing.

But sadly, some teachers have been known to abuse their positions of being a role model.
And this brings us back to today's controversial story.

A daycare has been accused of racism after a picture appears to show white children being served food before black children.
And it's left the internet horrified…










Parents of children at a daycare in Georgia had the ability to check how their children are doing throughout the day by tapping into a livestream.
But, when one parent looked in, he was outraged with by what he saw.

Checking in on his 2-year-old son, Adryan McCauley, witnessed white children being fed lunch, while black kids were forced to wait.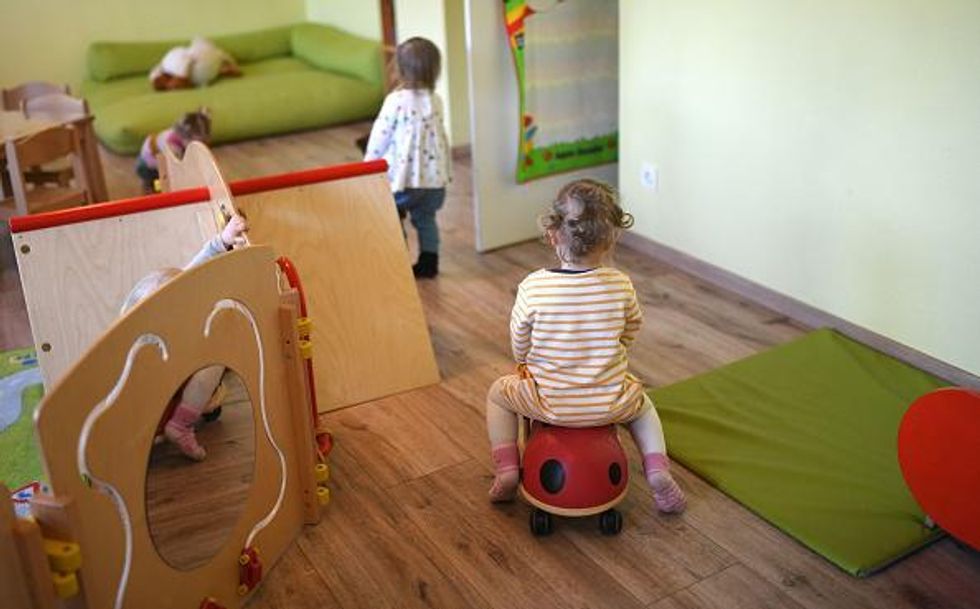 And so, he then took a screenshot of what he saw.

Speaking with CBS46, McCauley said: "They were skipping all of the black kids it seemed like."
"All the white kids got their lunch, and all the black kids had to wait. From the videos and pictures that we saw today, we are just completely disturbed."

The young boys mom went to the daycare to confront staff about what they saw, but the explanation by staff was insufficient.
"Mom went and picked him up immediately, and the director said 'I'm not really sure because I'm not in the classroom, maybe it's a dietary thing," McCauley said.

And after McCauley shared the screenshot online it soon went viral.
An Instagram account named marquis_dagreat shared the picture with a lengthy caption that read:
"This is truly unbelievable. You better know this won't be the last time you hear from me on this. Why does every white kid have their food? Not one black child has food in front of them! Thank God for cameras in classrooms because there is no way to hide this racism! In the year 2021 this is truly unbelievable. As blacks we always strive to send our kids to schools in Suburban area's, but I'm telling you first hand that is not always best. This is not a black or white issue this is simply wrong! kidsrkidscorporate I'll be waiting feedback from your cooperate office on this."

As per the Daily Mail, the corporate office for Kids 'R' Kids responded with a statement from president and CEO, David Vinson, who said: "The interactions captured on video by one of our families, yesterday, is disturbing and not in accordance with the inclusive culture that we promote at Kids 'R' Kids amongst our families, their children or our staff."
"After further review and much consideration of the photo/video in question, our company has decided to terminate that franchisee's Kids 'R' Kids contract and branding, effective immediately, leaving them to operate independently."

"We apologize to the family, the community and all of those impacted by this situation and will use this as a learning tool to remind our Kids 'R' Kids staff on the importance of diversity and inclusivity," the statement continued.
"As a result of this decision, our corporate office will assist any displaced families with locating preschool options in their respective area."
For more news, keep scrolling.