It's always super refreshing to see some diversity on our screens.
From news channels to Hollywood movies, there are more and more ethnically diverse actors stepping into the limelight nowadays and we're absolutely living for it.
When it comes to movies with characters that have been around for a long time, though, we typically only ever see cisgender, white men on our screens. Big names like Marvel and DC Comics have been around for years, but, in recent times, re-makes of their classic movies have been stepping forward with a much more diverse cast and it looks like Batman is the next on the list.
Keep scrolling to learn more...
Superhero comics have been around for years...
They are one of the most common genres of American comic books and have held this title since the 1930s.
There is a historical and universal rivalry between 2 certain comics...
Marvel Comics and DC Comics are the hottest on the market for superhero comics, books, and movies.
Despite their differences...
They're both equally as good. Marvel is well known for its famous superheroes such as The Amazing Spider-Man, The Incredible Hulk, Iron Man, and Captain America.
There's a non-stop debate over which is better...
Many argue that Marvel holds a more realistic element than DC, while others have debated that DC sticks to a mythological theme with its characters representing ancient Gods. They're each so unique and fantastic in their own ways, it has to be said.
But DC Comics has been branded as the king of superhero comics...
DC made a name for themselves in 1939 when they were founded by Malcolm Wheeler-Nicholson.
Superman was one of the first comics that DC released...
via: IMDB
Superman very quickly became a household name and became the face of the typical superhero. There has since been 5 different
Superman
movies created from the inspiration from the comic.
Superman was only the beginning for DC...
via: IMDB
The creations of
Wonder Woman, Batman, The Green Lantern
, and
Aquaman
boosted the popularity of DC and these comics would all eventually be transformed onto our screens.
Batman is one of the most recognized superheroes in the world...
Batman's character was created by artist, Bob Kane, and writer, Bill Finger, and he made his first appearance in 1939 - the year in which DC was launched.
There have been 7 motion pictures created of Batman...
And, despite the popularity of these movies, they all share a big similarity - the actors who play Batman are all white.
It's no secret that the majority of superheroes are white.
via: IMDB
But this is clearly a result of the time periods in which the original characters were created. As the
Huffington Post
outlined: "The comic-based genre may define post-millennial pop culture but it was born between the 1930s and 1960s when nobody questioned why there weren't more female or minority characters."
There was a clear pattern with the first generation of superheroes...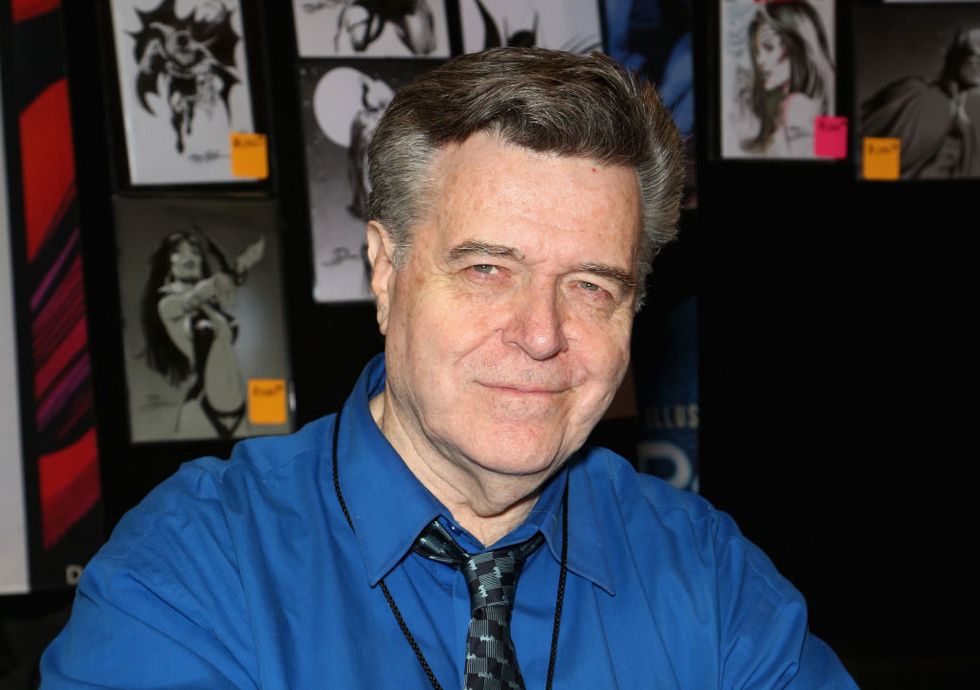 via: Getty Images
"It may be that a majority of superheroes are white males," seventy-four-year-old comic legend, Neal Adams, pointed out. "But that's because they used to 
all
be white males," he went on to say.
But the world of superheroes has ethnically expanded over the years...
via: Getty Images
Marvel introduced superhero movies such as
Black Panther -
a movie which starred a black actor and a dominantly black cast.
War Machine, Blade,
and
Storm 
also feature black lead characters. DC's John Stewart, who is one of the most prominent faces of
the Justice League
, is also depicted as black man in both the comics and the movies.
But many still demand more diversity in superheroes...
And we're totally with them! It's been put forward by
Qrewcial
that "minority groups deserve to see themselves represented on screen in meaningful ways that allow them to visualize themselves as the hero of the story." "Seeing diverse representation in these blockbuster superhero films also normalizes and humanizes diverse groups in a way that has an impact on society."
It looks like this wish may very well be granted...
Rumor has it, DC is planning on bringing us a black Batman next year.
Apparently, the idea has been "hot discussion..."
Spilling out of comic pro gossip from this weekend's shows... https://t.co/UmBxIXEKFj

— Rich Johnston (@Rich Johnston)1567469724.0
Bleeding Cool's
Rich Johnston noted that the topic has been hot discussion at a variety of comic shows.
There has already been speculation as to who will appear in the remake...
It was also reported that Batman will not be Duke Thomas, the Batman family member who first made an appearance in the comics back in 2013.
It should be ready in time for summer 2020...
Evil has its eye on you. Find out who is next in BATMAN/SUPERMAN #1, out now: https://t.co/jDYRmiGObZ… https://t.co/mpqqlNvDSm

— Batman (@Batman)1567116022.0
This comes shortly after
DC
released
Batman/Superman #1
, the first in a new monthly series that follows the events of "The Batman Who Laughs."
Fans are already guessing who will be taking on the role...
@Freeyourmindkid My casting picks for #BlackBatman: @idriselba (cast him in every damn thing, period) @BorisKodjoe… https://t.co/OB5W5kk72S

— 🇺🇸🇭🇹 Only4RM 🇭🇹🇺🇸 (@🇺🇸🇭🇹 Only4RM 🇭🇹🇺🇸)1567567479.0
And it seems that British heartthrob, Idris Elba, is already a favorite...
We can really see why people want Idris to be Batman...
Idris Elba exudes staggering charm, wealth and refined elegance. He's Batman. https://t.co/ajUg2TzqTH

— Nicole Bad & Blerdy (@Nicole Bad & Blerdy)1558061824.0
But there have been no promises made so far as to who will be stepping into the shoes.
This will be a bold and progressive step forward for DC Comics...
And, by introducing a black actor in the role of Batman, DC will hopefully encourage a natural flow of diversity into the entire world of superheroes. To learn more about diversity in superheroes, keep scrolling...