Health care workers are going above and beyond to help us, day and night, they are there without fail, offering their skills and support to people all over the world.
But things are getting pretty tough, as one NYC hospital has found out.
Keep scrolling to read more...
In our hour of need...
We are leveraging the incredible power of American manufacturers and suppliers to make, procure, and deliver crucia… https://t.co/Wr3tiixMve

— The White House (@The White House)1585783198.0
We rely on the incredible work of the emergency services and healthcare professionals.
And when it comes to medical pandemics?
these people who are on the front line trying to protect us.
And more often than not...
enough of it to go around - i.e. proper masks.
We can get so wrapped up in ourselves, that we forget how much we rely on these people...
They themselves put their own health at stake.
Thank you -- To our doctors. To our nurses. To ALL our healthcare workers out there. You're on the front lin… https://t.co/0CARot6Nzv

— Gavin Newsom (@Gavin Newsom)1584631297.0
Not to mention the long hours and mental health repercussions that come along with this.
And of course, this is no different when it comes to the coronavirus outbreak.
I wanted to take a minute to send a special thank you to everybody working on the front lines to battle the COVID-1… https://t.co/oXpAiL9I6q

— danawhite (@danawhite)1584637661.0
As the situation gets more serious, we are leaning on the vital work of healthcare professionals more and more.
Just yesterday, doctors and nurses were pleading for masks.
Across the globe, staff are being forced to re-use dirty masks or even make their own. Keep scrolling to watch the video highlighting the important message that doctors need you to listen to.
This is truly awful.
@choo_ek @VP #GetMePPE @SenStabenow @RepDebDingell @SenGaryPeters Reusing the same mask all day, so I had covid a… https://t.co/VSC5058ZWZ

— Vidya Kumar Ramanathan, MD MPH (@Vidya Kumar Ramanathan, MD MPH)1584452022.0
How has this been allowed to happen?
Hospital workers have turned to God for guidance in this confusing time.
New Yorkers planned a two-min clap today for all essential workers, especially those in healthcare fighting for us… https://t.co/fB5VieTNCA

— Sheraz Farooqi (@Sheraz Farooqi)1585350609.0
A desperate medical worker appeared to beseech God for help during a break from his duties at a city hospital that's among the hardest hit by the pandemic.
New York's Elmhurst Hospital is at breaking point.
PLEASE WATCH: https://t.co/dZfzU5Tubm @nytimes on #NYC Elmhurst Hospital -Out of vents -A refrigerated truck to s… https://t.co/uH71Xj1Jos

— 𝐀𝐒𝐇𝐄𝐋𝐘 𝐀𝐋𝐊𝐄𝐑 𝐌𝐃 (@𝐀𝐒𝐇𝐄𝐋𝐘 𝐀𝐋𝐊𝐄𝐑 𝐌𝐃)1585228265.0
They have reported that they have thirteen patients dying there within every twenty-four-hour span.
It's starting to get to people.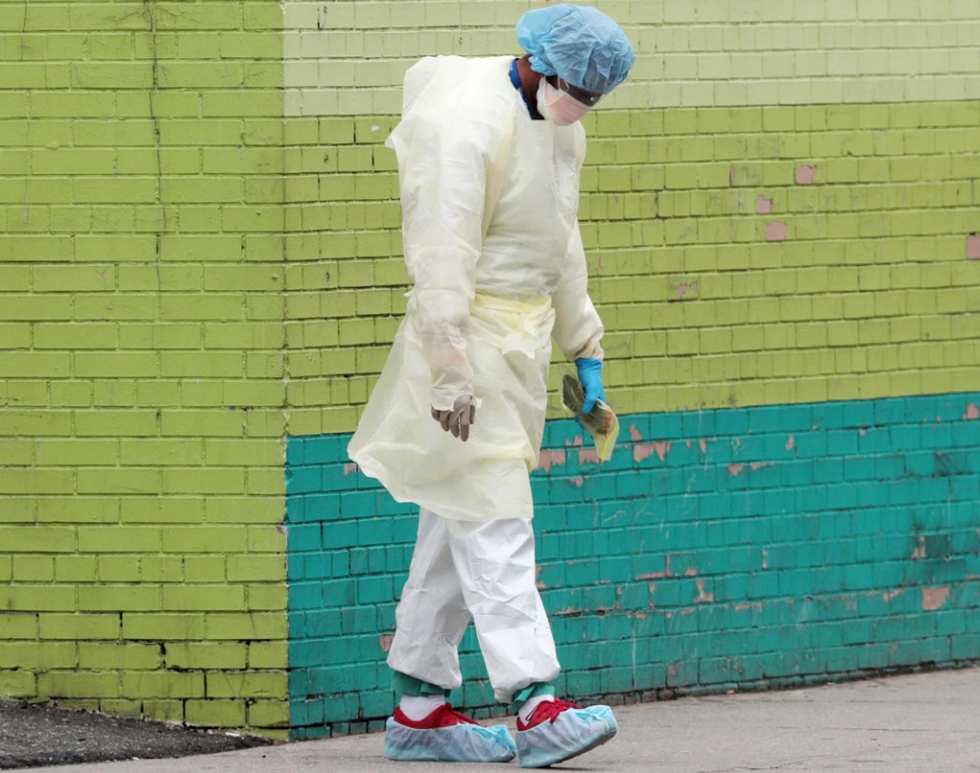 He was clearly tired from his shift.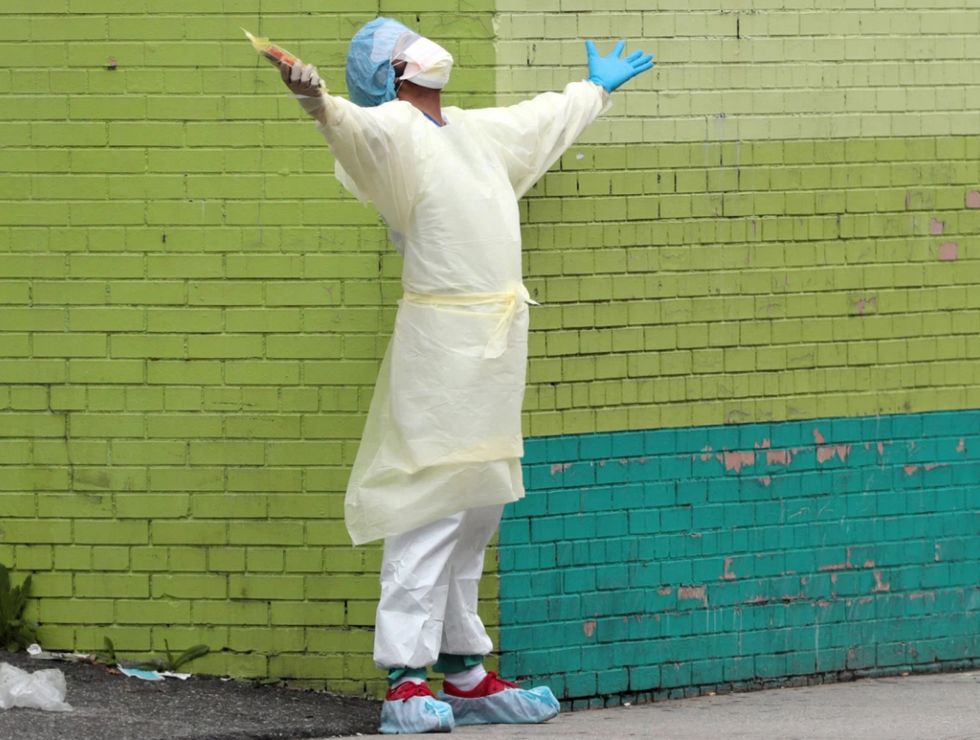 The act was very emotional to witness.
Szpital Elmhurst, NYC "Epicentrum apokalipsy" #coronavirus #koronaświrus #cyrk https://t.co/nktKHzMMD2

— Poland&World. Real News (@Poland&World. Real News)1586167125.0
The Health and Hospitals Corp, which runs Elmhurst, has called it "the center of this crisis," saying that is was akin to a "war zone," with an overwhelming crush of patients and a dire shortage of supplies.
Supplies are essential.
More masks/N95 coming tomorrow. All 20,000 PPE being brought to Elmhurst/NYC. More ordered for New Orleans. We can'… https://t.co/I5g8CgcflO

— Claude Taylor (@Claude Taylor)1585487230.0
On Friday, Mayor Bill de Blasio said Elmhurst would be among the hospitals to benefit from a shipment of 200,000 N95 face masks provided by the federal government. Let's just hope the shipment comes soon. Keep scrolling to see the effect panic buying is having on health care workers...