When you see celebrity relationships so reported on in the news, it can feel like you know them personally. So when (if) those relationships end, it sometimes feels like you're watching a pair of good friends split up. The breakup hits harder than you'd really expect it to – even when they're celeb breakups.
And Hollywood sees plenty of high-profile breakups every year, but some really tug at the heartstrings. Maybe it's because they just seemed so happy, or maybe they used to be a dream team – onscreen and off. Whatever the reason, people have gotten extremely invested in the relationships on this list.
In no particular order – because it's all sad – here are the most devastating celeb breakups of all time!
1. Chris Pratt and Anna Faris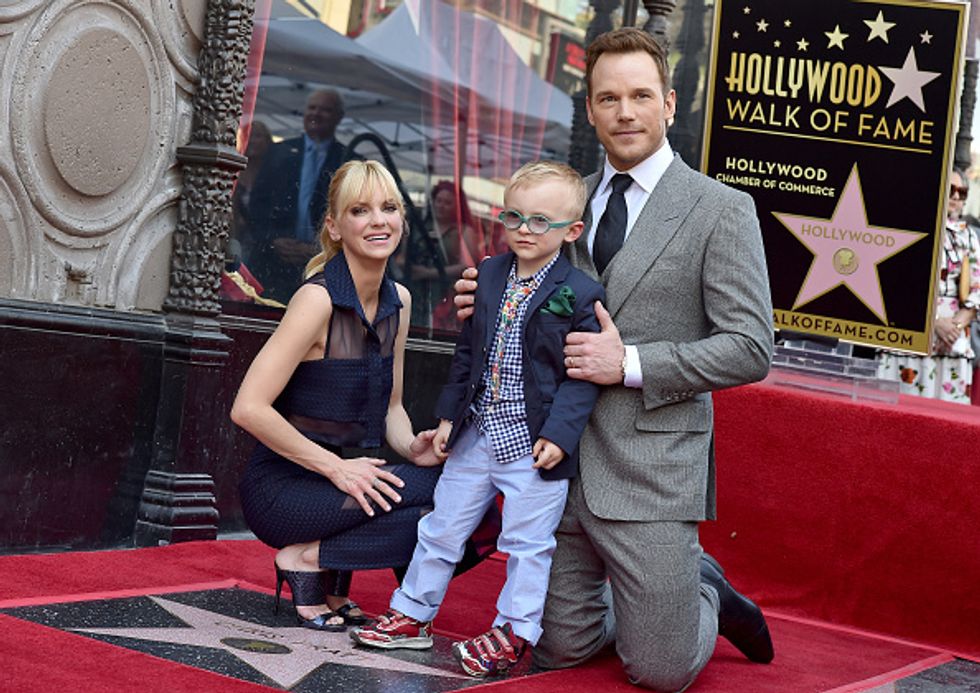 This one HURTS, folks. Remember when everyone was out here stanning Anna and Chris for being a married couple seemingly unperturbed by the turbulent ups and downs of Hollywood? And then out of nowhere, BAM! Divorce City. Some say it's because Chris got too famous. He transformed from adorably pudgy, bumbling Andy from 
Parks and Rec
to the beefy Peter Quill / Star-Lord in 
Guardians of the Galaxy.
Soon, he seemed to just be... everywhere. In a movie with Jennifer Lawrence? Check. Being photographed by paparazzi outside fancy restaurants? Check. Though many have speculated, we'll probably never know the real reason he and Anna split. Now, at 40, he's married to Arnold Schwarzenegger and Maria Shriver's 29-year-old daughter Katherine Schwarzenegger. Will it last? Only time will tell.
2. Channing Tatum and Jenna Dewan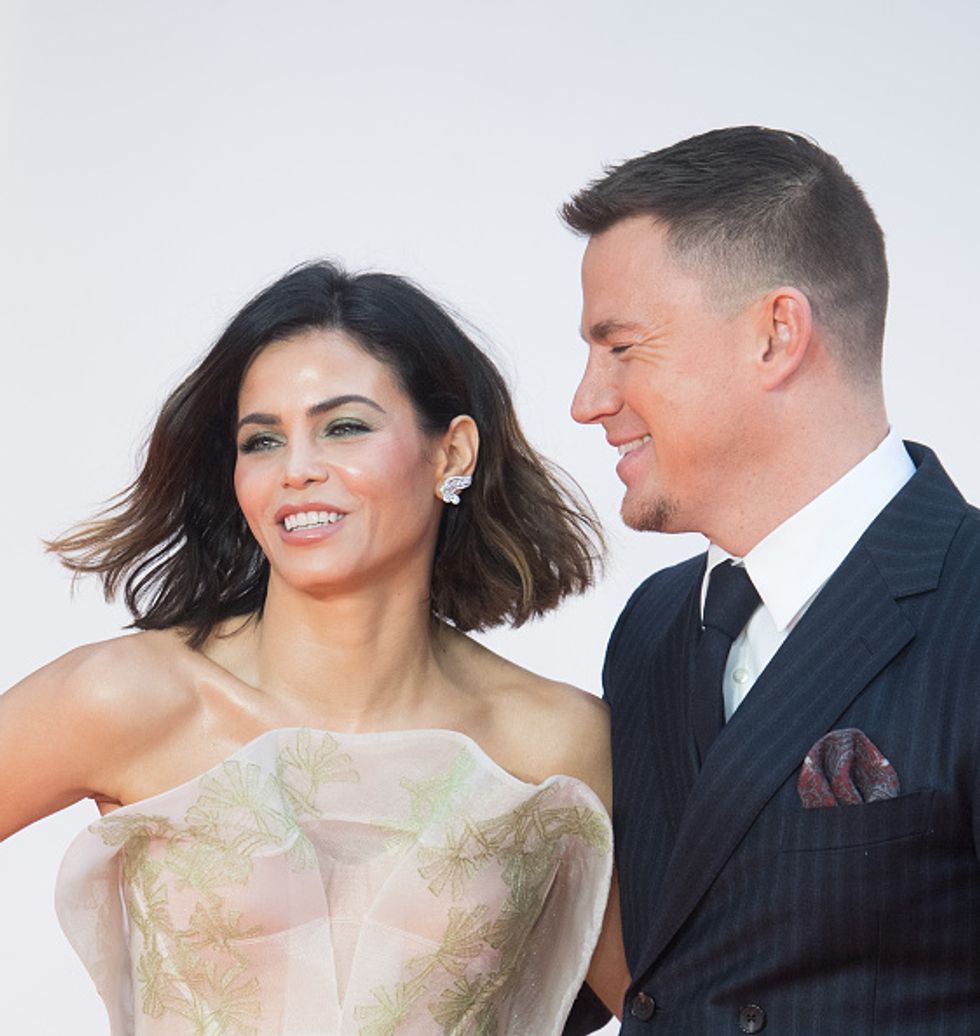 When Channing Tatum and Jenna Dewan split up after nine years of marriage, a daughter, and one flawless lip sync battle, people felt as though love might really be dead. It goes without saying that being a couple in the public eye is hard, but they made it seem easy in how affectionate and just generally wholesome they always were! Such as it is, we don't really have a reason behind this heartbreaking split; the pair simply released a statement that claimed they were "two best-friends realizing it's time to take some space." And take some space they have. Tatum appears to have moved on with singer Jessie J, and Dewan is dating Broadway actor Steve Kazee. Both couples seem happy together, but we'll always remember the magic of Tatum and Dewan's relationship too.
3. Vanessa Hudgens and Zac Efron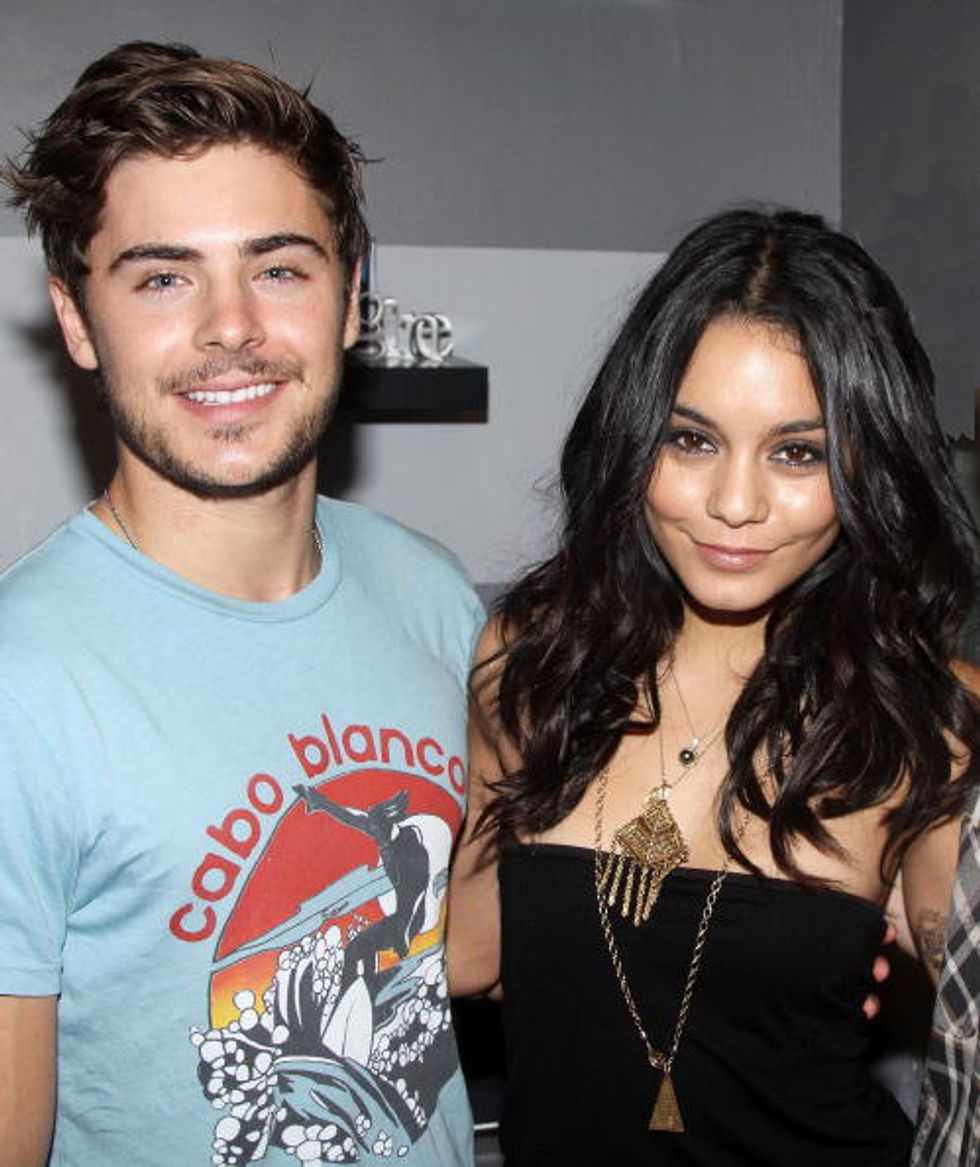 Ah, the 
High School Musical
days. Co-stars falling in love on-set is a pretty regular thing in Hollywood and always has been, so when Troy and Gabriella became Zac and Vanessa, 
High School Musical
fans were ecstatic. Well, as ecstatic as they could be despite Efron being off the market! The couple dated for a considerable amount of time, too, breaking up after 5 years together. But these things happen--and Vanessa opened up about the relationship in later years, saying that she had no regrets about it (aww!) but it had its ups and downs. There were times when she even felt intense jealousy, just from the sheer amount of girls that 
wouldn't leave Zac alone
. You know what? Fair.
4. Will Arnett and Amy Poehler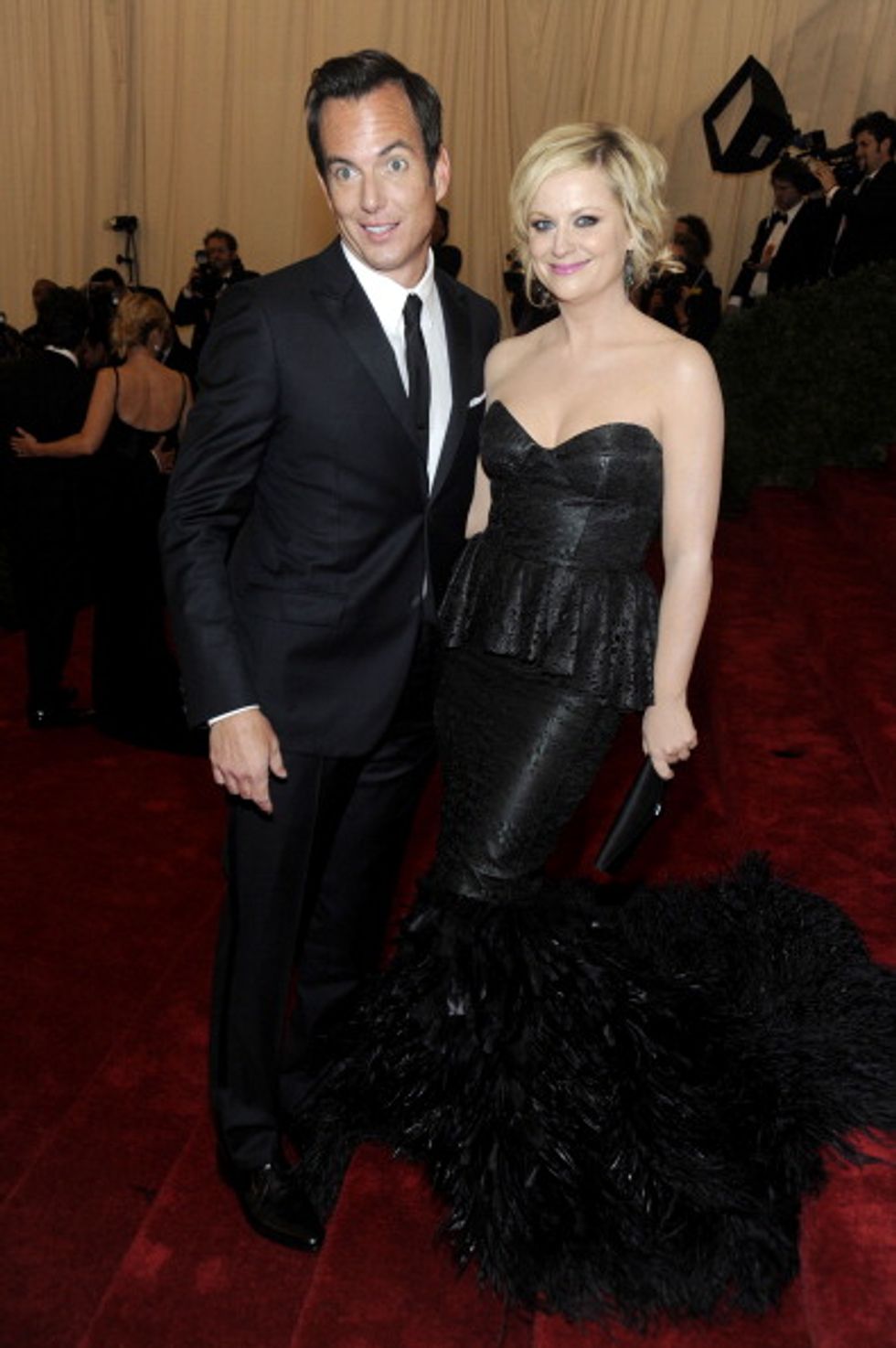 Amy Poehler and Will Arnett were 
the
comedy couple, hilarious and constant. They just seemed so 
stable
--and for a time they definitely were. But it's perturbing when a couple that seems so rock-solid breaks up because it makes a lifetime marriage just seem that much more unattainable. The pair split up in 2012 after ten years and two children together, and Poehler understandably hasn't wanted to dwell on it too much publicly. In her memoir 
Yes Please
, she wrote that the subject is "too sad and too personal." At least we can still cheer ourselves up by binging episodes of 
Parks and Rec
!
5. Jennifer Aniston and Brad Pitt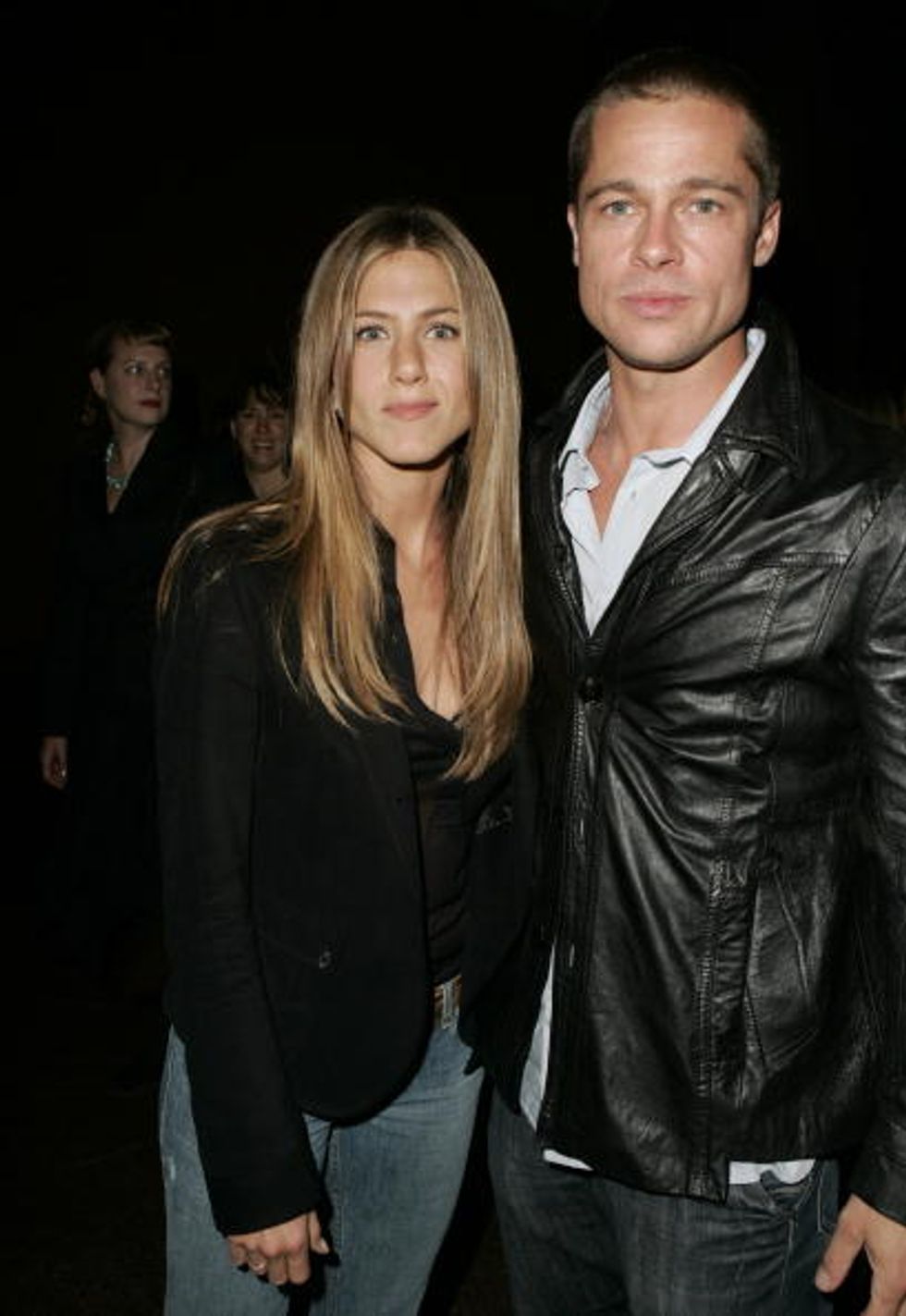 Back in the day, these two were THE golden couple of Hollywood, and it's easy to see why. They made for one gorgeous pair of people. Aniston was beloved for her
Friends
role, and Pitt was just hitting his stride as a movie star. So when the pair got engaged and then married in 2000, it was the biggest of deals in tabloids everywhere. Well, it
seemed
like the biggest of deals. But that was nothing compared to news of Pitt and Aniston's divorce after five years of marriage, with rumors of Pitt and 
Mr. & Mrs. Smith
 co-star Angelina Jolie only fuelling the fire. People went 
crazy
. Like, "Team Aniston" and "Team Jolie" t-shirts level of crazy. Which brings us to...
6. Angelina Jolie and Brad Pitt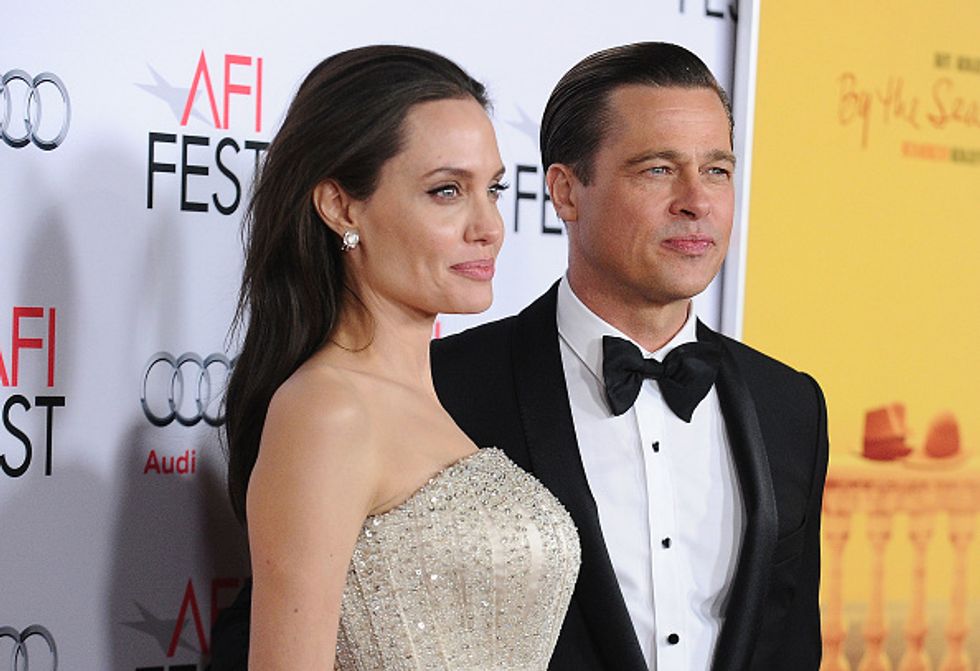 Eventually, the Jen/Brad and Angelina/Brad noise died down (though we're sure a few people somewhere are still bitter). Then it was just Jolie and Pitt seemingly in a strong long-term relationship that led to them getting married in 2014, after six kids and nine years together. Strangely enough, it was the marriage that didn't last; after only two years in 2016, Jolie filed for divorce. The pair have been adamant about co-parenting their kids, so that's small comfort. But the truth is, rumors of their breakup have been circling Jolie and Pitt in tabloids since they officially got together in 2005, which can't have been easy to deal with. Now we mostly just feel bad for Angelina and Jennifer both.
7. Reese Witherspoon and Ryan Phillippe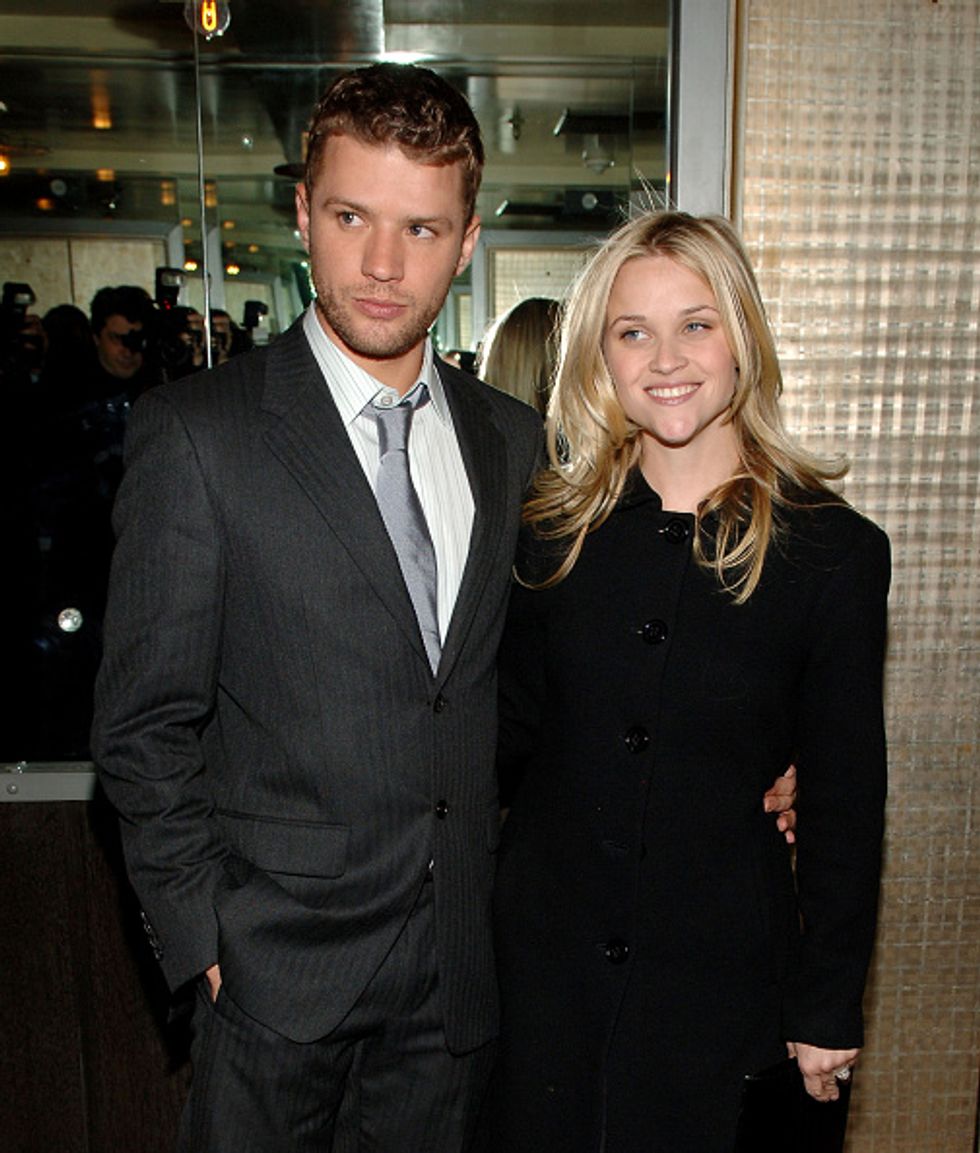 Here's another of Hollywood's great power couples of the 2000s. Reese Witherspoon and Ryan Phillippe dated for two years, starring in 
Cruel Intentions
together, before getting married in 1999. And while marriage may appear happy on the outside, we know by now that's not always the case. Although Witherspoon and Phillippe separated in 2007, they're still able to be friendly with one another and co-parent their children. As to the reason for their split, Reese later spoke on one of the biggest causes in her mind. I think more of the problem was age," she told 
Larry King in an interview
. "When we got together we were so young. I think it can create issues with two people in this industry because there's so much noise that goes along with it."
8. Nick Lachey and Jessica Simpson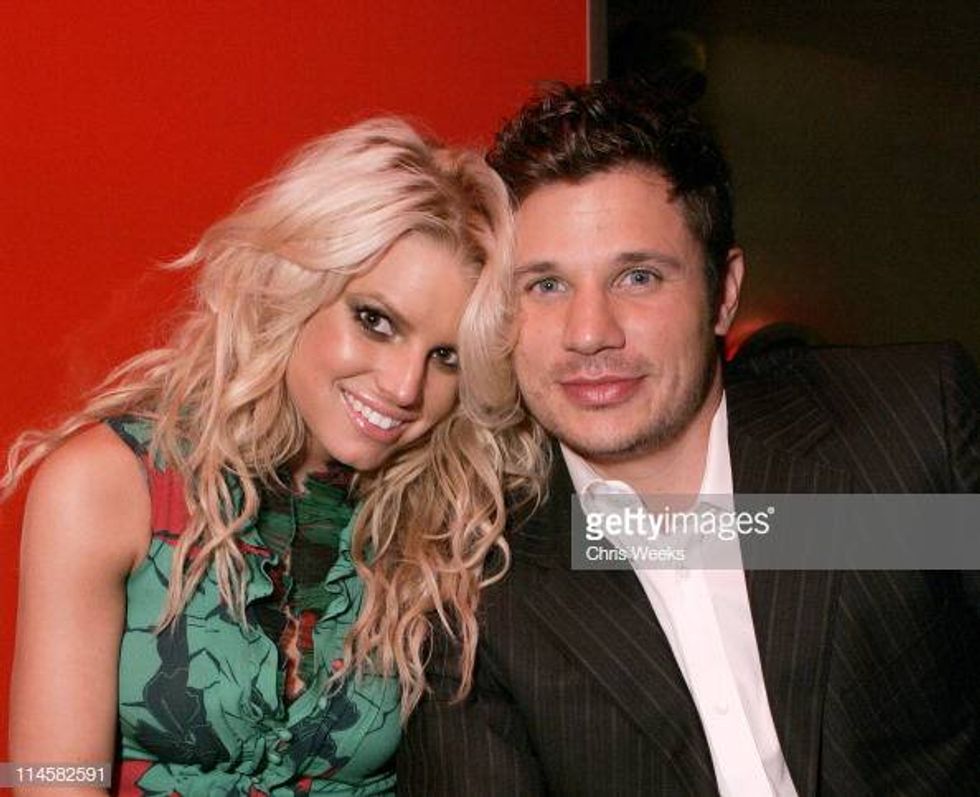 When Nick Lachey and Jessica Simpson got married in 2002, they began a trend that other families like the Kardashians later picked up on: they made a reality show with their relationship at the center. 
Newlyweds: Nick and Jessica
let fans follow along with their romance, which is probably why their 2005 split was such a big deal--fans had already gotten invested. Unfortunately, the pair of them couldn't make it work. They'd already had a breakup and reconciliation while dating, and having a happy marriage under the intense scrutiny of millions is (presumably) no easy thing. Lachey married Vanessa Lachey in July 2011, while Simpson married Eric Johnson in 2014. They both have families of their own, now; they just had to do it apart.
9. Andrew Garfield and Emma Stone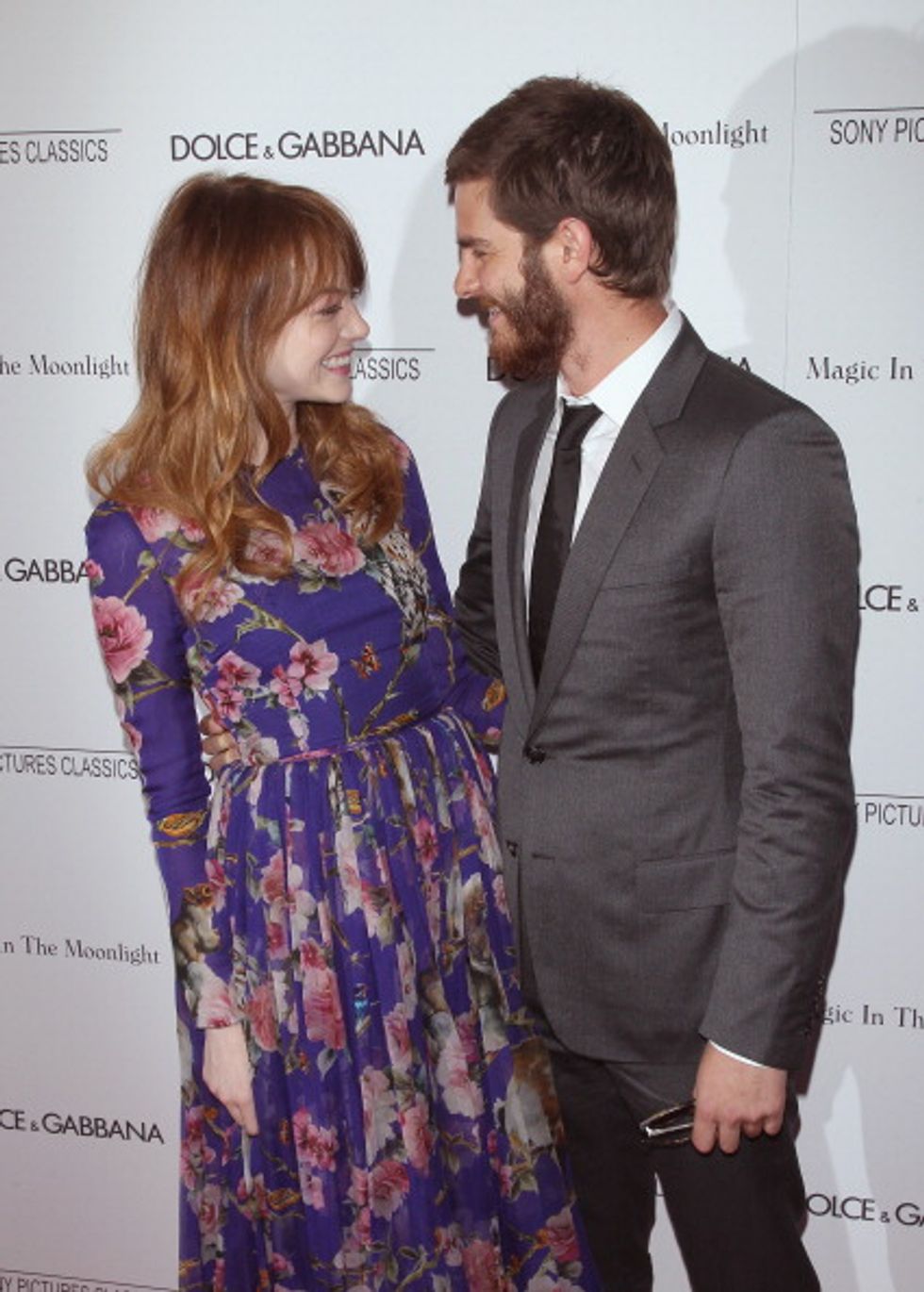 When 
The Amazing Spider-Man
came out, audiences were immediately captivated by the chemistry between Andrew Garfield and Emma Stone on-screen. So when their real-life relationship became evident, fans were obsessed with 
that
too. And it seemed like a great relationship; they did everything together and fans lived for their interactions while on press tours for the 
Spider-Man
films. They even trolled paparazzi together AND raised awareness of various charities in the same go, which is pretty impressive. Rumors of their breakup came around in 2015, and fans were devastated. But it could've turned out so much worse because the pair is also still super friendly with each other – to the point of confusing fans because it's rare for exes to keep hanging out with each other the way they do! At the very least, it leaves room for fans to hope for a rekindling of their relationship...
10. Ryan Gosling and Rachel McAdams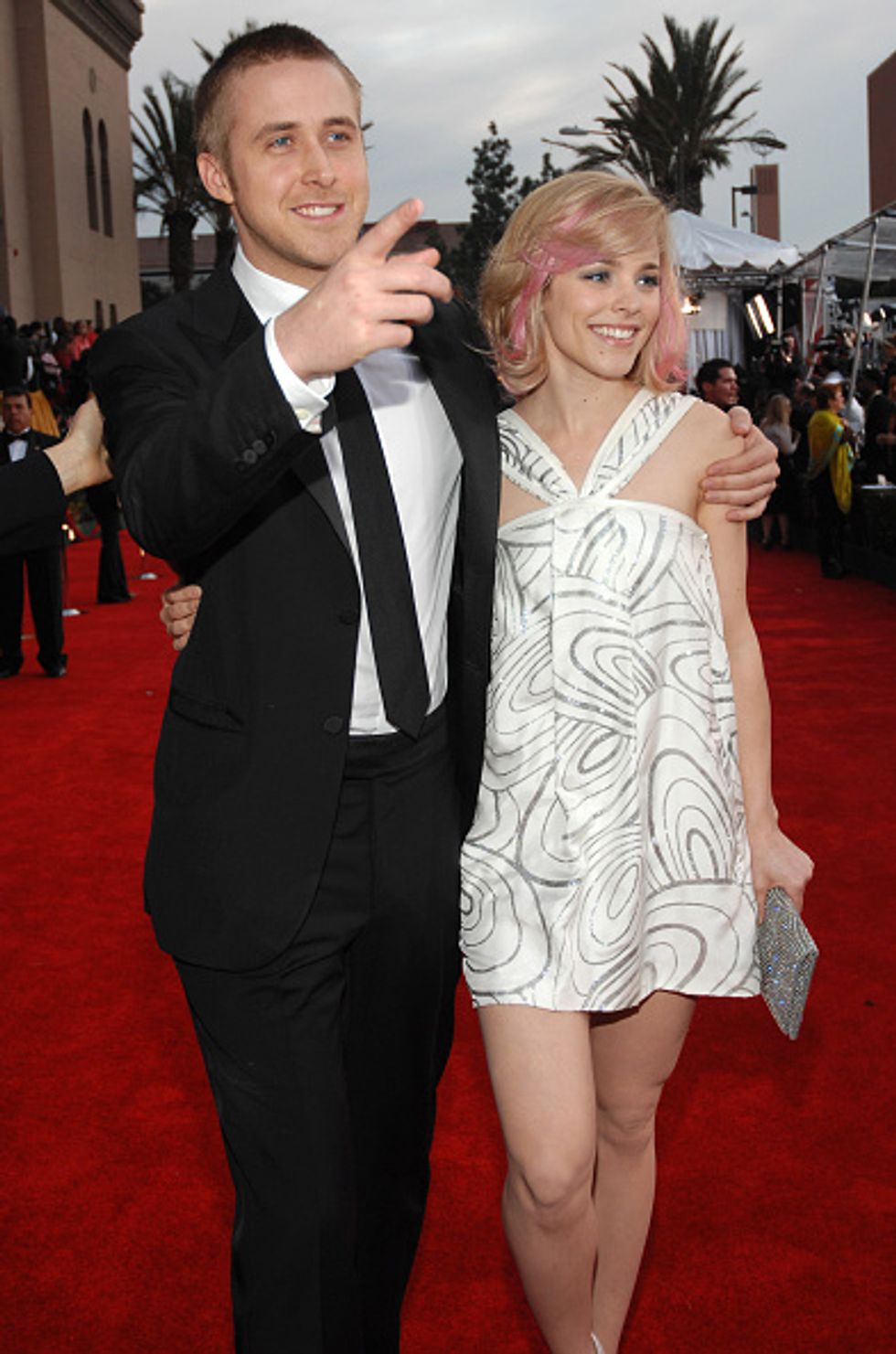 Ryan Gosling and Rachel McAdams had an interesting start to their relationship. They met on the set of 
The Notebook
(a film that later made all of America fall in love with them
and
 their relationship), but at first, they really couldn't stand each other! Gosling actually wanted to kick McAdams off the set at one point, which goes to show just how tumultuous things were. Once the film wrapped, however, they started dating. Who knows; maybe all the fighting was just underlying romantic tension? The pair delighted audiences with their relationship, even sharing the most AMAZING of kisses onstage at the MTV Movie Awards in 2005, but some good things can't last. They broke up in 2007, apparently after a huge fight. We'll always have Noah and Allie, though!
11. Lady Gaga and Taylor Kinney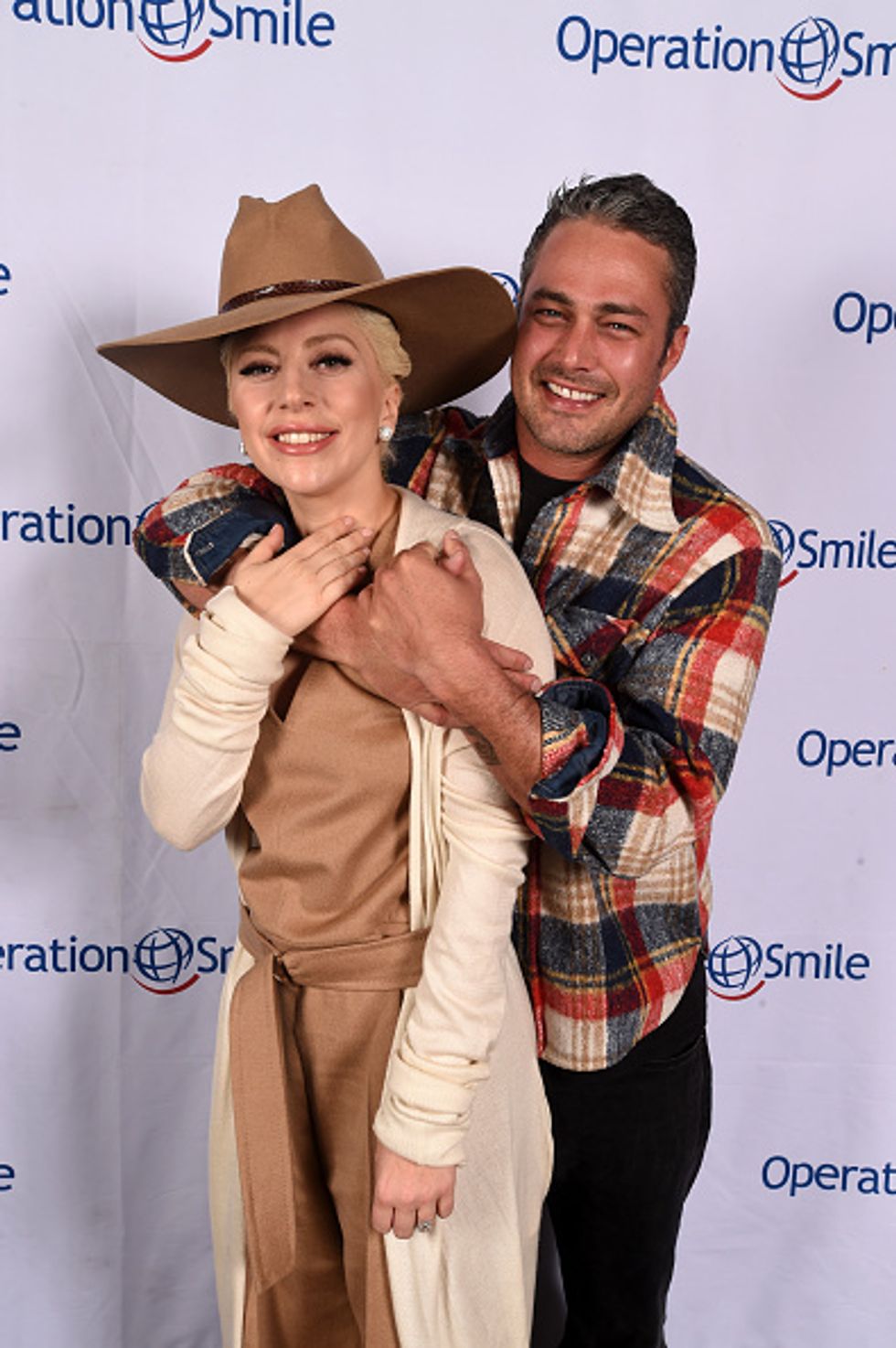 Nobody was expecting Lady Gaga and Taylor Kinney's relationship, but it was beloved nonetheless! Kinney played Gaga's love interest in her 2011 "You and I" music video, and clearly that chemistry translated well into real life. Gaga was over the moon with Kinney, and he seemed just as enamored, finally proposing in 2015. Everyone thought that was that, but the pair then broke up in 2016. At the time, Gaga stated that she still fully believed Kinney to be her soulmate and that their separation was temporary. But since then she's dated and broken up with Christian Carino. Could that mean their breakup really 
is
temporary? We'll have to wait and see.
12. Nina Dobrev and Ian Somerhalder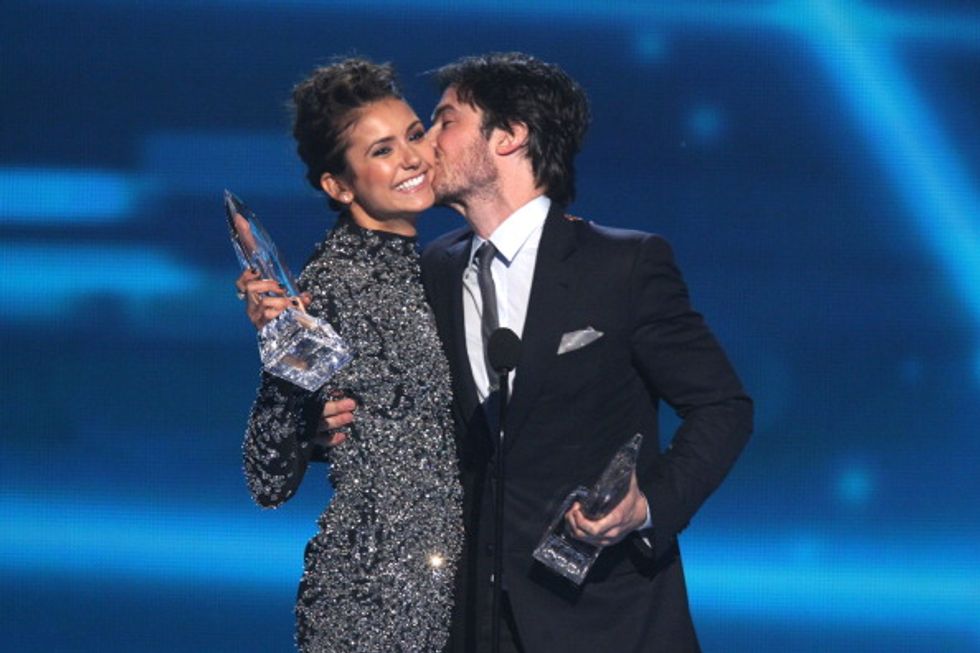 Their chemistry on 
The Vampire Diaries
caught viewers' eyes when the show began in 2009, so it wasn't surprising in 2010 when news broke that Nina Dobrev and Ian Somerhalder had gotten together. They attended red carpet events together and openly talked about how great the other was, just generally being an adorable couple. It lasted until 2013 when they broke up after three years of dating. Now Somerhalder is married to 
Twilight
star Nikki Reed (gotta stay vampire-adjacent, right?), and Dobrev has spoken about her friendship with both of them. "I don't think that's weird at all. I think that's great. Why can't everyone be friends?" she said when a fan asked if she felt weird around the couple. Cheers! That's a healthy attitude to have.
13. Emma Thompson and Kenneth Branagh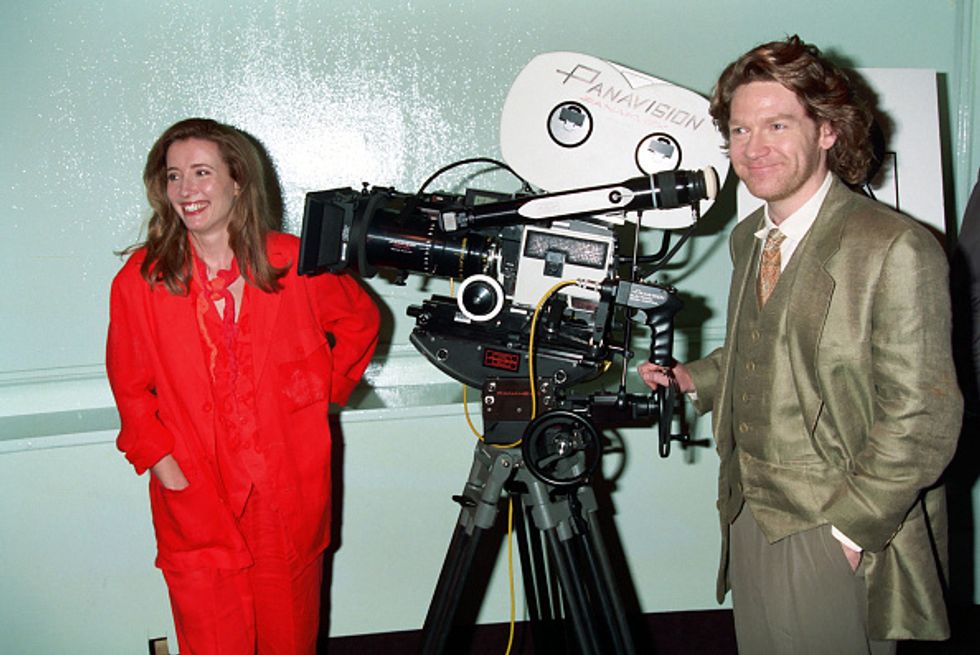 Thompson and Branagh were dubbed a "golden couple" when they married in 1989, but in 1995 they separated--and it later came out that Branagh had fallen in love with Helena Bonham Carter. Not only that, but rumors followed that the pair of them had an affair while co-starring in Mary Shelley's 
Frankenstein
. Thompson and Branagh's marriage crumbled quickly with all the rumors. But Thompson has moved on completely, having been married to husband Greg Wise since 2003. She's even made her peace with Bonham Carter, and says that the divorce is all "blood under the bridge." "Oh we are [alike]," Thompson said of Bonham Carter. "Being slightly mad and a bit fashion-challenged. Perhaps that's why Ken loved us both. She's a wonderful woman, Helena."
14. Ben Stiller and Christine Taylor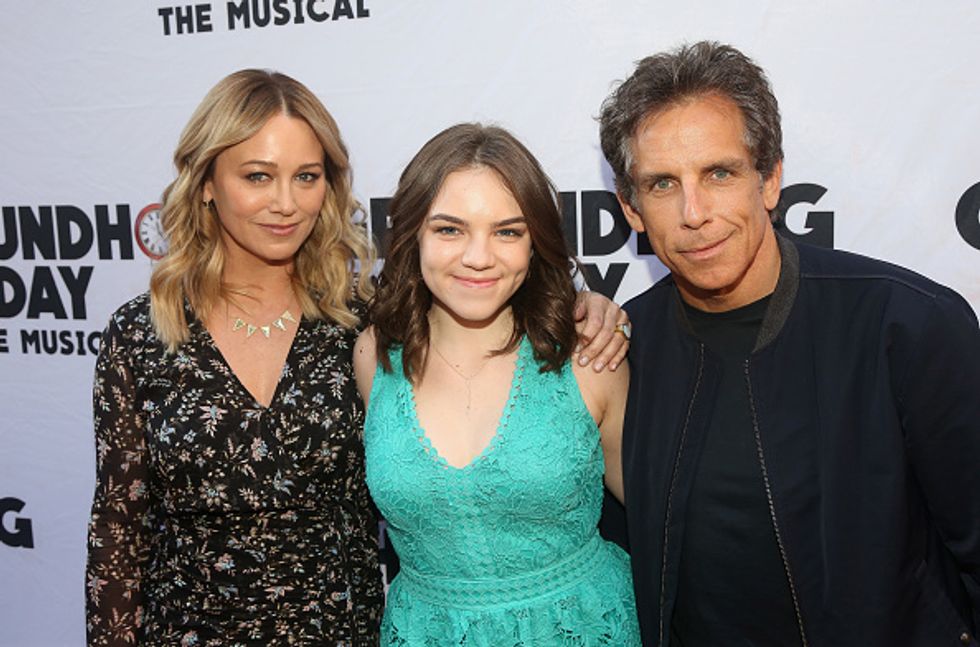 It's always sad when a family goes through a divorce and this is no different. Ben Stiller and Christine Taylor were always together, on-screen and in life. They appeared together in
Zoolander, Tropic Thunder, Arrested Development
, and more. Having been married since 2000, their 2017 announcement that they would be divorcing after 17 years of marriage was shocking to many. However, the pair have been seen together since then – a couple of times looking quite cozy. While it certainly got the rumor mill turning that they might be back together, there have been no official changes in relationship status since the split. But we can hope, right?
15. Seal and Heidi Klum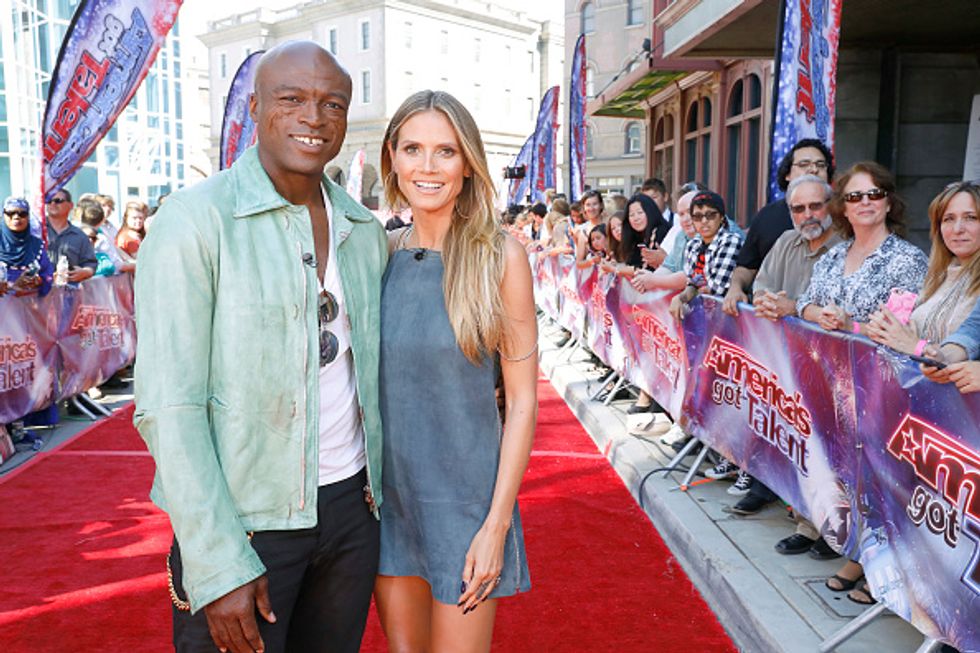 Here's an especially sad one: Heidi Klum and Seal made one heck of a power couple. Their style? Flawless. Their couples' Halloween costumes? EPIC. It was a match made in heaven when they got married in 2005. They had their first child together not long after, but here's an even more adorable detail about their relationship: Seal also ended up adopting Klum's daughter from a previous marriage, Leni. We're not crying, you're crying. So it was devastating to see them announce their separation in 2012, but – like good parents – they continue to co-parent their kids.
16. Ben Affleck and Jennifer Lopez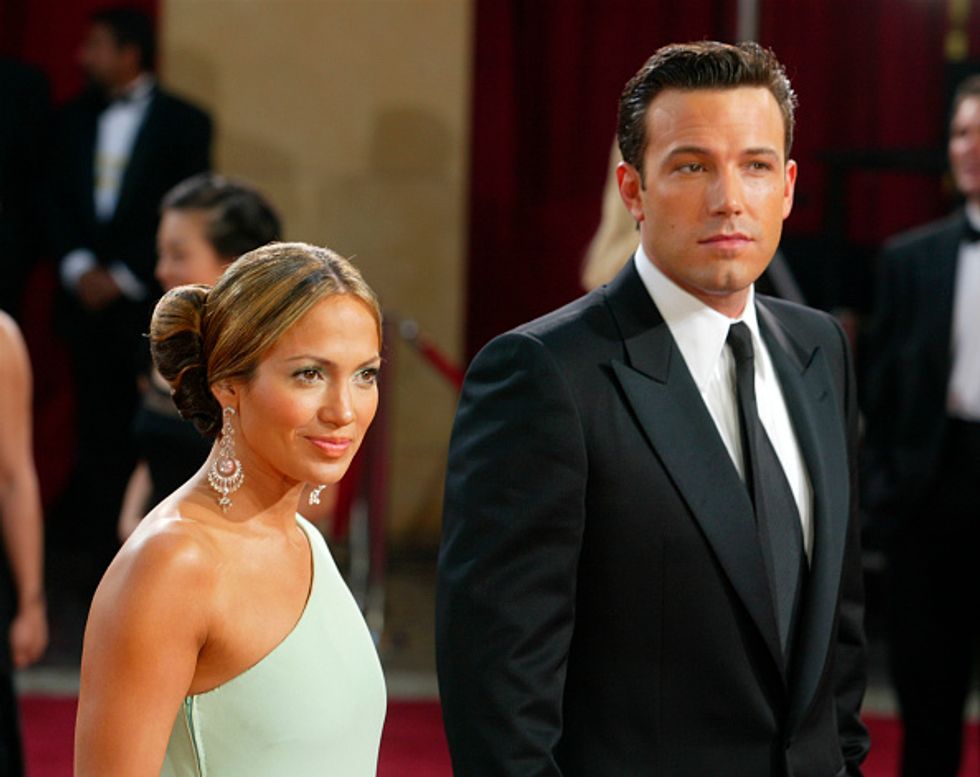 Sometimes it's easy to forget that Lopez and Affleck were actually engaged--it's been over 12 years since their relationship ended! They began dating in 2002, after meeting on the set of 
Gigli
. The movie may have been a giant flop, but it brought the two of them together and they later got engaged. Then 2004 rolled around, and they called off their engagement 
right
before their scheduled wedding. Of course, there are some obvious reasons behind this, one being Affleck's relationship with Jennifer Garner quickly after. They'd already had feelings for each other, and both left their significant others around the same time.
Sigh
. Farewell, Bennifer!
17. Britney Spears and Justin Timberlake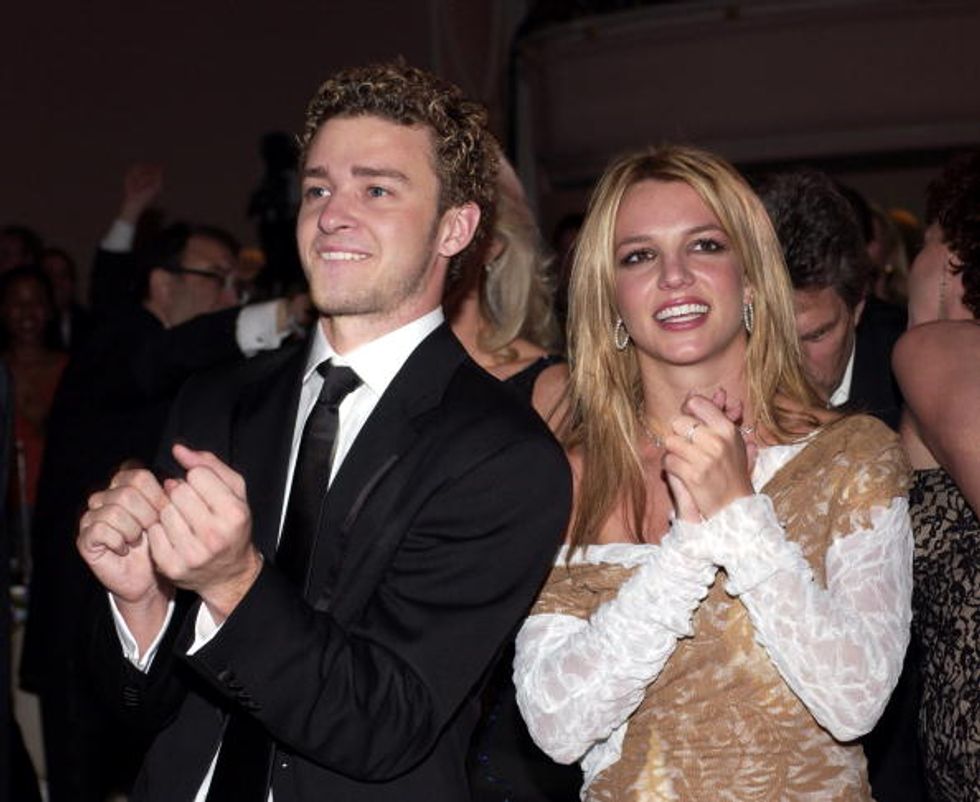 In 1999, Britney Spears was at the height of her fame and Justin Timberlake was still a member of NSYNC. They've both had longer relationships since, but this one is big mostly because both of them were music 
royalty, 
and it's always news when separate royal families come together. They dated for 4 years, from 1998 to 2002. When they abruptly broke up, people immediately questioned the reason--and it was rumored that Britney may have cheated on Justin. But one way or another it was young love, intense and fleeting. They made a gorgeous couple while it lasted!
18. Nia Vardalos and Ian Gomez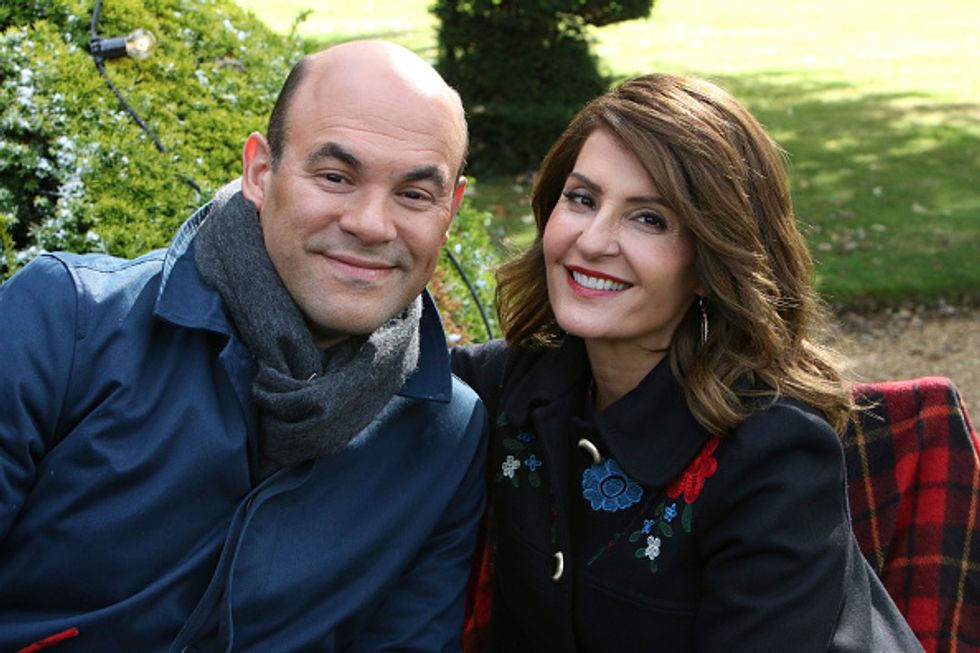 Any fans of
My Big Fat Greek
Wedding
 here? If so, I'm sorry, because this news is especially heartbreaking. Nia Vardalos is the star and writer of 
My Big Fat Greek Wedding
, and her inspiration for the movie came from close to home. It's actually based on her life and her marriage to American actor Ian Gomez in 1993. He did all the things movie-Ian does, like converting to Greek Orthodoxy so that her family would approve of the match. And knowing that their relationship is the cornerstone of 
My Big Fat Greek Wedding
makes 2018 divorce that much more devastating. Vardalos and Gomez had been married for 
23 years
before separating, citing "irreconcilable differences." It's a sad day for love.
19. Tim Burton and Helena Bonham Carter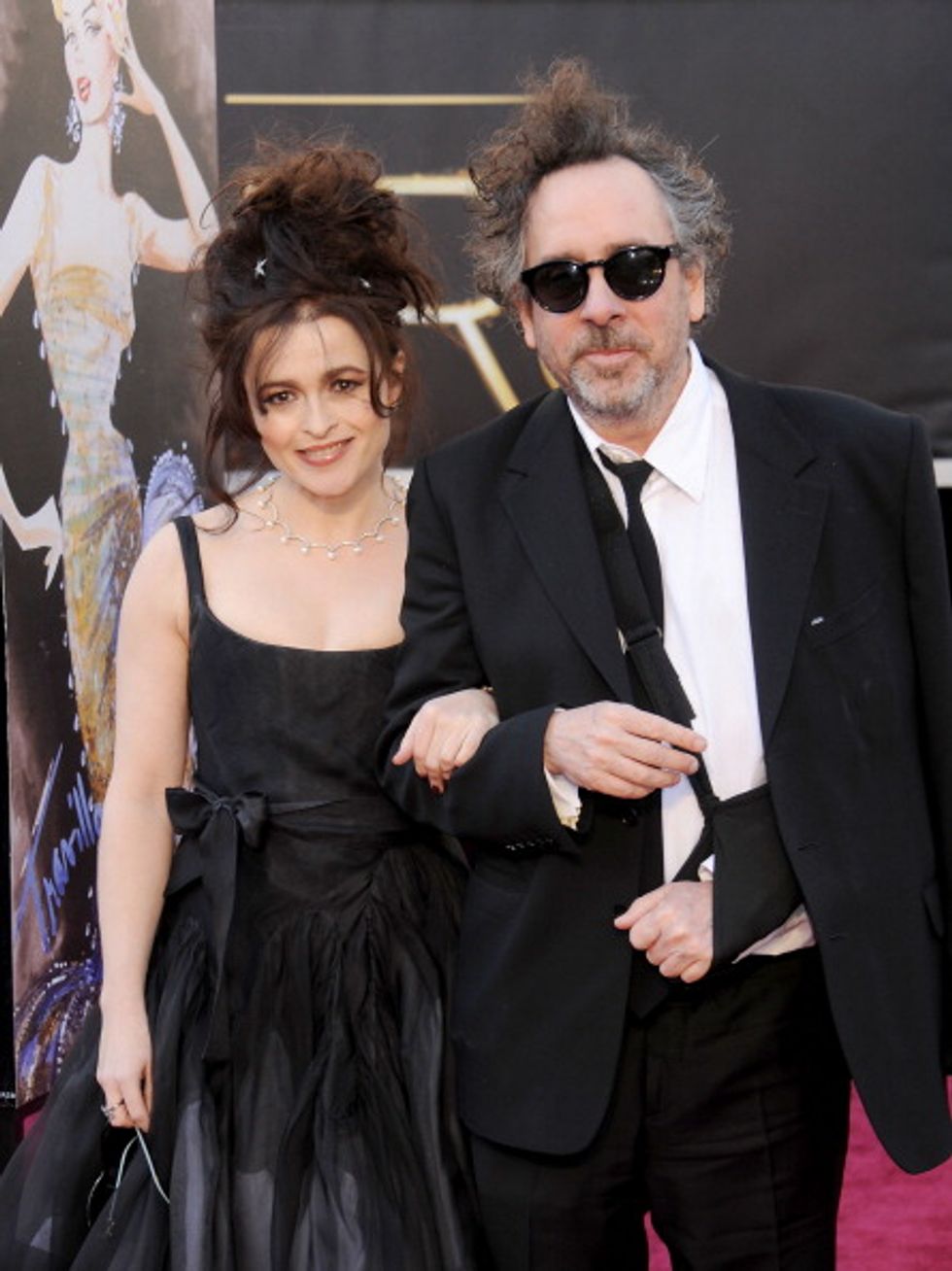 Helena Bonham Carter may have dated Kenneth Branagh, but she ultimately ended up with director Tim Burton – and the two made for a fittingly eccentric pair. I say "ended up with" because it's actually unclear if they ever married, though Bonham Carter has said "divorce" when referring to the split. If they got married, they kept it quiet. But Burton and Bonham Carter's quirks seemed to match perfectly with the other's, which is why the announcement in late 2014 that they were separating was such a surprise. They'd been together over a decade and had two children together (plus made a ton of iconic movies), but the beautiful partnership came to an end.
20. Justin Bieber and Selena Gomez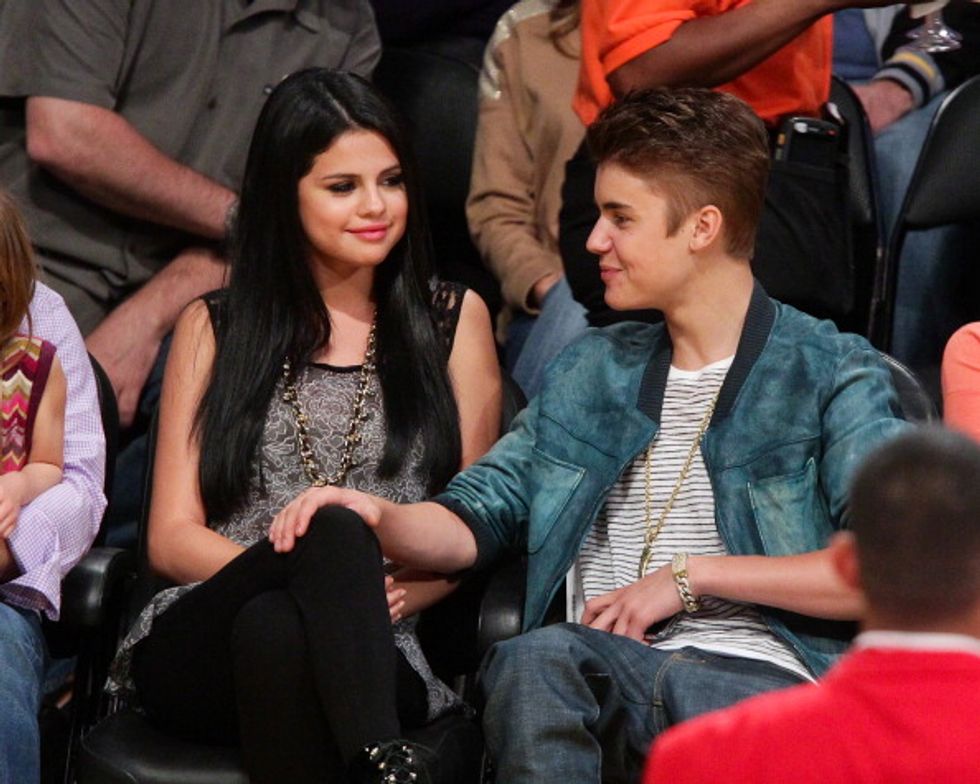 Looking back, it's clear that Selena Gomez and Justin Beiber were on a two-person roller coaster all their own from the start. They started dating in 2010, and (like many high-profile couples) were beset by breakup rumors until they actually did split in 2012. Then came the real drama. Their relationship can be characterized as unique because people were able to see it play out over social media. Over the course of several years, vague and quickly deleted Instagram posts made it seem as though they were getting back together, while never confirming anything. Their romance appeared to end for good in 2015, but it likely gave inspiration certain songs on both sides!
21. ABBA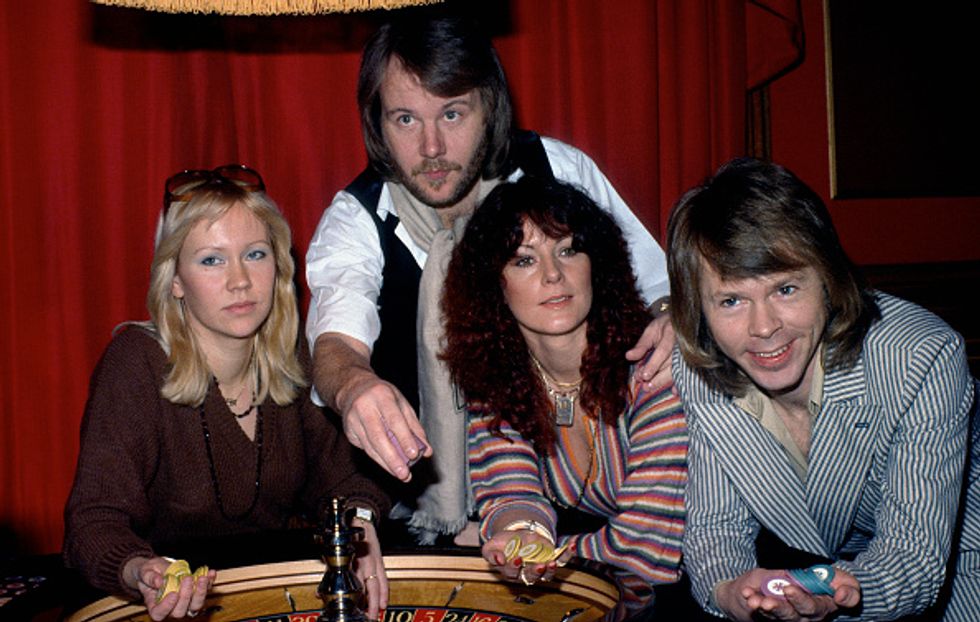 Because they were so much more than just a band, remember? It was composed of two married couples: Agnetha Fältskog and Björn Ulvaeus, plus Benny Andersson and Anni-Frid Lyngstad. Everyone and their mother has jammed out to "Dancing Queen" at some point in their lives, and at the height of their success, ABBA became one of the best-selling artists of all time. Yet in the end, to the dismay of millions, all that fame took its toll on their personal lives. Both pairs split up, and so did ABBA. But hey, we still have 
Mamma Mia
.
22. Miley Cyrus and Liam Hemsworth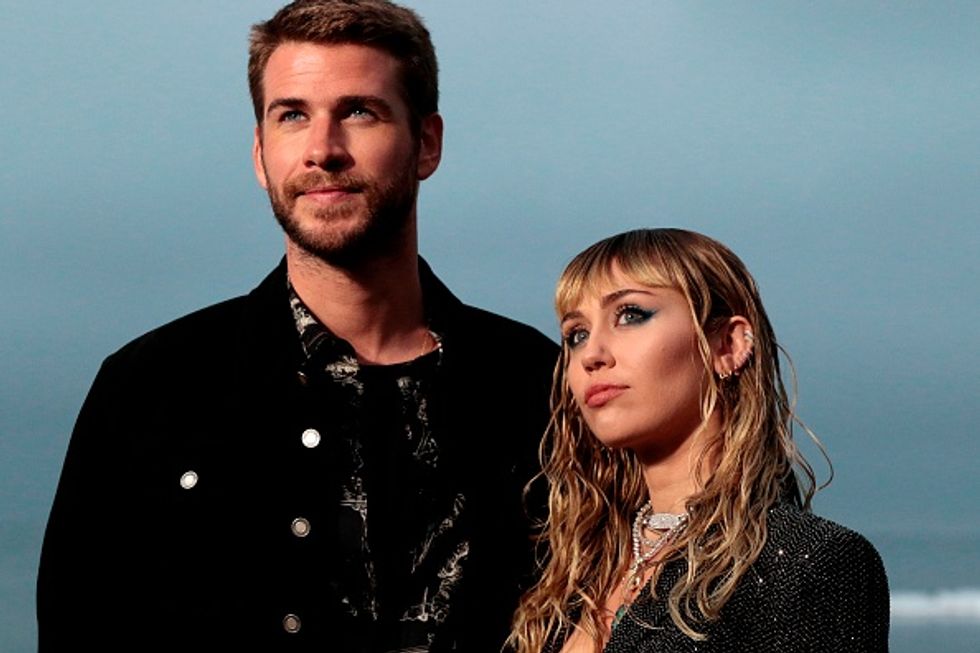 Miley Cyrus and Liam Hemsworth had already been on-again-off-again, but it really seemed like they had things figured out this time around! They met on the set of 
The Last Song
back in 2009, and began their first relationship then, getting engaged in 2012. It didn't last, and they ended the engagement in 2013. Then, in 2016, rumors began swirling that they were getting back together. Sure enough, in late 2016, Cyrus confirmed that the engagement was back on. And they 
did
get married in December of 2018, and finally seemed really content. But, sadly, Hemsworth filed for divorce as of August 21st, 2019. The Cyrus/Hemsworth ship has officially sunk.
23. Liza Koshy and David Dobrik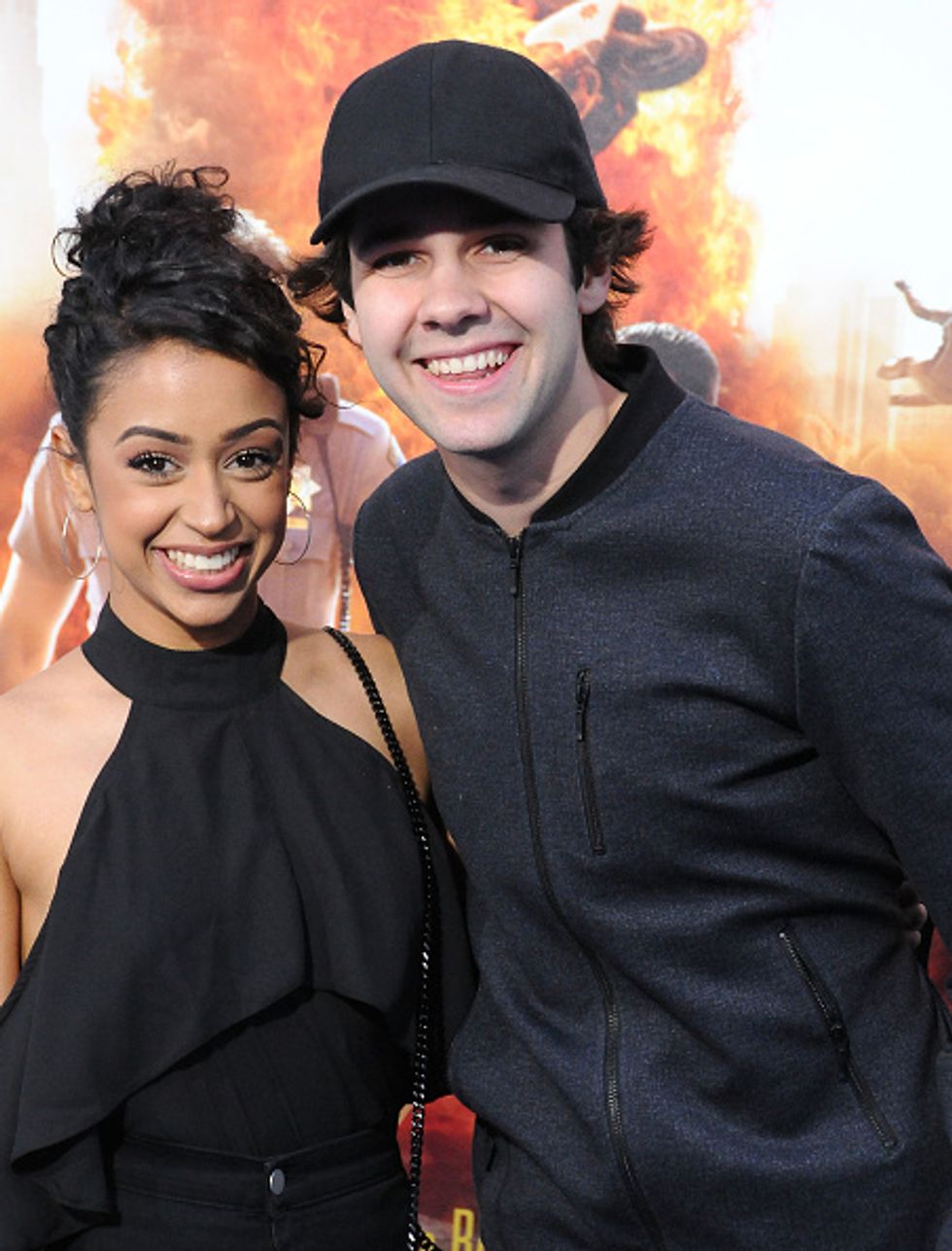 Liza Koshy and David Dobrik were a new kind of power couple: a 
Youtube
couple, as the pair of them, are enormously successful YouTube personalities. And fans quickly fell in love with their relationship, wanting nothing more than to watch it blossom! So when they posted the excruciatingly emotional video titled "we broke up" on YouTube, it was a sad day for their millions of fans. But if nothing else, Dobrik and Koshy are proof that you don't always have to lose your significant other as a friend too, because they're probably the most supportive exes we've ever seen! "I just saw her the other day," Dobrik told 
J-14 
in May 2019.  "It's like we're just friends. I don't know. We're like really, really close friends. Best friends, I guess. That's the best way to put it." Aww!
24. Anna Camp and Skylar Astin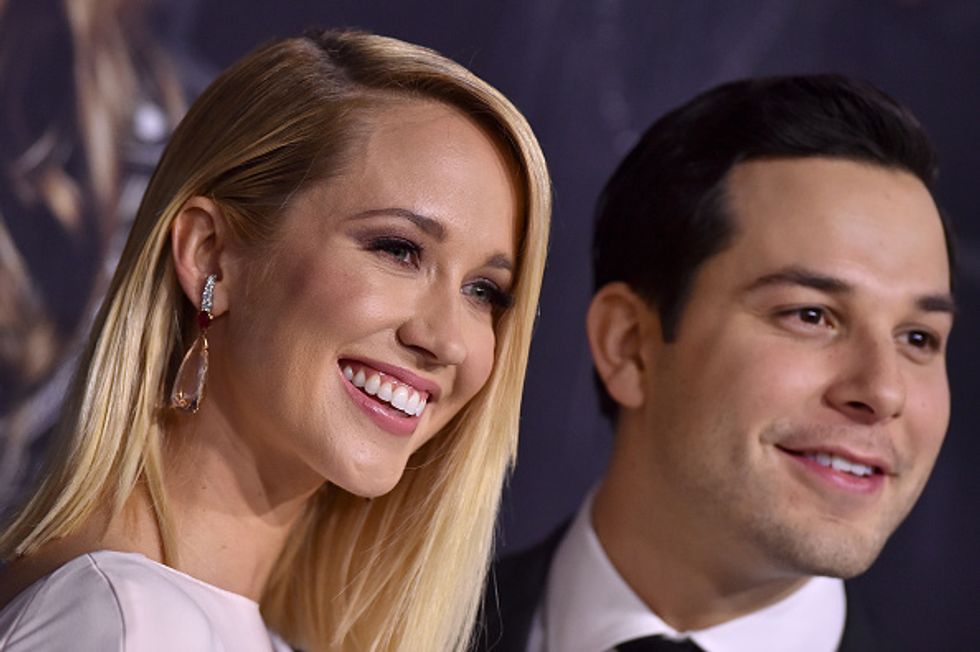 Anna Camp and Skylar Astin were 
Pitch Perfect
co-stars before they were married, beginning their relationship in 2013 after Camp's divorce from Michael Mosley. And together, the pair of them really seemed to be, well, perfect. They married in 2016 and seemed utterly besotted by each other. On their one-year anniversary, Camp even said, "We fall in love with each other more and more every day we've been together." Sadly, it seems like things unraveled pretty fast after that because Camp and Astin separated after two and a half years of marriage. Nobody really knows why yet, and the couple has asked for privacy in their difficult time.
25. Emma Roberts and Evan Peters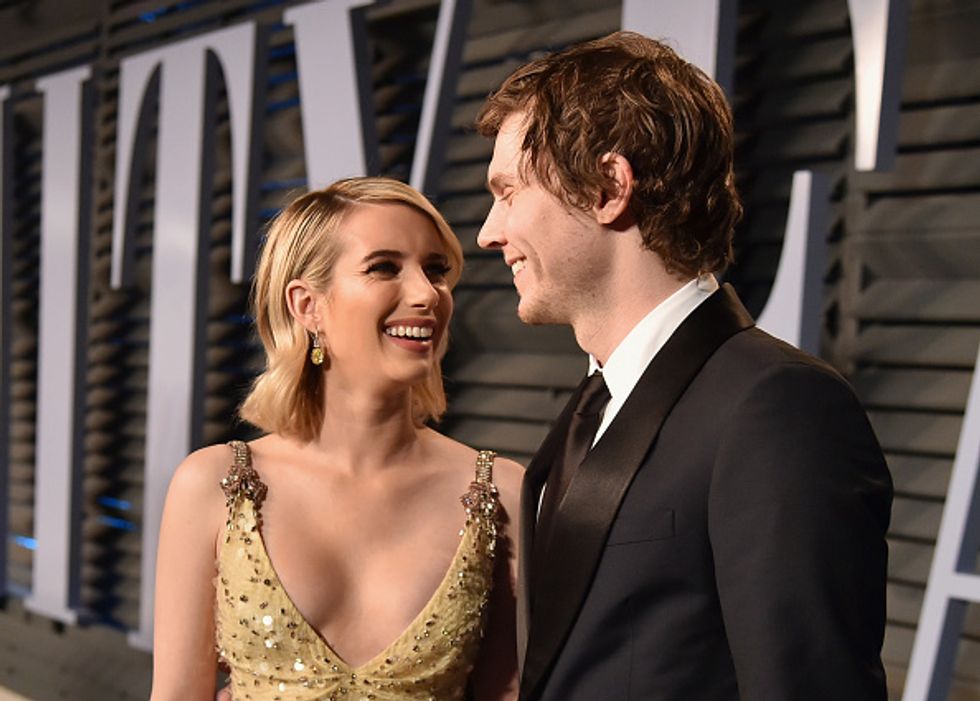 As co-stars in fan-favorite
American Horror Story
, Emma Roberts and Evan Peters had one wild ride of a relationship. They first got together in 2012, and then quickly got engaged in 2013. But it wasn't exactly smooth sailing: they called off the engagement in 2015, before later reuniting in 2016. 
Phew, 
that was a lot. The seven-year relationship seems to have truly reached its end now, as
E! News
reported that Peters had moved out of their shared home. Not long after, Roberts has been photographed with new beau Garrett Hedlund – a sign that she really is moving on.
26. Ben Affleck and Jennifer Garner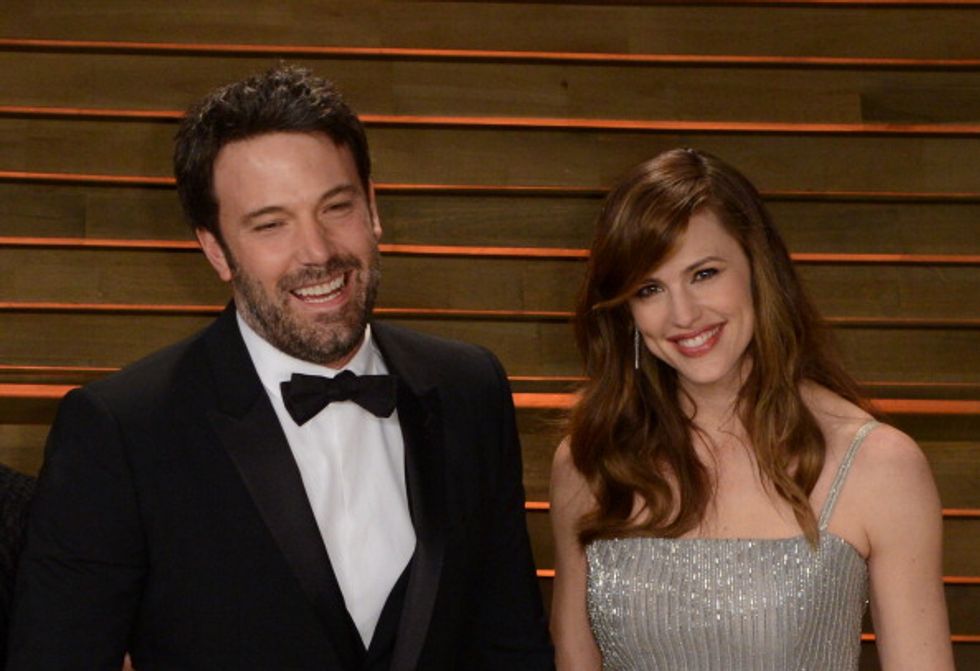 Ben Affleck and Jennifer Garner really did seem like they would be together forever. According to Affleck, they fell in love on the set of 
Daredevil
in 2002 –while Affleck was engaged to Jennifer Lopez and Garner was married to Scott Foley. But their feelings for one another were strong enough that both of them wasted little time in breaking off their respective relationships before getting together in 2004. Over a decade and three children together, Affleck and Garner seemed truly happy, always willing to speak of their wonderful life together. Nevertheless, the relationship ended in 2015 amid rumors of Affleck having an affair (with their children's' nanny, no less), though Ben has staunchly denied those rumors. Either way, this once-great relationship is really and truly over.
27. Demi Lovato and Wilmer Valderrama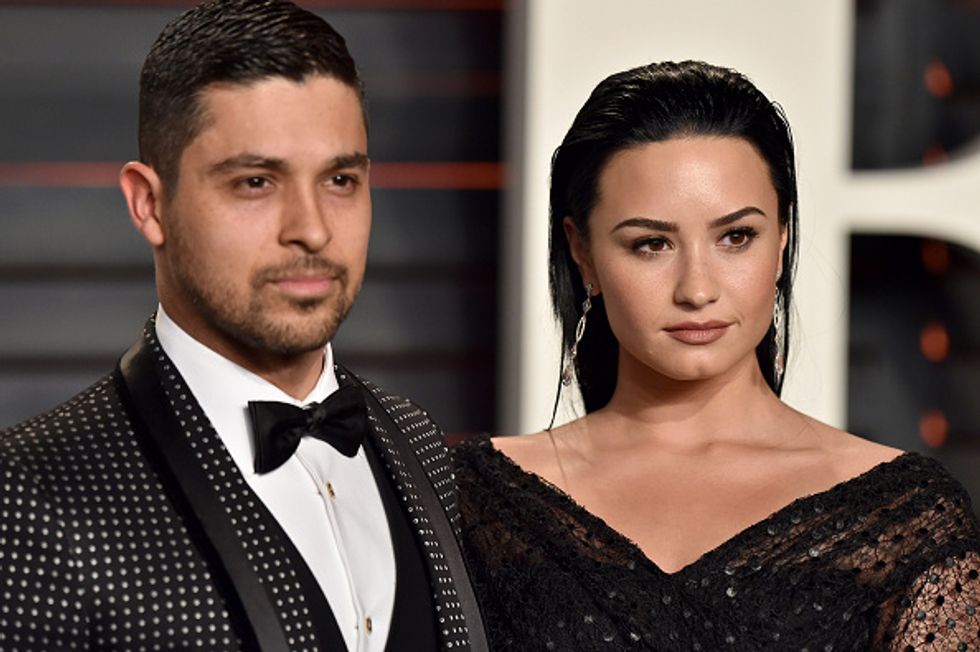 Demi Lovato and Wilmer Valderrama began dating in 2010. And while their 13-year age difference turned some heads, it clearly didn't change the love they had for each other. Plus, after Lovato opened up about her recovery from an eating disorder, self-harming, and a bipolar disorder, revealing just how important a part Valderrama played, it was hard not to wholeheartedly root for them. After all, that's what love is, right? Staying beside your partner through good AND bad. Basically, the couple was absolutely adorable together. That's why a joint statement in 2016 via Instagram proved to be devastating for fans: "This was an incredibly difficult decision for both of us, but we have realized more than anything that we are better as best friends. We will always be supportive of one another. Thank you to everyone who has offered us kindness and support over the years. With only love, Wilmer & Demi."
28. Nick Cannon and Mariah Carrey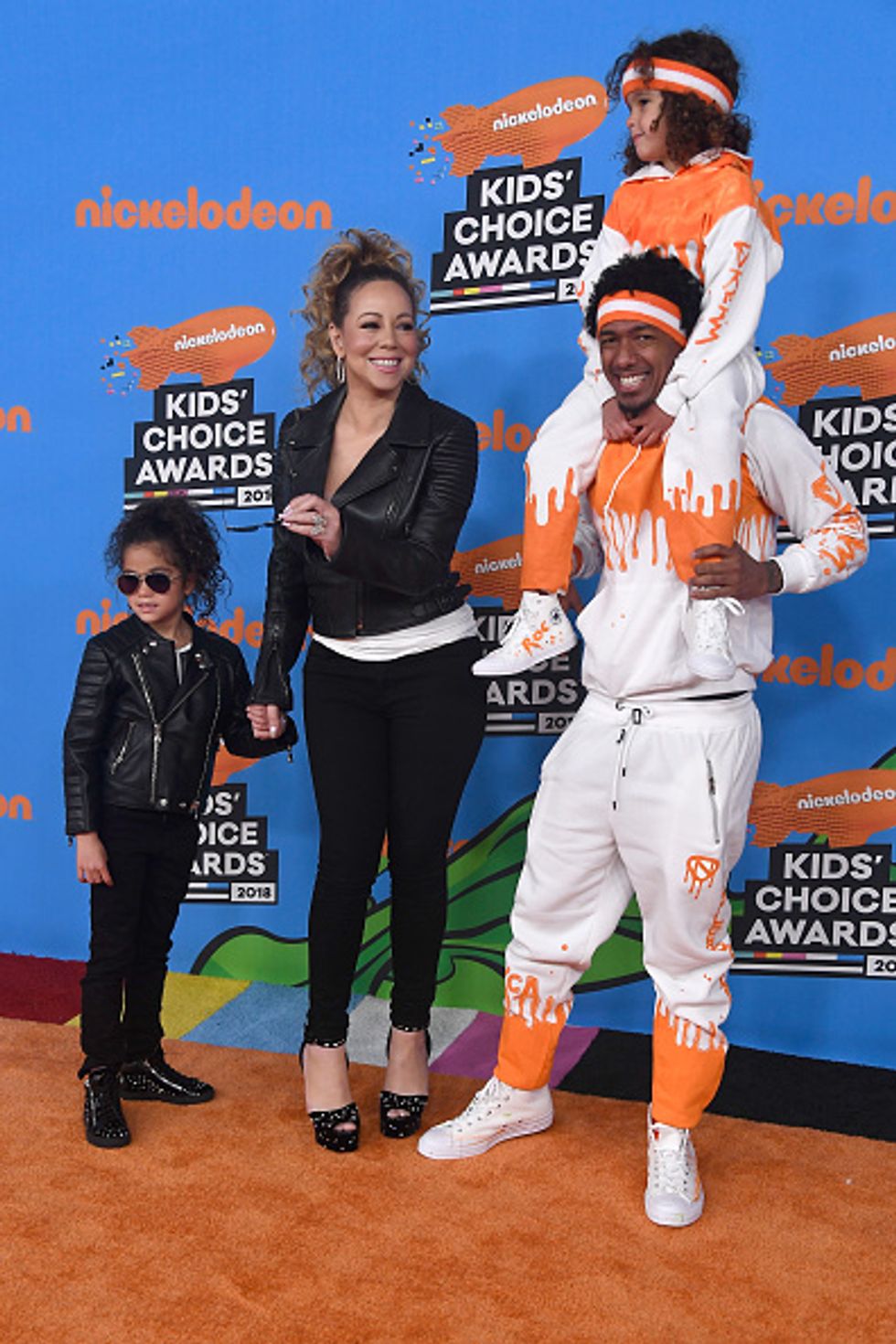 Carey and Cannon had a whirlwind relationship, and they were the very definition of an unlikely couple. For starters, Carey is eleven years older than Cannon--to the point where Cannon once revealed that he had a crush on Carey when he was younger! Plus, they seemed to be in a 
hurry
, getting married in 2008 after only two months of dating. Still, they genuinely worked for a time! In 2011, Carey gave birth to twins Monroe and Moroccan...but then, in 2014, they divorced. Not only did they divorce; it was
a nasty
one. At least now they appear to have gotten over the unpleasantness, for the sake of co-parenting their children together!
29. Gwyneth Paltrow and Chris Martin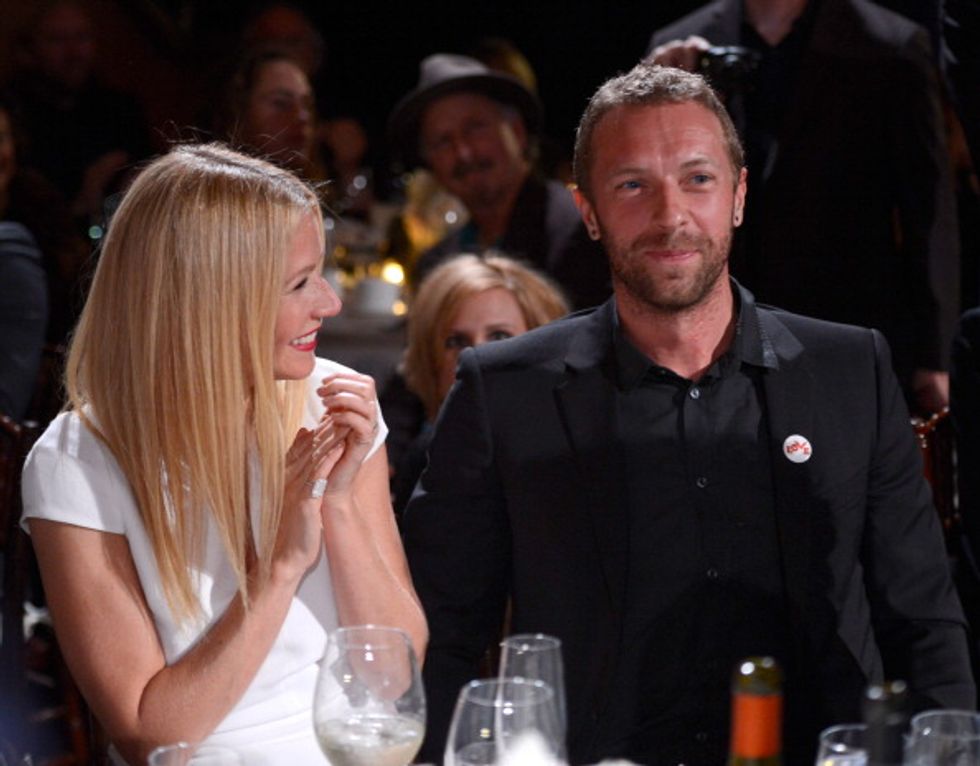 These two were actually pretty cute! They met in 2002, backstage at a Coldplay show, and Chris Martin later referred to their romance as his "first serious relationship." Sweet, right? Both of them appeared to fall hard and fast, because by December 2003 they were expecting their first child (daughter Apple) together. The actress and Coldplay star seemed very much in love, and for the next ten years, it looked like they were really going to go the distance. But 2014 gave way to what they called a "conscious uncoupling." Not the most common way to describe it, but we got the message!
30. Kourtney Kardashian and Scott Disick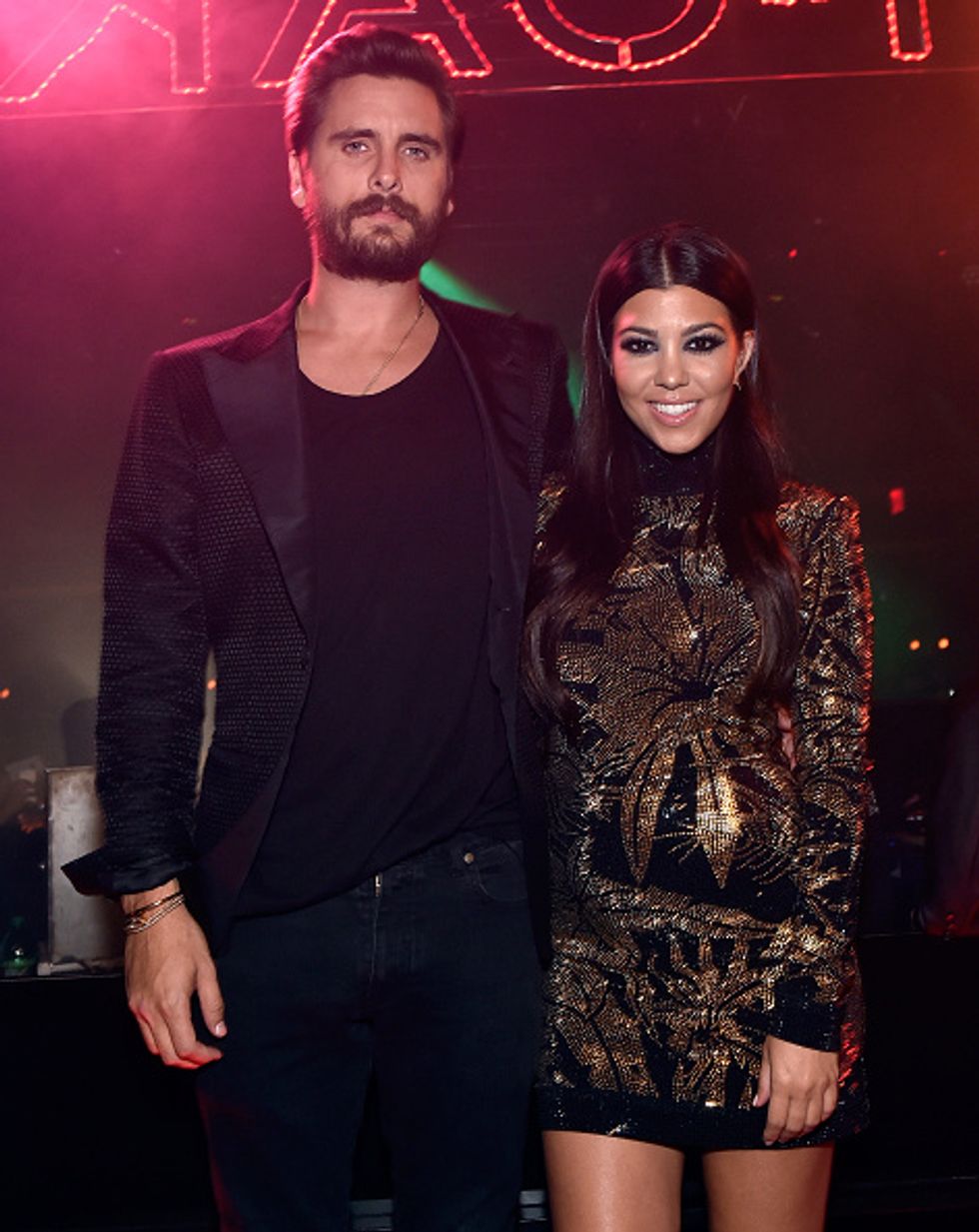 Fans of
Keeping Up With The Kardashians
saw this relationship unfold on-air in an extremely public romance. Sometimes it was hard to root for them, since Disick was accused of cheating on Kourtney multiple times on the show and they broke up. But their initial breakup in 2009 wasn't the last. The pair continued to reconcile and then break up again over the next few years, this time with  Scott's addiction issues causing tension between them in 2010. Then, Kourtney's pregnancy brought them back together. Ultimately, it's hard to sustain a relationship with so much conflict, and theirs ended for good in 2015.
31. Fergie and Josh Duhamel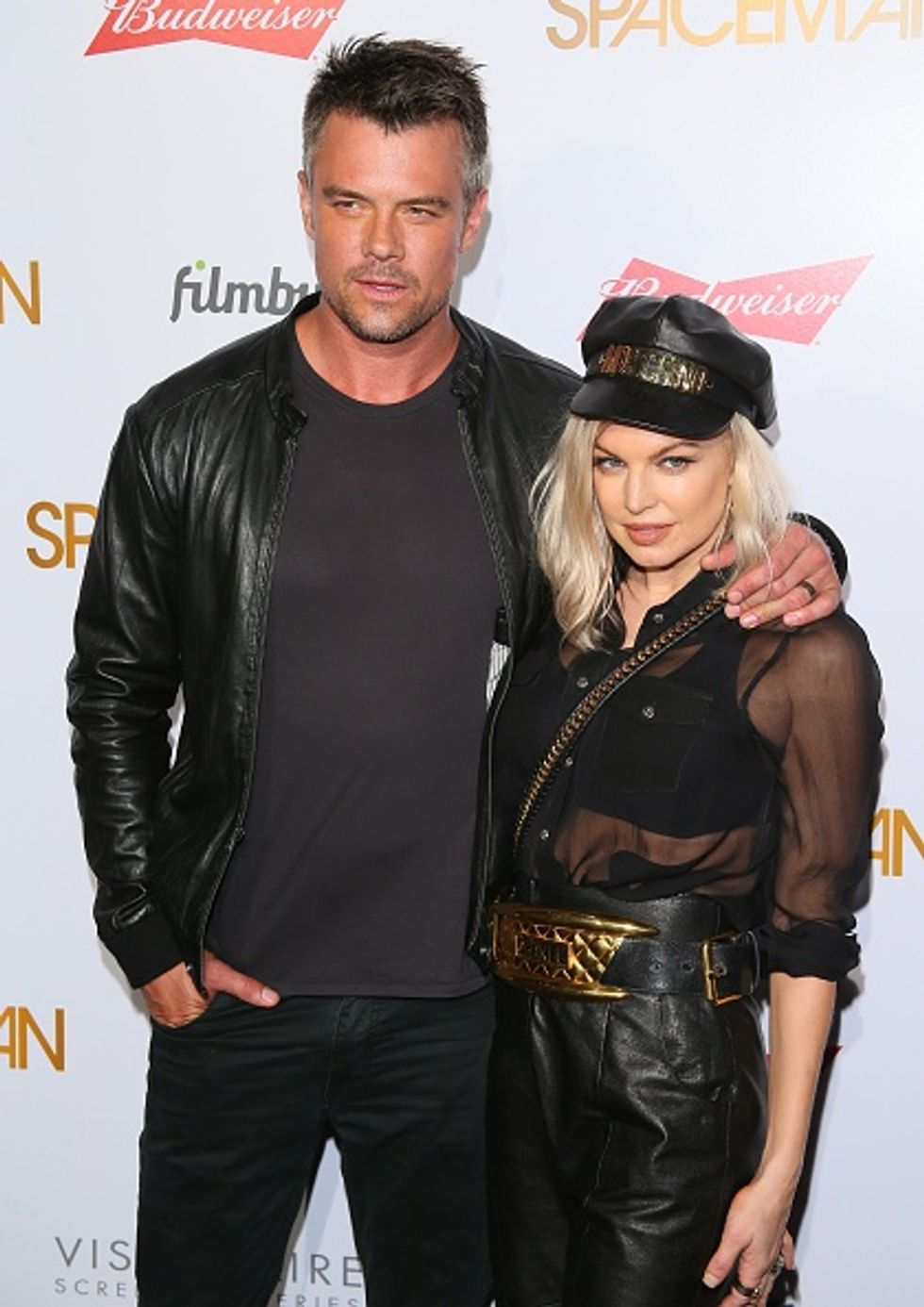 Talk about a nasty shock: Fergie and Duhamel's split proved to be one of the most devastating of 2017. After 8 years of marriage, they just seemed unstoppable! Yet the couple had actually broken up months before they even announced it, claiming that they had been waiting for the right time to share the sad news. They've continued to work together to co-parent their son, Axl, but the memory of their beautiful relationship still tugs at the heartstrings!
32. Bruce Willis and Demi Moore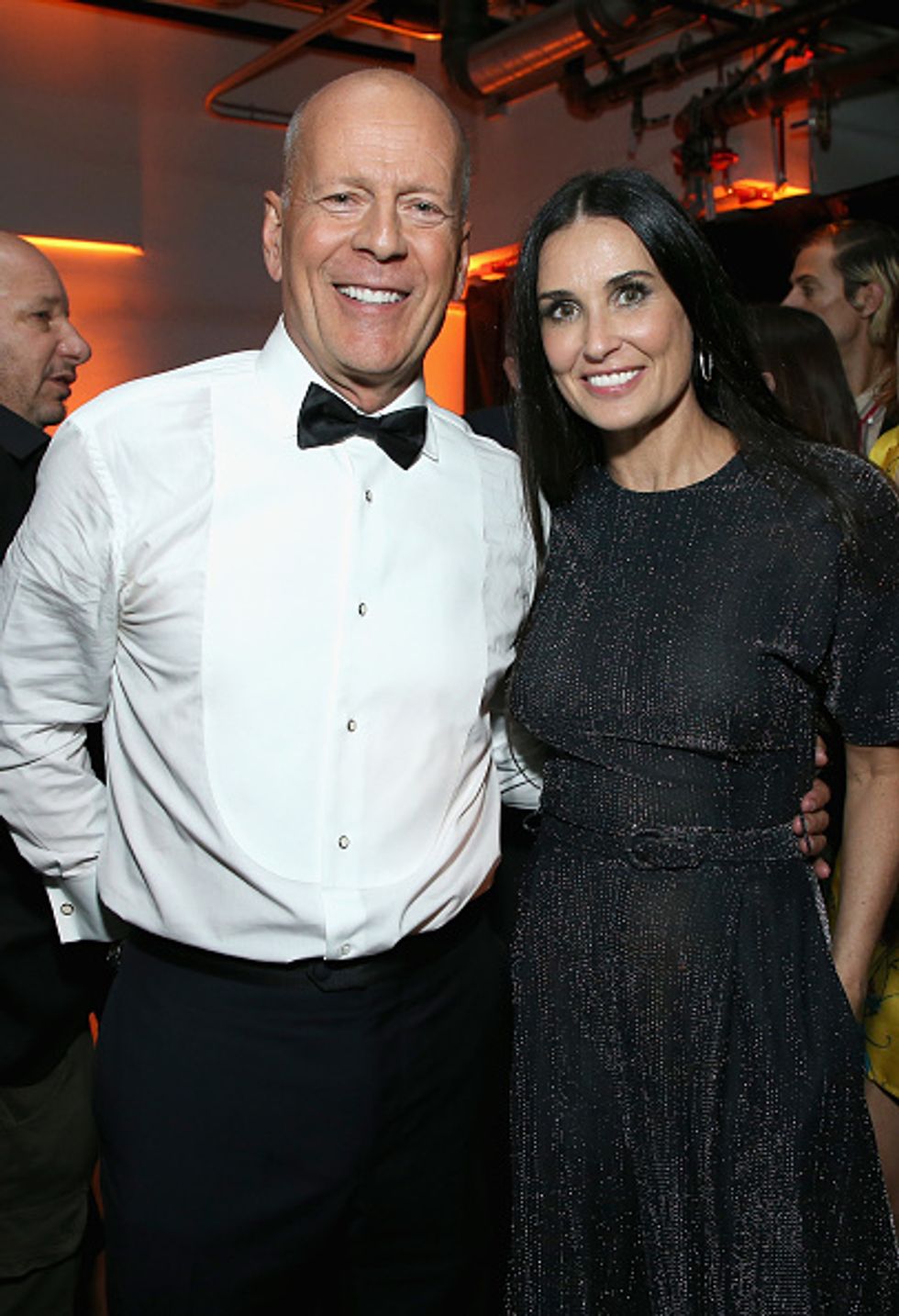 We've seen a few power couples of the 2000s so far, but let's go back another decade or two. Willis and Moore were THE couple of the '80s and '90s, and remained married for over ten years! Still, fans mourned when they divorced in 2000. However, it must be said that their post-divorce relationship is refreshingly friendly, even by "friendly ex" standards! "It's hard for people to understand, but we go on holidays together," Willis explained to
Vanity Fair
. "We still raise our kids together — we still have that bond."
33. Taylor Swift and Harry Styles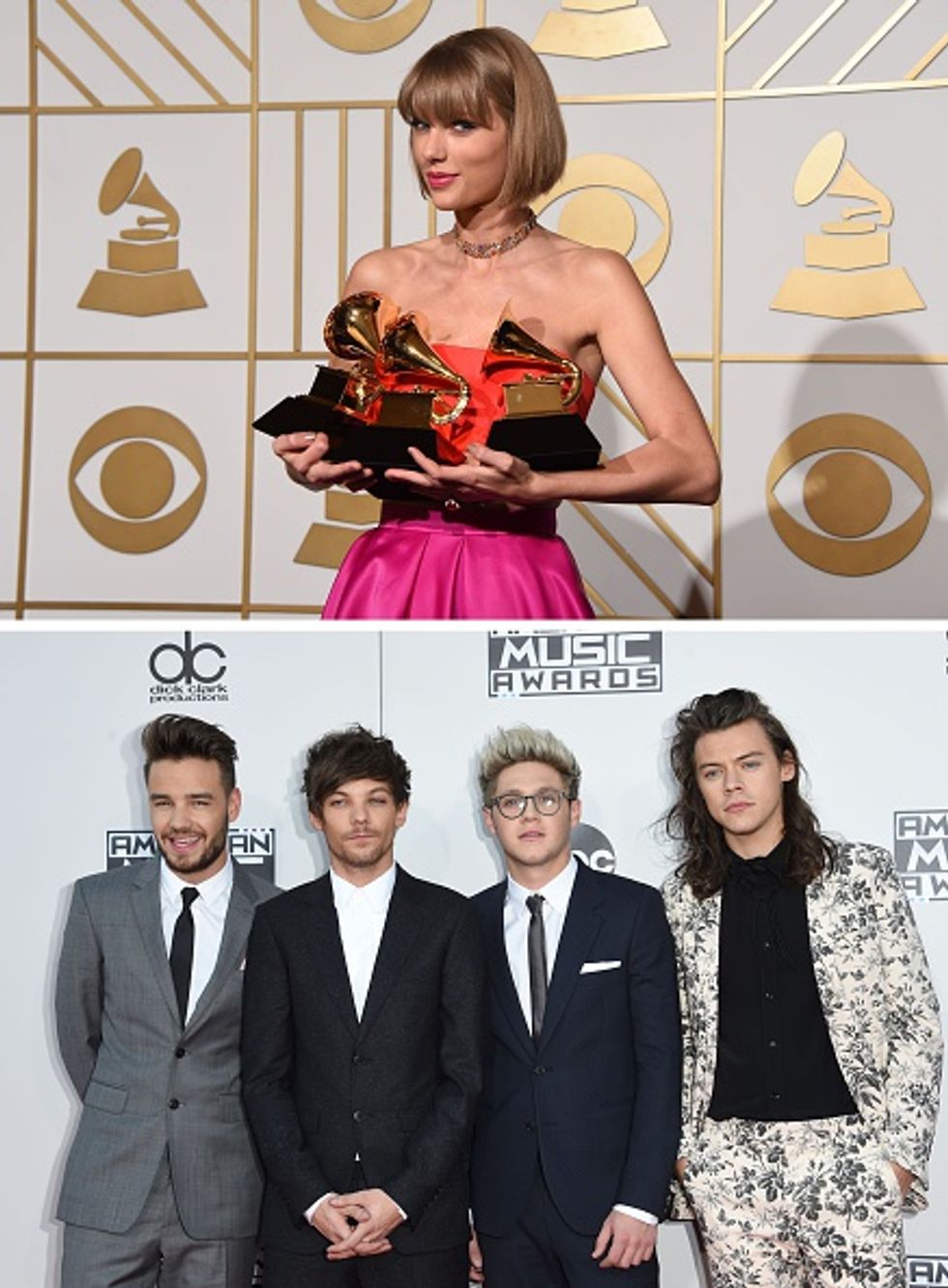 Taylor Swift and Harry Styles aren't on this list so much because their relationship was long and memorable – t was not long at
all
, lasting from October 2013 to January 2013--but because of its impact. After all, T-Swift is undoubtedly a romantic, and she has a history of writing music about her relationships. So, despite all the drama between judgemental One Direction fans and equally invested Swifties, we've gotta hand it to this relationship. Taylor may have known that Styles was "trouble when he walked in," but we've probably got Styles (and Taylor's musical skill) to thank for 
three
songs on 1989: "Style," "Out of the Woods," and "Wonderland."
34. Wiz Khalifa and Amber Rose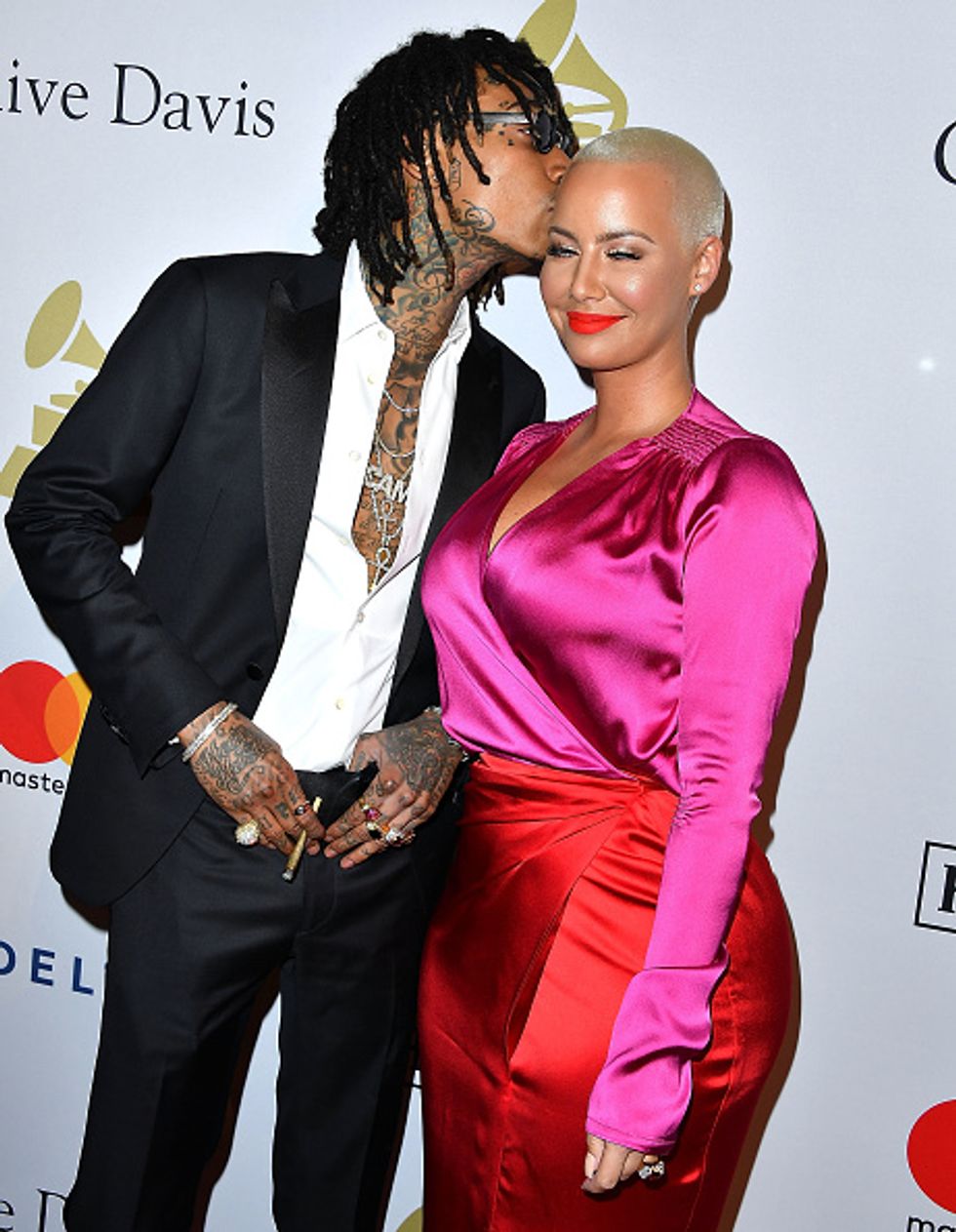 Wiz Khalifa and Amber Rose married in 2013 and later had a baby, but just a year and a half later in 2014 Rose filed for divorce. And while it's sad to see their relationship go, they're another former couple who remains quite amicable with one another – to the point where it's kind of sweet. One thing is for sure: they're not here for tabloid drama. When Rose was brought up during a radio interview with Khalifa, he said the following: "I still love her. She loves me too. You think Imma talk bad about her you're through. I never will that's the mother of my kid."
35. Barbie and Ken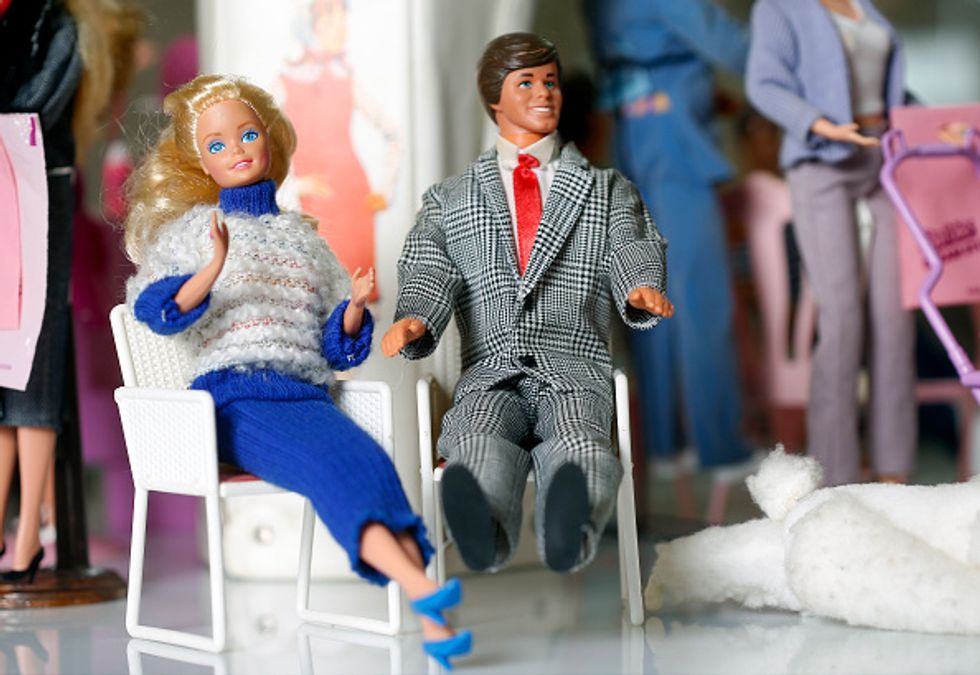 Yep, this happened. The clandestine pair "met" in 1961, two years after Barbie first hit the market. Ken arrived as the male counterpart, and according to Mattel (the company that owns Barbie), it was "love at first sight." Admittedly, they're plastic toys, but that just makes this next news even more confusing! In 2014, Mattel announced that Barbie and Ken were splitting up. Why? Who knows. Maybe Mattel just wanted to start some drama. Ken and Barbie later reconciled, anyway. Because with a few hundred successful careers AND a relationship, Barbie really can have it all.
36. Cher and Sonny Bono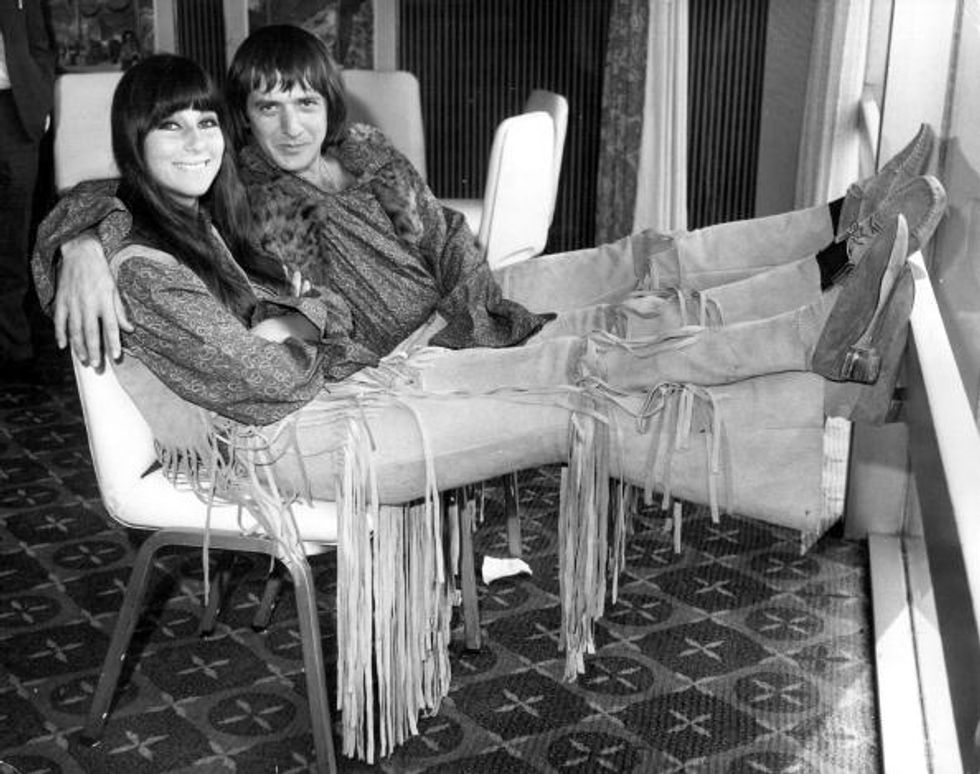 Cher and Sonny Bono were the musical duos that delighted the nation, as musicians and the stars of 
The Sonny and Cher Comedy Hour
on CBS. The couple's marriage lasted from 1964 to 1975, and when their divorce was announced, people responded with utter shock. Cher opened up in later years about their marriage and even talked about some of the issues they had over the years. "Sonny did a couple of things…treating me more like the golden goose than like his wife," Cher later told 
Vanity Fair
. Still, in 1987 they appeared as a duo one last time (having long since divorced) on 
Late Night With David Letterman
. Together, they gave a final bittersweet performance of "I Got You Babe," and the rest is history.
37. Kiefer Sutherland and Julia Roberts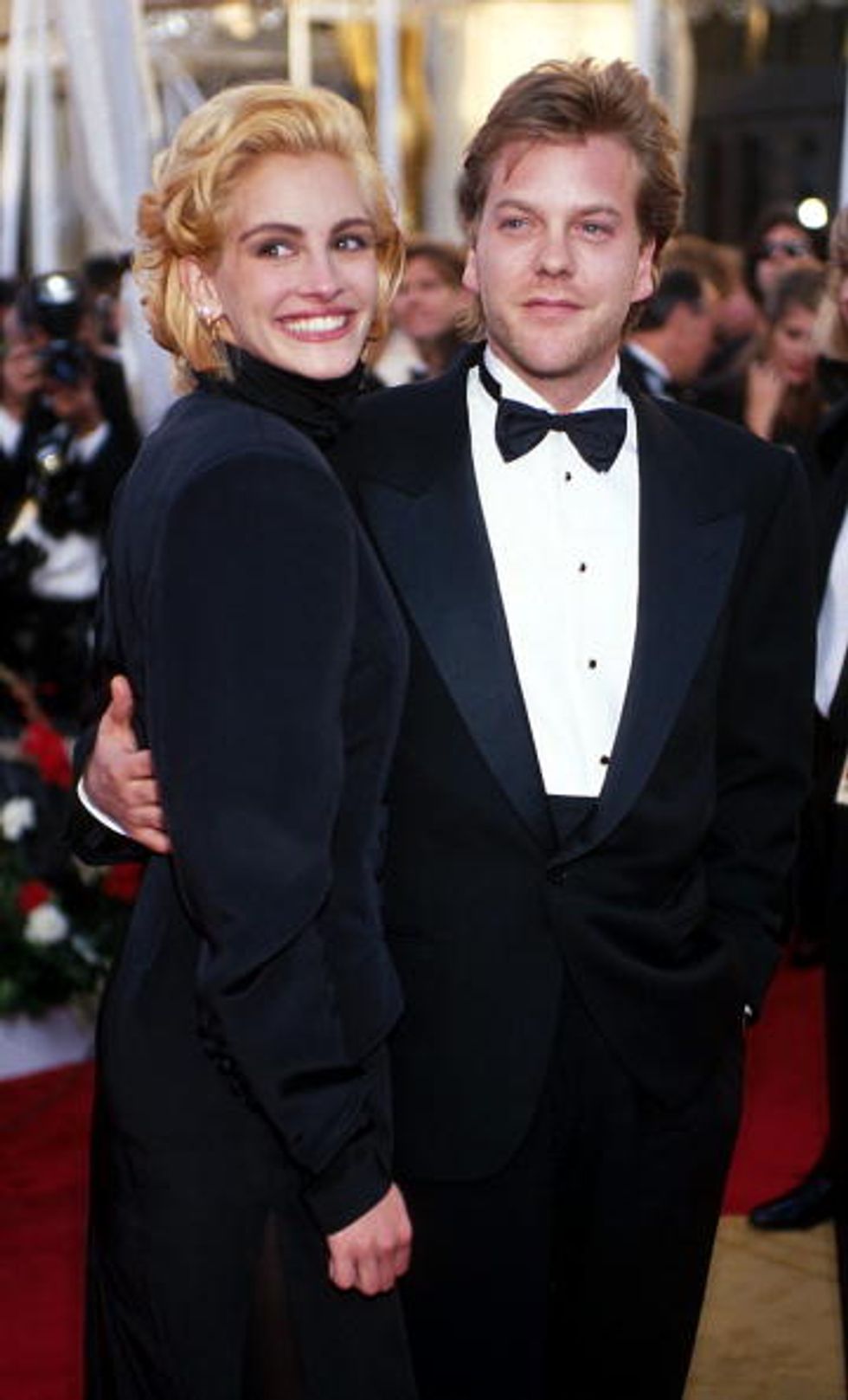 When Julia Roberts met Kiefer Sutherland, she was absolutely at the height of her fame – a fact which ended up leading to tension down the line. The pair met in 1990, on the set of 
Flatliners
, and eventually planned to be married in June of 1991. Now comes the big twist: Sutherland and Roberts' romance ended quite abruptly when she called off their engagement 
on the day of the wedding
. I can't imagine that more or less being left at the altar is much fun, but Sutherland seems very understanding of the whole ordeal. In 2016, he told people 
PEOPLE 
that he was glad Roberts had the "courage" to cancel the wedding, saying, "I think she was being realistic for herself. I think that's much better." And you know what? That's honestly true; it's better to be realistic with yourself because you can pull off the bandage now or later...and it hurts more when you do it later.
38. Diane Kruger and Joshua Jackson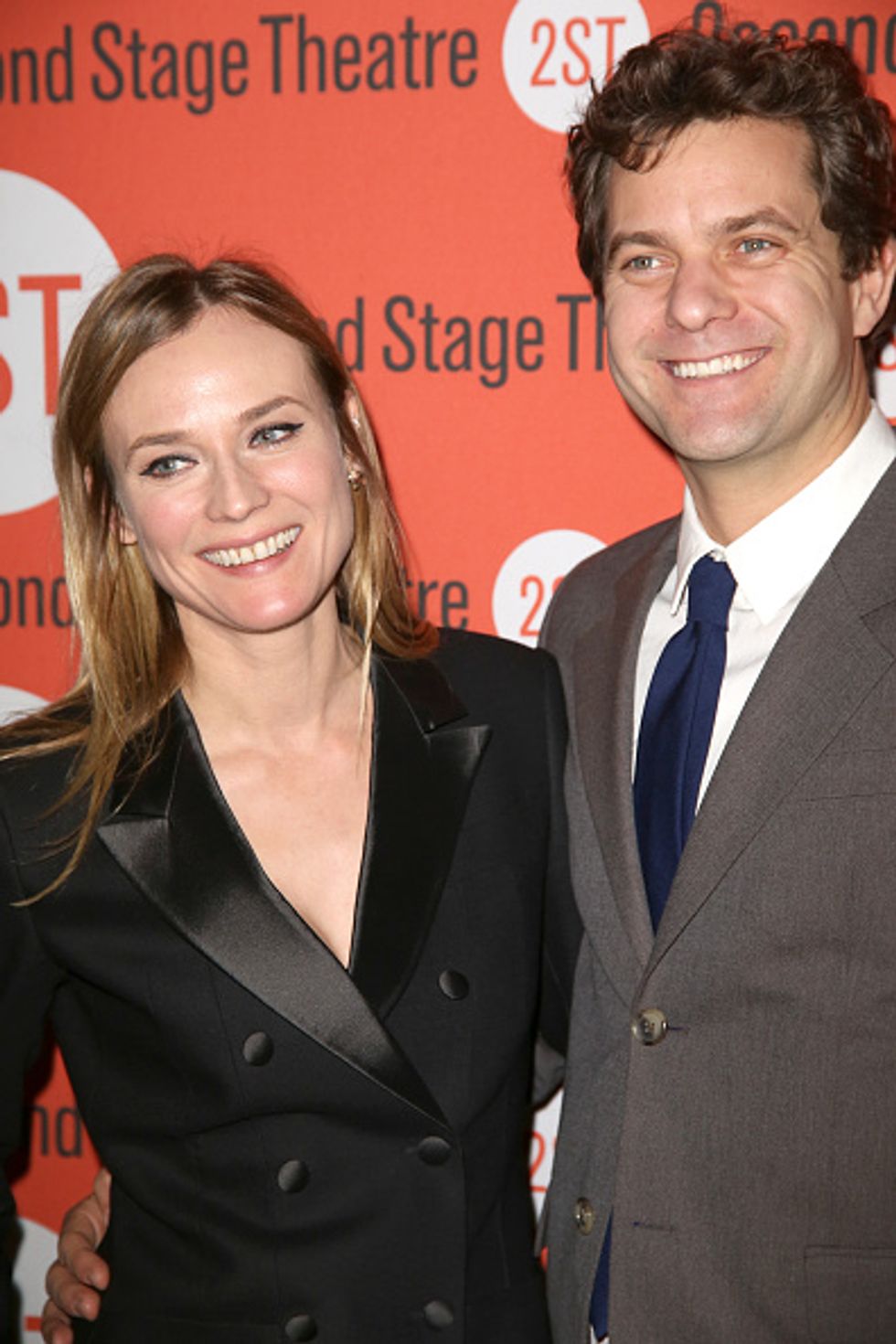 Kruger and Jackson made for a charming and forward-thinking pair that people instantly fell in love with. They got together in 2006 and continued to date for a whole 10 years without getting married. Why, you ask? Well, Jackson told 
Glamour
in 2014 that it's because neither of them is religious, and they're both children of divorce. They were still committed to each other in every way that married couples are; they just didn't feel the need for that formality. Sadly, their committed relationship ended after that decade, and nowadays Kruger is dating 
Walking Dead
actor Norman Reedus.
39. Jordin Sparks And Jason Derulo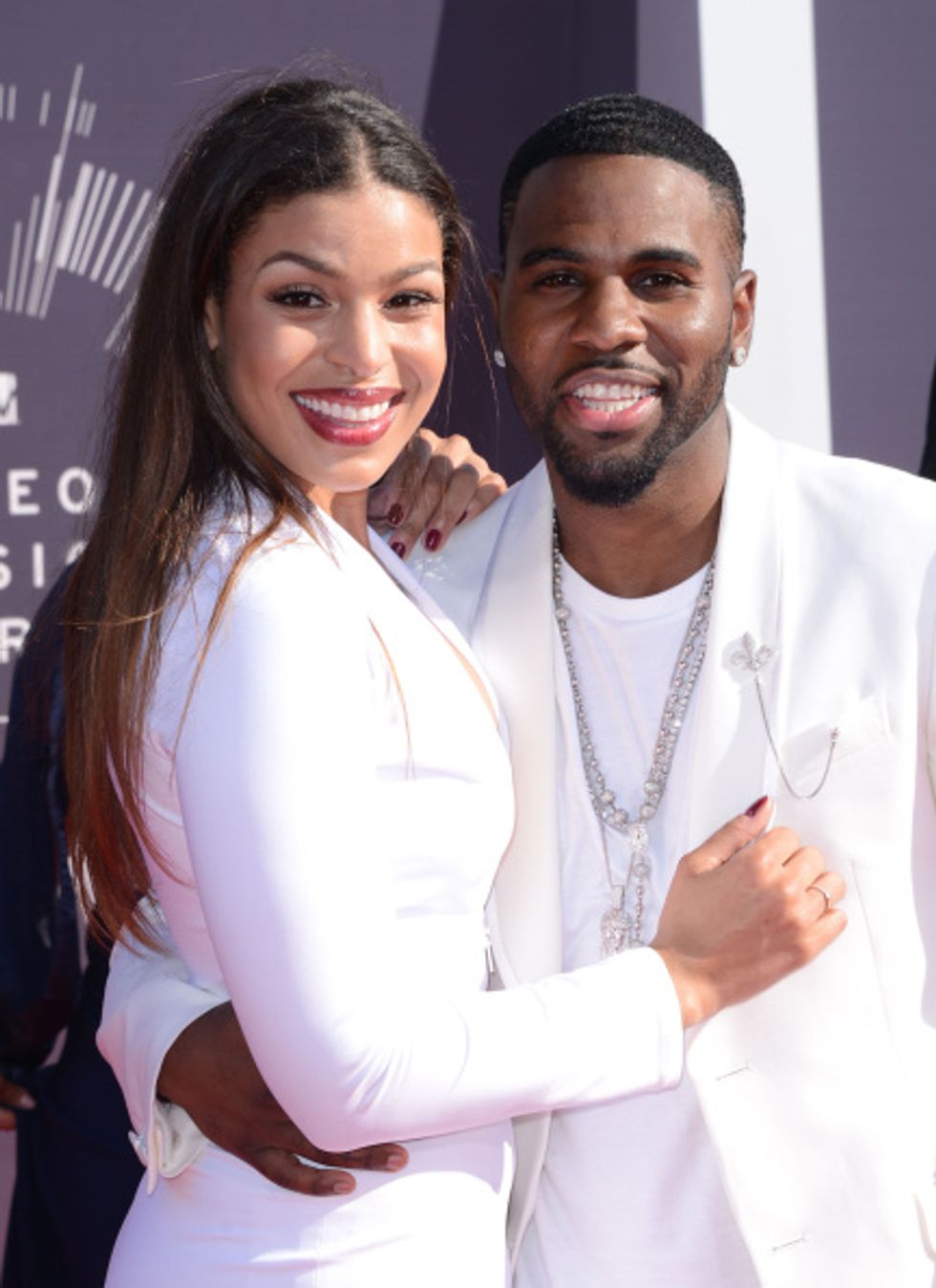 Jordin Sparks and Jason Derulo made for a cute pair, but their breakup left a
lot
to be desired. They lasted for two years before breaking up, and Derulo later said that he broke up with Sparks "over the phone." 
Ouch
. Now they no longer speak (understandable), but Derulo did have to go and get his stuff from their shared house after the breakup, which was likely just as awkward as it sounds. Sparks broke the news by tweeting out "Don't cry because it's over, smile because it happened." Sparks is happily married to model Dana Isaiah now, with a son named Dana Isaiah Thomas Jr., so at least all worked out in the end!
40. Kermit the Frog and Miss Piggy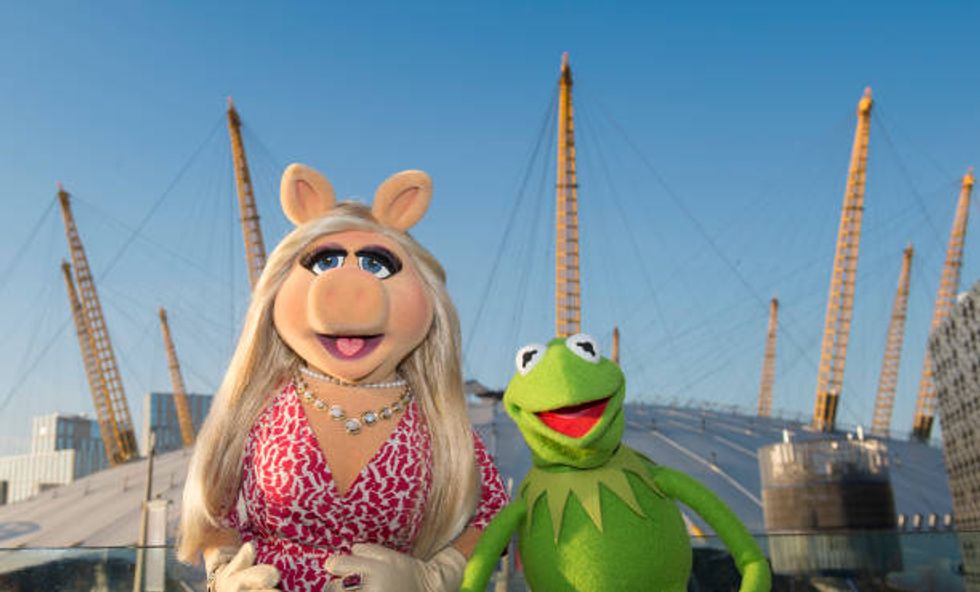 Okay, I said this list was in no particular order, but I might have saved the saddest for last. Because Kermit and Miss Piggy may have had their ups, downs, and on-screen drama over the years with each iteration of
The Muppets
, but they were still Kermit and Miss Piggy--they were going to be together forever (or as long as Muppets were still a thing). But then, in 2015, they both released a statement in 2015 declaring that Miss Piggy had decided to "terminate" their relationship. Which just begs one question:
What monster broke up Kermit and Miss Piggy?
What do you think is the saddest breakup here?
Stay tuned for the shortest celebrity marriages of all time...