As a parent, I get it — being seated near children in a restaurant can be annoying.
Sometimes they're loud. They drop crayons on the floor. Occasionally they might lean over the back of your booth and ask you intrusive personal questions. Frankly, the only thing they won't do is eat their food. Believe me, I'm seated even closer to my children than you are, so when they're acting up I guarantee nobody's more annoyed about it than I am.
But what if the situation goes beyond mere annoyance? What if a "bare butt naked baby," let's just say, walks across a table on her "black they're so dirty" feet and bares a full moon directly at a restaurant patron who's trying to eat? What if a different woman reports that the same kid had previously been left to run around naked and pooping in the dining area? And what if that baby isn't the child of another patron, but of the restaurant owner, and that owner sees zero things wrong with naked restaurant babies, telling people "that is life" and to eat elsewhere if they have a problem eating near bare baby butts?
Well, that's when social media goes full-on crazy.
But wait, don't go picking a favorite in this fight just yet! Before it's all over, you might be surprised at where your loyalties lie.
It all started at Imagine Vegan Cafe in Memphis, Tennessee, which, for the record, appears to have amazing food and I'm not even remotely vegan.
But, she also had some other strong words, as well.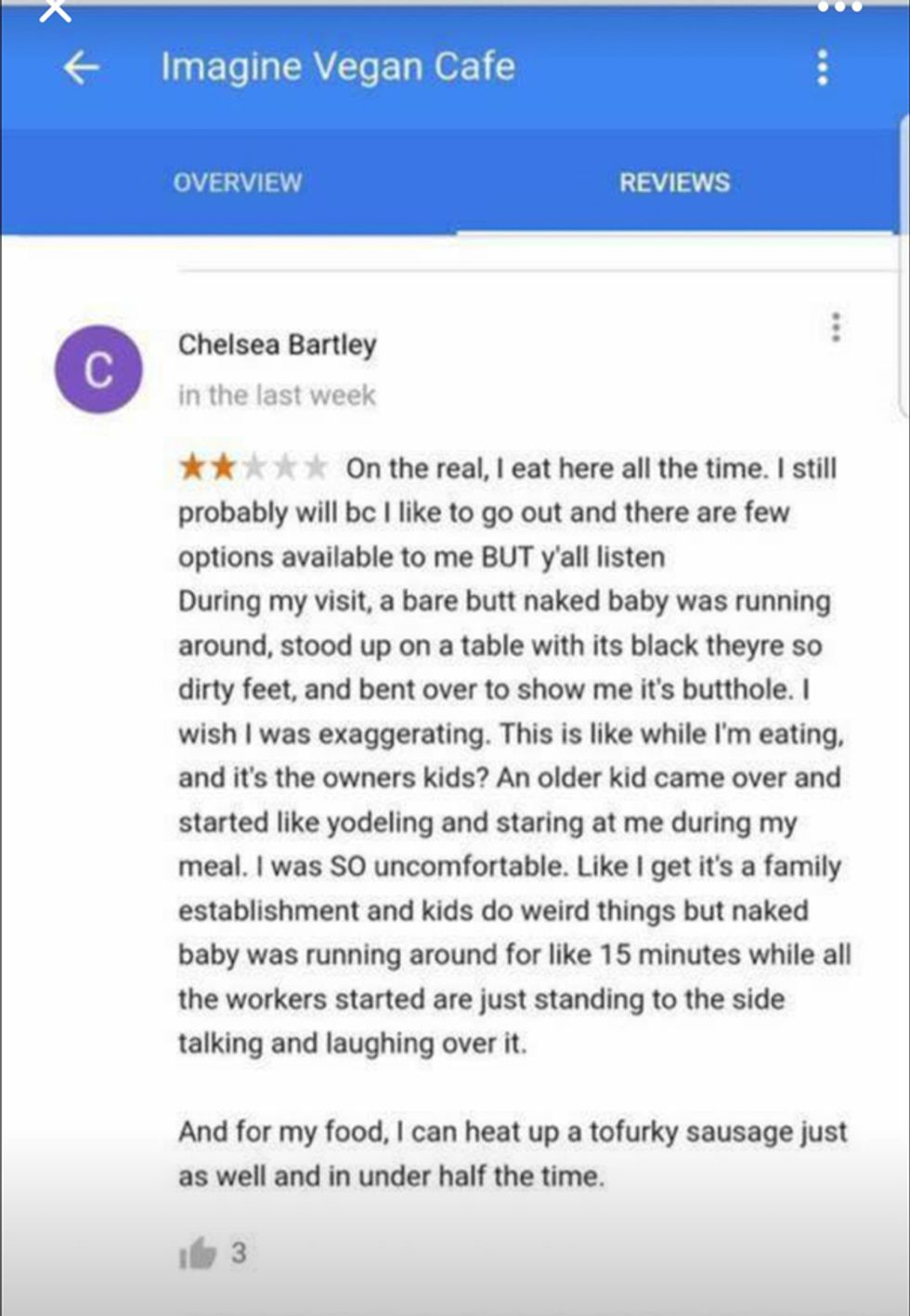 via: Twitter
Vegan restaurant patron/anti-naked-butt diner Chelsea Bartley had a few complaints about her recent visit to Imagine, including being subjected to a baby's butthole and being semi-aggressively yodeled at by an older child, which she detailed in a two-star Google review. Frankly the whole thing sounds sort of amusing and probably would have just gone away, but the owners of Imagine, who also happen to be the parents of said children, took extreme offense to the review.
Kristie Jeffrey, the kids' mom, went straight up "mama bear" and started passing out threats.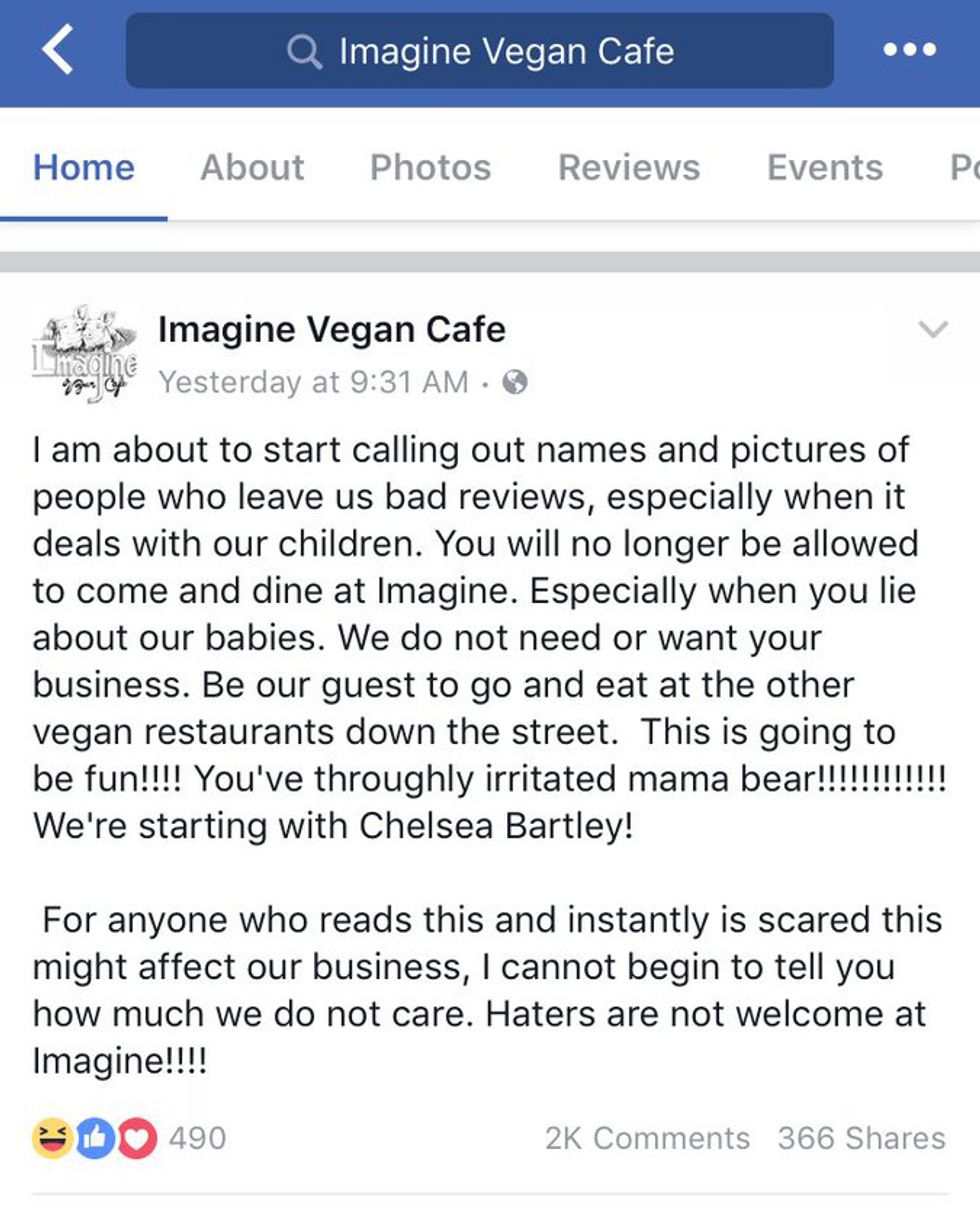 via: Twitter
"I am about to start calling out names and pictures of people who leave us bad reviews," she said, informing "haters" that their business isn't welcome at Imagine anyhow. That sounds like a pretty major overreaction at first, but it did nothing to stop more comments and reviews from rolling in.
One womam even chimed in to say she'd seen the same baby running around naked, pooping on the floor.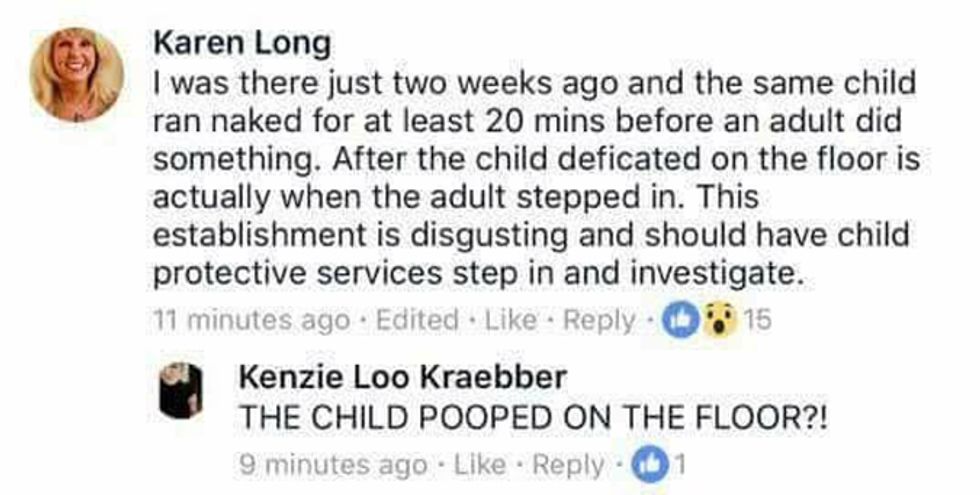 via: Twitter
Now, I'll be the first to defend a parent when their kids are acting nuts in public, but isn't this just a shade too far?
People started to really take notice of the exchange, and (you knew it would happen eventually) took the drama to Twitter to discuss.
What the hell is going on at Imagine Vegan Cafe? Excellent question. No worries, the owners of the cafe were quick to jump in with their side of things.
At first, the Jeffrey family's reasoning for their strong reaction to the review seems a little...weak.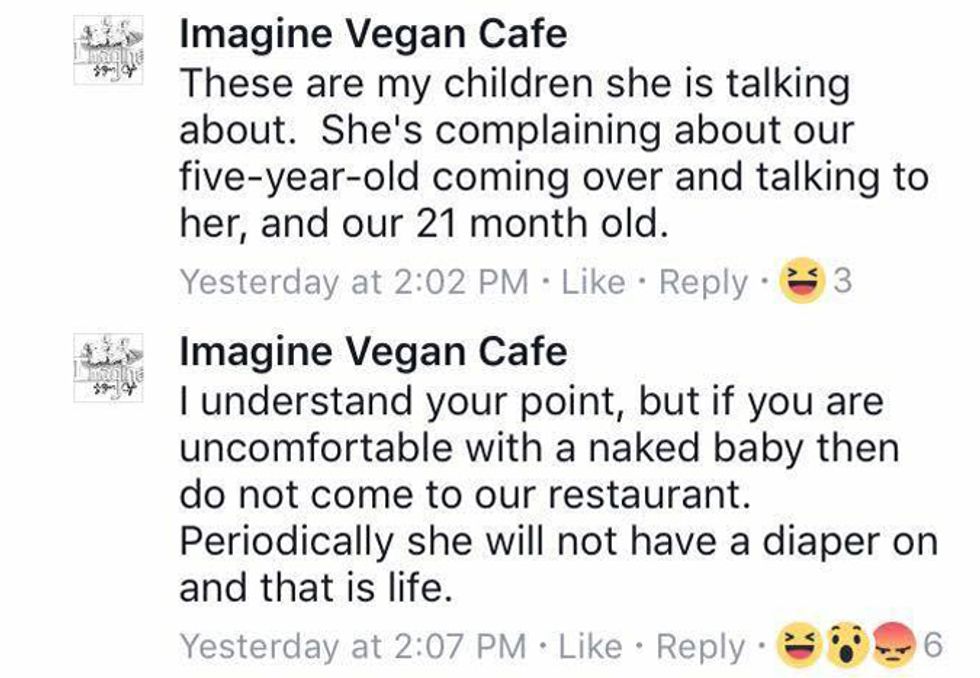 via: Twitter
Okay, one hundred out of one hundred I understand sticking up for your kids. Any parent would get angry and defensive if they felt like their children were being personally attacked. Taking the stance "that is life" in regard to diaperless babies in your dining area, on the other hand, struck a lot of people as odd. And maybe as a health code violation.
But, in their defense, their policy of letting kids be kids, and even a disclaimer that their children might sing to you, is written directly on the front of the menu, so it probably shouldn't have come as a great surprise when it happened.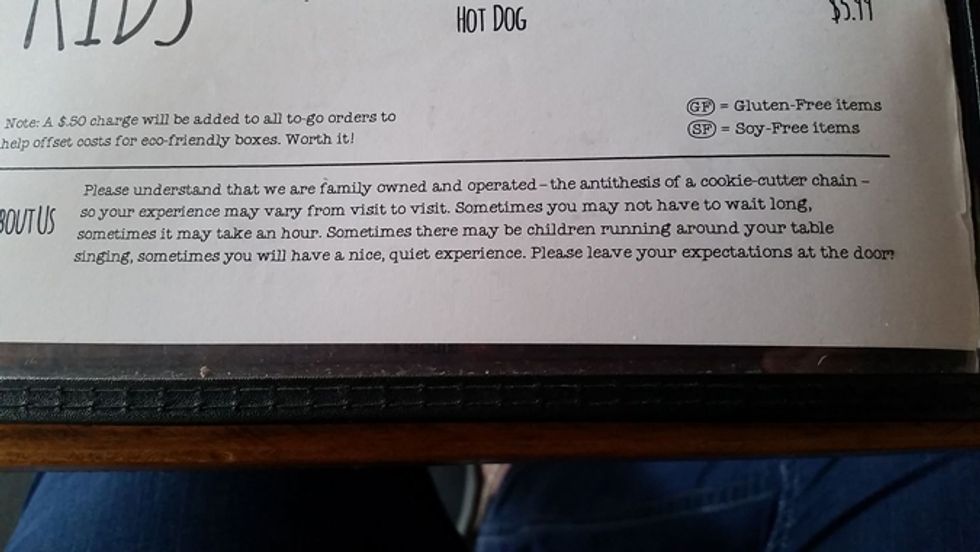 via: Facebook
Not to mention that calling my kids' singing "yodeling" would probably rub me the wrong way, too. Even though, if we're being totally honest here, most kids' singing
is
about as melodic as somebody stomping across piano keys in softball cleats.
In an interview with The Commercial Appeal, Adam and Kristie Jeffrey were pretty eloquent in defending their position.
So it turns out baby Aspen is potty training, and has learned that she can take off her own diaper. Well, as a mama, that sort of changed things for me. Any parent of a toddling, potty training baby knows that, once a kid realizes they control their own nudity, being naked is the only thing on earth they want to do. Ever. And they can whip off a diaper in, literally, the blink of an eye.
They also said that, from their perspective, the review was blown way out of proportion.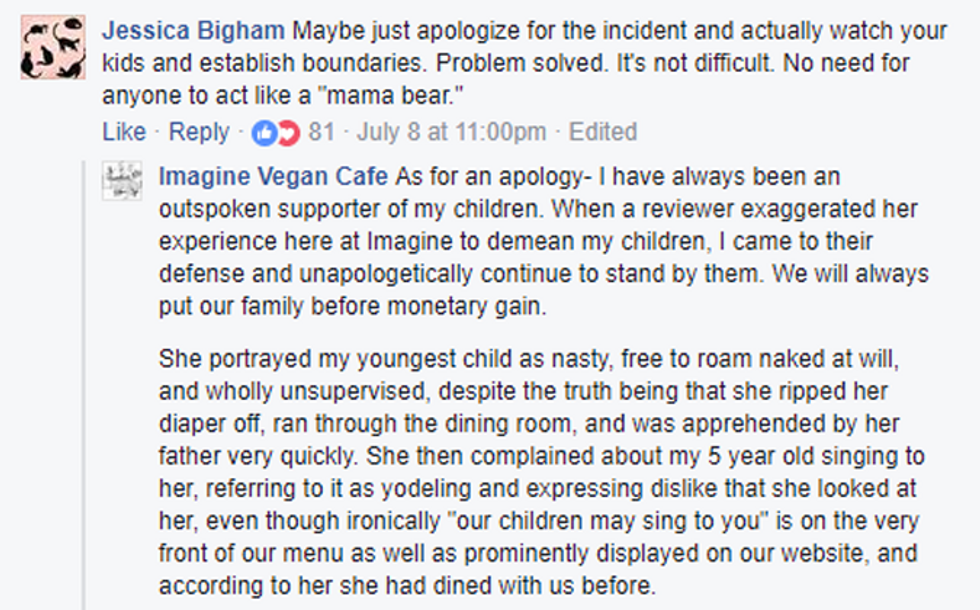 via: Facebook
Both in the video interview and on Facebook when advised to apologize, the Jeffreys state that the incident's details were exaggerated, didn't last
nearly
as long as the review claimed, and that they dealt with it quickly and appropriately. Adam Jeffrey also
pointed out
that no one complained or told them they were bothered by the kids, so they weren't given an opportunity to talk to the customer and smooth things over at the time. So what's the court of public opinion have to say?
Some people weren't swayed one bit by the parents' side of things.

via: Twitter
I guess when you put it like that, "tofu with a side of sphincter" does seem like a lot to expect your customers to put up with. That response is nothing, however, compared to what turned into the Internet's apparent attempt to ruin this family's entire business.
In addition to a deluge of comments on social media and relentless Twitter threads, trolls took to Yelp to leave jokes under one-star reviews.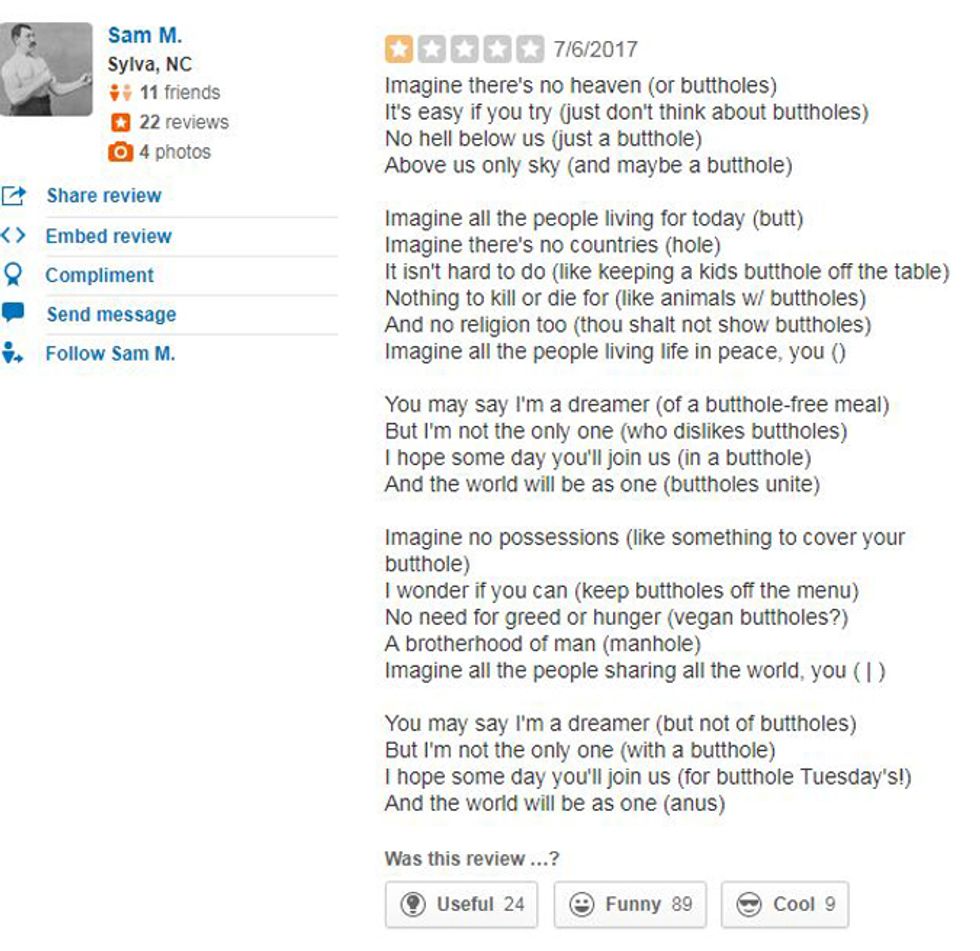 via: Yelp
Luckily, a visit to their Yelp page today triggers a pop-up that says the account is in the midst of an internal clean-up. Yelp is working to remove any bogus reviews, which they're aware are often brought on when a business gets involved in a viral news story. "While we don't take a stand one way or the other when it comes to these news events," the pop-up reads, "we do work to remove both positive and negative posts that appear to be motivated more by the news coverage itself than the reviewer's personal consumer experience with the business." Nevertheless, things got so intense that Imagine deleted their social media accounts until things died down.
Some people were loving the drama.

via: Twitter
They even referred to the original reviewer, Chelsea, as "the hero we all deserve." And she did indeed bring some giggles and pearl-clutching gasps to the Internet, which is likely all she intended to do in the first place.
But lots of people support the Jeffreys and their restaurant, even if they don't necessarily love what's happening there.

via: Facebook
Even people who probably would have agreed wholeheartedly with Chelsea if they'd been sitting at her table are able to see the positive here. It's hard not to admire parents who are willing to put it all on the line for their kids, and really stand behind their business model which, according to their
website
, means they want to "not only give families an affordable place to bring their little ones, but a place where children can act like children."
The true fans will be back and support the folks at Imagine completely, buttholes and all.

via: Facebook
So where do you stand in all this? Do you think the reviews lay out some pretty unacceptable dining conditions, or do you think they were exaggerated? Were the owners and parents justified in their response, or did they go way overboard? Ultimately, of course, it's up to the Jeffrey family to decide how to run their establishment. "I don't work for a corporation. This is my business," Kristie Jeffrey stated, unapologetic. "You're not going to talk about my children and get away with it." Mama Bear out. *drops mic