Diners aren't exactly impressed with Gordon Ramsay at the moment after they discovered the price of his "pathetic" full English breakfast.
Keep on scrolling to see why they aren't loving the gourmet breakfast...
Nobody wants to mess with Gordon...
Gordon Ramsay is one of the hottest chefs in the world. The British cook is well known for his short temper and no-nonsense cooking style, and it's safe to say that he's pretty damn good at his job.
Though cheffing wasn't Gordon's original life plan...
Gordon is best known for his TV shows.
Kitchen Nightmares, a show wherein Gordan helps restaurant owners to revamp their crumbling kitchens and transform them into the best places to eat in America. But of course, Kitchen Nightmares never falls short in its bad language and temper tantrums. Let's not even get started on Hell's Kitchen...
Idiot Sandwich, anyone?
When it comes to cooking amazing food, Gordon isn't afraid to put people well and truly in their place...
He gets the job done...
He also isn't afraid of a little controversy...
With his colorful language and explosive temper in the kitchen, Gordan is forever coming under fire for his behavior towards other chefs.
Gordon's semi-regular melt-downs are quite renowned...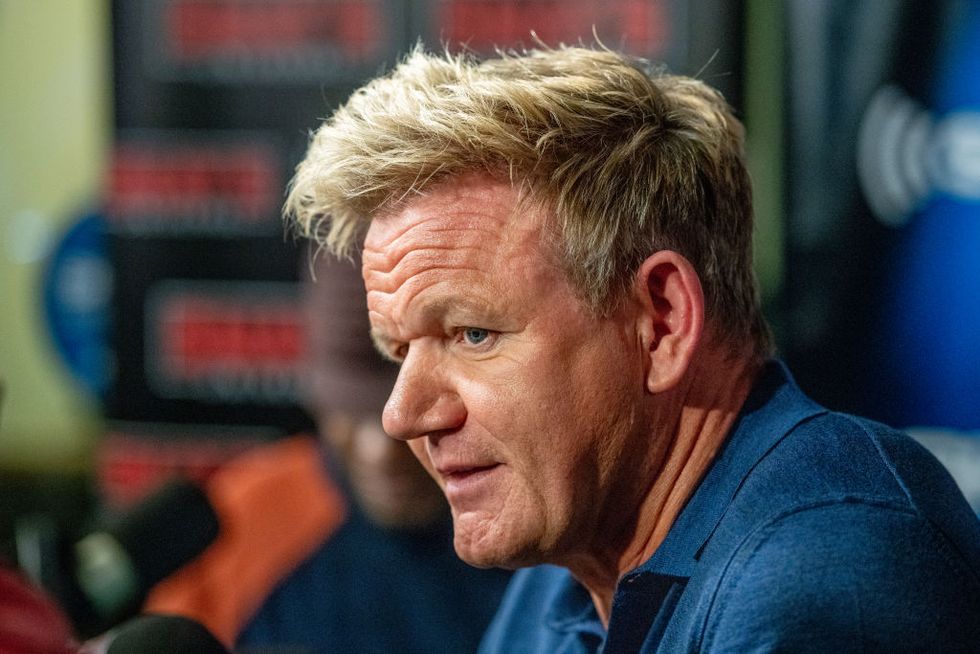 So people know not to get on the wrong side of this hot-headed chef.
His temper is what Ramsay is criticized for the most...
Despite his foul-mouthed rants being the best selling point on his TV shows, many have labeled the chef as a "bully", and have slammed him for giving actual chefs the wrong kind of reputation.
But the one thing Gordon is very rarely criticized for...
an extremely talented cook.
Millions of people around the world are eager to try some of his dishes...
And thanks to the thirty-five Gordon Ramsay restaurants located globally, many fans get the opportunity to experience this fine dining.
Of course, dining in one of Gordon's restaurants doesn't come cheap...
totally worth it.
Or is it?
It turns out that some diners aren't at all impressed by some of Gordon's steep prices after seeing his new "pathetic" English breakfast recently.
The chef took to Instagram yesterday to show off the new English breakfast available at one of his restaurants, the Savoy Grill.
He wrote, "The most amazing Full English.... can't wait for you to try from 21st September!".
The breakfast looks delicious, of course...
But diners were left furious after finding out they'd have to spend £19 ($24.52) to order one of Gordon's "tiny" breakfasts... not to mention £5 ($6.45) for each separate side ordered!
@GordonRamsay @GordonRamsayGRR You call that a full English you want to come down my local cafe.

— Mark pettitt (@Mark pettitt)1600023729.0
@GordonRamsay @GordonRamsayGRR Where's the black pudding? The fried bread? The brown sauce? The proper sized sausag… https://t.co/3ZEBoFbW5y

— President-Elect High value CarrieLambert Кэрри (@President-Elect High value CarrieLambert Кэрри)1600034962.0
@GordonRamsay @GordonRamsayGRR £19!!! You're having a laugh 🤣🤣🤣

— Derek Brabrook (@Derek Brabrook)1600043178.0
@GordonRamsay @GordonRamsayGRR Somebody has no idea how to fry an egg. That plateful is an absolute travesty.

— Simulasoph (@Simulasoph)1600023788.0
@GordonRamsay @GordonRamsayGRR What the flying fuck is amazing about that? It looks very much like a basic service… https://t.co/hGBFemGK3H

— DeepStateIsNotYourMate (@DeepStateIsNotYourMate)1600021337.0
@GordonRamsay @GordonRamsayGRR That is definitely not a full English. Think you need some cooking lessons Gordon.

— Old Crone5 (@Old Crone5)1600021357.0
@GordonRamsay @GordonRamsayGRR One sausage? Disgraceful - barely a snack - and baste your eggs for Gods sakes!

— Ed Carter (@Ed Carter)1600023917.0
@GordonRamsay @GordonRamsayGRR Looks distinctly lacking. Is that the beans top left in a separate pot? No HP sau… https://t.co/aTc5MA1eOU

— Dusty Bin (@Dusty Bin)1600024425.0
Here's the "disgraceful" breakfast in question: