10 Minutes With This Could Bring You Sweet Relief
People are RAVING about this doctor's smart invention for his patient's (and his own) neck pain.
Nothing is more of a pain in the neck than… well, pain in your neck.
Sitting up hurts. Bending over hurts. Turning your head hurts. Sometimes you can't even get comfortable enough to sleep at night.
Can you relate?
If you've been there, you know the pain's darn near impossible to get rid of by yourself — no matter how much rubbing, rolling, massaging, or pressing on sore spots you do.
Physical therapist Dr. Steve Sudell knows neck pain all too well.
Thanks to a high school football injury, he had been living with recurring neck issues for years. (Even physical therapists struggle with neck and back pain!)
He searched tirelessly for something that he and his patients could use at home between appointments — something that wasn't too bulky, too expensive, or too much like a medieval torture device.
He never found it, so he invented it himself.
You know what they say — "necessity is the mother of invention."
After two years of research and development, Dr. Sudell's invention has helped over 60,000 people in 100 countries! Once you see it, you'll understand why Dr. Oz calls this easy-to-use tool "one of the best health finds of 2018."
WHAT IS IT?
It's called
The Neck Hammock
, and it's a simple, portable device — a little hammock to support your head and neck — that allows you to get fast relief from everyday neck pains wherever you are.
No moving parts. No complicated setup. No batteries required. Just fast and easy relief anywhere you go!
HOW DO YOU USE IT?
Using it couldn't be easier. These 3 simple steps brings fast relief: 1. Wrap the elastic bands around your door handle 2. Close the door 3. Lie down and gently recline your head in the hammock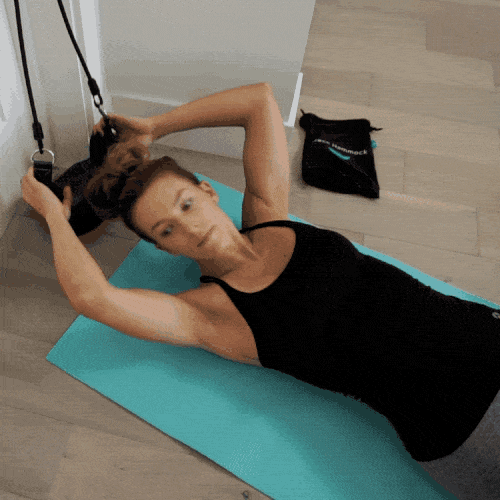 Just set a timer for 10 – 15 minutes and 
let gravity work its magic!
HOW DOES IT WORK?
When your neck doesn't feel quite right, the problem is usually tension in the muscles that surround the vertebrae in your neck.
The Neck Hammock
uses your own body weight and the pull from its stretch bands to create "cervical traction" — a fancy way of saying a gradual stretching of your neck — to relax those neck muscles.
It's no gimmick —
the science behind The Neck Hammock is OVERWHELMING.
According to the US National Library of Medicine,
doctors have confirmed the value of cervical traction
to help patients get relief from tension headaches, pinched nerves, herniated discs, and overall pressure for decades. Now with The Neck Hammock, you can get the experience most people only get at the doctor's office,
anywhere there's space to stretch out
.
WHAT WE LOVE ABOUT THE NECK HAMMOCK
-Scientifically proven — Decades of research confirms the benefits of cervical traction. -Use it anytime, anywhere — The Neck Hammock can wrap around any door, railing, or pole — giving you the flexibility to use after a long flight in the hotel room, on a yoga mat on the beach, or after a stressful day of work in the comfort of your own bedroom. -Relief in minutes — All it takes is 10 - 15 minutes a day to properly stretch your neck and relieve your tension! If your neck is in really bad shape, use it 2 – 3X a day for 15 minutes at a time. -Melts away stress and anxiety — Customers report that The Neck Hammock is so relaxing, you'll have to try not to fall asleep while using it. -Perfect for travel — Easily stores in your luggage when traveling, or simply place in your dresser when you're done at home. Hand washable, one size fits all.
HOW MUCH DOES IT COST?
The Neck Hammock Bundle retails for 
$79.99
[$49.99 TODAY]
 — that includes 1 Neck Hammock, 1 Travel Bag, 1 Eye Mask, and 1 Do Not Disturb Door Hanger. They stand behind their product and offer 100% Money Back Guarantee if you don't love it. There's ZERO RISK to try it out.
UPDATE
The Neck Hammock is on sale today! Right now you can Get up to 40% off and FREE shipping! Offer valid December 12, 2018. Be sure to claim this deal before it's gone:
REVIEWS:
We set out to see what doctors and customers are saying about The Neck Hammock and here's what we found: