Heartwarming footage has gone viral today that shows the moment a missing dog was finally reunited with his owner...
You may need your tissues for this one.
Thousands of people have been left in floods of tears after watching the video, which shows the dog actually crying out of excitement and joy.
It's an emotional watch...
The dog had reportedly been missing for several months, so of course, the moment was a sentimental one.
Every dog owner can relate to the video...
Because, as you may know, these animals make for perfect pets.
Dogs truly are man's - and woman's - best friend.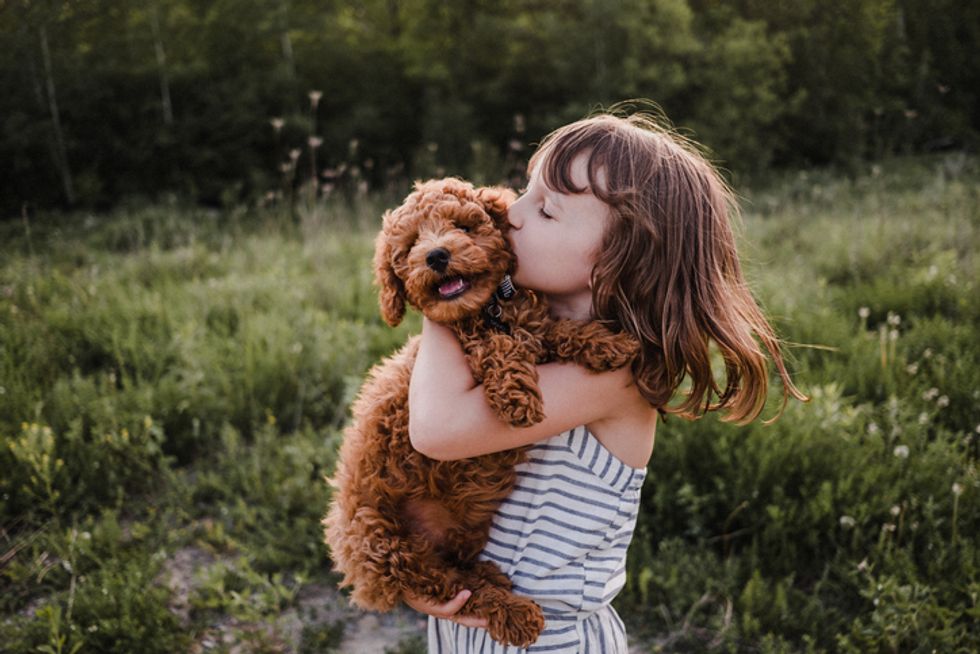 via: Getty
Most dog owners openly admit that they simply couldn't live without their 4-legged companions.
And these pooches are pretty much what unites the internet.
too good for this world.
The internet is teeming with adorable pictures, videos, and stories of dogs...
So, when a missing dog is finally found and reunited with its owner...
The internet is sure to hear of it.
And this brings us to the story of Coco.
For 3 long months, Rustico Samson Jr. and his family, who are all from the Philippines, lived a nightmare - their beloved pet dog, Coco, had vanished.
Samson, accompanied by family and friends, tirelessly searched for Coco daily...
But he was nowhere to be found.
But, 3 months after Coco's disappearance, a stray dog who fit his description was spotted in a parking garage...
So Samson rushed to the spot. "Right at that moment, when I saw a dog lying on the floor of that parking garage, I knew it was him," the besotted dog owner told
The Dodo
. "I was a thousand times sure that it was Coco."
Samson filmed the moment he approached the dog...
Who, indeed, turned out to be a very excitable Coco.
Almost instantly, the dog was beside himself with excitement...
And could even be heard crying out of happiness as he leaped up at his owner, who was also overcome with emotion. "I was overwhelmed. I was so happy," Samson said. "I think Coco felt the same way at that moment. You could hear him crying like a baby."
Coco was underweight and a little on the dirty side...
But, other than that, Samson was pleased to see that he was in good health.
Of course, the video has struck a nerve with thousands of viewers...
@cnnphilippines @fqdupkiddoe 🥲got teary eyed by this reunion

— dmirin (@dmirin)1601746132.0
With some even admitting to shedding a tear themselves.
@cnnphilippines Wow. Tnis made me shed some tears. The wagging of the dog's tail only tells how happy the dog is.… https://t.co/nTGM51xr10

— RSG (@RSG)1602315494.0
@cnnphilippines This so heartwarming! Thank God for this happy ending!

— Mae B (@Mae B)1601747619.0
@cnnphilippines Omg! Thank God you found him!❤️🙏

— Tess M. Rioflorido ❤️💚💙 (@Tess M. Rioflorido ❤️💚💙)1601740375.0
@cnnphilippines Very heartwarming, i have cried a river

— Queen B 🌱 (Midge) (@Queen B 🌱 (Midge))1601732222.0
@cnnphilippines Awwwww,.. this made me 😭

— fangirlnieya (@fangirlnieya)1601725124.0
@cnnphilippines This made me cry and smile. Waaaaaaaaaah!!!

— akosiernestojr (@akosiernestojr)1601723905.0
Coco was instantly taken back home to the family...
And the house is "full of positive auras again." "When it comes to having a pet, it doesn't matter if you're rich or poor, as long as you have heart and love to them like family," Samson said. "When someone in your family is lost, you never give up."
You can watch the full video here.
WATCH: A lost dog 🐕 reunites with family Rustico Samson Jr. shares his heartwarming reunion with Coco, his dog tha… https://t.co/ADJQVmkuES

— CNN Philippines (@CNN Philippines)1601722715.0
Is someone cutting onions? For more heartwarming pet stories, keep scrolling...