Bizarre scenes unfolded this weekend at President Trump's Pennsylvania rally...
Have you ever wondered how exactly the President of the United States would dance along to the Village People's hit, "YMCA?"
I know, it sounds like a crudely edited meme you'd find in the depths of of Twitter binge, doesn't it?
Well, you would be mistaken.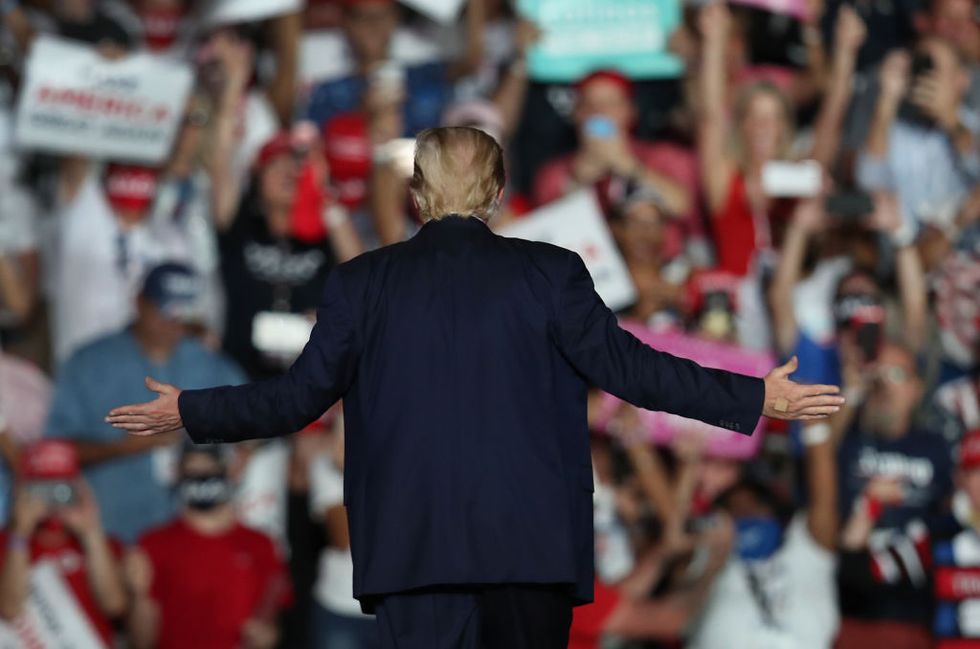 At his rally in Pennsylvania last night, Trump broke out into a bizarre "dad dance" along to the 1978 hit, which was blasted out as he left the stage.
Footage of his awkward dance quickly began circulating online...
@rhett_chavez @brandondarby It's in my head as I try to go to sleep.. horrible. Shouldn't have never seen it.

— MaryRobotic (@MaryRobotic)1602590695.0
And people could
not
believe what they were seeing.
Now, it's been a whirlwind couple of weeks in the world of American politics.
On October 2nd, the president announced that he and the First Lady, Melania Trump, had been diagnosed with coronavirus though, at this time, he didn't give any further details regarding their symptoms.
Immediately after his diagnosis, the President went into self-isolation...
@realDonaldTrump @FLOTUS We have your back President Trump!!! Get well soon 🇺🇸

— oregon4TRUMP (@oregon4TRUMP)1601614527.0
And floods of well-wishes for him and the First lady began pouring in from all around the world.
But on the other hand...
@realDonaldTrump @FLOTUS I just can't be sad. 200,000 Americans have died and he hasn't shed one tear. That's 67 9/… https://t.co/jY0xtfdE63

— Keller Keller (@Keller Keller)1601615591.0
Plenty of angry and spiteful messages were thrown at the pair following their diagnosis, too.
Many laughed at the sheer irony of the situation...
@TheRightMelissa @realDonaldTrump @FLOTUS I don't wish him death. But isn't it ironic that he's the one who tried t… https://t.co/X4VwLouACQ

— Lili 325 Balfour 🙏🐕🚴📈 👩‍🍳 (@Lili 325 Balfour 🙏🐕🚴📈 👩‍🍳)1601615616.0
Especially considering that Trump had famously played down the whole pandemic.
However, many people were left feeling seriously concerned about the president's condition...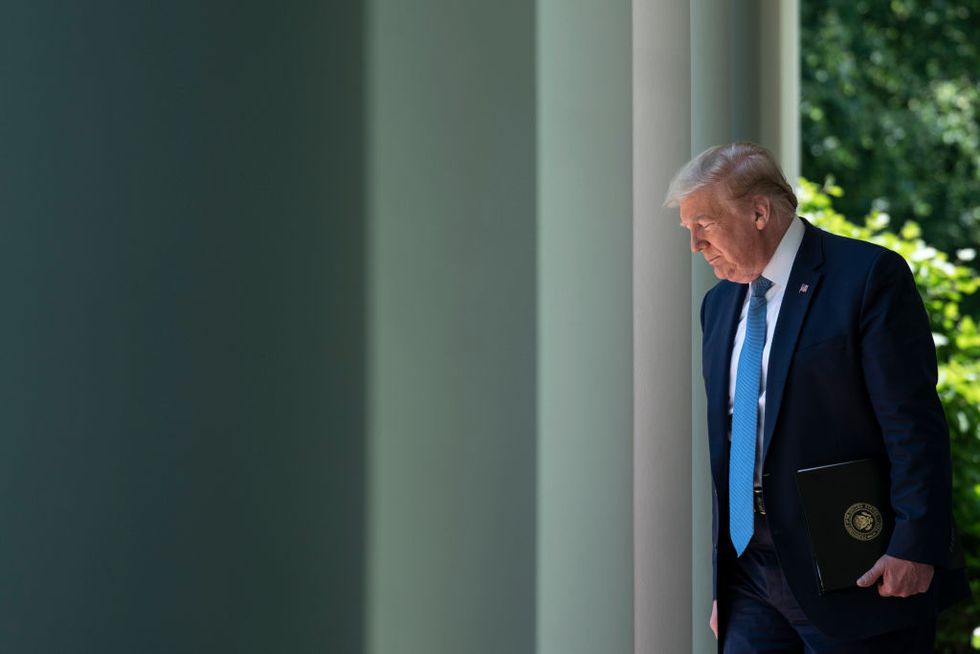 And that was because of his age.
Due to his age bracket...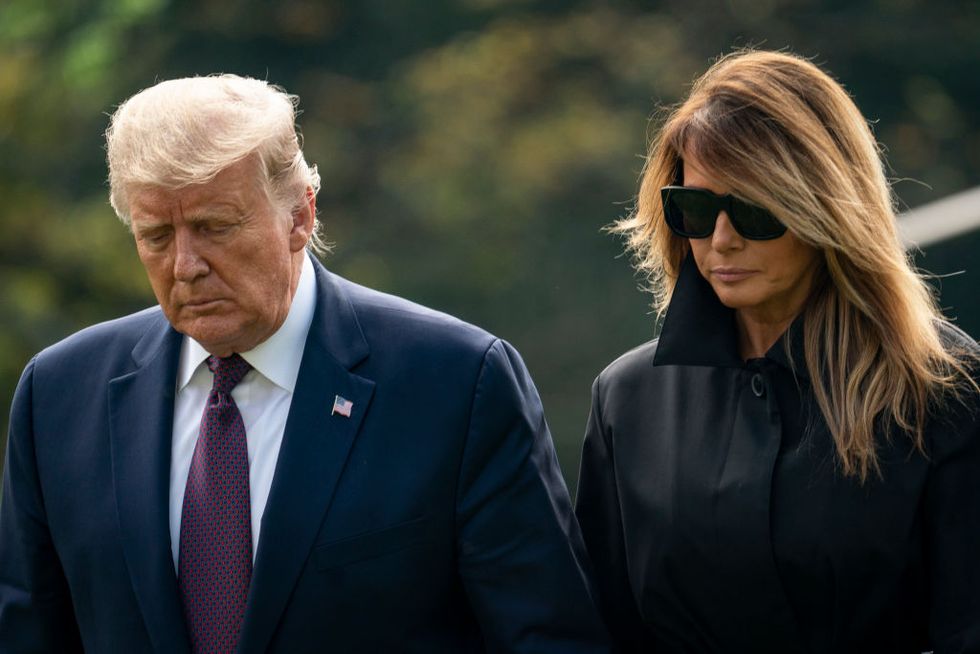 Seventy-four-year-old President Trump is actually in the high-risk category.
So, when he was transported to the Walter Reed National Military Medical Centre in the days following his diagnosis...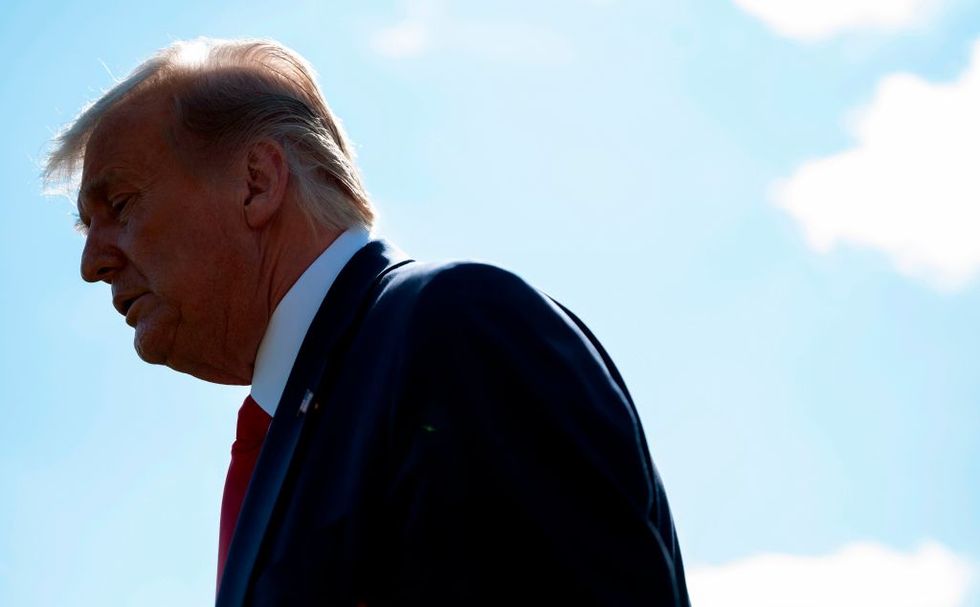 Many weren't surprised.
However, he gave off the impression that he was extremely unaffected by the virus.
And during his stay at the hospital, Trump gave a video update in which he praised the "incredible" Walter Reed National Military Medical Center, and revealed that he had "met some of the soldiers" and was planning a "surprise" visit.
But then, shortly afterward, Trump came forward with another shock announcement.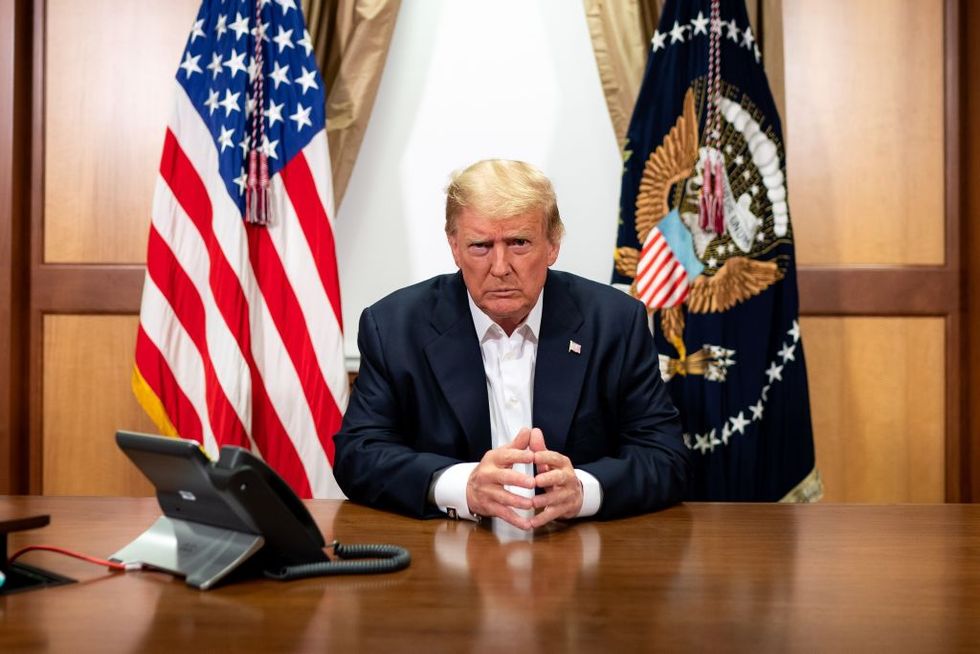 Taking to Twitter, he revealed that he would be discharged from the hospital later on that day.
The President tweeted this:
"I will be leaving the great Walter Reed Medical Center today at 6:30 P.M. Feeling really good! Don't be afraid of Covid. Don't let it dominate your life. We have developed, under the Trump Administration, some really great drugs & knowledge. I feel better than I did 20 years ago!"
Now, telling a country to not be afraid of a virus that has killed over 200,000 Americans is an extremely reckless thing to say...
@realDonaldTrump Tell that to the 220,000 people who died from #COVID19 #OnYourWatch and their families @POTUS

— Greg Rickard (@Greg Rickard)1601969132.0
And, of course, people were
not
happy with his choice of announcement, considering thousands of Americans losing loved ones to the disease.
It's vital for the president to stop downplaying the virus...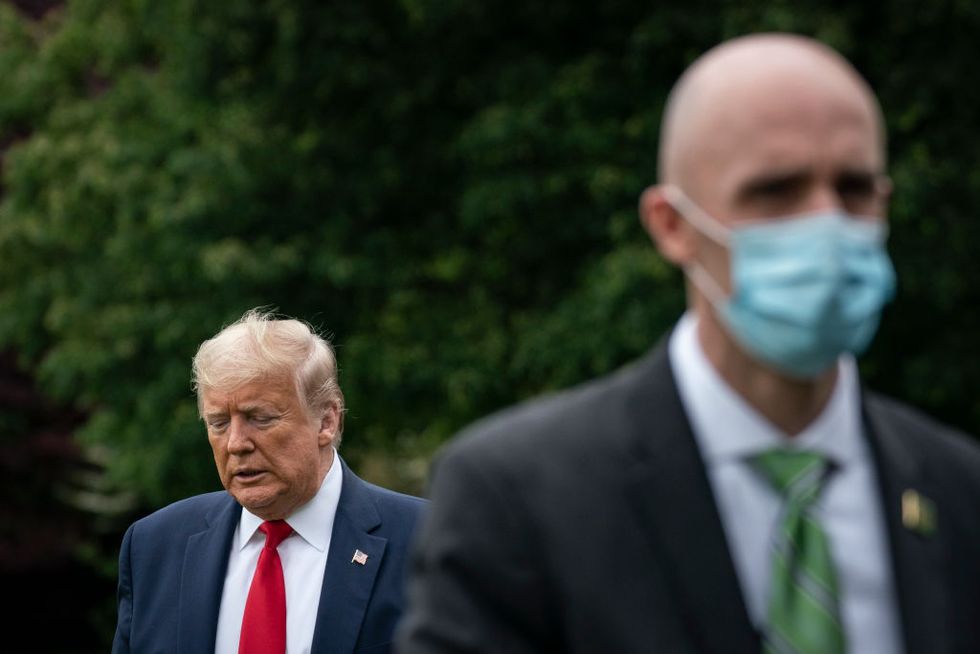 And to stop referring to it as a "blessing in disguise."
Clearly, he is under the impression that he holds some sort of "immunity."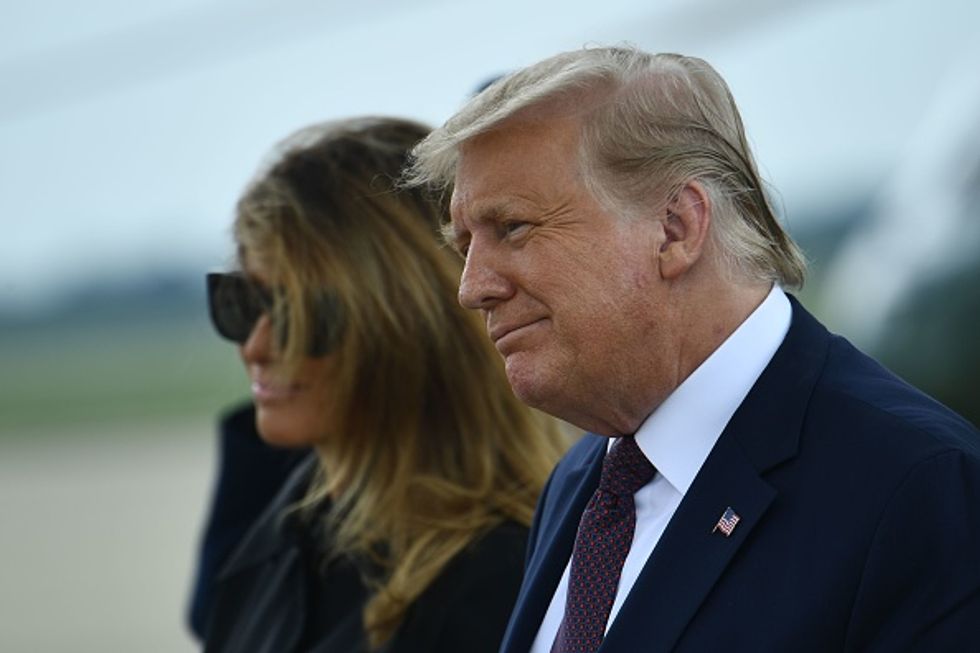 During a phone call with Fox Business on Thursday morning, the President revealed some details about his health, including the fact that he's a "perfect physical specimen..." and is now "immune" to coronavirus.
And, when he was asked if other people would get the treatments he got while recovering, he said this: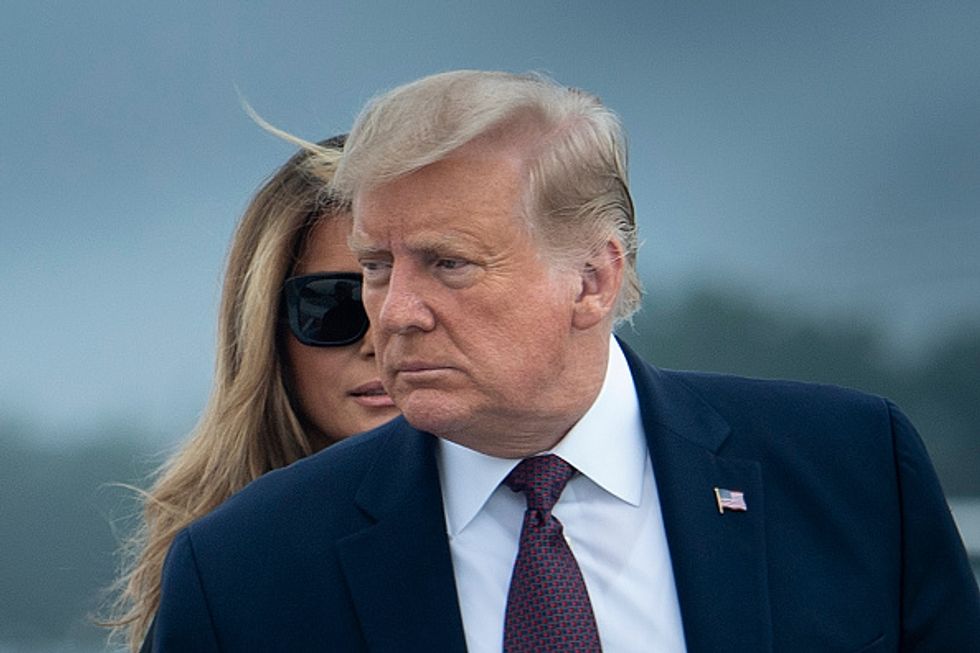 "Yeah, they're going to get it. I'm back because I am a perfect physical specimen and I'm extremely young, and so I am lucky in that way."
Young?
Anyway, the immunity factor still remains uncertain.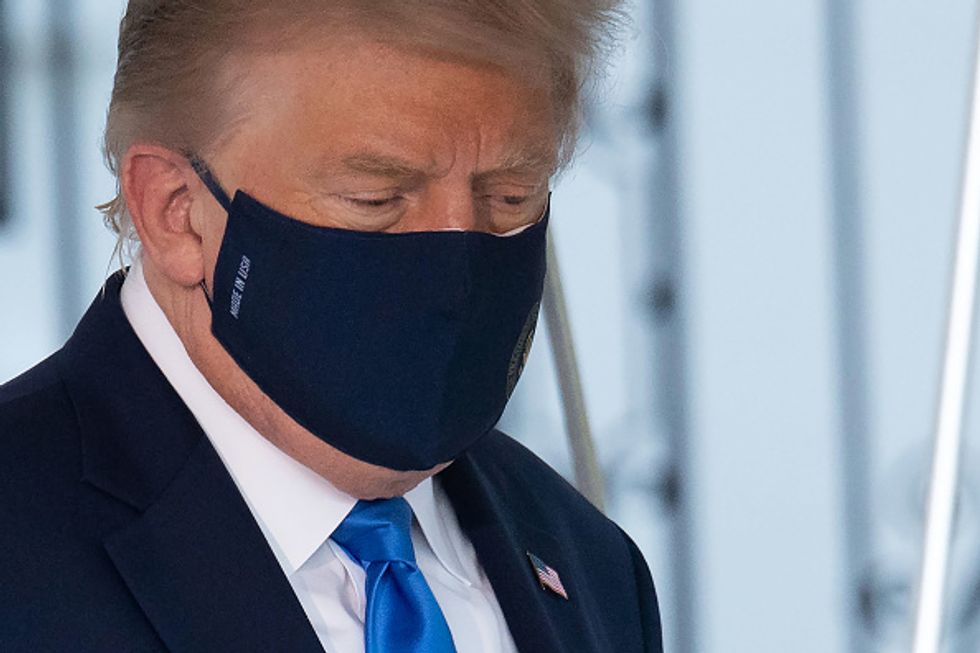 Scientists have not yet confirmed if this is the case, though they are hoping that it's true.
Because despite the blatant lack of scientific evidence...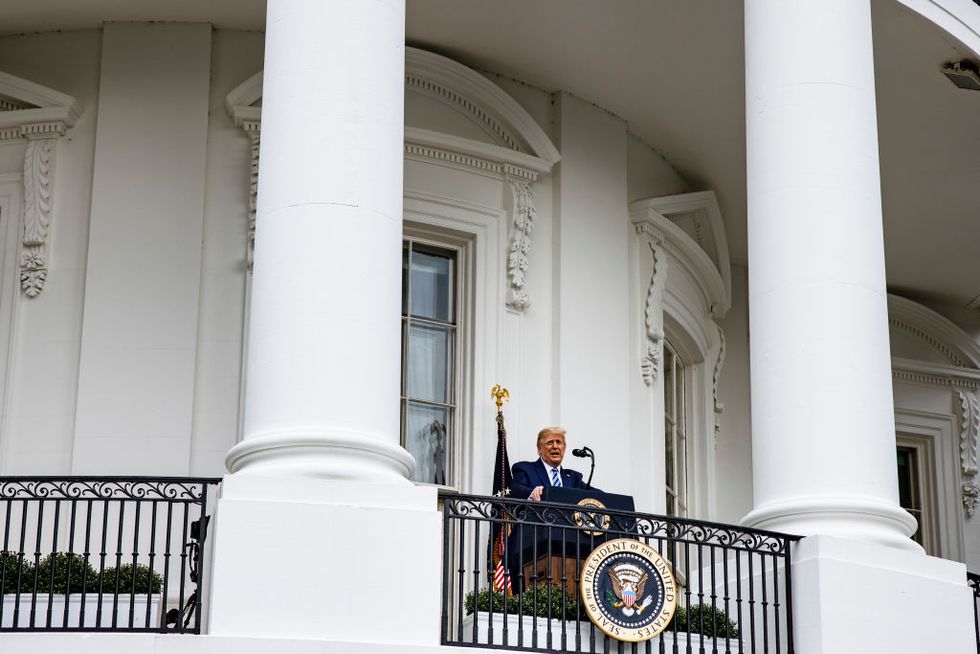 Trump is evidently so wrapped up and convinced by his claims of immunity that he decided it is time to start hosting public events again.
On Saturday, an event at the White House quickly turned into a full-blown rally.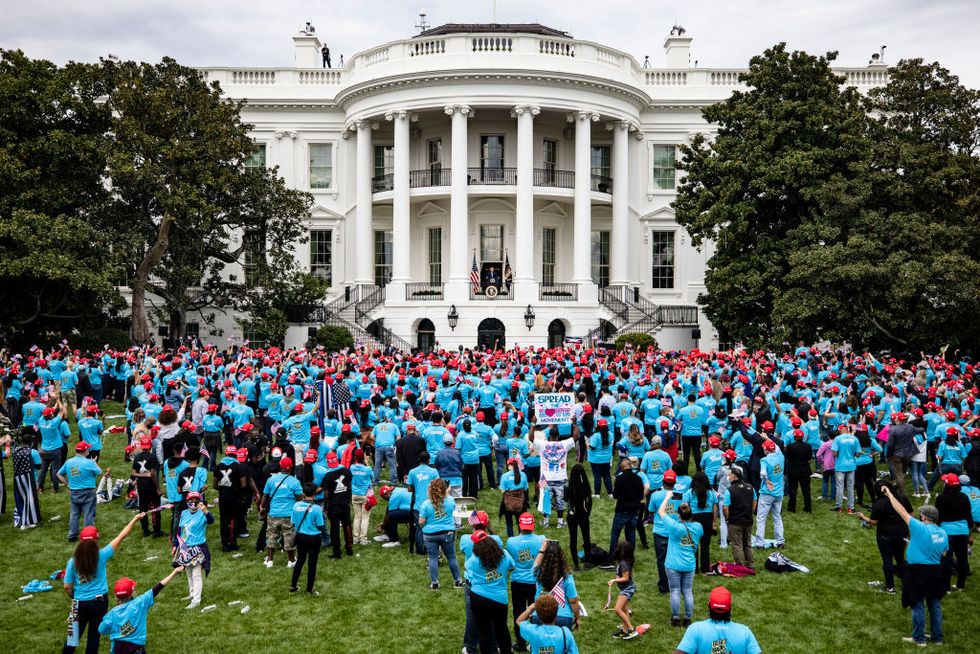 The event was officially a "peaceful protest", but looked, critics said, much like a Trump campaign rally.
The turn-out was shocking.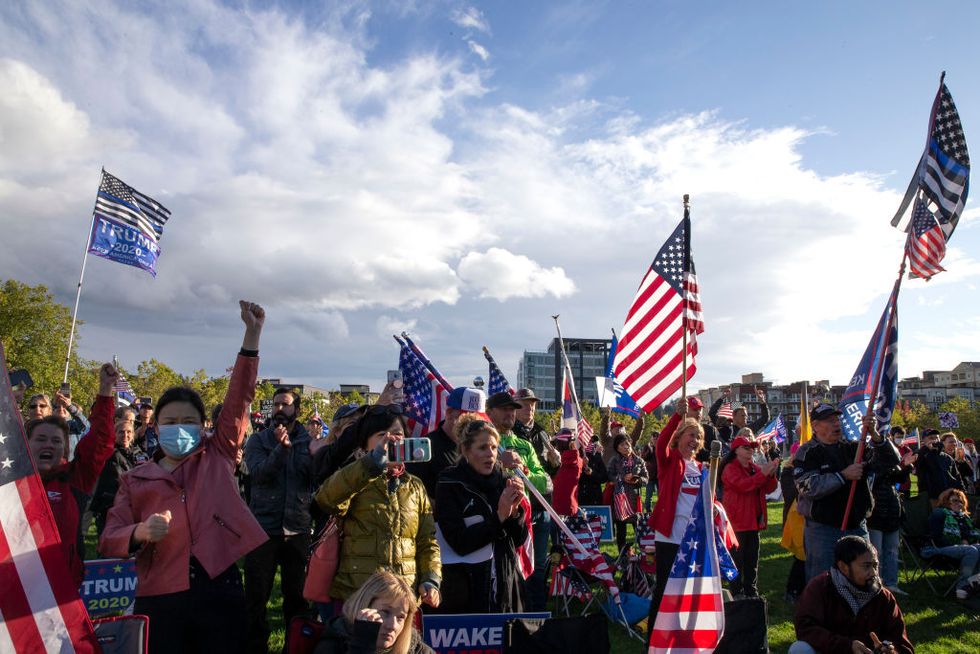 Around 2,000 Trump supporters descended upon the White House to hear the president's speech, where he made yet
more
inflammatory claims about the virus.
But he wasn't finished there.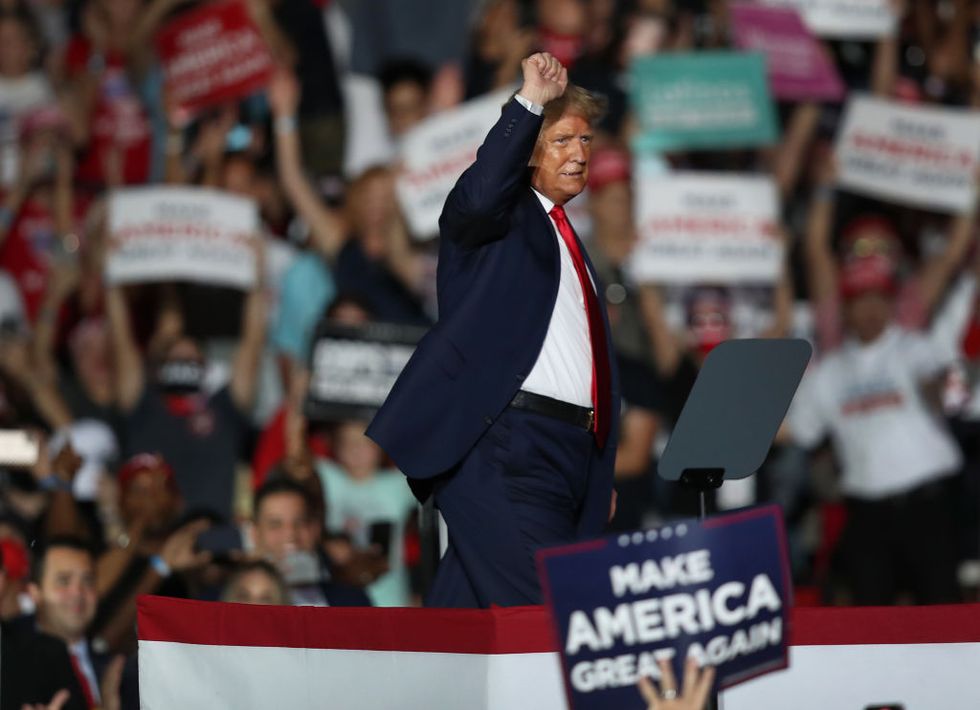 On Monday night, the President hosted another rally in Florida, and last night, he took his campaign to Pennsylvania.
There were many memorable moments.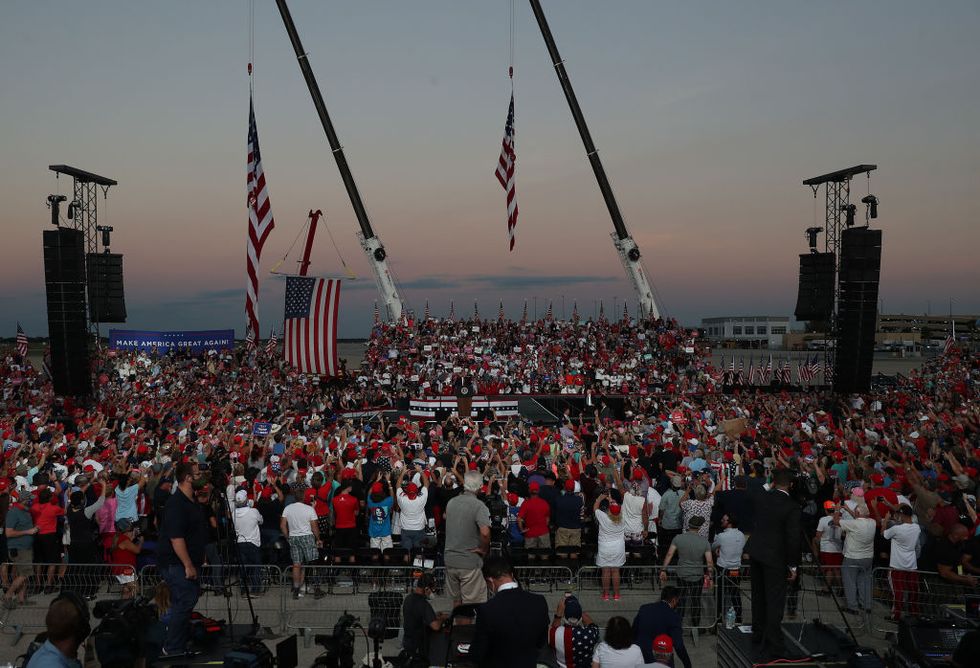 Firstly, he told coronavirus sufferers that he "feels their pain" after his bout with the virus. "To everyone fighting to recover from the virus, I feel your pain because I've felt your pain," Trump told the thousands of supporters packed in on the airport tarmac.
He then reiterated his so-called "immunity"...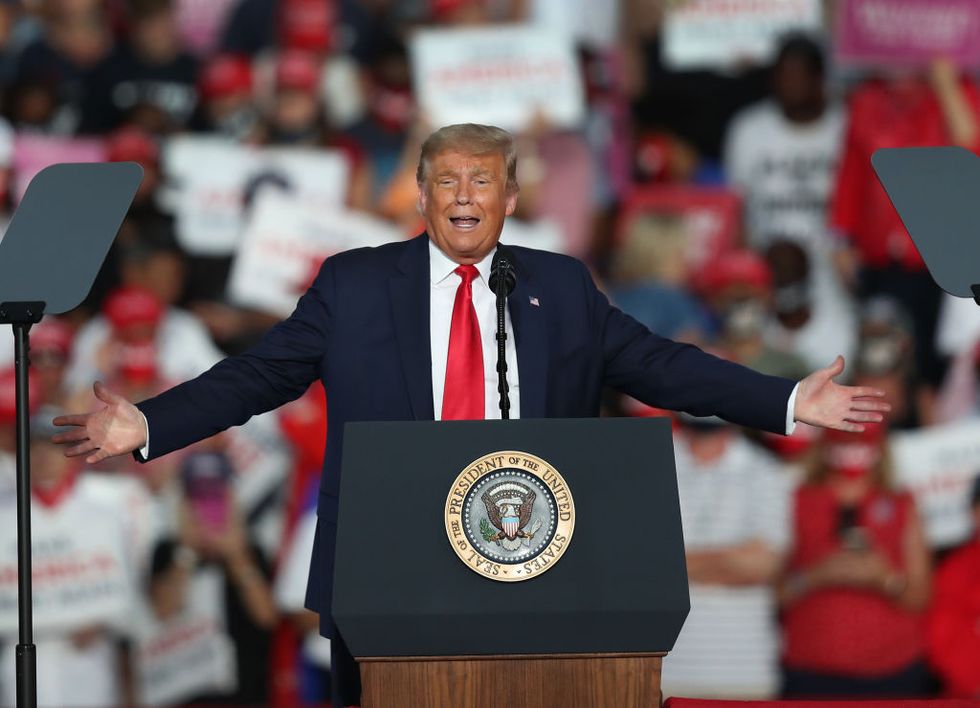 Adding that he was in that good of health, he could "come down and start kissing everybody. I'll kiss every guy. Man and woman."
But perhaps the most talked-about moment?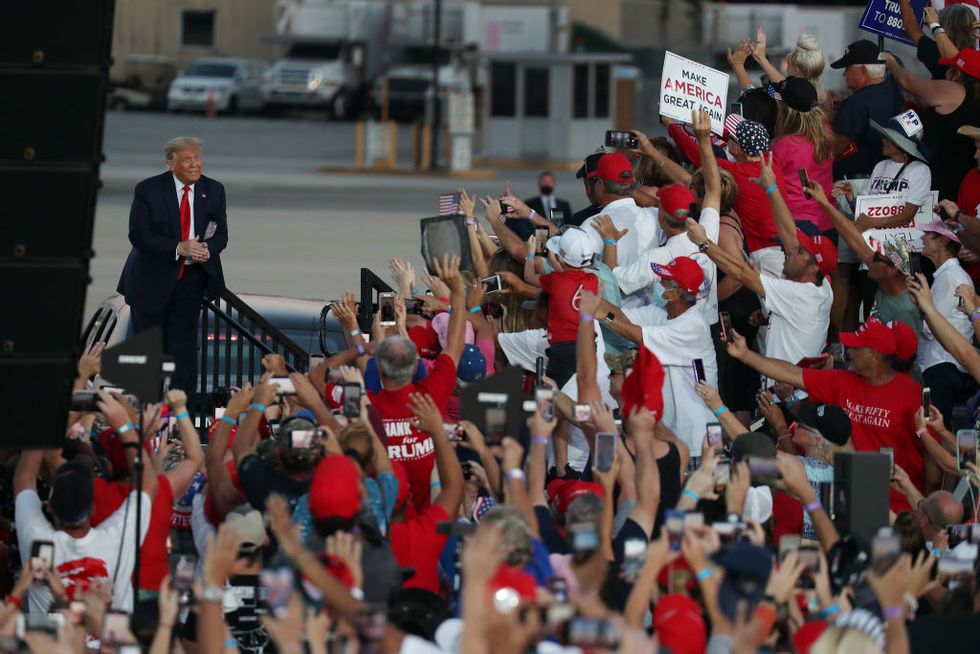 Well, it's Trump's laughably awkward "dad dance" to the Village People's hit track, "YMCA."
People couldn't quite believe what they were seeing...
@richardhine This guy has never learned a damn thing in his whole life. https://t.co/Xzw9B7x2iM

— RICH BRERETON (@RICH BRERETON)1602597198.0
Though it does show how even being the president of the United States cannot improve your moves.
It happened at the very end of the rally.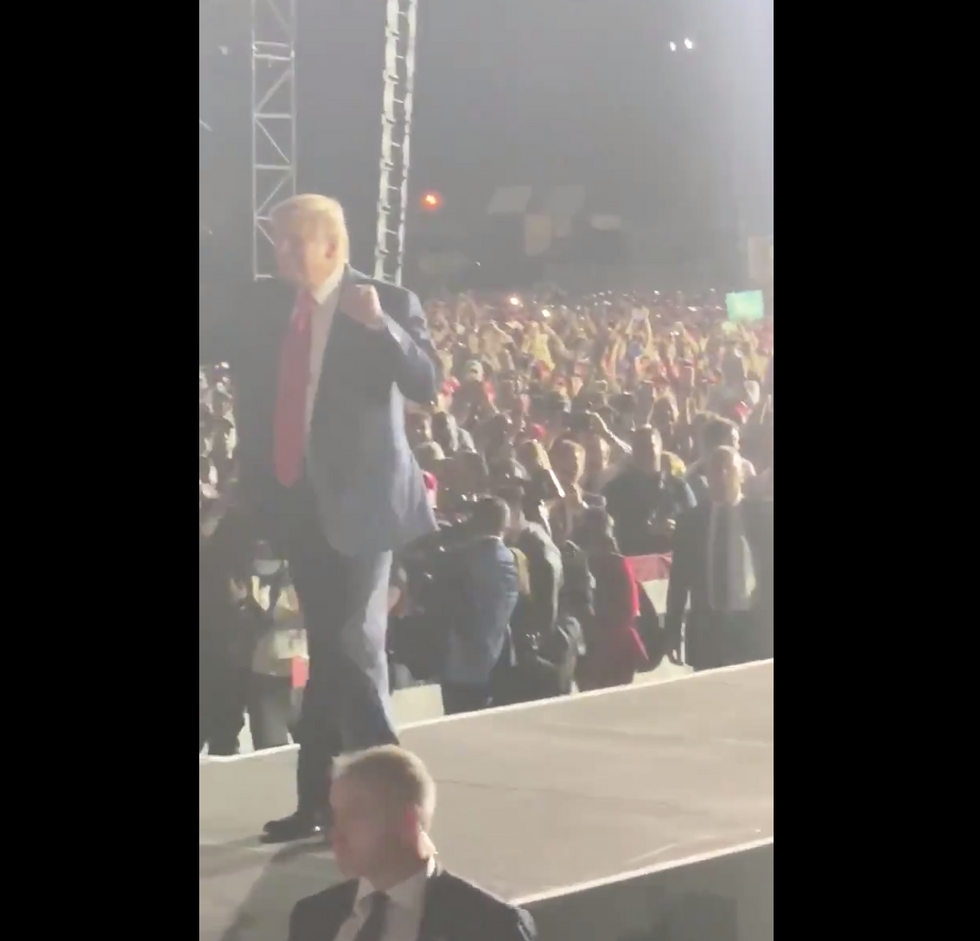 Trump told the cheering crowd he would "make America safe again" and "make America great again" before the classic Village People hit started blasting out.
His dancing was... Interesting.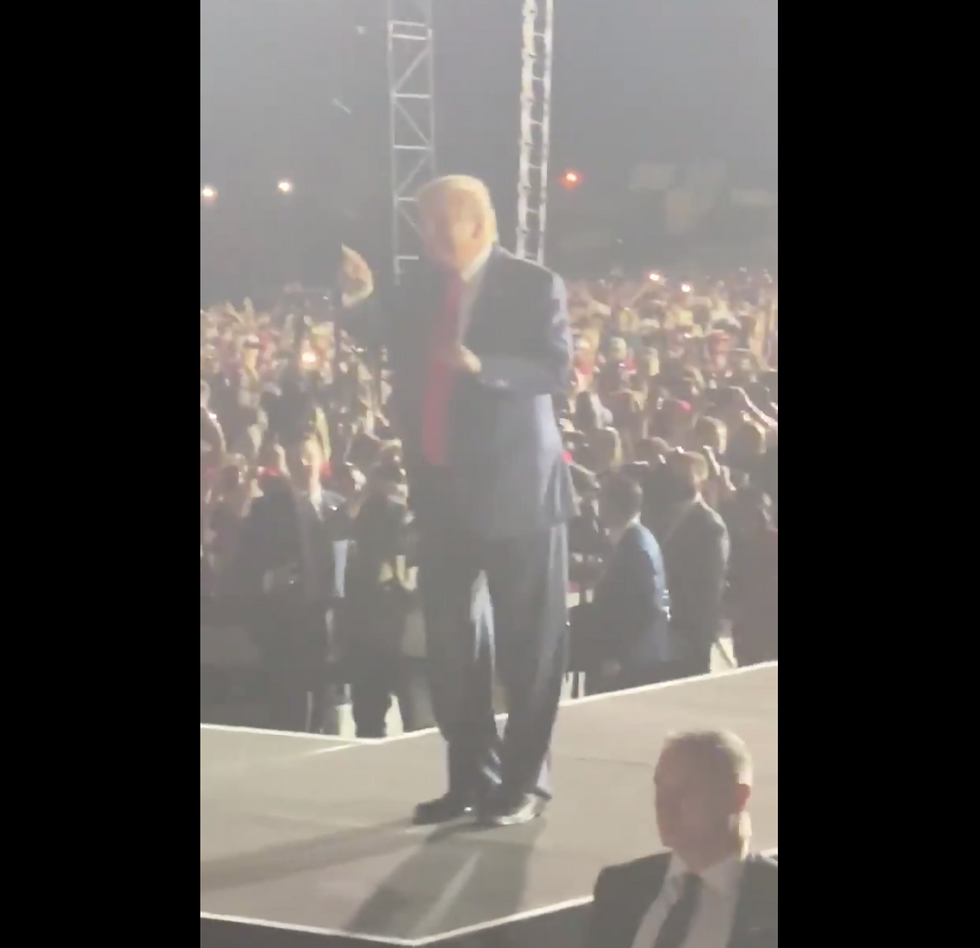 Standing firmly on the spot, he bobbed his knees and slowly fist-pumped along to the music.
Weirdly, the crowd seemed to love it.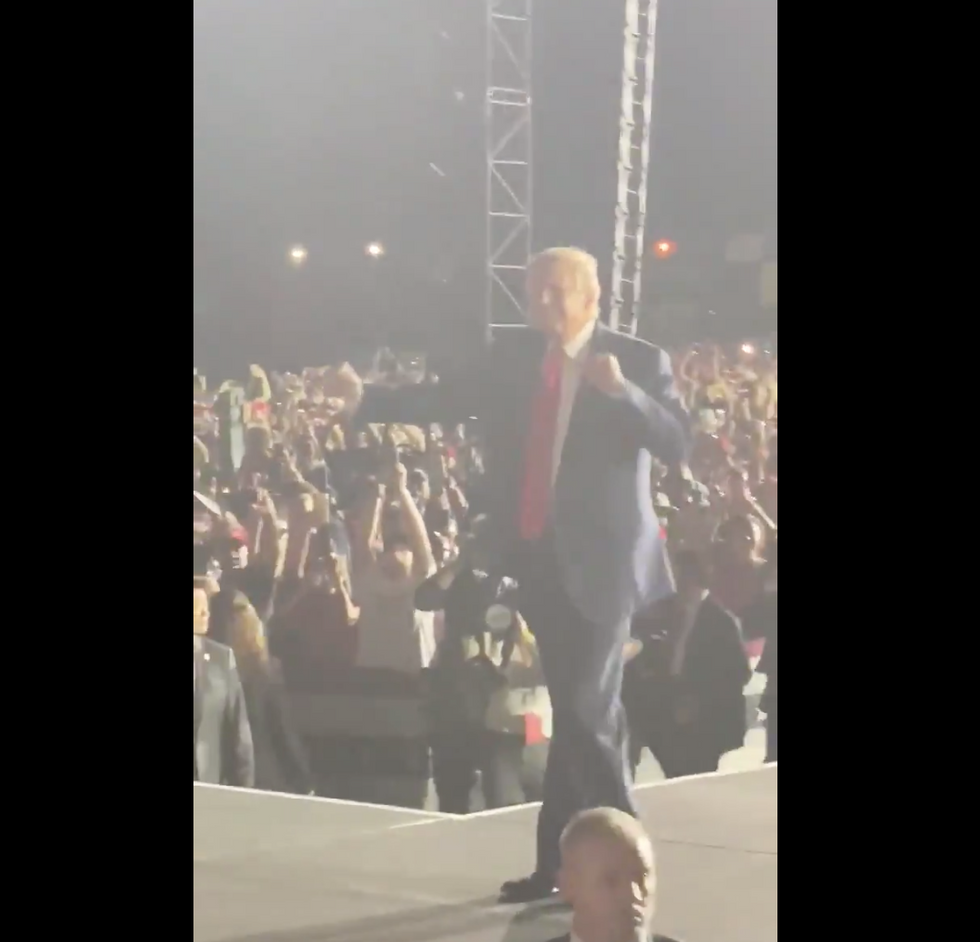 But hey, let's be real - the president could have stripped naked and they'd
still
cheer him on.
You can watch the hilarious moment here.
Trump dancing to YMCA. Enjoy. https://t.co/eHQyfMCKxo

— Brandon Darby (@Brandon Darby)1602558530.0
At least he's brought some laughter to our timelines! For more on the up and coming elections, keep scrolling...