Calling all Trump fans! The time has finally arrived… Donald Trump has recently unveiled his new Make America Great Again hat for a slightly pricey $25.
If you're into tacky color combos and misplaced autographs, then this is the perfect product for you. The former President of the United States (yeah, I'm still not over it either) has given us a glimpse of his new line of merchandise and I'm a little underwhelmed. Even though I'm not a Trumpette, I'm a sucker for good merch, but this is just not it.
The hat maintains the iconic red color but suffers tremendously because the simple print has been replaced with cheap-looking white and gold letters. Not only that but there is a random Trump autograph along the cap flap at the front that is neither straight nor centered. It's actually pretty scary that this made it to the approval point, let alone the manufacturing point.

According to The New York Post, the business tycoon announced the new merch venture in a fundraising email to supporters sent out over the weekend. The email had a picture of the hat attached to it so that fans could get a little glimpse of the project that Trump had been "personally designing." After finding out he had a say in the layout, am I really that surprised it turned out so bad? Nah, not really.

The NY Post also included a snippet of what the email consisted of, writing: "I just designed our BRAND NEW MAGA Hat and I want YOU to have it. You've always been one of my most LOYAL supporters, so I don't want you to have just ANY hat… I want YOU to have the MAGA Hat that I personally HAND-SIGNED for YOU."
He added: "Our movement isn't slowing down, in fact, it's only speeding up. That's why I wanted to design a NEW HAT for all of our best supporters."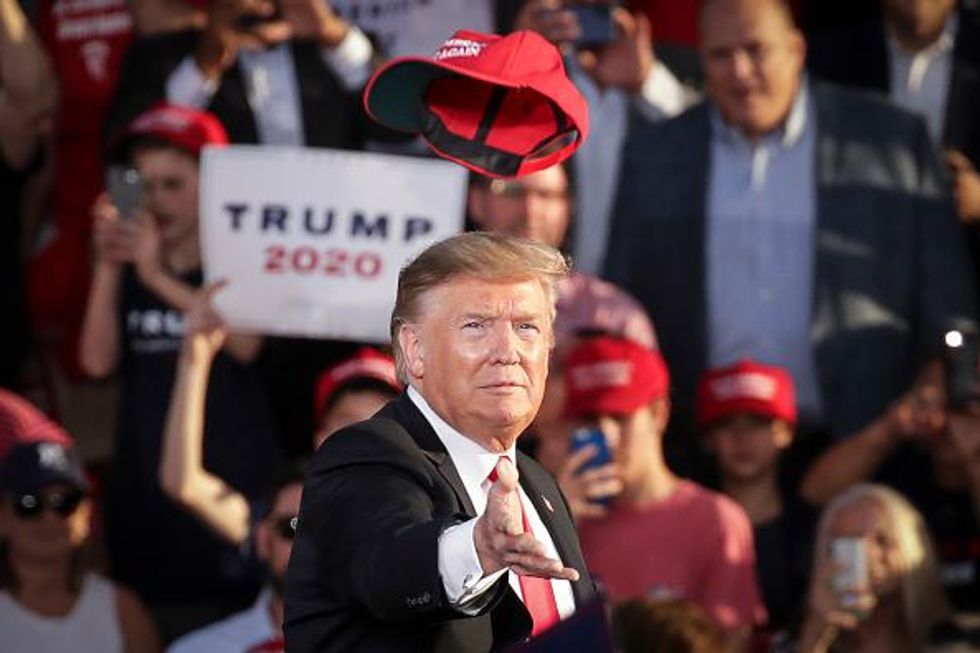 Um, I don't know what's worse, the writing or the hat.

Now, Donald Trump has been laying low for a little while but made sure his plans to return to office in 2024 were known. In a speech at the 2021 Conservative Political Action Conference in Florida, Trump alluded to his future political movement.
As reported by the Global Times, he told a crowd of his supporters: "With your help, we will take back the House, we will win the Senate, and then a Republican president will make a triumphant return to the White House – and I wonder who that will be?"
Let's just hope he brings with him some better merch. Yikes.