Another day, another President Trump allegation.
It seems that every day brings out a new accusation against the President, whether that's concerning his foolish typos on social media or in regards to another world leader that he's somehow managed to anger. Again.
The Women's World Cup is in full swing and the US has just been sent through to the quarter-finals. The captain of the US team, Megan Rapinoe, appears to have disrespected the President and, it's safe to say, he's not happy about it.
And in typical Donald Trump fashion, he's gone about the situation in the most public way possible. Read on to find out what Rapinoe said to cause this outrage.
The President has never been a stranger to drama.
via: Getty Images
Despite having (probably) one of the hardest jobs in the world, Donald Trump always gets a gold star for causing controversy and drama.
Numerous allegations have been made against Trump in the past, especially when it comes to women's rights.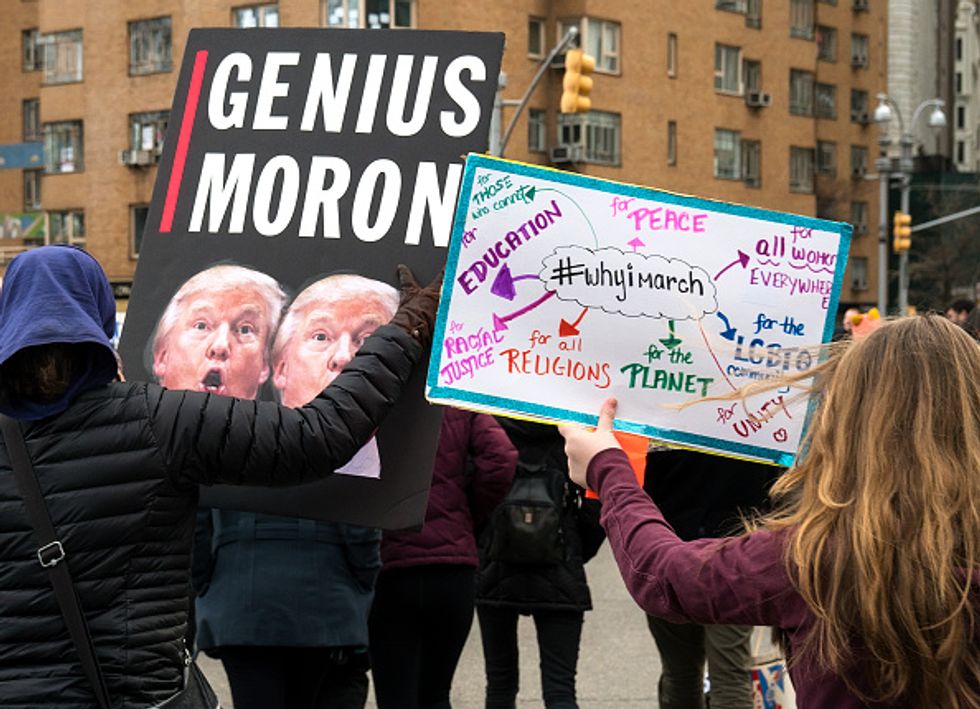 via: Getty Images
Numerous incidents have arisen in the past in regards to Donald Trump and women's rights. In total, twenty-two women have come forward with sexual assault and rape accusations against the President, which is a worryingly high number of allegations to be made against the man running our country.
The majority of these accusations came before his election in 2016.
Yet Donald Trump was still chosen to be our President. Seems a little fishy, if you ask me...
The President is still in power.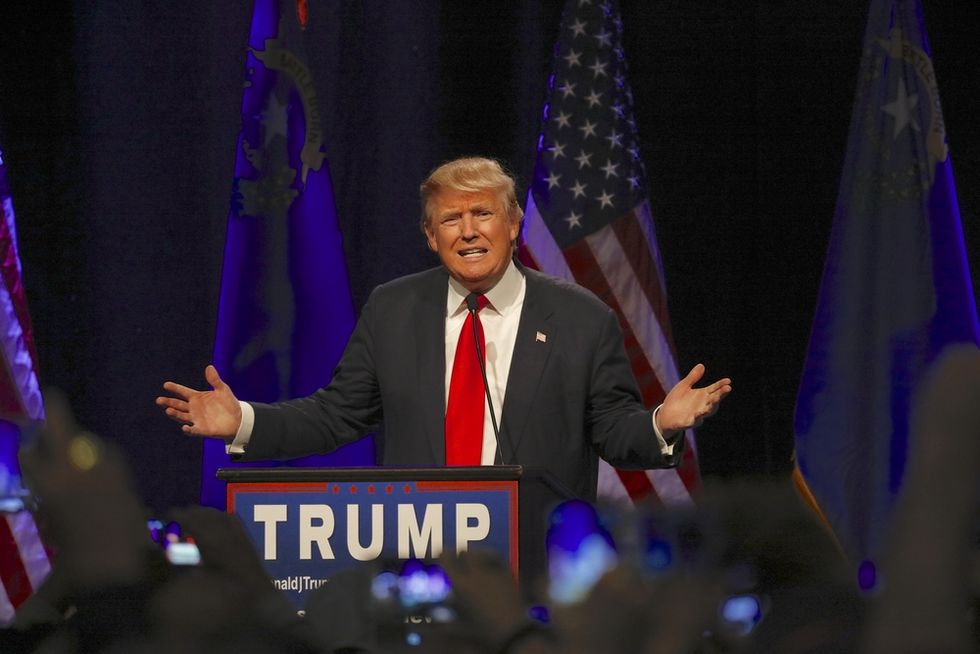 via: Shutterstock
Despite these vile accusations, Donald Trump is still going about his business (somehow) as the President of the USA; even if there have been numerous mishaps in his presidency so far.
Who can forget the "Prince of Whales?"
Somebody's watched Aquaman one too many times. https://t.co/gWJdz5sZSI

— Hend Amry (@Hend Amry)1560431630.0
His most recent Twitter mishap was spelling Prince Charles' title incorrectly. He swiftly deleted the mistake, but the internet was quick to take screenshots and lose its collective mind over the hilarious error.
It is a common known fact that Trump just loves Twitter.
The President takes to Twitter daily to rant and rave about pretty much anything... or anyone. And what has Trump's most recent target been?
The Women's World Cup is currently underway...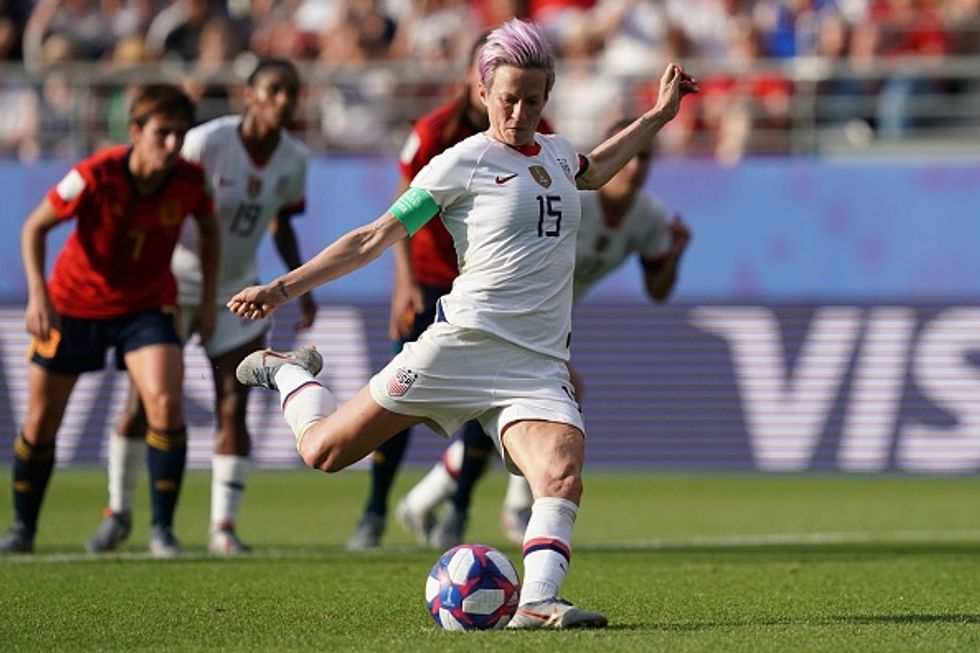 via: Getty Images
On Monday, Megan Rapinoe, Captain of the US soccer team, scored two goals to send her team through to the quarter-finals.
A tradition for winning sports teams...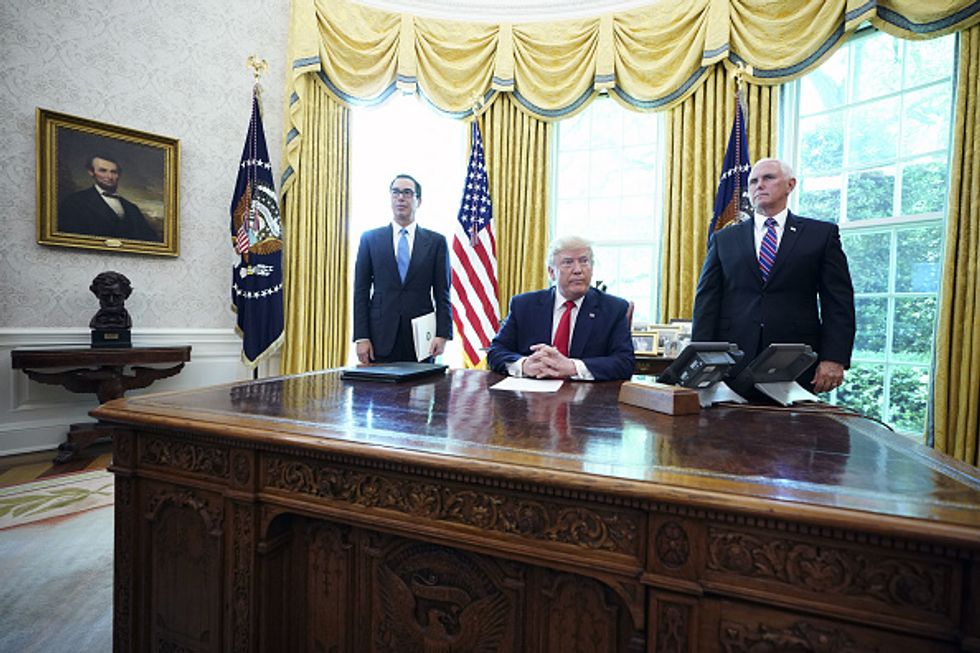 via: Getty Images
When an athlete or a sports team win for their country, they are usually invited to visit The White House following their success. But since Trump's election in 2016, numerous sporting teams have turned down the opportunity to visit the President, such as the Cleveland Cavaliers and the Golden State Warriors who didn't meet with Trump following their respective NBA championships.
Megan has been no stranger to standing up for her rights.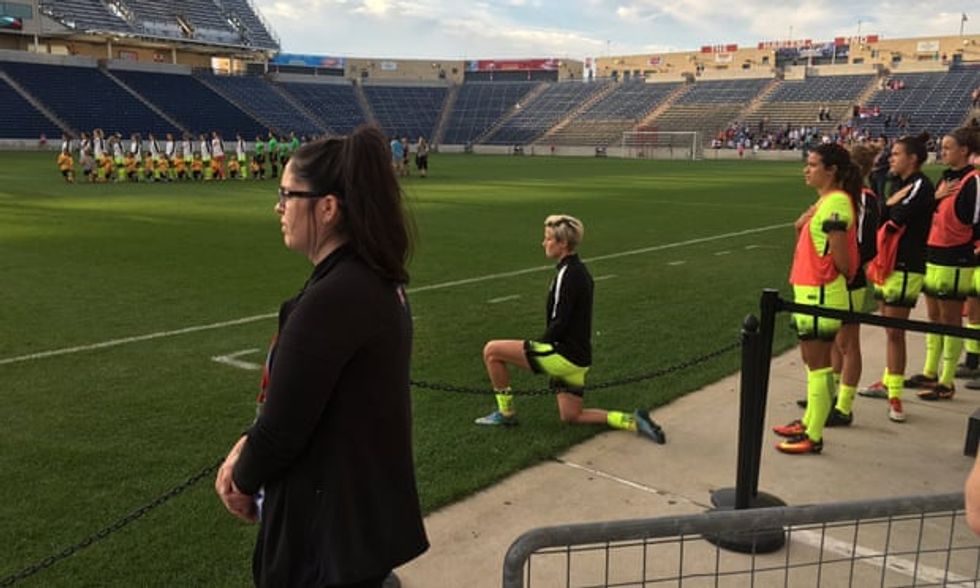 via: The Guardian
Megan kneeled during the national anthem on Sunday before Seattle Reign's NWSL game against the Chicago Red Stars in solidarity with Colin Kaepernick, who knelt during the national anthem in protest against racial injustice. "It was a little nod to Kaepernick and everything that he's standing for right now,"
The Guardian
reported that Rapinoe told American Soccer Now in regards to the incident.
And Trump had something to say about that.
Trump's most recent controversial tweet came days after he claimed that Megan's right to protest during the national anthem wasn't appropriate, with him saying during an interview with
The Hill,
"No, I don't think so."
Rapinoe is also well known for her outspoken views on LGBTQ rights and gender equality.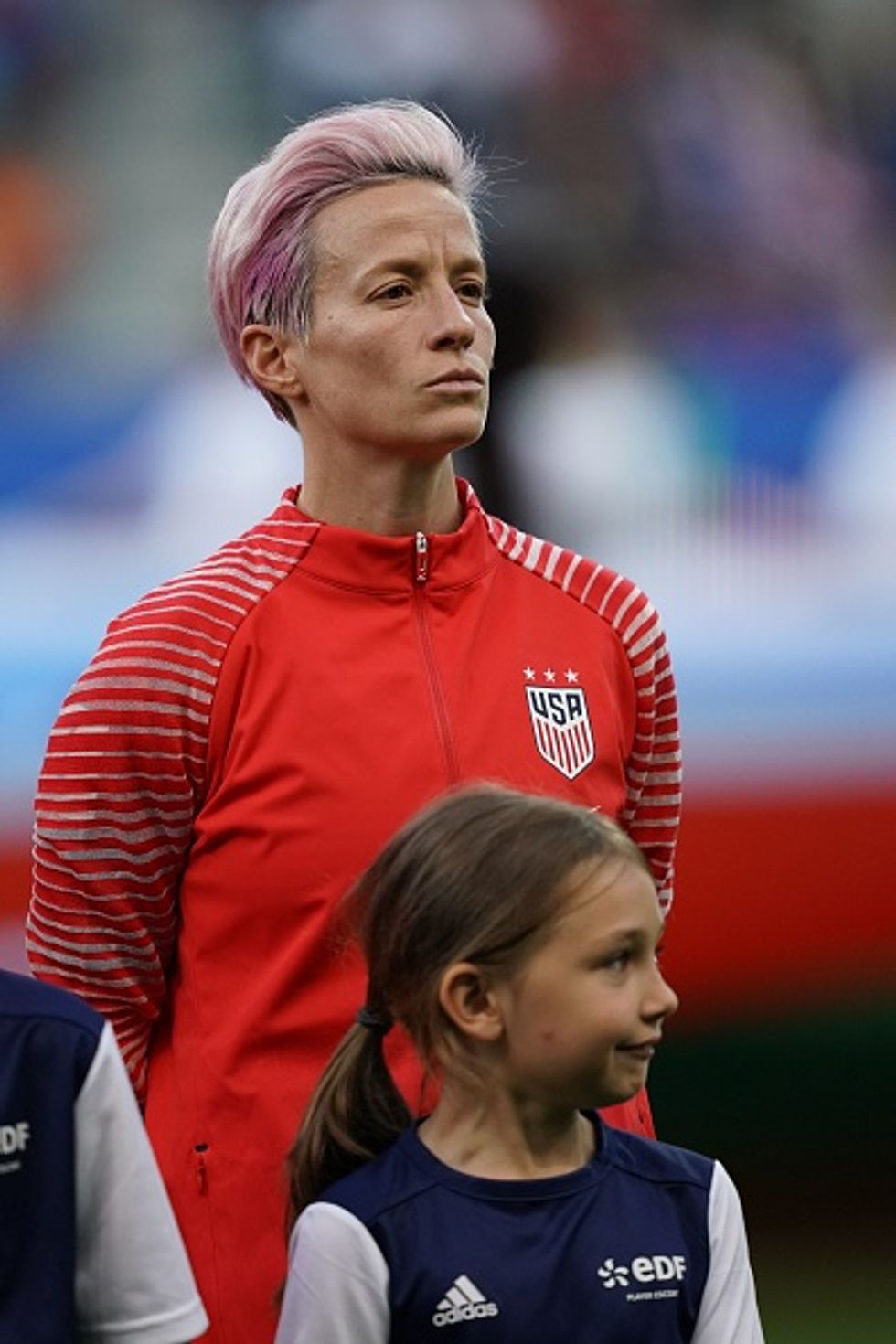 via: Getty Images
The thirty-three-year-old Captain has been a prominent voice in the issue of equal pay. Speaking to
The Guardian
in 2017, Megan said, "The more I've been able to learn about gay rights and equal pay and gender equity and racial inequality, the more that it all intersects."
"God forbid you be a gay person or a person of color in this country..."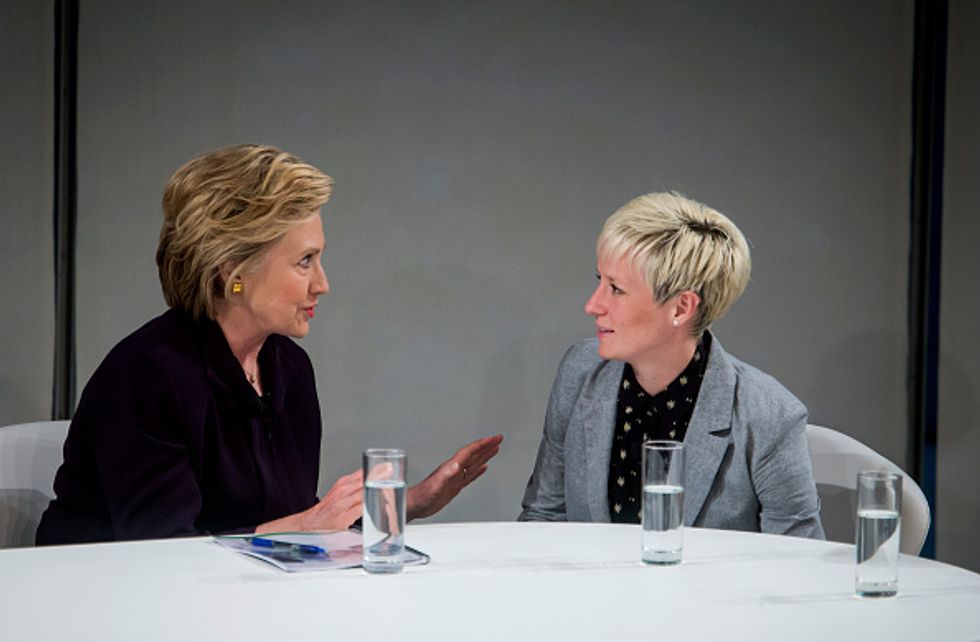 via: Getty Images
"You can't really pick it apart. It's all intertwined. God forbid you be a gay woman and a person of color in this country because you'd be really f*cked," she went on to say. We can imagine how Trump feels about that...
A video has been circulating since Tuesday...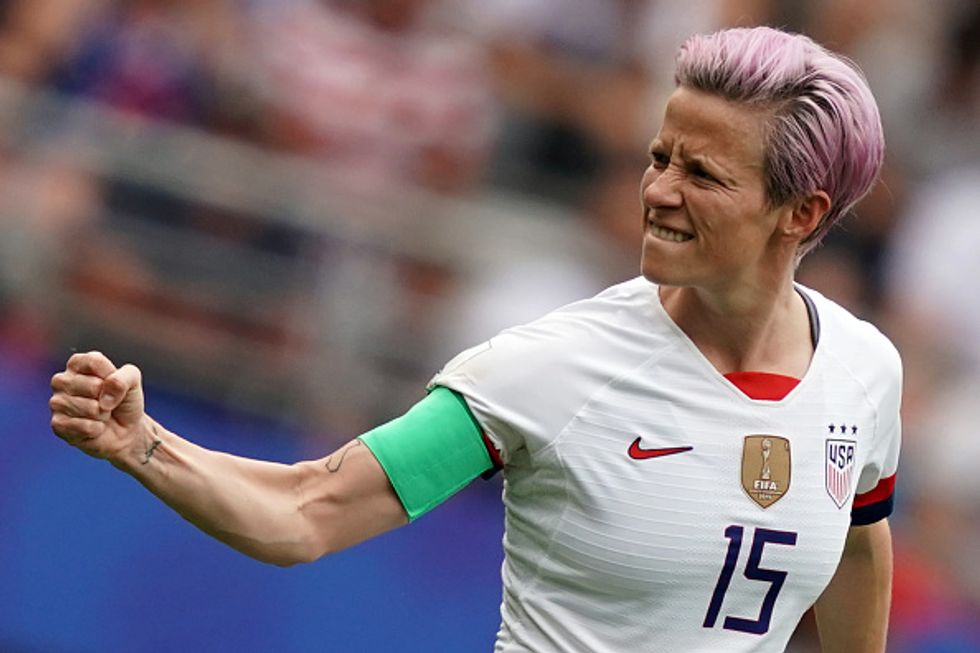 via: Getty Images
It is unknown whether the video was filmed before, or during, the World Cup, but it features Rapinoe talking during an interview and saying boldly, "I'm not going to the f*cking White House."
And, of course, Trump just had to have his say...
After seeing the comments, the President did what he does best, taking to Twitter to bash the US captain.
He directly addressed Rapinoe over Twitter...
One little thing though, Mr. President... He initially tweeted the incorrect Twitter account for Rapinoe, before hastily correcting it to @meganrapino shortly afterward. Why does this not shock me?
Trump acknowledged that he is a big fan of the team.
But he went on to say that Megan should "WIN first" before "she TALKS." Yes, the capitals were clearly extremely important.
"She should never disrespect our country...."
The President has clearly taken offense to Megan's words and he is now inviting the team regardless of their finishing place in the World Cup.
Trump claims that so much has been done for her and her team because of his leadership...
The line in his tweet saying, "Megan should never disrespect our Country, the White House, or our Flag, especially since so much has been done for her & the team" is a clear reference to his own leadership. Trump never holds back over social media.
Megan has received support in regards to her statement...
In regards to the "President's" tweet today, I know women who you cannot control or grope anger you, but I stand by… https://t.co/rhuDxOGDre

— Ali Krieger (@Ali Krieger)1561571975.0
Veteran fullback, Ali Krieger, tweeted about the incident and stated that she stands with Megan, while acknowledging women who refused to be controlled by the President.
So it's looking pretty uncertain that Rapinoe and her team will be visiting the White House any time soon.
"I'm not going to the fucking White House." - @mPinoe https://t.co/sz1ADG2WdT

— Eight by Eight (@Eight by Eight)1561489462.0
Megan is a woman who stands true to her words and her beliefs, and she's made what she thinks of Trump pretty clear, despite him being the leader of her country. Watch the interview to see what Megan has to say on been invited to meet with the President here.