President Donald Trump woke up the morning after his 2005 tax returns were released to the world and unleashed an angry tweet about...Snoop Dogg.
Trump is referring to Snoop's politically charged music video for his song, "Lavender." The video includes a stylized scene in which a man in a car is shot by a cop with glitter bullets that, for many, felt reminiscent of the Philando Castile shooting. The video also notably features a scene at the end in which an orange-faced clown in a suit named "Ronald Klump" is chained up and surrounded by Snoop and his crew.
Snoop points a gun at the Trump stand in and pulls the trigger. Instead of bullets, the gun emits a "bang" flag, but the reference to violence was still widely criticized. Senator Marco Rubio even weighed in,
saying
: "Snoop shouldn't have done that.
Unsurprisingly, Trump's lawyer, Michael Cohen, told TMZ he was "shocked" by the video and said the rapper "owes the president an apology."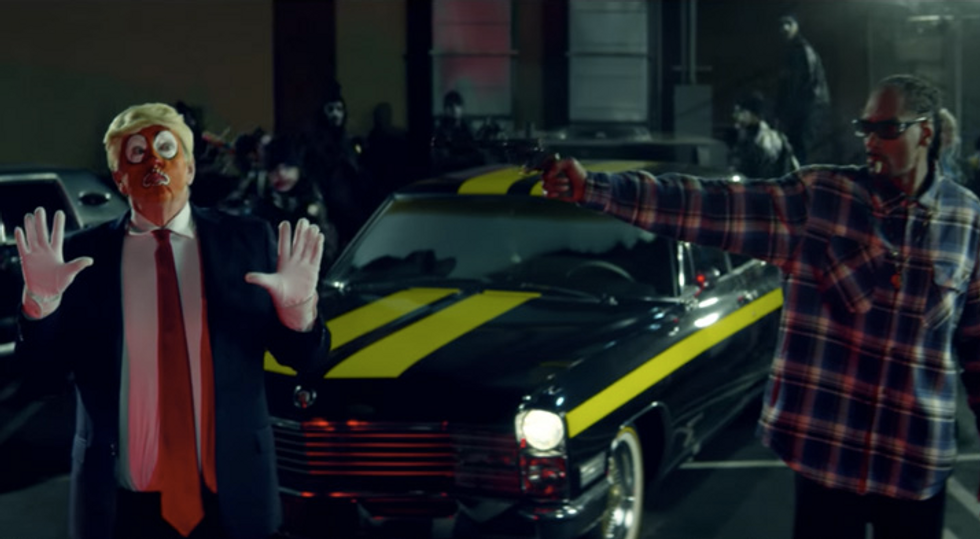 "There's absolutely nothing funny about an assassination attempt on a president, and I'm really shocked at him, because I thought he was better than that," he said. Always calm, cool, and collected, Snoop had
this
to say about the backlash: "When I be putting shit out, I don't ever expect or look for a reaction. I just put it out because I feel like it's something that's missing."
As is to be expected, the opinions on Twitter ranged from support to outright rage.
Which side of the beef are you on?