Dwyane Wade is the father to 4 children, and one of which is twelve-year-old Zaya Malachi Airamis Wade, who was pictured last year wearing false nails and a cropped top.
Despite all the unnecessary outrage amongst some of his fans, Dwyane addressed the issue, hitting home with a powerful message for all parents out there.
And because of his support, Zaya now identifies as a female – but it wasn't an easy ride going public but now she's made her red carpet debut…
The thirty-seven-year-old, who was born in Chicago, spent the majority of his 16-year career playing for the Miami Heat in the National Basketball Association (NBA).

Dwyane has a pretty big family…
He has 2 sons with ex-wife, Siohvaughn Funches, he is raising his nephew who is the son of his sister, Deanna, and he has 2 other children from 2 other relationships.

And his most recent child arrived through IVF with Gabrielle.

And he posts on social media regularly with his kids. The snaps are pretty adorable.

And as any family would do, they were posing for some candid photographs together to mark the festive season.

This photograph was posted to Gabrielle's Instagram with the caption, "Grateful… Happy Thanksgiving good people. To all the friends and family that have my back and all the friends and family, I've never met who show love and support when everyone is looking and when no one is looking…All praise, gratitude and thankfulness," and it shows Dwyane with Zaya, Gabrielle, and their baby Kaavia James Union Wade.

She is pictured wearing false pointy nails and a cropped top, which is literally, not a big deal at all, but people have certainly made it into one.

People were making sarcastic comments about the child wearing nails and a cropped top, and even began asking where their biological mother was.

It didn't take long for the narrow-minded comments to come about Zaya "dressing like a girl."

Some people are clearly forgetting what era we're living in…
People can dress in whatever they please, regardless of gender.

So he decided to address it publically himself.

"I've seen some post-thanksgiving hate on social about my family photo. Stupidity is apart of this world we live in – so I get it. But here's the thing – I've been chosen to lead my family not y'all. So we will continue to be us and support each other with pride, love & a smile," he wrote on Twitter. Keep scrolling to see his second attempt which was even more powerful.

And he replied to a fan saying, "As a parent my only goal is that my kids feel that I see them, love them and support them."

"Shout out D. Wade for setting the example of a Black father loving and accepting their children as they are. There'd be a lot less trauma in our community if more Black dads were like this," one fan wrote.

While featuring on Stephen Jackson and Barnes' "All The Smoke" podcast this week, Matt Barnes asked the NBA player about how difficult it is parenting his "gay son" because of his "masculine" sports background.

He started off his powerful message saying, "I had to look myself in the mirror when my son at the time was 3 years old and me and my wife started having conversations about us noticing that he wasn't on the boy vibe that Zaire [his other son] was on."

"And, I had to look myself in the mirror and say, 'What if your son come home and tell you he's gay? What are you going to do? How are you going to be? How are you going to act? It ain't about him. He knows who he is. It's about you. Who are you?'"

"I grew up with the same perspective as a lot of these people out here that's a little ignorant. I grew up with a similar perspective," Wade said. "And, you meet people along the way that help you take those glasses off and put on some different ones. Look through life through a different lens. That's what my wife has been able to do. So, it's been cool."

"Everybody get used to it, man. This is the new normal. So if anybody different, we looked at as different. You know what I'm saying? The ones that don't understand it. The ones that don't get it. The ones that are stuck in a box. You're different. Not the people that are out here living their lives, man." He ended it with a powerful line, saying: "You can learn something from your kids."

Every parent should allow their children to be who they truly want to be, and Dwyane and his family are completely doing the right thing.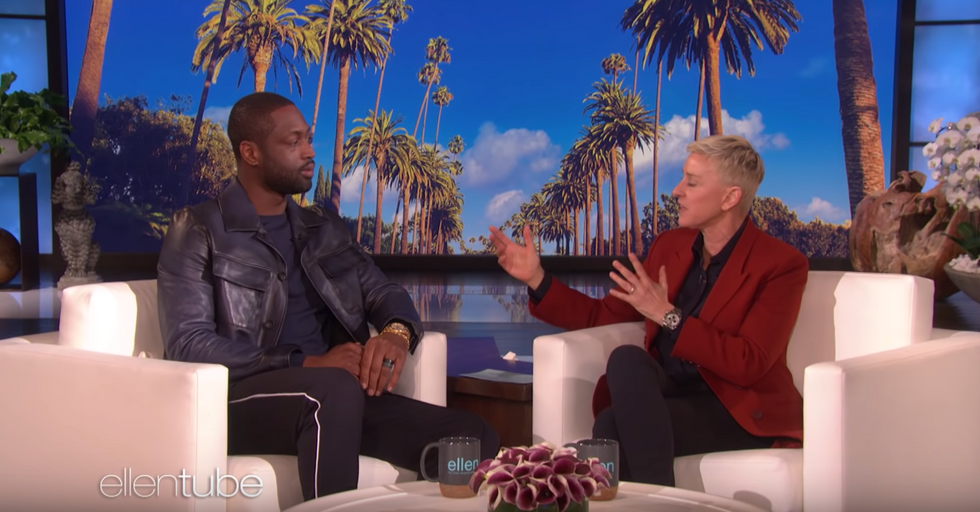 Appearing on The Ellen Show, Dwyane spoke of how Zaya wants to identify as female and how proud he is as a father of his daughter.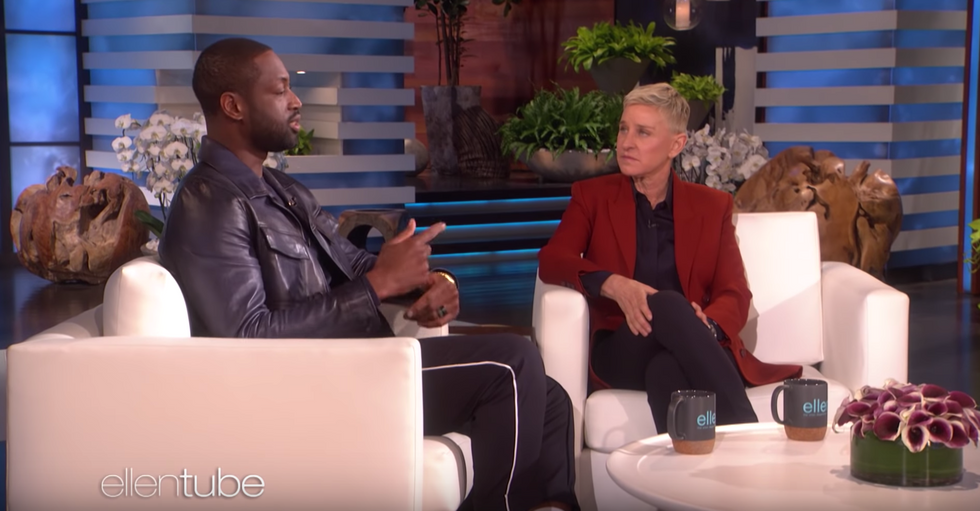 "So once Zaya, our 12-year-old, came home – first Zion, I don't know if everyone knows, originally named Zion, born as a boy – came home and said, 'Hey, I want to talk to you guys. I think going forward I'm ready to live my truth. I want to be referenced as 'she' and 'her,' I would love for you guys to call me Zaya'," he explained.

"Once Zaya came home and said, 'I want you to call me Zaya and I'm ready to take on this,' I looked at her and said, 'You are a leader. And this is our opportunity to allow you to be a voice'," he went on to say. "Right now, it's through us, because she's twelve years old, but eventually, it will be through her."

He has admitted that it was a struggle going public about Zaya's gender identity.

Appearing on Good Morning America…
Dwyane opened up a little bit more about Zaya, but he mentioned the struggle the family has gone through publically due to him being in the middle of creating a documentary about himself.

"I struggled on how much I wanted to talk about in the doc," Dwyane said, "I actually didn't talk about it a lot. But, I knew if I put it in the doc at all, it would be a big conversation."

"So we sit back and we say. 'You know what?' As parents, it's our job to sit back and figure out and find the information that we can. And we've sat down together as a family. We've reached out to as many people as we can. We've researched as many things as we can to try to help not only our family but other people in this journey and along the way."

And now Zaya has made her first public experience on the red carpet at the Better Brothers Los Angeles 6th annual Truth Awards.

Look how amazing she looks!

And if you want to read more on making events more inclusive… then keep scrolling.