A dying ten-year-old goldfish was rescued by a heroic young woman and nursed back to health in an incredible second chance at life.
This story is truly remarkable...
No matter their size or appearance...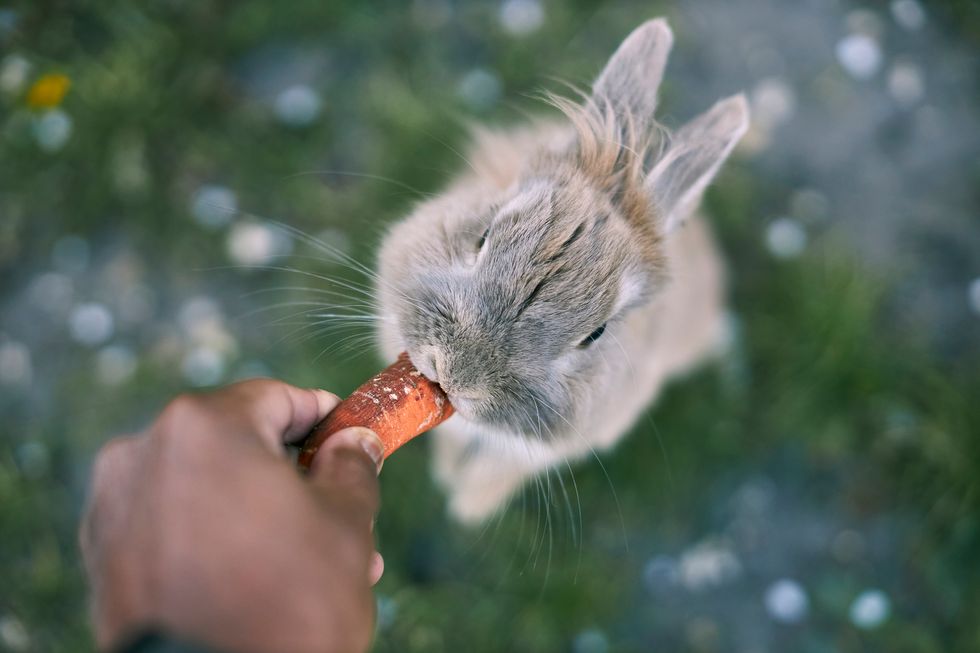 via: Getty
All
pets deserve a long and happy life.
With cats and dogs being the most popular of pets...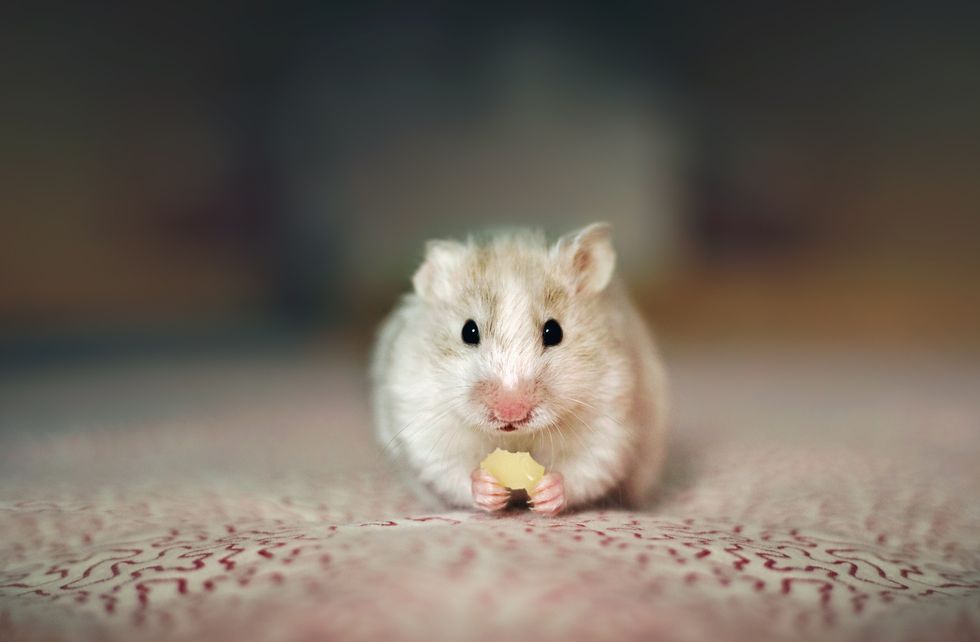 via: Getty
Many other smaller pets often get cast aside and the assumption is made that they don't need as much love and care.
This is certainly not the case...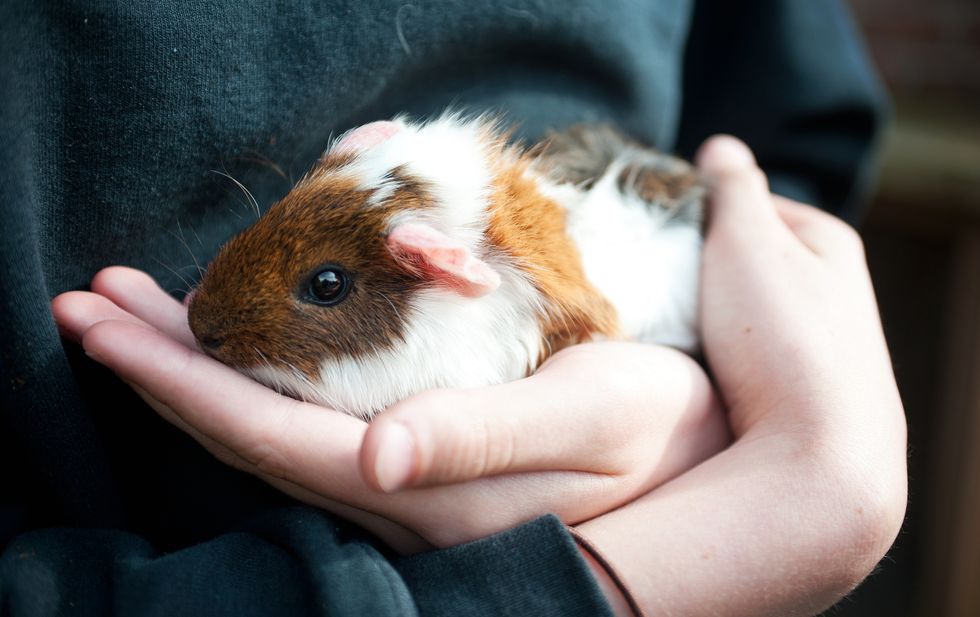 via: Getty
And all animals deserve to be cared for and loved just as much as any other.
But the one pet that seems to be cast aside the most?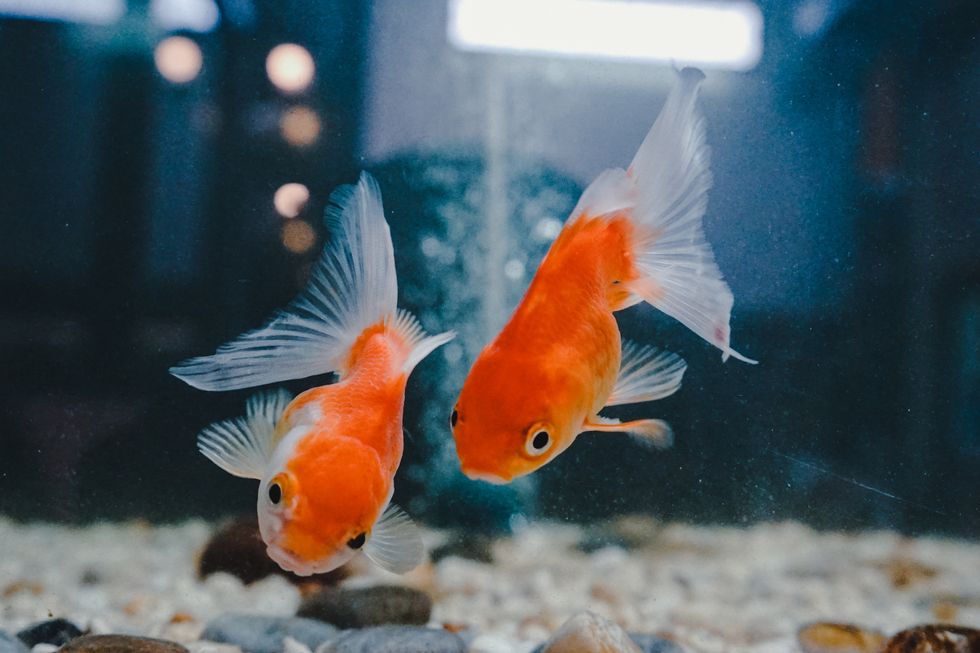 via: Getty
Goldfishes, of course!
Even though goldfish have a lifespan that lasts between ten to fifteen years...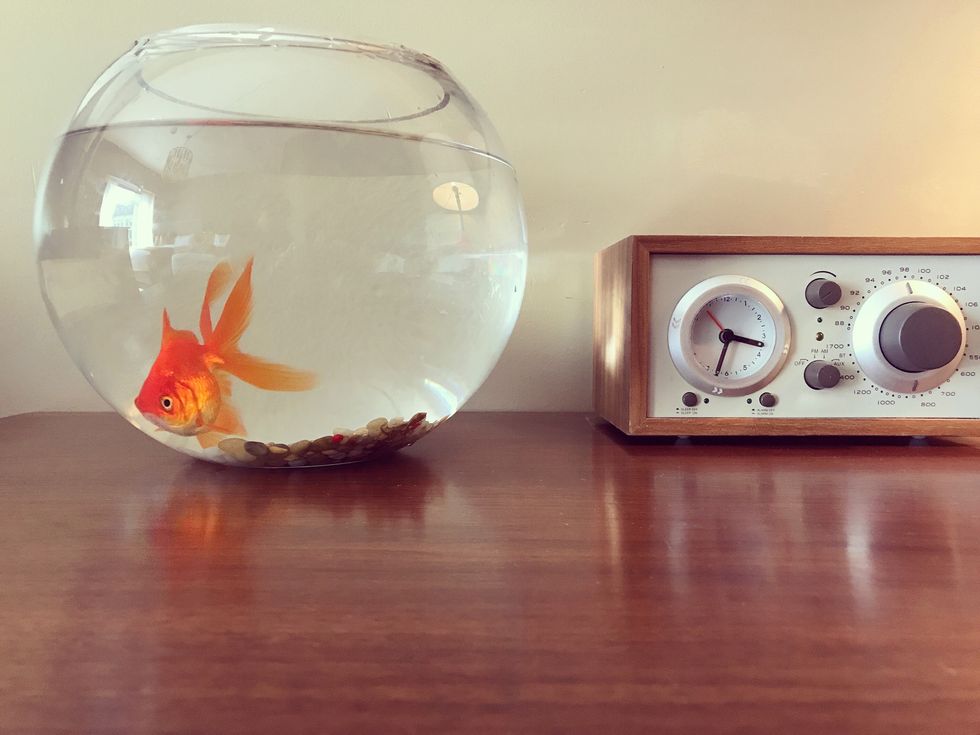 via: Getty
It is always assumed that they have a mere lifespan of a few months due to them often not surviving after being placed in their fishbowl or tank.
This is sadly due to stress and loneliness as goldfishes are very sociable animals...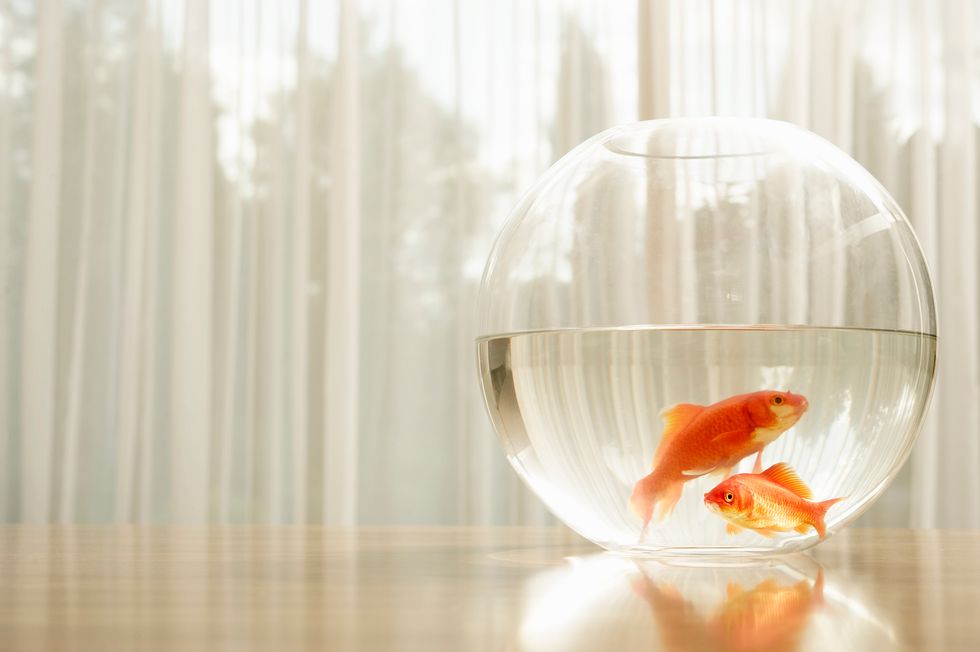 via: Getty
And the process of moving these fishes from bowl to bowl is extremely traumatic for the unfortunate creatures.
Spending the rest of their days alone in a glass bowl is terribly cruel...
Goldfish are intelligent, sensitive, and social animals—they NEED company in order to thrive. Here's how to adopt… https://t.co/NULON2NSFW

— PETA (@PETA)1550937840.0
And it is sadly the fate for millions of goldfish around the world.
One woman recently decided to tell her story about the time she came across a very sad-looking goldfish in a pet store...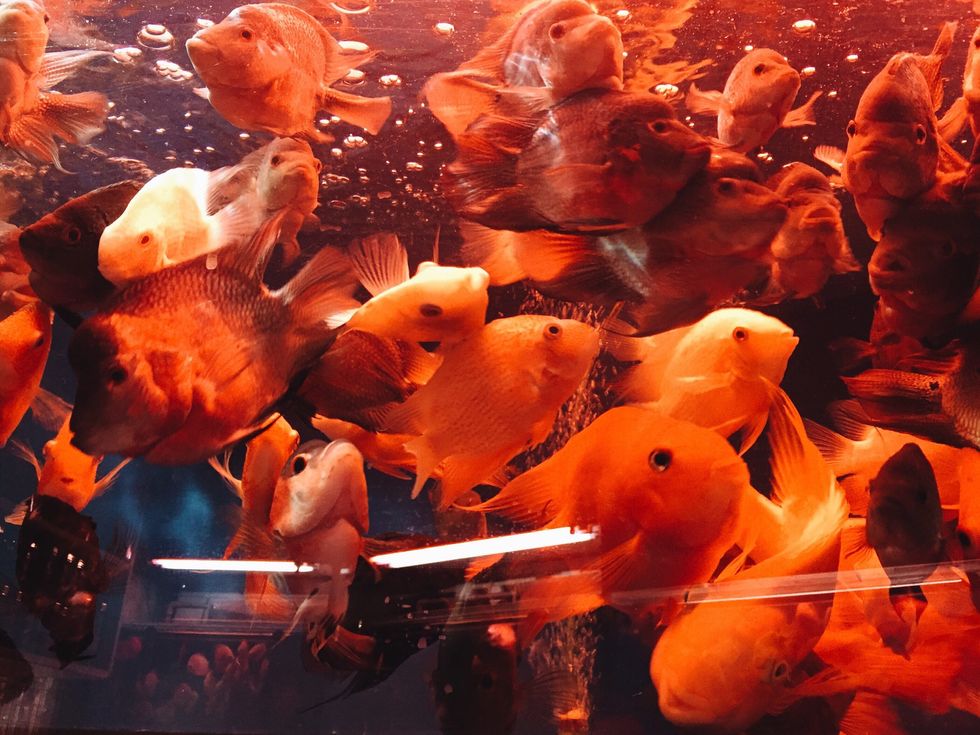 via: Getty
And when she decided to nurse the poor thing back to health, the most remarkable thing happened.
Lacey Scott came across this black goldfish last year who was sat at the bottom of his tank looking pretty miserable...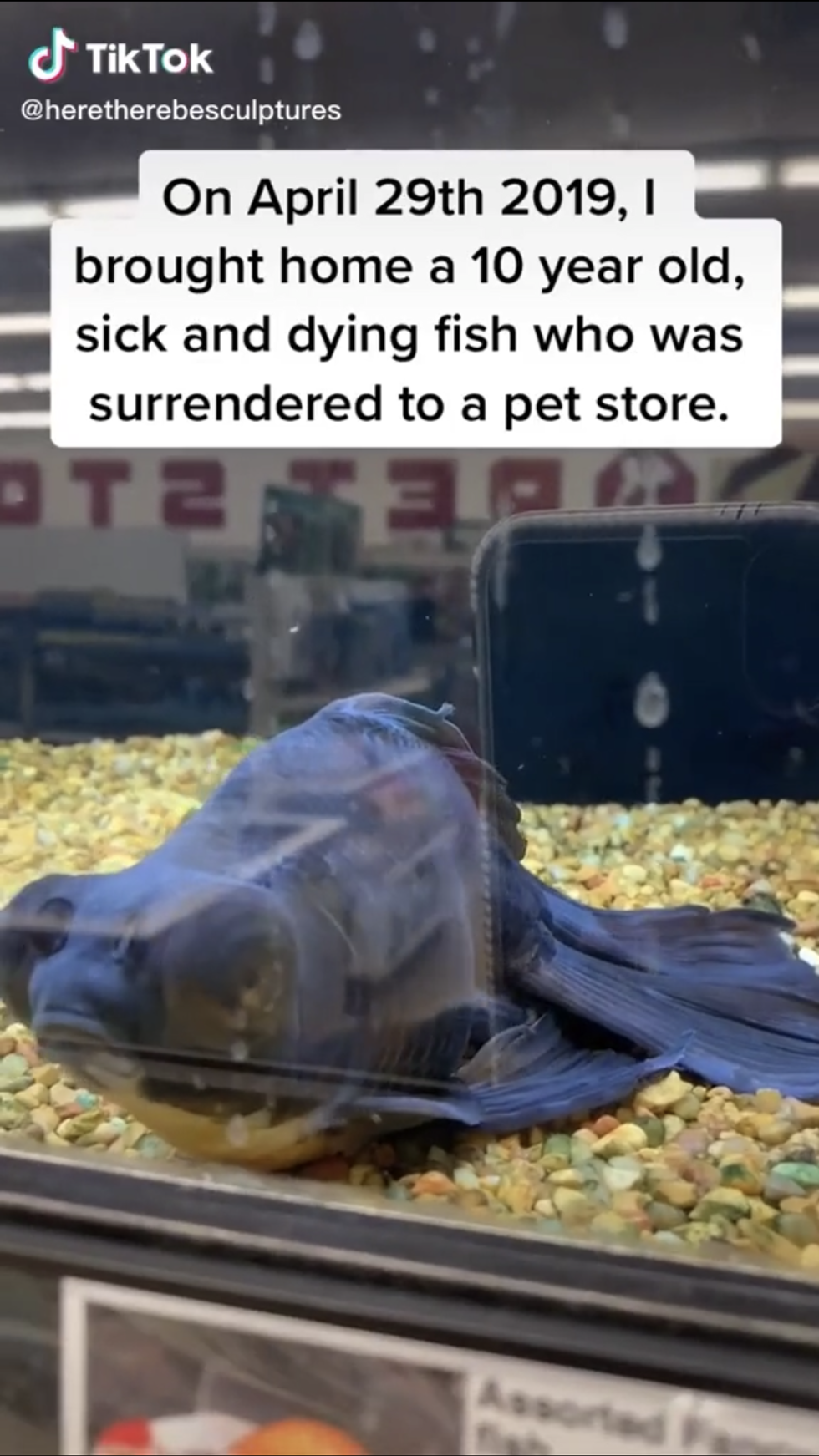 And when she found out he was ten-years-old and had been surrendered by his previous owners to the pet store, she decided to adopt him and try to nurse him back to health.
When she brought him home, Lacey placed him in a makeshift hospital.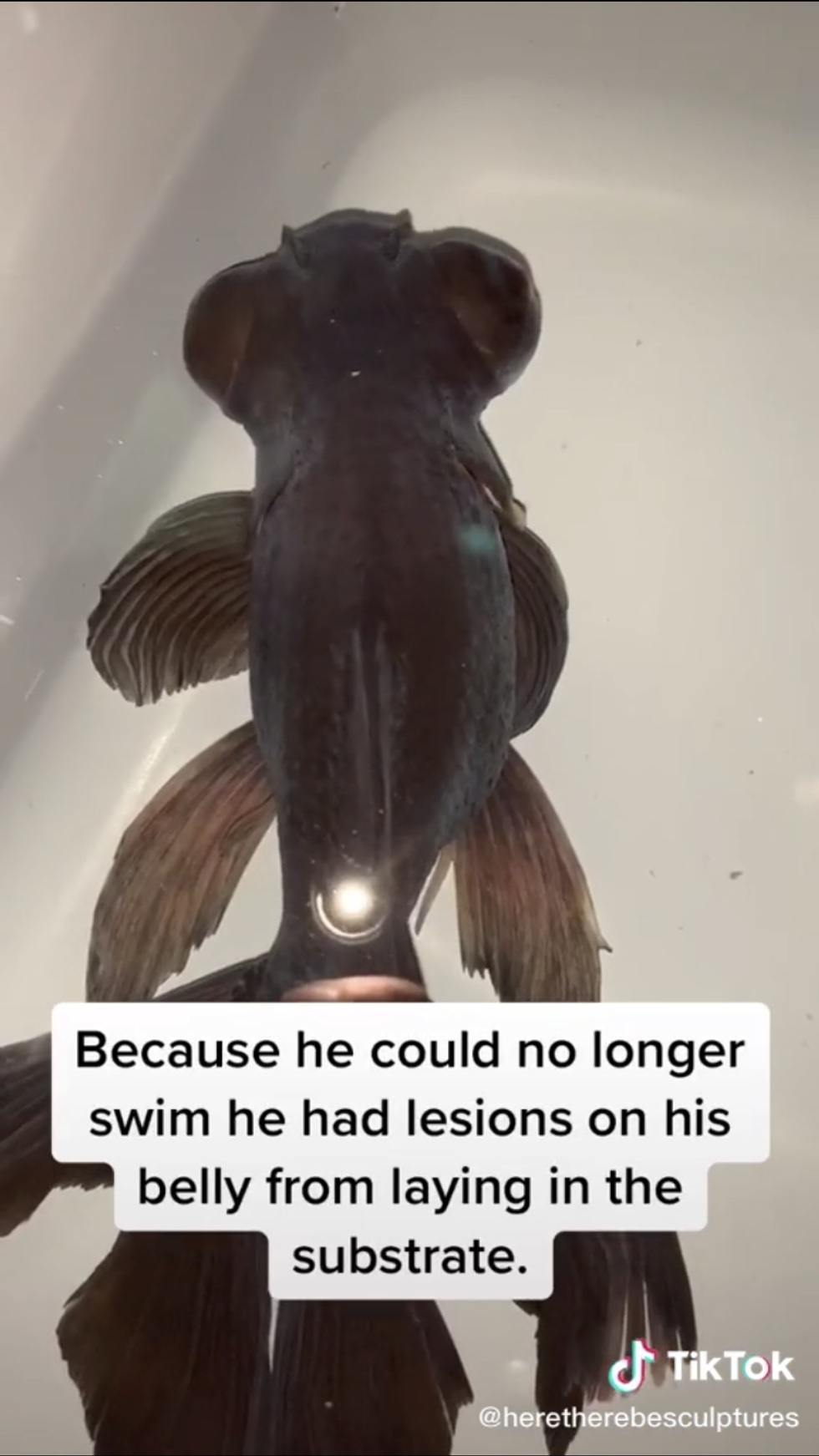 This is because he could no longer swim due to the lesions that had developed on his stomach from laying on the pebbles for such a long period of time.
She used aquarium salt to tend to his scales...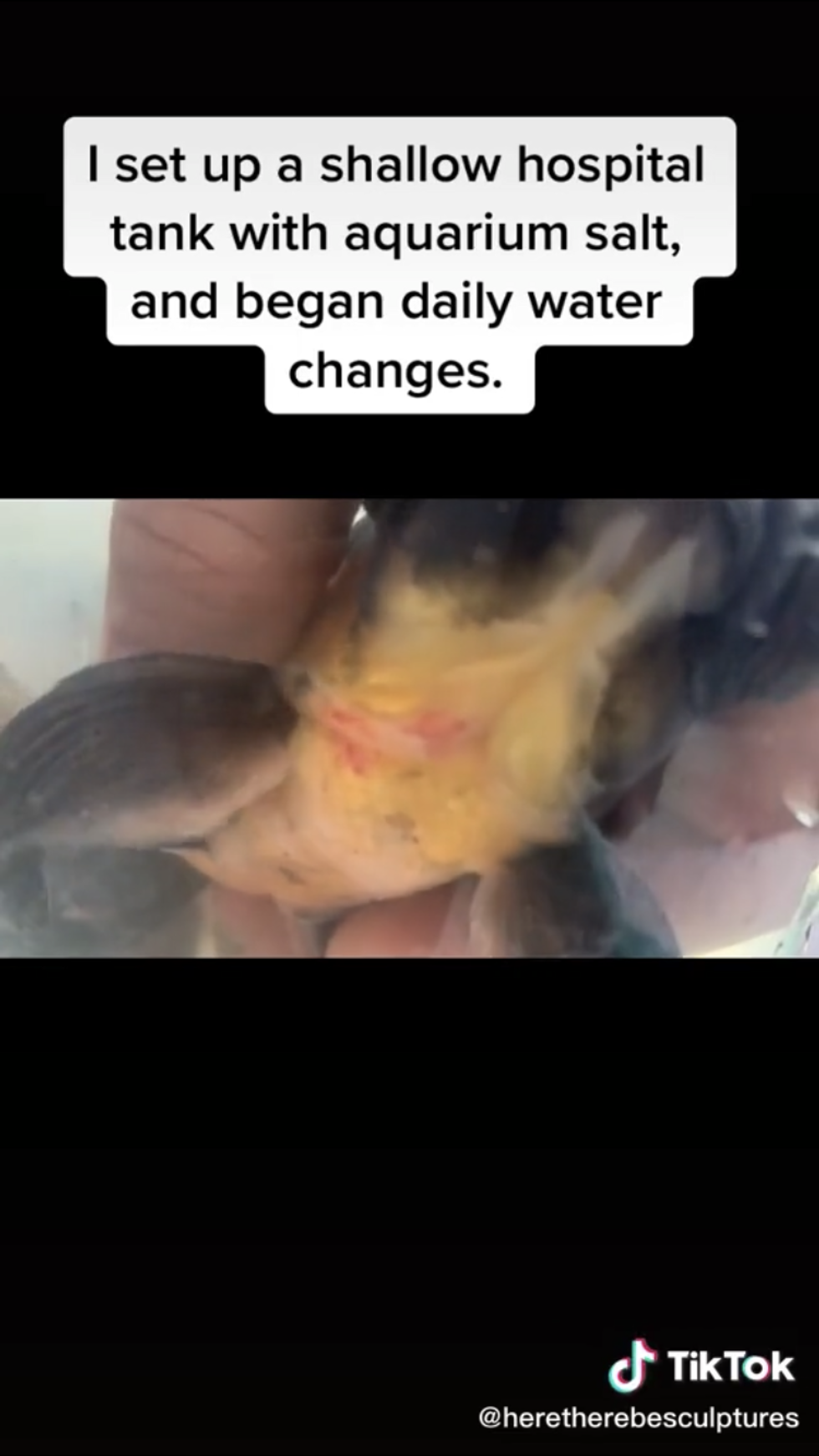 And daily water changes allowed the fish to build up his strength. Speaking in an interview with
Bored Panda
, Lacey explained, "Aquarium salt can help speed the healing of injuries while reducing the risk of infection. It can help relax the fish (kind of like we might take an Epsom salt bath), and it's pretty effective against a lot of bacteria, fungi, and parasites."
And slowly but surely...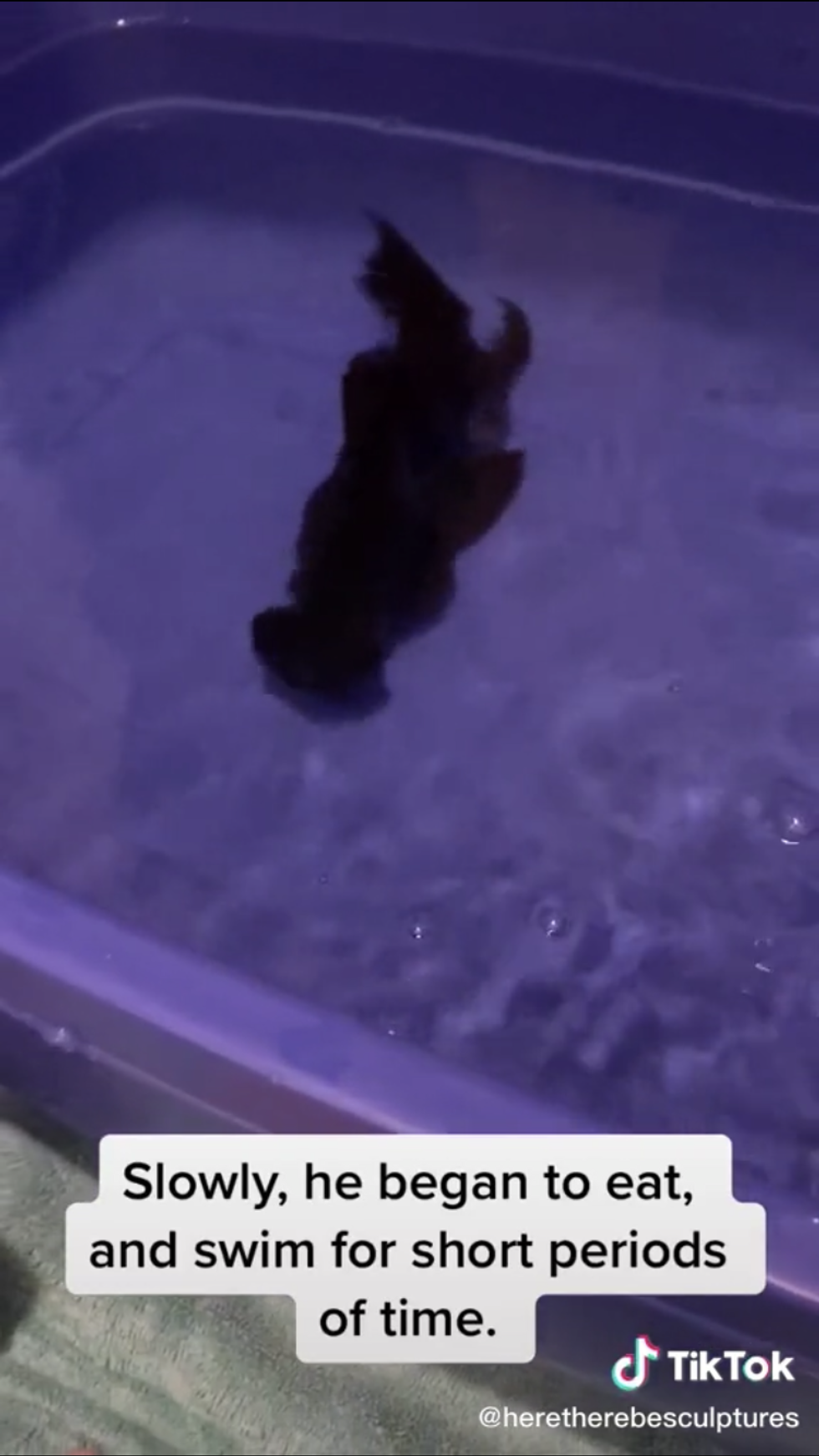 The fish began to start swimming again and eating at regular intervals. "As for the water changes, I don't think people realize just how much good clean water can help a fish."
Lacey christened her new pet as Monstro...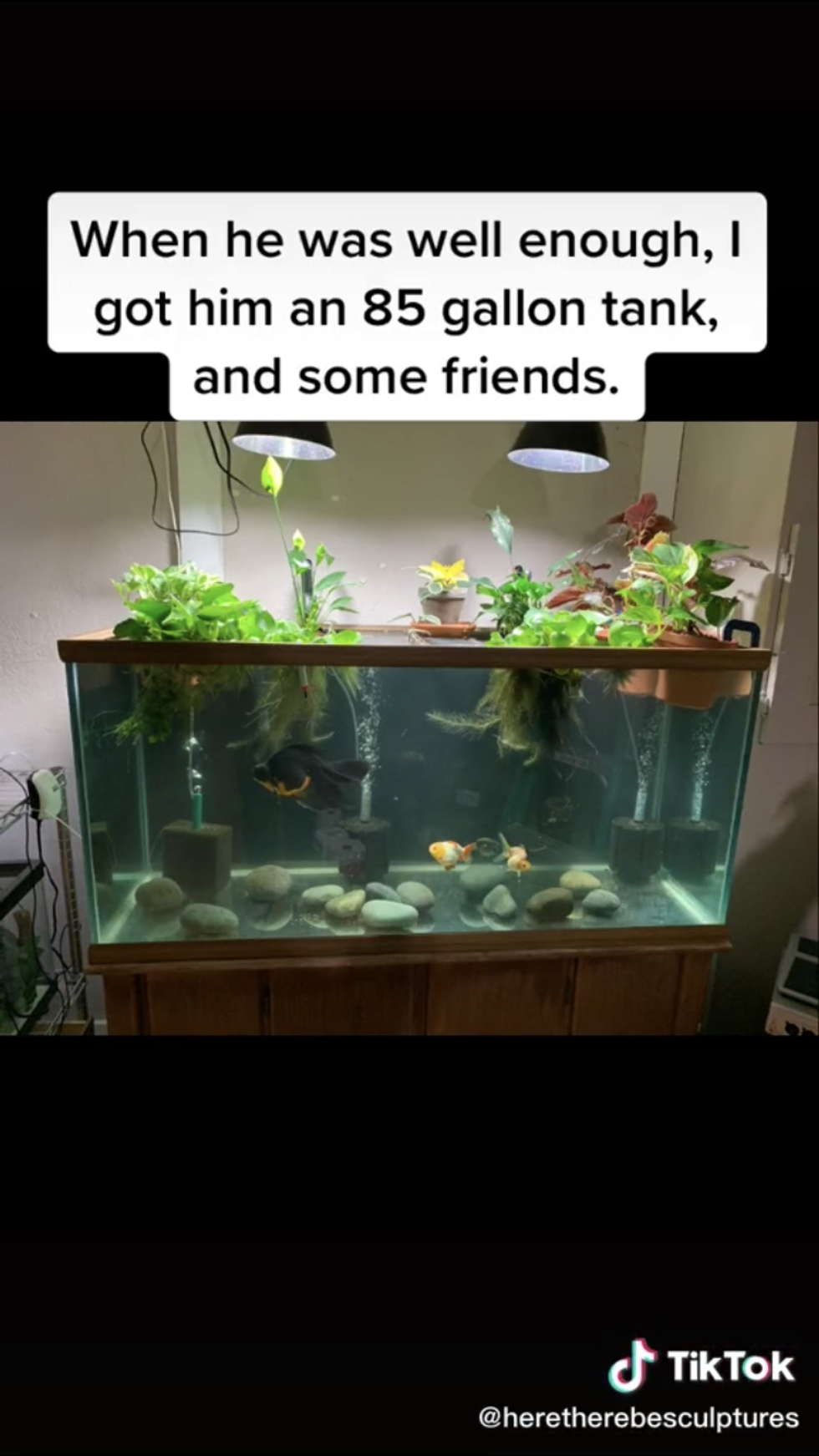 And when Monstro was ready, she introduced him to some new friends in her eighty-five-gallon fish tank.
And then...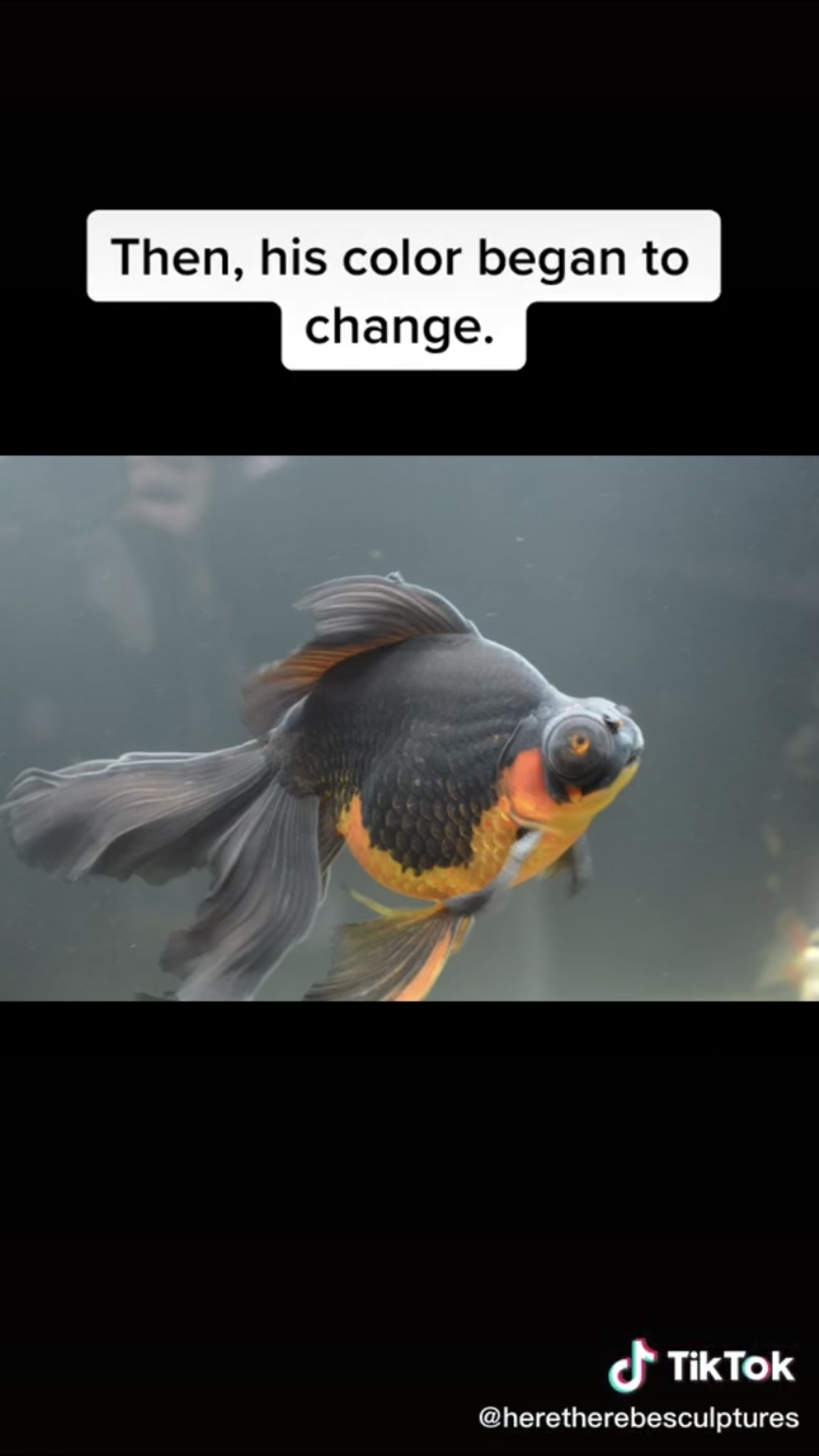 Monstro's scales began to change color, with the black scales turning into their usual golden-orange. After finding out that Monstro is a Black Moor goldfish, Lacey said, "It's not uncommon for them or any fish to change color over their lifetimes. A lot is tied to age, environment, diet, light, water quality, stress, and health. So, just because you have a black fish doesn't mean that it's unhealthy or sad. The other thing is that I know that Monstro needs a larger tank long term."
Monstro grew bigger and bigger...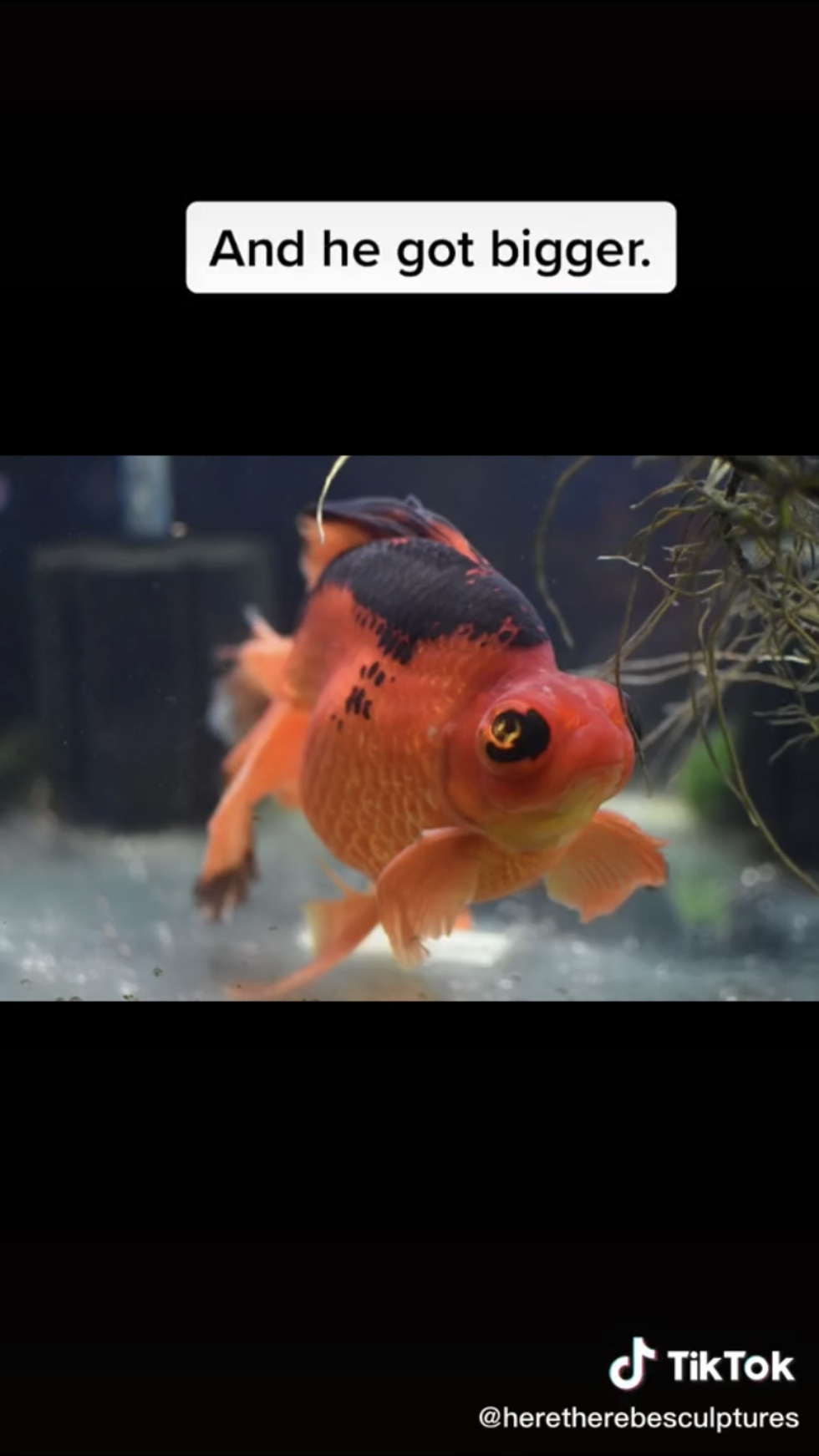 And he soon started to resemble a normal, healthy, and
happy
goldfish.
Because of his age, Lacey doesn't quite know how long Monstro has left...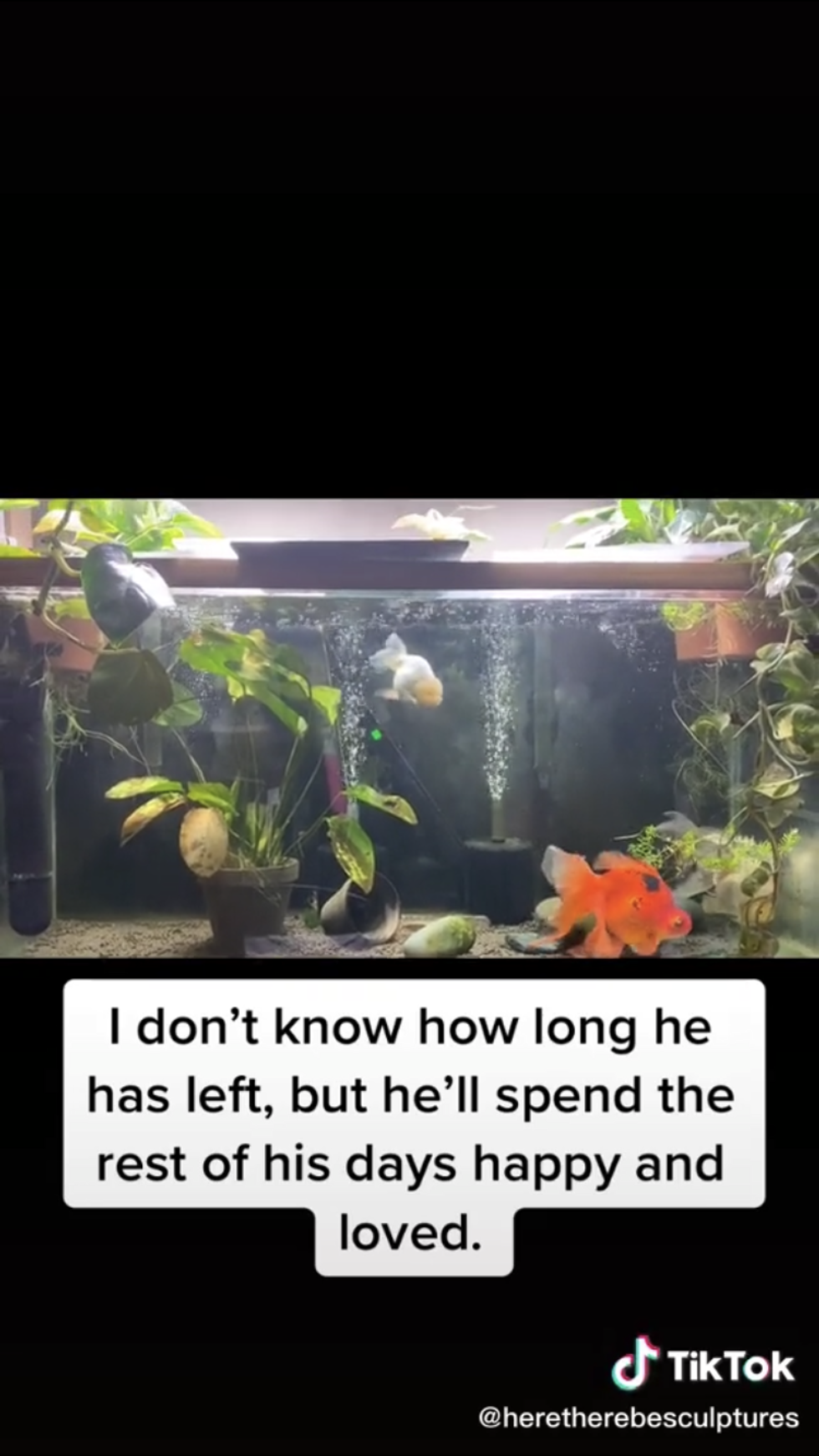 But she's happy knowing the rest of his life will be lived in a caring and loving home. "I honestly didn't think he was going to make it, but I couldn't stand the thought of such an old fish wasting away the last of his days alone in a store. I thought at least I can give him a home and make him comfortable in his last days, so of course, I was over the moon when he started improving," Lacey explained.
Since resharing her story, Lacey's video went viral with more than 5.9 million views on TikTok...
@mikewalker300 Good man, it's a shame the aquarium place hasn't bothered to help. Unless I misunderstood something… https://t.co/AuCMSxMaAv

— 𝘚𝘵𝘦𝘷𝘦𝘯 𝘉𝘦𝘭𝘭 𝙵𝚛𝚎𝚎𝚕𝚊𝚗𝚌𝚎𝚛 (@𝘚𝘵𝘦𝘷𝘦𝘯 𝘉𝘦𝘭𝘭 𝙵𝚛𝚎𝚎𝚕𝚊𝚗𝚌𝚎𝚛)1595076602.0
And it's safe to say that people were truly touched by her act of kindness for Monstro.
Monstro's story has spread a lot of happiness...
@mikewalker300 @tweakerbicth666 This made my heart happy! I'm going to make this the last thing I see on social med… https://t.co/Dms4FupFXt

— 🎄Joeyking ❄️ (@🎄Joeyking ❄️)1595043414.0
And it just goes to show how a little bit of TLC can go such a long way.
And according to Lacey, Monstro is now doing better than ever!
"On the one hand, he's like a goofy oversized puppy. He'll come to the glass and beg for attention, especially when he wants to be fed (which is always)," Lacey said. "He reminds me of a bumper car, he gets going and then can't stop, so he just bounces off things and plows through the other fish, or he'll try turning around and somehow end up doing a backflip. It's pretty comical to watch."
All animals deserve a healthy and loving life...
And Monstro is the perfect example of this. Keep on reading to learn about the man who went for a walk with his cat and came home with an abandoned kitten...