Earlier this week, actor Anthony Rapp revealed that Kevin Spacey climbed on top of him and propositioned him for sex when he was only 14 years old. Spacey was 26 at the time. Rapp told BuzzFeed News that he felt empowered by the many women who have been sharing their stories of abuse within Hollywood over the past few weeks. Now, several people who worked on the Netflix show House of Cards have come forward with their own stories of Spacey's sexual misconduct.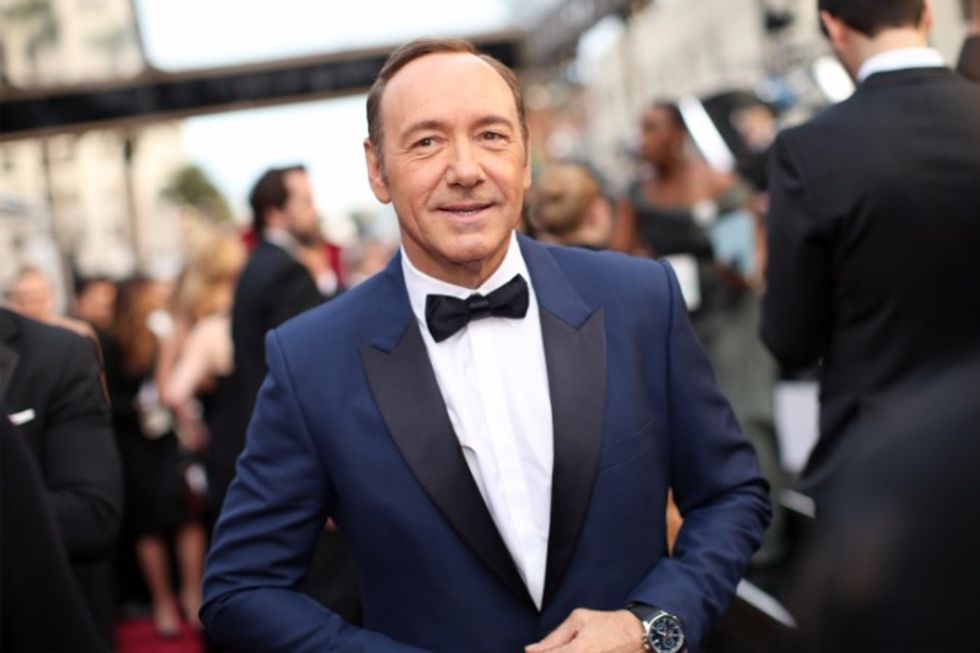 The incident with Anthony Rapp happened back in 1986. On Monday, Spacey issued a deflective and problematic statement, saying that he did not remember the encounter as it happened "over 30 years ago." But this wasn't a one-time thing for Spacey. Seth MacFarlane made a joke hinting at Spacey's behavior in 2005 — nearly 20 years after the incident with Rapp. It still doesn't stop there. Unfortunately, Spacey's misconduct has continued well into present-day projects.

Several people who worked on the Netflix show House of Cards have come forward and accused Spacey of sexual harassment and assault.
Last night, CNN published the accounts of eight House of Cards former and current crewmembers. The details are deeply unsettling. Spacey stars as Frank Underwood in the show. He's also listed as an executive producer. Production of the show was shut down this week, and Netflix announced that the series would be canceled after the current season. All eight people who spoke to CNN about Spacey called his behavior "predatory." According to one woman who was formerly a production assistant on the show, Spacey would often get into "play fights" with men in order to touch them. She also witnessed him approach multiple people to "say hello, greet them, shake their hand and pull their hand down to his crotch and touch their crotch." She also said, "It was very known that Kevin was inappropriate, and males I worked with complained to me about how they felt uncomfortable."

He says that on one occasion while he was in a car Spacey was driving, the actor put his hands down the production assistant's pants. When the two arrived on set, the production assistant says that Spacey cornered him in a trailer, blocked his exit, and made inappropriate contact with him. "I told him, 'I don't think I'm OK with this, I don't think I'm comfortable with this,'" the production assistant said. Spacey then appeared to get "visibly flustered" and left the set for the remainder of the day. "I was in a state of shock," the production assistant told CNN. "He was a man in a very powerful position on the show and I was someone very low on the totem pole and on the food chain there."

The supervisor's "solution" was to keep the production assistant from being alone with Spacey on set. "I have no doubt that this type of predatory behavior was routine for him and that my experience was one of many," the production assistant said. "Kevin had few if any qualms about exploiting his status and position. It was a toxic environment for young men who had to interact with him at all in the crew, cast, background actors."

On Thursday, his publicist announced that she and Creative Artists Agency would be parting ways with the actor. British police are now currently investigating another actor's claims that he woke up to find Kevin Spacey performing a nonconsensual sex act on him. It looks as though Spacey's own house of cards is beginning to crumble.