If you don't follow Elon Musk on Twitter, you're going to want to after his latest hilarious tweet.
The billionaire mogul screen-grabbed a headline from a website that said he'd bought and deleted Fortnite, the Battle Royale online phenomenon that's taking over the lives of teenagers all over the world.
But was there truth to it?
Elon Musk hilariously tweeted:
Had to been done ur welcome https://t.co/7jT0f9lqIS

— Elon Musk (@Elon Musk)1539982917.0
The tweet has already been retweeted more than 225,000 times.
The quote at the top of the news article broke the internet.
Naturally, everyone completely loved it.
@elonmusk Please do. Fortnite's popularity makes as much sense as pineapple on pizza.

— Wanderer of Time (@Wanderer of Time)1540012075.0
One fan claimed the popular computer game makes as much sense as pineapple on pizza.
One tweeter made an appeal to Musk...
@elonmusk Delete all Battle Royale games, please, thanks.

— Knop (@Knop)1540025313.0
So it would seem other Battle Royale games such as PUBG and H1Z1 may not be safe from Musk's wrath either.
Or Call of Duty for that matter...
@daan_playz @Kn0p3XX @gwndylan2301 @elonmusk Nah just delete the whole call of duty franchise.

— ori (@ori)1540033330.0
It would seem however popular these games are, there are also many people who are sick of them.
The comments were a goldmine...
@elonmusk https://t.co/h0D57f5Spl

— sodaLPR (@sodaLPR)1540022724.0
One fan shared a meme from the time Musk smoked weed on the Joe Rogan podcast.
The fun didn't stop there...
Musk will have had a great time trawling through the many replies!
Fortnite had a response!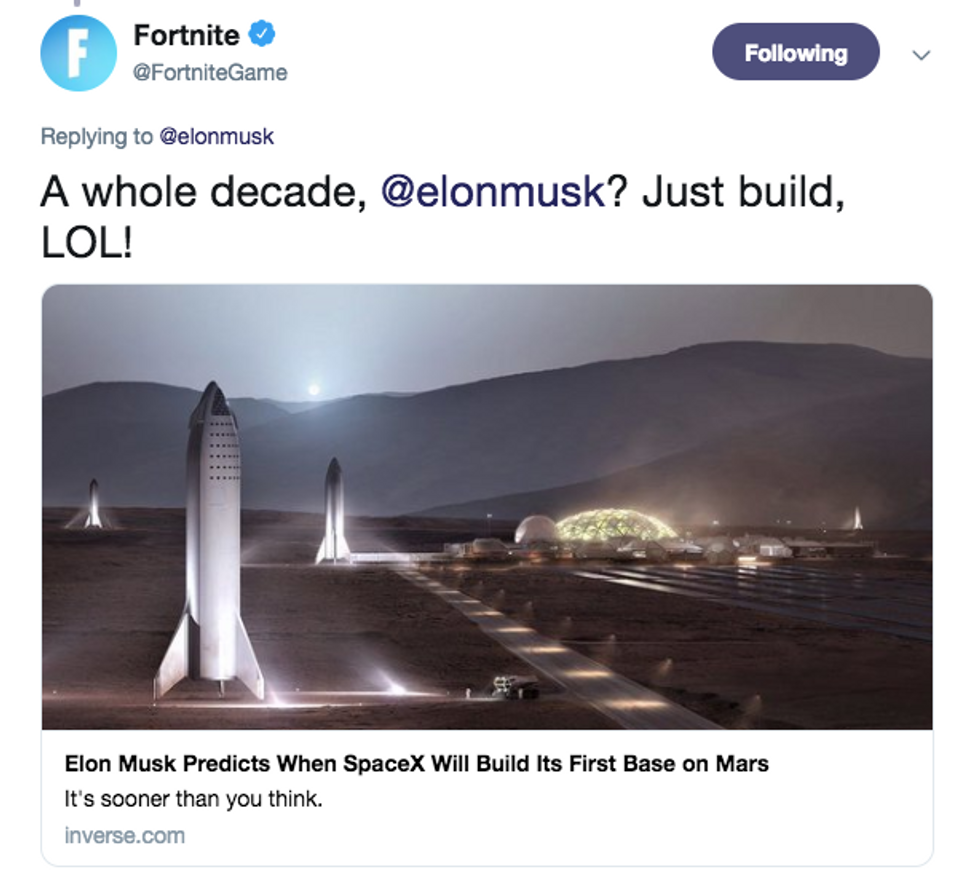 The free-to-play game's social media team trolled the billionaire back to give him a taste of his own medicine... But they then hastily deleted the tweet.
Let's remind ourselves of why Elon Musk is the best person on Twitter!
On my cousin's farm in Canada at 17, wearing a hat on a hat https://t.co/U96ClGz5gZ

— Elon Musk (@Elon Musk)1494643269.0
How about that for a throwback picture!
This. Actually. Came. True.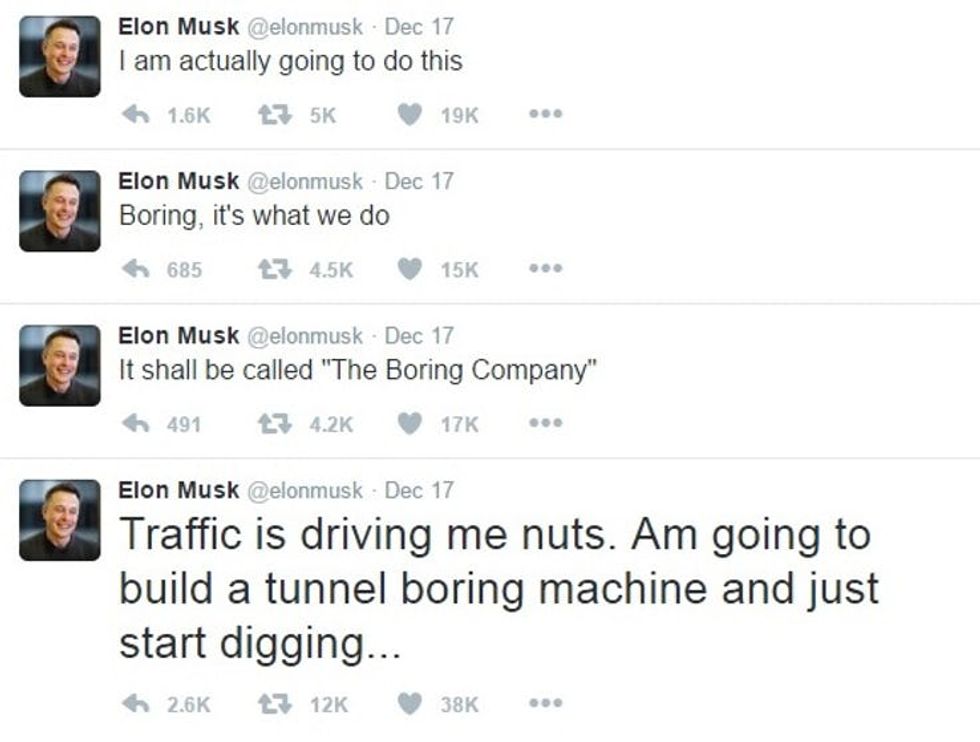 Yep. Musk casually tweeted about his hatred for traffic, like us normal folk. But he's begun work on underground tunnels that could revolutionize travel.
He's not bad at puns either!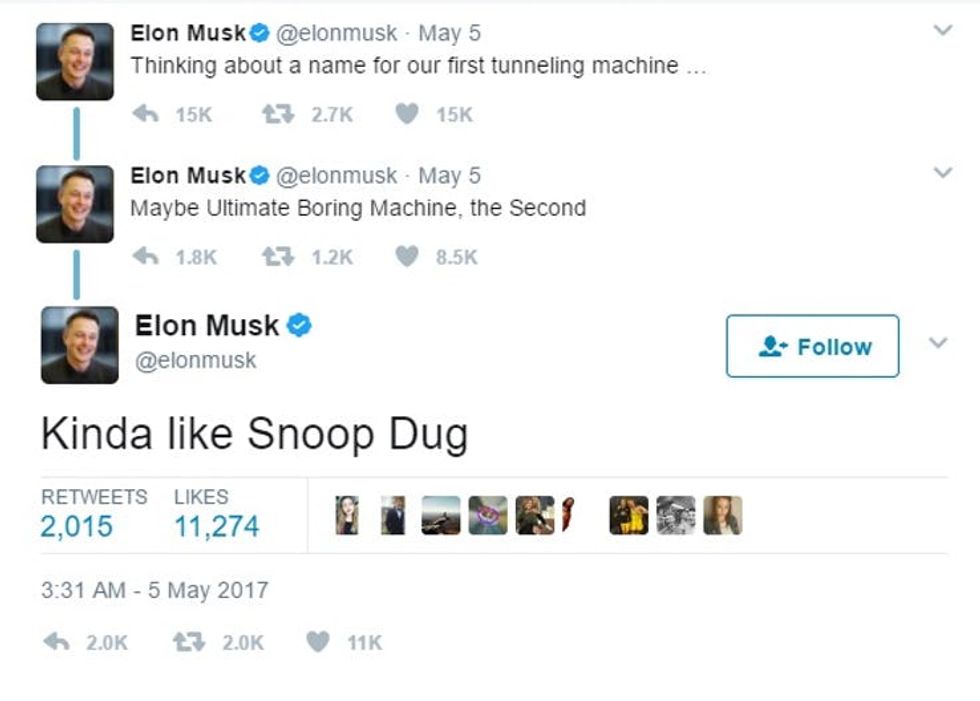 Kinda wish he'd chosen Snoop Dug as the company name...
It's sometimes hard to tell if he's being serious or not...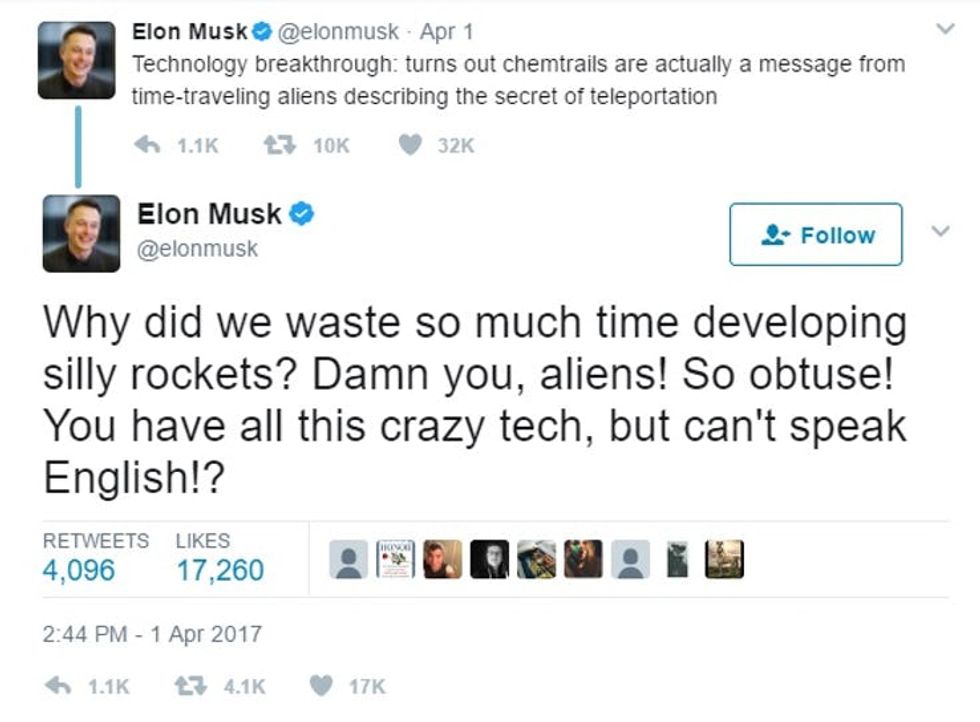 He sometimes sound crazy, but always makes sense, even when he's joking around.
The time he got sued by Ford...
Model 3 was going to be called Model E, for obvious dumb humor reasons, but Ford sued to block it, so now it is S3X. Totally different :)

— Elon Musk (@Elon Musk)1490365611.0
You know you've got too much money when you can joke around about something so serious on social media.
You've got to love the brutal honesty.

How can you possibly hate yourself, Elon?!
Oh, and he's the king of dad jokes too.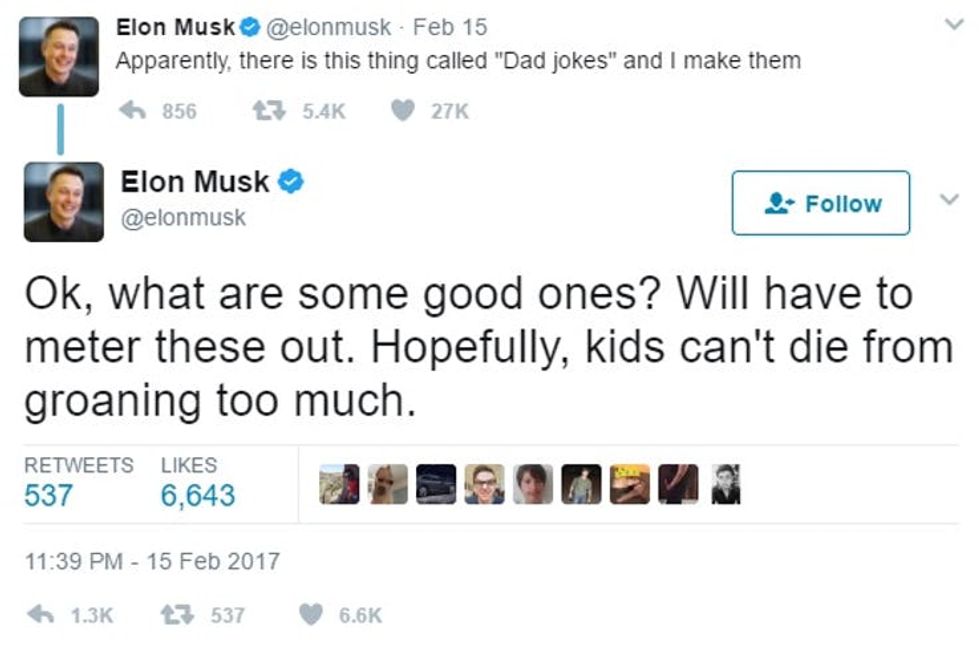 You've got to love a good dad joke!
Oh the irony...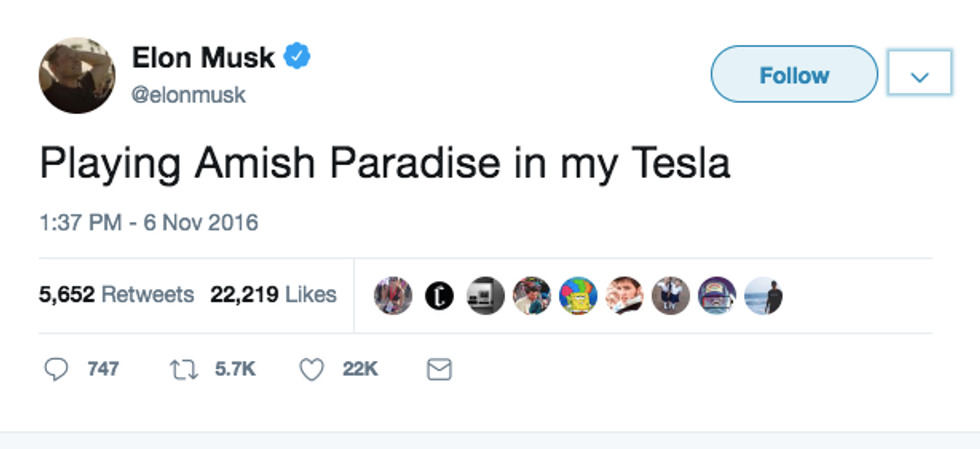 The super expensive Tesla is the least Amish thing you could possibly think of.
He's so random...
Gigafactory in units of hamster https://t.co/9BAchcBX73

— Elon Musk (@Elon Musk)1469853664.0
He took the time to work out his new lithium-ion battery factory has the power equivalent of 50 billion hamsters. Yep.
We shouldn't have to explain this one...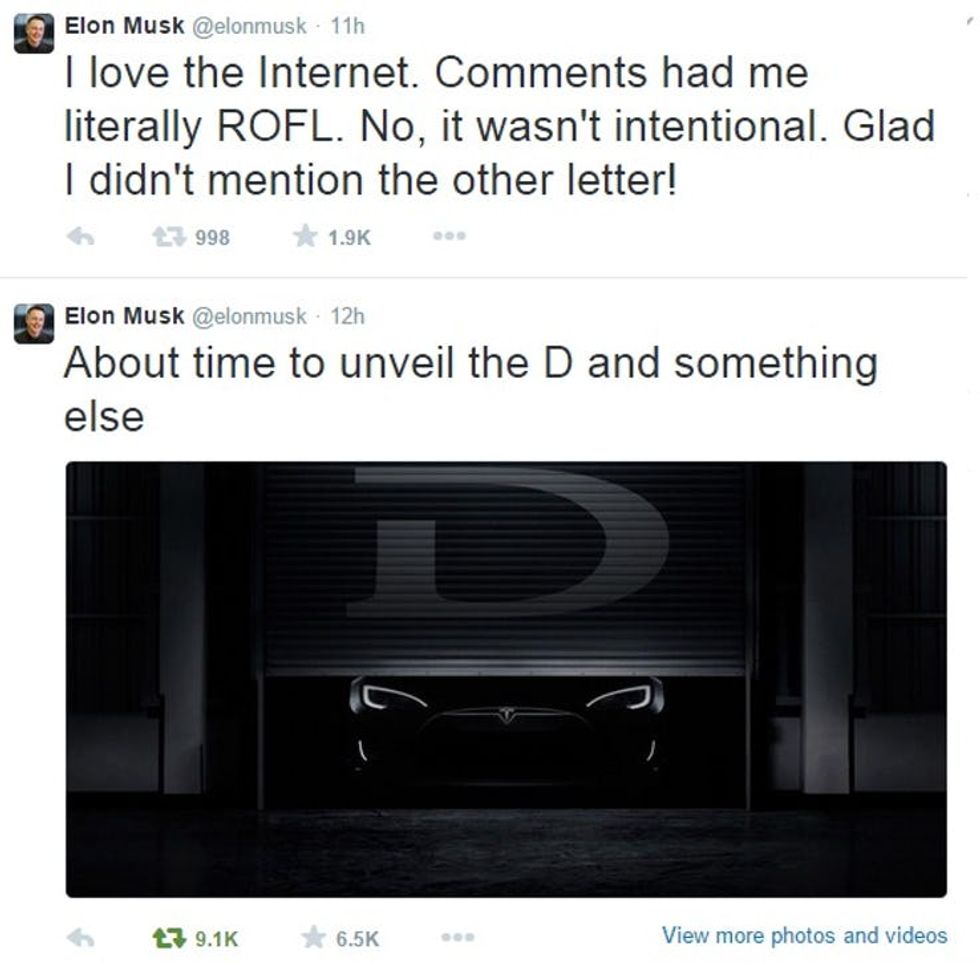 Apparently the joke was completely accidental. Yeah right!
That time he confessed to being an alien.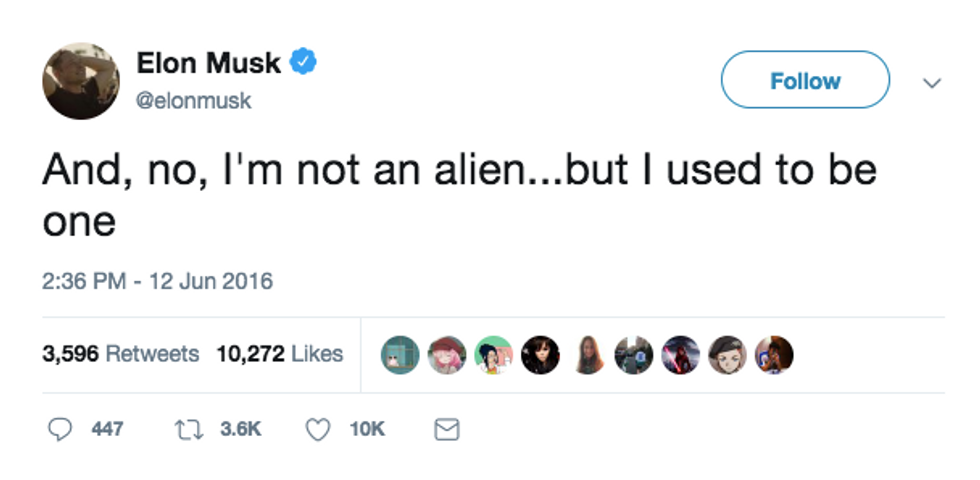 It would explain a lot!
The confession...
Something about a flying metal suit... https://t.co/6Z1D9iZ1fV

— Elon Musk (@Elon Musk)1465437146.0
He's the real life Tony Stark, it's official.
Oh, he sells flamethrowers too.
When the zombie apocalypse happens, you'll be glad you bought a flamethrower. Works against hordes of the undead or your money back!

— Elon Musk (@Elon Musk)1517106925.0
Yep, The Boring Company genuinely sell flamethrowers!
Of course that sparked rumours...
The rumor that I'm secretly creating a zombie apocalypse to generate demand for flamethrowers is completely false

— Elon Musk (@Elon Musk)1517119420.0
Please never change, Elon!