Ah, celebrities. It seems that, amongst the glitz and the glamour, there's always some kind of drama, scandal, or feud going on with them. And this is certainly the case for Marshall Mathers aka rapping sensation, Eminem.
The American rapper from Missouri is one of the best-selling musicians of the 21st century - bagging multiple grammy awards and VMA's for his albums, including the iconic The Slim Shady and The Marshall Mathers.
But, anyone who got on the wrong side of the rapper will definitely know about it, as he's renowned for spitting bars about people that he isn't too keen on, and he can be downright savage with it.
From Will Smith to Miley Cyrus, we countdown the fifteen feuds that prove that slim shady really is the most savage rapper ever.
15. Slim Shady vs Royce Da 5'9.
In the late '90s, Eminem and Royce Da 5'9 were inseparable and formed the rap duo, Bad Meets Evil - they recorded several singles together. When Royce wrote a verse for Eminem that seemed to diss the artist (which he claims wasn't ever meant in that way), Eminem was massively insulted and it sparked a feud that went on for 2 years, including multiple diss tracks between the 2 that followed.
But, don't worry, the pair eventually made up.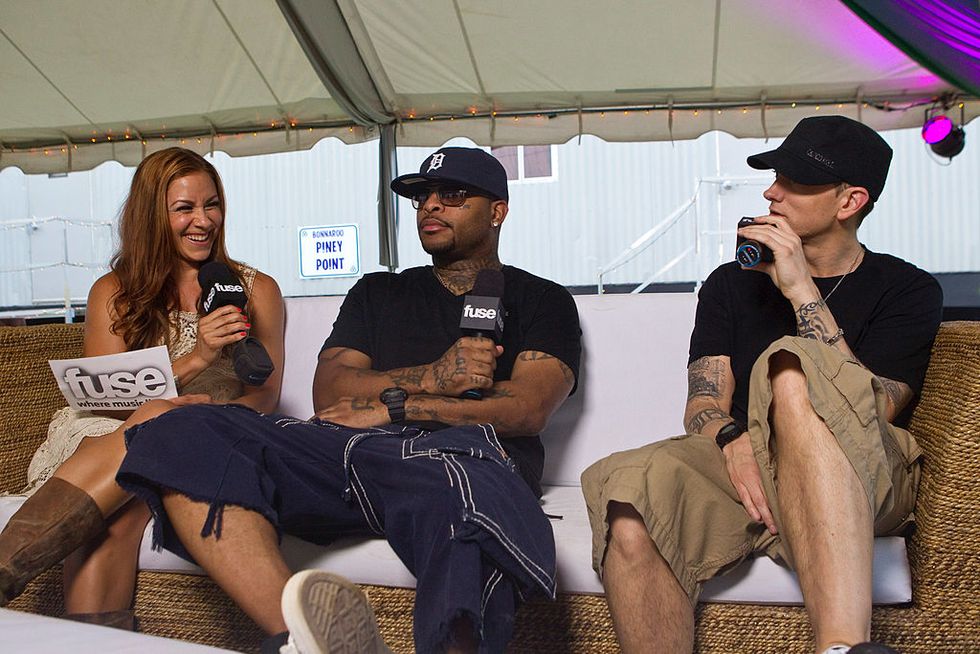 The pair set their differences aside and
even
went on to return to their original form, Bad Meets Evil, and, in 2011, released their EP,
Hell: The Sequel.
The duo have also gone on to collaborate on several tracks for each other's albums, including "Not Alike" from
Kamikaze
.
14. Eminem vs Iggy Azalea.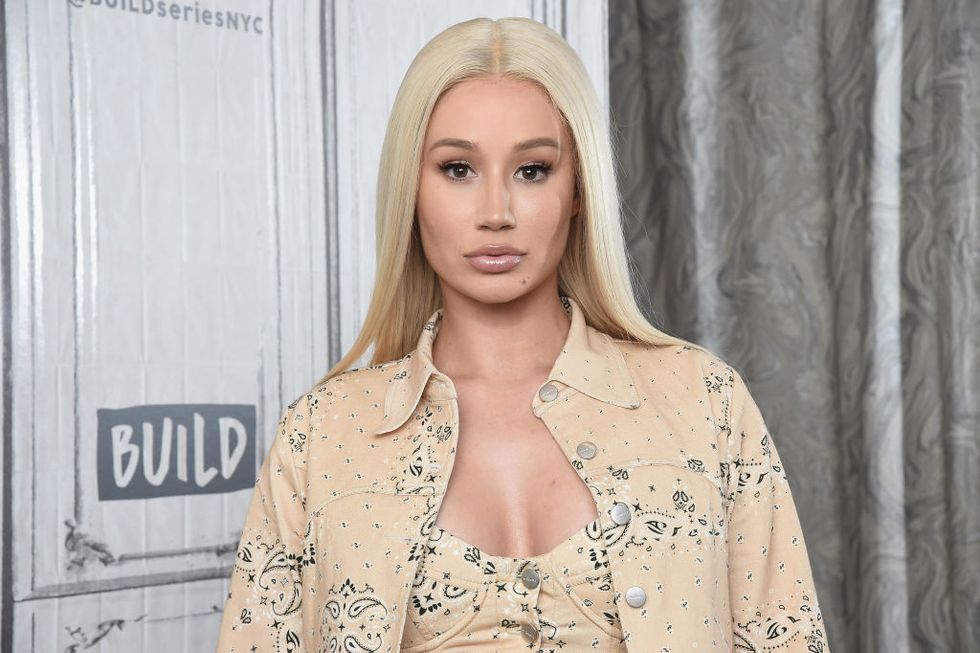 Iggy Azalea is a controversial character when it comes to the rap world - she hasn't exactly enjoyed a glowing music career. In true slim shady style, Eminem made his opinion on her clear in the track "Vegas": "So what's it gon' be? Put that sh*t away Iggy You gon' blow that r*pe whistle on me."
Iggy then took to Twitter to fire back at the rapper.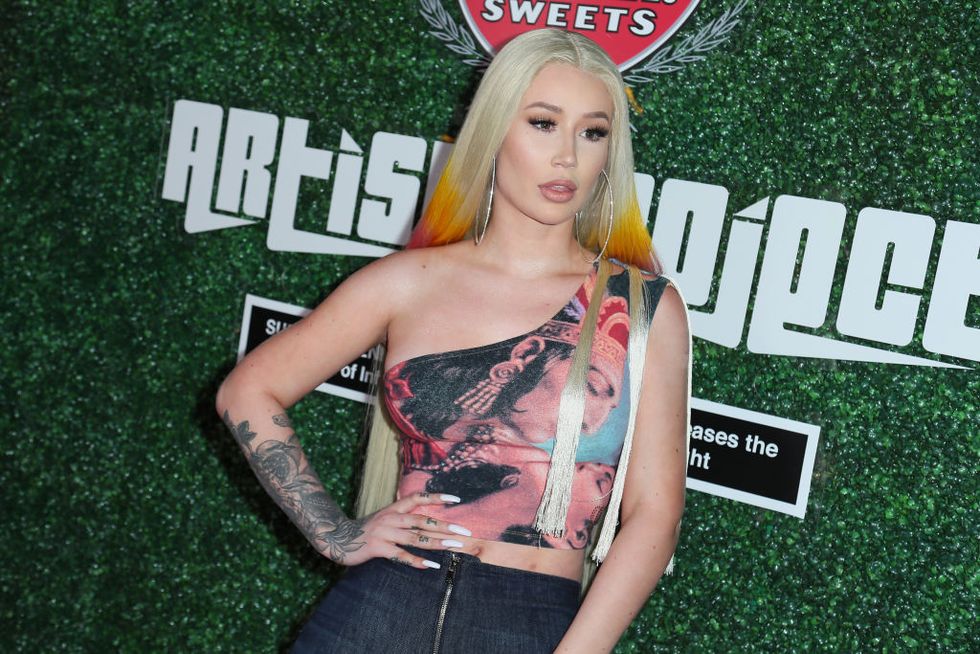 The star responded by
saying
that she's "bored of the old men threatening young women." Ouch.
13. Eminem vs Miley Cyrus.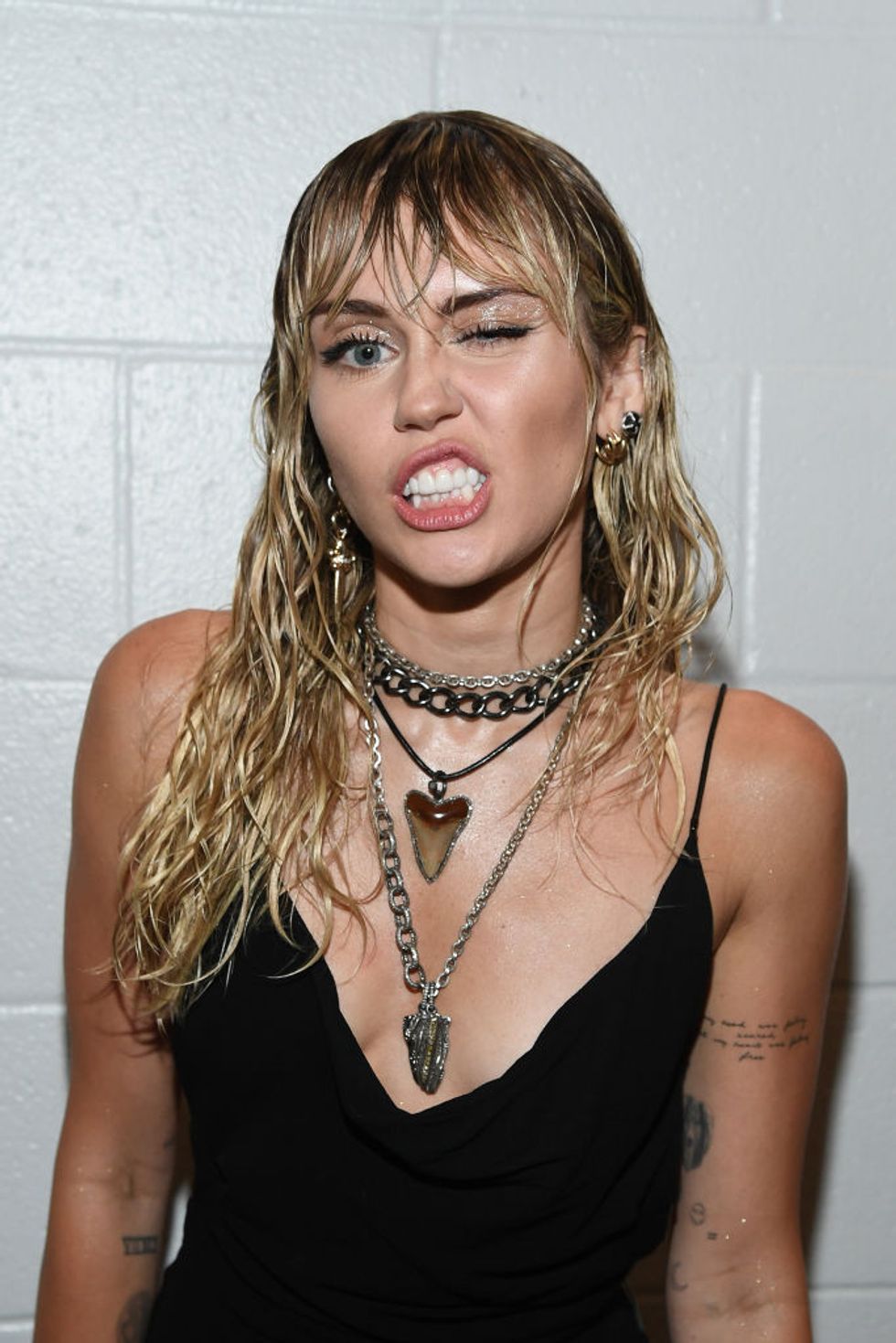 On the 2009 track, "Underground/Ken Kaniff," Eminem raps, "Hannah Montana, prepare to elope with a can opener and be cut open like cantaloupe on canopy beds." That's
pretty
brutal.
But the then-seventeen-year-old actress didn't seem phased.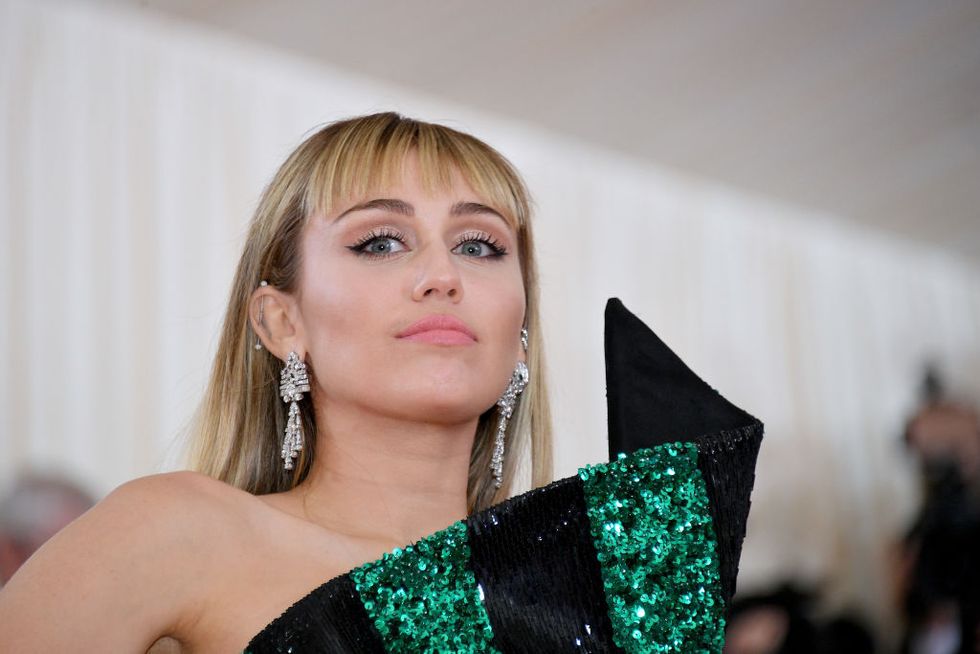 She's even a fan of the rapper, tweeting that he's a "legend."
12. Eminem vs George W. Bush.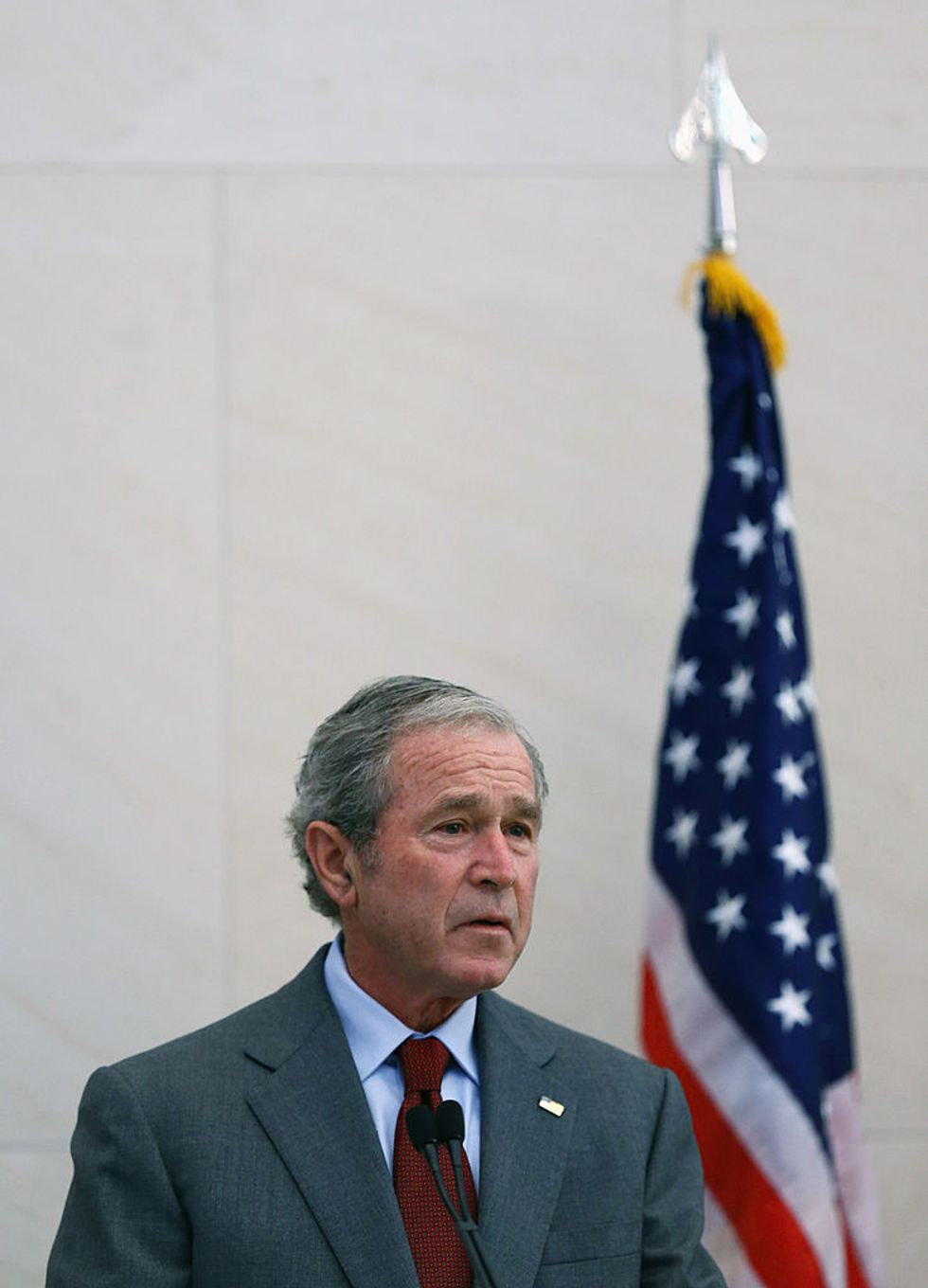 Slim shady certainly
isn't
afraid to get political. So much so that he alluded to killing former president, George Bush, in one of his songs. In the uncensored version of the star's song "We As Americans," which was leaked in 2003, lyrics like, "I don't rap for dead presidents, I'd rather see the president dead," were featured.
The Secret Service even got involved.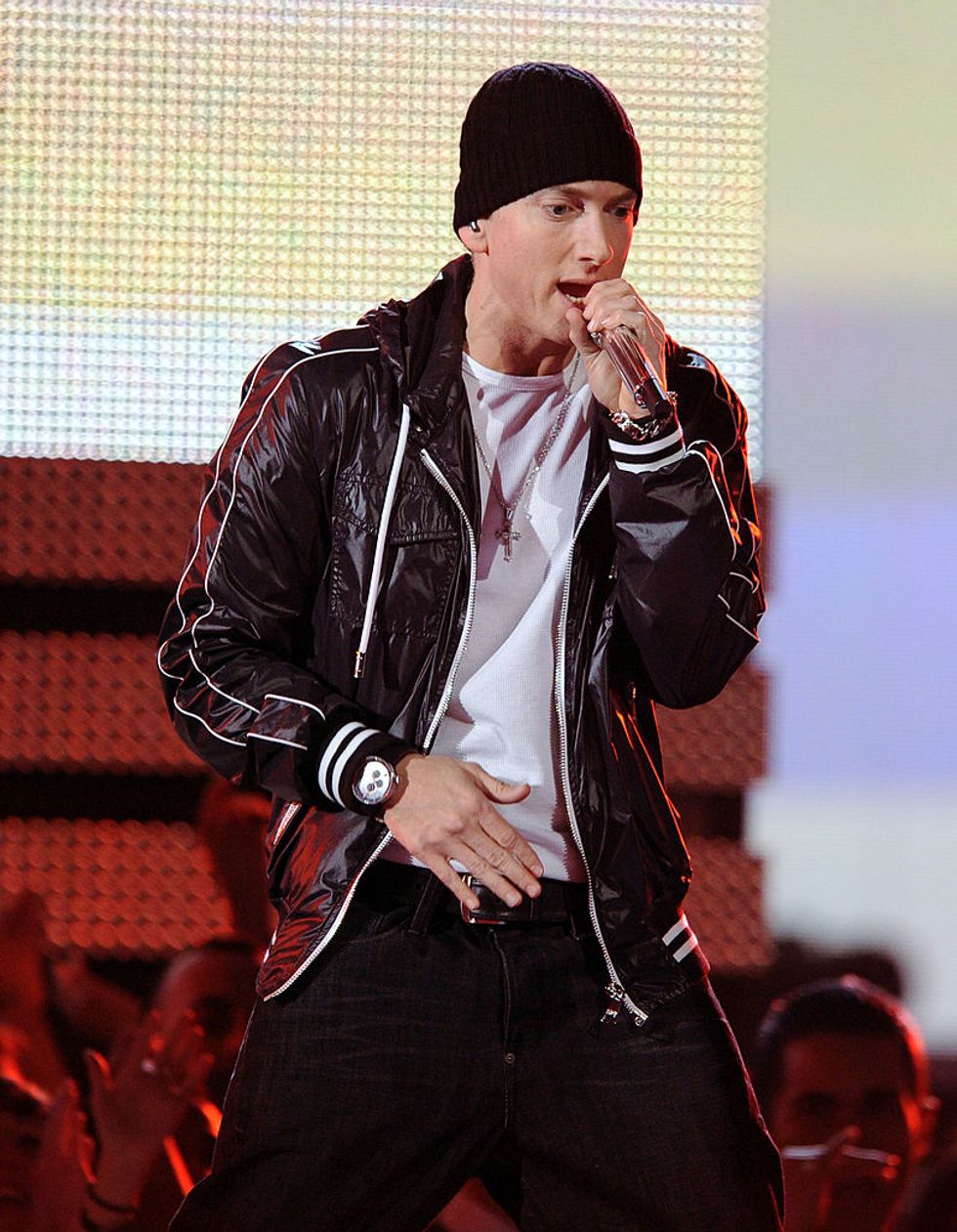 His threatening lyrics landed the rapper in some quite serious trouble, with the Secret Service saying that they were viewing the song as a threat. However, in the end, no charges were ever brought against the rapper.
11. Eminem vs Pamela Anderson.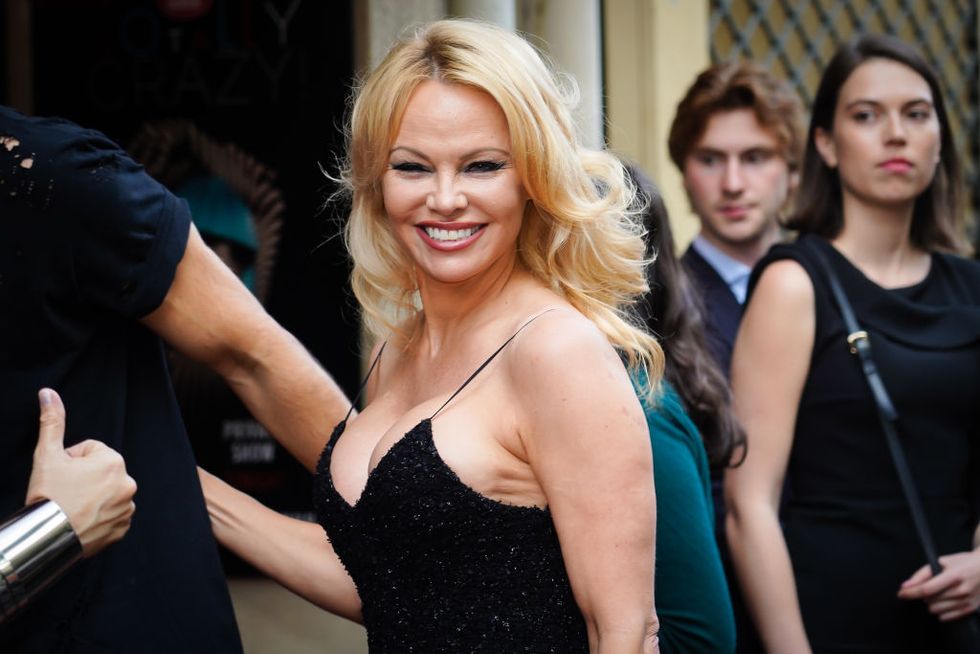 Okay, so this feud isn't exactly
personal
, but the rapper rapped some pretty brutal lines about the model and
Bay Watch
actress in his famed track, "My Name Is" from his 1999 album,
The Slim Shady.
"Got p*ssed off and ripped Pamela Lee's t*ts off And smacked her so hard I knocked her clothes backwards like Kris Kross."
But, this isn't the only time that he's come for the model.
On "The Real Slim Shady," he alludes to her domestic abuse charges against ex-husband, rockstar, Tommy Lee, too. "Jaws all on the floor like Pam and Tommy just burst in the door And started whooping her a*s worse than before They first were divorced, throwing her over furniture (Ah!)" In 1998, Lee was sentenced to 6 months in Los Angeles County Jail for assaulting Anderson.
10. Eminem vs Michael Jackson.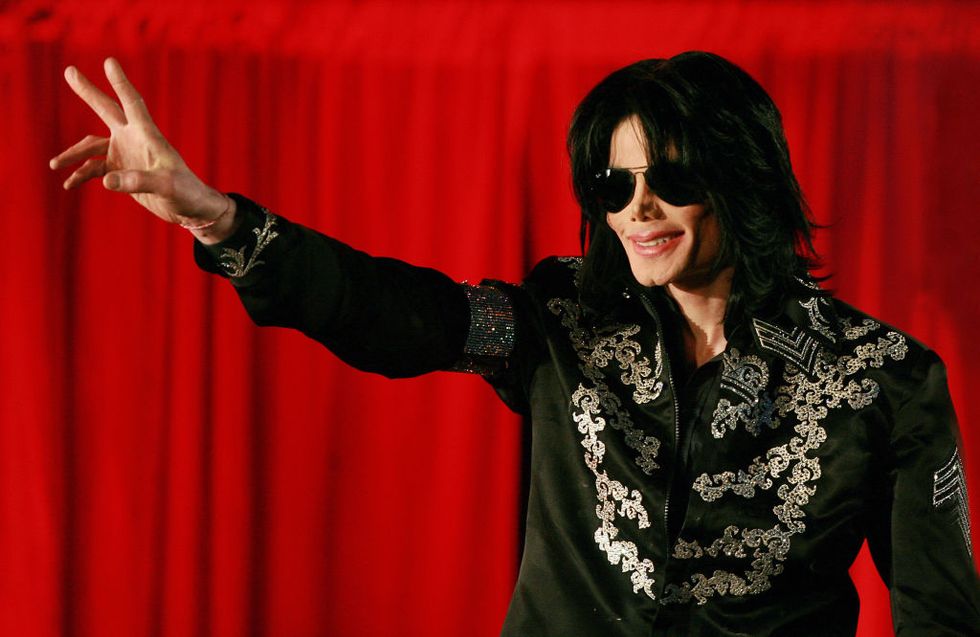 The feud between the rapper and late-singing legend, Michael Jackson, began in 2004 when Eminem released "Just Lose It." The music video alludes to Jackson's alleged sexual behavior with young boys, including the lyrics: "I done touched on everything, but little boys That's not a stab at Michael That's just a metaphor, I'm just psycho."
Jackson requested that television networks pull the video.
He also expressed his hurt towards the rapper and said that the video was "disrespectful." "I've never had a problem with Eminem... I've admired Eminem as an artist, and was shocked by this... The video was inappropriate and disrespectful to me, my children, my family and the community at large," he
said
at the time.
9. Eminem vs Donald Trump.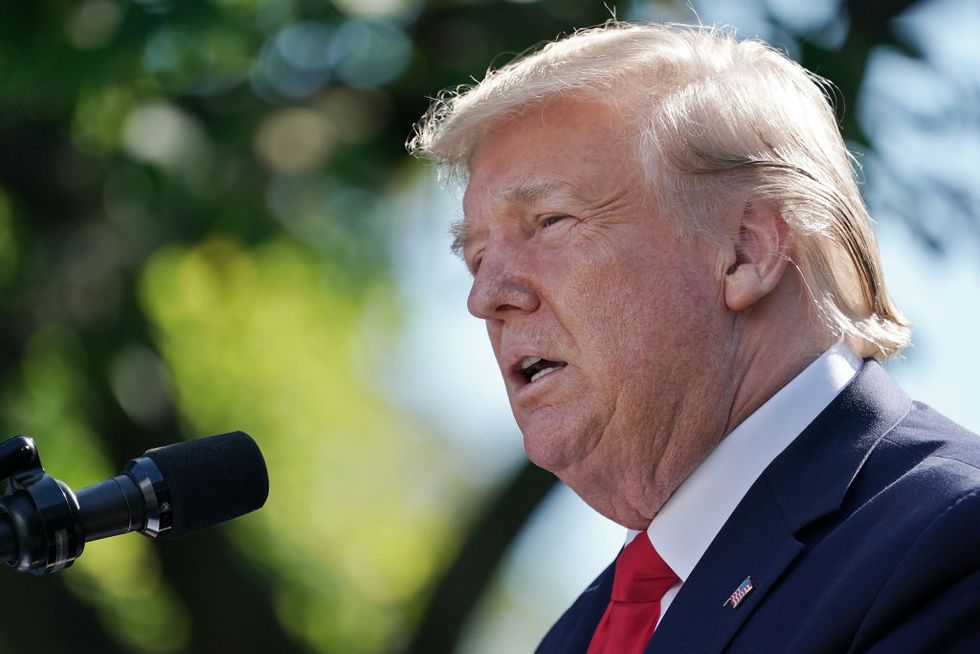 It's no secret that Donald Trump doesn't have a lot of fans, and Eminem
certainly
hasn't held back from expressing his views on the president. In October 2017, the rapper released a freestyle targeted at President Donald Trump, concluding with the lines: "And any fan of mine who's a supporter of his, I'm drawing in the sand a line. You're either for or against, and if you can't decide who you like more and you're split on who you should stand beside, I'll do it for it for you with this. F*ck you."
It didn't end there...
The track is full of other savage lines aimed at the president, including a line in which he calls Trump a "kamikaze that will probably cause a nuclear holocaust," and a lyric accusing him of giving "support for the Klansman."
8. Eminem vs Casey Anthony.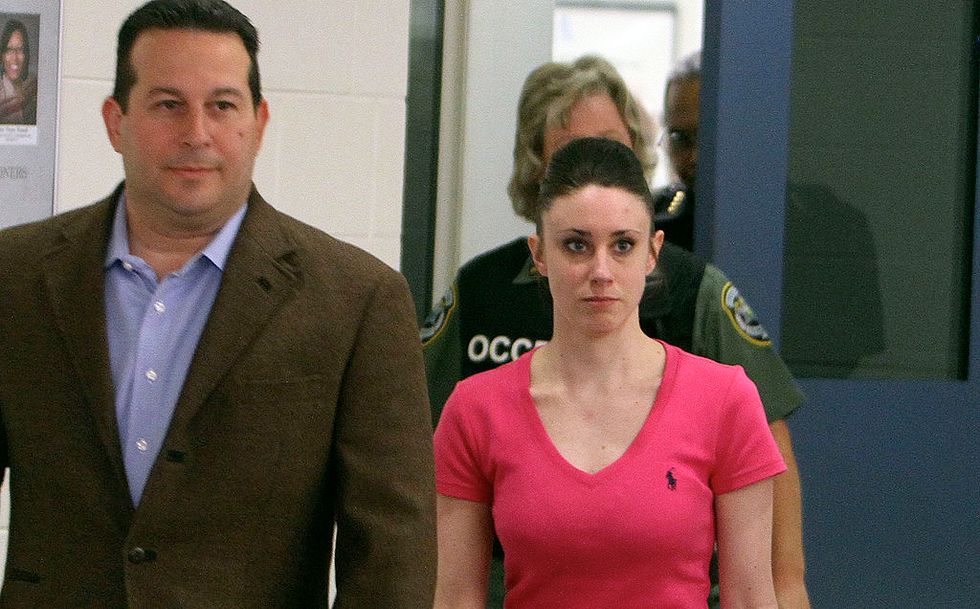 On December 11, 2008, two-year-old, Caylee Anthony's, skeletal remains were found inside a trash bag in a wooded area near her family home. Her mother, Casey Anthony, was accused of murdering her daughter but was acquitted of the charges.
But Eminem thinks that she's guilty.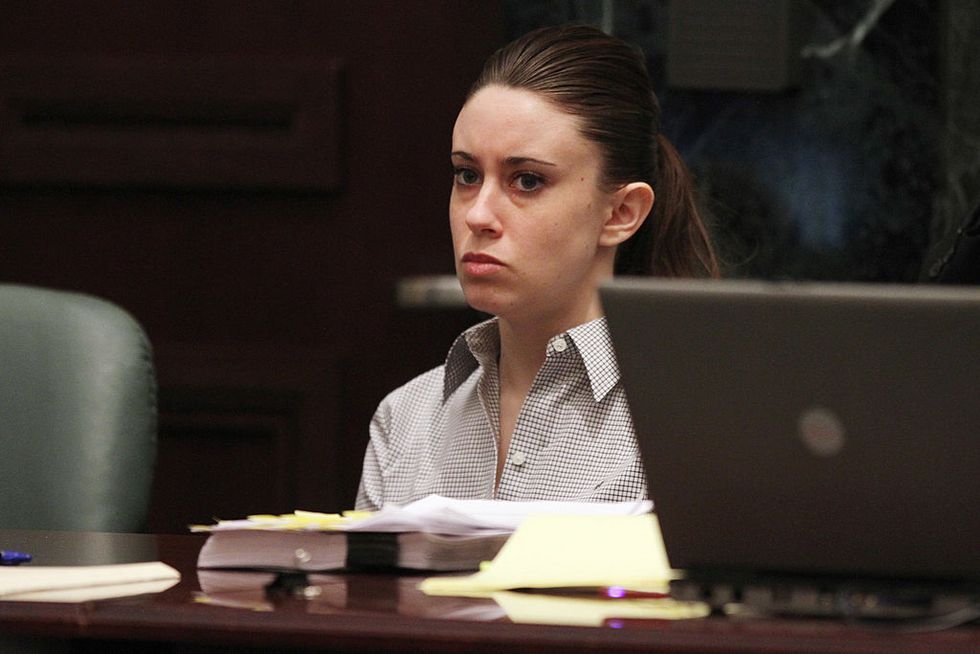 In his song, "Evil Twin," he raps: "Jose Baez couldn't beat this rap, OJ, no – hooray, I'm off the hook like Casey Anthony, hey ho."
7. Eminem vs Will Smith.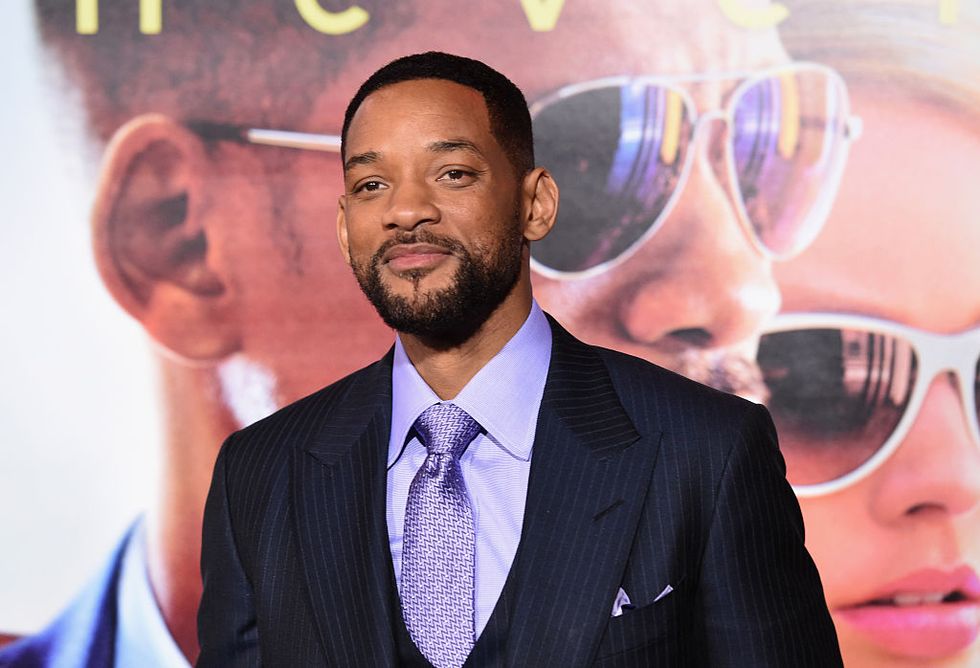 The problems between Eminem and actor, Will Smith, rose from a speech that the actor made at the 1998 Grammys, where he famously criticized the use of profanity in rap music. In a seeming response, Eminem added
these
lyrics to "The Real Slim Shady": "Will Smith don't gotta cuss in his raps to sell records Well I do, so f*ck him and f*ck you too!"
The rapper later explained that he felt personally attacked by Smith's comments.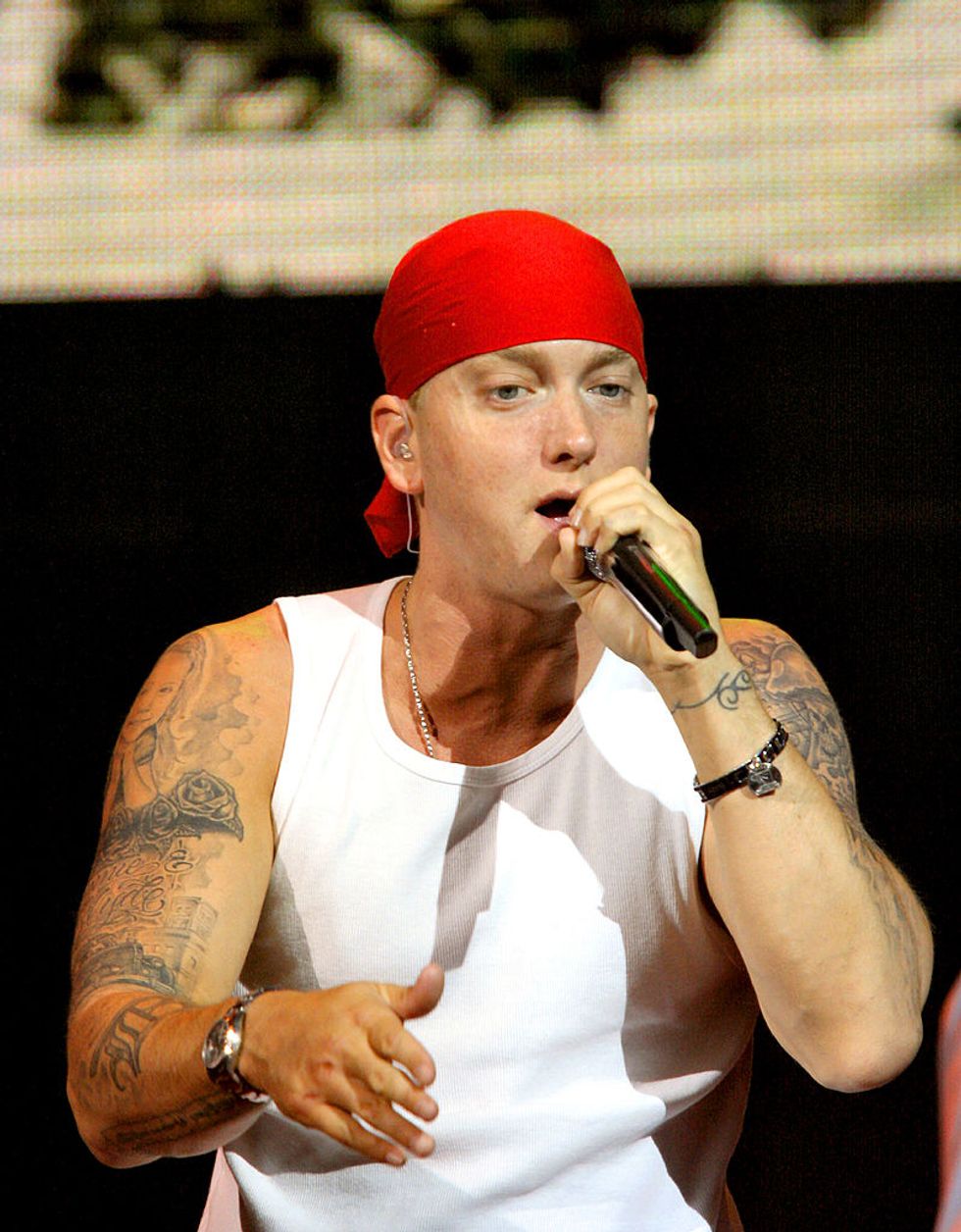 "I felt like he was taking a stab at me and [Dr.] Dre and anybody who uses profanity on the records to express themselves. If you feel strong enough about something, then you might put a little 'f*ck' before you say exactly what you're saying," he
said
.
6. Eminem vs Christina Aguilera.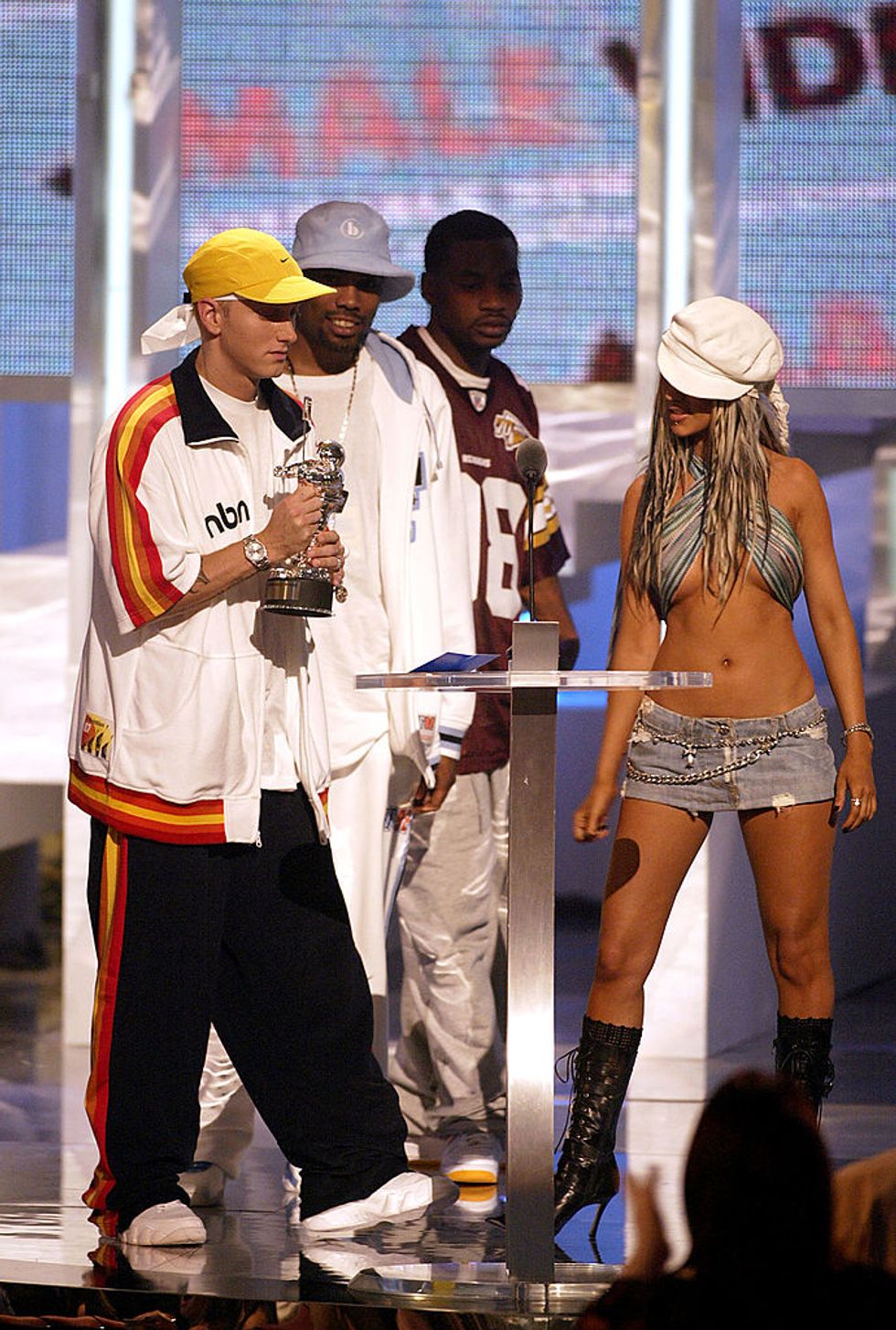 The beef between Eminem and singer, Christina Aguilera, started when Aguilera called him out for his violent lyrics targeted at his ex-wife, Kim, in which he alludes to killing her. Then, in 2000, Eminem released the notorious "The Real Slim Shady," in which he included a lyric about Christina Aguilera sexually servicing Fred Durst. Of course, Aguilera clapped back,
calling the line
"disgusting... offensive and, above all... not true."
But the feud was far from over...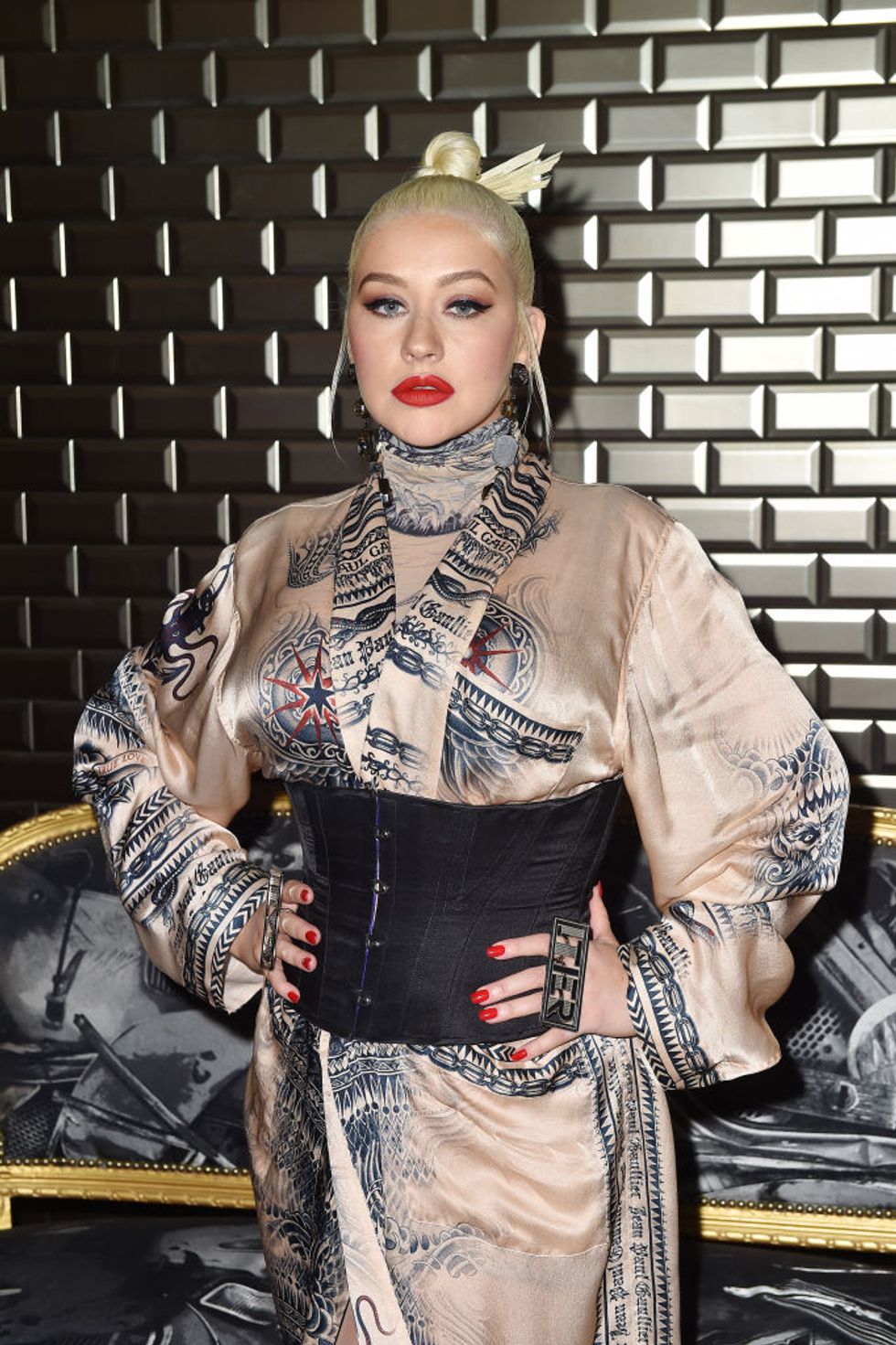 Aguilera released her own parody track in response to the rappers dig, entitled, "Will the Real Slim Shady Please Shut Up." But the saga continued when, last year, Eminem released a freestyle called "Kick Off" and once again alluded to Aguilera in a sexual nature. When asked about the lyrics on
What Happens Live with Andy Cohen, 
Aguilera said: "Get a new gig... have something else to talk about."
5. Eminem vs Benzino.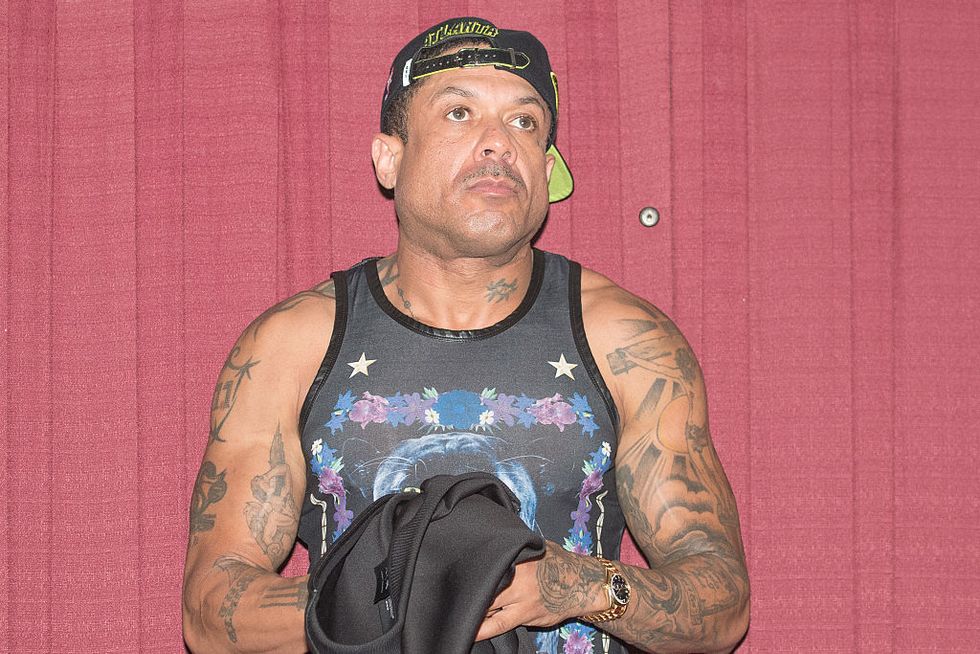 Raymond Scott, aka hip hop producer, Benzino, got on the wrong side of Eminem after,
The Source
, a magazine that he co-founded, gave the rapper's album,
The Marshall Mathers,
a 2 out of 5 rating. You're probably thinking "
So
? Albums get bad ratings all the time" and you would be right. In fact, at first, the review didn't even phase the rapper and in no way impacted the star's booming record sales.
But their feud escalated when this happened...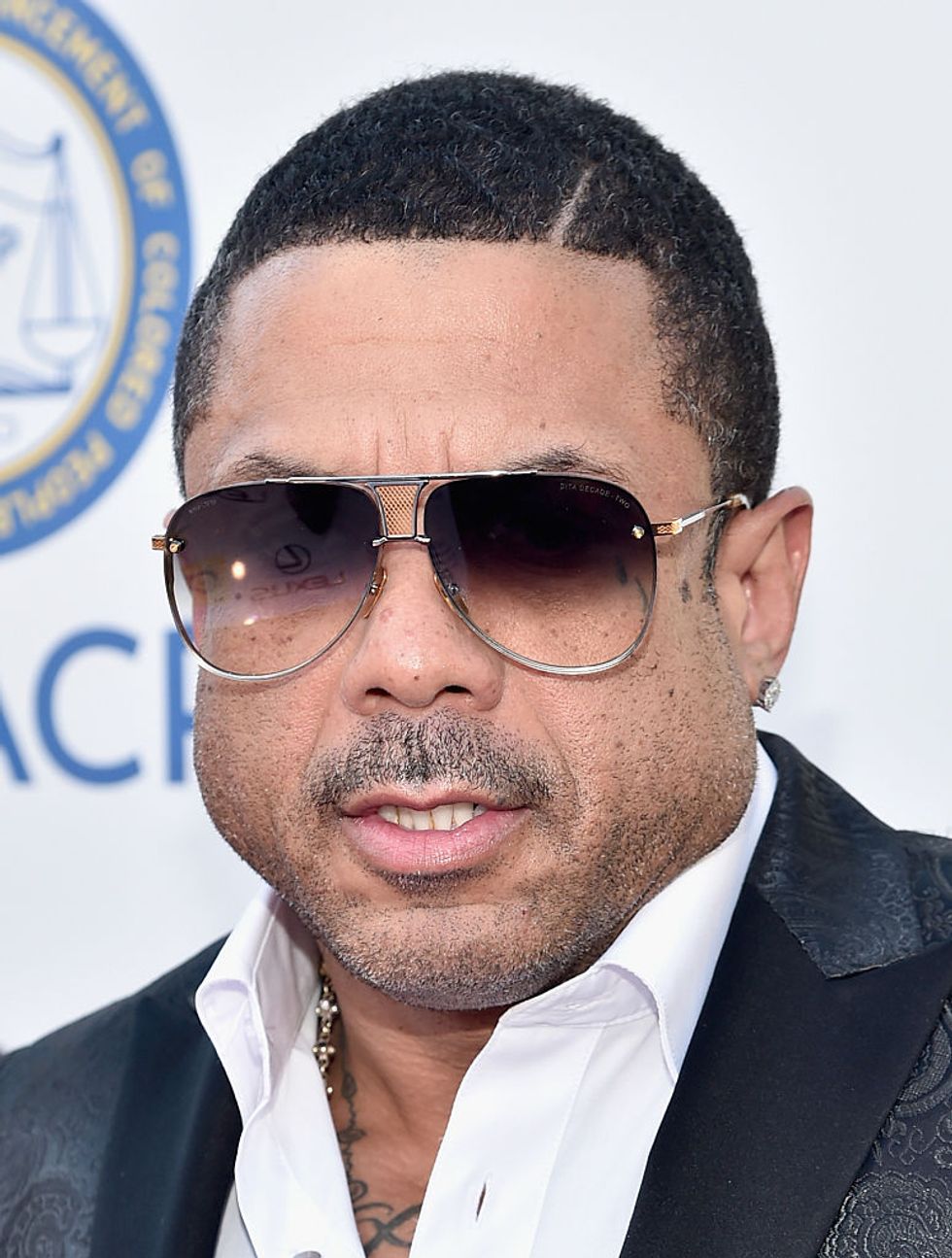 Benzino released a track entitled, "I Don't Wanna," aimed at Eminem, which, of course, meant that the rapper fired back with "The Sauce." Once again, Benzino clapped back, so Eminem released the track "Nail In The Coffin" in response. Eventually, Benzino apologized for the feud between the pair.
4. Eminem vs Mariah Carey.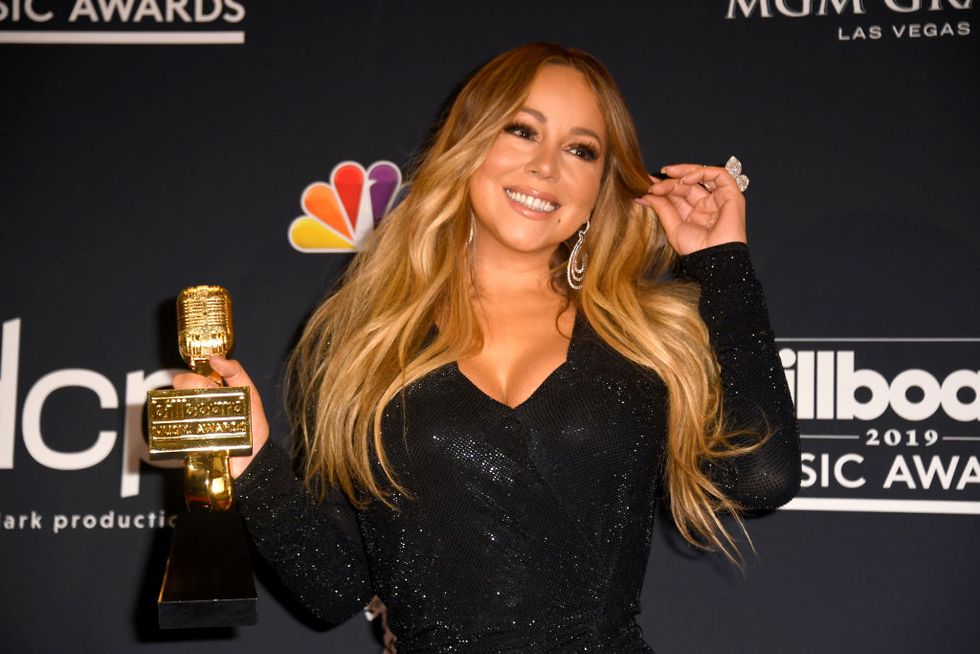 This particular feud all began when rumors circulated that Eminem and Mariah Carey had once had an affair, though Carey denied the entire thing. Attempting to keep the rumors at bay, the singer said: "Did I have a sexual relationship with him? No, I didn't... I knew him, I hung out with him a few times, but nothing sexual occurred... Maybe he thought because nothing happened he'd look bad or something."
Eminem was less than impressed by her comments...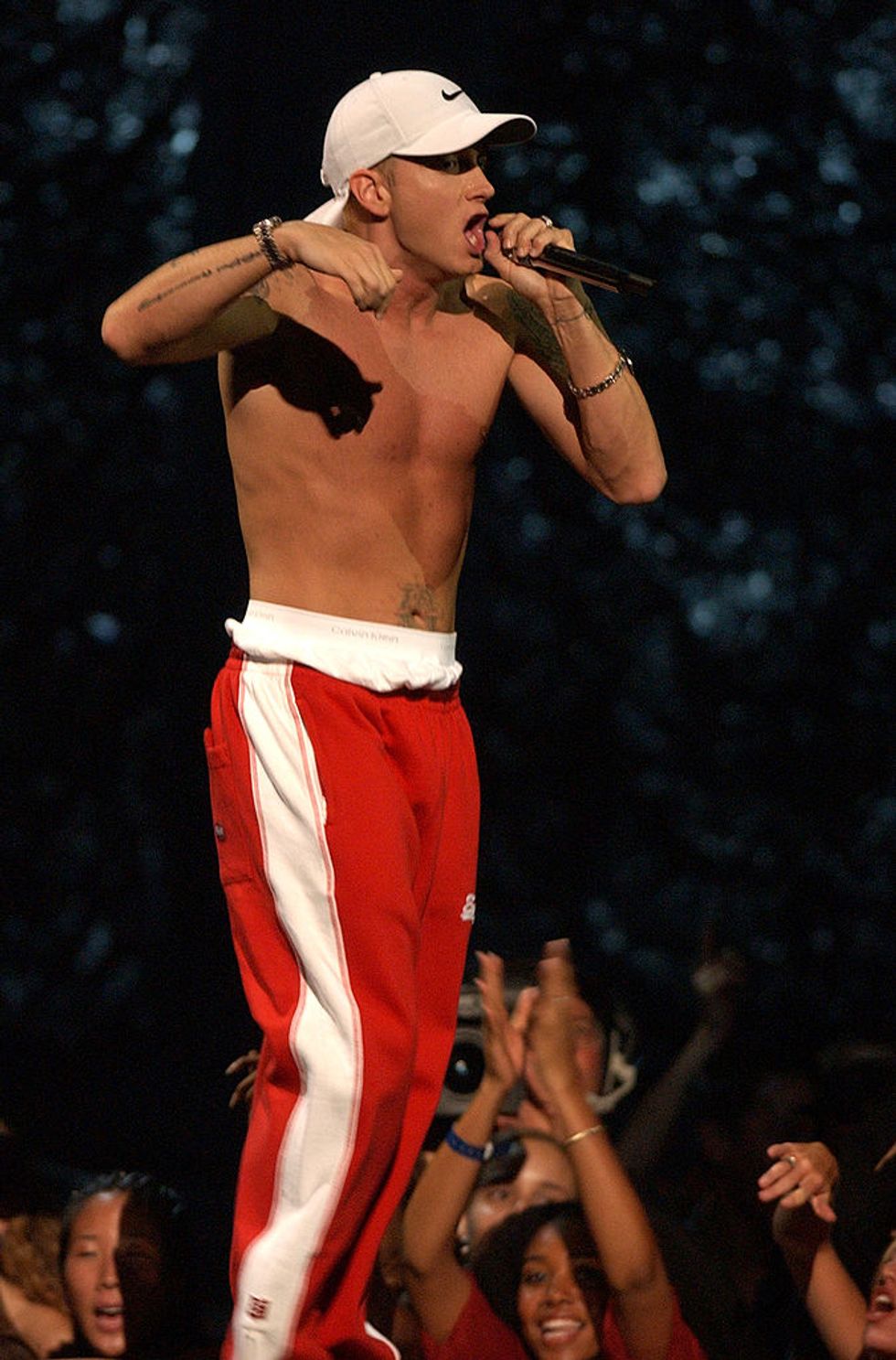 True to his reputation, he fought back with a track, subtly named "Puke." In 2005, he played voicemails reportedly from Carey, and pretended to vomit. Savage. Later, Carey, released "Obsessed," which many people speculate is about the rapper.
3. Eminem vs Ja Rule.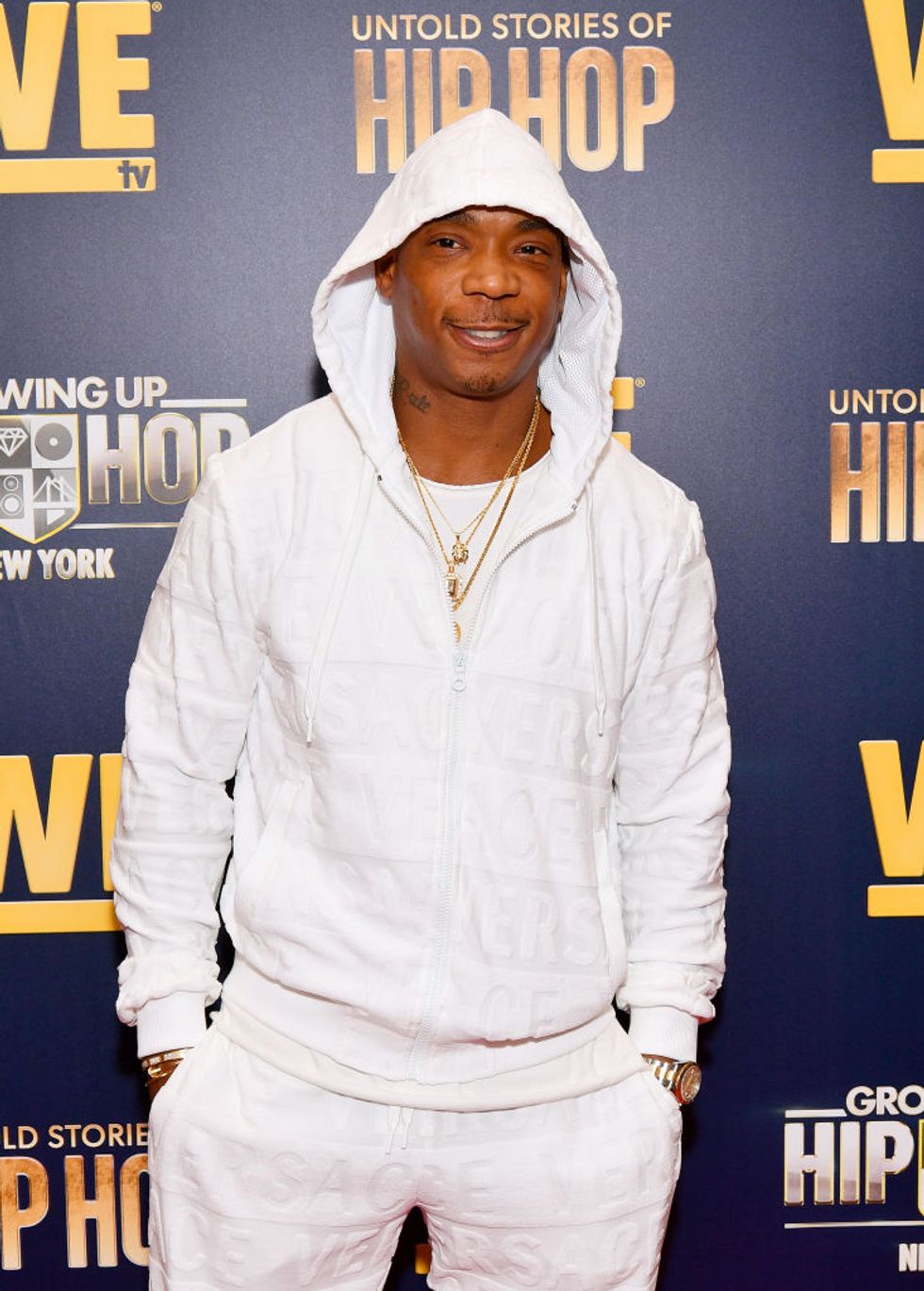 Eminem's feud with fellow rapper, Ja Rule, stretches back quite far. It all started after rapper and actor, 50 Cent, produced some music dissing Ja Rule, resulting in him signing with Shady/Aftermath Records. Ja Rule was furious with Eminem for signing the star and threatened to retaliate.
The drama had deadly consequences for 50 Cent.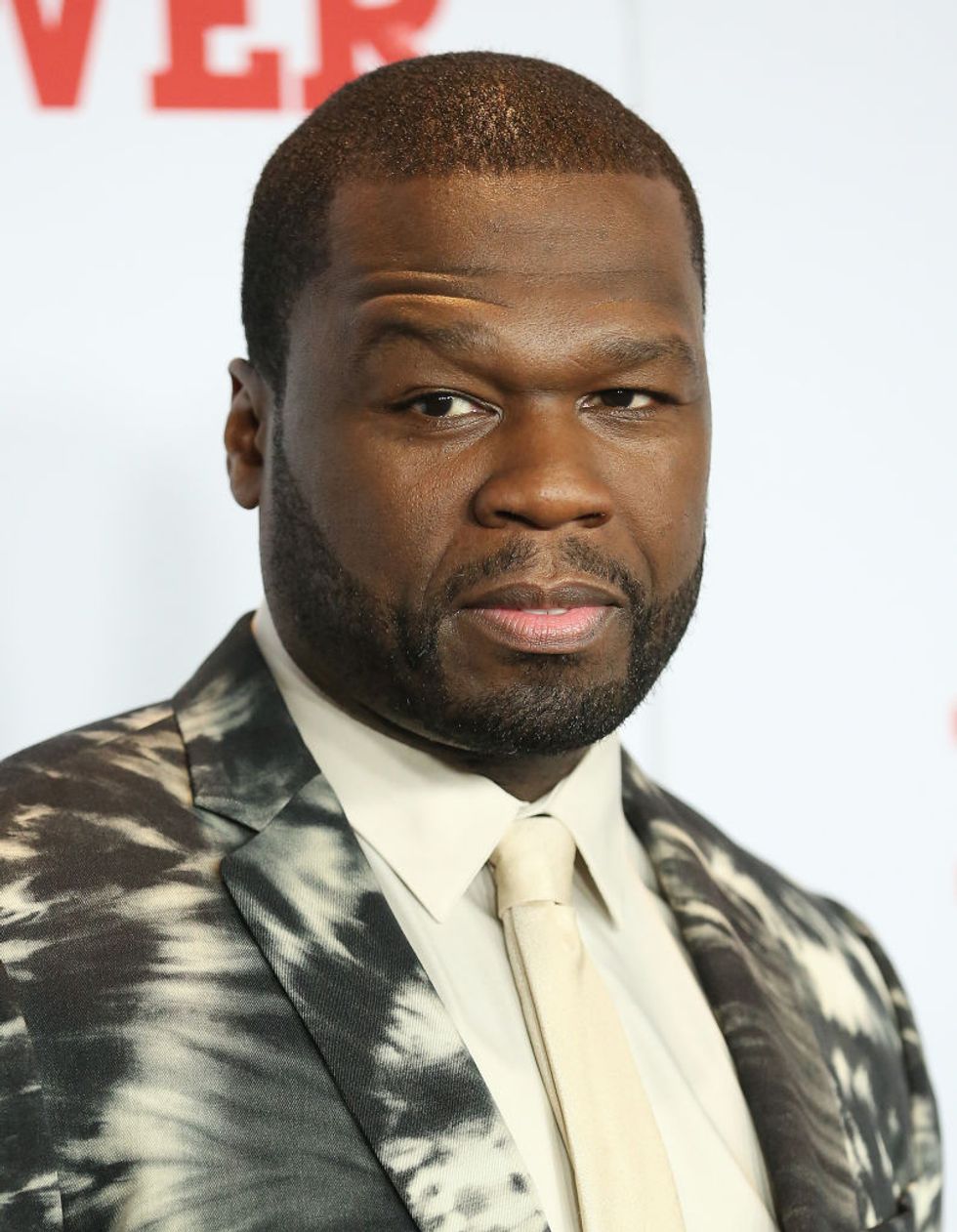 Ignoring the threats, Eminem released "Hail Mary" with 50 Cent and Busta Rhymes, rapping about how Ja Rule is merely a poor imitation of 2Pac. After, 50 Cent had a brush with death when he was stabbed by some members of Murder Inc., and, then, a few months later, shot
5
times.
2. Eminem vs Nick Cannon (and Mariah Carey, once again).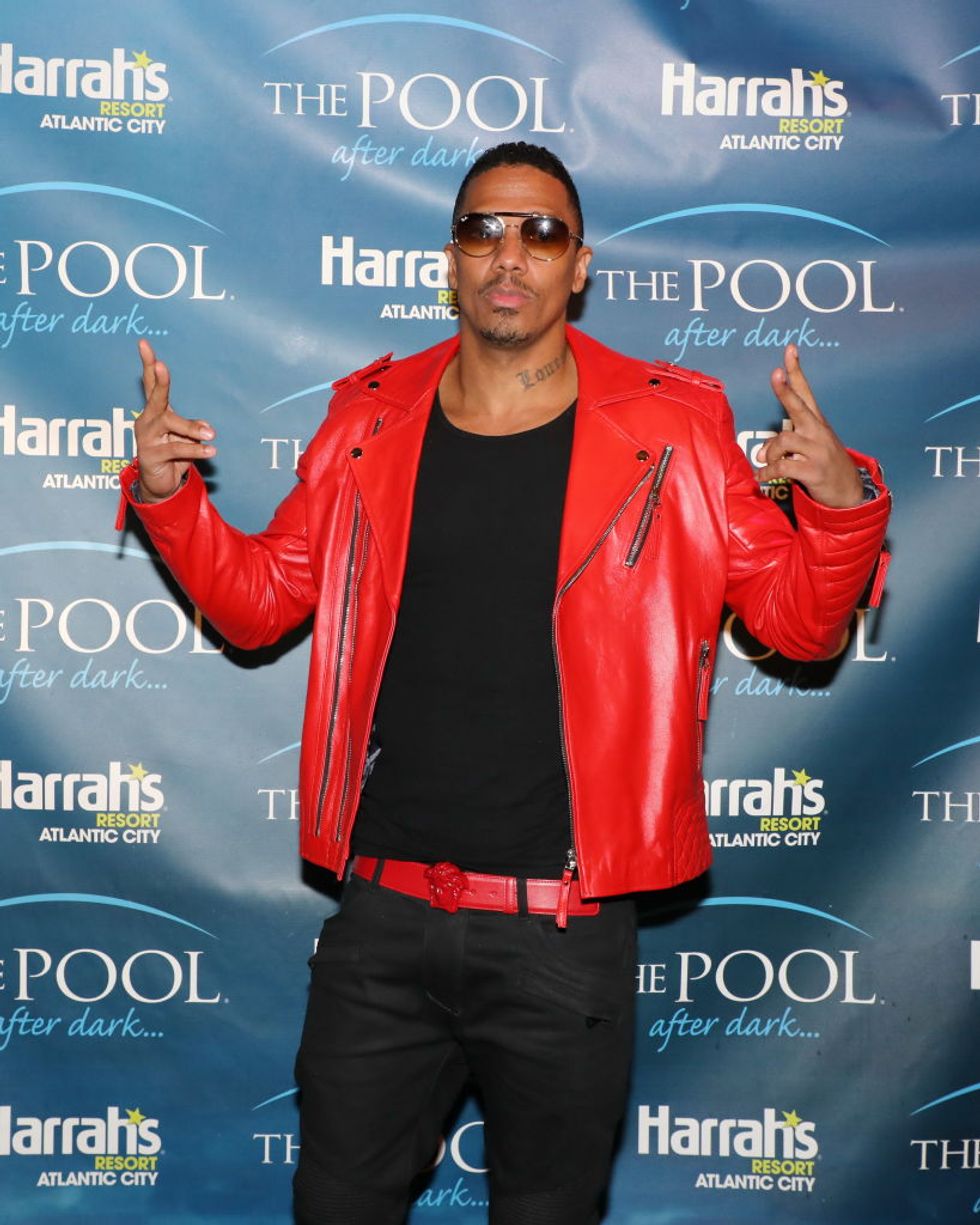 The rapper turned up the heat on his existing feud with singer, Mariah Carey, when he told her then-spouse, Nick Cannon, that she'd cheated on him. In his track, appropriately titled "The Warning," Eminem raps: "Wow Mariah, didn't expect you to go balls out B*tch shut the f*ck up, 'fore I put all them phone calls out You made to my house when you was (Wild'n Out) before Nick When you was on my d*ck and give you somethin' to smile about How many times you fly to my house, still tryin' to count Better shut your lyin' mouth if you don't want Nick findin' out."
Here's what Nick has to say at the time: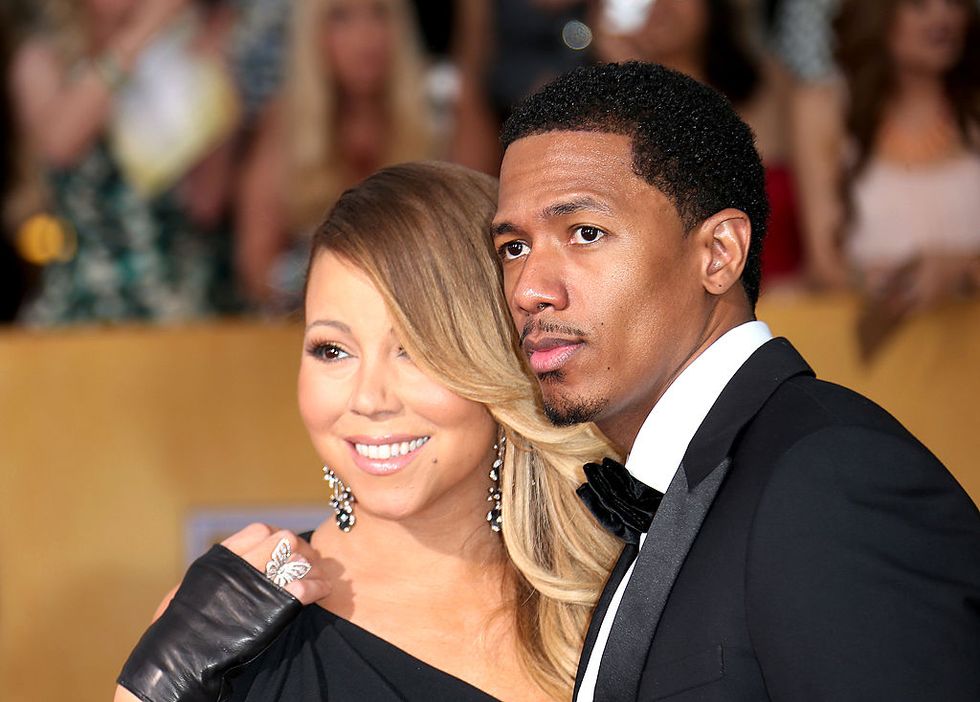 "The way the Eminem thing started was that I never had an issue with him... If anything, I've been one of his biggest fans, but when another man crosses a line of disrespect, then you got to deal with it," he said. Looks like the rapper well and truly lost a fan.
1. Eminem vs Debbie Mathers, aka his mom.
Mathers denied all of the claims.
But Eminem continued to reference her in his music, writing other lyrics like: "Valium was in everything, food that I ate, the water that I drank, f*cking peas on my plate," in his track titled "Mom," suggesting that his mother fed him drugs as a child and even "burying" her in the music video of his hit single hit "Cleaning Out My Closet." According to Mathers, her relationship with her son was so strained that, at one point, he banned her from seeing his daughter, Hailie.