Puppies bark - dealing with that is part of having one, and, if you can't deal with the noise, you probably shouldn't have gotten one. But, despite the barking, chewing, and general puppy shenanigans, you wouldn't dream of taping up your puppy's mouth to stop the noise, would you?
Well, one teenager from Utah did exactly that and caused the most heinous injuries to her little dog, after torturing the pup to "keep her quiet."
How could anyone be so cruel?
To make things even worse, not only did the teen commit an evil act of abuse towards her pup, but this whole thing also revealed a history of neglectful, disgusting behavior on the part of the teen, even before the incident took place...
Dogs are man's best friend.
But, sometimes, their loyalty is abused.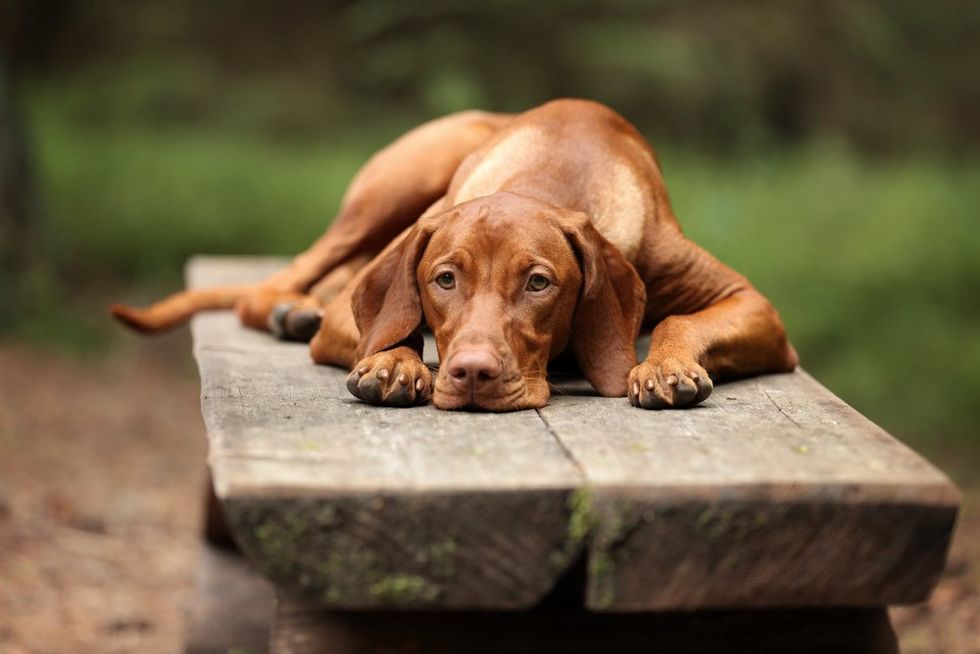 via: Shutterstock
Too often we see cases of horrific animal abuse hitting the headlines.
When it comes to animal abuse, statistics show that dogs are victims more often than not.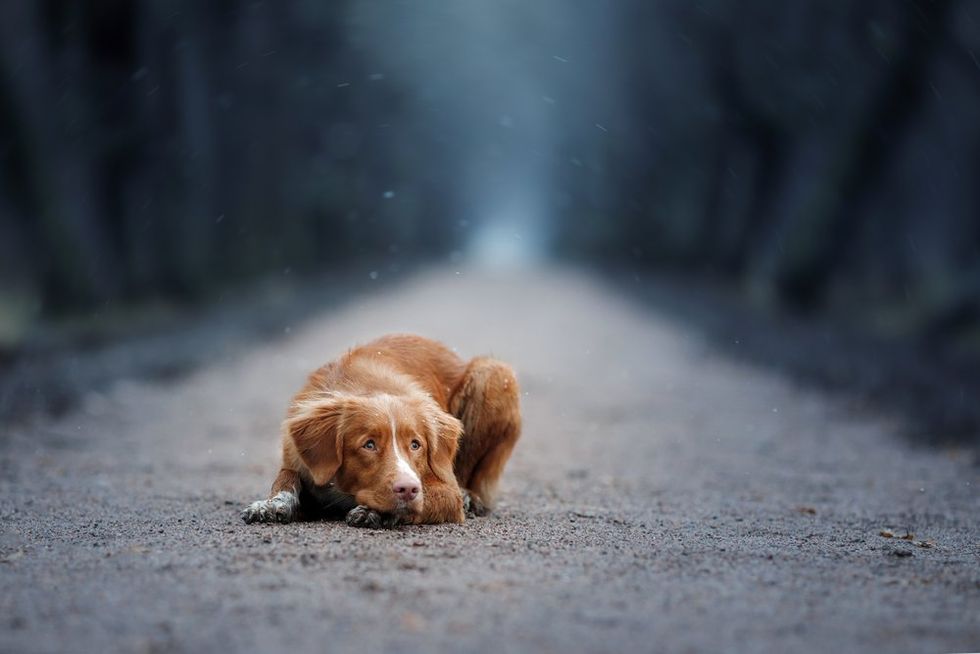 via: Shutterstock
Man's best friends account for a shocking
sixty-five
percent of all reported animal abuse cases.
There have been some truly shocking cases...
One woman was left traumatized after she went to
pick up her dog from a local kennel
 after returning from vacation, to be given her dead pup stuffed into a bag, wrapped up in masking tape.
But it seems like another heinous dog abuse case has been hitting the headlines recently.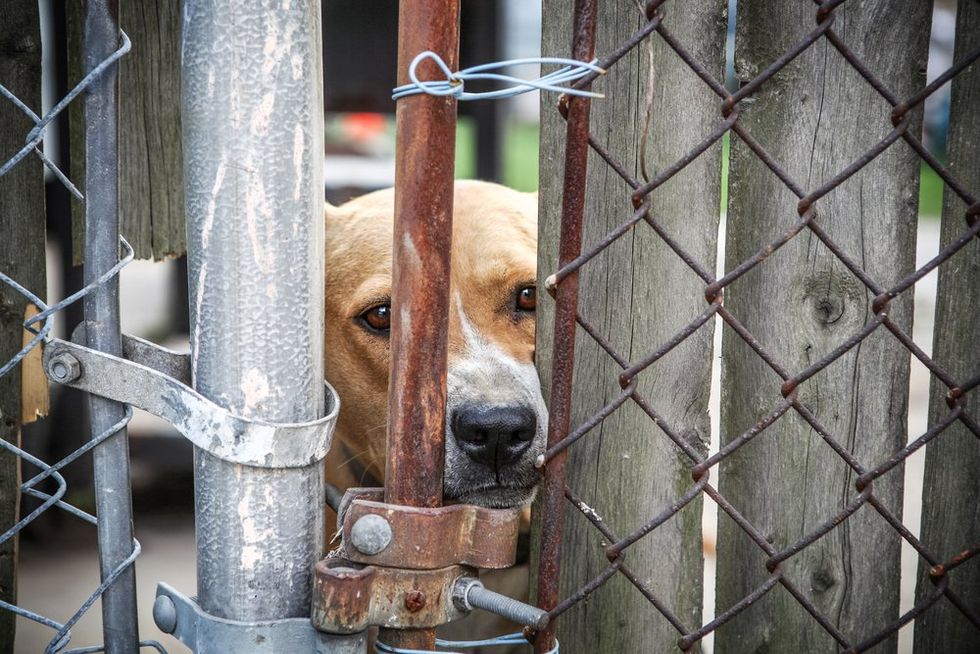 It's utterly heartbreaking...
Nineteen year-old-Alexis Callen was arrested last week on charges of animal abuse.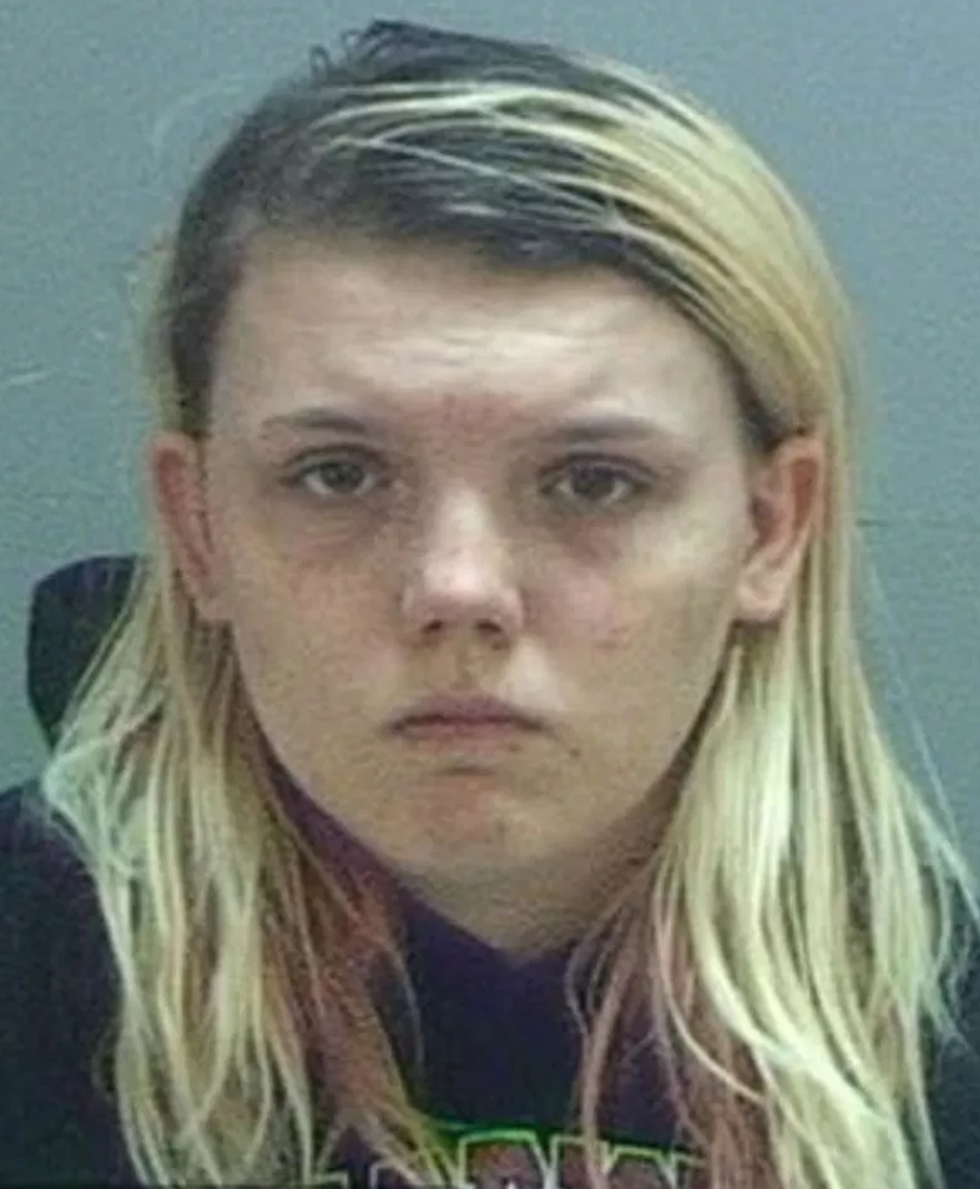 She has been accused of taping up her four-month-old puppy's mouth to "keep her quiet."
It all started with this Facebook post.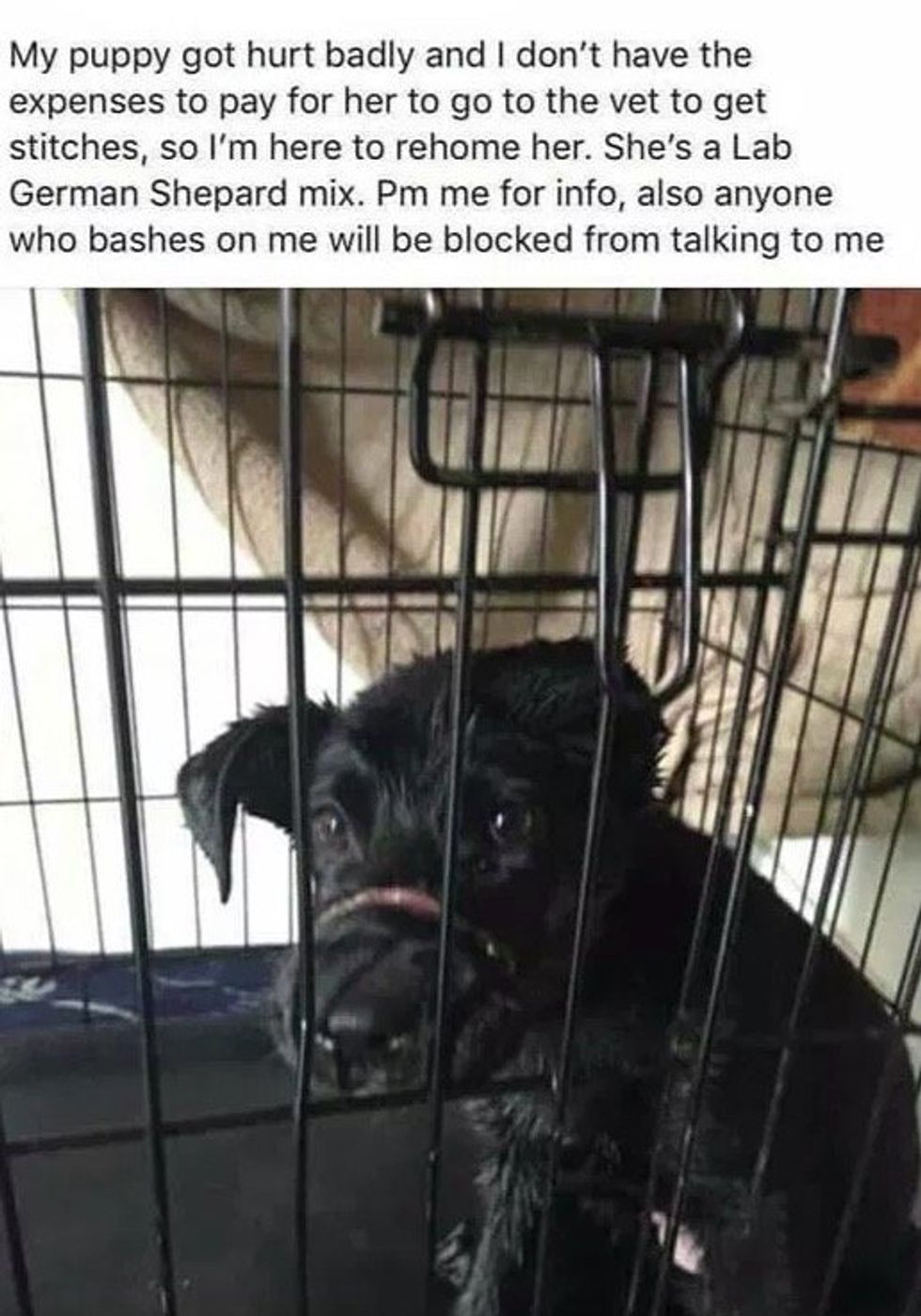 The teen reportedly posted this image on Facebook, looking to re-home her Black Labrador-German Shepherd pup, Shadow, because she "didn't have the expenses" to pay for the vet's fees to get her stitches.
Users were quick to notice the marks around Shadow's nose...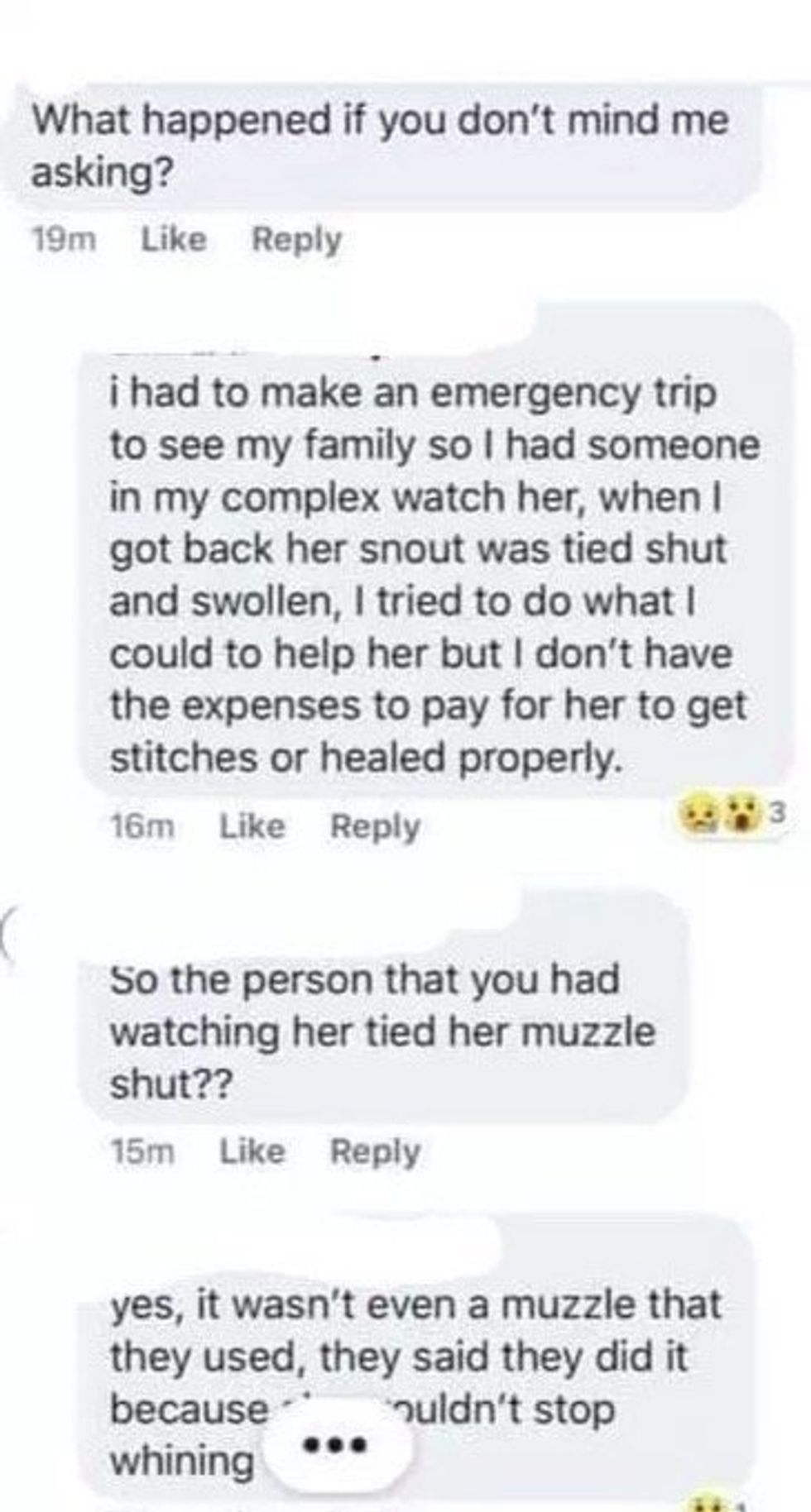 The alleged comments on the post show Callen explaining that the wound came from a dog-sitter who tied a muzzle around the pup. "When I got back her snout was tied shut and swollen, I tried to do what I could to help her but I don't have the expenses to pay for her to get stitches or healed properly," the teen wrote.
But, it seems like not everyone bought her story.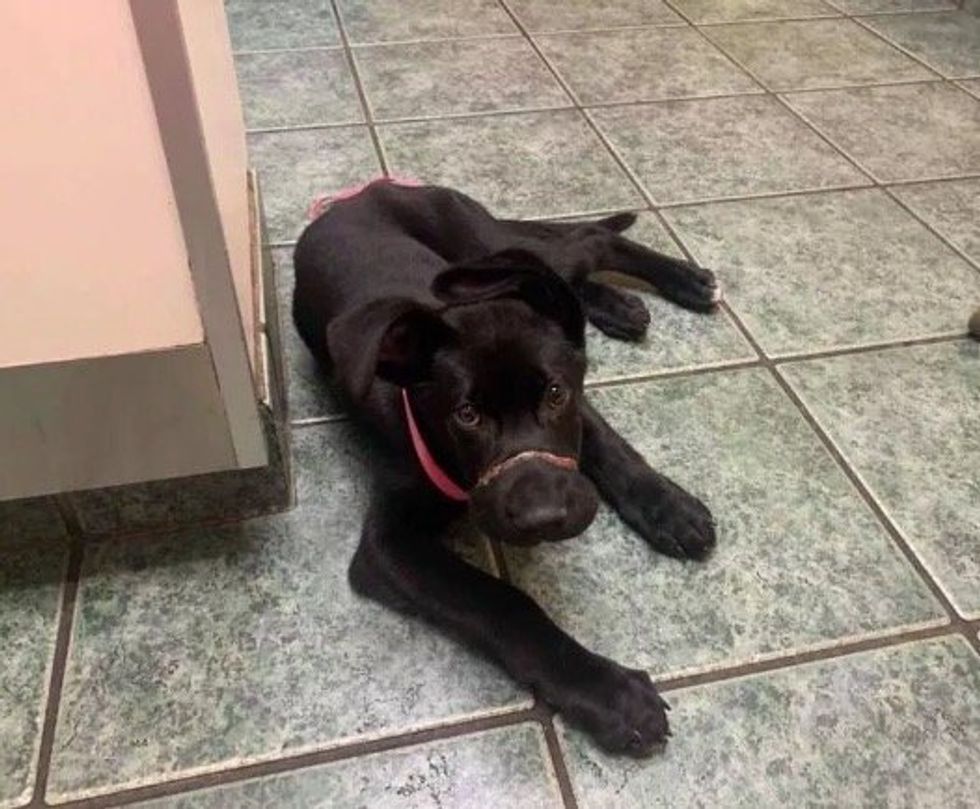 Local rescue group, Celestial Zoo, saw the disturbing photos of Shadow online and quickly took action.
Shadow's injuries were much worse than they'd thought.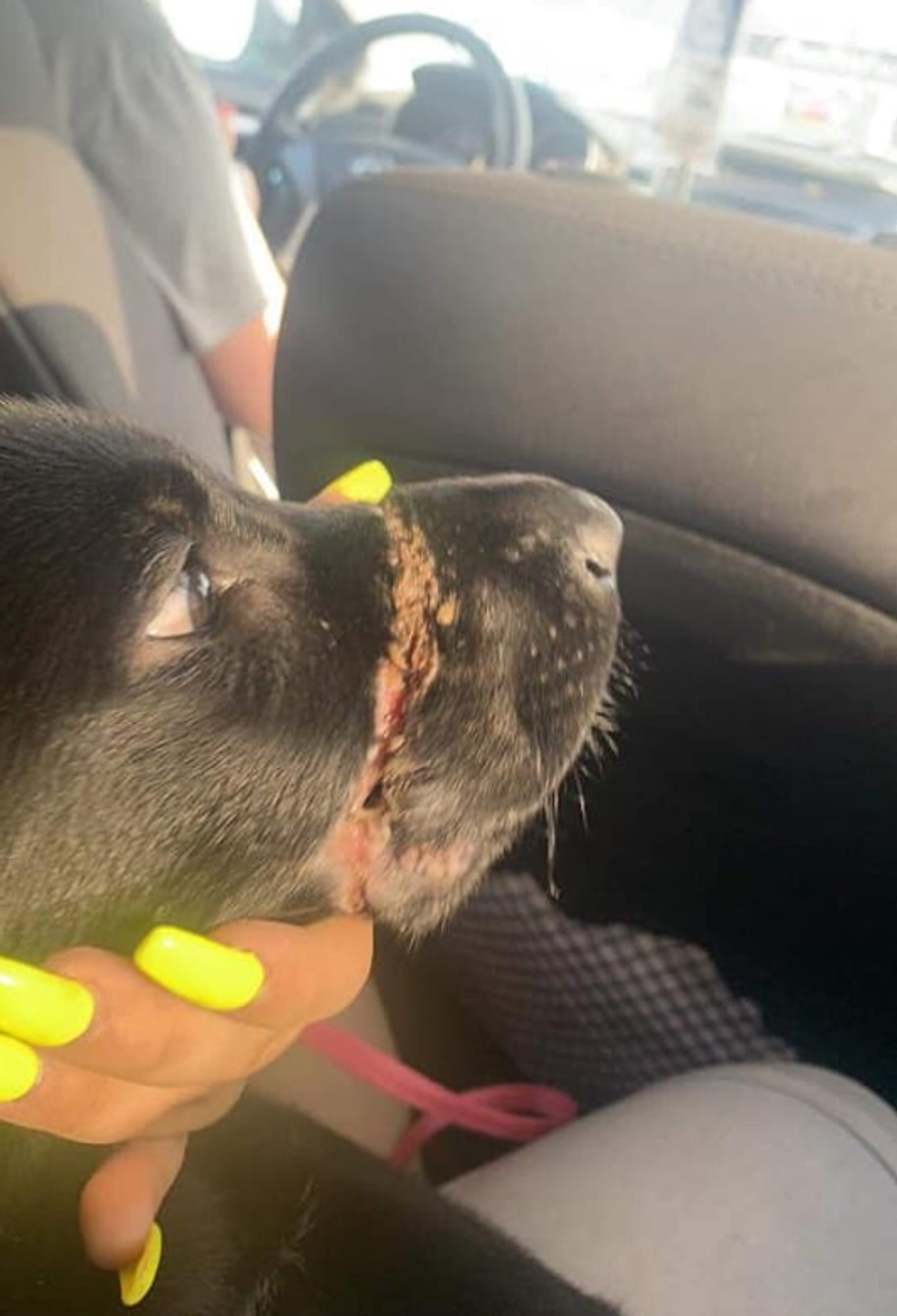 The group took the dog to Cottonwood Animal Hospital, where vets revealed the true extent of the horrific injuries.
Poor Shadow's snout was left severely disfigured...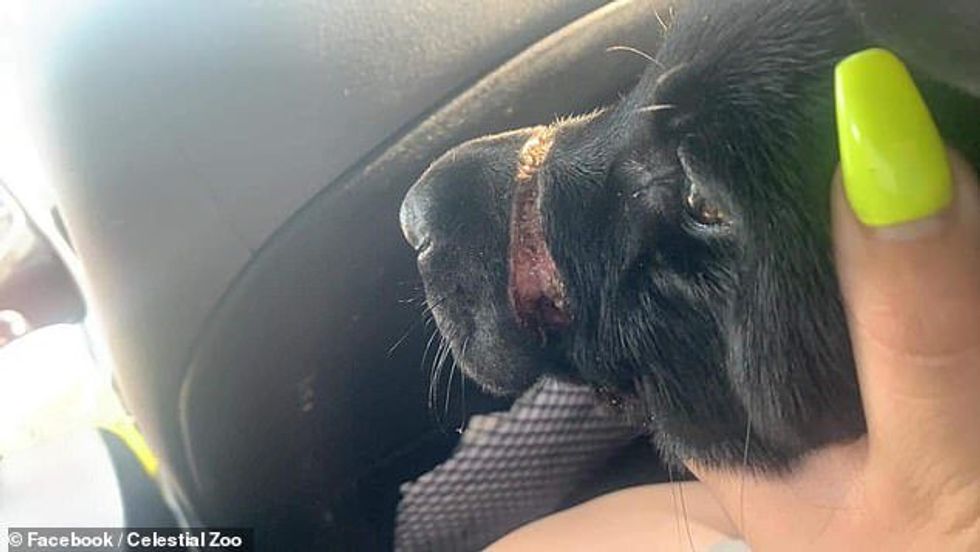 Shadow needed immediate medical care, with the left side of her snout sliced so severely that the inside of her mouth is visible
even
when her jaw is closed.
Her snout is so badly injured that she can't even eat or drink properly...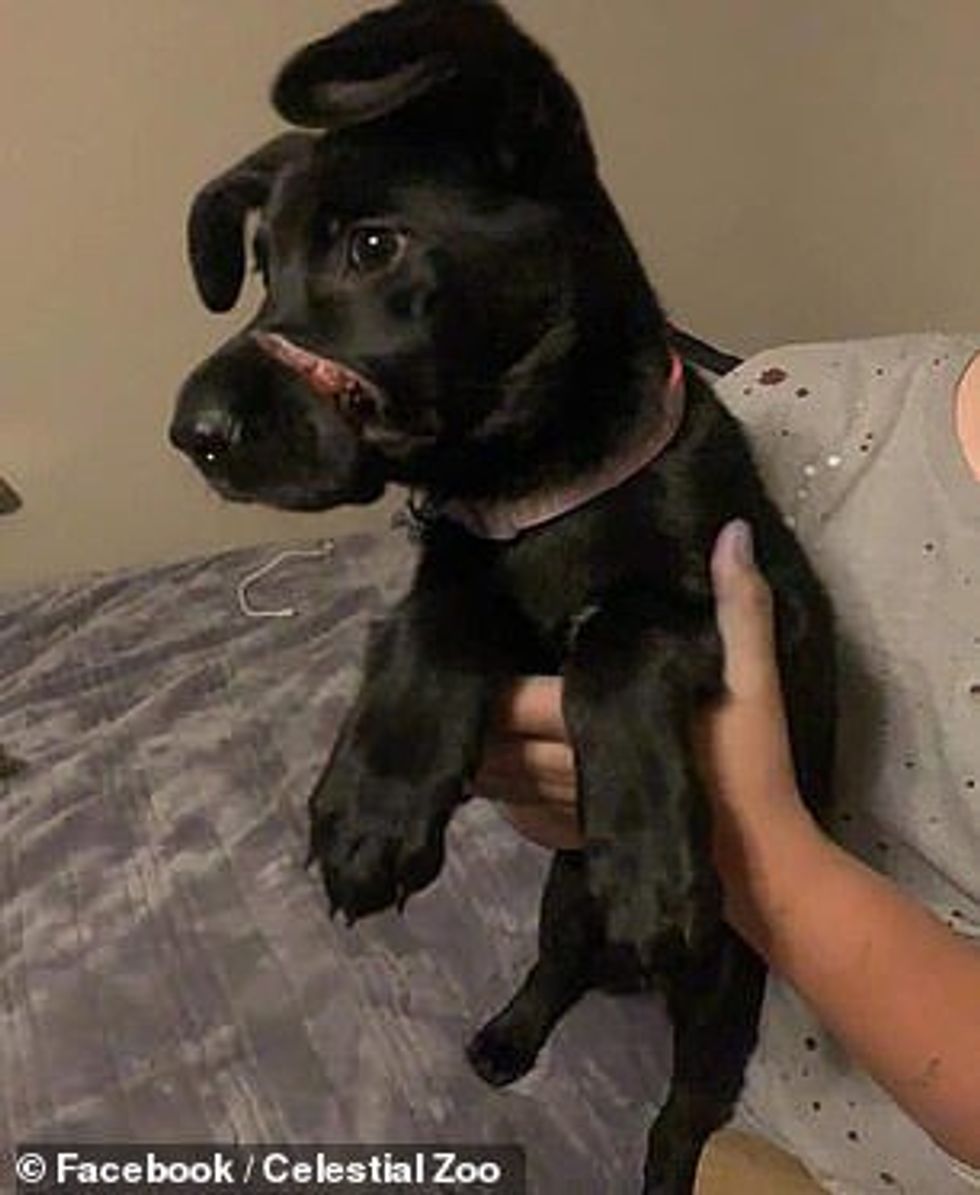 The pup will need extensive reconstructive surgery to allow her to eat and drink properly again. Her injuries are utterly
heartbreaking
.
After vets alerted the authorities, Callen was arrested.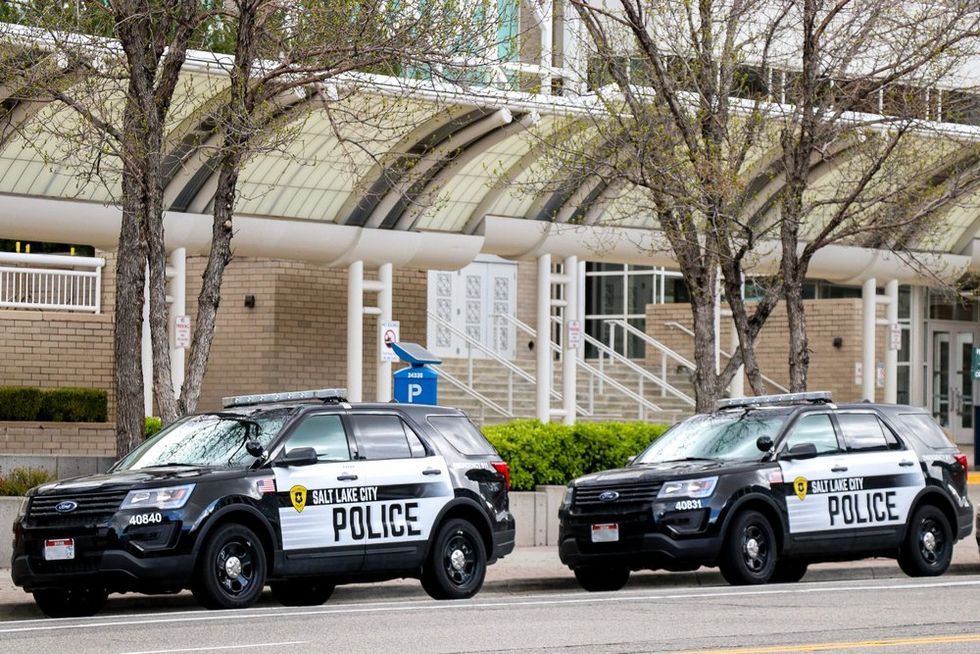 via: Shutterstock
According to a probable cause statement obtained by
KUTV,
when authorities questioned Callen, she allegedly admitted to putting an elastic hair tie around Shadow's snout to prevent "excessive whining" for 2 days so that she could sleep. But, this isn't the first time that the teen has been accused of being abusive. More on that later...
Celestial Zoo announced the good news in the most heartwarming way...
They posted this snap of Shadow, with the caption, "'Shadow had to go back to the vet today for a cone, but even though she is not happy about her cone, she is happy to report that thanks to the quick action of the Murray Animal Control officers, an arrest has been made on felony animal abuse charges."
But it seems like Callen's hideous abuse gets worse...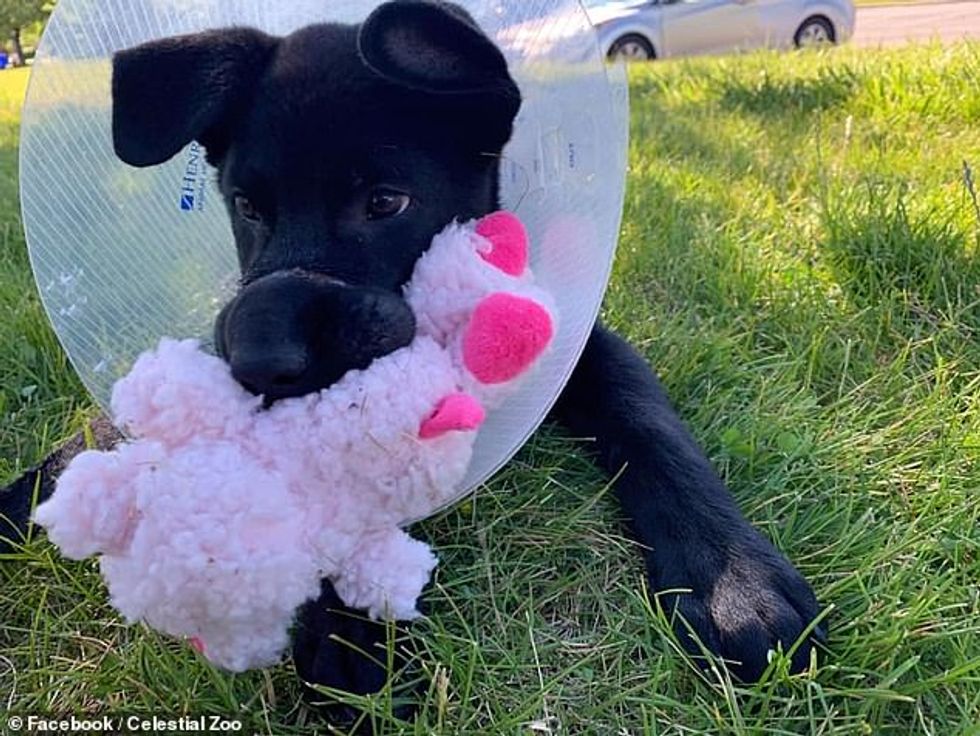 Though the teen insists that she taped the dog's mouth for forty-eight hours, vets that examined the poor pup believe that she was tied up for
2 weeks
.
Celestial Zoo is now raising funds for Shadow's expensive surgery.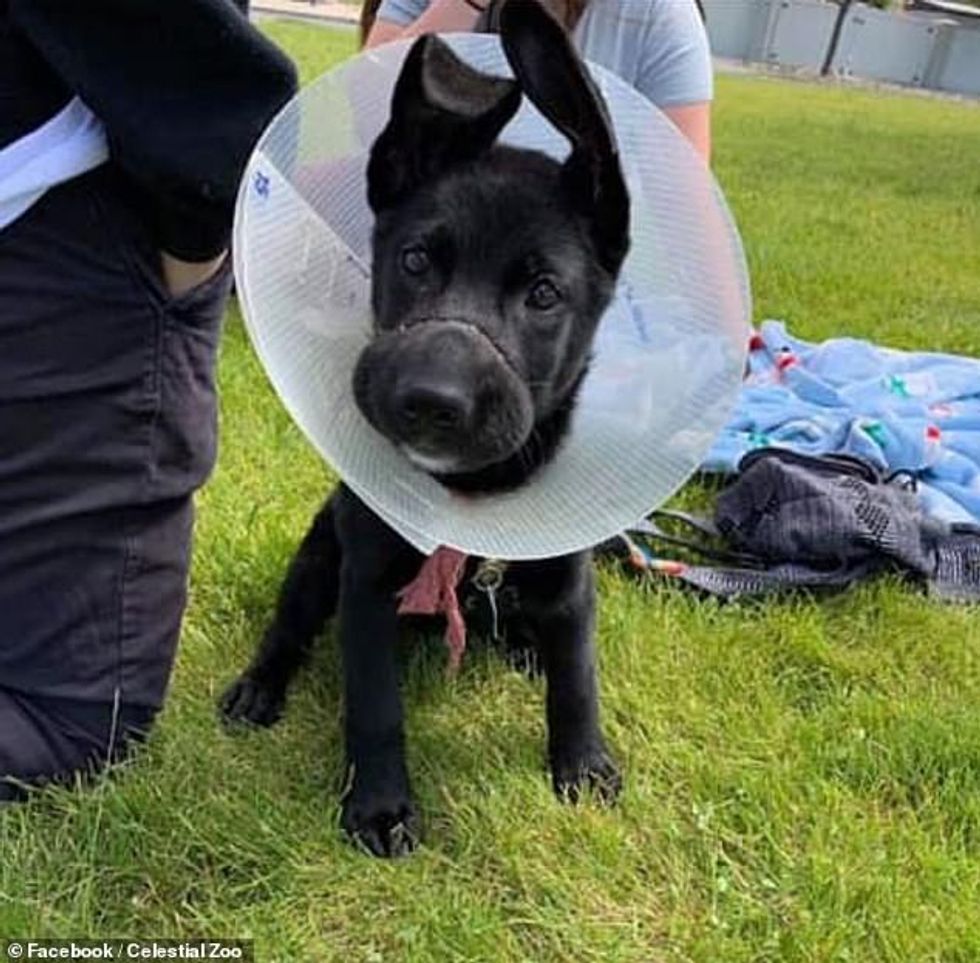 The pup requires a hefty $1,996 worth of reconstructive surgery.
We got another update on Shadow's condition on Friday.
Shadow is now in the care of foster mom, Caylla Facemyer, but still has a long way to go. According to the group, Shadow's important surgery has now been scheduled, though they're yet to announce a date.
For now, the vet has looked over the wound, cleaned it up, and given the pooch pain meds and antibiotics.
But what will happen to her abusive teen owner now?
Well, at this moment, it's unclear as to whether she's entered a plea or has an attorney, but she's currently booked into Salt Lake County Jail. Many people have taken to social media to express their disgust at her act, branding her an "evil witch" who deserves the "death sentence." One said that she should be tortured worse than her poor puppy was.
But this disturbing abuse case has also brought to light a track-record of abuse from the teen.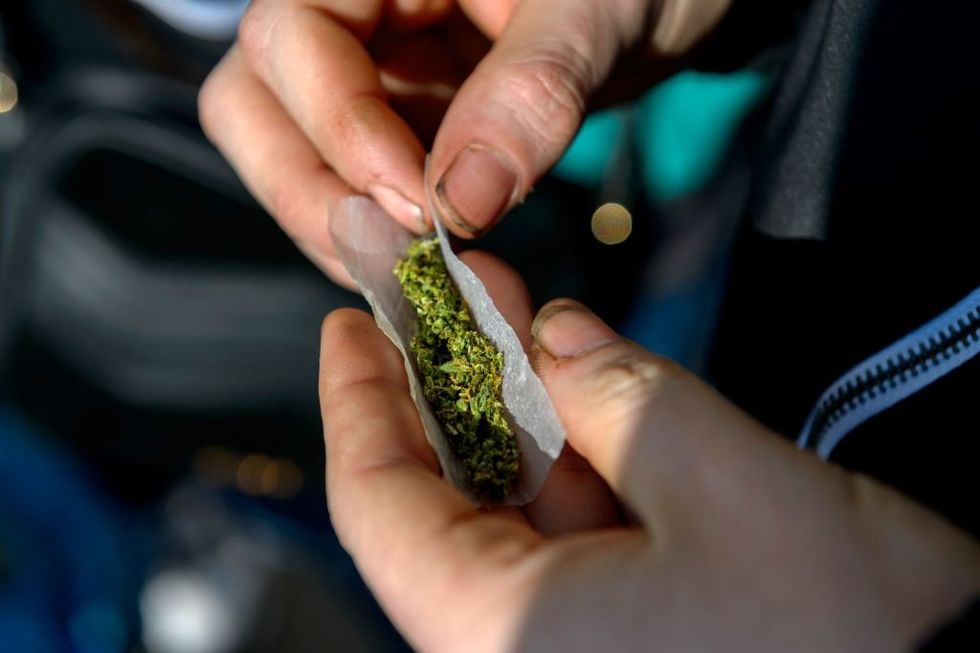 via: Getty
According to
Oxygen
, earlier this year authorities allegedly performed a welfare check on the infant that Callen shares with her twenty-year-old partner, Matthew Lloyd. After examining the apartment, authorities said that it was "dirty" and "smelled like marijuana." But, it gets
much
worse... The baby, according to court records, "looked too small for its age and malnourished," with drugs just feet away from the infant. Following this, Callen was taken into custody on a third-degree felony charge of endangerment of a child as well as misdemeanor drug charges including possession of a controlled substance and possession of drug paraphernalia.
As we await more news, we hope that Shadow gets the justice that she deserves for her heartbreaking abuse.
Hopefully, the pup will make a full recovery from her ordeal soon.