Tragic news has broken that Derek Jones, the guitarist from the rock band Falling in Reverse, has reportedly passed away.
He was just thirty-five-years-old.
Born June 5, 1984, in Lake Forest, California, Derek was always destined for a career in music.
During his teens, he formed several bands...
Derek had been a member of the popular rock band from the beginning.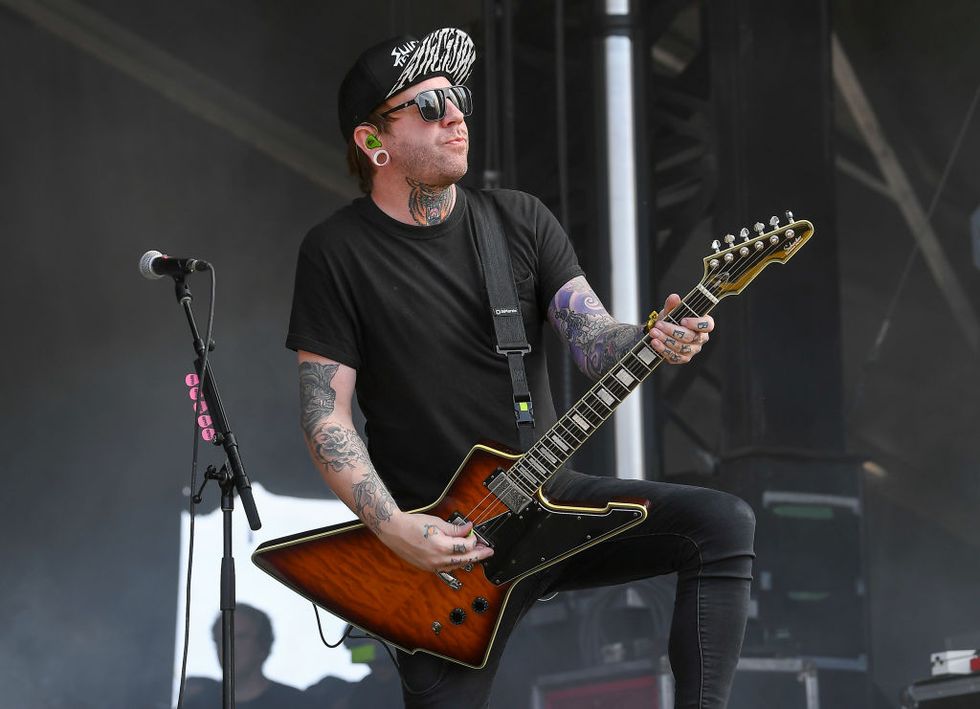 And featured on all 4 of their studio records to date.
Prior to joining Falling in Reverse, he was a member of A Smile From the Trenches...
Last year, Derek's world was turned upside when his fiancée, Christina Cetta, was diagnosed with cancer.
GoFundMe
to raise the 100,000 dollars needed for Christina's treatment.
Despite attempts to treat the illness, her condition worsened and she was hospitalized. 
The heartbreaking news of Derek's death was broken by the band's frontman Ronnie Radke on his social media accounts today.
"I'll never forget when you picked me up from jail In Your old tour van to start falling in reverse. Your spirit will be interwoven through the music I write forever. Rest In Peace Derek Jones. My heart is broken," his post read.
Tributes have been flooding in for the star.
@RonnieRadke This is horrible news... Rest In Peace 💔

— Metalcore Gatsby (@Metalcore Gatsby)1587514402.0
Utterly devasting news.
A huge loss for the music community.
@FRONZ1LLA @RonnieRadke I can't cope with this year anymore :( I am so shocked and at a loss for words. RIP Derek !

— Katy (@Katy)1587514789.0
"He's been with the band from day one it's heartbreaking to lose someone so young. Sending my condolences," wrote another.
The news of his death has left fans utterly heartbroken...
@RonnieRadke I would of never guess something like this could happen i'm so sorry man. Falling in reverse made a hu… https://t.co/kfqvBmSkGW

— Inactive (@Inactive)1587511544.0
"Rest In Peace, Derek Jones. I've been following Falling In Reverse since the beginning...this doesn't feel real."
The star clearly made a lasting impact on his fans...
@RonnieRadke I'm. My heart is broke and I'm grieving for you guys we're best friends. He used to bring picks every… https://t.co/TJwgu049Hw

— JP | RTC | DK (@JP | RTC | DK)1587511379.0
And many have begun sharing their personal encounters with him.
"I'm at a loss for words."
I do not believe this fuck I'm crying. #DerekJones dead. This is beyond me, it's hard to believe💔 Falling In Rever… https://t.co/RmRZFyLVA4

— ᴮᴱ𝙅𝙚𝙣𝙣⁷ (@ᴮᴱ𝙅𝙚𝙣𝙣⁷)1587512807.0
"derek jones was the kindest, funniest most insanely talented soul and i am honestly at a loss for words. i hope he rests in peace and i hope his loved ones are able to find peace. his music has been, and will continue to be, a huge part of my life and my growth as a human :("
"My heart is absolutely broken."
"Rip Derek Jones you'll live on in your music forever."
At the time of writing, no official statement has been made.