From comedy to drama to looking hot with gray hair, Steve Carell has basically proven he can do it all. Now, he's sticking it to the man with a new Netflix series that pokes fun at one of many absurd initiatives to come out of the current administration.
If you've been surviving on The Office binges, and pining away for a reboot that will probably never come (sorry), Carell's new show Space Force is likely to fill that Michael Scott shaped hole in your heart. Based on Trump's 2018 announcement of a new space-centric military branch, the show will explore what exactly the mystifying project is intended to do — and what its inevitable consequences might be.
Can the new show possibly be as satisfying as The Office? Will Carell and co-creator Greg Daniels be able to provide a silver lining to the sigh-inducing space force with this Netflix comedy? If they can't, no one can.
Steve Carell is a comedy legend.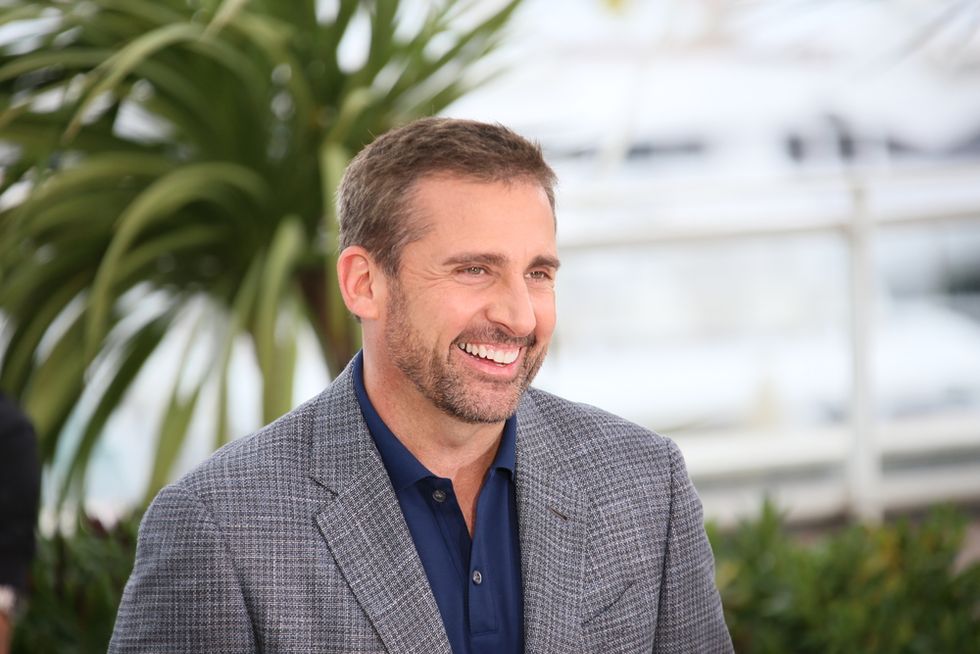 via: Shutterstock
The 56-year-old actor, writer, and director has mastered multiple genres across film and television.
He's originated some of the decade's most memorable roles.
Carell's characters are not only highly quotable but have a ubiquitous GIF presence that speaks to their timelessness.
He stole the show in Anchorman.
Carell was already known for his work as another newsman, Evan from Bruce Almighty, but he really started to get attention as Brick Tamland in this Will Ferrell classic.
He burst on the scene with The 40-Year-Old Virgin.
This early Judd Apatow flick is where Carell really won our hearts.
Admit it, you even loved Despicable Me.
Sure, the Minions may be the real stars of this series — but none of it would have been possible without Carell's Gru.
Oh, and maybe you've heard of a little show called The Office?
The Office
changed the landscape of television and comedy forever, due in large part to Carell's incomparable performance as Michael Scott.
Even though he was often extremely cringeworthy.
Michael Scott was an inappropriate and incompetent boss, but somehow Carell made him totally lovable.
Like really, really cringeworthy.
But fans are still calling for a reboot of the show, ideally with Carell reprising his beloved character.
Carell has stated before that he won't be returning for a reboot of The Office.
The show ended in 2013. Since its finale, Carell has shown his acting range in a number of impressive dramatic performances.
Did you recognize him in Foxcatcher?
Although the actor had already shown a flair for the dramatic in films like
Little Miss Sunshine
and
Dan in Real Life
, Carell's performance in this sports drama earned him an Academy Award Best Actor nomination in 2015.
He also starred opposite Emma Stone in Battle of the Sexes.
The former
Crazy Stupid Love
co-stars teamed up in this biopic on the infamous tennis tournament between Billie Jean King and Bobby Riggs.
This year he brought the heartbreaking drama A Beautiful Boy to life.
Carell plays the tormented father of a drug-addicted teenage son, played by Timothée Chalamet.
It's been a busy year for Carell.
He also portrayed Donald Rumsfeld in the awards-show darling, Vice.
Suffice to say, it's been a few years since the actor has appeared on a television show.
Fans of The Office know, it's felt like way too long since Carell's graced us with his unique take on TV comedy.
Well, the wait is over.
Steve Carell is finally starring in a new comedy on Netflix.
Get excited for Space Force.
Announced early Wednesday, the new Netflix series will follow a fictionalized imagining of the controversial, confusing new military branch Donald Trump announced in 2018, the "Space Force."
Yeah, remember that?
President Trump orders the creation of "Space Command,", a move the administration is labeling a precursor to creat… https://t.co/Ta72a25cLJ

— CNN (@CNN)1545153665.0
Back in June Trump called for the Pentagon to create a "space force," the first new military branch in 70 years.
Its purpose was unclear.
But that didn't stop Trump from signing an order in December to officially establish the so-called Space Command.
The goal is to "perform space related tasks," apparently.
Trump gave minimal detail regarding why he deemed a space force necessary, or what he intended it to achieve.
But at least he's got some design ideas.
A new workplace comedy from the showrunner of THE OFFICE? Starring Steve Carell? And it's dragging Trump's dipshit… https://t.co/WguOqoOZR4

— Scott Wampler™ (@Scott Wampler™)1547665488.0
Trump's first order of business with the new military branch was a vote on its logo.
Unsurprisingly, a lot of people were not pleased.
Buzz Aldrin's reaction to Trump's space speech is priceless https://t.co/vHNfFGsM4j

— ☆ Dmitri ☆ (@☆ Dmitri ☆)1520968718.0
The project was questioned and ridiculed by a nation currently facing a number of other pressing issues.
Like many of Trump's announcements, this idea is both disappointing and terrifying.
#TheOffice alums Steve Carell and Greg Daniels are teaming back up again for "Space Force" https://t.co/LjitX5oe1H https://t.co/YIgjjwsw9I

— Variety (@Variety)1547670300.0
But at least we can look forward to it being lampooned by Carell and his Space Force co-creator Greg Daniels, who developed the American version of The Office.
It actually sounds like a perfect follow-up to The Office.
According to its teaser trailer, the show will follow the absurd events of this new space force, and "the men and women who have to figure it out."
Like Trump's space force, much of the show is still a mystery.
Most details around plot, cast and a premiere date have not yet been released, but we know Carell is set to star.
The show is likely to debut before the actual military branch.
Sorry, Trump. Netflix is creating its own 'Space Force' @CNN https://t.co/ocibysQjqB

— Johnny Pedroza (@Johnny Pedroza)1547680631.0
Some fans are hoping Carell and Daniels will help the administration figure out exactly what a "space force" is.
The Office… in space?
I honestly think the best possible reboot of the office is just casting everyone in Space Force, Muppet Show style.

— Parker Simmons (@Parker Simmons)1547678478.0
While the show will clearly tell a different story, it's likely fans will enjoy another workplace comedy created by so many of the same people who worked on The Office.
People are READY for it.
Is "soon" now? Because I would like soon to be now. https://t.co/ir1YedGeBH

— Matt Porter (@Matt Porter)1547665313.0
Carell fans can't wait to see the star in what is sure to be a pretty bonkers show.
The announcement is coming at the right time for Netflix.
- Netflix raising their US monthly subscription: 😞 - Netflix signing me up for Space Force: ❤️ https://t.co/2DLI9Z4g3c

— Andrew Leach (@Andrew Leach)1547678463.0
The streaming giant recently raised eyebrows with news of price increases. Hopefully, shows like this one will soften the blow.
There are already some predictions.
*crosses fingers that this scene from The Office was foreshadowing for Netflix's upcoming Space Force* https://t.co/I7MDpw8o6e

— ebo (@ebo)1547663271.0
But we'll just have to wait and see what Carell and Daniels have planned.
Sorry to fans who had hoped for an Office reboot.
But with this team at the helm, we're looking forward to Space Force.