A vegan activist recently found out the hard way what happens when you invade a farmer's property. A group of protestors attached to the Meat the Victims vegan group stormed Hall Green Farm in Yorkshire, England at the end of last month,
The group was hoping to expose the farm for their "disgusting and inhumane" practices on live animals, however, things didn't exactly go to plan…
They didn't anticipate that the farmer would take matters into his own hands to get them off his property. And boy were they surprised when he did!
The footage, which was uploaded on Facebook, shows one guy allegedly fly kick a protestor in the back with a running jump start, like something out of a Karate Kid movie. The activist went flying before the pig farmer began yelling at everyone else to get out.

"Get out now, every single one of you, I don't give a f**k," he said. "All of you get out, otherwise I will wrap this f*****g bar round your f*****g heads."
In a separate video, the man screamed: "I'll tell you now if you're not f*****g gone within two minutes I'm going to get a gun and f*****g shoot you all."
Though the footage is dark it allegedly shows the man going to punch the same person he had just fly kicked as everyone else screams at him to stop.
Meat the Victims posted a message alongside the footage saying: "If this is the way he treats peaceful humans, imagine how he treats those innocent beings in there.
"This is not an isolated case. Farmers DO NOT love their hostages. They love making money from caging them, mutilating them, raping them, and murdering them. We just happen to catch this farmer's abuse of the humans on camera. The animal abuse is legal."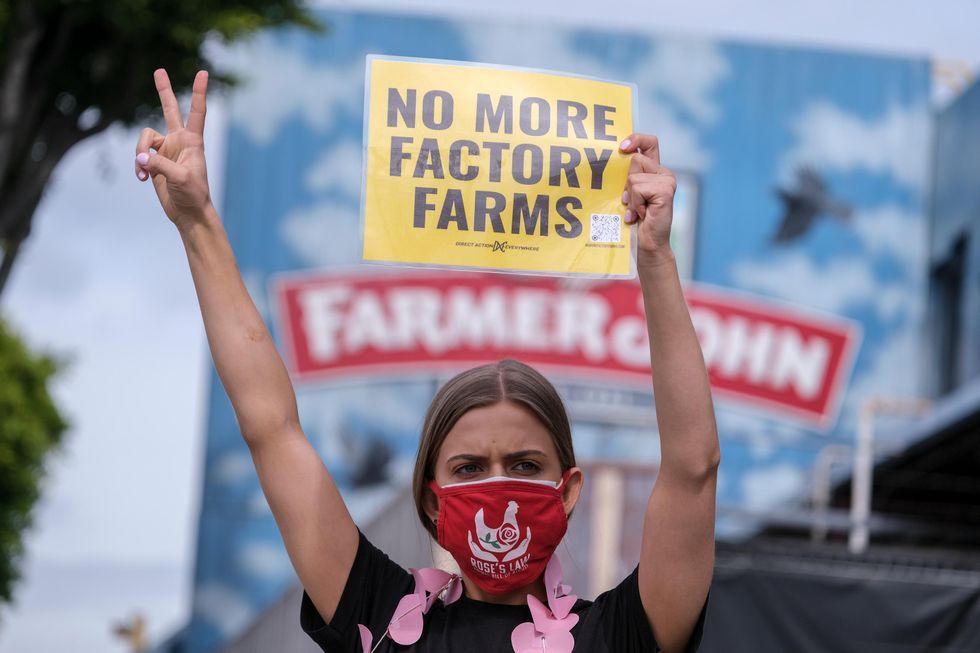 They added: "If you're not vegan you are paying for this man to be in business. You are paying for these horrific places to be legal for the selfish choices you make when you choose to pay for and consume the bodies of victims."

The group also published content that showed the inside of the farm and the pigs living conditions, calling for farms like this to be shut down.
The West Yorkshire Police have since arrested the man on 4 counts of the alleged assault. "Officers attended at the address and found a number of people present nearby. Following inquiries a man was arrested on suspicion of four offenses of assault," they said in a statement.
"The arrested man was later released under investigation and inquiries remain ongoing."
The Department for Environment, Food and Rural Affairs said the conditions at Hall Green Farm are "no worse than any other farm."