Remember when your mom would make you wear that dreaded wooly hat or force you to put on a coat, and you refused, despite it being freezing outside? Or that ugly sweater your grandma made? Well, of course, it was in our best interest, after all, nobody wants their child cold. And it seems like farmers are taking a similar stance to our moms when it comes to protecting their cattle from the frosty winter weather.
After a picture of a calf wearing the cutest accessory to protect it from frostbite was posted on Twitter, the internet went into heart-eyed meltdown. But the image has also been encouraging other farmers to post snaps of their cattle, too and it's honestly the most adorable thing you'll see this week.
Brace yourself for the biggest cuteness overload...
Winter weather can make us all feel, well, a bit chilly.
Winter isn't really favored by the majority - we know we'd rather be sipping cocktails in the sun.
And we all know that feeling of having to layer up for the weather.
But, it turns out that it's not just us that feel the effects of the bitter winter weather.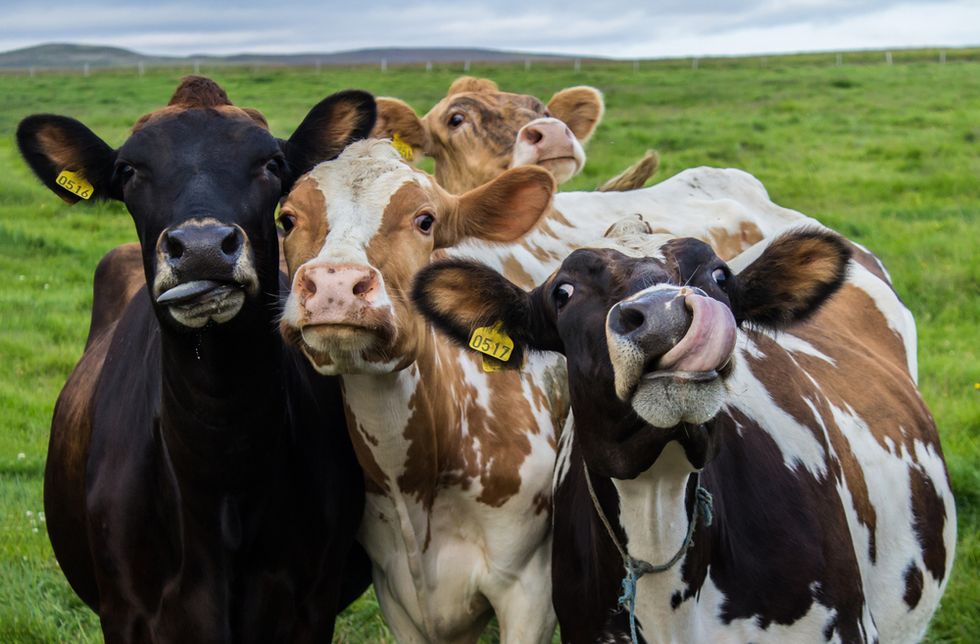 At least we have warm homes to go back to - just think about all the animals living outside in the winter.
Well, apparently, cows are pretty susceptible to frostbite and hypothermia.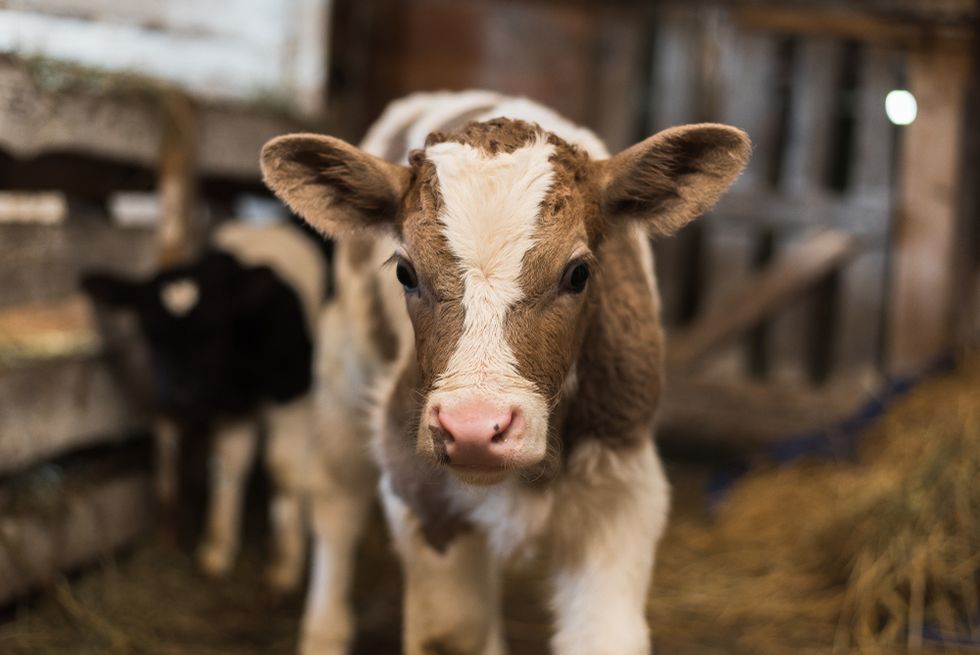 Calves are especially at risk.
So, farmers have come up with a clever way of protecting their cattle from the cold.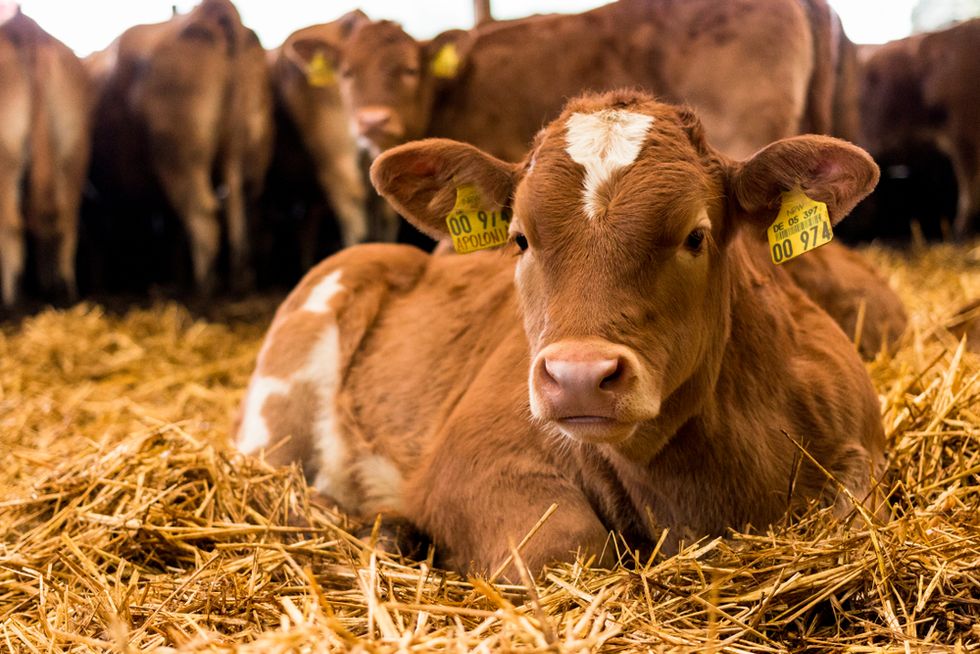 Not only is it
pretty
smart, but its also the cutest thing you'll see for a 
long
time.
And it comes in the form of knitwear.
Brace yourselves for the biggest cuteness fix you'll
ever
have.
Farmers have been putting earmuffs on their calves to protect them from the cold.
It seems to be the latest cow fashion trend. Just wait until you see the pictures...
One farmer posted a picture of a calf sporting pink earmuffs, and let's just say that Twitter went crazy for it.
So it turns out ear muffs for calves to stop them getting frostbite are a real thing... https://t.co/KiiAbTaRYV

— Cans Moleman (@Cans Moleman)1561469557.0
Unsurprisingly, the tweet went viral. Just look at that
little
face.
It's encouraged other farmers to share snaps of their cattle donning the same look.
@ThisFarmingMan_ @chloelizabitch https://t.co/F5FyRLpOSj

— yeehawlex (@yeehawlex)1561544386.0
And the outcome is the best thing that we've ever laid our eyes on.
Look at how adorable they look.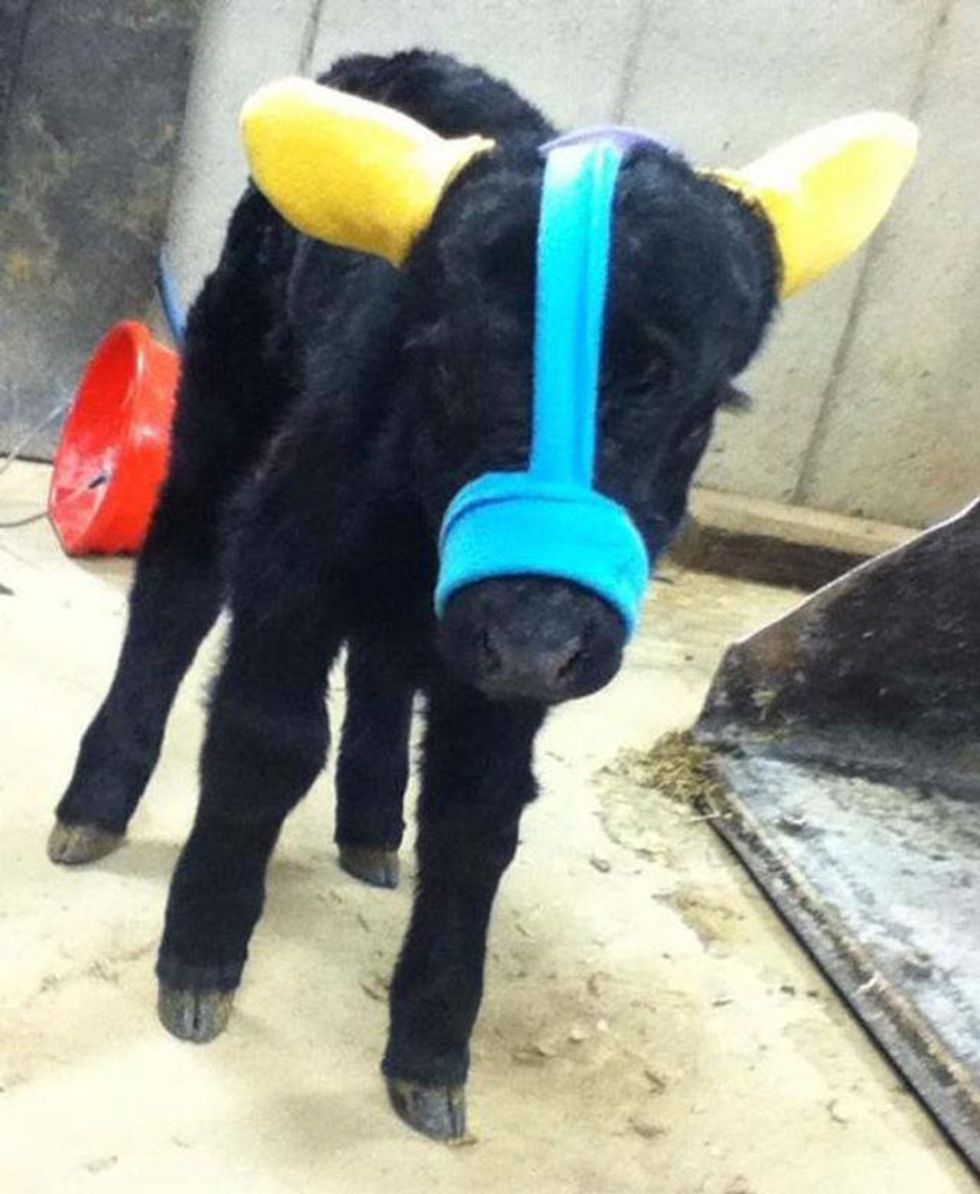 This little guy sported a two-toned headpiece.
Some farmers, however, have been opting against the knitted version.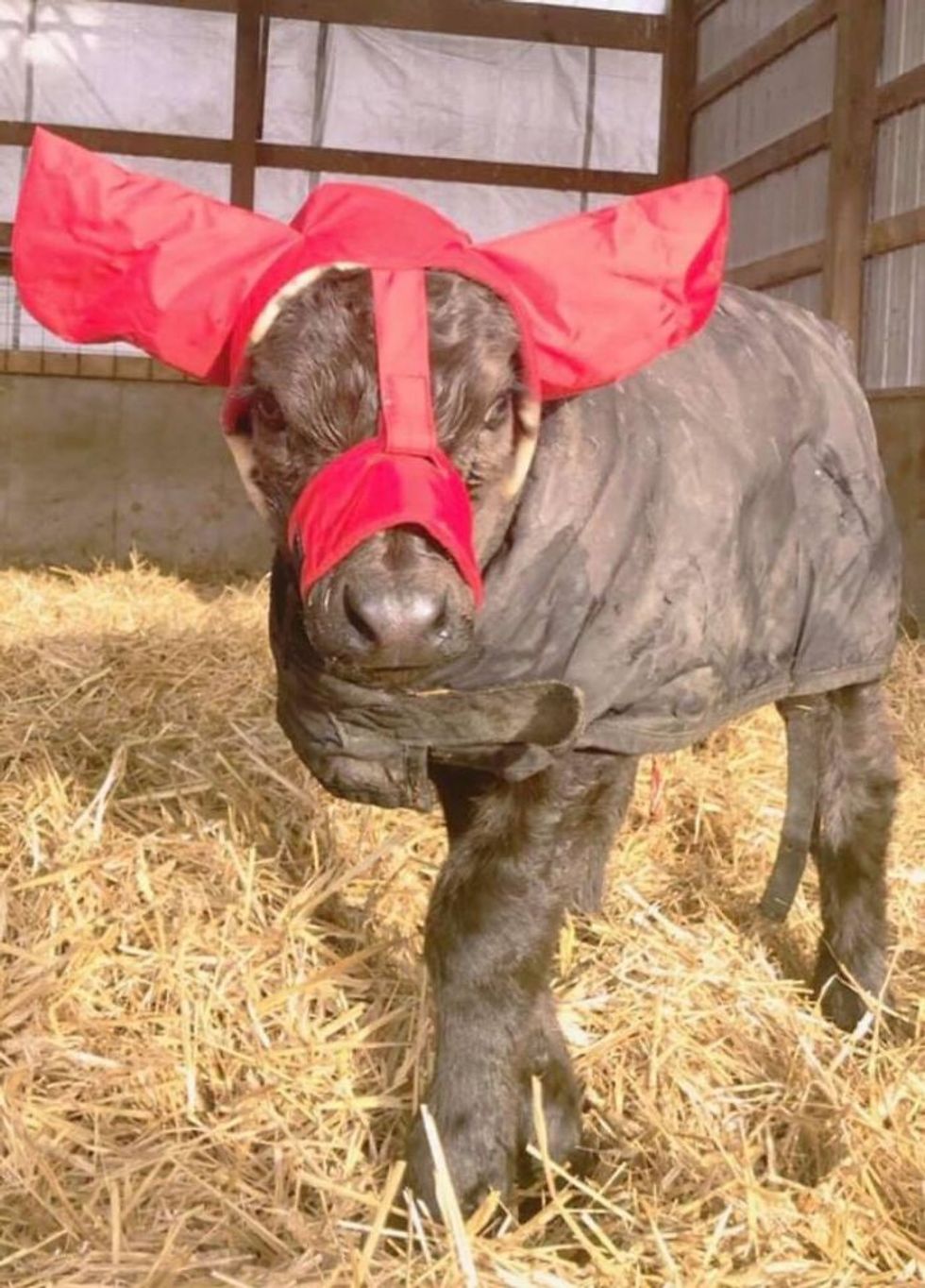 Instead, they've been choosing a waterproof material for the ensemble.
And we think that it looks just as cute.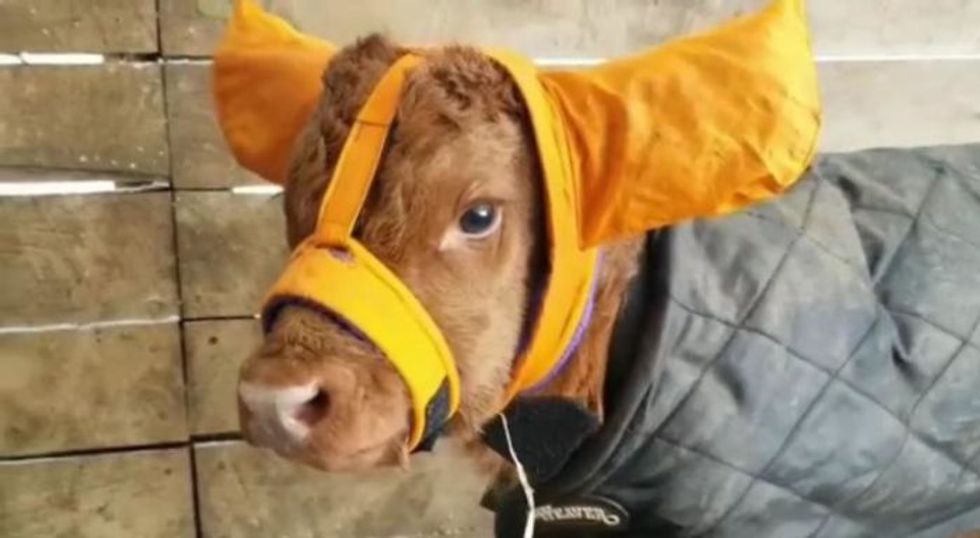 We think that the orange really compliments his eyes.
Cuteness aside, the earmuffs have an extremely important purpose.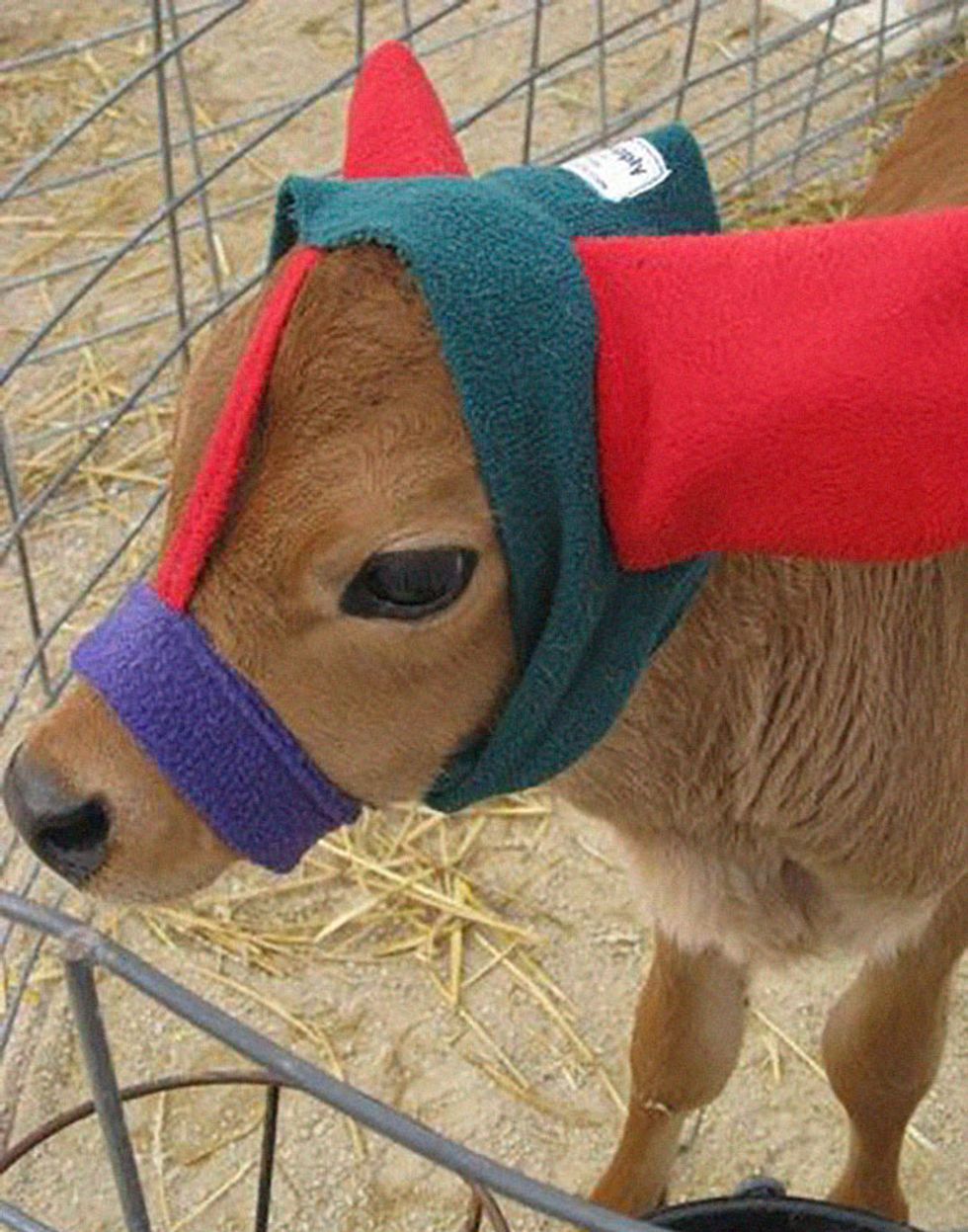 According to Dr. W. Dee Whittier, leaving calves in the cold can cause severely frostbitten body parts as well as hypothermia and
even
death. "If a calf freezes its feet, it must be put to sleep or it will die," he wrote.
Lots of people have been responding to the adorable snaps.
@incapabilityway @ThisFarmingMan_ @MarianKeyes Naturally this will have to be my next knitting project.

— Kelly Barclay (@Kelly Barclay)1561491195.0
Naturally, many were offering their services.
It also reminded people of something very relatable...
@ThisFarmingMan_ It looks like his grandma knit it for him and his mom is making him wear it.

— the OG MC (@the OG MC)1561559966.0
We've all been there.
It seems that earmuffs aren't the only trending accessory for cattle.
@ThisFarmingMan_ They also have jackets https://t.co/e9E7qehzOp

— yeehawlex (@yeehawlex)1561544653.0
This Twitter user posted a picture of a cow sporting the
sweetest
jacket.
The tweets also gained the attention of another prospective customer...
@ThisFarmingMan_ @lil_mmac What are the sizing options? What colors are available?🤨🐾 https://t.co/tVPqFJO5z2

— Sir Apollo 🐾 (@Sir Apollo 🐾)1561529640.0
This pooch wanted his very own.
Although many didn't see the cute side.
@ThisFarmingMan_ Seperated from it's mum, not allowed real milk, due to be shipped and killed young or due a life o… https://t.co/RCLKEEeElg

— abigail (@abigail)1561548272.0
Some people were quick to point out the hypocrisy of the earmuffs.
Others thought that the fashion accessory was a step too far.
@ThisFarmingMan_ @dairymanNZ Or....over exaggerated? I live in Wisconsin. I maybe see frostbit ears every 2-3 years… https://t.co/C8HP0E4lDy

— jofarmgirl (@jofarmgirl)1561525710.0
This user claimed that the earmuffs were unnecessary.
Whether you agree or not, you can't deny it, they're pretty cute.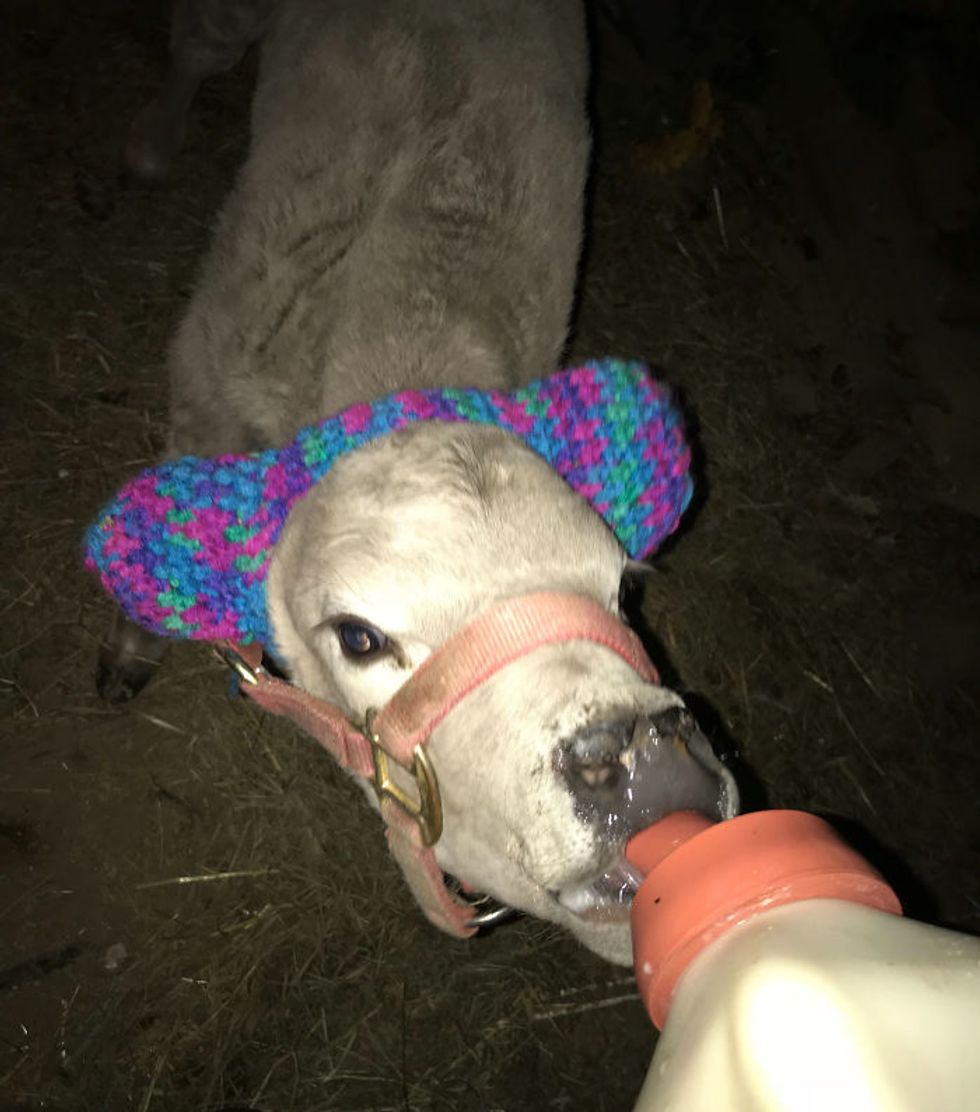 We may be in the middle of summer, but at least we know that the calves are well and truly prepared if the weather does take a chilly turn.