Former Teen Mom star, Farrah Abraham, is known for taking things to the extreme. She's never shied away from controversy, let's face it.
But her latest move has the internet in an uproar. Farrah filmed a very risque (and rather explicit) video - with her young daughter right beside her.
Now the reality star has spoken out, defending her decision.
Farrah Abraham is known as being the original "teen mom."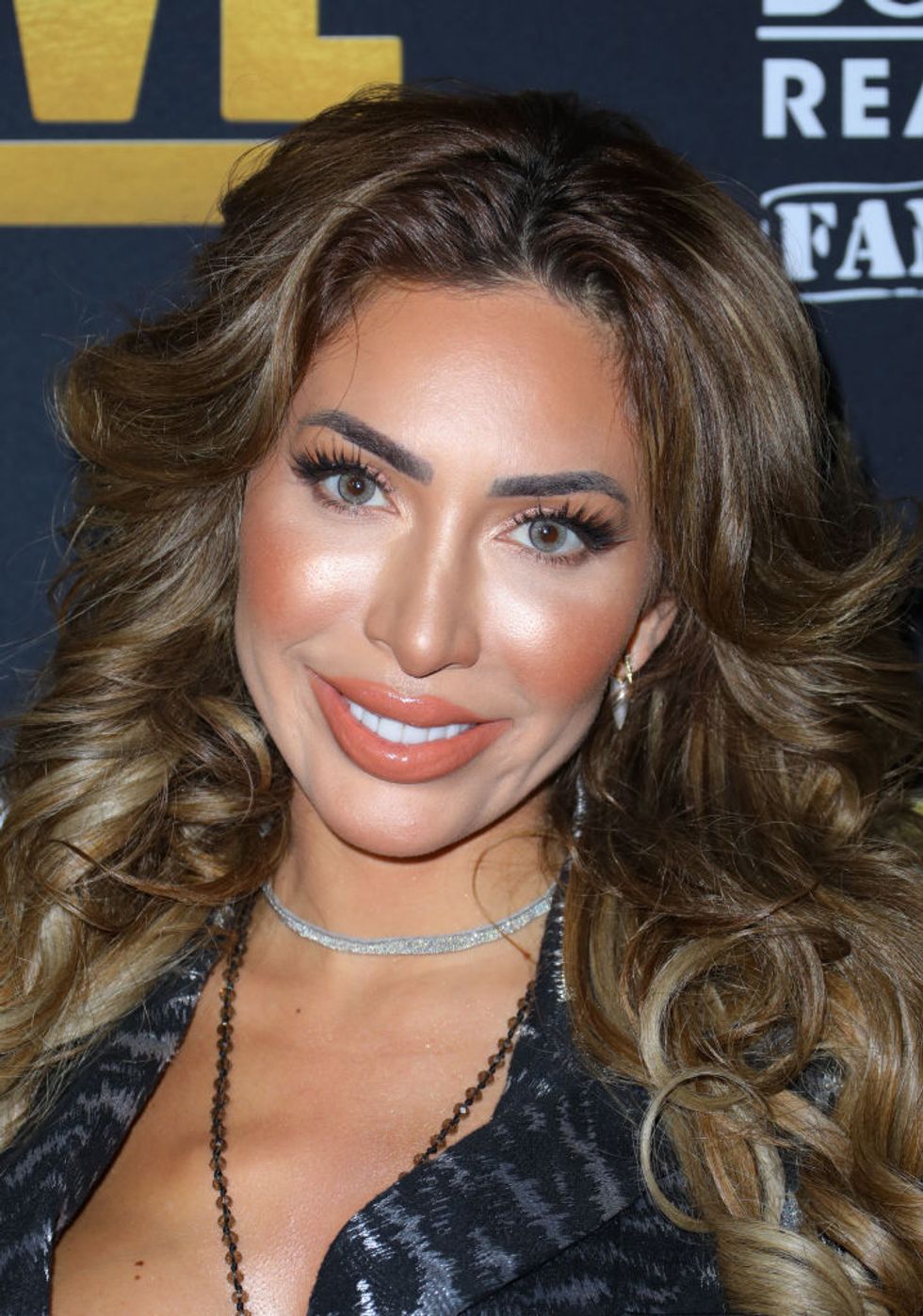 via: Getty Images
The star was first hurtled into the public gaze when she got pregnant at seventeen. Back in 2008, Abraham was cast in the first season of MTV'S 
16 And Pregnant. 
The show followed a group of teen moms through their pregnancies, showcasing the realities of being a pregnant teenager. 
And it became a big hit with fans, with several spin-offs broadcast since.
Shortly after her reality-found stardom, Abraham was cast in the spin-off series, Teen Mom.
Farrah starred in all 4 seasons of the show, which came to an end in 2012.
Although, since, Abraham has made her views on the show perfectly clear...
Farrah has made her views about the 2015
Teen Mom 
reboot loud and clear – explaining that she thinks it's not what it used to be.
The Teen Mom star hasn't had the easiest time.
Not only did Farrah get pregnant at seventeen, but her mom forced her to keep her child and wouldn't allow her to get an abortion.
But that wasn't the only hard thing that MTV caught-on-camera...
Whilst carrying the child, the baby's father, Derek Underwood, tragically died in a car crash.
Since leaving Teen Mom, Abraham has endeavored to make a success of her life.
Out of all the moms that appeared in on the show, Farrah has made the most effort to turn the experience into a springboard for her celebrity career.
She even starred on Celebrity Big Brother UK in 2015.
via: Getty Images
Although she didn't fall short of controversy during her time in the Big Brother House.
Fans of the show called for her to be removed from the house after she threatened to "kill" her housemates.
Abraham was called to the Diary Room after a row broke out with former Atomic Kitten singer, Natasha Hamilton. Speaking to Big Brother, Abraham said: "I'm going to straight-up kill this whole f-----g house," the
Telegraph
reports.
The reality star has tried her luck with a singing career too.
She released her debut studio album
My Teenage Dream Ended
in 2012, followed by a memoir with the same title. While her memoir received mixed reviews, the album received a staggeringly negative response from critics who went as far as to
label
her single "On My Own" as one of the "worst works of pop music ever made."
She's also ventured into the world of cuisine.
After being propelled into TV stardom, Farrah decided to pursue her passion for cooking and took a course in culinary arts and management at the Art Institute of Fort Lauderdale in Florida, in 2011. After earning her degree, she went on to launch her "Mom & Me" Italian pasta sauce line.
As for her love life?
She is happily single and says she doesn't have that much time for dating.
Farrah has never been one to shy away from controversy.
But her latest move has the entire internet feeling a little bit irritated - and concerned!
She shares a lot of her business on social media.
And her latest blunder might just be a step too far for some.
Because Farrah was spotted doing some rather raunchy dancing.
And standing right next to her? Her ten-year-old daughter, Sophia.
And we weren't the only ones.
Her Instagram was instantly flooded with complaints from people concerned for Sophia's wellbeing.
People felt embarrassed for Farrah.

via: Instagram
There's a time and a place to be sexy - and many thought this was 
not 
it.
Others found the situation more serious.

via: Instagram
They were compelled to ask what was driving Farrah to do these strange things.
While some were worried about Sophia's welfare.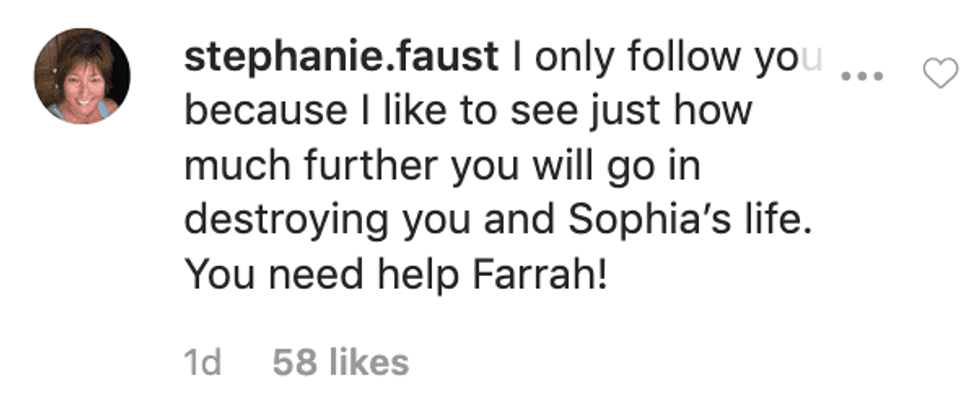 via: Instagram
There were some wondering where Farrah would 
ever 
draw the line.
And now Farrah has spoken out in her defense.
statement to TMZ
hitting back at the mom-shamers.
"She was over there making TikToks and having fun and dancing."
"I didn't do anything that nobody else is doing."
"There's nothing wrong with a woman being fully dressed in clothing if that's a bikini set or whatever."
She claims it's nothing her daughter hasn't seen before.
And she doesn't want to look back on her life with regrets.