There's nothing quite like graduation to bring a family together and there's nothing quite like the internet to make a graduation pic go viral.
Tori Roach, eighteen, is a student at Huntsville High School, Texas, and she celebrated her high school graduation this week. To commemorate the special occasion, Tori, an active Twitter-user, posted a cute pic of her in full gown with her proud Dad. Nothing news-worthy there, right? Think again... overnight Tori's picture went viral, with more than sixty-five thousand retweets and over a hundred-thousand favorites.
Scroll to see what all the fuss is about.
For some, graduation is just a bit of a fuss.
I never actually went to my graduation, unlike Tori who took full advantage of the occasion.
Graduation is a rite of passage and also a great opportunity to bag a new profile pic.
It's is also a great opportunity to get one of those lovely framed photos for your Grandma or whoever else takes pride in your educational success.
The attention that Tori's graduation pic got, however, was not about her...
@__toritilla If that's your dad in both pics he's a damn time traveler how this dude hasn't aged in almost 2 decades

— AJG (@AJG)1527542613.0
Her dad was the star of this viral picture and a Twitter frenzy ensued, with many users admiring his youthful complexion. The attention aimed at her father's looks led Tori to tweet a disclaimer that he is, in fact, happily married.
Sorry guys, Tori's dad is taken!
For everyone asking, yes this is my dad, he's 37, and no he isn't single...I have another sibling on the way 😂

— 𝚃𝚘𝚛𝚒🪐 (@𝚃𝚘𝚛𝚒🪐)1527528001.0
I'm not sure how I'd feel if thousands of people started telling me they would like to "get it on" with my dad...
Roll up, roll up, all potential step-moms!
@__toritilla looking for a step mom?

— sydnei (@sydnei)1527521302.0
I wonder how Tori's mom felt about her husband's swarm of internet fan-girls... Coming from a small town in Texas, the Roach family has lived a pretty regular life until now.
The compliments kept pouring in!
This kind of attention could go to anyone's head, but it was all in good humor and Tori took the messages in her stride.
There's nothing like compliments from thousands of strangers to make you feel like a god...
I never compliment anyone online. Maybe that's why I'm single.
Not everyone thought that Tori's Dad was a dreamboat, though.
@__toritilla I scrolled your pics to find more pics of your dad and was very disappointed

— Selenite stan (@Selenite stan)1527527876.0
Twitter-user, @whoregaye, claimed that they had searched for further pictures of Tori's dad across her social media (as you do) and was disappointed with what they found.
Ouch.
Hopefully, Tori's dad didn't listen to the haters and took it all in his stride.
"I wanna do that with my daughter!"
@__toritilla @chrissy_cpt Cute. I hope I get a chance to do this with my daughter

— Court B (@Court B)1527609343.0
Some Twitter-users were inspired by Tori and her dad's picture and that hoped they could bag a similar photo with their kid.
Babies do make for cute viral content...
If I had a baby, I'd take every opportunity to make it go viral - or I'd go the other way and ban it from the internet until it's thirty... haven't decided yet. I guess it depends on what your kid's like, you never know if you're going to end up with a social media influencer or anti-social media warrior; it's a lottery, eh!
You might have a kid that doesn't even want to celebrate their graduation.
If that's the case, you can say so long to any dreams of becoming an internet sensation as a result of your daughter's viral graduation pic.
Tori's picture had got so much attention that People Magazine got in touch and interviewed her.
I can die happy now:,) Thank you @CiCiAdams_ for taking the time to write this❤️ https://t.co/ykFGSSPUiH

— 𝚃𝚘𝚛𝚒🪐 (@𝚃𝚘𝚛𝚒🪐)1559085916.0
Tori shared the
interview
with People Magazine on her Twitter feed, declaring that she can die happy now. I mean, I wouldn't give up on life yet, Tori... who knows, this year's family Christmas card might just break the internet!
Aw! I mean it is cute, isn't it?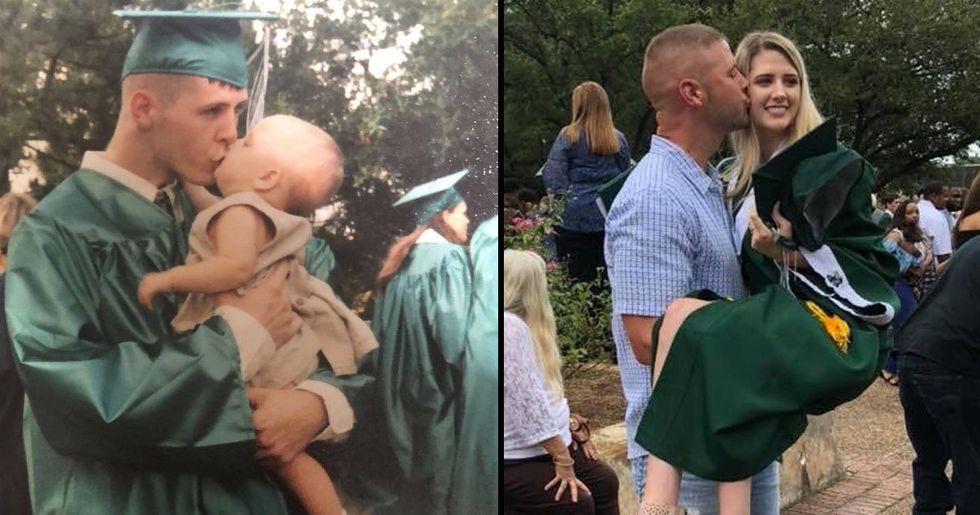 Taken eighteen years apart, the first photo was taken at Tori's dad's graduation and the second is re-staged, shot at her own graduation. The pictures capture a special father-daughter moment.
The joys of Photoshop!
@__toritilla They grow up so fast :') https://t.co/tPtbt48dNF

— Liosa de Barrio (@Liosa de Barrio)1527548738.0
Some clever cookie took advantage of the viral picture and their Photoshop know-how to create this funny alternative. What did we ever do before the internet? So, if you are graduating this month, don't forget to get a picture. Who knows, it might end up on the top of your Grandma's TV,
or
it might end up making you a viral star!