Gone are the days of you tuning in to watch the Golden Globes just to see your favorite celebrities and hosts. Now it's all about the water staff.
Don't have the talent to sing or act? Don't worry, this FIJI Water Girl will show you how to become famous overnight just by keeping people hydrated.
This year, at the Golden Globes, the FIJI water promotion woman stole the show with her admirable confidence and dedication. Everybody was talking about the FIJI Water Girl. During the show and afterwards. And she didn't even have to wear a meat-dress or anything.
Social and online media were shook with tweets, memes and articles within hours since the Sunday night started. People have been praising FIJI Water Girl for her promotional skills and a natural talent to steal the spotlight. Others noted how much strength and courage it must have taken her to keep on photobombing in front of unhappy paparazzi.
Water promotion employees are not new to the award show industry.
I found this year's host for the Oscars...FIJI WATER GIRL #GoldenGlobes #Oscars https://t.co/CPU3PoNUGe

— Brandon Sams (@Brandon Sams)1546835075.0
But this year at the Golden Globes everyone's attention was on one particular staffer of FIJI bottled water. This, so called, FIJI Water Girl managed to successfully photobomb a number of A-list celebrities this weekend, reported
Mashable
, and it's one more thing I will be adding to my bucket list.
She was everywhere.
With her eyes wide, smile on, strong eyebrow game and perfect sense of where the camera is, this girl was the star of the night.
Just like Mashable noted, at this year's Golden Globes, a star is born.
@TIME The Fiji Water Girl is my fave model to work with, Kelleth Cuthbert! A recent shoot :) And though you can't… https://t.co/M5w9jG6biO

— Ema Suvajac (@Ema Suvajac)1546828516.0
"FIJI Water woman is your new idol, or at the very least, your next Halloween costume. All hail her!"
Mashable
continued.
The blue dress did her justice.
@piya @watergirlGG I don't who the miserable woman is in front of her, but the Fiji water girl is a breath of fresh… https://t.co/keinlqxIQ1

— Troy Carlson (@Troy Carlson)1546831639.0
In a crowd of black and white and gold celebrities, dark blue really stood out. You couldn't look away.
As usual, memes appeared instantaneously.
Twitter went crazy for her too.
The fiji water girl is serving LOOKS. Opportunity seeking at its finest. Get it queen! https://t.co/LfgiKvG3bQ

— Alex (@Alex)1546823612.0
People kept saying the girl deserved a Globe for Best Supporting Role. Others hoped she would be the next host of this and other award shows. I hear the Oscars is still open?
FIJI Water has been the official bottled water partner of the Golden Globes for over 3 years now.
they
, too, shared their part of the fun on Twitter: "We're so glad everyone is talking about our water! *senses ominous presence* She's right behind us, isn't she?"
The water girl has name, though.
6 ft.
tall and living in Los Angeles, Kelleth has an Instagram page which, after the Golden Globes, went from
111 followers
to 74,500! Literally, an overnight success.
She was hired by Fiji to promote the brand and give out water bottles...
Parody Twitter account.
Somebody created a fake Twitter account on behalf on FIJI Water Girl, making Monday just that much easier to bear.
Wondering what she was thinking during the show?
FYI: I have already written 200 pages of the Fiji Water girl's inner monologue tonight https://t.co/2VvMGRJPW4

— Jarett Wieselman (@Jarett Wieselman)1546818513.0
One guy even wrote 200 pages of her (possible) inner monologue.
In all seriousness, though, Kelleth is an inspiration to all women.
#fijiwatergirl 😂 you know all the paparazzi are YELLING at her to move. She's a strong woman. Supposed to be hydrat… https://t.co/i1KkInMblD

— Meg Harrell (@Meg Harrell)1546826521.0
Sure, you might be there to represent somebody else, but that doesn't mean you can't win some points for your own career as well. Since you're there anyway…
Who says you can't have fun, handing out water bottles?
@lexaharley You got mee

— Fiji Water Girl (@Fiji Water Girl)1546863702.0
No, no, she was for real. It would have been amazing, though.
She kept her game on throughout the entire night.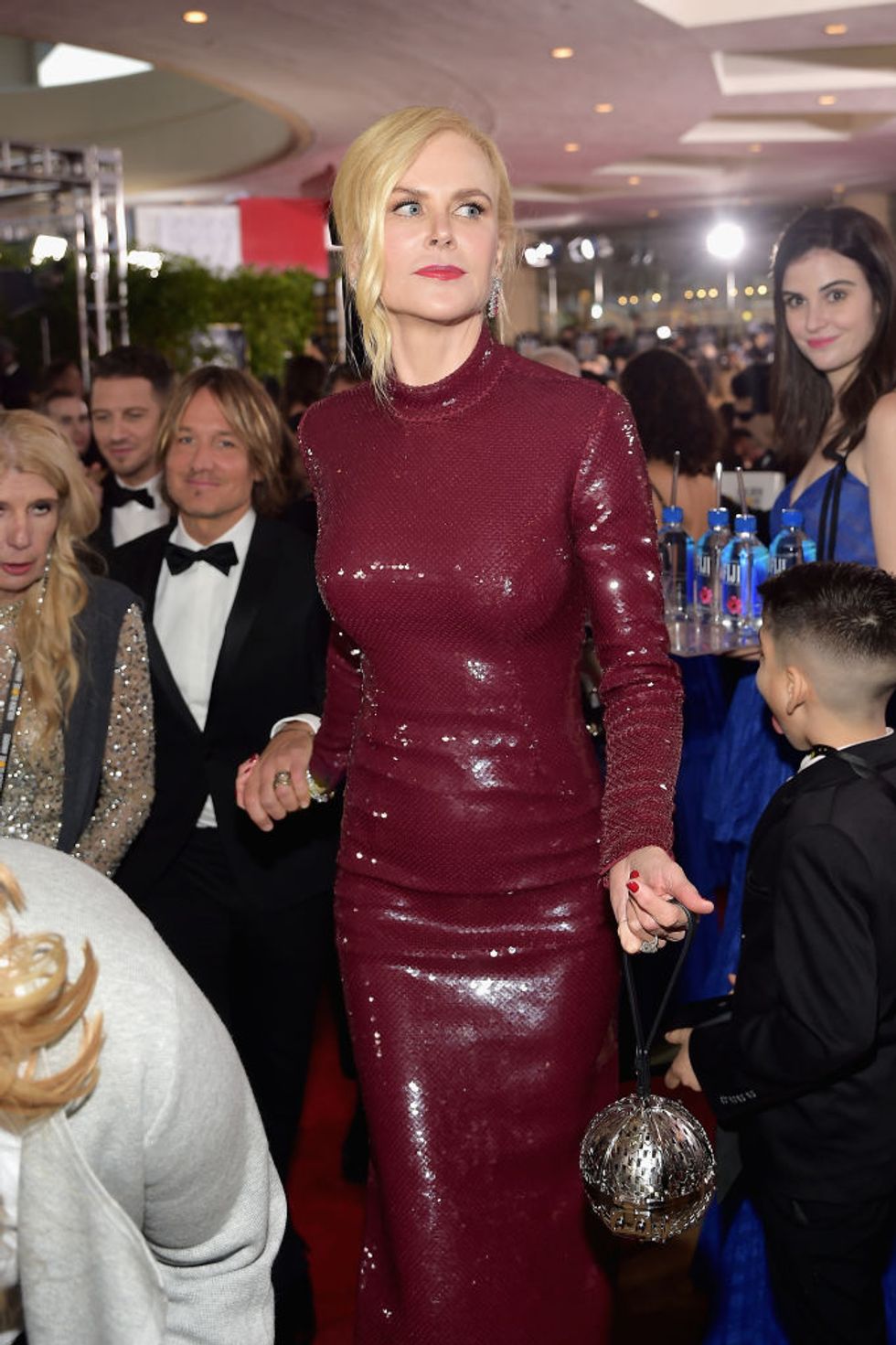 via: Getty
Mirror
noticed, "Even when Nicole Kidman wasn't looking at the camera, Fiji Water Girl was..."
And even at the end of the night, she kept her sense of humor.