Animals are a blessing, putting a smile on the faces of those who share their homes with their furry tenants, and it's especially heartwarming to see the bond between an animal and its human.
This story will have you reaching for your tissue box. A firefighter rescued a stuck stray kitten, and then he adopted it just weeks later…
A Michigan firefighter took on a new furry friend just weeks after meeting him on the job.
And how they met will most certainly be the cutest anecdote at every social event ever! Because let's be real, who doesn't love a good animal story? It warms my heart, so I don't know how it wouldn't warm yours.
As part of the Saginaw Fire Department, the kitten's hero, and firefighter, Brandon Mulvaney, was called to the rescue back in August.
Locals had called the department after hearing a tiny animal crying in the drain. Brandon got straight to work, doing what he does best: saving lives. And, isn't it crazy that this little furball he jumped to rescue, is now his best pal? Life truly is so magical sometimes.
Brandon knew right away that the fuzzy little stray would make for a perfect companion in his busy but loving home.
The firefighter now shares his digs with his wife, their 4 adorable children, a fluffy little dog, and the newest edition, Huntley the kitten. But enough of that, I know you're dying to hear about how Huntley pounced into Brandon's life, right?

Well, after the Saginaw Police Department recieved a call from locals reporting crying sounds from a storm drain, Brandon got straight work…
Bonnie Kanicki, director of Saginaw County Animal Care and Control, took the kitten in, for only a few months, after he was rescued, and they said that, at first, "officers were able to hear the kitten but could not see it," explaining that they didn't have the training to go into the drains, so had to call the fire department.

And that's when Brandon turned up and saved his little friend!
The kitten was trapped below the ground "running back and forth between a main drain and a curb style storm drain," said Brandon.
Speaking to Newsweek, Brandon explained: "After coming up with a strategy on how to remove the kitten, our engineer came up with the idea of climbing down in the access manhole cover, only to discover another smaller pipe that the kitten was running in."

So, it soon became a tricky task for the hero, but nothing his bond with animals couldn't solve!

And when people ask: "Where did you get this cute little furball?" Brandon gets to tell the story of his bravery as he crawled through a pipe to find the tiny stray!
And, after a little while of Brandon calling for the kitten to surface from his hiding spot, he finally showed his adorable face!
But, what's cuter than that? Surely nothing tops the already beyond adorable rescue story, right? Wrong. He named the little fluff monster after the intersection he was found at; Huntley and Bridgeton.

"Our four childrens' names and our dog's name contains Y so it seemed fitting," the fire-fighter admitted.

Ugh, adorable, I know!
And when Saginaw County Animal Care and Control called Brandon, he just couldn't resist!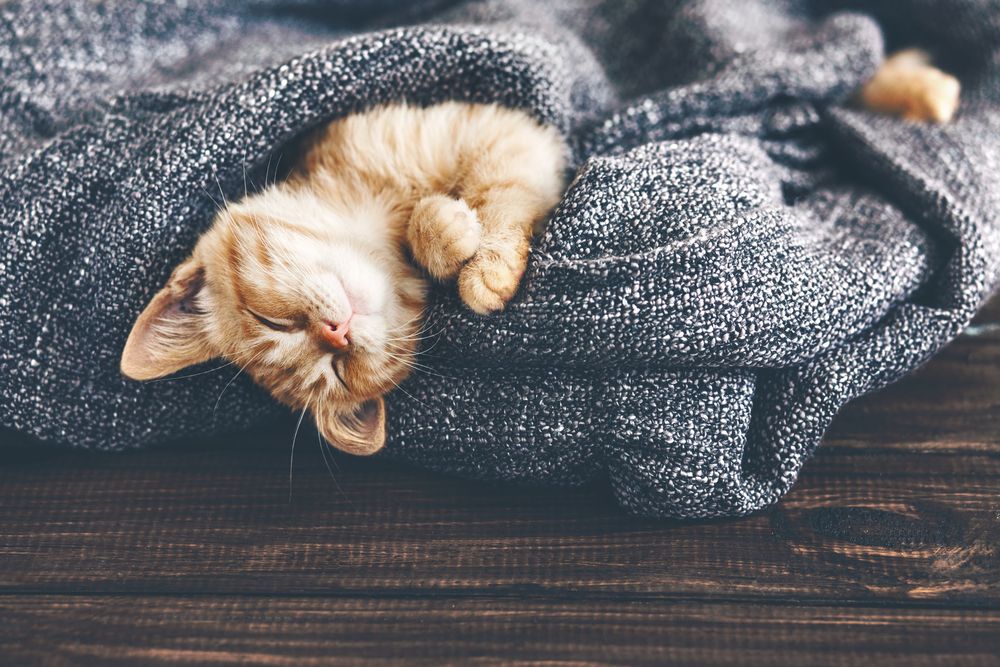 The animal center called Brandon to let him know that, other than an eye infection, that was being treated, the little kitten was okay!

"During this phone call is when I decided to adopt it, it deserved a better life than being a feral cat when it got older," the hero voiced.
And Huntley has now found his forever home!
"The first few days were very rocky as he is still small and four children and another pet is very overwhelming, but he is handling it just fine and is a spitfire. He is such a blast and a love bug," Brandon finished.

I'm not crying, you are! Do you have any rescue stories?