Amid the coronavirus outbreak, there have been some incredible acts of kindness. From celebrity donations to people offering to do the grocery shopping for those who are vulnerable, people have really been going above and beyond to help in any way they can.
The latest act of kindness? One man left a $10,000 tip at a restaurant just days before it was forced to shut due to the coronavirus outbreak…
As the coronavirus pandemic continues to wreak havoc, so many people are pulling together to make the best out of the situation.

So, before we get into this incredible story, let's have a look at some of the amazing things people have been doing to help.

Several celebrities have been donating money to coronavirus relief efforts to try and help find a cure for the virus.

But, of course, that wasn't all. The fashion brand also announced that it is also preparing to produce medical-grade protective materials such as gowns and masks for frontline healthcare workers. WWD reports that the brand is working with its U.S. team to create 25,000 isolation gowns and 250,000 masks.

The former Microsoft executive made the donation on behalf of himself and his wife.

Kylie Jenner donated the sum of $1 million dollars to help fight coronavirus. Her money will go towards providing face masks and other essential equipment.

Elton John hosted a benefit concert, titled iHeart Living Room Concert For America, on Sunday featuring a ton of famous faces performing from their homes including Billie Eilish, Mariah Carey, Alicia Keys, Backstreet Boys, Sam Smith, and Lizzo. As per the BBC, the amount raised from the event was not immediately revealed, but Procter & Gamble gave $500,000, which was also matched by Fox.

Organizations, companies, and of course, ordinary people have also been mucking in.

"They delivered 10,000 meals Friday. Made my day."

This is such an amazing idea.

"We delivered two dozen creativity bags before our Facebook post exploded. Now we have 700+ requests and cannot continue to self-fund. These bags are designed for low-income families with kids between 4 – 11 years old. They include activity books, crayons, pencils, pipe cleaners, construction paper, play-doh, stickers, and more. Each bag has a variety of items to keep your kids engaged," their page reads.

Motivational messages and rainbows have been popping up on sidewalks and windows across the globe.

Let's get into the incredible story of the mystery customer who tipped $10,000.

And, as you'd imagine, staff had the shock of their life when he handed a whopping $10,000 in a stack of cash to the manager.

Which couldn't have come at a better time, considering, with many places forced to shut, workers are plagued with uncertainty over pay.

The restaurants have since been operating on a takeout-only basis. Although, this has been tough, as only 5 percent of sales come from takeout, according to CBS News. "To-go was only about 5% of our sales before all this," Ross Edlund, owner of Skillets, said. "I look at the McDonald's next door and cars are lined up around the block, because that's what they do. That's what they're built for. Breakfast here is an experience. It's about getting out of the house and letting someone else take care of you. We can't offer that now, but we're trying to do the best we can."

The restaurant is currently trying to track him down. Staff at the restaurant say they knew the man by appearance, but that they don't know his name. According to Naples Daily News, Edlund said: "We don't know who he was yet. I'm trying to figure it out."

And on weekends he brings his family for brunch. "It's funny because we have regulars who have been coming in forever, and they're our friends but we don't always know their names. We know their faces, their orders, their favorite tables, but we don't know exactly who they are."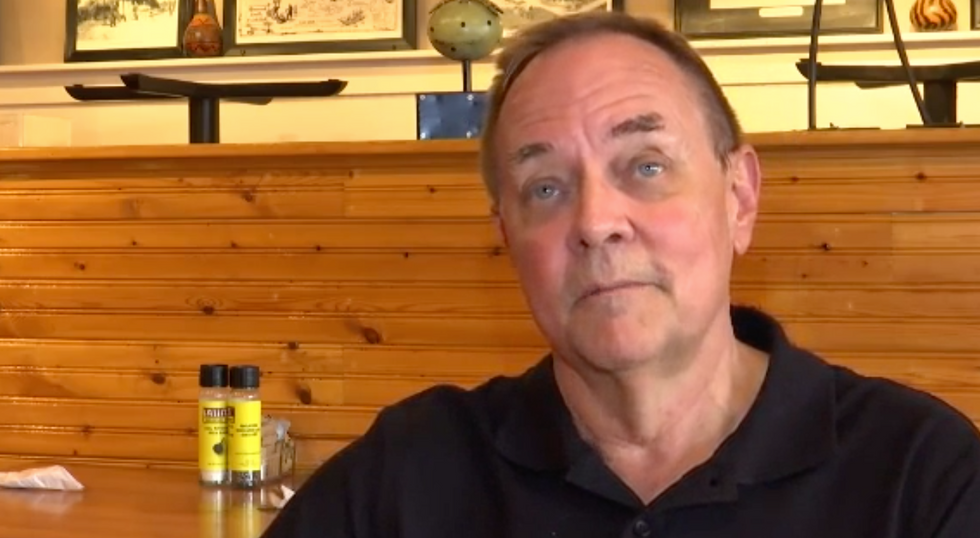 "Thank you very, very much. You are a really decent person, and you have touched our staff deeply. Thank you," he told CBS News.

Fancy some more positivity? Keep scrolling to see all the celebs who are trying to cheer us up during the pandemic. Just wait until you see the video of John Legend…