Australia is in the midst of one of the worst bushfire crises the world has seen. Since September, entire communities have been engulfed by relentless heat and fires. The flames are showing no signs of slowing down – which means only one thing… death tolls are rising.
The legendary Australian family, The Irwins, have been doing their bit to save as many animals from the fires as possible and now one other legend has done her part to help out.
Now food supplies have been flown in by planes to help animals stuck in the fire ravaged land survive.
Keep scrolling for the full story.
Due to soaring temperatures and one of the worst droughts in years, the relentless fires have been burning since September. We're currently in January. Just let that sink in.

New South Wales is suffering immensely at the moment.
There have been fires reported in every state, but New South Wales is truly taking a beating by bush fires and is undoubtedly the hardest hit. According to CNN, so far, in New South Wales alone, more than 900 houses have been destroyed.

What does this mean? Well, it grants "extraordinary powers" to the NSWRFS commissioner, including the authority to allocate government resources and direct government agencies in taking action, according to CNN.

The BBC reported that close to fifty bush fires continue to burn in populated coastal and inland regions to the city's north.

Including several volunteer firefighters.

Last month, the smoke was so bad in Sydney that air quality measured eleven times the "hazardous" level, CNN reports.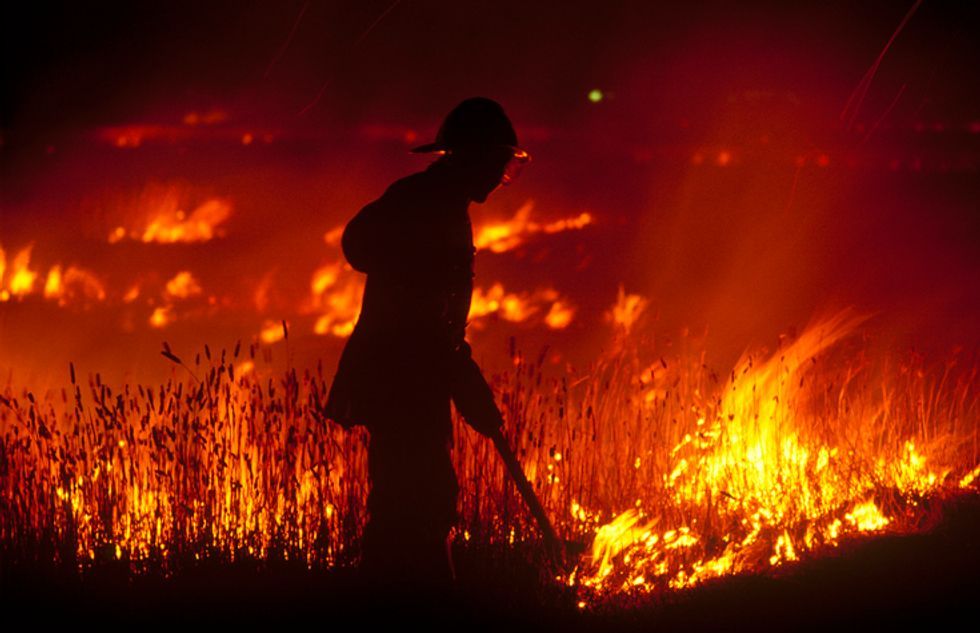 Firefighters all over the country have been tirelessly battling the formidable blazes and are struggling to contain them. Keep scrolling to see the heartbreaking pictures of the aftermath.

And it was Canada that was the first to respond and take action. The Canadian Interagency Forest Fire Centre, based in Winnipeg, answered the call for help after realizing the bush fire situation is expected to continue for many more weeks and gave up their Christmas to help fight the raging fires.

Including the U.S. and New Zealand, who have sent in more firefighters to try and help tackles the blazes.

There seems to be no end to the blazes. In total, more than 5.9 million hectares (14.6 million acres) have been burned, CNN reports. And those who escaped the flames have lost their homes, with all their possessions perishing to the flames.

And are left stranded awaiting evacuation. It's a truly heartbreaking sight.

Sadly, Australia has only just entered summer, meaning temperatures could remain high for some weeks. In fact, temperatures usually reach their highest during January and February, so there may be no end in sight for months.

Several of Australia's native species have been affected including kangaroos, koalas, wallabies, possums, wombats, and echidnas. Keep scrolling to see the latest snaps showing the true devastation the fires have had on the native wildlife.


The country is totally unprepared for the devastation caused to its wildlife. Science for Wildlife executive director Dr Kellie Leigh told the New South Wales upper house inquiry: "We're getting a lot of lessons out of this and it's just showing how unprepared we are.
undefined
"There's no procedures or protocols in place – even wildlife carers don't have protocols for when they can go in after fire."


It's believed that at least a third of Koalas in New South Wales alone have perished in the flames.


Tracy Burgess, a volunteer at Wildlife Information, Rescue and Education Services (WIRES), explained how concerning it was that rescuers were not receiving as many animal patients as they expected.
undefined
"We're not getting that many animals coming into care. So, our concern is that they don't come into care because they're not there anymore, basically," she told Reuters.
undefined



It's feared that animals that managed to survive the flames will need huge amounts of humanitarian assistance to get populations anywhere near back to what they used to be.

And of course, we all remember Lewis the Koala who was heroically rescued by a woman using the clothes off her back.

And its only set to get worse. But the number that surfaced this week is utterly heartbreaking.

But, despite the devastating reality of what is happening to the country, not all hope is gone.

But there is one family, in particular, who have gone to exceptional measures to help the animals, birds, and reptiles of Australia.

The late wife and children of the Australian wildlife enthusiast, and overall legend, Steve Irwin.

And the family have dedicated their lives to continuing Steve's legacy after his untimely death in 2006.

And have kept Steve's pride and joy, Australia Zoo, up and running successfully.

Is Australia Zoo and it's thousands of inhabitants safe from the deadly blaze?

And gave a lengthy insight into the incredible work the Irwins and the rest of the Australia Zoo team have done amid the deadly bushfire crisis.

Bindi wrote, "With so many devastating fires within Australia, my heart breaks for the people and wildlife who have lost so much. I wanted to let you know that we are SAFE. There are no fires near us @AustraliaZoo or our conservation properties."

"Our Wildlife Hospital is busier than ever though, having officially treated over 90,000 patients." 90,000 animals, birds, and reptiles. What an incredible accomplishment.

It's what Steve would have wanted. "My parents dedicated our Australia Zoo Wildlife Hospital to my beautiful grandmother." She wrote, "We will continue to honour her by being Wildlife Warriors and saving as many lives as we can." What an amazing family.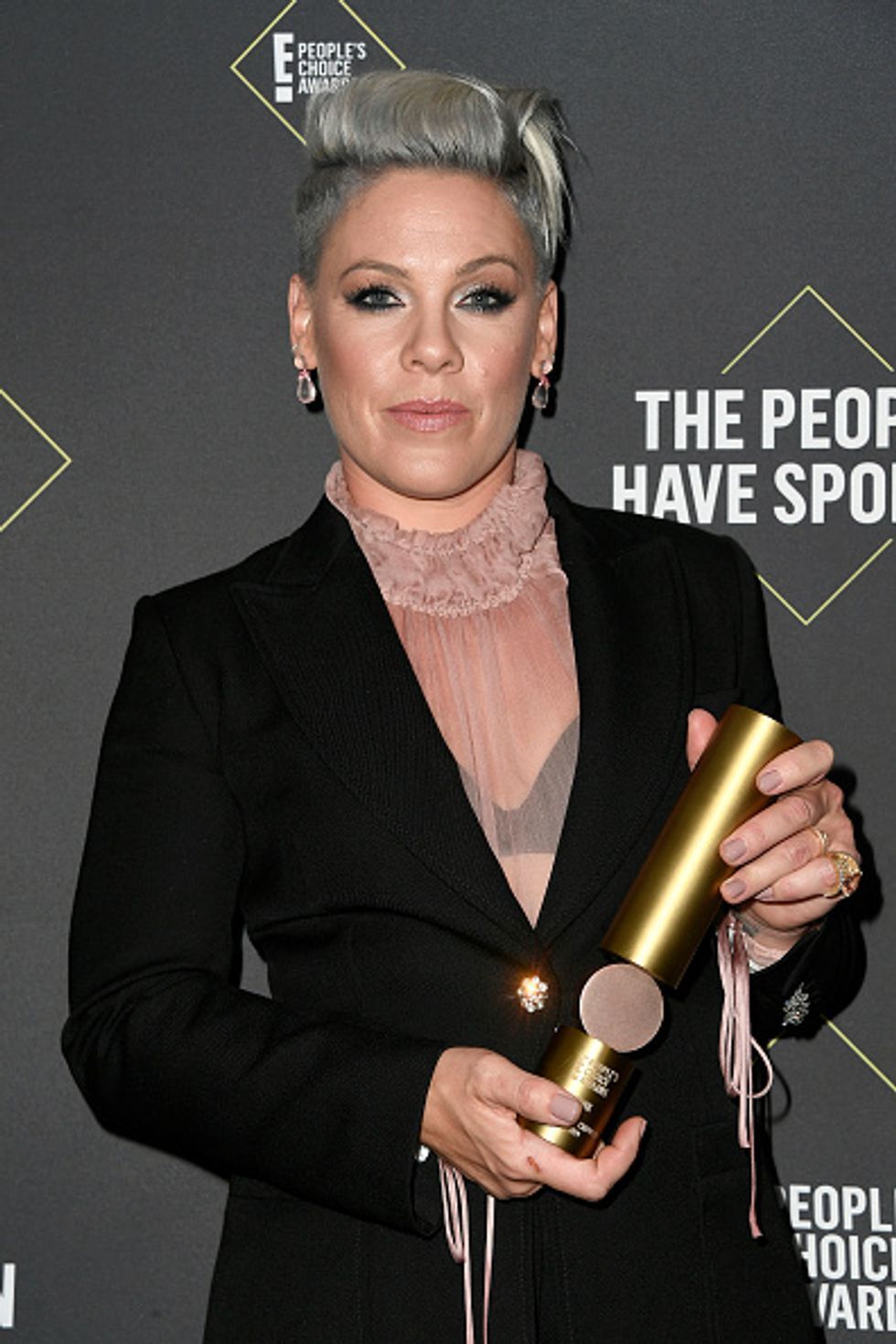 The American legend, P!nk donated a gargantuan $500,000 to the Australian firefighters in an effort to help them finally put an end to the devastation.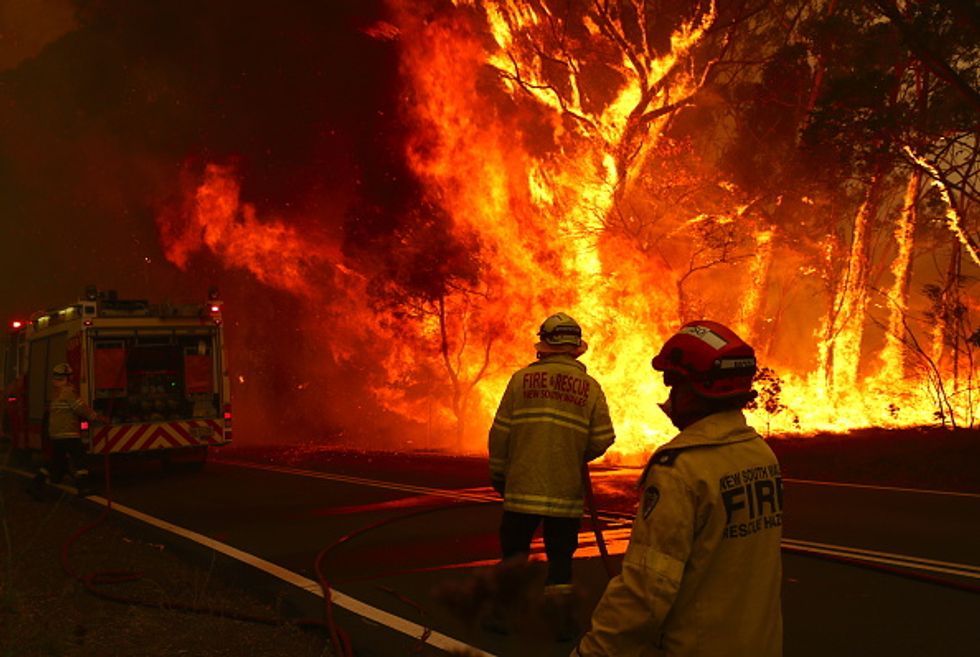 Posting to Twitter, the singer explained that she just couldn't ignore the fires that are taking so many lives and crippling so much of Australian land. She wrote:
I am totally devastated watching what is happening in Australia right now with the horrific bushfires.



I am pledging a donation of $500,000 directly to the local fire services that are battling so hard on the frontlines. My heart goes out to our friends and family in Oz ❤️


Countless people have praised P!nk for her donation, including one Australian firefighter. The firefighter wrote:
As a NSW Rural firefighter, thank you so much for supporting our country during these horrific fires. You just keep proving again and again what an amazingly selfless human being you are.
undefined
Another thanked her saying:
undefined
Thank you! Omg I love you! This means the world to us Australians watching our country be engulfed in flames and all the animals and people doing it tough. I cannot thank you enough.


In such dark times as these, people like P!nk prove that there is still goodness in the world. Thank you P!nk.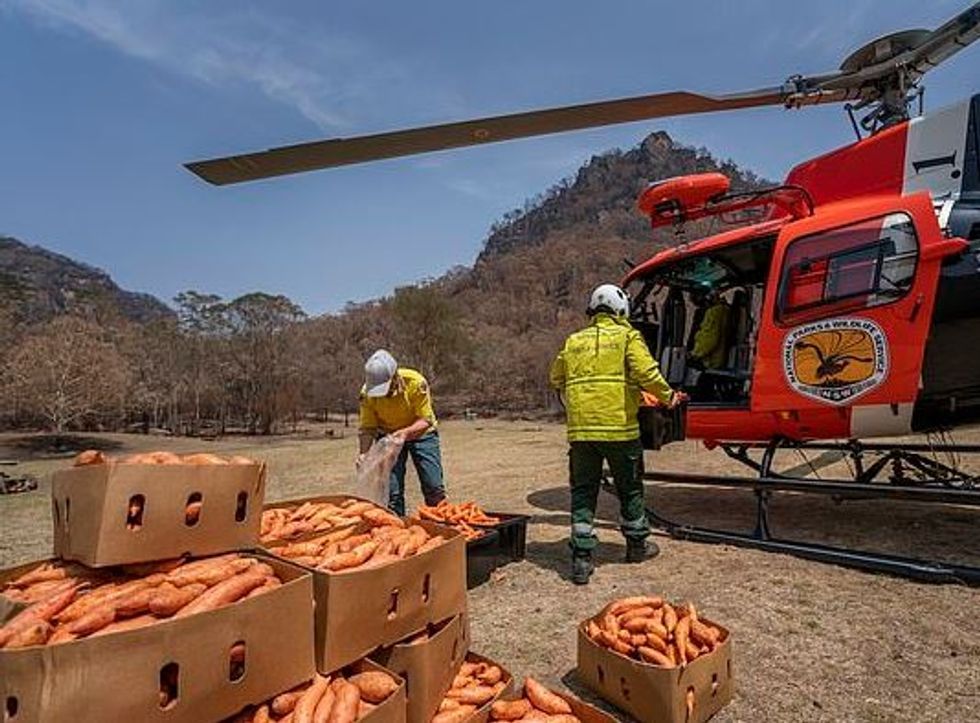 But these aircraft are being used to feed the thousands of hungry wildlife stranded amid the Australian bush-fire crisis.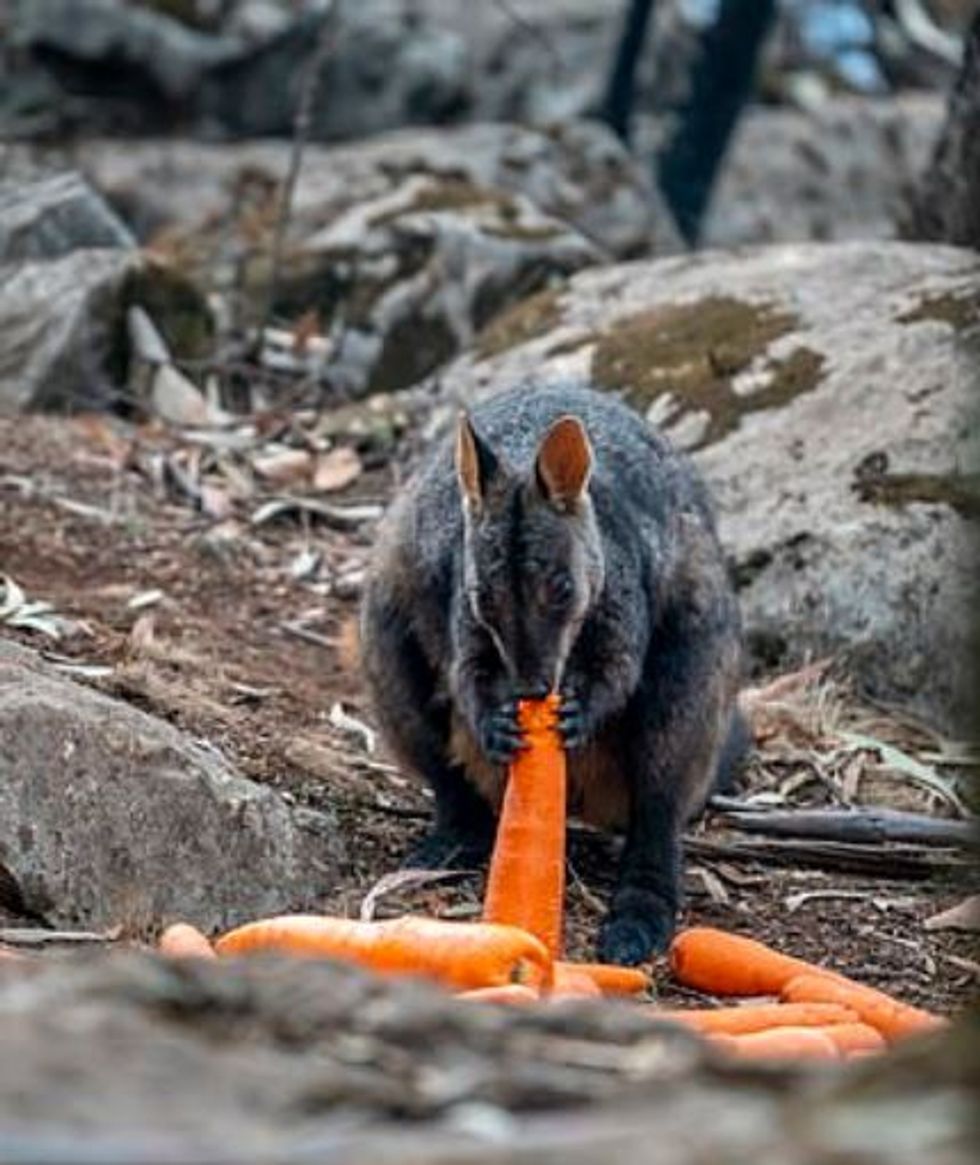 Despite the millions of animals that have tragically cherished, the New South Wales government is still doing everything they can to save as many as possible. They're currently using choppers and planes to drop food to the starving animals.

So far they have dropped more than 2,200kg of fresh vegetables for the animals left alive. Although many have been able to escape, they haven't been able to find food – until now.

New South Wales Environment Minister Matt Kean explained:
The wallabies typically survive the fire itself, but are then left stranded with limited natural food as the fire takes out the vegetation around their rocky habitat. The wallabies were already under stress from the ongoing drought, making survival challenging for the wallabies without assistance. When we can, we are also setting up cameras to monitor the uptake of the food and the number and variety of animals there.


After all of this heartbreaking tragedy, let us just hope that many of these poor animals can make a full recovery.