Friends is one of the biggest and most successful sitcoms that there has ever been.
The show celebrated its twenty-fifth-anniversary last week, and despite it finishing production fifteen years ago, the show and its characters are even more loved than ever.
The five "friends" are known to have stayed in touch over the years since the show came to an end, but there's one major character who has made claims to have not heard from on-screen crush, Jennifer Aniston, who played Rachel Green, since their final scene together.
Keep scrolling to learn more...
They'll be there for you...
via: IMDB
There's no doubt
at all
that
Friends
is the world's favorite sitcom.
For the select few who haven't seen the show...
Friends follows the lives of 5 friends who are all in their mid-twenties and don't have a clue what they want to do in life.
Friends aired in 1994 through till 2004...
And it showed how friendships, relationships, and professions developed within the gang, and how, no matter what, they were always there for each other.
In 1994, the cast of the show were all relatively unknown...
via: IMDB
Courtney Cox (Monica), David Schwimmer (Ross), Matthew Perry (Chandler), Matt Le Blanc (Joey), Lisa Kudrow (Phoebe), and Jennifer Aniston (Rachel) are now all household names in Hollywood and will be forever recognized as their
Friends
counterparts.
Each character was as lovable and relatable as the next...
via: IMDB
For instance,
Chandler
was recognized strongly for his sarcastic sense of humor, Joey was the ultimate ladies man, Phoebe was the eccentric and quirky vegetarian that every friend group has, whilst Monica was related to through her OCD.
But audiences simply loved the non-stop Ross and Rachel drama...
Ross and Rachel are perhaps the most on-and-off couple in TV history. Throughout the 10 years of Friends, Ross and Rachel were constantly breaking up and getting back together, during which time they drunkenly got married in Vegas and even had a baby together.
When they eventually rekindled their relationship on the last episode of Friends...
The world fell madly in love with the couple and, in particular, Jennifer Aniston's portrayal of Rachel.
Rachel Green was the girl every woman wanted to be...
Entering the show as a spoilt "Daddy's girl," Rachel grew to be an independent and successful woman who worked in fashion at Ralph Lauren. Not only did the entire world envy her gorgeous looks and killer wardrobe, but they also envied Rachel as the person she was.
She was funny, charismatic, and kind...
via: IMDB
And
Ross
wasn't the only one who was madly in love with her...
Gunther, the boss of Central Perk, was known for his never-dying love for Rachel...
Rachel seemed to be completely oblivious to this throughout the entire 10 years of Friends, but Gunther's love for her was the most adorable - and only slightly creepy - thing.
Gunther was played by James Michael Tyler, who is now fifty-seven-years-old.
via: IMDB
Tyler, who is from Mississippi, was originally cast as an extra on
Friends
during its first season. He barely spoke during the first season, but he remained on the show for the entire 10 years due to fans absolutely loving his quiet pining for Rachel.
Gunther was always present, somehow, in all seasons...
Whether that was gazing at Rachel over the counter of the coffee shop, attending one of Monica's many parties, or even telling Rachel that Ross cheated on her, Gunther was always seen lurking in the background.
Last week celebrated twenty-five-years since Friends first aired.
It's no secret that the gang has remained close over the years...
But what about Gunther?!
Michael James Tyler has found that he has drifted from his co-workers over the years.
via: IMDB
In a recent interview with
The Daily Star
, Tyler spoke of how things have changed over the last fifteen years since the show came to an end.
Sad times for Gunther...
"I haven't seen Jennifer since the wrap party, honestly. It's been 15 years since it ended," he said about his relationship with Jennifer Aniston.
Tyler acknowledged that, sometimes, things change...
"That was a time of our lives when we were lucky enough to be able to work together for 10 years and have that sort of chemistry," he went on to say. "She lives in another city. I'm not going to go and hang outside her house and wait for her to come outside and say hello. That would be kind of weird!"
The acting world is chaotic and often doesn't leave time for social occasions...
He added: "It's nothing personal. Actors move on. It's been a long time. I'm married and other people are married. Things change."
Tyler also spoke of how he feels about celebrating twenty-five-years of Friends...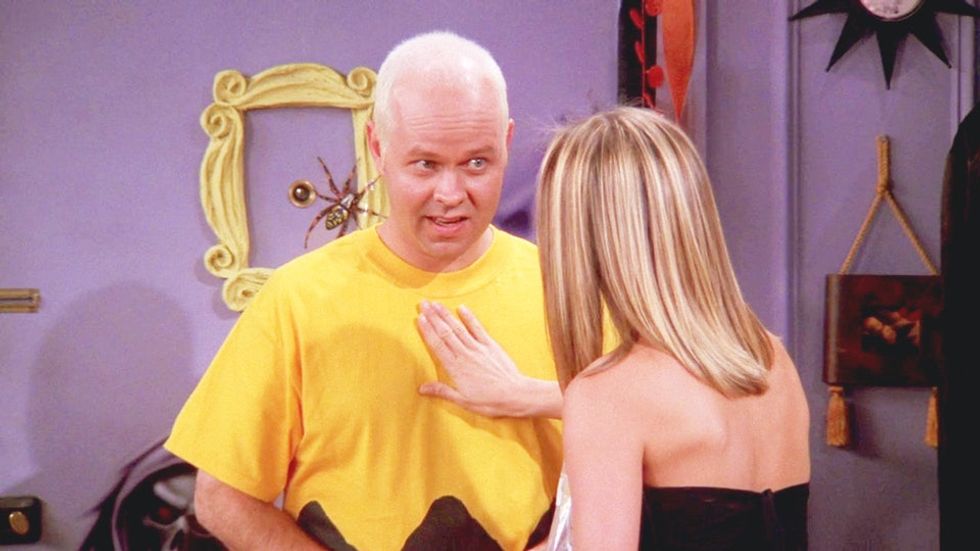 via: Warner Bros
"It's humbling. It's bewildering in many ways. I've been re-watching the show and now I get it. I get why it has all these fans. When I watch it now I can remove myself from it," he said fondly. "
Friends
is comfort TV. You can kick back and laugh. It's feel-good TV."
But when he was asked about the highly anticipated Friends reunion...
Our dreams were shattered in an instant. "My opinion is there's really no need for a reboot. It was a perfect series that was wrapped up quite well in a nice little bow. It was lightning in a bottle. Why revisit something?" he said, crushing all prospects of a much-wanted reunion. However! To learn about how Jennifer herself claimed that the rest of the cast do want a reunion, keep scrolling...