The German amusement park, Tatzmania Theme Park, situated in Löffingen, has been forced, for the time being, to shut down its newest ride due to its supposed bearing of the Nazi swastika.
The ride originally opened in July, but it only came under fire much more recently after videos of the ride appeared on Reddit, with people noting the swastika-look of the seating compartments. Whether this was intentional or not remains unclear, but one thing that we can be sure of is that the internet is not going to agree on this matter anytime soon.
A discussion about whether or not the ride was offensive is still stirring on Twitter and some of the comments made are golden. I mean, if we don't laugh about it, we'd probably cry.
Continue reading to see what people have had to say about this amusement ride fail and to learn what the park owner plans to do about fixing the unfortunate the eye-sore.
You only see what you want to see...
According to Stevie on Twitter, you only see a swastika if you want to see a swastika. With that logic, what do you see? I see... star anise... in a chicken curry with fresh naan and perfect fluffy rice (when's dinner?).
The argument as to whether the swastika "belongs to Nazis" is stirring on Twitter.
I think that Logos Marshall wins this argument. It doesn't matter where the swastika symbol originates from, because of what the Nazis did in our not-so-distant-past, it is now a symbol of Jewish oppression. Naturally, the symbol being used anywhere now can be considered offensive to folk all over the world.
There has been talk about whether the park owner knew what the ride looked like.
Countless people have questioned whether the design was intentional or not.
And, would you believe it? There's been another Nazi-related fairground incident this week.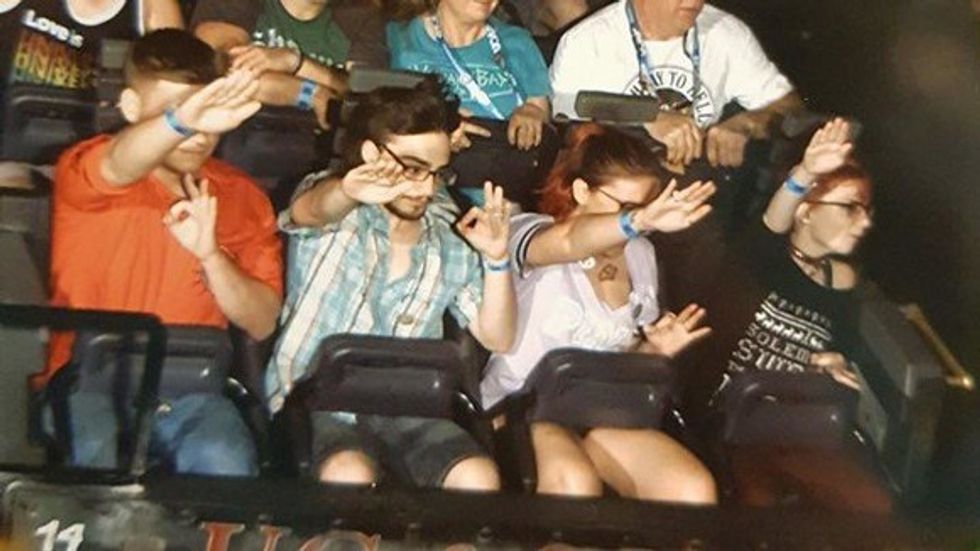 Honestly, you don't get any Nazi-trouble at the funfair in
ages
and then
all at once...
This time, the incident took place at Universal Florida Resort. Some absolute jokers thought that it would be funny to do the Nazi "white power" salute just in time to get snapped by the ride's camera. All of the photos end up on the resort's Annual Passholder Facebook Group and when people saw this, well... you can imagine the uproar - and, by that, I mean that it was subsequently shared all over Reddit etc.
There's no place for hate on Revenge of the Mummy!
After the photo was taken down, a Universal spokesperson
said
: "Hate has no place here — and we have no tolerance for any display of hatred within our destination."
Some people have come up with some great names for the ride!
@RT_com Title: Park Takes down Third Ride

— Kari Odermann (@Kari Odermann)1566238703.0
At least then it'll seem like they aren't nazi sympathizers,
right?
I'm not sure anyone that gets what David Moore is talking about...
@DizardThunder @RT_com I worked at a carnival when I was 15. I would take that over the Snake Pit I worked at any day.

— David Moore (@David Moore)1566249579.0
What was so bad about the Snake Pit, David?
So, did he know or not?
One guy on Twitter claims that the design was intentional. The actual name of the ride was "Eagle Fly." It's a well-known fact that a spread eagle was a Nazi symbol. Saying that, "The Spread Eagle" is also the name of a bar near my house...
It's a full-blown invasion!
@MailOnline ...and that bit going across looks very much like a u-boat, if ever I saw one !

— Maxine Delaire (@Maxine Delaire)1566306704.0
Perhaps this is all getting a little blown out of proportion.
But it's hard to deny that there are pretty clear nods to Nazi symbols here...
The feet of each 'eagle' resemble runes used by the Nazis too, OMG...

— Mike Stuchbery 💀🍷 (@Mike Stuchbery 💀🍷)1566309608.0
Okay, maybe there
is
more to this theory...
Neo-Nazis are still a thing, guys.
I recently attended a neo-Nazi rally in Germany for a story. They were handing out red baseball caps. Organizers s… https://t.co/Zkff1CoCX0

— Richard Engel (@Richard Engel)1565035696.0
And, even more worryingly, they seem to be getting campaigning ideas from our dear president.
Nazi Trump supporters.
@IvankaTrump This weekend marks 2nd anniversary of when Trump-supporting white nationalists wearing MAGA hats and c… https://t.co/7Tm7dlfaYe

— Kim Wexler's Ponytail (@Kim Wexler's Ponytail)1565545385.0
There are a concerning number of neo-Nazis that are also Trump supporters.
"I'm a vegetarian but I eat chicken."
@l_tucc I'm a Trump supporter and I'm not a nazi.

— dog (@dog)1566131978.0
No, I'm being unfair. I'm aware that there are plenty of people out there who support Trump and do not consider themselves to be neo-Nazis.
"There's no telling whether it was in opposition or support."
Overheard: Someone spray-painted a swastika over Trump's Hollywood star, and there's no telling whether it was in o… https://t.co/8U1iAFcOEZ

— George Takei (@George Takei)1566076902.0
As George Takei points out, the problem with this day and age is that it's hard to determine where the lines blur and whether someone is being ironic or deadly serious. Did you
ironically
make a ride with swastikas because the atrocious crimes of the Nazis were terrifying and you want your ride to incite fear, was it an accident, or do you secretly harbor a deep love for Nazi ideals and want to promote it in your park? Really, it's hard to say.
Who was it that made the complaint?
@MailOnline I imagine they must of been Führerious.

— Pl hilbourne (@Pl hilbourne)1566287539.0
It's unclear, but no one's happy now that they've realized that, actually, it kinda
does
look like this ride is paying homage to the horrific Nazi regime.
The operator, Rüdiger Braun, has announced his apologies.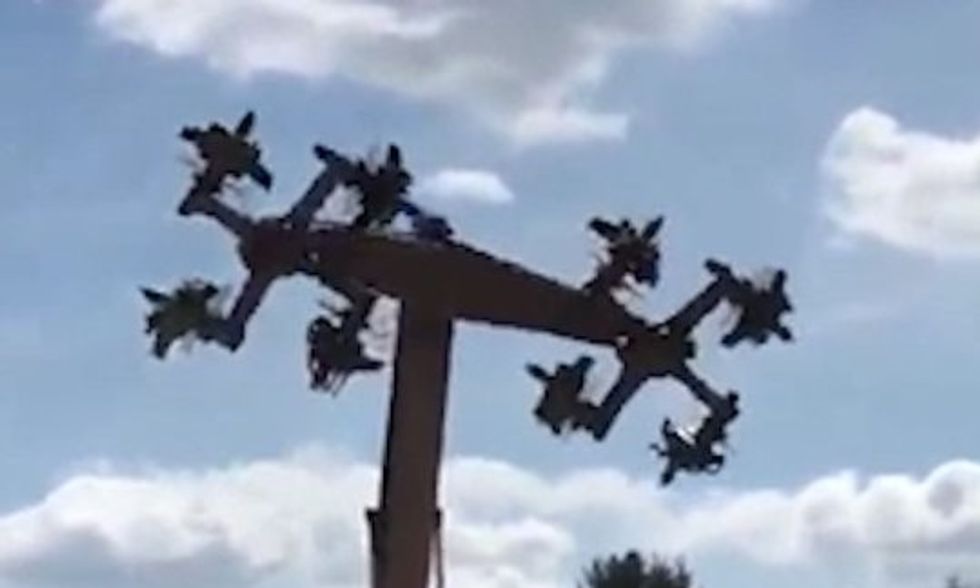 via: reddit/besserwiedu
Speaking to German paper,
SWR
, Braun issued this statement: "I apologize to anyone who feels disturbed or offended by our design." He has promised that "the heads of the ride are taken back and revised." So, I guess that's the end of that! Until we discover Communist flags under the hook-a-ducks, that is! Stay alert, people. Believe it or not, there's recently been another theme park ride that's really just horribly morally wrong. A new National Enquirer theme park ride lets you experience the car crash that killed Princess Diana. Yep, you read that right... keep reading for more on that.