We've all been there...
Standing in the line at Mcdonald's, thinking "I shouldn't be eating all of this junk..."
But, at the end of the day, who cares? It's nice to treat ourselves every once in a while to some good old fashioned fast food, and Mcdonald's certainly deliver when it comes to greasy indulgences.
But the last thing that anybody wants is to be shamed when waiting to pick up your burger and fries (with a full fat Coca-Cola...). A video has emerged of 2 girls fat-shaming an innocent bystander, and the karma that they instantly received is priceless.
Keep scrolling to get your hit of karma satisfaction...
Mcdonald's is a global guilty pleasure...
Millions of people around the world love to enjoy some greasy goodness from one of the biggest fast-food chains on the planet.
Mcdonald's is a worldwide, household name...
Founded in 1955 in California, Mcdonald's is easily the biggest (and one of
the best
) go-to fast-food chains in the entire world. It operates approximately 36,000 restaurants in over 100 countries around the world. Now that's
a lot
of cheeseburgers...
But it isn't just about cheeseburgers...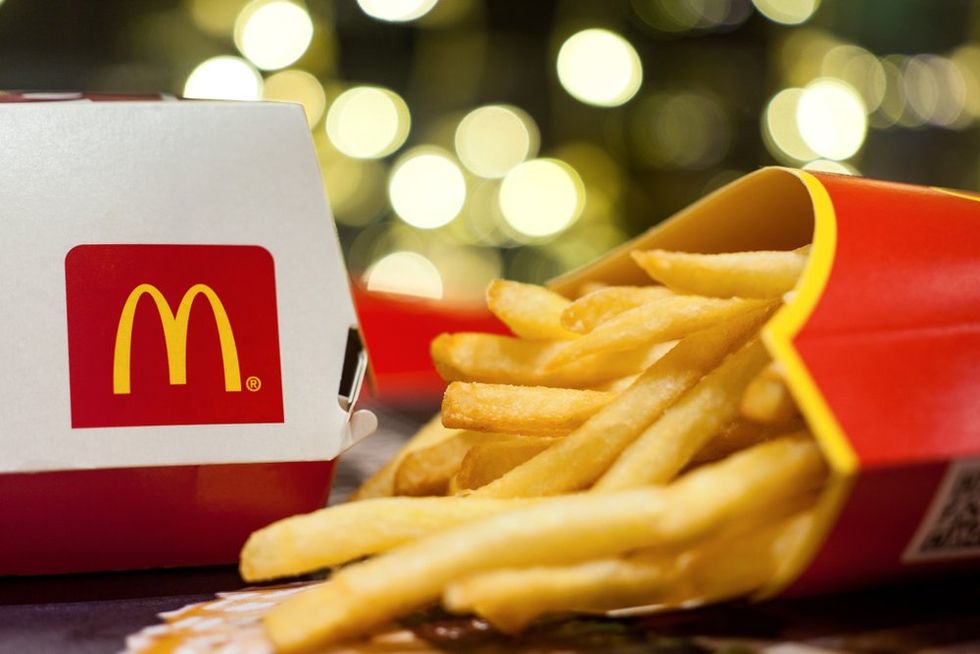 It has something for everyone and has even recently included
vegan
options on the menu, making it much more diverse and accessible to a wider audience.
The stigma will always be there, however...
Yes, Mcdonald's food generally contains a very high amount of calories and carbs... But we all like to indulge every now and then, right?
But what is the last thing that people want?
To be shamed for eating at their favorite fast-food restaurant! There's nothing worse than receiving judgment for having a Mcdonald's for your dinner because, at the end of the day, it's nobody else's business but your own.
The fit and healthy lifestyle isn't for everyone...
And we're not all perfect all the time. But footage has emerged from a Mcdonald's restaurant in the U.K that has truly ruffled some feathers.
The footage shows 2 young women stood in line in the restaurant...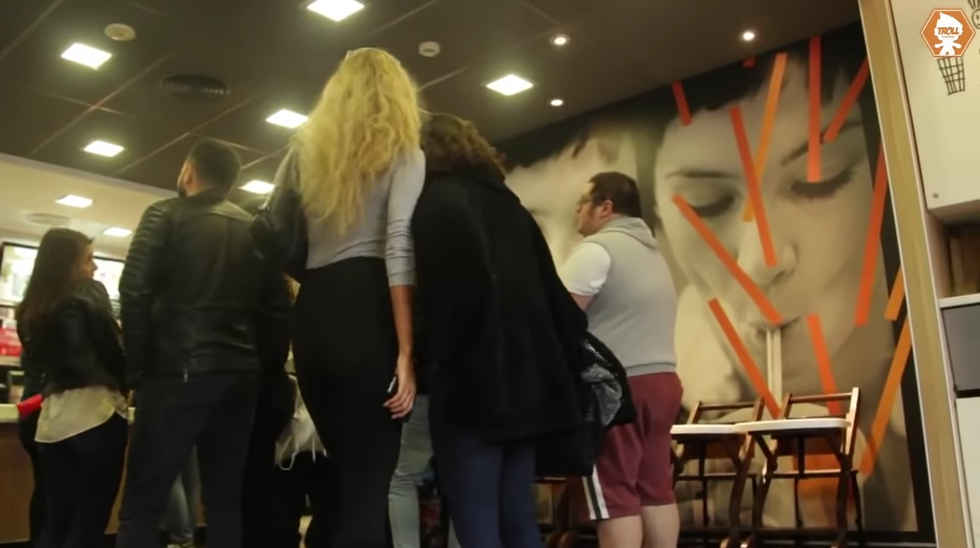 via: Youtube
They are heard discussing what they are going to order, and the brunette girl says: "I'm probably going to get a salad."
The universal question:
Who seriously orders a salad in Mcdonald's?
A man is stood in front of the 2 women and they immediately begin commenting on his weight.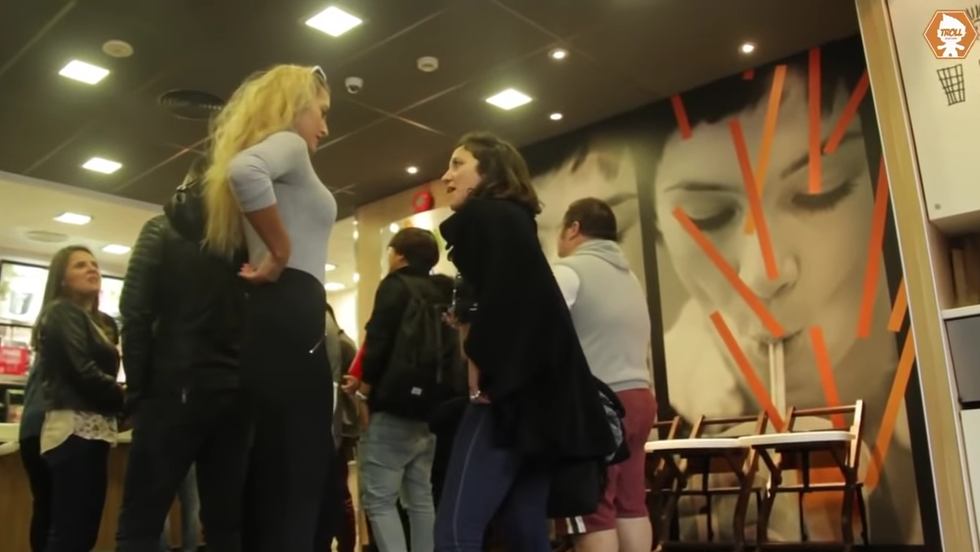 via: Youtube
The brunette girl, who appears to instigate the entire thing, is heard saying to her friend: "What is this guy doing in here? Do you know what I mean, like, when people are
that fat
, should they really be in here?"
The girl is seen wrinkling her face in disgust as she loudly says: "Disgusting."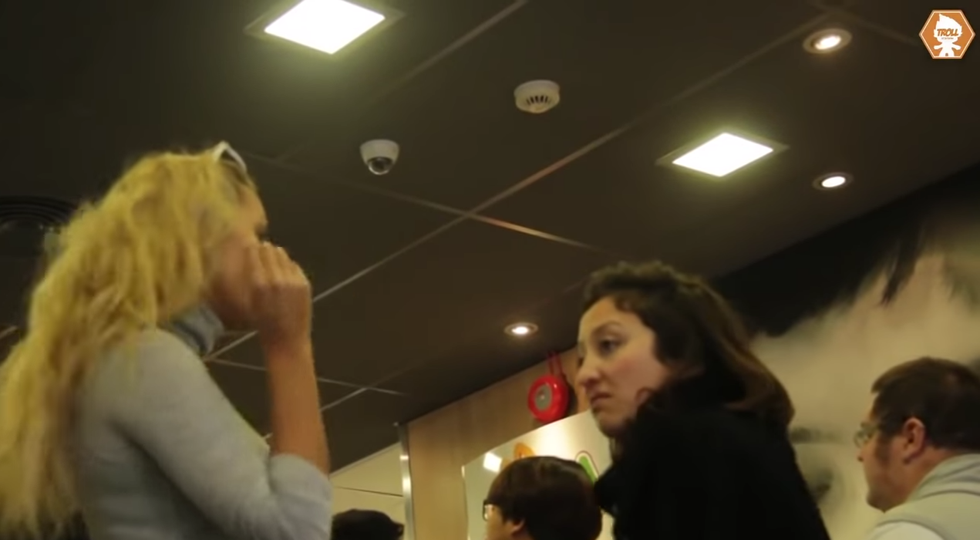 via: Youtube
She is clearly saying this loud enough for the poor man, and other bystanders, to hear, and, when he doesn't react, she actually approaches him to question why a man of his size is in Mcdonald's.
They quickly begin to torment and bully the man...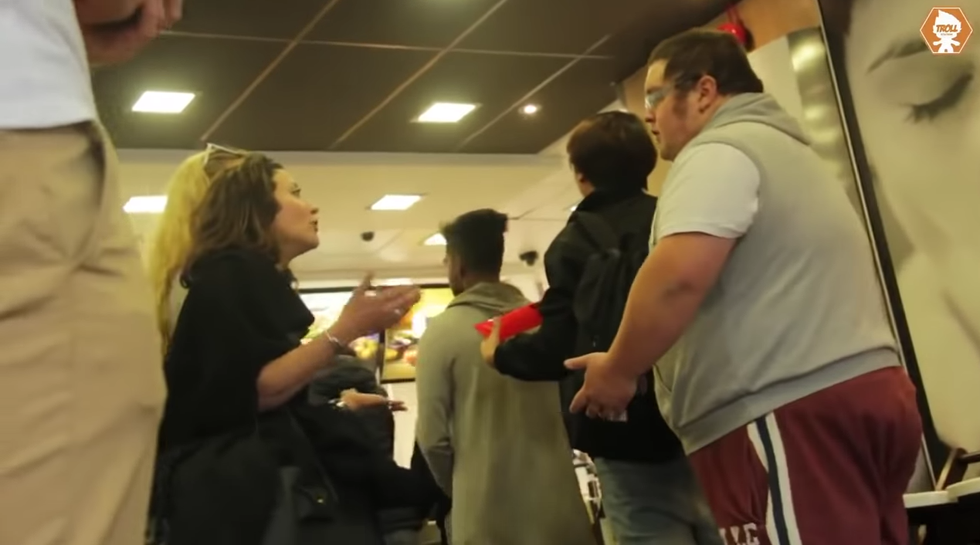 via: Youtube
The women begin dishing out cruel remarks such as: "I think you should just leave now because you're disgusting" and "why don't you just leave... you're so fat already!" The man feebly defends himself, saying that he's just getting something to eat, but the girls continue to speak over him.
A bystander in the line quickly intervenes...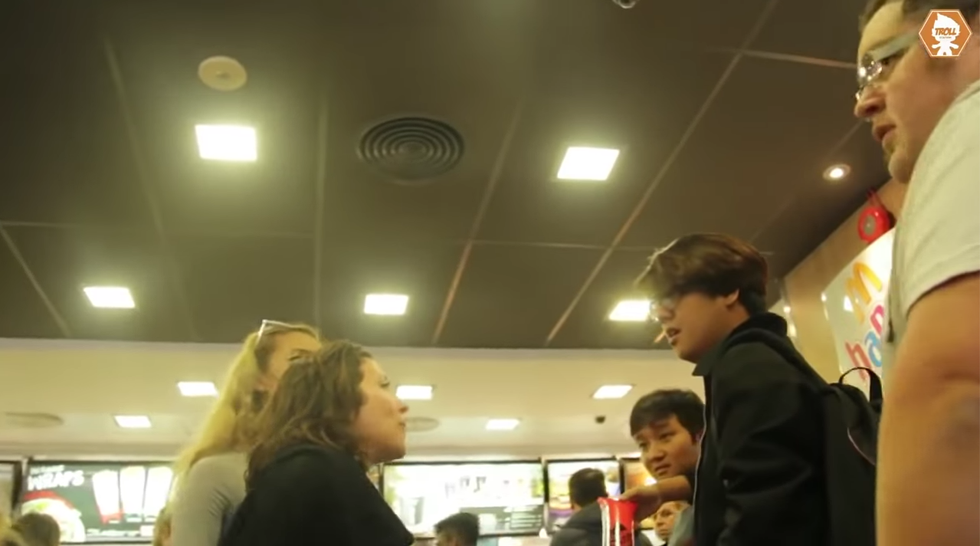 via: Youtube
He is heard asking the girls why they are speaking to the man like this and they ignorantly reply with: "I'm just trying to help him, you think he should carry on eating more Mcdonalds?" The argument becomes heated very quickly, with the bystander sticking up for the unfortunate man.
More people get involved to defend the innocent man...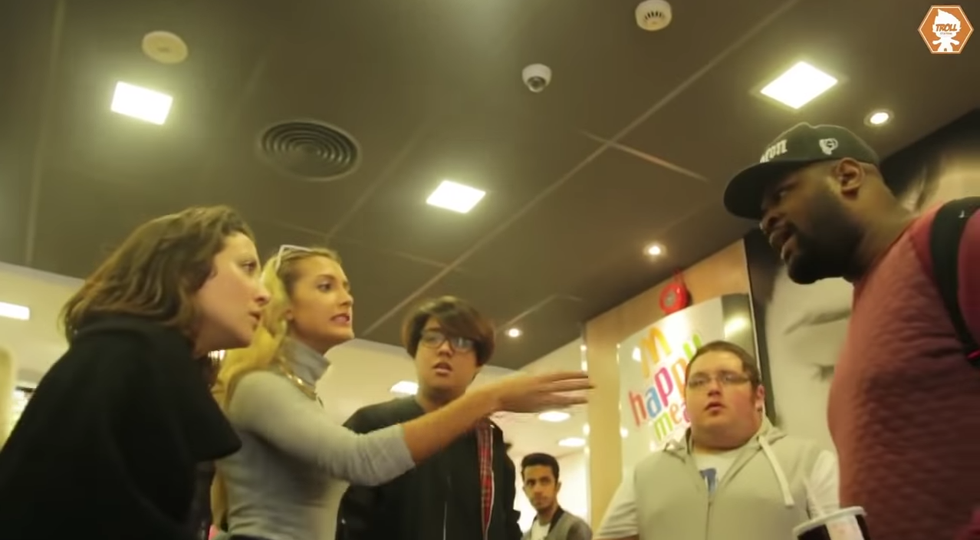 via: Youtube
One particular individual, armed with a soda, stands in to tell the girls to leave him alone, and even lifts up his sweater to show that "he also has a belly." This doesn't stop the girls, however, with one of them shouting: "You're in the same category as him, you shouldn't be eating anymore."
The onlooker has clearly had enough.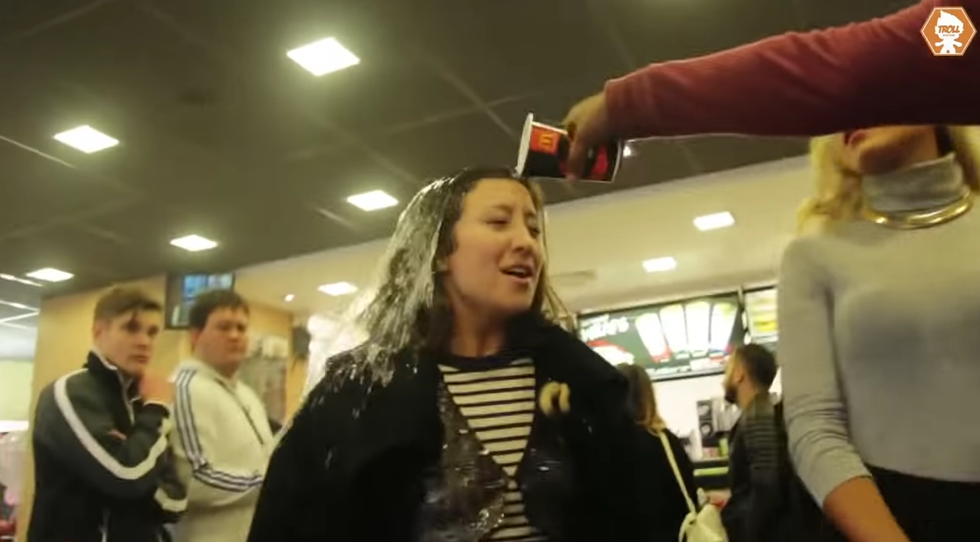 via: Youtube
After branding the girls "disrespectful," he simply takes the plastic lid off his soda cup and pours the entire contents over the brunette girl's head, an act which is followed by cheering from the restaurant.
Not all heroes wear capes...
We need more people like this man... He wasn't afraid to give the girls exactly what they deserved - karma.
The girls are repeatedly told to leave by bystanders, including a member of staff.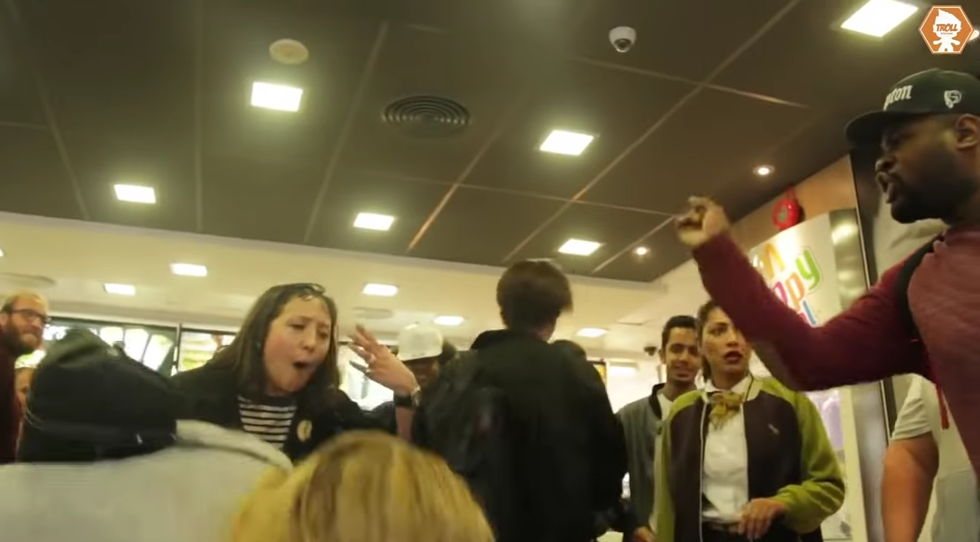 via: Youtube
They continue to hurl abuse, branding the man who threw the soda a "f*cking c*nt" and saying to a member of staff that "he just poured a drink over me and we're customers." Luckily, staff weren't having any of it and asked the girls to leave immediately.
However, all is not as it seems...
It turns out that the footage is all part of a social experiment conducted by Youtube channel,
Trollstation.
Yep, you heard that right...
It was a setup...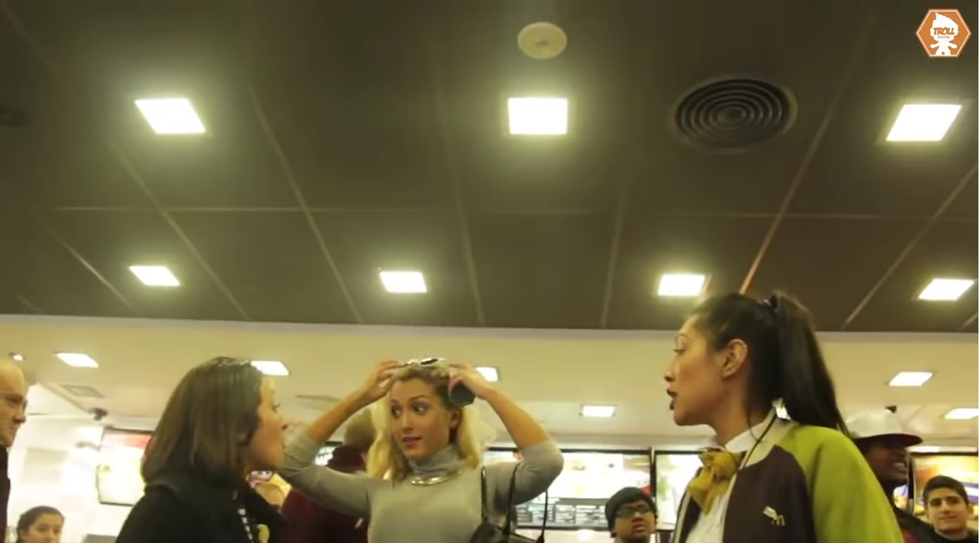 via: Youtube
The organization claim to specialize in "bizarre and surreal" pranks around the U.K that are performed on unknowing members of the public - so the only people involved in this prank were the 2 young women and the "fat man" (luckily).
However, faith in humanity has well and truly been restored...
The bystanders were completely unaware of the fact that it was a staged social experiment, and it is heart-warming to learn that strangers will willingly step up for one another in times of need.
Watch the video here...
It may be a setup, but it sure is an entertaining watch... not to mention the anonymous hero who pours his soda over the loud-mouthed woman. Keep scrolling to hear some more bizarre stories that come from fast-food restaurants...