One woman from Ireland has captured the purest of moments between two unlikely friends, and it's left viewers an emotional wreck.
We love these unlikely animal friendships so much that we've compiled a list of some of the cutest for your viewing pleasure. Enjoy...
Nature is filled with incredible things and unlikely animal friendships are certainly one of the best!
And the latest friendship between a cow and a puppy might just be our favorite yet...
Tinni the dog and Sniffer the wild fox.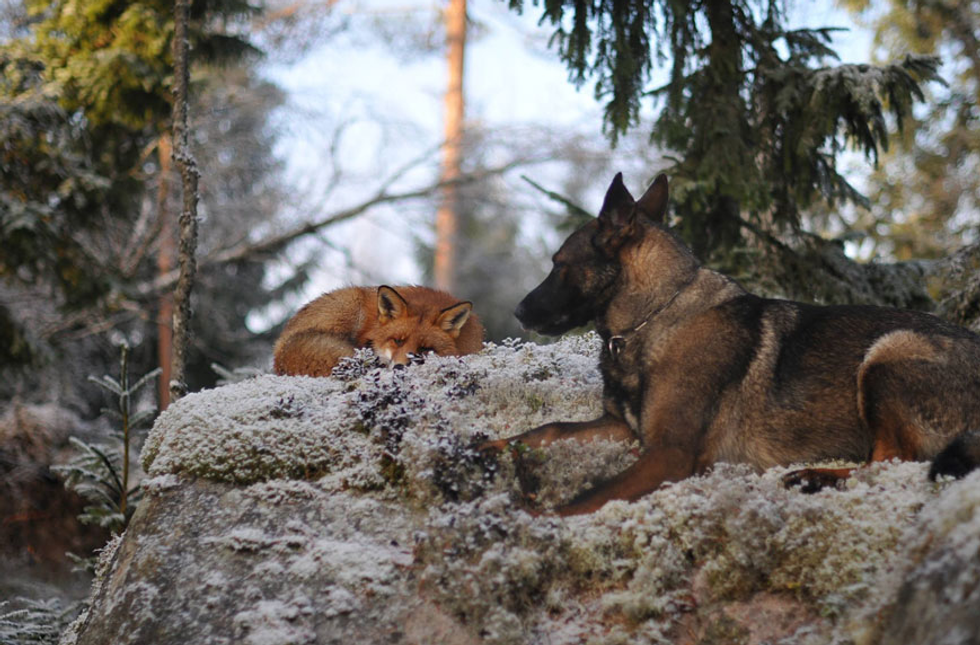 The pair met in a Norwegian forest.
And now they've become best friends!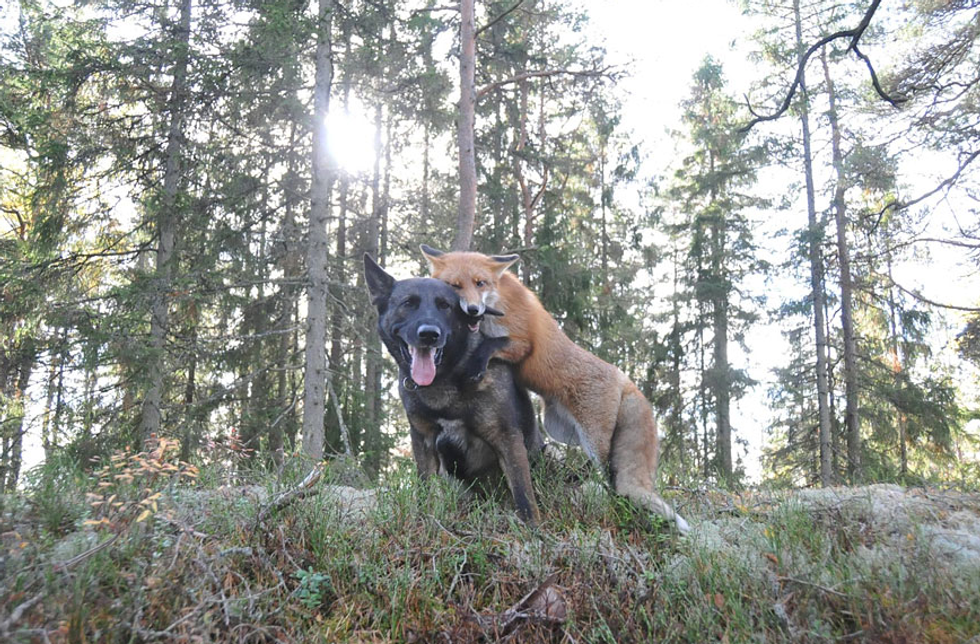 While on a walk, Tinni and his owner, Torgeir Berge, were on a walk together in the forest when they met a wild fox.
The pair instantly hit it off...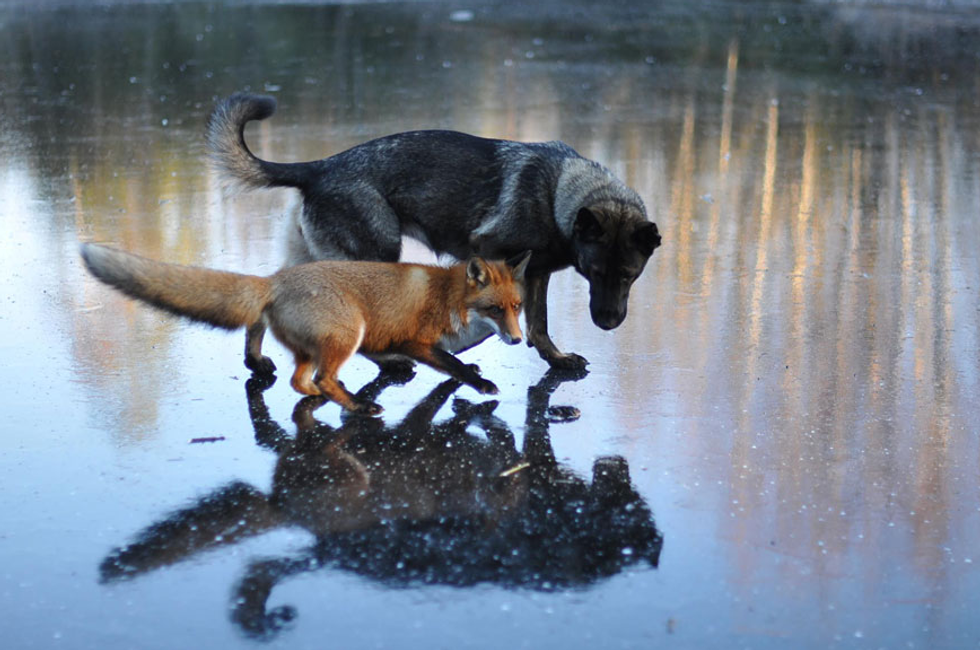 And now every time they visit the forest, the pair meet up to play around with each other despite all their differences.
Isn't that just the cutest thing you've ever heard?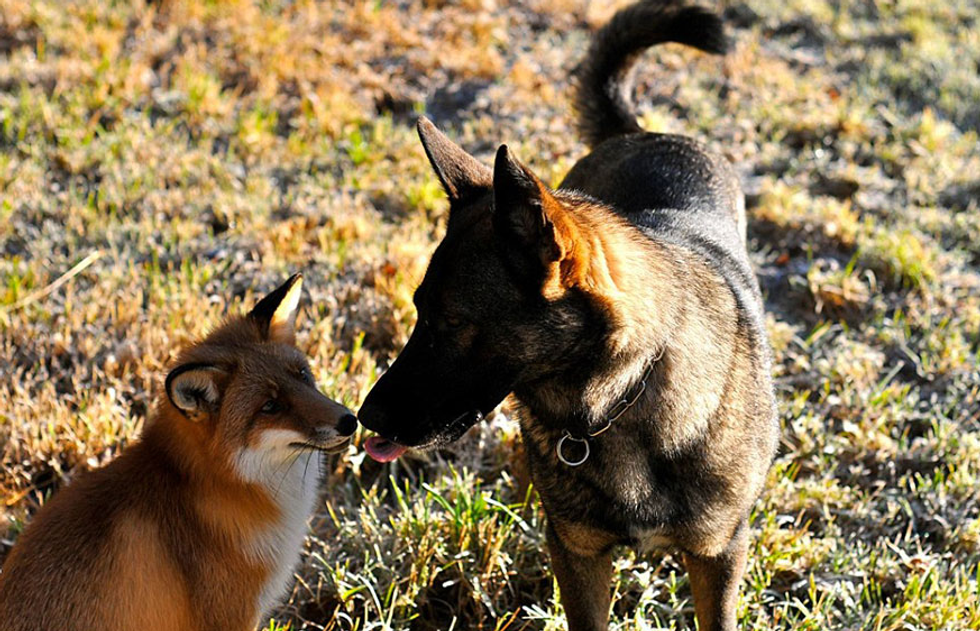 The experience has changed Berge's mind about Norway's fox-fur trade. He now wants to help work to ban the hunting of foxes. We love it!
Champy the horse and Morris the cat.
And their loving bond makes for some good photo opportunities.
Champy loves to make friends with everyone.
Champy has tried to befriend a kangaroo but has not been successful.
They even have cute outfits!
"Morris loves smooching with Champy's eyelashes."
Morris apparently hates riding bareback...
Penny the chicken and Roo the chihuahua.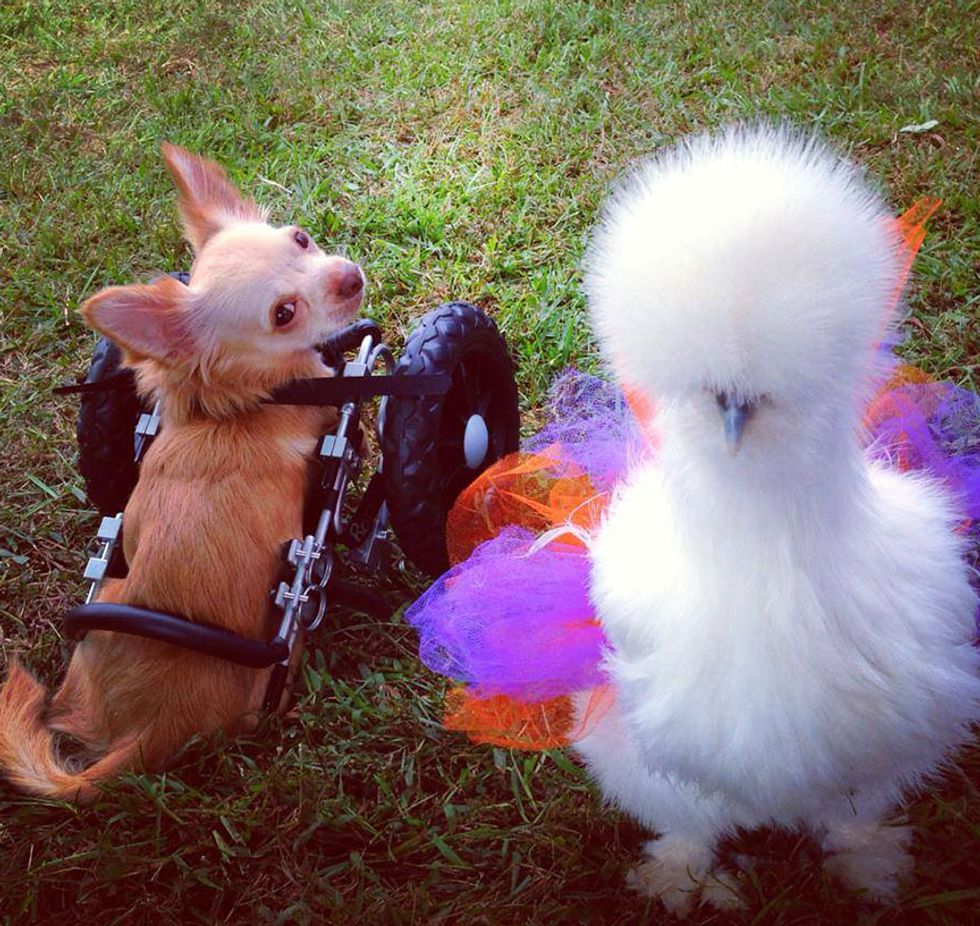 This unlikely combination found a love for each other while they were at Duluth Animal Hospital.
Penny the chicken was rescued from a laboratory, while Roo was found on the roadside.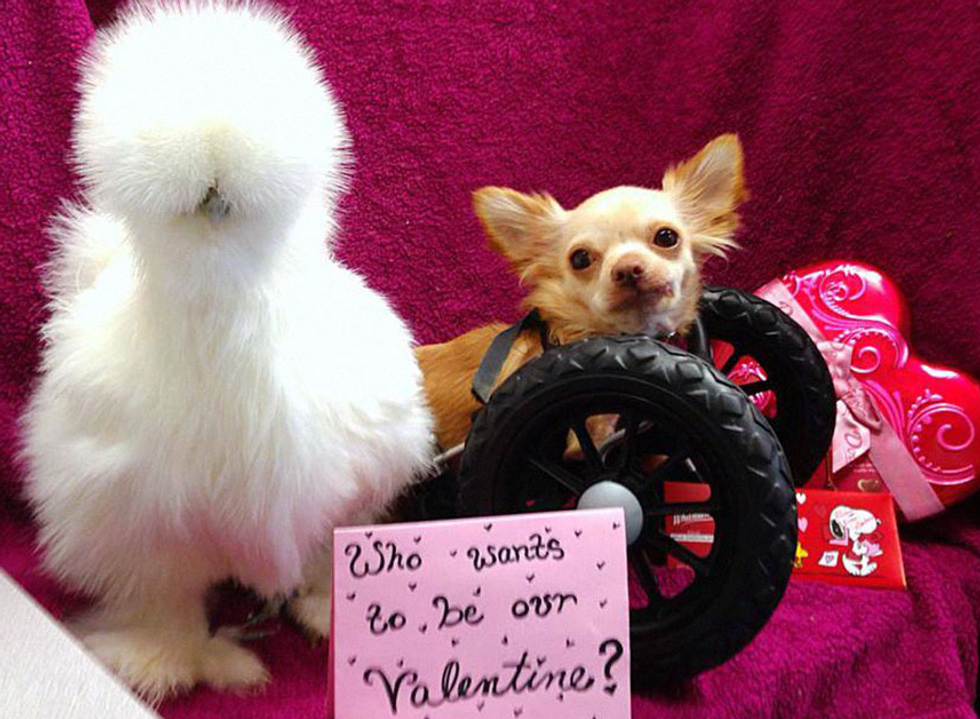 "She was an experimental chicken in the program and she had run the course of the experiment, so that was it for her," Williams told the Gwinnett Daily Post. "I asked if I could have her instead of them doing anything with her. I brought her home."
And since then, they haven't stopped spending time with each other.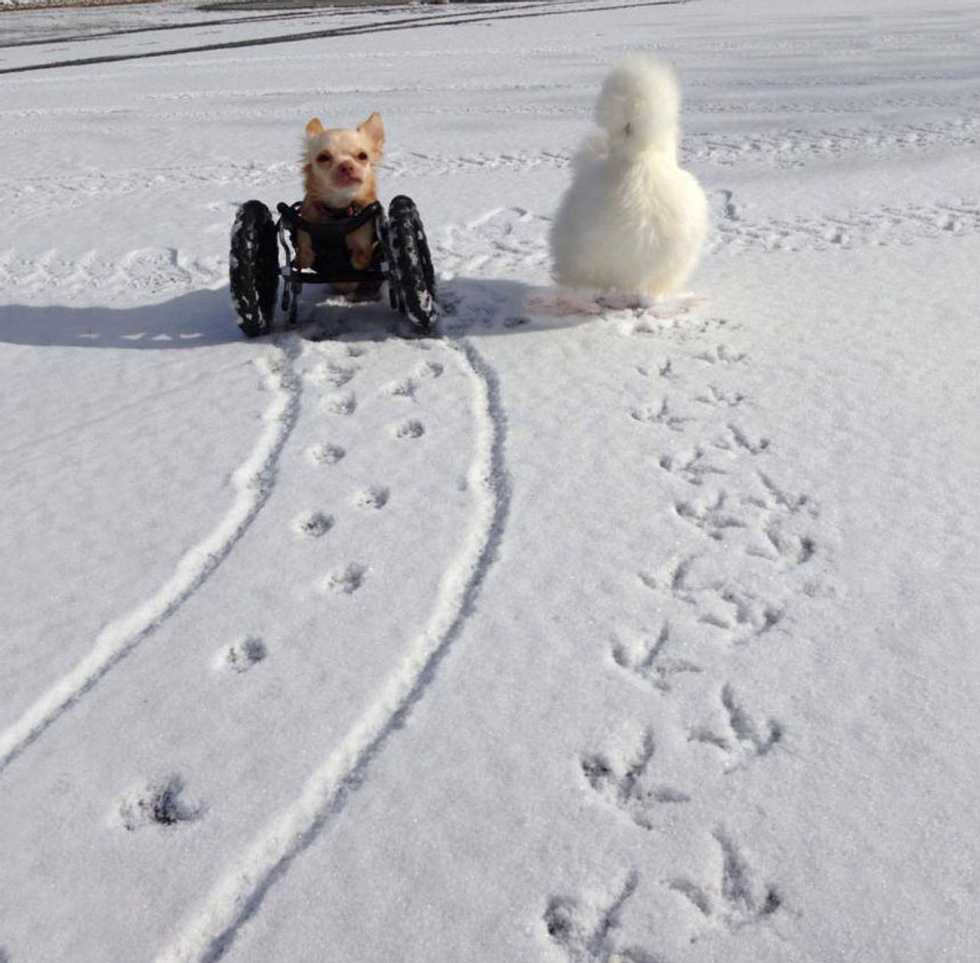 Did you ever think you'd see a two-legged dog and an overly fluffy chicken taking a walk in the snow? I's life's most simplest pleasures.
I'd give my heart for these two!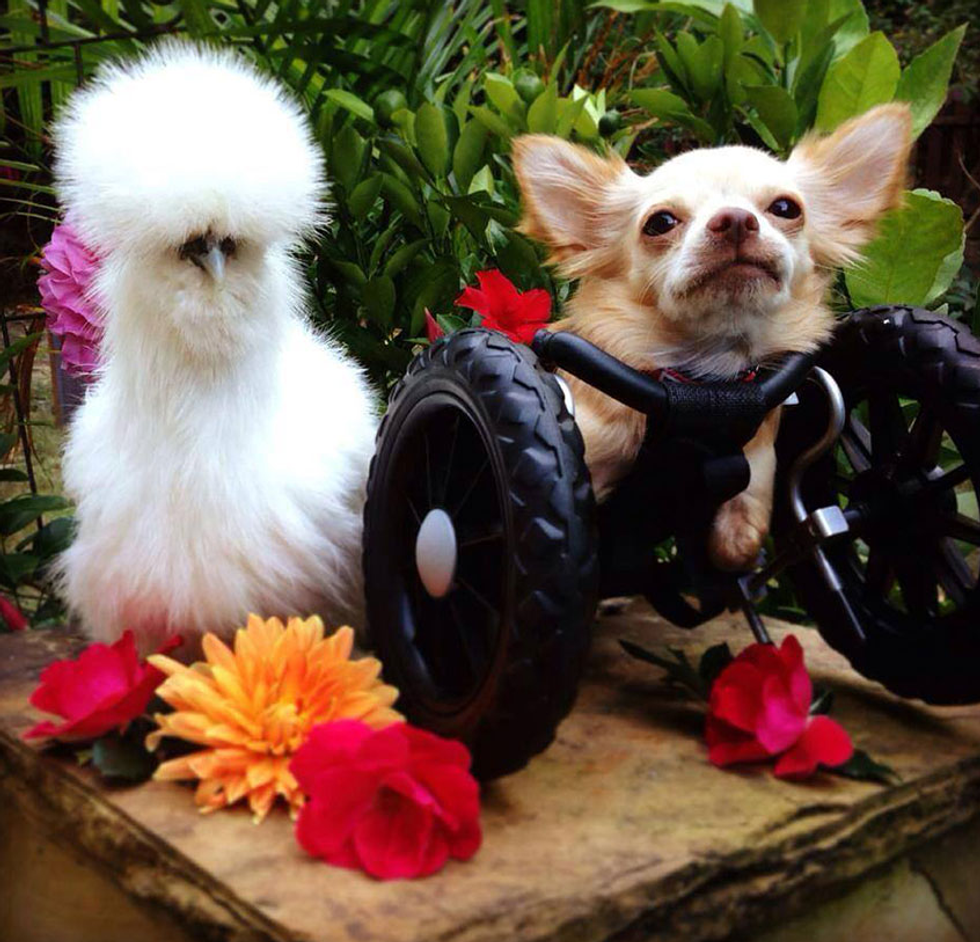 And those are just the facts.
Mabel the chicken and her puppies are the cutest things.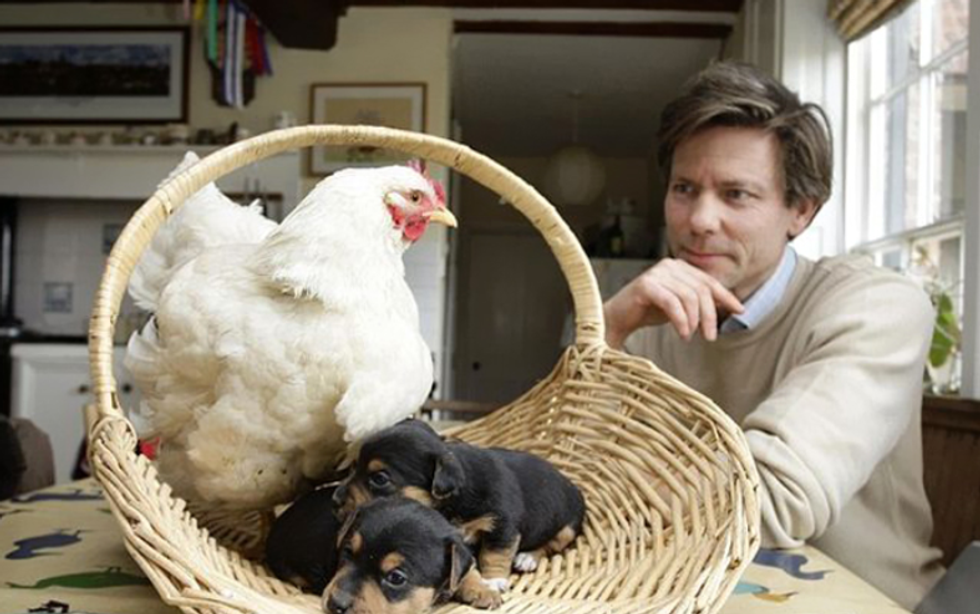 "After being saved from the pot due to a foot injury, Mable found a new wonder when she was moved into her owners' home – puppies! For some reason, the year-old hen has taken to roosting on the puppies and keeping them warm!"
Look how cute this is!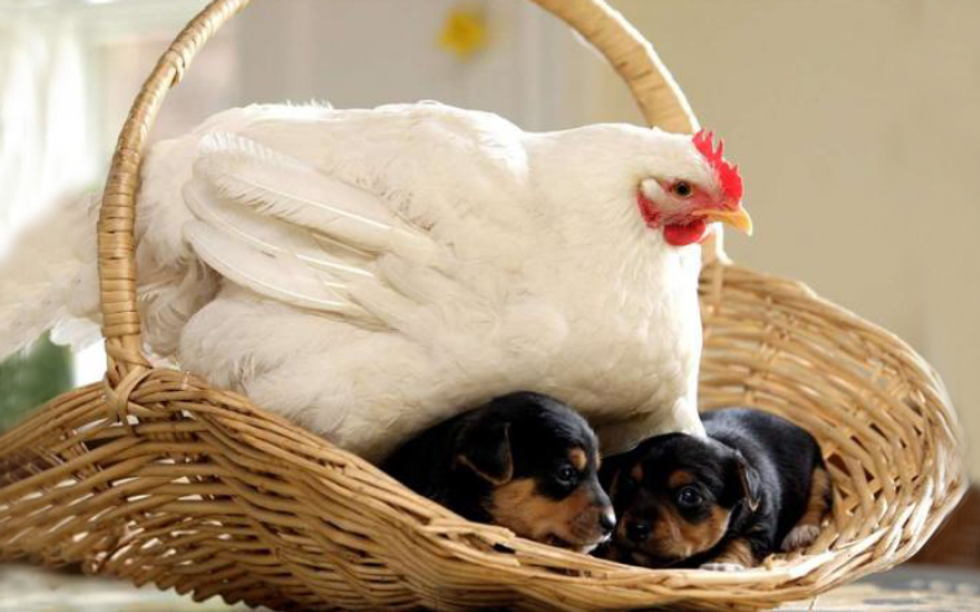 "Hens, like all mothers, naturally want to protect, nurture, and care for babies. Since she doesn't have babies, but there are puppies around, she wants to mother the puppies, and by god, she's gonna mother them puppies."
Ponzu the golden retriever and Ichimi the kitten.
They quickly became inseparable...
Way too cute!
And finally, this brings us to our favorite unlikely pair.
A golden retriever puppy was beyond excited recently to see his cow best friend, after spending 6 months apart from one another.
Blanáid May, from Ireland, was walking her puppy back in August 2020 when she saw him licking a calf at a farm near her home...
And she later learned that the golden retriever had actually met the baby cow 6 months ago.
In the video, she explained: "Then he [the puppy] went away for 3 months. Then the calf came back and they remembered each other."
In the clip, the pooch seems overly excited about seeing his friend again, going straight in for kisses.
Her video has understandably left viewers in tears over the pure connection the two animals share...
One wrote: "Animals know more than us about getting along. This is so pure and precious." Another said: "This is just the most heart-swelling thing I've seen. We don't deserve these amazing beings."
You can watch the adorable video below...
I hope you enjoyed this collection of beautiful friendships between unlikely species. We sure could learn a thing or two! Keep scrolling for more adorable stories...