Netflix's Emmy-nominated series, Grace and Frankie, took the world by storm when it first aired on the platform back in 2015. The comedy, starring acting legends, Jane Fonda and Lily Tomlin, has built up a significant viewership, with fans of the show currently eagerly awaiting the release of season 6.
And now we've got an official release date as well as a music icon who possibly may star. Although there's also some bittersweet news... Keep scrolling to get all the details.
Grace and Frankie is one of Netflix's most popular original series.
via: imdb
The beloved comedy, created by Marta Kauffman and Howard J. Morris, first aired in 2015 on the streaming platform and has since gone on to gain mammoth viewership, with the show winning hearts of fans across the world with its unorthodox vibe and undeniable laugh-appeal.
It stars acting legends, Jane Fonda and Lily Tomlin.
Jane Fonda stars as prim-and-proper entrepreneur, Grace, alongside Lily Tomlin who plays free-spirit, Frankie. The women are pretty much opposites and aren't exactly each other's biggest fans.
The feisty ladies form an unlikely friendship.
After finding out that their husbands are not just work partners and have actually been romantically involved with each other for the last twenty years, Grace and Frankie buckle together to try to deal with the unique circumstances.
The 2 form a unique bond and end up moving in together - residing in Grace's beach house.
via: imdb
The show follows their antics, blossoming friendship, and, of course, their journey in dealing with what their husbands did to them.
Many erm, unusual business ventures, injuries, marijuana, and a whole lot of margaritas later, the pair have an unbreakable friendship.
From an older lady "pleasure" business (you can put the pieces together on that one) to getting exiled to an old people's "residential" home by their kids, they certainly don't fall short of laugh-inducing antics and tear-jerking moments.
Earlier this year, season 5 of the show hit Netflix.
At the end of the season,
Grace and Frankie had a huge fight during the planning of Bud and Alison's wedding. But, after imagining their lives apart, the 2 inevitably made up.
But Grace dropped the bombshell that, while the 2 were apart, she ran off and married Nick.
via: imdb
Safe to say, we were left with many questions. Like, where does that leave the 2 now? Will Grace move out? Not to mention what's happening with the kids.
Luckily, we won't have too long to wait to find the answers...
The highly anticipated sixth season of the show is returning to screens next year. Phew. Fingers crossed we'll get some answers to our burning questions.
Dolly Parton is rumored to star.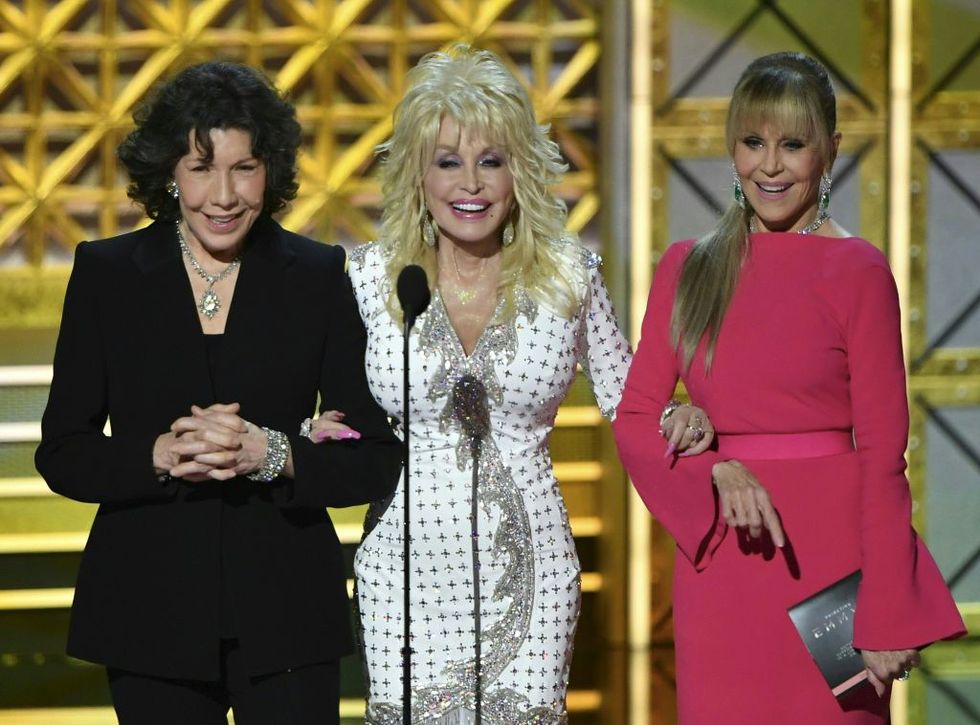 via: Getty Images
Fans of the iconic
9 to 5
, in which Parton, Fonda, and Tomlin all starred, have been rallying for a reunion. Let's be honest, it would be
amazing
.
There could be some truth to the rumors...
via: imdb
"I know that a lot of fans of Jane and Lily have wanted to see Dolly on the show because of 
9 to 5
," Brooklyn Decker, who plays Mallory on the series, 
said
. "In the first two seasons, they wanted to make sure that they fleshed out the show before they brought in what would be the tornado that is Dolly Parton.
"
Lily Tomlin was hugely on board with the idea.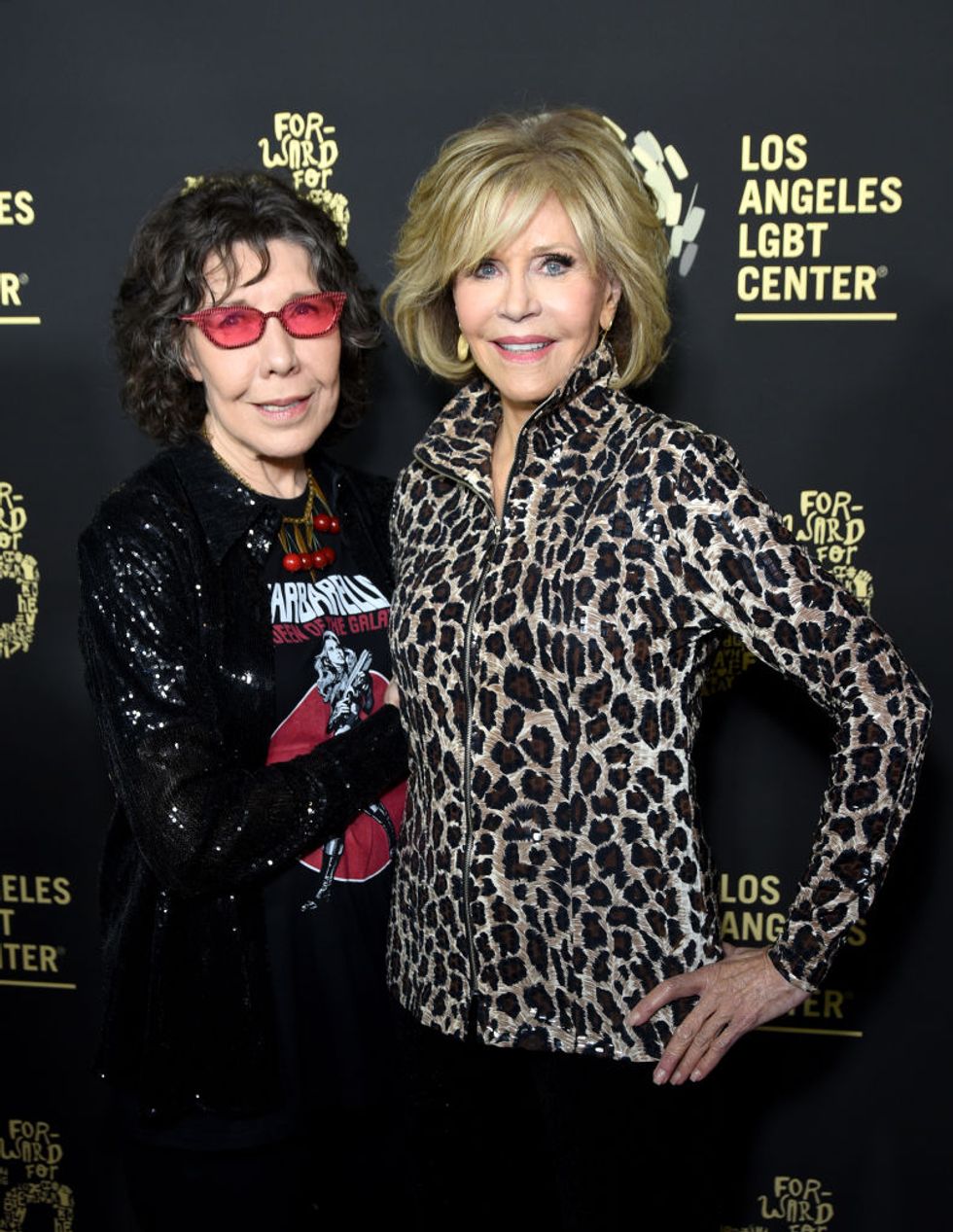 via: Getty Images
"We'd like to see Dolly and we keep hoping we'll work out a schedule, but she's just so busy," 
Tomlin explained during a panel last summer
. "She does so many things, and now she has a big show deal herself at Netflix, so I don't know."
And fans have some ideas of their own for the upcoming season...
Grace and Frankie getting together? We definitely ship that...
Fans are counting down the days.
I feel like it's been forever. So happy it's coming back soon! #GraceAndFrankie https://t.co/UH8fhfLT7E

— patty 🍸 (@patty 🍸)1576031535.0
We need our
Grace and Frankie
fix, now! Keeps scrolling to find out when it will be hitting Netflix.
And there's some more good news...
via: imdb
Yesterday, it was announced that the show has been renewed for a seventh season, which will make it the longest-running Netflix original
ever
.
But the announcement is very bittersweet.
You have laughed with us, cried with us and grew old with us. Today we announce Grace & Frankie has been renewed fo… https://t.co/UzlGsGYC4r

— Grace and Frankie (@Grace and Frankie)1567605604.0
Because Netflix has also said that season 7 will be the final ever season, meaning it won't be long until we wave goodbye to our 2 favorite ladies for good. We're not crying, you're crying.
So that means that the show is officially coming to a close.
And we honestly don't think that we're ready to say bye.
Jane Fonda and Lily Tomlin have penned a touching message on Twitter.
"We're so grateful that our show has been able to deal with issues that have really connected to our grand generati… https://t.co/fbrgKweTLC

— Grace and Frankie (@Grace and Frankie)1567605605.0
The pair wrote that they're "so grateful" that their show has dealt with issues that have been able to connect with every generation on some level.
"We'll miss these two old gals."
"We'll miss these two old gals, Grace and Frankie, as much as many of their fans will, but we'll still be around."… https://t.co/ouzinQMIWC

— Grace and Frankie (@Grace and Frankie)1567605605.0
The 2 concluded their message by saying how much they'll miss their characters and the fans, although they assured us that they won't be going anywhere: "We'll still be around."
Fans of the show are devasted to see it go.
Twitter was flooded with fans who couldn't believe that their favorite show was coming to an end.
Mark your calendars...
Rise up. Seat down. Season 6 coming January 15. https://t.co/PRgC7Pdibc

— Grace and Frankie (@Grace and Frankie)1576011600.0
Grace and Frankie season 6 will hit screens on January 15, 2020. And the show will then, at a later date, hit screens for the last time for a seventh and final season. If this article has left you feeling a little deflated, why not cheer yourself up by checking out everything coming to Netflix this month? Keep scrolling to find your next favorite binge-watch.