"How dare you!" are the poignant words of pioneering climate change activist, Greta Thunberg, who addressed world leaders at the U.N. Climate Summit last night. Her powerful, stinging speech brought home the reality of the sheer ignorance of our world leaders when it comes to climate change, and their inability to do anything about it, or even see it as an issue in the first place.
During the event, Thunberg crossed paths with Donald Trump. As you can imagine, she isn't exactly his biggest fan and shot him the most amazing death stare we think we've ever seen. In fact, it was so good, that it's become a bit of an internet sensation.
Keep scrolling to watch her powerful speech and the subsequent death stare she fired at the president.
Let's just say, she wouldn't make a great poker player...
Greta Thunberg has become the face of the youth climate change movement.
Just a year ago, she was relatively unknown.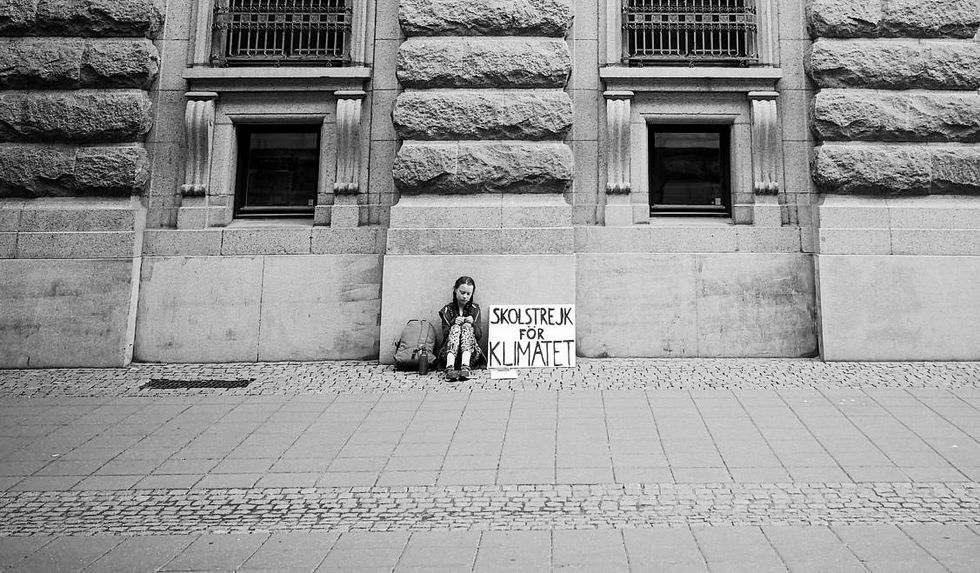 Greta would regularly sit on her own outside Swedish parliament, first staging a "School Strike for Climate" in August last year. In the weeks leading up to the country's general election, Thunberg sat on the steps outside of the parliament building in Stockholm, holding up the now-iconic sign that read "Skolstrejk För Klimatet" — translating to "school strike for climate."
The teen sat outside the building during school hours for 3 weeks.
Paris Agreement.
By sacrificing her education to protest for action, the teen began to conjure up attention and gain traction online.
Her unwavering commitment to the environment has woken the rest of the world.
Thunberg is known for delivering blistering, matter-of-fact speeches about the urgency of what she calls the "climate crisis."
Her message is clear: we need to act now.
According to the United Nations
, humanity has under
twelve years
 to prevent a climate change crisis. A report released by the Intergovernmental Panel on Climate Change (IPCC) at the end of 2018 called for immediate "unprecedented changes" to all aspects of society.
If we do not act, the future, if there is one at all, will be very bleak.
Thunberg has gone to great lengths to fight her cause.
Little by little, her trailblazing activism seems to be sinking in.
Live Kindly
, earlier this year, Mohammed Barkindo — the secretary-general of OPEC (the Organization of the Petroleum Exporting Countries) — acknowledged public opinion surrounding the climate crisis as a threat to the oil industry.
And her youth school strike movement is growing on a mass scale.
But, Thunberg's movement has been met with waves of criticism.
But her critics don't phase her...
On my way to the United Nations. Today I'm speaking in the General Assembly at the Climate Action Summit. This is s… https://t.co/MXRAyXjec0

— Greta Thunberg (@Greta Thunberg)1569243289.0
Yesterday, Thunberg addressed world leaders at the U.N. Climate Summit and delivered a blistering, anger-tinged speech demanding climate action.
The event is dedicated to world leaders sharing climate solutions and new pledges for climate action.
As she spoke, the teen got visibly emotional.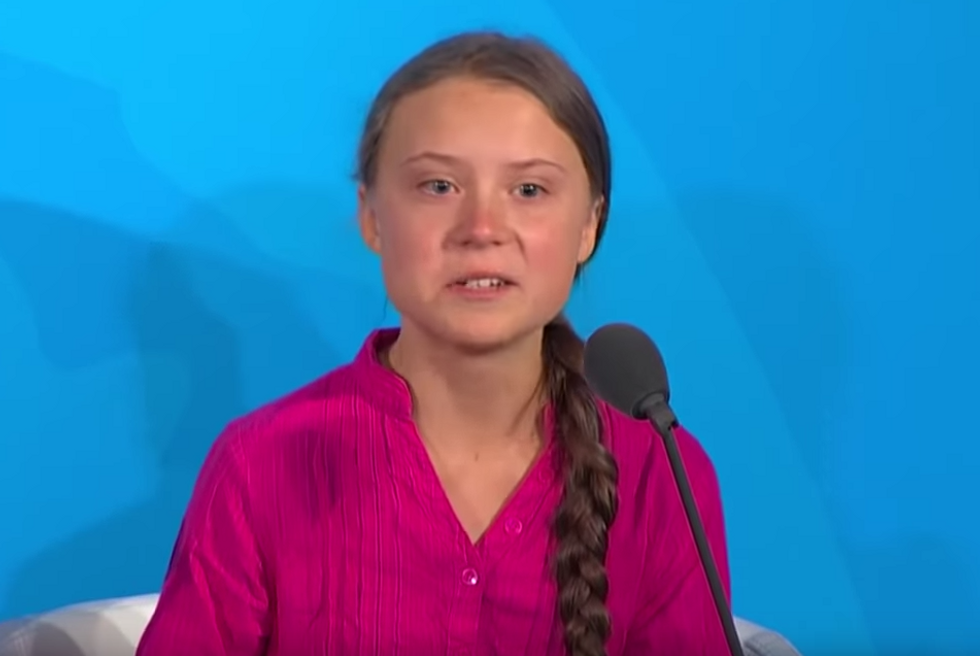 "People are suffering. People are dying. Entire ecosystems are collapsing. We are in the beginning of a mass extinction. And all you can talk about is money and fairy tales of eternal economic growth. How dare you!" She continued: "How dare you continue to look away and come here saying that you are doing enough when the politics and solutions needed are still nowhere in sight." "You say you 'hear' us and that you understand the urgency. But no matter how sad and angry I am, I don't want to believe that. Because if you fully understood the situation and still kept on failing to act, then you would be evil. And I refuse to believe that."
She concluded with a poignant message: change is coming, whether you like it or not.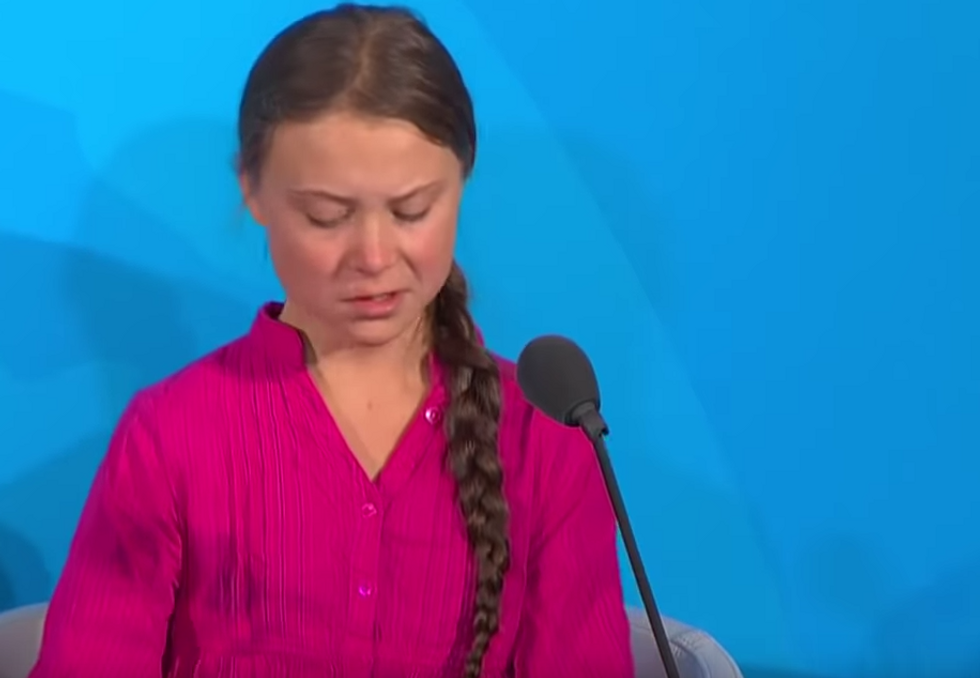 "You are failing us. But the young people are starting to understand your betrayal. The eyes of all future generations are upon you. And if you choose to fail us, I say: We will never forgive you. "We will not let you get away with this. Right here, right now is where we draw the line. The world is waking up. And change is coming, whether you like it or not."
After her speech, the teen activist happened to cross paths with Donald Trump in the lobby.
I'll tell you one thing Greta Thunberg does not have and that's a future in professional poker. https://t.co/cAznzjWbeW

— 🏳️‍🌈 Max 🏳️‍🌈 (@🏳️‍🌈 Max 🏳️‍🌈)1569308707.0
Safe to say, she understandably
isn't
his biggest fan and shot him the most intense death stare we've ever seen.
The video has gone viral online.
When faced with one of the world's most powerful leaders, Thunberg remains fearless, and her death stare has become a somewhat internet sensation.
As you'd expect, Donald Trump had something to say about the whole thing.
In usual Trump-style, he took to Twitter to seemingly mock the teen, writing "She seems like a very happy young girl looking forward to a bright and wonderful future. So nice to see!" above a video of her speech.
His swipe radiated sarcasm.
@realDonaldTrump The President of the United States making a sarcastic, snide comment to make fun of a 16-year-old… https://t.co/GOHBf2wpum

— Eugene Gu, MD (@Eugene Gu, MD)1569296379.0
And of course, people slammed the president for attacking the young activist
Watch her full speech below:
In the meantime, if you want to learn more about the climate crisis, keep scrolling to read a story about a scientist with a rather strange solution to global warming.