It's been a pretty busy year for climate change activist, Greta Thunberg. The sixteen-year-old addressed world leaders at the U.N. Climate Summit, delivering a stinging speech about the urgency of the climate crisis. Then, after crossing paths with no other than President Trump in the lobby, fired the ultimate death stare, which subsequently went viral online.
The teen then bagged the 2019 Right Livelihood Award, which is widely known as the "Alternative Nobel Prize," for her pioneering work in the youth climate change movement, scooping up a pretty impressive cash prize. But now, after winning another environmental award, Greta has spoken out against the prize. Read on to find out why.
The Swedish sixteen-year-old has been responsible for the global school strike movement, which began with weekly Friday school strikes to protest for climate change action.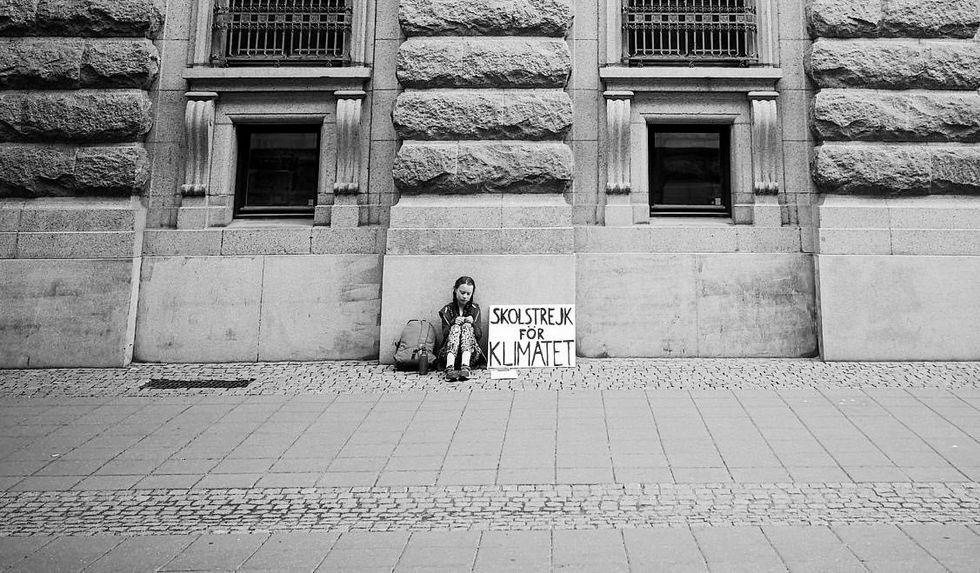 Greta would regularly sit on her own outside Swedish parliament, first staging a "School Strike for Climate" in August last year. In the weeks leading up to the country's general election, Thunberg sat on the steps outside of the parliament building in Stockholm, holding up the now-iconic sign that read "Skolstrejk För Klimatet" — translating to "school strike for climate."

Her demands were that the Swedish government reduce carbon emissions in accordance with the Paris Agreement. By sacrificing her education to protest for action, the teen began to conjure up attention and gain traction online.

While a little over a year ago, the name "Greta Thunberg" was relatively unknown, now, her's is the first name that springs to mind when you think of the climate change movement.

If we fast-forward to now, Thunberg continues to hold governments accountable during her powerful talks, which have seen her nominated for a Nobel Peace Prize and placed in TIME's top one-hundred influential people in the world list.

Her message is clear: we need to act now.
Having whipped up a gigantic global youth movement, climate change is finally getting the attention it deserves, but Thunberg still believes that governments are the ones who still aren't listening. According to the United Nations, humanity has under twelve years to prevent a climate change crisis. A report released by the Intergovernmental Panel on Climate Change (IPCC) at the end of 2018 called for immediate "unprecedented changes" to all aspects of society.

If we do not act, the future, if there is one at all, will be very bleak.
Rising global temperatures pose a high risk of social and environmental disasters, including floods, drought, wildfires, and food shortages for millions of people across our planet.

In July, the teen ditched environmentally damaging air travel and sailed across the Atlantic to attend the U.N. climate summits in the U.S. and Chile.

According to Live Kindly, earlier this year, Mohammed Barkindo — the secretary-general of OPEC (the Organization of the Petroleum Exporting Countries) — acknowledged public opinion surrounding the climate crisis as a threat to the oil industry.

On September 20, millions around the world, from London to New York, Sydney to Colombia, ditched the classroom to peacefully protest for climate action in what Thunberg dubs "Fridays for Future."

Her activism has seen her labeled "melodramatic" amongst other things, as well as others saying that she is being used as a political shield.

Yesterday, Thunberg addressed world leaders at the U.N. Climate Summit and delivered a blistering, anger-tinged speech demanding climate action.

During her powerful speech, Thunberg highlighted how the science behind climate change has been "crystal clear" for over 3 decades. "I shouldn't be up here. I should be back in school on the other side of the ocean. Yet you all come to us young people for hope? How dare you!" she said. "You have stolen my dreams and my childhood with your empty words."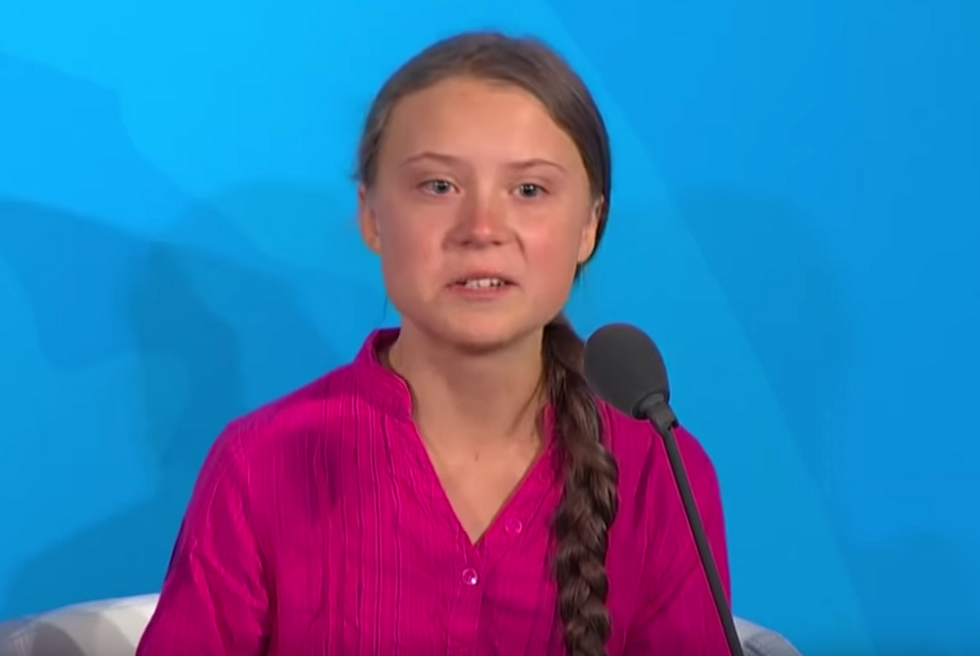 "People are suffering. People are dying. Entire ecosystems are collapsing. We are in the beginning of a mass extinction. And all you can talk about is money and fairy tales of eternal economic growth. How dare you!" She continued: "How dare you continue to look away and come here saying that you are doing enough when the politics and solutions needed are still nowhere in sight." "You say you 'hear' us and that you understand the urgency. But no matter how sad and angry I am, I don't want to believe that. Because if you fully understood the situation and still kept on failing to act, then you would be evil. And I refuse to believe that."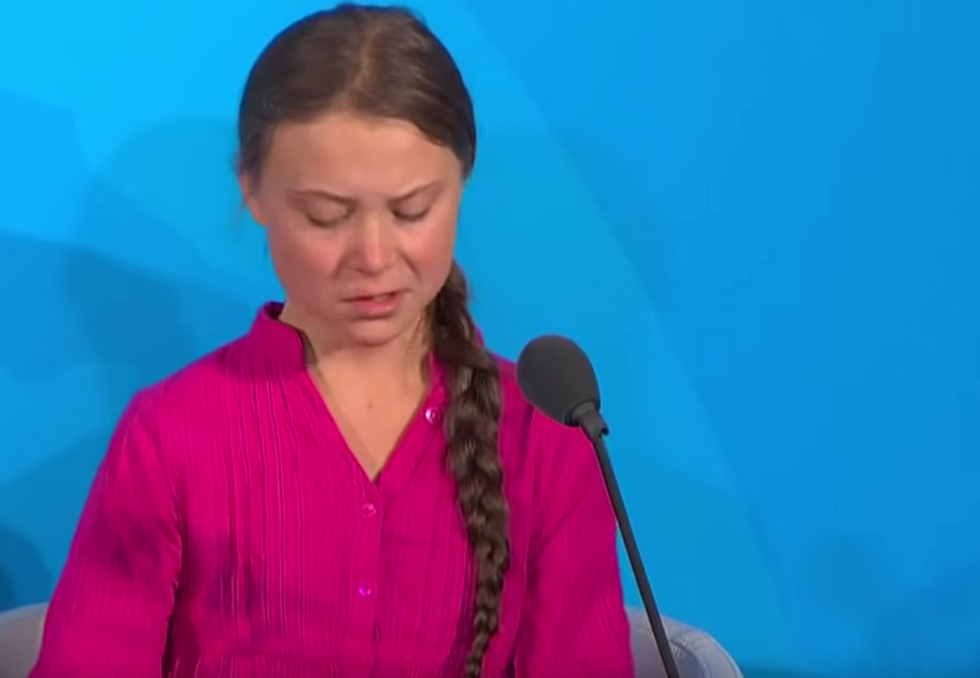 "You are failing us. But young people are starting to understand your betrayal. The eyes of all future generations are upon you. And if you choose to fail us, I say: We will never forgive you. "We will not let you get away with this. Right here, right now is where we draw the line. The world is waking up. And change is coming, whether you like it or not."

Safe to say, she understandably isn't his biggest fan and shot him the most intense death stare we've ever seen.

When faced with one of the world's most powerful leaders, Thunberg remains fearless, and her death stare has become something of an internet sensation.

In usual Trump-style, he took to Twitter to seemingly mock the teen, writing, "She seems like a very happy young girl looking forward to a bright and wonderful future. So nice to see!" above a video of her speech.

And of course, people slammed the president for attacking the young activist.

Thunberg was even listed as 1 of 4 winners of the 2019 Right Livelihood Award, which is widely known as the "Alternative Nobel Prize."

According to a statement from the Right Livelihood Foundation, "Thunberg is the powerful voice of a young generation that will have to bear the consequences of today's political failure to stop climate change."
"Her resolve to not put up with the looming climate disaster has inspired millions of peers to also raise their voices and demand immediate climate action."


Brazilian indigenous leader, Davi Kopenawa of the Yanomami people, Chinese women's rights lawyer, Guo Jianmei, and Western Sahara human rights defender, Aminatou Haidar also share the award with the teen.

According to Reuters, the 4 winners will each receive a cash award of one million Swedish krona ($103,000).


The climate change activist said she "shared the award with the many people and adults who have joined her in her environmental crusade." "I'm deeply grateful for being one of the recipients of this great honor."
undefined

undefined

"But of course, whenever I receive an award, it is not me who is the winner. I am part of a global movement of school children, youth and adults of all ages who have decided to act in defense of our living planet. I share this award with them," she added." "The Right Livelihood Award is a huge recognition for Fridays For Future and the climate strike movement. Thank you so very much!" It was an impressive win.

She was awarded a coveted Environmental Prize from the Nordic Council, which comes with a whopping $400,o00 cash prize.

While expressing gratitude for being chosen, she's also decided to turn down the award – and she took to social media to explain why.

"I have received the Nordic Council's environmental award 2019. I have decided to decline this prize."

"The climate movement does not need any more awards. What we need is for our politicians and the people in power start to listen to the current, best available science."

"There is no lack of bragging about this. There is no lack of beautiful words. But when it comes to our actual emissions and our ecological footprints per capita – if we include our consumption, our imports as well as aviation and shipping – then it's a whole other story."

"And roughly the same goes for the entire Nordic region. In Norway for instance, the government recently gave a record number of permits to look for new oil and gas. The newly opened oil and natural gas-field, "Johan Sverdrup" is expected to produce oil and natural gas for 50 years; oil and gas that would generate global CO2 emissions of 1,3 tonnes."

"And there are still no signs whatsoever of the changes required."

"We belong to the countries that have the possibility to do the most. And yet our countries still basically do nothing. So until you start to act in accordance with what the science says is needed to limit the global temperature rise below 1.5 degrees or even 2 degrees celsius, I – and Fridays For Future in Sweden – choose not to accept the Nordic Councils environmental award nor the prize money of 500, 000 Swedish krona."

It's a bold move – but she has declined with grace. She wrote, " I want to thank the Nordic Council for this award. It is a huge honor."

And although Thunberg has won many awards, she missed out on the Nobel Peace Prize this year. Scroll on for all the details.