These days, there are so many ways a person could go viral that it's never really surprising when they do. Post a cute video of your dog doing something hilarious? Viral. Tweet about something that your children said? (We all know they didn't by the way) Viral. Expose your ex with incriminating screenshots? Viral.
How about this one though… A man has gone viral after police posted his mugshot on their Facebook page, not because of the crime he committed or because of he 'could be a model', but because of the size of his neck...he'll be enjoying his 15 minutes of fame, heavy is the head that wears the crown, it's probably a good thing that he has a strong neck to support it.
My my..what a neck!
The mug shot has gone viral, not because he needs identifying, but because people just can't believe the size of the man's neck!
The Sheriff's Office:
The Escambia County Sheriff's Office posted his mugshot on the department's Facebook: "Congratulations to Charles Dion McDowell, DOB: 8/12/87 *share Charles Dion McDowell was arrested for Fleeing/Eluding Police with Lights & Sirens Active, Possession of Meth with Intent to Sell/Manufacture/Deliver, Possession of Cocaine with Intent to Sell/Manufacture/Deliver Schedule II, Possession of Controlled Substance without a Prescription, Possession of Marijuana, and Possession of Drug Equipment. McDowell is currently a guest at the GoldStar Hotel with a bond of $57,000. #Gotcha"
The Offence
Charles Dion McDowell (the chap with the thick neck) was arrested in northern Florida for several drug offences recently, including possession of both meth and cocaine with intent to sell, manufacture or deliver.
The Great Escape
According to police, McDowell allegedly attempted to flee from the police after they found out about his less-than-legal activities.
Instagram
"Y'all come on he gotta lotta weight on his shoulders right now."
Free photoshoot!
You can always see a mug shot as a free photo shoot...time to look your best!
Career launching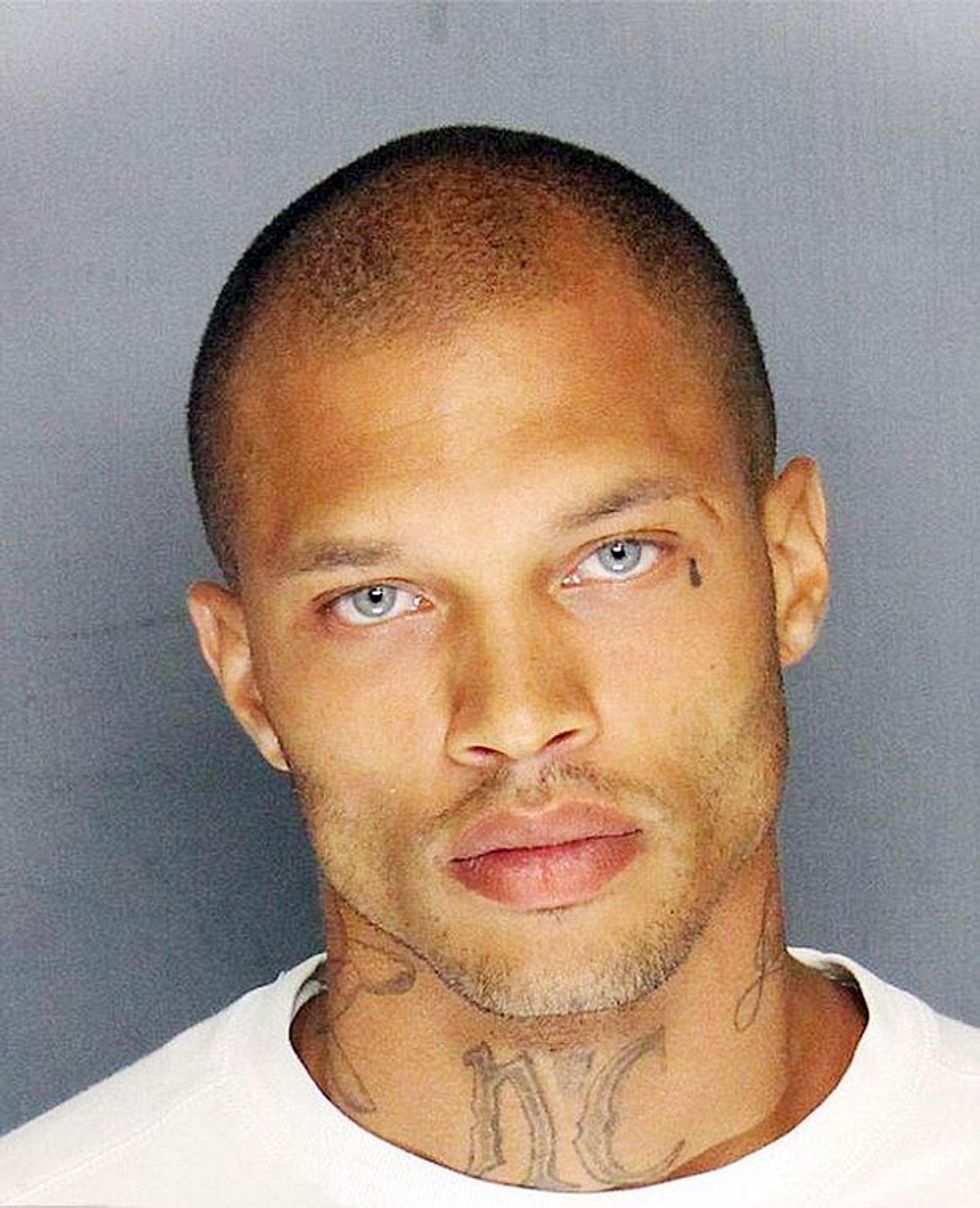 Ex-convict Jeremy Meeks, known as 'hot mugshot guy',
rose to fame
after his mugshot went viral when it was posted to the Stockton Police Department's Facebook page back in 2014.
The negatives of jail
I mean, I really hope I don't have to actually explain the negatives of going to jail....but firstly, you're bound to be surrounded by a bunch of crazies.
Getting bullied
It'd be like high-school all over again, but even more intimidating...there's not evne lunch money to steal so they'll make you pay with embarassing acts.
No TV
Confined to a cell without the escape of a laptop or a TV? Sort of like being ill at home and the Wifi doesn't work....HELL
No Phone
No cell phone's allowed either, so there's no checking up on your crushes Instagram to see who's recently tagged them in a picture from some beach in Hawaii and checking to see if it's (fingers crossed) their hot sister, not their hot girlfriend.
No Boys
Time away from boys might actually be a positive thing thinking about it...but you shouldn't go and get yourself arrested just because you want time away from them...or should you.....?
Nothing better than a pun
Mocked
One tweet wrote about the original mugshot - "He's captured, but his neck is still at LARGE!". *The internet applauds*
The jokes continued
Another tweet read ""My dude got an Adam's pineapple.". Brilliant!
The Joker of the pack
One joker asked the question: "What neck of the woods was he caught in?". Keep them coming. Keep them coming.
Behave...
When getting your mugshot done, it's probably best to behave yourself if you want the police on your side.
Caught red handed.
Drugs are no joke and if you get caught with them, the cuffs will be coming out...it's a shame the guy's wrists weren't in proportion to his neck, because they'd not have found hand-cuffs that fit.
Are there any benefits of being locked up?
It's always important to look on the bright side of life...even if your view is distorted by iron bars.
Cheerleading practice
It's always an opportunity to join the prison cheerleading team, a worthwhile hobbie that you'll be needing to pass the hours.
You might get to meet..
...people like Prison Mike...what a joy that would be to be locked up in the "slammer" with someone as entertaining as him.
Getting buff.
With all that time on your hands it might be worth taking to the gym. If you're going to get something out of it, it might as well be a body to die for..although you don't want to be responsible for killing anybody, even if it is from jealousy.
The food
Sure, the food probably isn't great...but you don't have to cook it yourself! What a privilege that would be...
No regrets?
They say "never have regrets because at some point you wanted it..." but I think in this case, it's probably a good thing to have regrets. It's sort of what the system is designed for.
Escape?
We've all seen the movie...is it worth a shot? It depends how long your sentence is I suppose. You don't want to be released halfway through the digging then get called back in due to the attempted escape.
Freedom!
Freedom feels great! You'd forget about your time in the clink almost instantly.
Relapse
And then probably end up slipping straight back to the old lifestyle again.
Welcome back!
Before you know it you're getting a whole new portfolio of mug shots taken of you.