Gwen Stefani has just announced that she and Blake Shelton are engaged and the internet has gone crazy...
Stefani broke the happy news to fans today.
Her Instagram post was adorable, to say the least.
Now, the star began her career as the lead singer of No Doubt.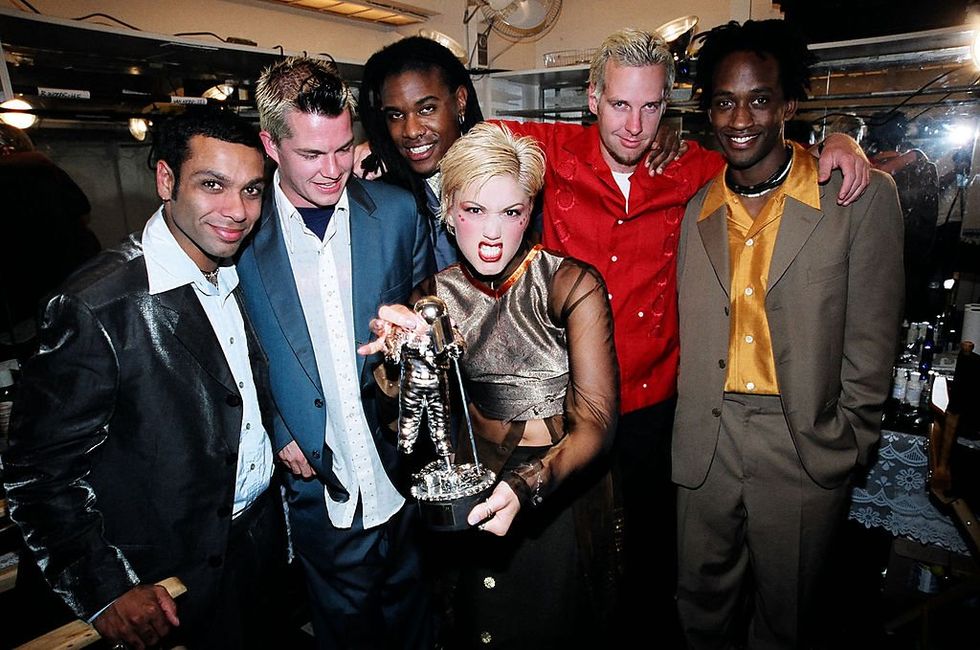 via: Getty Images
She burst into the mainstream music scene as the lead singer of SoCal rock band, who went on to produce several hits including "Don't Speak," "Spiderwebs," and "Just a Girl."
But, in 2004, Stefani ended up parting ways from her band to kick-start her solo career.
After splitting from the band in the early '00s, the singer embarked on her solo career that skyrocketed her to pop-stardom, seeing her release popular hits such as "Hollaback girl" and "Sweet Escape."
The move certainly paid off.
But, throughout her career...
In spite of her successes, she hasn't fallen short of controversy either.
For instance, earlier on in her career, the singer was seen sporting a sacred, religious symbol in several music videos.
Throughout the '90s, in many of No Doubt's music videos, the singer can be seen wearing a bindi. Bindi's are worn by South Asian women for religious and cultural reasons, however, the singer continued to wear the decoration as a fashion accessory for her "distinct" aesthetic, ex-Stefani-fan, Wanna Thompson, wrote in an article for
Vice
.
The singer has also received backlash for her "Harajuku girls" backup dancers.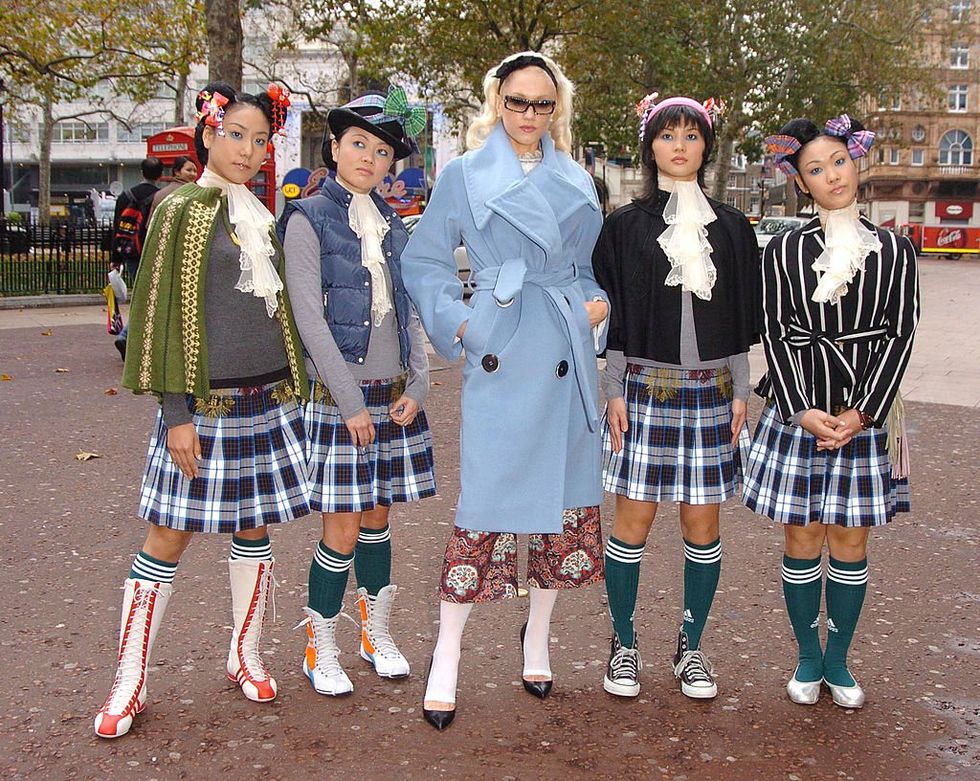 via: Getty Images
In 2005 and 2006,
Stefani was slammed
for appearing with a silent group of Asian-American women, whom the singer called her "Harajuku Girls," after a group of women that she met in the Harajuku district of Japan.
The group regularly featured in the star's music videos and accompanied her to promotional events.
The singer raised eyebrows when, in an interview with
Entertainment Weekly
, she called the "Harajuku Girls" an "art project" and reportedly renamed each of them — "Love," "Angel," "Music," and "Baby" after her new album title.
Though the singer justified herself by saying that she was simply embracing the Harajuku culture, others were not so sure...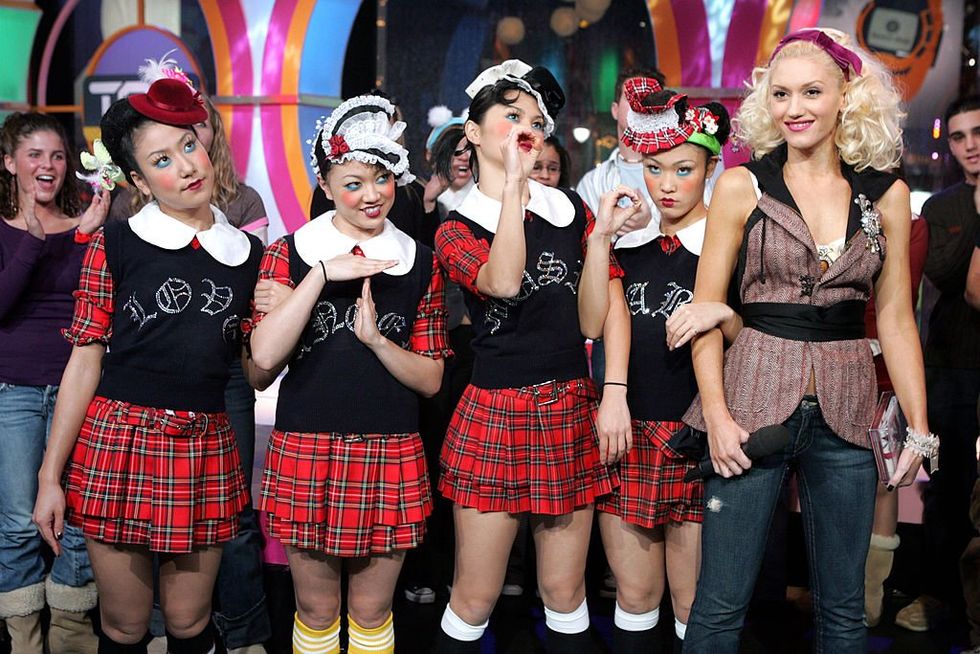 via: Getty Images
Asian-American comedian, Margaret Cho, criticized the singer for the cultural appropriation of Harajuku culture. At the time, Cho compared the singer's Harajuku Girls to
"blackface
", while a 2005 
Salon article about the Harajuku Girls
 accused the singer of "fawning" over Harajuku culture in her lyrics.
The singer's so-called "obsession" with Harajuku culture did not end there...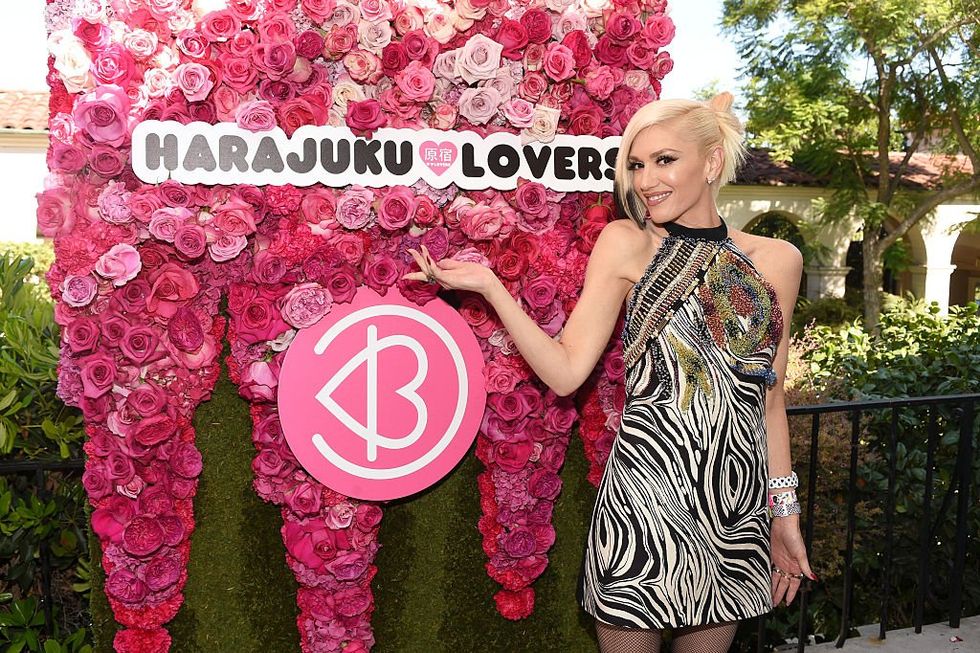 Since then, the star has had a "Harajuku Lovers" line of fragrances, made up of 6 scents and a Harajuku Mini fashion line, which was sold in Target.
However, the singer still insists that she doesn't regret using the Harajuku girls.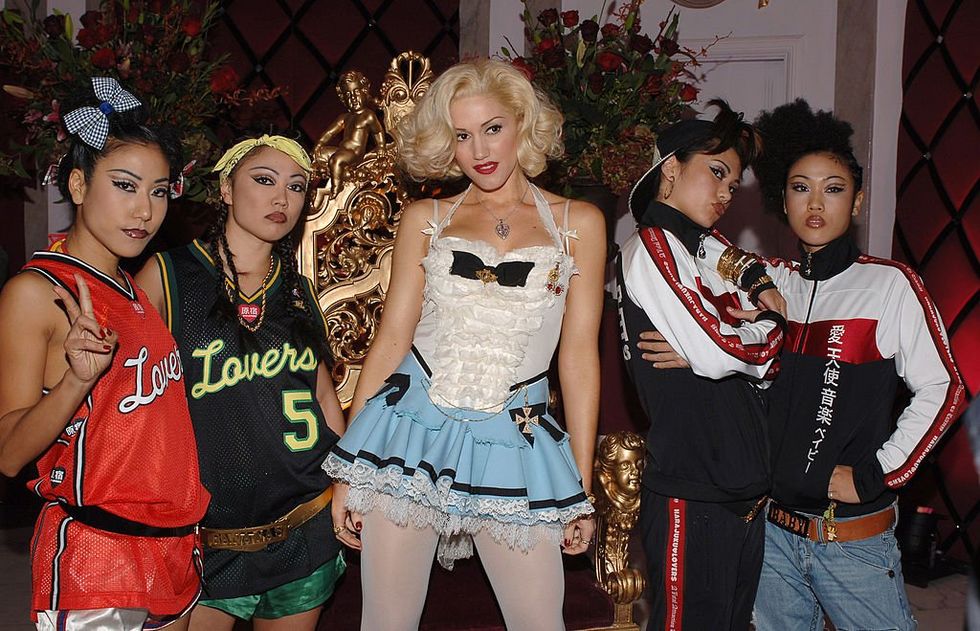 During an interview with 
TIME
in 2014, Stefani admitted that she didn't regret hiring or featuring them, despite the backlash. "There's always going to be two sides to everything. For me, everything that I did with the Harajuku Girls was just a pure compliment and being a fan… Seriously, that was all meant out of love," the star said.
The star's "offensive" Instagram post caused quite a stir, too.
wild Africa"
 themed SS16 collection during an 
episode
 of
The Voice.
It didn't go down well with fans...
Instagram user
wrote, "You know I had really hoped it was a fluke, that the first image I saw last night was a one-off. It's really unfortunate that nothing was learnt from the video fiasco 
@gwenstefani
. You should, in my opinion, be using your celebrity as a platform and mentoring new artists against cultural appropriation in this day and age. "There're so many other ways to be creative than to take very recognizable pieces of other cultures and exploit them."
But there's another reason why Stefani manages to grab headlines...
... Her love life.
Stefani has been dating singer Blake Shelton for 5 years.
The Voice back in 2015.
It was love at first sight...
4 years into their relationship, a source revealed the pair were planning a long-term future together.
The couple are clearly smitten with each other.
Well, today it looks like Shelton has finally put a ring on it...
Because it's been announced that the couple are now engaged!
The big news comes just weeks after Stefani told Extra that she thought it was "pretty cute" when people referred to Shelton as her husband.
"Do you know how many people say my 'husband' about him?" she said, referring to Shelton. "I guess we're just together." Well, now he really
will
be her husband.
The couple made their engagement Instagram official today with an adorable post.
And reactions to the happy news came
pouring
in.