There's something great about watching gymnastics. A good quality floor routine can almost seem like an optical illusion as the talented athlete flings their body around in a way which is as powerful as it is graceful. When executed well, it can seem like you're seeing something that should be impossible, made possible before your very eyes.
But with high levels of intricacy comes even higher levels of danger, as one gymnast learned this week. US athlete, Sam Cerio, suffered a truly horrific accident during a floor routine, as her handspring double front flip went horribly awry. Instead of sticking the landing, the Auburn University senior suffered an awkward fall, and ended up with not one, but two broken legs. The whole thing was captured on film, and it really has to be seen to be believed - though it isn't for the weak of stomach!
Ever since Cerio's fall, we've been hoping and praying that she'll make a comeback to gymnastics. That hasn't happened yet, but the next best thing most definitely did. Sam Cerio has accomplished her goal of walking down the aisle. Keep reading for more on that.
Watching a good gymnastics routine is one of life's pleasures.
Even for those who don't have any real connection to the sport, it makes for fantastic viewing thanks to the death-defying moves and sparkly outfits.
It's safe to say, gymnasts are pretty badass.
Don't let their cute hairdos and perfect choreography fool you - they're amongst some of the strongest and most powerful athletes on the planet.
Who else could pull off moves like this?
There's an insane amount of skill, talent and practice that goes into gymnastic routines, and watching someone really nail it is super satisfying.
Competition can be intense.
Professional gymnasts don't mess around, and many will attempt super scary moves and routines in order to beat out the competition.
But that isn't to say there's no sense of community.
With gymnastics teams, whether representing an educational institution or geographical region, there's an incredibly powerful bond between the athletes.
And sometimes the odd routine really shakes things up.
Once in a while, there will be a performance that adds a ton of personality and flair alongside the technical aspects, which always goes down well with audiences.
But there are also moments wherein things don't go so smoothly.
Any athlete can be prone to making a mistake in their sport - but with gymnastics, it can all be a little bit more dramatic.
After all, the sport is inherently visually spectacular.
So it makes sense that the accidents are similarly jaw-dropping - just in a slightly different way.
And one star had a particularly gruesome incident this week.
A college athlete from Auburn University has suffered the type of accident that got the whole internet talking - and the pictures are absolutely brutal.
We've got the pictures and video right here.
The accident really has to be seen to be believed - but maybe don't watch it while you're eating!
This is the gymnast in question.
She's known for her stunning floor routines.
As a part of Auburn's gymnastic squad, Cerio has been a part of many of their triumphs.
She's supremely strong and powerful.
But even a star as talented as Cerio isn't immune from making mistakes.
Cerio attempted something super tricky.
The star was performing a handspring double front flip. You have to try to land, despite not being able to see the floor. But something went horribly wrong.
Here's the full video.
It shows the routines of many of the competitors, but Cerio's accident is around thirty-nine minutes in if you want to see it. But we warn you - this injury is pretty gnarly.
It's pretty hard to watch.
As Cerio approaches the flip, you may have to watch between your fingers. The landing is absolutely brutal.
Here's an edited clip.
For those who are feeling brave, this is a clearer, more concise view of the (incredibly painful looking) accident.
It's not the first time that Cerio has attempted this difficult move.
The screenshots are incredibly intense.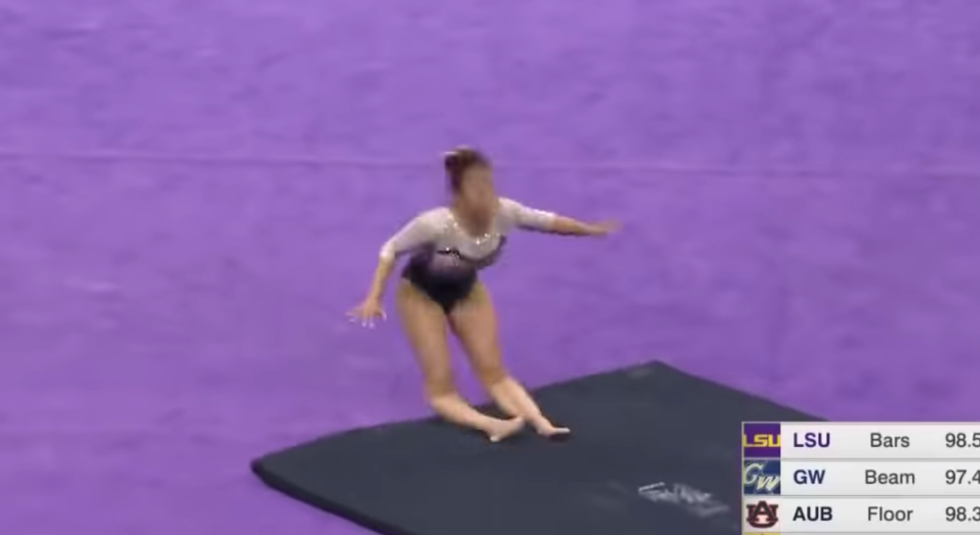 via: The Sun
This one really depicts quite
how much
Cerio's legs buckled, with both her knees pointing backwards in what should be an impossible manner.
Cerio then falls backwards.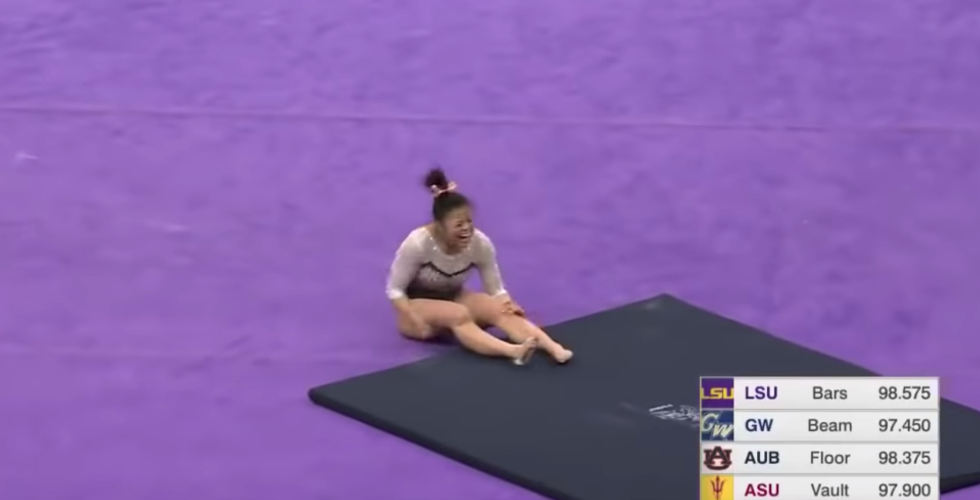 via: The Sun
It's here that you can see the total agony on her face. We really feel for her - this injury looks intense, to say the least.
She's quickly surrounded by medical professionals.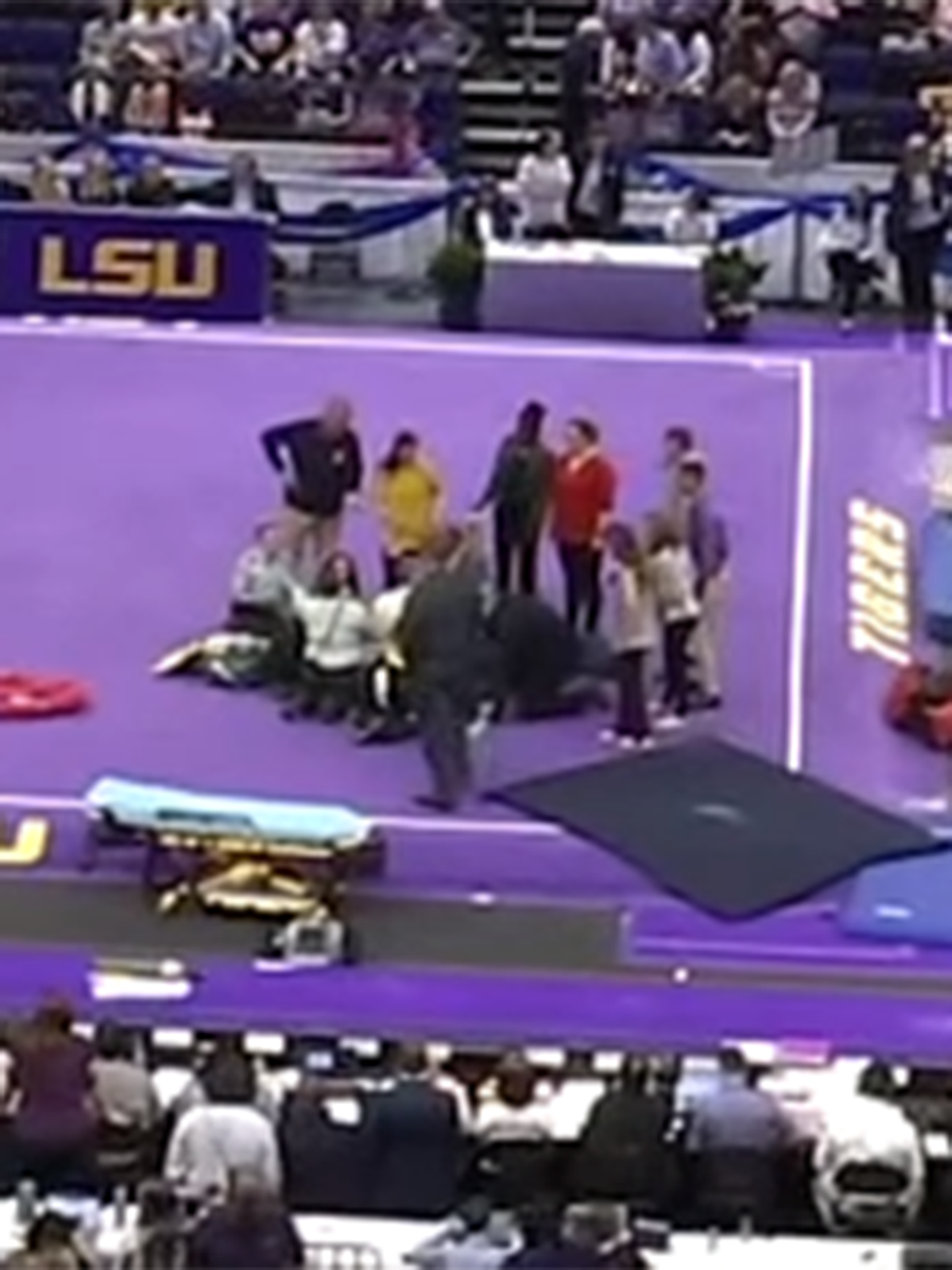 via: The Sun
We're not currently aware of the status of Cerio's injuries, although we feel confident in saying she's got a long recovery ahead of her.
The injuries have sparked a big change in Cerio's life.
In it, she shared the highs and lows of the past eighteen years.
Her team were clearly moved.
"We said stick it for @sam_cerio, so we definitely came out here to make her proud." This Auburn team wraps up a s… https://t.co/VuzMVcpHc4

— Auburn Gymnastics (@Auburn Gymnastics)1554614342.0
They shared an emotional tribute to the injured star on their Twitter account, complete with a video.
Her coach, Jeff Graba, also commented on the sad moment.
He spoke to Nola Today about Cerio's injuries, saying, "It was pretty tough to watch. She's a trouper. The last thing she said was, 'Go help the girls.' The girls rallied around her. They're doing this for her right now. I gave her a hug, told her I hugged her before she left and said we'd catch back up tonight."
The exact nature of Cerio's injuries isn't totally clear.
But based on the information currently out there, it's thought that she's broken both legs and dislocated both knees, which is absolutely no joke.
It's clear that Cerio is as popular as she is talented.
@sam_cerio we're thinking of you. Prayers for a speedy recovery, we love you🧡 #StickitforSam https://t.co/WDkI8XQd3f

— Michaela Burton (@Michaela Burton)1554596645.0
Her old teammates have been taking to social media to share their emotional tributes to the now-retired star.
Her team even started a hashtag in her honor.
On to the next #StickItForSam https://t.co/5KmtdfIE3j

— Jada Glenn (@Jada Glenn)1554519135.0
#StickitforSam seems a fitting tribute to such a fearless and highly skilled athlete. We're wishing her all the best for recovery.
And though her gymnastics career is over, it seems that Cerio still has a bright future ahead of her.
Her injuries certainly haven't stopped her from living her best life.
revealed
that "she wants to walk down the aisle and get married, and we're hoping she can do that."
And she's done exactly that.
That's right! Sam Cerio walked down the aisle just two months after undergoing surgery as a consequence of her horrific injury. The ceremony, and Cerio, of course, looked stunning and we wish the couple a happy life together. Cerio's an inspiration to us all.