Is your hair stuck at that awkward length, where you just can't fit it into a ponytail, but it gets in your way if you leave it down? Or maybe you did a 2007 Britney and ended up shaving all your hair off, or naively thought your undercut would grow back in no time.
Whatever your hair story is, at some point, we've all wished our hair was longer. Whether you're 14 or 64, you know exactly what it feels like to walk out of the hairdressers thinking you've just made the worst decision of your entire life.
And if you've ever Googled how to make your hair grow faster, you've probably attempted some of the bizarre home treatments that promise instant results. From washing your hair with apple cider vinegar to making a 'hair mask' made out of eggs. No, we're not kidding - these home remedies actually exist.
Spoiler: they don't work.
Want hair like this?
We've all dreamt of looking like Rapunzel at some point, because who doesn't want gorgeous locks like these?
Because sometimes this happens.
Ever been to the hairdressers and ask for a trim, but end up leaving with seven inches of length cut off?
And you're left like this.
Even though you hate your haircut and it's not what you asked for, you tell your hairdresser you love it and end up leaving a large tip so they don't think you hate it.
But what about hair growth shampoo?
Apart from when it's in your eyes, shampoo is pretty useful, but how effective is hair growth shampoo?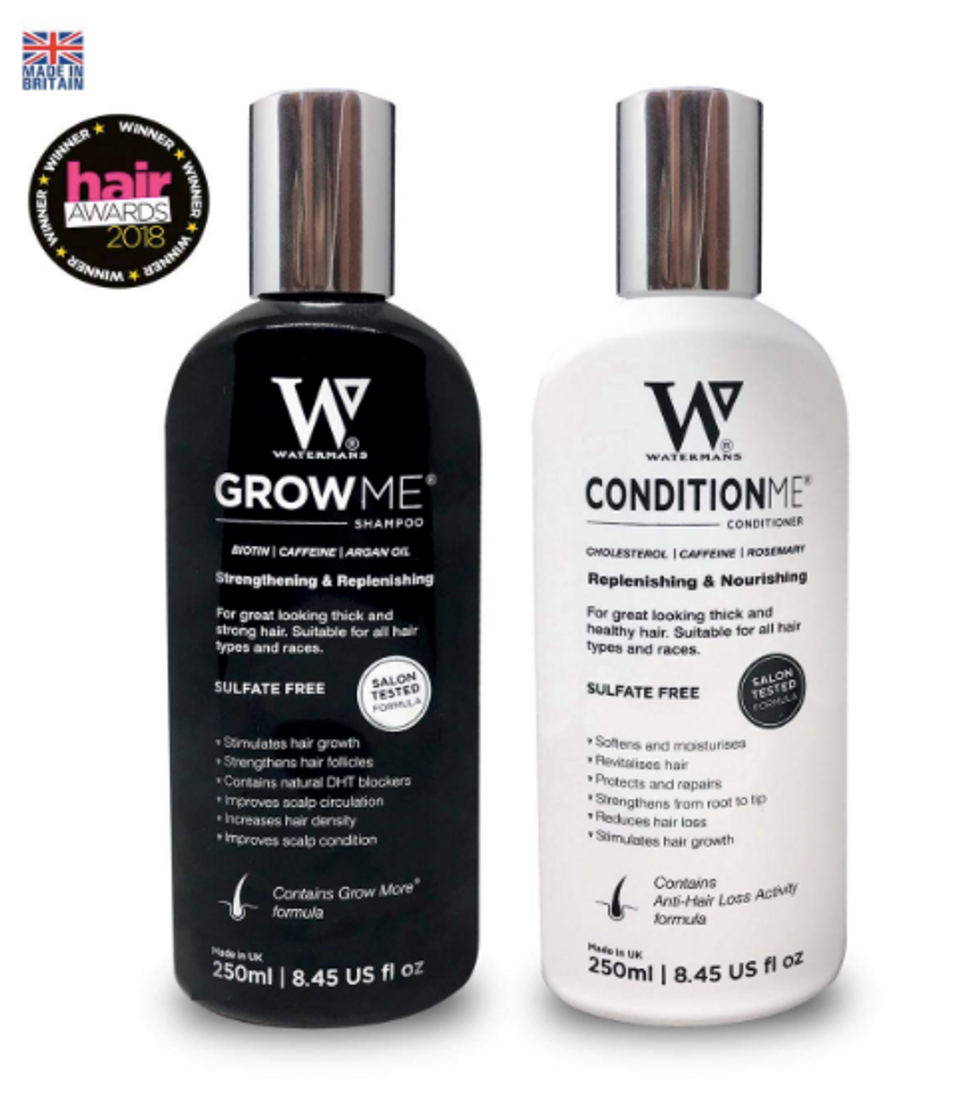 via: Amazon
Watermans Grow Me
 shampoo and conditioner has received 435 five-star reviews on Amazon.
They've even been featured in Vogue.
If Vogue approves: so should do. We wonder if Anna Wintour secretly buys this stuff.
Because it's pretty incredible.
The hair products promise to help stimulate hair growth, strengthen hair follicles, and improve scalp circulation and condition.
We kind of can't get over it.
This shampoo could solve all your hair-related problems. And to make it even better: it's sulphate and paraben free.
It's helping people with cancer.
"It feels like a treat and my hair needs it after chemo! Very impressed and I've been asked what I'm using by lots of people. My hairdresser is very impressed too!" reads one Facebook review. Now that is pretty amazing.
It's even popular with celebs.
Even MTV's Ex On The Beach star, Charlotte Dawson, approves of the stuff, and look how divine her hair is.
And we love a star's approval.
Holly Hagen, best known for her appearance on MTV's Geordie Shore, regularly uses Waterman's products.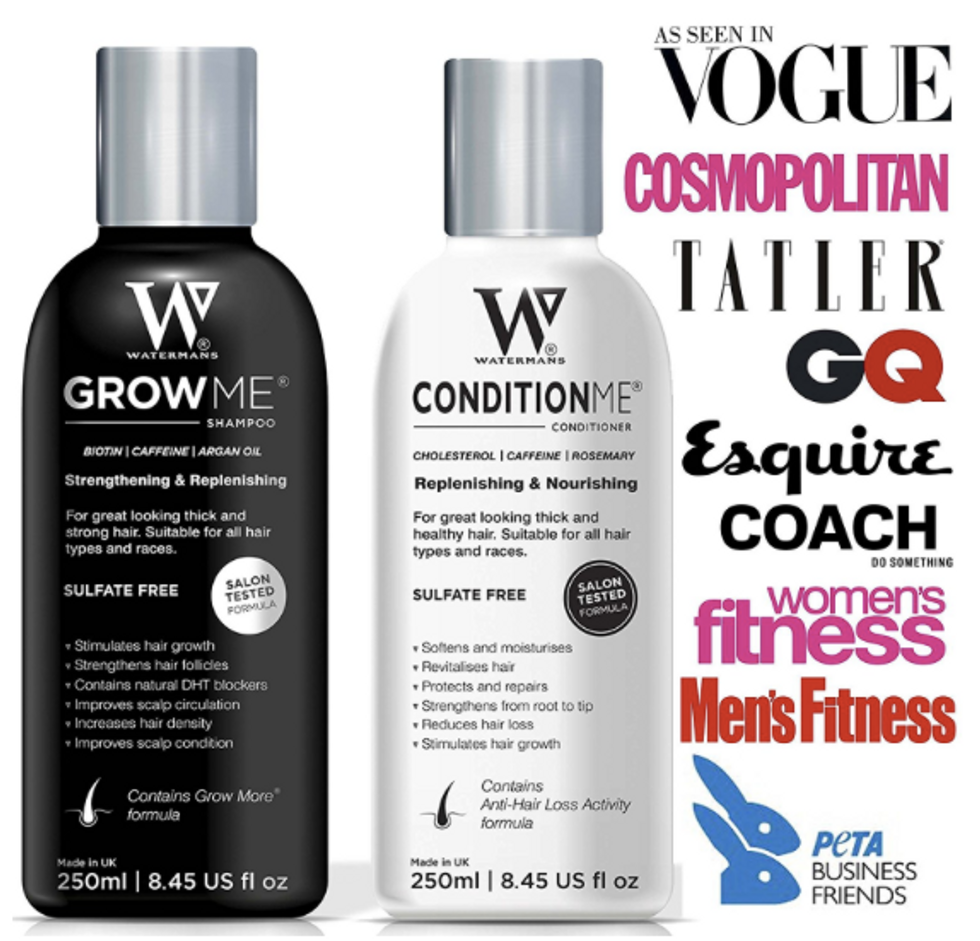 via: Amazon
A combo pack of shampoo and conditioner will set you back a steep
 $33.49
. But it's a small price to pay for those great results.
Because people swear by it.
And there's no surprise, the reviews speak volume. No wonder the brand was the winner of UK Hair Magazine Hair Awards 2018
And men love it too.
Because who said thinning hair and hair loss is strictly a woman's issue? It seems to have worked pretty well on this guy.
So what's in it?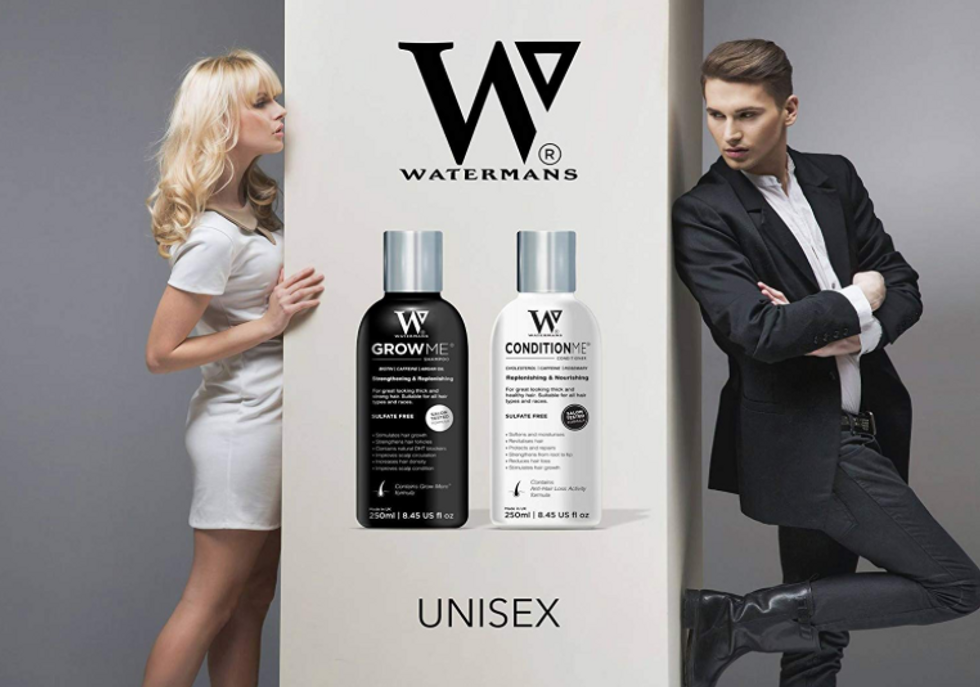 via: Amazon
The shampoo and conditioner contain caffeine, argan oil kernels, and rosemary extract: which are all great ingredients that help promote hair growth.
And it gets better.
Watermans are cruelty-free and PH Neutral so they don't harm your scalp. And their bottles are recyclable!

What are you waiting for? Get on

Amazon

and make the most of their fast delivery - you can thank us later.
And if you're not convinced.
Here's another before and after picture, because there are seriously hundreds on the internet.
They've sold over a million products.
And they were ranked first on Amazon's Best Sellers for shampoo and conditioner sets.
And it works on different hair types.
Bleached your hair too many times? Need better control of your dreadlocks? Don't worry, Watermans can still help you out.
Because you really don't want to put eggs in your hair.
There are some utterly bizarre home remedies on the internet, that promise instant results. But really, a hair mask made out of eggs? No thanks.
Or bath in onion juice...
Yes. That's an actual home remedy for hair growth. But even if it did work - your hair will smell so bad you'll probably want to cut it all off.
So maybe just stick with the shampoo.
It makes sense. And it means you don't have to bring your entire kitchen into the bathroom.
And if you're wondering what effects hair growth.
Old age, weight loss, diet, hormones, the sun, etc can all negatively affect your hair growth. Basically, the list is endless.
Sometimes, you just need something to give you a boost.
And sometimes, that boost comes in the form of two 250ml bottles of shampoo and conditioner.
And you'll finally get the hair goals you've dreamt of.
We're sorry, but this man isn't included in the combo pack, although we're sure they'd sell a lot more if he did.
And if you're put off by the price.
Think of it as an investment. And we're pretty sure it's cheaper than a hair transplant.
It even fits in your pocket.
Okay, maybe it's not the perfect fit. But it's still small enough to pack in your suitcase.
The perfect Christmas list.
If you're struggling for Christmas ideas, look no further. Put these babies on your Amazon wishlist.