We've just about reached that point in quarantine, which we would never let happen under normal circumstances, our roots have grown out, eyelashes getting thinner by the day, and that once poppin' french manicure is past the point of no return.
But what we don't take into account is that the small businesses we cherish are the ones struggling the most!
One hairdresser has gone above and beyond for her clients, creating the most unique way of cutting hair while keeping her distance.
Keep scrolling to watch the video...
Everyone is living on the edge at the minute.
Whether that's scraping out the last drop of purple shampoo to hide the brassy mess that's taken over your head... speaking from experience. Or digging out that old box dye you bought when you 'just wanted a change.' Don't do it.
Considering the circumstances, I don't think people will mind.
And when I say people, I mean the sock puppets you made on day 3 of quarantine, to stop yourself from going mad... just me?
It's no lie that things are looking pretty dire.
I tried to rush to the nail place to get my set soaked off before this lock down hits, but it was too late.. all na… https://t.co/10vcE5FqF5

— Mica 🦥 (@Mica 🦥)1584798293.0
No hairdressers, nail salons, beauty parlors, and it's making the world seem like a pretty sad place right now.
But we're all in it together.
Me emerging from quarantine in 2021 looking for the nearest hair, nail and eyelash technician https://t.co/YLAiOT4rph

— Jennifer Hassan (@Jennifer Hassan)1584991874.0
Finding new and cheaper ways of indulging in a bit of self-care is never a bad thing. Here are some of the best self-isolation ideas to keep yourself happy, which automatically makes you look a million dollars. It's science. But if you're just after that video, keep scrolling to the end.
Why not take-up meditation... hear me out.
Celebrities have been speaking up about the benefits.
Try a home workout program.
most important thing to help with stress and low mood is regular exercise. As much as we all like to sit binging box sets, it's so important to get moving. Even if it means turning Spotify up to the max and dancing your way through your favourite playlist.
After all that dancing, it's important to treat yourself.
how to have an at home spa: • have an oil diffuser in the room • heat your towels • use a bath tray to hold your b… https://t.co/fCAc4zlWvF

— 𝚊 𝚙𝚘𝚠𝚎𝚛𝚏𝚞𝚕 𝚠𝚘𝚖𝚊𝚗 (@𝚊 𝚙𝚘𝚠𝚎𝚛𝚏𝚞𝚕 𝚠𝚘𝚖𝚊𝚗)1584997217.0
Whether you're a fan of facemasks, or want to try your hand at a DIY mani, or even just want to treat your hair to a good nourishment treatment, there's no better time to perfect your at-home beauty regime.
Get a good night's sleep.
This is so important. The sleep expert Dr. Carmel Harringtoon says: "Sleep plays a fundamental role in keeping us well because, during sleep (when we don't require all our energy to go into the functions of wakefulness), our immune system fires up and our natural killer cells start killing off any foreign viruses or bacteria as well as mutated cells - allowing us to fight disease both in the short and long term."
Routine is so important.
Routine has been disrupted for many small businesses.
Looking for ways to support small businesses right now? Here are some ways you can help, even from a distance. https://t.co/n5gDq8UBQv

— Constant Contact (@Constant Contact)1584725603.0
All over the world, they have had to adapt to unprecedented barriers that have come into play as a result of the outbreak.
One supermarket in the UK has taken social distancing a step further.
The UK has set up a whole host of measures to ensure people's safety.
Morrisons chief executive David Potts said: "We want to do our bit to help customers and colleagues from being affected and to help everyone observe social distancing at our checkouts. This will help us to continue to play our full part in feeding the nation - it's more than our job."
But not everyone has been as productive.
At the nail Salon and these ladies go yeah I've been in quarantine for 4 days I'm like... you're not quarantining y… https://t.co/xYP09yBnIF

— DoryAnn (@DoryAnn)1584627061.0
Some non-essential places still remain open, even though advice from government officials advises them to shut temporarily to protect the public.
One salon has tried to overcome these restrictions.
One salon in the Netherlands has come up with their own way of dealing with these barriers by creating a barrier of their own.
Countries all over have put social distancing measures in place.
Me: *doesn't socialize and loves staying home* US Government: "Practice social distancing and stay home" Me: https://t.co/3r3QBI6J5a

— Clean.__.memes (@Clean.__.memes)1585161198.0
In a bid to stop the spread of Coronavirus. But obviously this can't be followed when you're cutting someone's hair.
This inspired a stylist to come up with something interesting, to say the least.
A stylist at Bella Rosa salon in Oss created a makeshift barrier between her and her clients, to allow her to carry on cutting hair.
It was made out of a cut-up umbrella.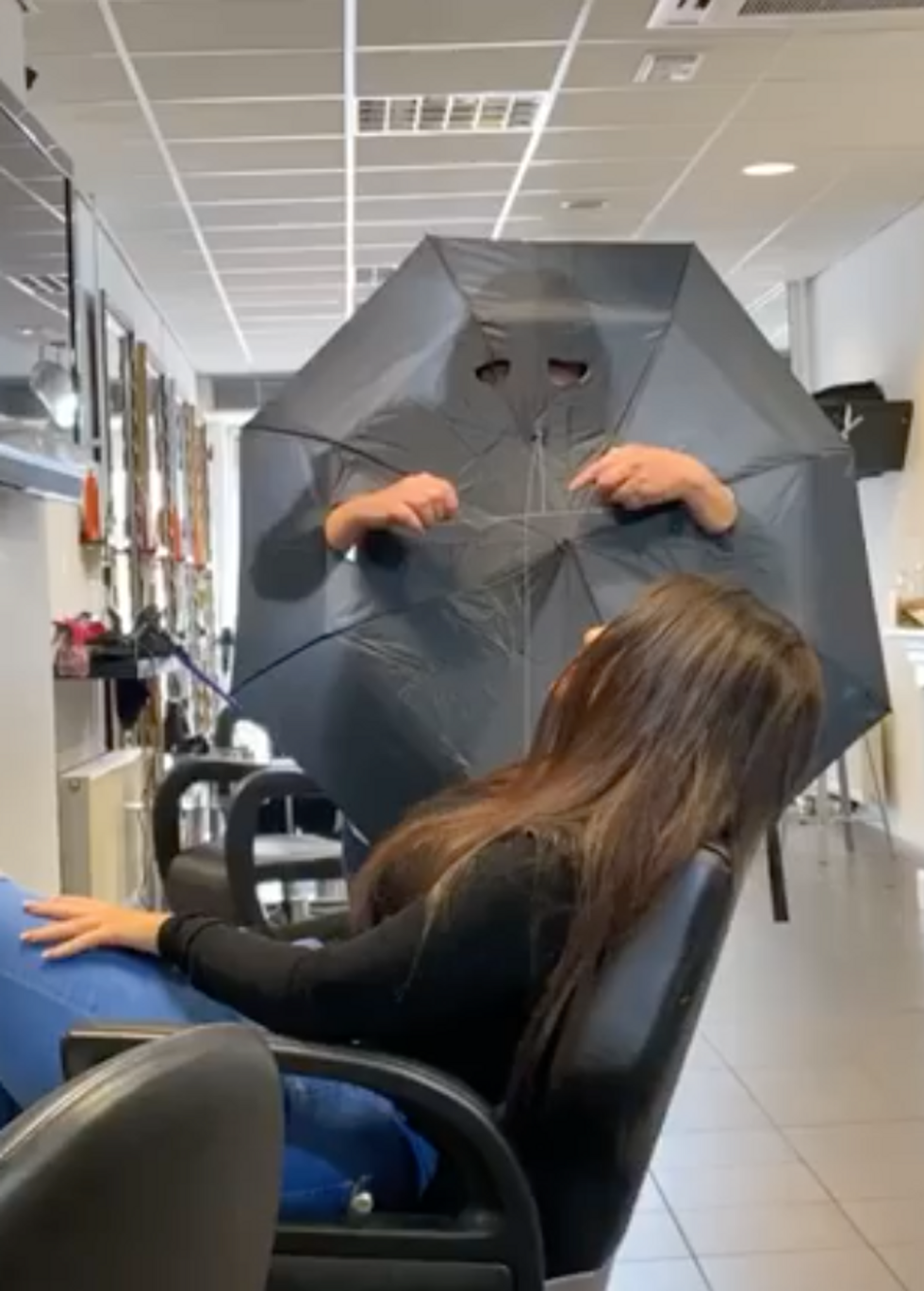 via: Facebook
It was clearly ridiculous, but her innovative precautionary measures soon went viral on Facebook, receiving more than 82,000 shares!
It received mixed responses.
One person said: "You have an invention for everything, right. Super woman." While another less enthusiastic comment read: "Bunch of lunatics." You can't please everyone.
Watch the video below...
While it is pretty impressive, people really
need
to start taking self-isolation seriously. If not for yourself, do it for your loved ones. If you're after some heartwarming content, keep scrolling to see what one grocery worker did to help out an elderly man in lockdown...