The Simpsons actor Hank Azaria has said that he would like to apologize to every Indian for causing offense by playing Apu Nahasapeemapetilon.
His statement has got a lot of people talking online...
Now, The Simpsons is perhaps the most beloved TV show of our time.
First debuting in 1989, the cartoon follows the unconventional and eventful lives of the Simpson family.
It has given us thousands of laughs over the years...
And, many seasons later, The Simpsons has become arguably one of the most successful TV series ever made.
And this isn't even mentioning that the cartoon has been dropping spooky predictions for years.
One of the iconic features of the show is that it has been eerily predicting major world events years before they actually happen.
For example...
They predicted Smart Watches.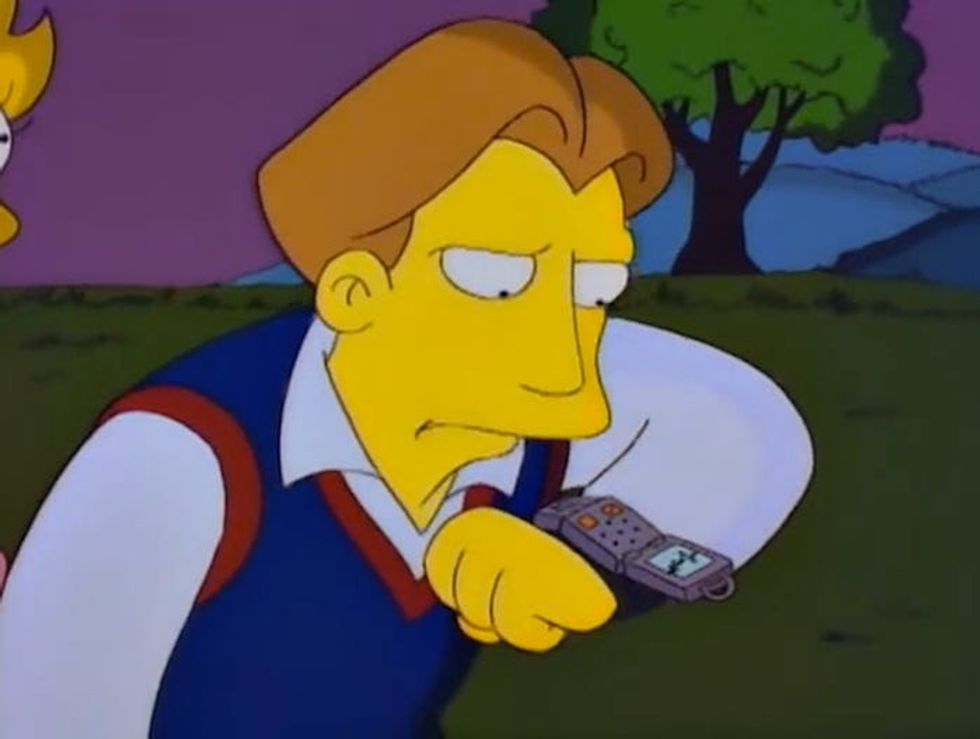 Imdb
Back in 1995 in their sixth season, The Simpsons introduced the idea that one day, you would be able to use your watch as a cell phone. The futuristic episode, titled "Lisa's Wedding" was aired twenty years before the release of the Apple Watch.
Spooky, right?
They predicted the Ebola outbreak, too.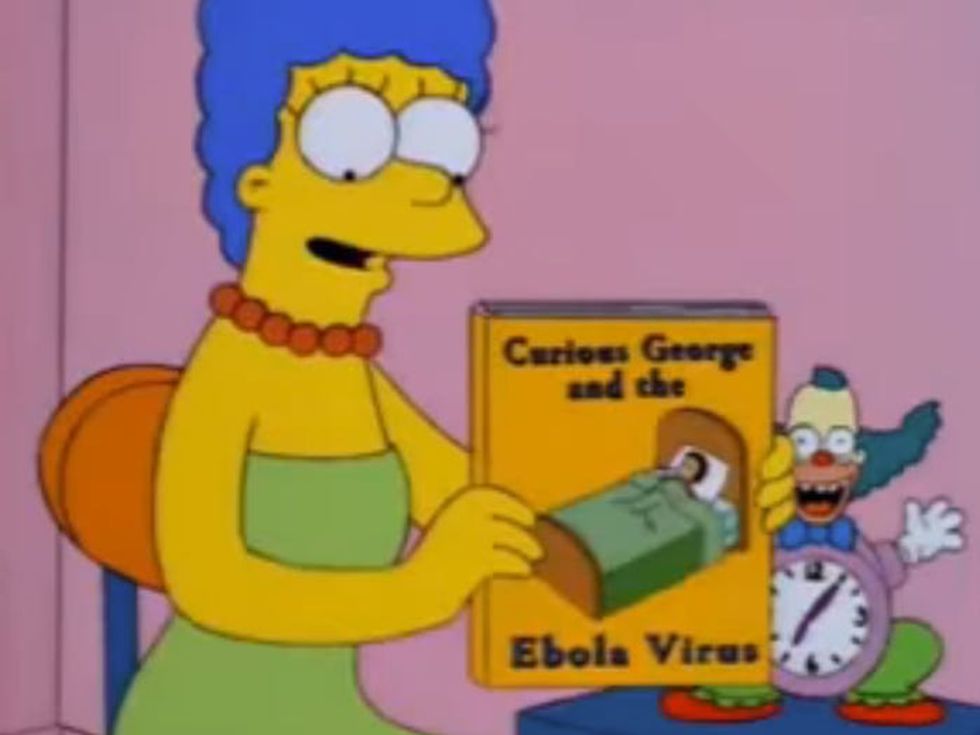 Imdb
In a scene from the episode, "Lisa's Sax," in the ninth season, Marge suggests Bart read a book titled "Curious George and the Ebola Virus." The virus wasn't particularly widespread in the 1990s, but years later in 2014, it was the top of the news agenda.
Disney's take over of 20th Century Fox was The Simpsons' dream before it was Disney's.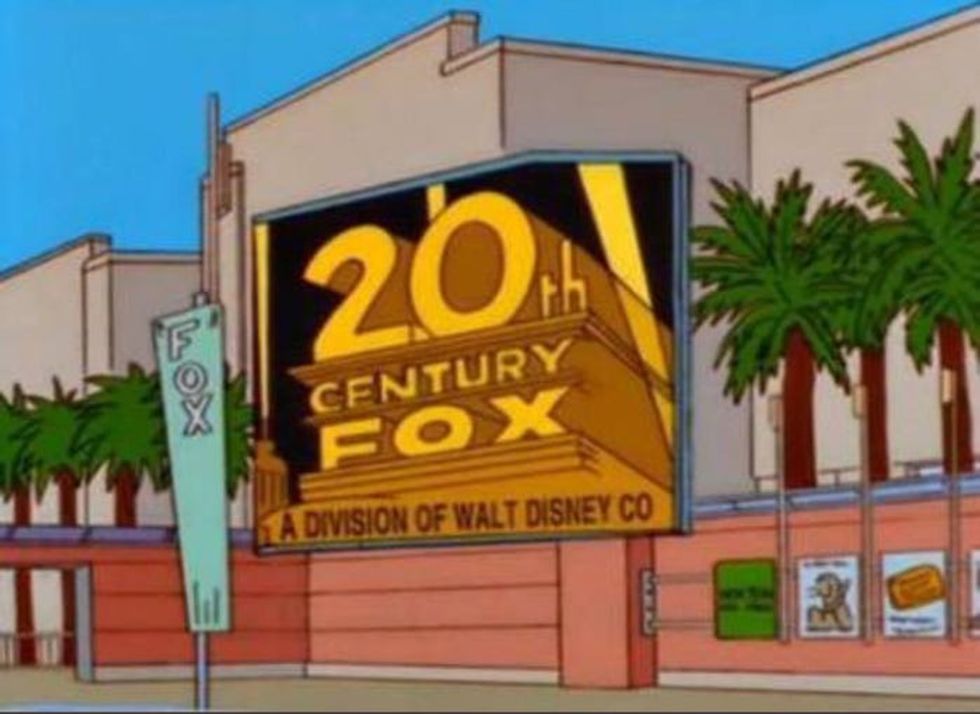 Imdb
In the 1998 episode from the tenth season, "When You Dish Upon a Star," Ron Howard and Brian Grazer produce a script Homer pitches. The script is being produced at 20th Century Fox, and a sign in front of the studio's headquarters reveals that it is "a division of Walt Disney Co." On December 14, 2017, Disney purchased 21st Century Fox for an estimated $52.4 billion... Nineteen years on from the episode.
And, of course, they predicted Trump's Presidency.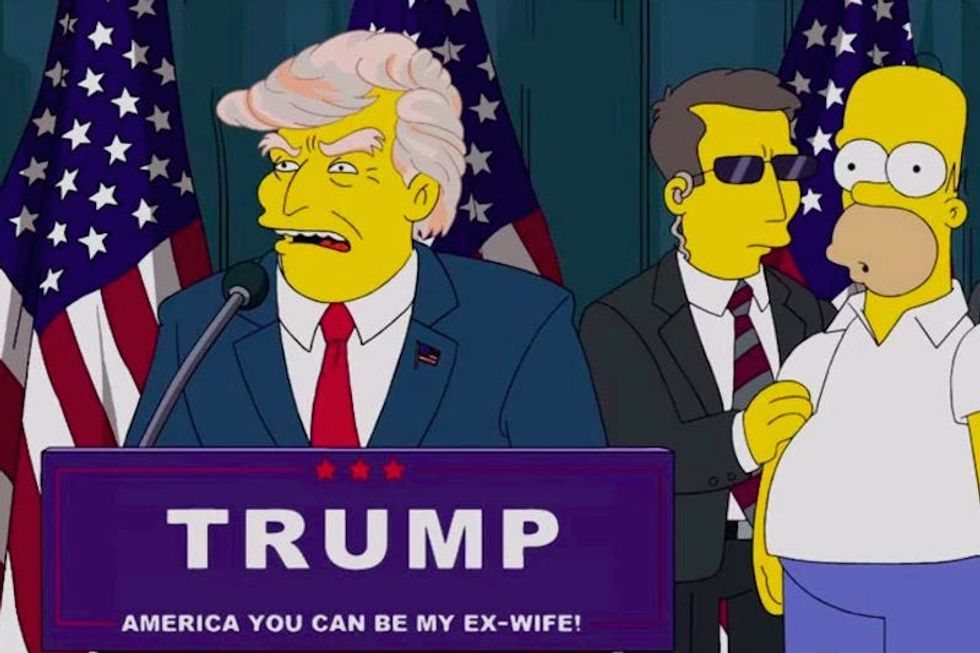 Imdb
Okay, this is a
big
one. In an episode called "Bart to the Future," which was broadcast in 2000, Lisa has been elected as his successor and quips: "We've inherited quite a budget crunch from President Trump." In an interview with 
The Hollywood Reporter
, writer Dan Greaney called the episode "a warning to America."
And, in just one 1993 episode, the cartoon even predicted 3 major events from 2020.
The outbreak of the ongoing medical pandemic, the swarm of "killer bees," and the death of NBA star, Kobe Bryant.
However, putting the laughs and spooky predictions to one side...
There is one issue that The Simpsons has been needing to tackle for years.
And that's the diversity among their cast members.
In recent years, it has come to light that white actors were providing the voiceovers for their few characters of color.
For example...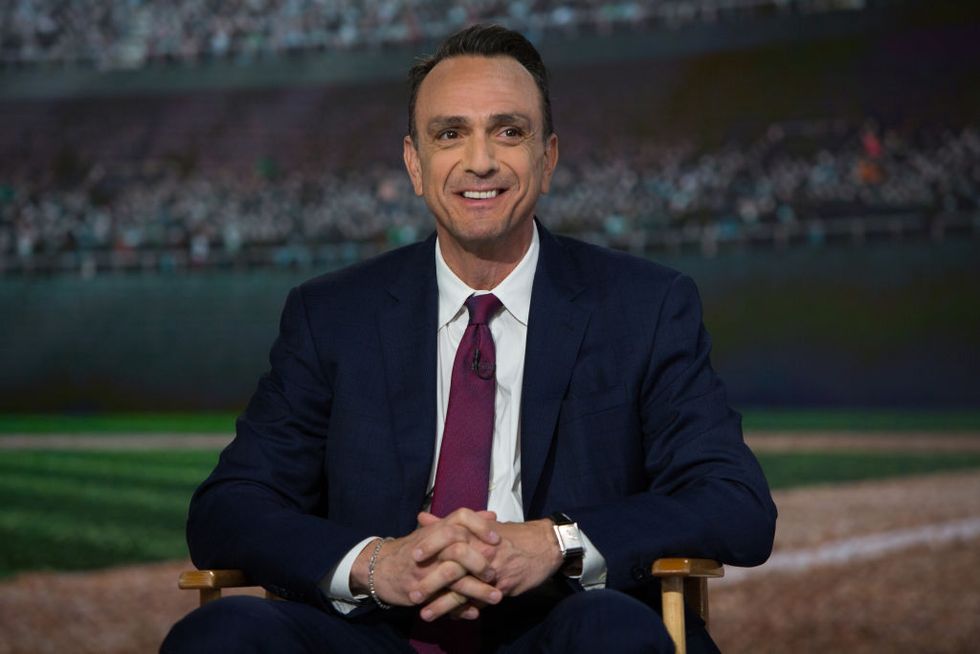 via: Getty
The iconic Indian Kwik E Mart worker, Apu Nahasapeemapetilon, was voiced by the white actor, Hank Azaria.
Controversy over the character of the shopkeeper intensified in 2017 when Indian-American comic, Hari Kondabolu, made a documentary, The Problem With Apu, on racial stereotypes.
Following the overwhelming backlash, Azaria, last year, announced that he would be stepping down from the role.
"All we know there is I won't be doing the voice anymore unless there's some way to transition it or something," Azaria told the website, SlashFilm. "We all made the decision together... We all agreed on it. We all feel like it's the right thing and good about it."
Speaking with The New York Times, he also said: "Once I realized that that was the way this character was thought of, I just didn't want to participate in it anymore."
"It just didn't feel right."
Documentary maker, Kondabolu, then had his say on the decision to step away.
In an interview with The Times, he said: "Whatever happens with the character, to me, is secondary. I'm happy that Hank did the work that a lot of people wouldn't have. I feel like he's a really thoughtful person and he got the bigger picture."
And now, Azaria has spoke about the controversy again...
This time apologizing for the offence caused by playing Apu.
And he has been praised online for doing so...
@HankAzaria did the right thing. I'm sure it was difficult. He listened. He learned. He acknowledged. He went publi… https://t.co/MqsF8D2Aw8

— Viet Thanh Nguyen (@Viet Thanh Nguyen)1618252329.0
@BBCWorld He's felt awkward about it for years. They talked about it with James Lipton. He's been trying to pull aw… https://t.co/J2DrgUuBd4

— B Michael Eberly (@B Michael Eberly)1618312502.0
@viet_t_nguyen @HankAzaria Taking responsibility, making amends. Key to a more than sincere apology.

— Philippe du Col ☂️ (@Philippe du Col ☂️)1618255446.0
@harikondabolu @HankAzaria He's always struck me as a tremendously talented and intelligent person, whose own life… https://t.co/1tueHYALNC

— Drew Barth (@Drew Barth)1618249946.0
.@HankAzaria is a kind & thoughtful person that proves that people are not simply "products of their time," but hav… https://t.co/4flI2Z9ND1

— Hari Kondabolu (@Hari Kondabolu)1618248626.0
Azaria spoke with Dax Shepherd on the Armchair Expert podcast, where he opened up about a visit to his son's school in which an Indian pupil told him how his actions have a huge impact on others' lives.
"I was speaking at my son's school, I was talking to the Indian kids there because I wanted to get their input," he said.
"A 17-year-old... he's never even seen The Simpsons but knows what Apu means. It's practically a slur at this point."
"All he knows is that is how his people are thought of and represented to many people in this country," he continued.
Azaria then apologized for his part in creating that representation.
"I really do apologize, it's important. I apologize for my part in creating that and participating in that," he said.
"Part of me feels like I need to go to every single Indian person in this country and personally apologize. And sometimes I do."
For more on The Simpsons, keep scrolling...