Get your hand sanitizer ready, 'cause you're going to want to use it after this.
One of Harvey Weinstein's former assistants (he had many) is now suing him because she had to, among other things, clean semen from his couch after he was done with his "extremely prolific sexual encounters," and pick up his used condoms.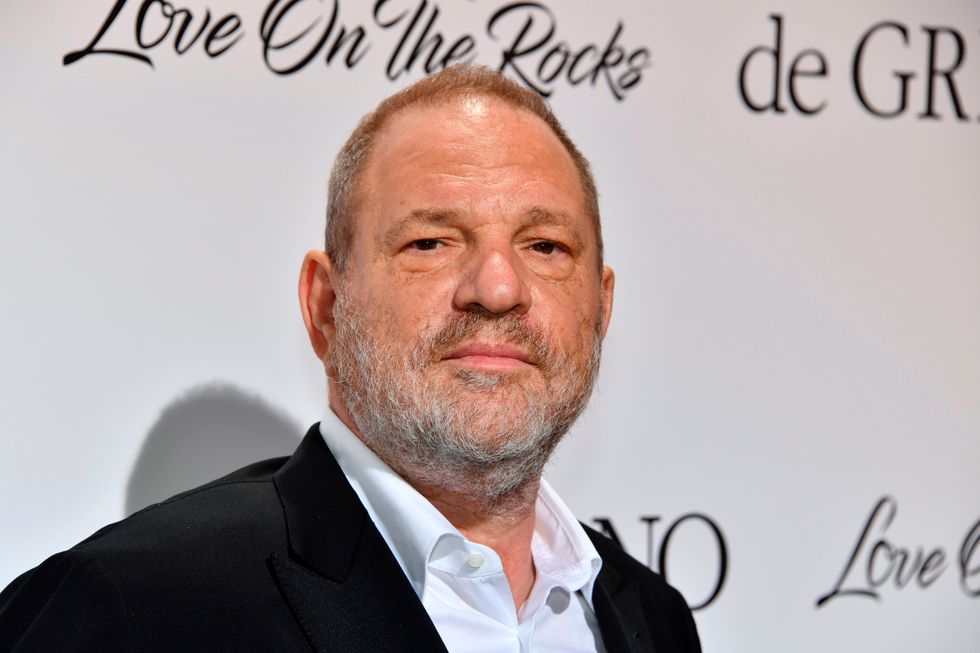 This new lawsuit is the latest blow to the scandal-ridden Weinstein, who became shorthand for sexual harassment after reports emerged that he had harassed, assaulted, and raped
over 80 women
.

In the months since, many more prominent men have been accused of sexual harassment, spurring the
#MeToo
and
Time's Up
movements. During this time, Weinstein, once the toast of Hollywood, has become a pariah.
Harvey Weinstein accuser Rosanna Arquette and Marisa Tomei thank "silence breakers" on #SAGAwards stage… https://t.co/bokIU9Q4EG

— New York Daily News (@New York Daily News)1516591177.0
He abandoned Hollywood for the more forgiving climes of Scottsdale, Arizona, where he is said to be in recovery for addiction (to being a predator?) Oh, and he also
got slapped
there, so there's that.
Never gets old: watch Harvey Weinstein get slapped in the face (twice!) by a stranger at a restaurant.… https://t.co/ebhosc0YBc

— Boing Boing (@Boing Boing)1515904095.0
In any event, Weinstein's former assistant, Sandeep Rehal, has
lodged a complaint
against the once-powerful mogul, saying that the work she did for him crossed the line from professional to personal – very, very personal.
Lawsuit: Weinstein's assistant was made to "clean up the semen on the couch" https://t.co/EXNTHPJcLl

— The Daily Beast (@The Daily Beast)1516914555.0
During the more than two years Rehal worked for Weinstein, she was forced to cater to his every whim, supplying him clean underwear, preparing for his sexual encounters, cleaning up after them.

"Much of Ms. Rehal's work as an employee of TWC involved catering to Harvey Weinstein's sexual appetites and activities, and catering to his demeaning and often abusive family members," the filing states. "Ms. Rehal was required to be involved in and aware of the preparations for, and clean up after, Harvey Weinstein's extremely prolific sexual encounters."
Every time Harvey Weinstein went to meet a woman at a hotel, in the office, or elsewhere, which occurred on average at least three times a week when he was in New York, Ms. Rehal was required as part of her job to provide Harvey Weinstein with a shot, which she placed in his jacket pocket or in a brown paper bag... Another 'task' Ms. Rehal was forced to do to aid Harvey Weinstein's sexual encounters was to clean up the semen on the couch in Harvey Weinstein's office. This happened on a regular basis, three or so times a week when Harvey Weinstein was in New York.
emotional breaking point
" over the ordeal. She's filing the suit not only against Weinstein, but his brother Bob Weinstein and human resources exec Frank Gil for "aiding and abetting that conduct."

Rehal claims that she was also subject to sexual harassment from Weinstein, who would rub her thighs and legs on their daily ride in his Lexus SUV. When she began wearing slacks to prevent this, Weinstein asked her, "You used to dress so cute and now what is going on?"
regularly referring to her as 'c—' or 'pussy... On numerous occasions he said, 'What's wrong Sandeep, is the tampon up too far today?'"

"I am Harvey Weinstein and you are at Weinstein University. I decide whether you graduate," Weinstein would say to her, according to the lawsuit.
 She was only emboldened to come forward after dozens of other women did and Weinstein became persona non grata in Hollywood.
Lupita Nyong'o explains why she spoke up about Harvey Weinstein: https://t.co/cGZAvjUMwk https://t.co/yeBmVYM2fU

— World News Tonight (@World News Tonight)1516915619.0
Rehal's story is a reminder of the reasons women take so long to come forward. She was young and under the power of much-older man who harassed her. Everyone knew she was being harassed and did nothing. Worse, if she had come out against Weinstein, he would retaliate by
destroying her career
and
smearing her reputation
.

Also, there's the sheer sensational element of it. Unless you'd already heard all the other stories about Harvey Weinstein, this one would be difficult to believe. "Weinstein's abuse of power has been well documented, allowing Sandeep finally to reveal the details of her employment, which before now might have seemed too incredibly horrifying to believe," her lawyer, Genie Harrison said.